Japan Autumn Itinerary for 14 Days
Fall in Love with Japan: A 2-Week Autumn Itinerary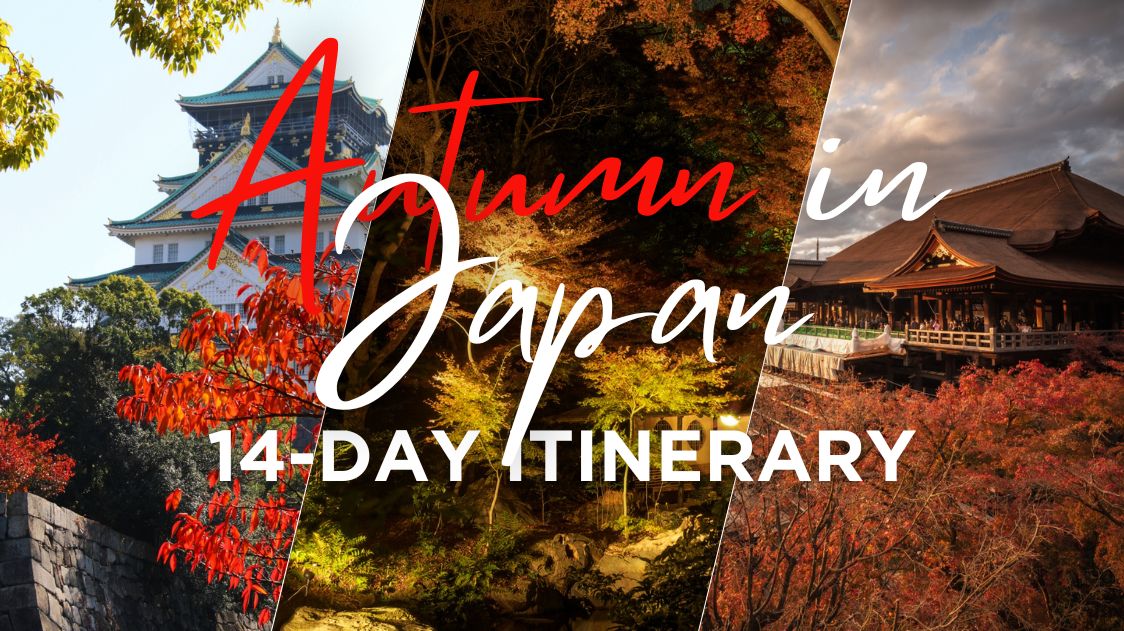 Autumn in Japan is so vibrant, it's like Mother Nature herself decided to throw a grand masquerade ball, and everyone—yes, even the trees—got the memo. But hold onto your pumpkin spice lattes, because this 14-day itinerary is about to take you on a whirlwind tour of Japan's autumnal wonders, spooktacular Halloween events, and other seasonal delights.
In this article, we will be sharing with you Japan Autumn Itinerary for 14 days.
▽Here are some helpful passes for your journey in Japan!▽
▶ Book your Tokyo Wide Pass ticket here!
▶ Book your Hankyu Tourist Pass here!
▶ Book your Kansai Thru Pass (2 or 3 Days) here!
▶ Book your JR West Kansai Pass (1, 2, 3 or 4 Days) here!
▽Check our guides to Japan's transportation passes!▽
*Please note that this article contains affiliate links.
---
Days 1-3: Tokyo – Where Tradition Meets Tomorrow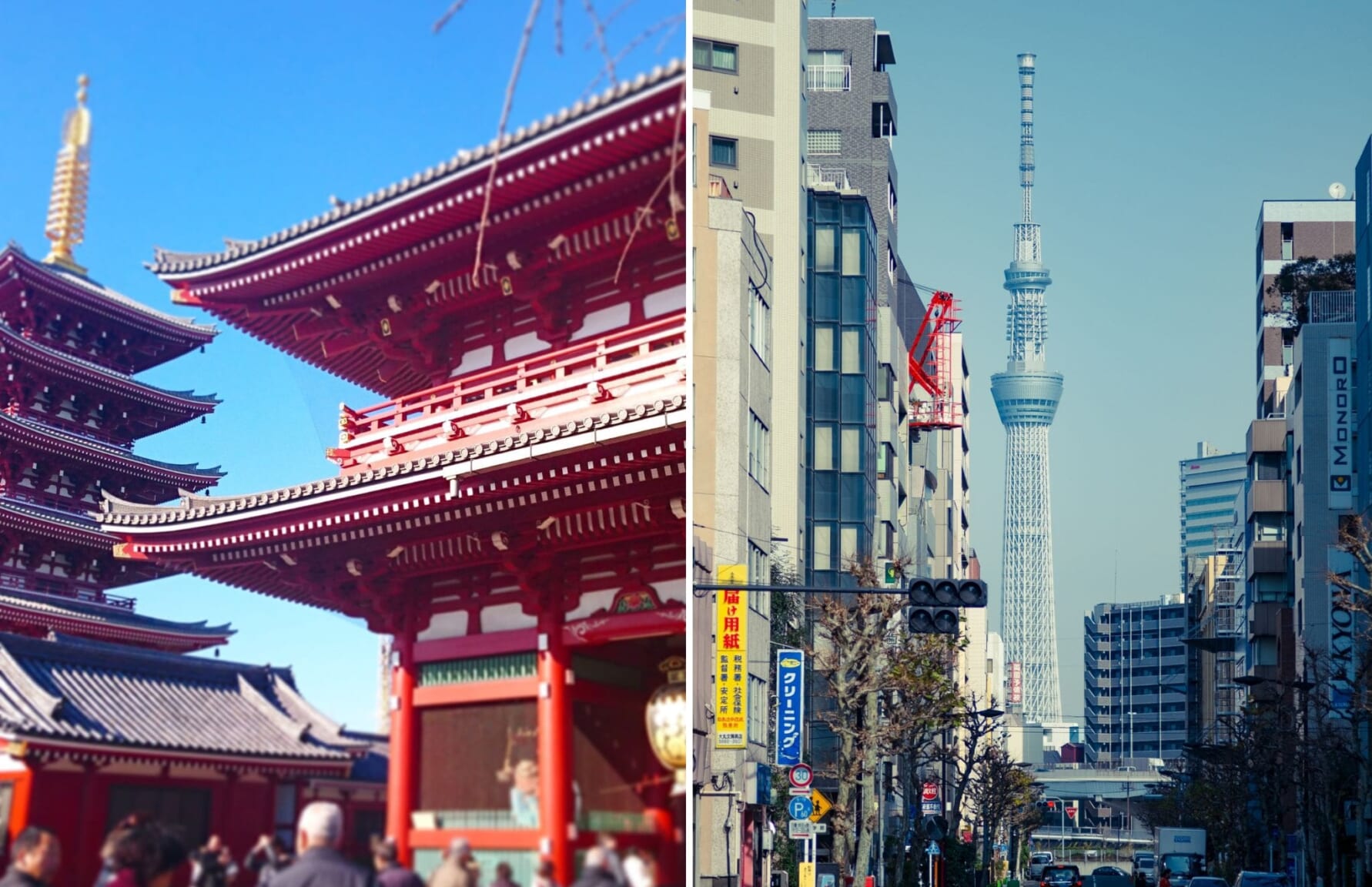 Welcome to Tokyo! After navigating the labyrinthic terminals of Narita or Haneda, you'll hop on the Narita Express or the Keikyu Line, respectively. But before that, you should grab a Welcome Suica at the airport. Trust me, it's the Swiss Army knife of Japan's public transportation.
Once you've settled into your accommodation and perhaps had a quick power nap, it's time to explore. Your first stop is Asakusa, home toSensoji (浅草寺), Tokyo's oldest Buddhist Temple and one of the city's essential sights. Feel the echoes of time as you walk through the Kaminarimon (Thunder Gate), and pray for your wallet's safety as you struggle to avoid burning through your entire trip budget in Nakamise Shopping Street (仲見世通り), the fun street bazaar that goes all the way from Kaminarimon to the temple's main building. There you can find traditional crafts, local snacks and all the fun and quirky souvenirs you can think of in between. Depending on your arrival time, it's probably a good opportunity to get some seasonal snacks or a quick stop to get something to eat, as there are plenty of dining options in the area.
Before the sun dips below the horizon, make your way to Tokyo Skytree (東京スカイツリー). The elevator ride alone is an experience, and once you're at the top, you'll see Tokyo like never before. The city stretches out in all directions, and the autumn foliage looks like a patchwork quilt of reds, oranges, and yellows as you watch the sunset from atop the tower.
▽More ideas around Asakusa▽
▶20 Best Things to Do in Asakusa
▶Nakamise Shopping Street: Must-Try Asakusa Street Food
Day 2: Tokyo Disney Resort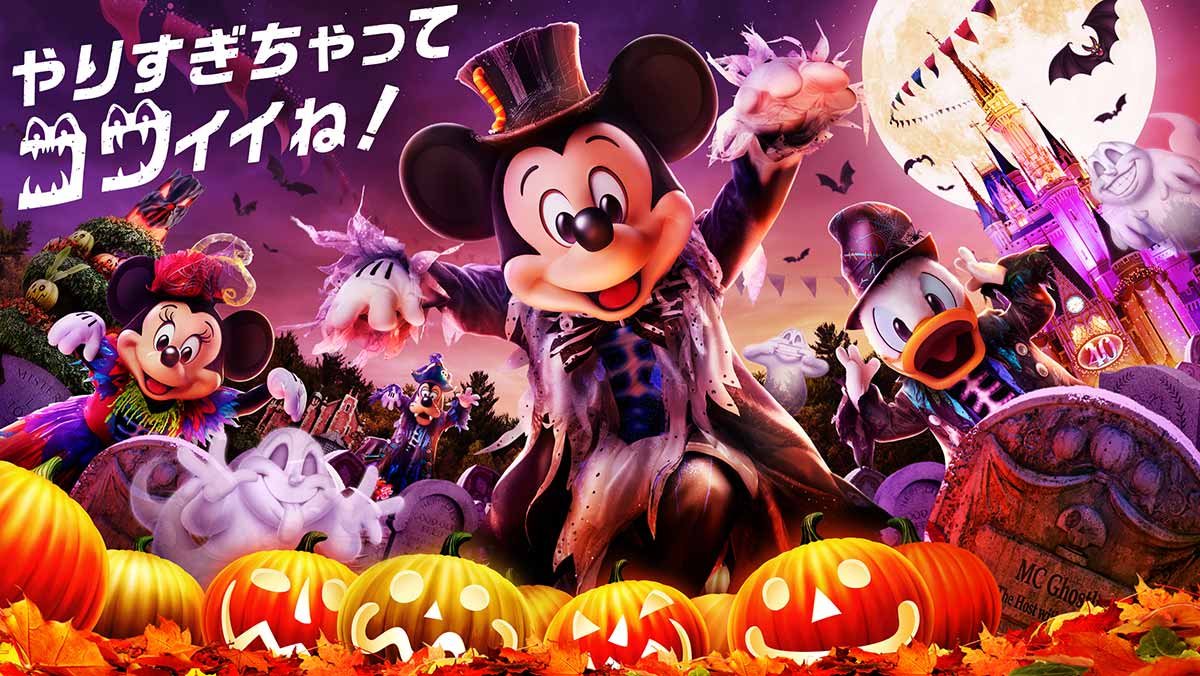 The next day, rise and shine early to beat the crowds because you're off to Tokyo Disney Resort. Yes, you're an adult, and yes, you should absolutely get those Mickey Mouse ears—no judgment here. The park is buzzing with excitement, especially with the Halloween extravaganza season in full swing.
The highlight of the day is the "Spooky Boo! Parade", featuring all the beloved classic characters as well as many others from various franchises, decorated and dressed to the nines, Disney Halloween style! And speaking of style, the food stalls and restaurants have also dressed up for the occasion. From pumpkin-flavored churros to Halloween-themed cupcakes, your taste buds are in for a treat.
Before you leave, make sure to visit the Haunted Mansion. This isn't your run-of-the-mill spooky house; it's got a Tim Burton twist. The Nightmare Before Christmas takes over the mansion, and it's as eerie as it is enchanting.
<<Book Tokyo Disney Resort tickets online>>
▽Don't miss our Tokyo Disney Resort Guide!▽
▶Tokyo Disneyland Guide: Best Things to Do
▶Tokyo DisneySea Guide: Best Things to Do
▶Where to Stay near Tokyo Disneyland and DisneySea
▶How to Get to Tokyo Disneyland and DisneySea by Bus or Train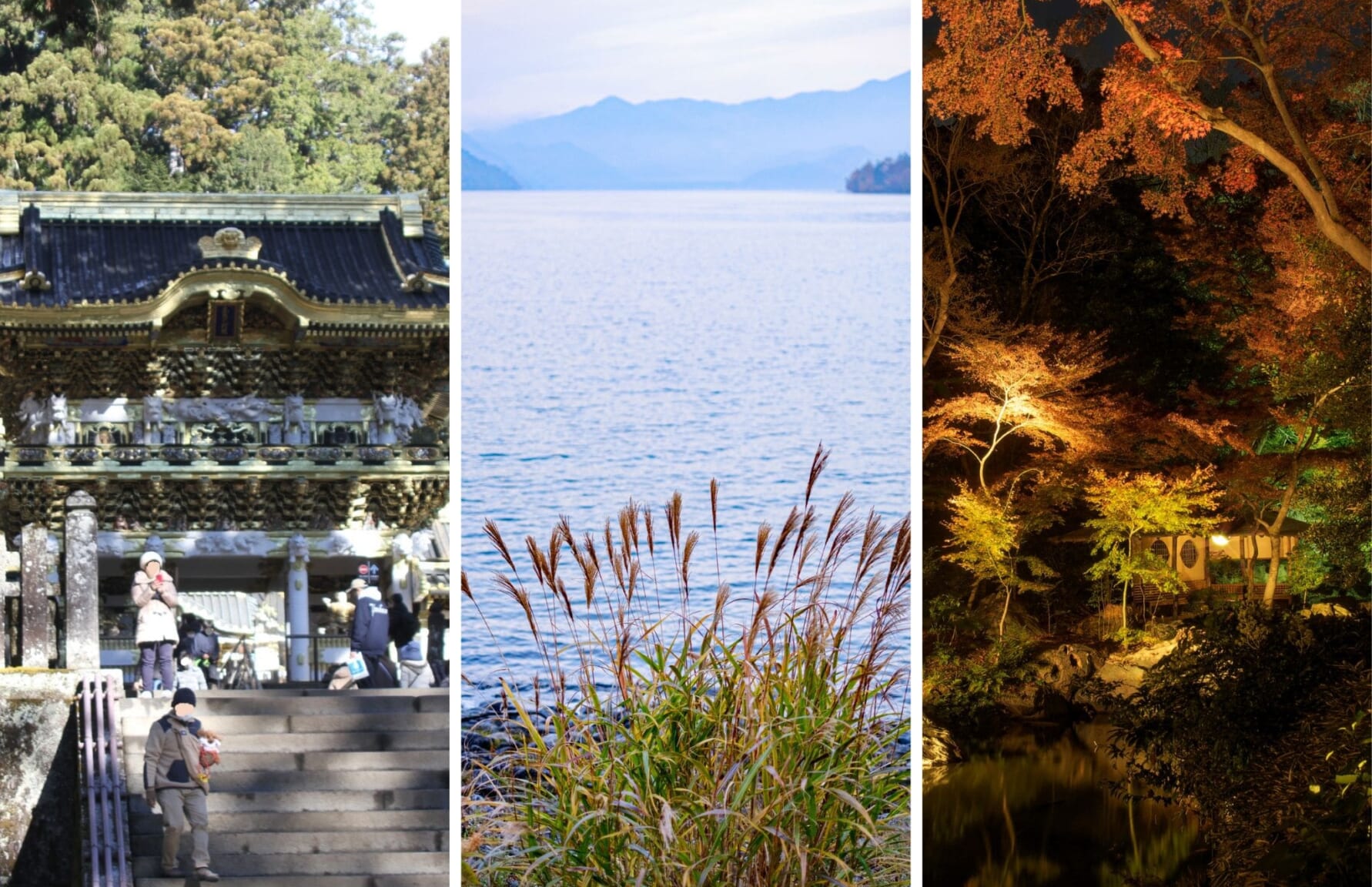 On your third day, you'll trade the city's neon lights for the natural hues of Nikko (日光). A two-hour train ride will take you to this serene city, famous for its World Heritage Sites and, of course, stunning autumn foliage. Your first stop is Toshogu Shrine (日光東照宮), an architectural marvel adorned with intricate carvings and gold leaf.
Also, a genuine showstopper is Lake Chuzenji (中禅寺湖). Surrounded by mountains ablaze with autumn colors, the lake is a sight to behold. Whether you choose to take a leisurely boat ride or simply sit by the shore, it's the perfect place to reflect on your journey so far.
As evening approaches, you'll head back to Tokyo. If you feel up to it, you could do a quick evening visit at Rikugien (六義園), a stunning Japanese Garden with a fantastic illumination event so you can enjoy the beauty of autumn leaves at night.
▽More details about Nikko!▽
Days 4-6: Kyoto – Autumn Leaves and Shrines Galore
Day 4: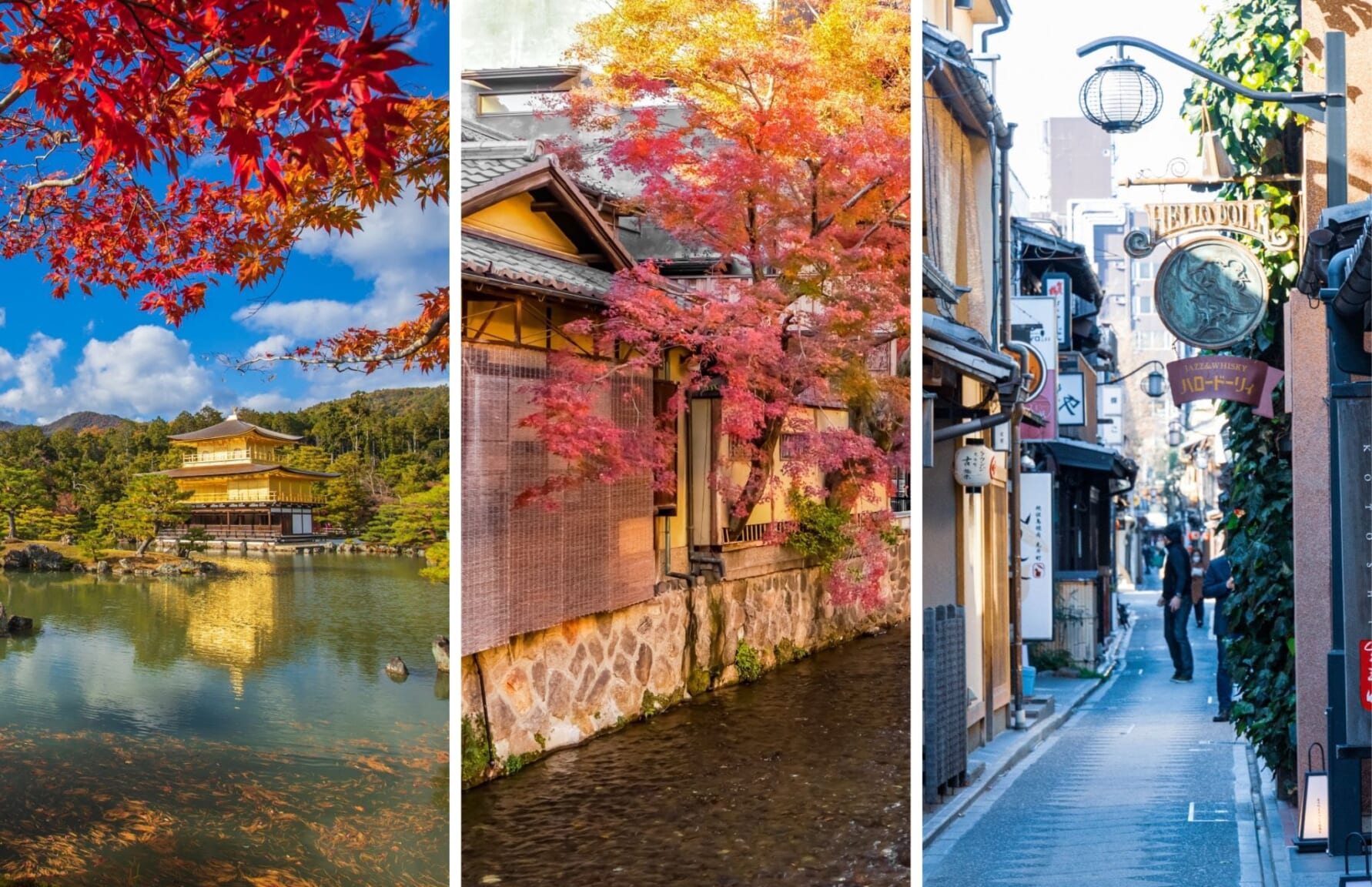 Hopefully if you're not too hungover from last night, the sooner you ride your bullet train the better. As you arrive at Kyoto Station, you'll feel a shift in the air. Gone is the frenetic energy of Tokyo, replaced by a sense of calm that only this historical city can offer. After checking into your accommodation, you'll make your way to Kinkakuji (金閣寺), the Golden Pavilion. This Zen Buddhist temple is a sight to behold, especially when the autumn leaves create a vivid backdrop to its golden exterior. The reflection of the temple and the fiery red and orange leaves on the pond is nothing short of magical.
After soaking in the serenity, you'll head to the Gion (祇園) District. Depending on the time you may want to make a pit stop around Nishiki Market (錦市場) for lunch to get your fix of seasonal goodies. Once in Gion, you'll find yourself at the heart of Kyoto's geisha culture. As you wander through its narrow, cobblestone streets, you'll feel like you've been transported to another era. Wander leisurely around the wooden machiya houses, many of which are now teahouses and shops, adding to the area's old-world charm. If you're lucky, you might even spot a geisha or a maiko (apprentice geisha) gracefully making her way to an appointment.
You could end the day having a nice dinner in a restaurant with a terrace overlooking the Kamo River in the lively Pontocho (先斗町) area. Here you can find everything from high-end kaiseki meals to casual yakitori, as well as a wide variety of bars. Choose a spot that tickles your fancy, and toast to a day well-spent in Kyoto.
Day 5: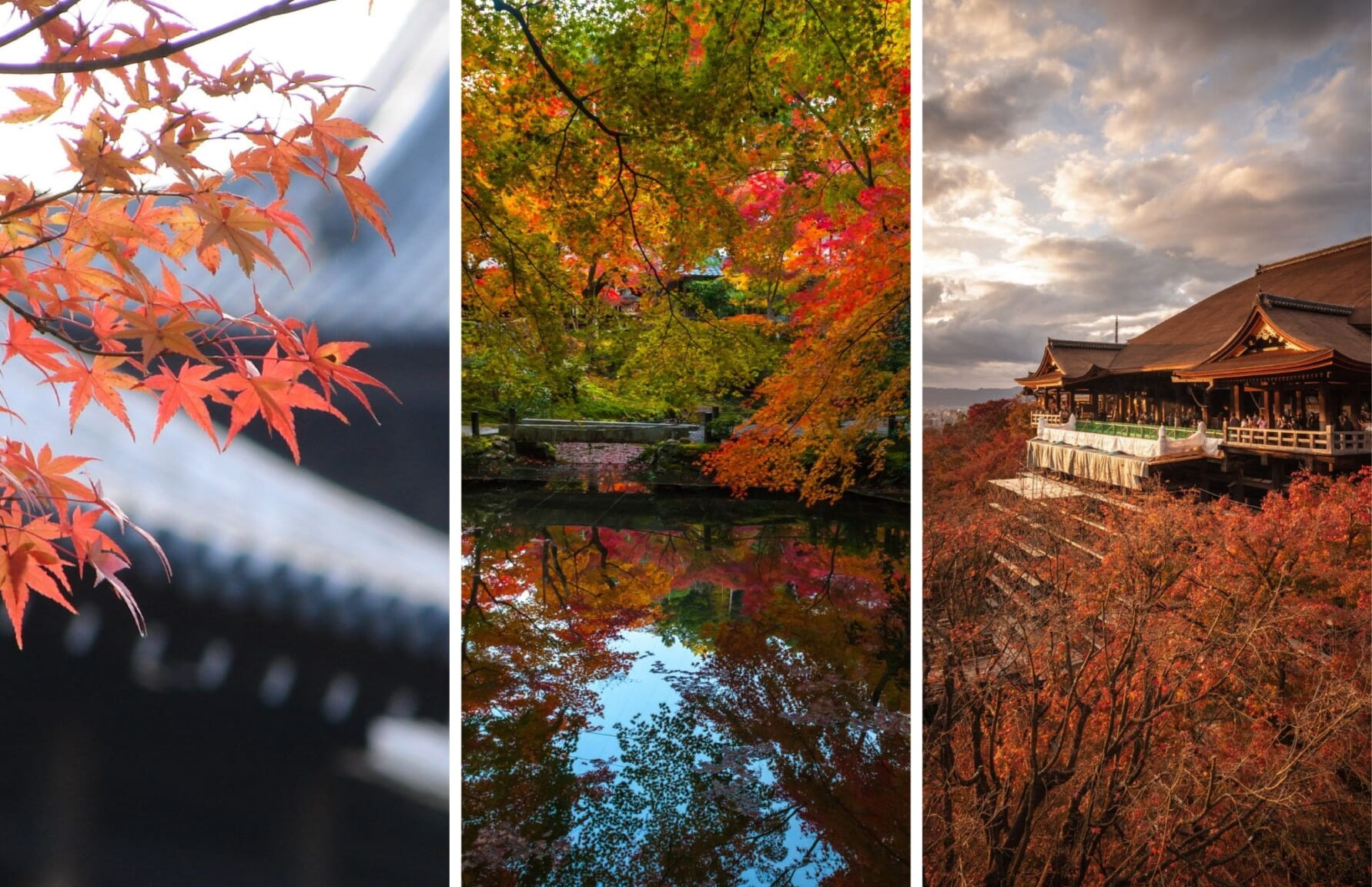 On your second day in Kyoto, you'll be chasing autumn leaves, and boy, does this city deliver! Your first stop is Tofukuji Temple (東福寺). Famous for its wooden bridge that overlooks a sea of maple trees, it's a hotspot for autumn leaf viewing. The blend of red, orange, and yellow leaves creates a natural feast for the eyes. Afterward, make your way to the Philosopher's Path (哲学の道). This stone path follows a canal lined with cherry trees that, come autumn, offer a different but equally mesmerizing color palette.
Next, you'll head to Enkoji Temple (圓光寺). This lesser-known temple offers not just stunning autumn views but also a sense of tranquility that's hard to find in more crowded spots. The temple garden is a masterpiece, with a pond that mirrors the autumn sky and leaves, making for a picture-perfect moment.
In the afternoon, head to Kiyomizudera (清水寺), one of Kyoto's most famous temples. The wooden terrace offers panoramic views of Kyoto, made even more stunning by the autumn leaves, if you're patient about the crowds. Then, you'll explore Ninenzaka and Sannenzaka. This preserved street is a slice of old Kyoto, complete with wooden buildings and traditional shops. It's the perfect place to pick up some local souvenirs.
For the evening, you could return to Kiyomizudera or check out Tofukuji again to enjoy the gorgeous special evening illuminations during autumn.
Day 6: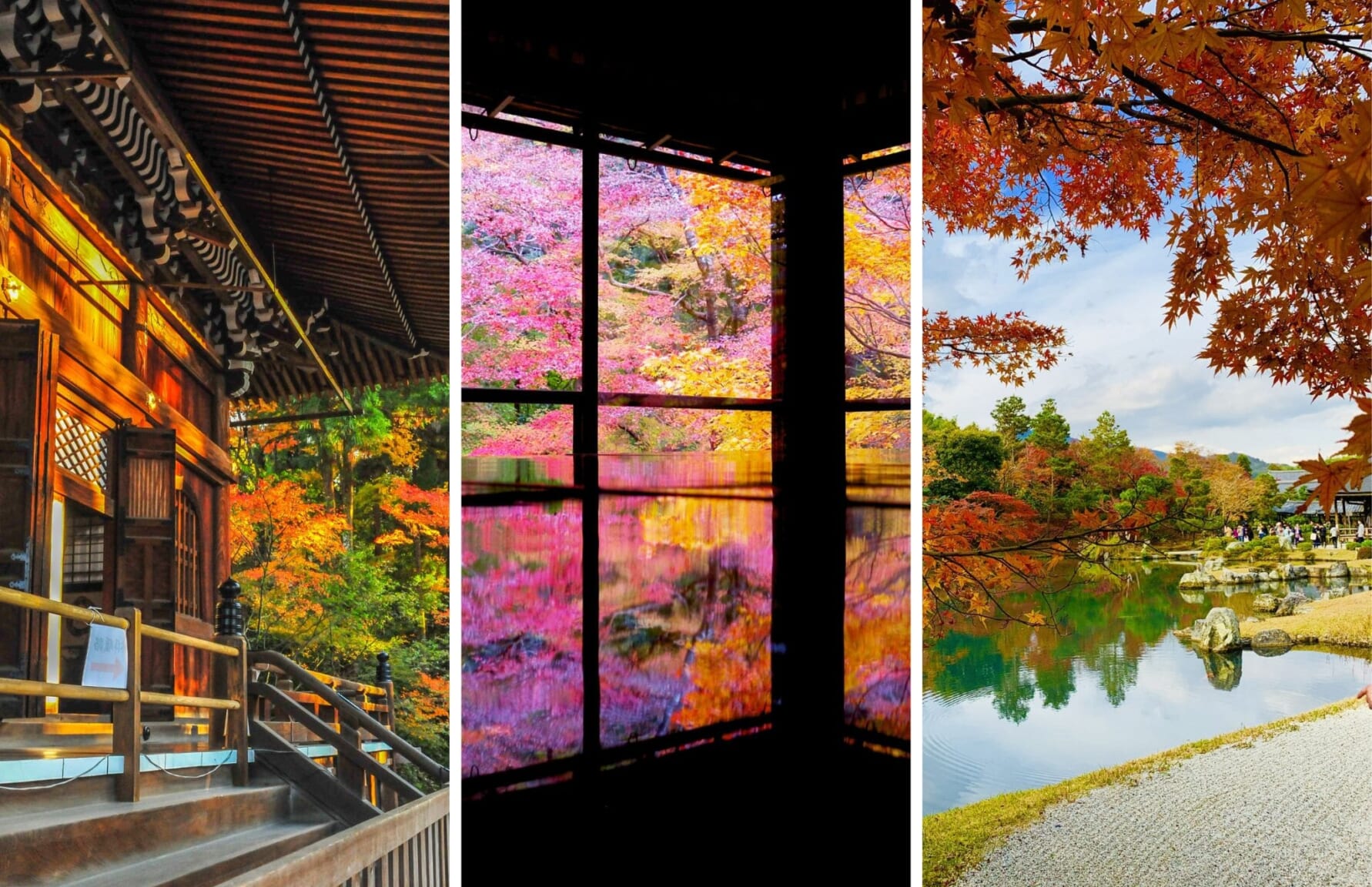 Just when you thought you'd seen all the autumn beauty Kyoto has to offer, the city surprises you with more. Your day starts at Eikando Zenrinji (永観堂 禅林寺), known for its gorgeous pathways lined with maple trees. The temple grounds offer various vantage points to admire the autumn leaves, including a pagoda that allows you to see the foliage from above. You could optionally stop by Nanzenji (南禅寺), another Zen temple nearby with nice autumn sights.
Your next stop is Heian Jingu Shrine (平安神宮), known for its beautiful gardens that come alive in autumn. Then, enjoy a scenic boat ride along the Okazaki Canal, a perfect midday break.
The following spot is Rurikoin (瑠璃光院), a temple that's synonymous with autumn in Kyoto. The temple is famous for its lacquered tables that reflect the garden outside, creating a mesmerizing blend of architecture and nature.
To end the afternoon, head to the western part of Kyoto to visit Arashiyama. Start with the Bamboo Grove, followed by Tenryuji (天龍寺), which offers a beautiful garden and pond. As the sun sets, make your way to Togetsukyo Bridge for the evening "light-up," where the illuminated trees create a magical atmosphere, as a fitting end to your leaf-chasing adventure in Kyoto.
▽More details about the best things to do and autumn spots in Kyoto!▽
▶30 Best Things to Do in Kyoto
▶10 Best Autumn Leaves Spots in Kyoto
▶Best Places to Visit in Kyoto in Autumn
Days 7-8: Osaka – The Kitchen of Japan (Now Serving Pumpkin Spice)
Day 7: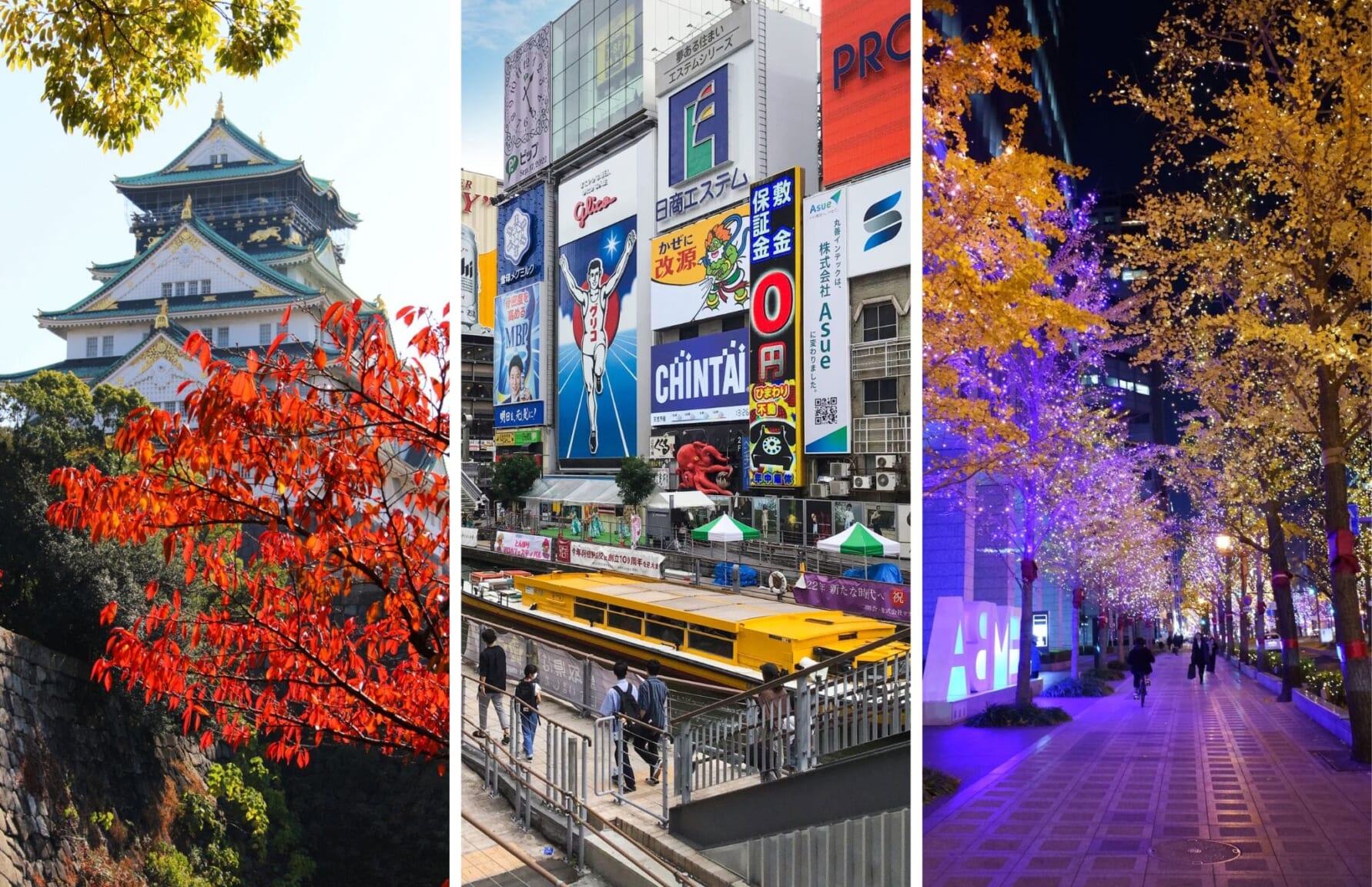 After a short train ride from Kyoto, it won't take long for you to feel the city's vibrant energy as soon as you reach Osaka. It's a place that's always on the move, yet deeply rooted in tradition. After dropping off your bags, you'll head straight to Osaka Castle (大阪城). This iconic landmark is surrounded by stone walls and moats, and in autumn, the castle grounds become a festival of colors. If history is your thing, the museum inside is an interesting deep dive into Osaka's history. Otherwise, you can simply go up the observation deck for nice panoramic views of the city.
With history checked off your list, it's time to dive into Osaka's culinary scene. And what better place to do that than Dotonbori (道頓堀)? This bustling district is a food lover's paradise. From takoyaki (octopus balls) to okonomiyaki (savory pancakes), the options are endless. As you walk along the Dotonbori canal, the neon lights reflecting on the water and the aroma of street food filling the air, you'll understand why Osaka is often called "The Kitchen of Japan". Dotonbori alone is more than enough to keep you busy all afternoon, but you should also take a detour through Midosuji Boulevard (御堂筋). The ginkgo trees along this street offer a golden spectacle during autumn, providing a more tranquil yet equally mesmerizing experience. It's a perfect blend of nature and city life.
Keep strolling around Dotonbori to enjoy the evening lights or head to nearby Namba. There will be plenty of dining options anywhere you look either way.
▽Need more ideas of things to do in Osaka? We got you covered!▽
▶30 Best Things to Do in Osaka
▶5 Best Autumn Leaves Spots in Osaka
Day 8:
On your second day in Osaka, you'll swap the city's historic sites for some Hollywood magic at Universal Studios Japan. It's Halloween season, and Universal Studios goes all out. The park is transformed into a Halloween wonderland, complete with themed decorations and special events. Between the exciting rides, you shouldn't miss the parades and shows that combine dance, music, and a whole lot of spookiness. Picture zombies breaking into a moonwalk or witches belting out Broadway hits. It's Halloween with a Universal Studios twist!
As night falls, the park takes on a darker tone with "Halloween Horror Night." This is not for the faint-hearted. Haunted houses, scare zones, and creepy characters roam the park. It's a thrilling experience that'll have you gripping your pumpkin-spiced popcorn a little tighter. Hopefully all these trills do not prevent you from getting a proper night's sleep!
▽Check out our Universal Studios Japan guide!▽
▶Best Things to Do at Universal Studios Japan
▶How to Get to Universal Studios Japan: Bus or Train?
▶Where to Stay near Universal Studios Japan in Osaka
Days 9-10: Hiroshima and Miyajima Island
Day 9: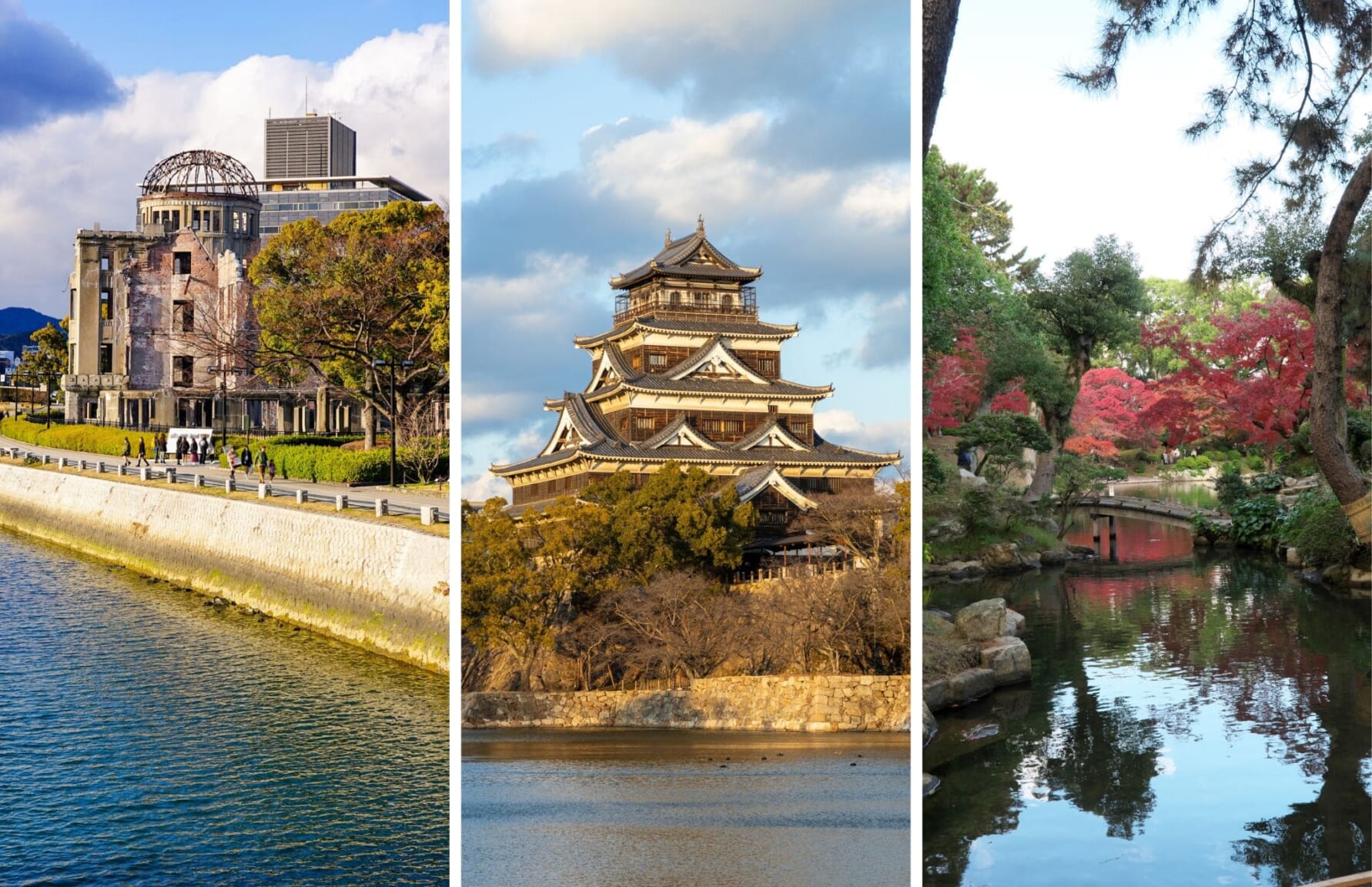 Your ninth day in Japan takes you to Hiroshima, a city that has risen from the ashes to become a symbol of peace and resilience. The day starts with a visit to the Hiroshima Peace Memorial Park and Museum (平和記念公園). The atmosphere here is solemn but enlightening, as you learn about the tragic past and the city's commitment to a peaceful future. The iconic Atomic Bomb Dome stands as a poignant reminder, juxtaposed against the vibrant autumn colors in the park.
As the afternoon unfolds, you'll head to Hiroshima Castle (広島城) and Shukkeien Garden (縮景園). The five-story castle, also known as Carp Castle and rebuilt after the war, offers panoramic views of the city. And in autumn, the surrounding moat reflects the vibrant foliage, creating a serene atmosphere. while Shukkeien Garden is a miniature landscape garden that's a feast for the eyes, especially with the autumn foliage in full display.
Spend the rest of the afternoon and evening strolling around the downtown area, and don't forget to try the Hiroshima-style Okonomiyaki!
Day 10: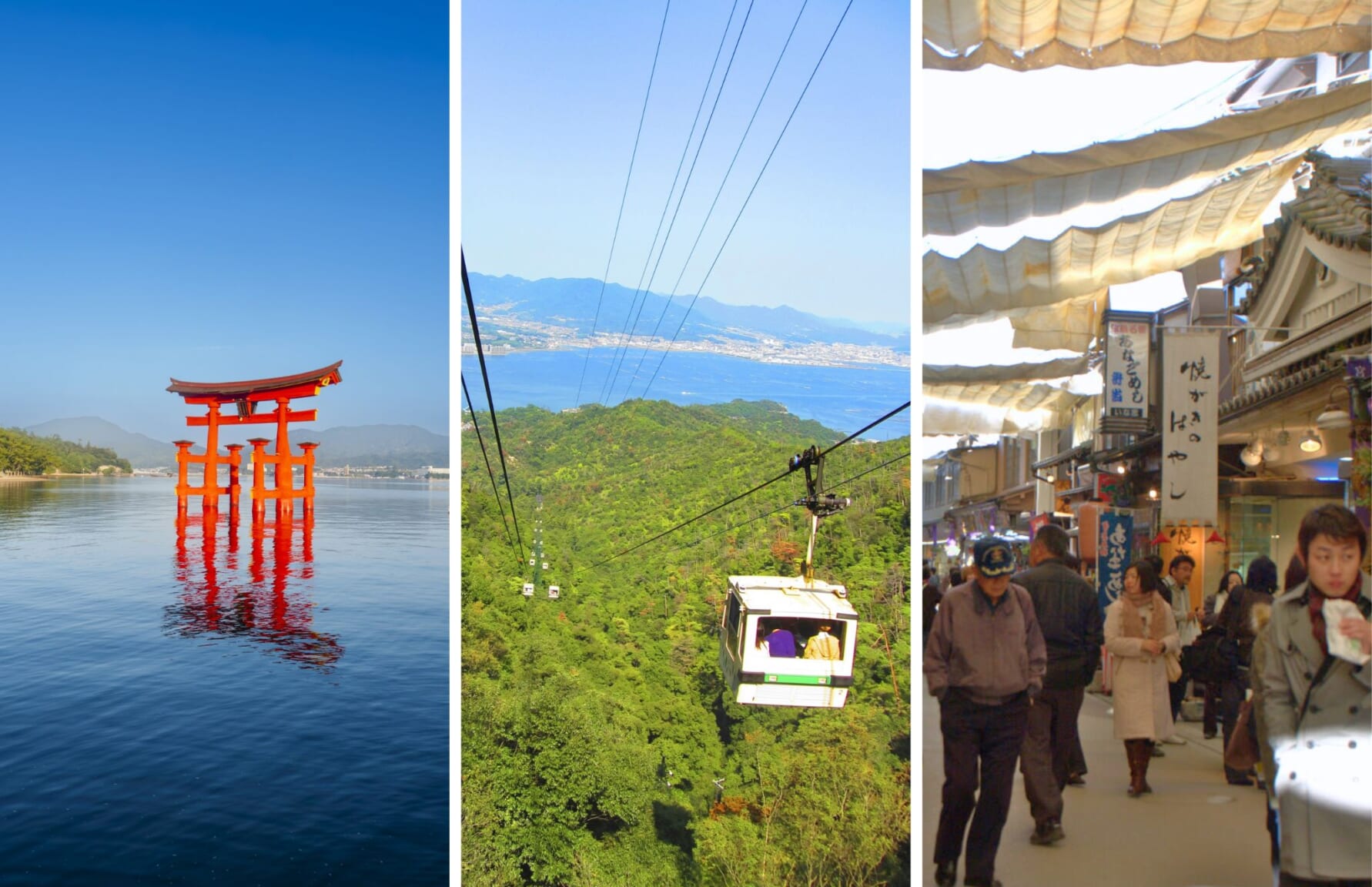 The next morning, you'll take a short ferry ride to Miyajima Island (宮島), also known as Itsukushima. As the ferry approaches the island, you'll catch your first glimpse of the iconic Itsukushima Shrine (厳島神社) and its floating torii gate. Pay attention when you disembark, as droves of lovely deers roam freely, mingling with visitors as if they too are here to admire the autumn leaves and whatever edibles (food or not) may be available in the visitors hands!
Built over water, the shrine seems to float at high tide, and the autumn leaves add an ethereal quality to this already mystical place. After exploring the shrine, you'll take the Miyajima Ropeway up to Mount Misen (弥山). The ride offers breathtaking views of the Seto Inland Sea, but it's the summit that steals the show. Blanketed in autumn colors, the mountain offers several hiking trails that lead you through a landscape that feels more like a painting than real life. If time allows it, you should stop by Miyajima's Omotesando Shotengai (宮島表参道商店街), a shopping street filled with delicious snacks and souvenirs where you can try local favorites like the momiji manju, a small cake shaped like a maple leaf, very fitting for autumn!
As the sun begins to set, you'll make your way back to the ferry. If you haven't had oysters yet, dinner is a good opportunity to enjoy one of Hiroshima's local specialties.
▽More information about what to do in Hiroshima!▽
▶10 Best Things to Do in Hiroshima
Days 11-12: Kanazawa – The Hidden Gem
Day 11: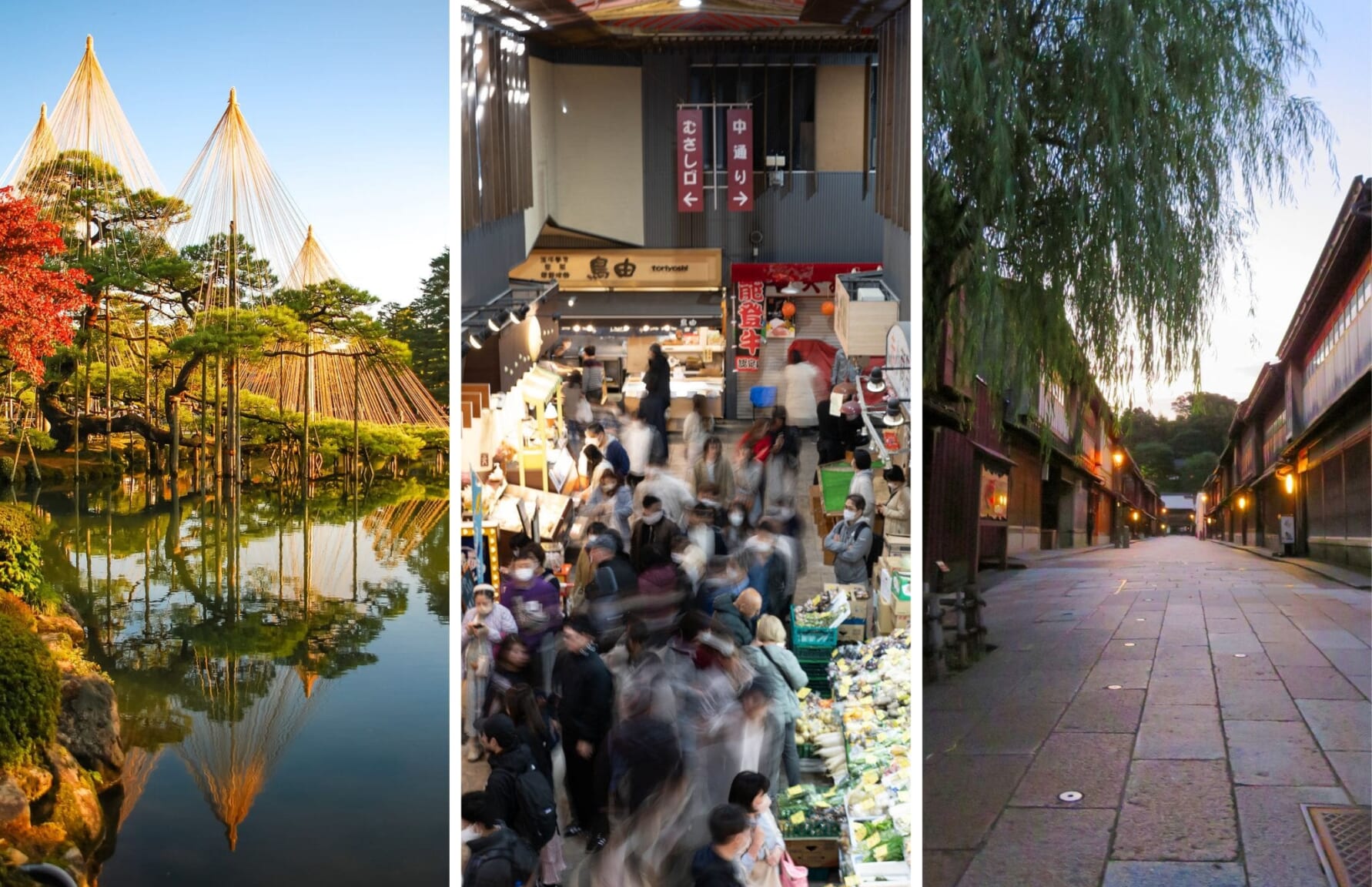 Often overshadowed by its more famous counterparts, Kanazawa is a city that exudes understated elegance. After leaving your belongings at your accommodation, you'll head to Kenrokuen Garden (兼六園), one of the Three Great Gardens of Japan. This is one of the most impressive places you will visit, regardless of the season, but autumn is truly special at Kenrokuen. A kaleidoscope of colors, with maples, ginkgos, and cherry trees all seem to be vying for your attention. The Kotoji-toro lantern, standing elegantly beside the pond, becomes an Instagram star during this season, its reflection dancing on the water's surface.
After soaking in the natural beauty, you have to stop by Omicho Market (近江町市場) for lunch. This bustling market has been Kanazawa's largest fresh food market since the Edo Period. Here, you can enjoy a seafood donburi or sushi, freshly prepared with ingredients from the Sea of Japan. Then, after this body and soul nourishment, make your way to the Higashi-Chaya District (ひがし茶屋街). This area is to Kanazawa what Gion is to Kyoto—a historic geisha district. The wooden-latticed exteriors of the teahouses and the cobblestone streets offer a glimpse into the samurai era. It's a perfect setting for a leisurely stroll, perhaps with a cup of matcha and a traditional sweet from one of the local tea shops.
For the evening you might want to stop by Kenrokuen again, to enjoy the sights of the garden and Kanazawa Castle (金沢城) with the special autumn illumination at night.
▽More information about what to do in Kanazawa!▽
Day 12: Shirakawago – A Fairytale in Foliage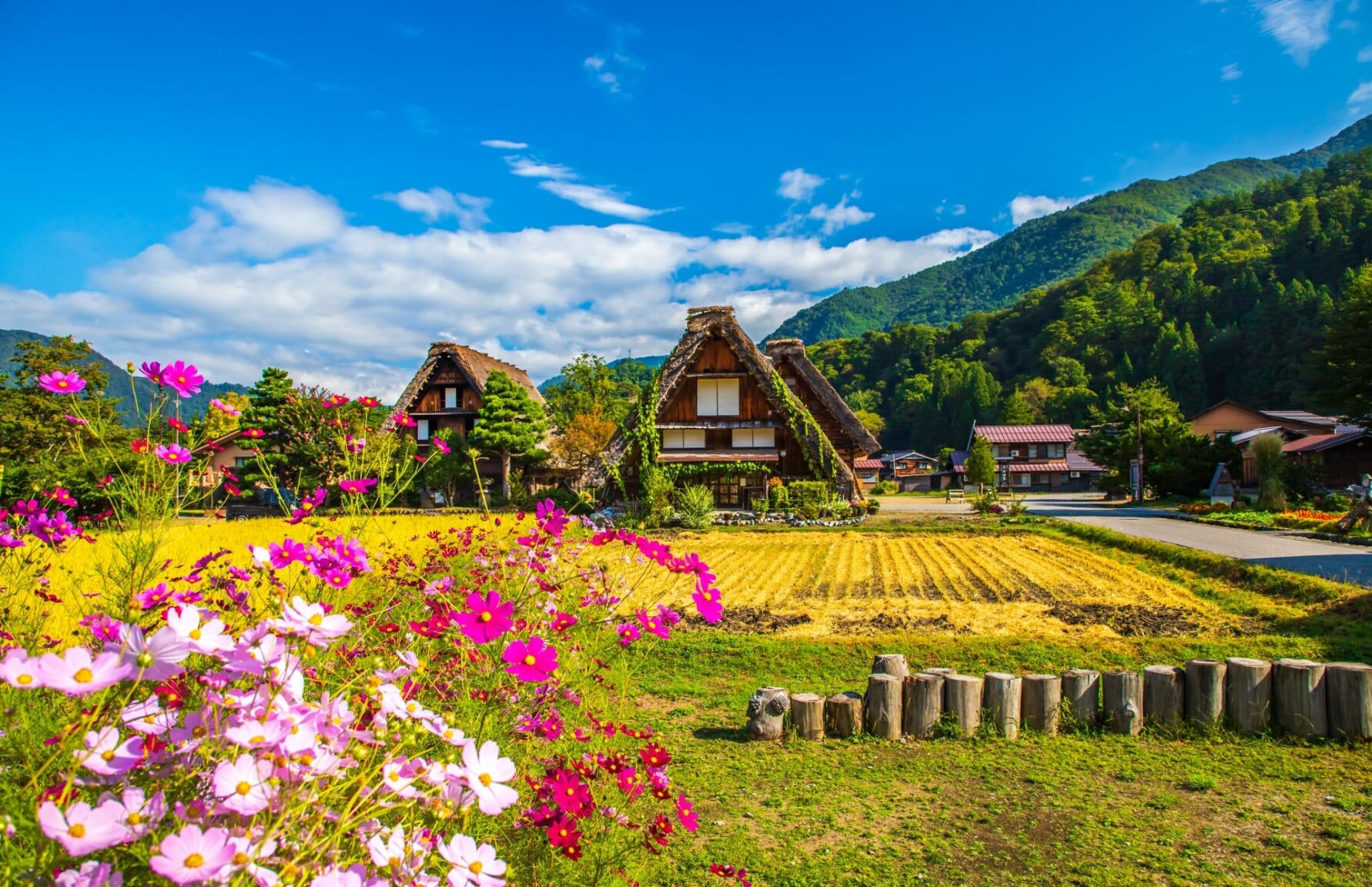 On your second day in Kanazawa, you'll take a day trip to Shirakawago (白川郷), a UNESCO World Heritage site famous for its traditional gassho-zukuri farmhouses, some of which are more than 250 years old. . These houses, with their steep thatched roofs, look like they've been plucked straight out of a storybook. But in autumn, the village transforms into something even more magical. The rice fields turn golden, and the surrounding hills are ablaze with autumn colors. Explore the village and check out the shops for traditional craft items.
After lunch, don't miss the Shiroyama Viewpoint. A short hike will take you to this vantage point that offers panoramic views of the village, framed by mountains and sky with autumn colors. Before the sun sets, make your way back to Kanazawa for dinner.
Days 13-14: Back to Tokyo
Day 13: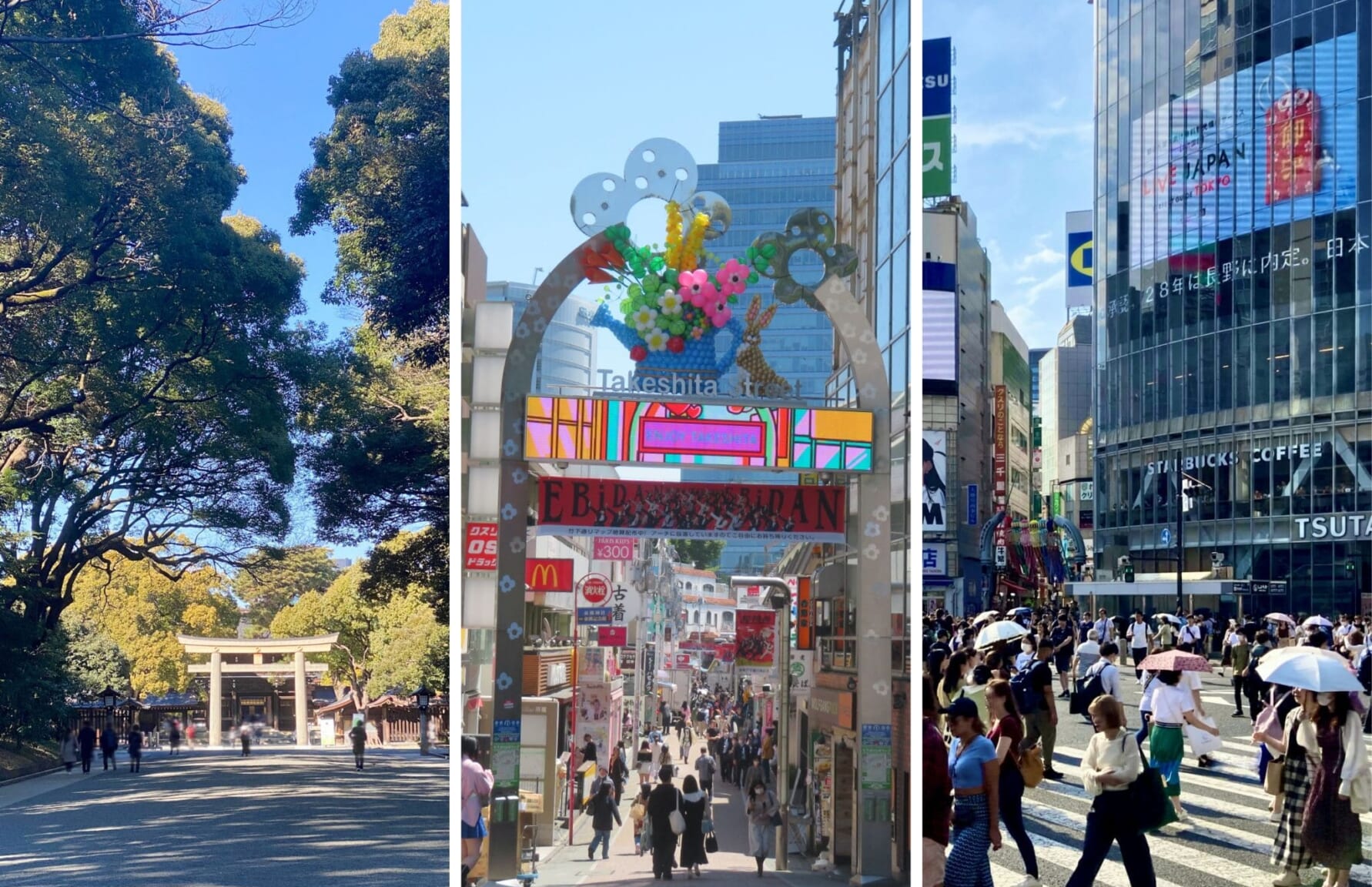 Your penultimate day in Japan brings you back to Tokyo, where you'll explore the trendy districts of Harajuku and Shibuya. The day kicks off at Meiji Shrine (明治神宮) in Harajuku, a Shinto shrine that offers a peaceful respite from the city's hustle and bustle. The shrine's forested grounds are particularly beautiful in autumn, providing a serene start to your day.
From the tranquility of Meiji Shrine, you'll dive into the youthful energy of Takeshita Street (竹下通り) in Harajuku. This street is the epicenter of Japan's kawaii culture, filled with boutiques, cafes, and street food stalls. If you missed out on quirky souvenirs the first time around, now's your chance. How about a crepe shaped like a unicorn or a t-shirt with a sushi print? The options are as endless as they are eccentric. Walking around the area you'll find yourself in Omotesando (表参道), a popular shopping avenue lined with zelkova trees that turn to a vivid yellow during autumn.
As afternoon turns to evening, you'll make your way to Shibuya (渋谷), home to the famous Shibuya Crossing. The world's busiest pedestrian crossing! As you stand amidst the sea of people, the neon lights illuminating the autumn sky, you'll realize that Tokyo is a city that never truly sleeps; it just takes short, caffeinated naps.
For dinner, Shibuya offers a plethora of options, from high-end sushi bars to cozy ramen shops. It's a fitting culinary conclusion to a day that's been all about the contrasts that make Tokyo so captivating.
▽More information about what to do in Harajuku and Shibuya!▽
▶HARAJUKU and SHIBUYA: 1 Day Itinerary in Tokyo
▶Harajuku Shopping Guide: 10 Best Shops in Harajuku
▶Shibuya Shopping Guide: 20 Best Shops in Shibuya
▶20 Best Restaurants in Shibuya
Day 14: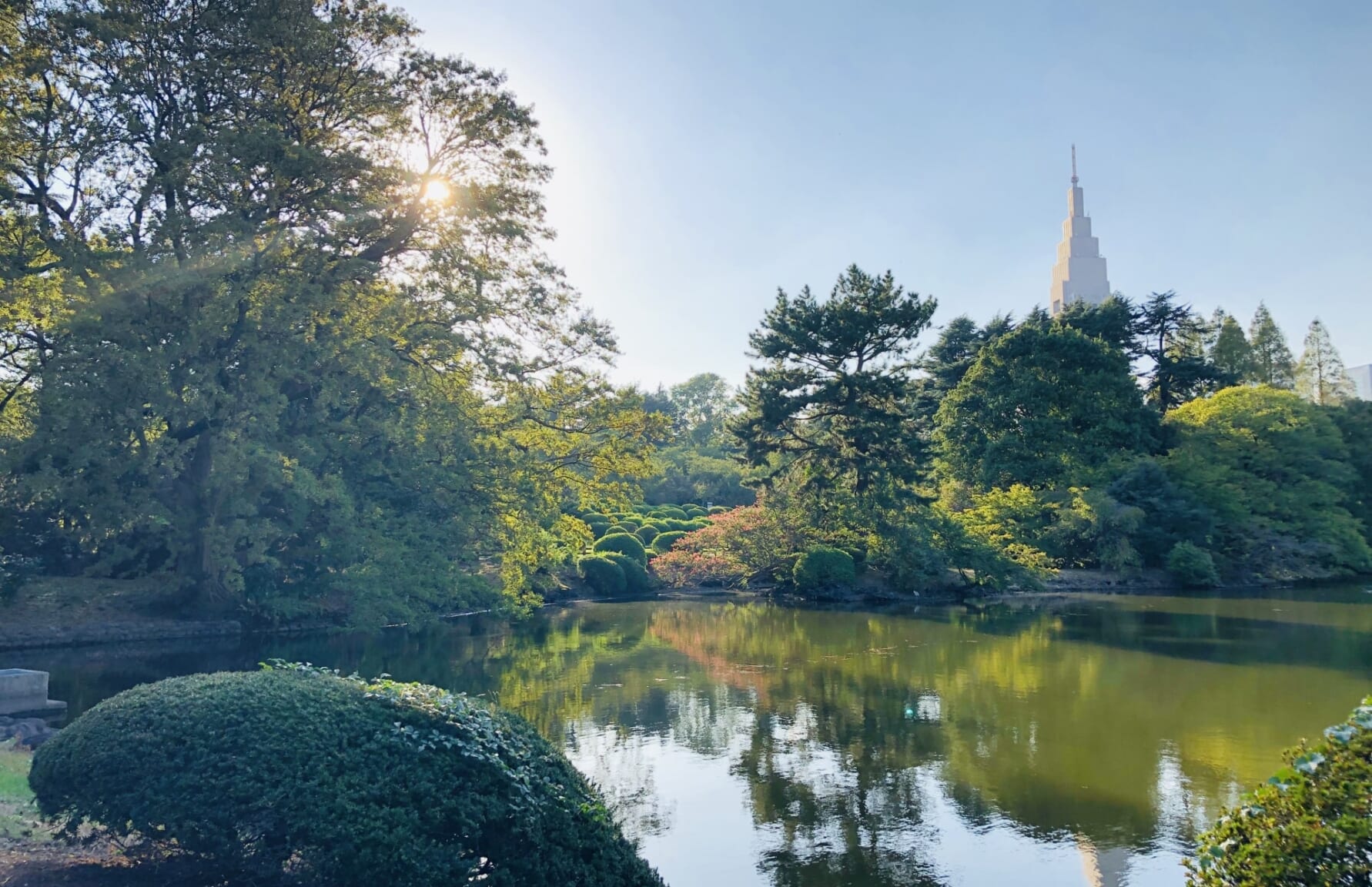 Your final day in Japan has arrived. If you have enough time before heading to the airport, having a morning stroll around Shinjuku Gyoen (新宿御苑) would be the perfect farewell. One of Tokyo's largest and most popular parks, it's a place where the city's frenetic energy gives way to tranquil gardens and spacious lawns. The park is particularly beautiful in autumn, with maple trees showcasing their rich colors. Spend a quiet moment enjoying matcha at the teahouse that's near the pond. Walk around the area close to Shinjuku Station for a last taste of Tokyo's vibrant spirit before heading for your flight back home.
▽More information about what to do in Shinjuku!▽
▶20 Best Things to Do in Shinjuku
▶20 Best Restaurants in Shinjuku Area
▶1 Day Itinerary in Tokyo: SHINJUKU
---
▽Here are some helpful passes for your journey in Japan!▽
▶ Book your Tokyo Wide Pass ticket here!
▶ Book your Hankyu Tourist Pass here!
▶ Book your Kansai Thru Pass (2 or 3 Days) here!
▶ Book your JR West Kansai Pass (1, 2, 3 or 4 Days) here!
---
Hopefully, this 14-day journey offers a deep dive into Japan's seasonal splendor, elevating your travel experience from mere sightseeing to a rich cultural immersion. It's not just a trip; it's your own autumnal epic in the Land of the Rising Sun.
▽Subscribe to our free news magazine!▽
For more information about traveling in Japan, check these articles below, too!
▽Related Articles▽
▼Editor's Picks▼
---