3 Best Traditional Gardens in Japan
The Three Great Gardens of Japan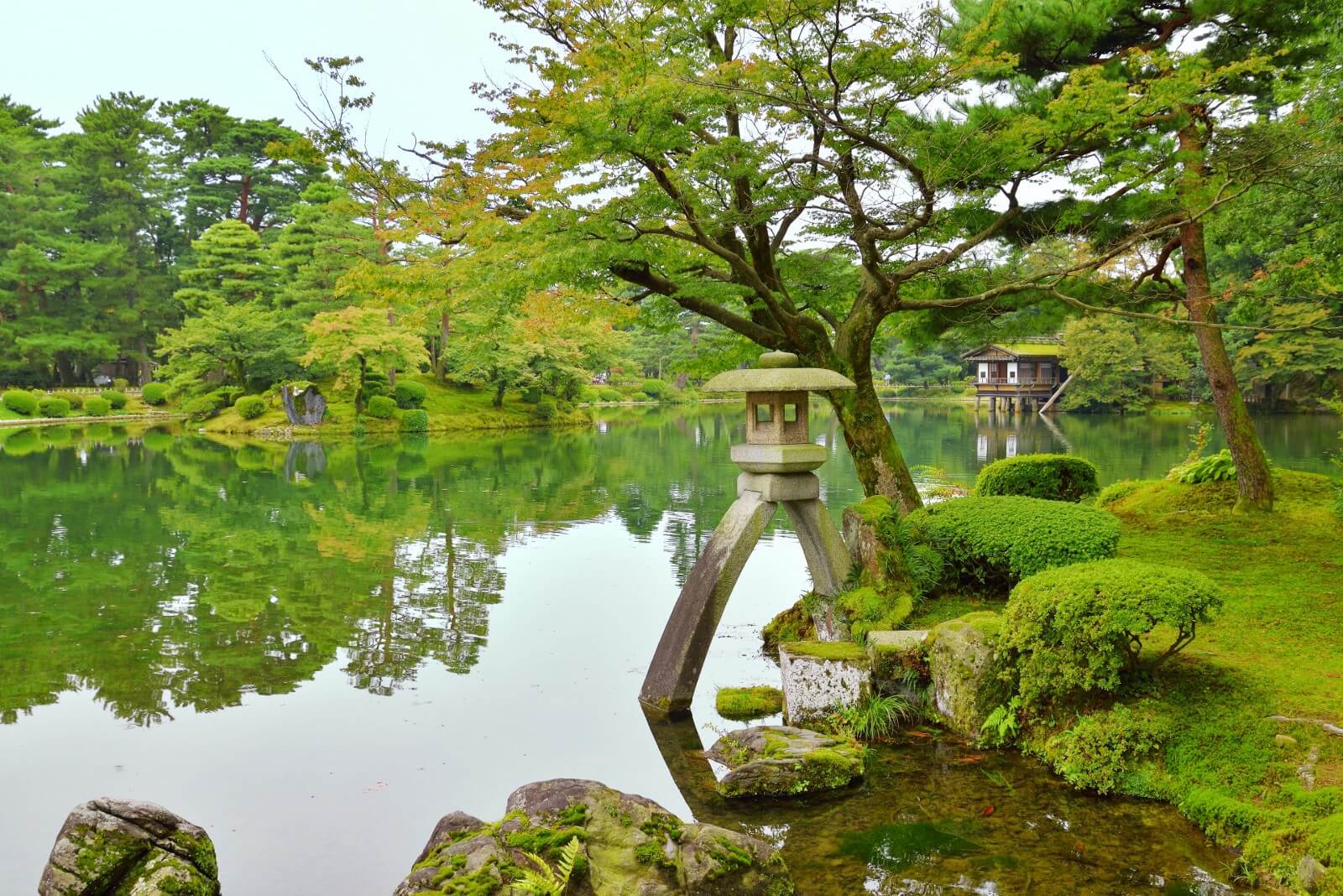 Foreign tourists plan to visit Japanese famous gardens to feel ZEN spirit. Japanese typical gardens are very quiet but gorgeous. They played important roles for feudal lords especially in Edo period. The lords lead construction of gardens to invite guests from all around the country. Each of them has various featured points such as historical houses, seasonal flowers, or centered pond.
Here is an introduction of Three Great Gardens including Kenrokuen, Korakuen and Kairakuen Garden.
1. Kenrokuen Garden (Kanazawa, Ishikawa)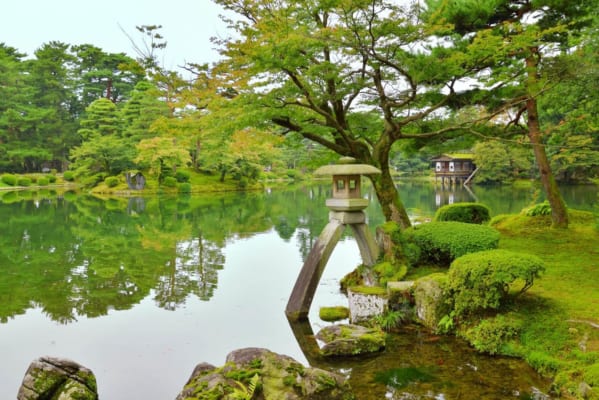 Kenrokuen Garden (兼六園) is a strolling-style landscape garden counted as one of the three noted gardens in Japan. It was founded and designed over generations during Edo period (1603–1868) by the feudal lord of Kaga which is current southern part of Ishikawa. Between November and March, you can see rare scene which is Yukitsuri around trees to prevent them from being broken by heavy snow. The trees are given extra support by bamboo poles.
Nearest Station: 15 minutes by bus from Kanazawa station/Exit: Kenrokuen exit
Search this word "Kenrokuen"on Google Map
Hours: 9:00 to 16:30
Closed: 29th Dec-3rd Jan
Fee: 310 yen
Website: http://www.pref.ishikawa.jp/siro-niwa/kenrokuen/e/index.html
2. Korakuen Garden (Okayama)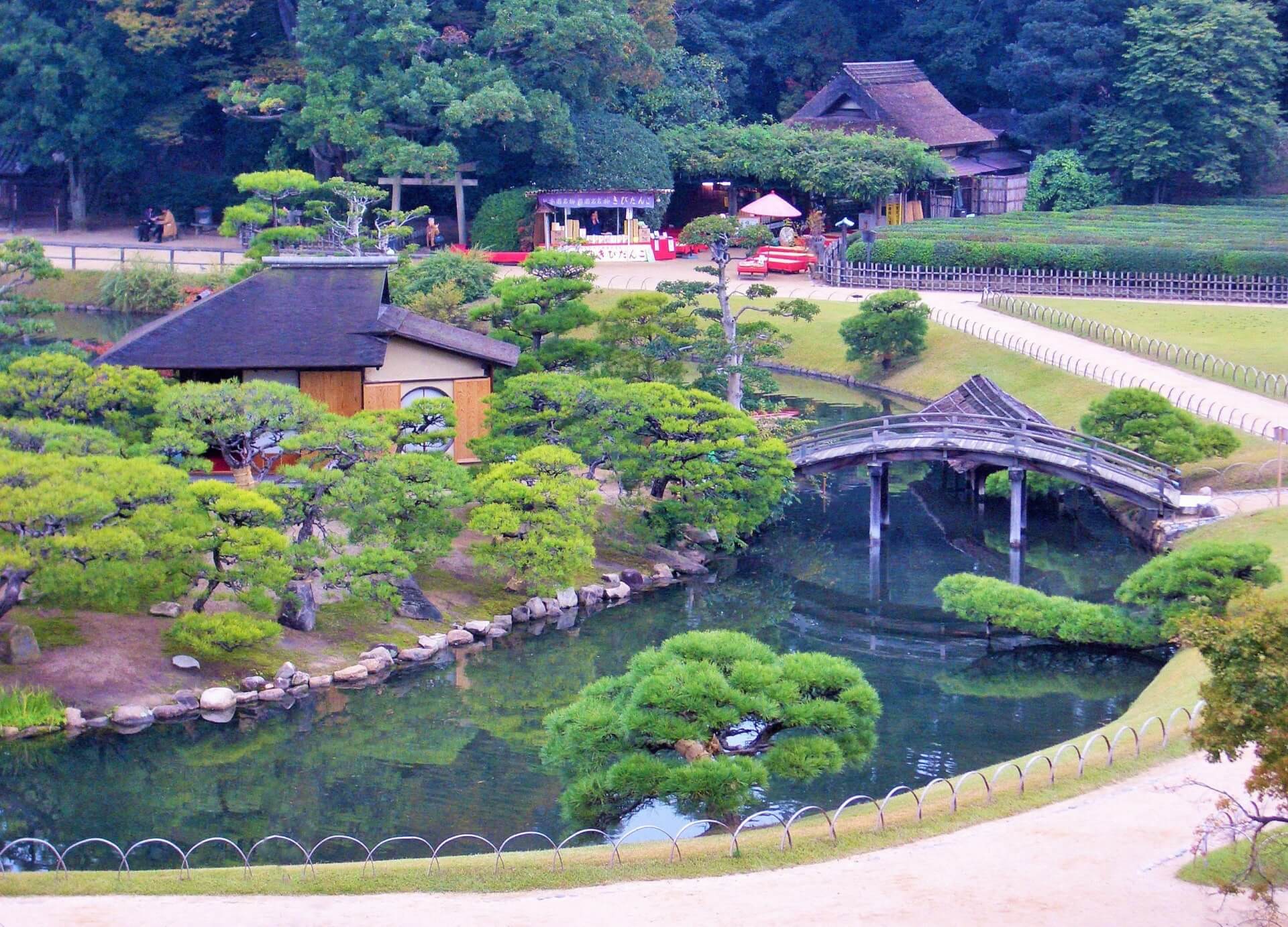 Korakuen Garden (後楽園) was built in 1700 (Edo period) by Tsunamasa Ikeda , a feudal lord of Okayama. It spreads in 144,000 square meters, and more than 10 historical houses are located. It has retained its original appearance since Edo period. There are a variety of flowers in all seasons such as cherry blossom, iris, autumn foliage, plum and so on.
Nearest Station: 25 minutes walk/12 minutes by bus (Platform No.1) from Okayama station(JR)/Exit: Korakuen exit (east)
Search this word "Okayama Korakuen" on Google Map
Hours: 7:30am to 6:00pm (20th Mar-30th Sep)/8:00am to 5:00pm (1st Oct-29th Sep) Everyday
Fee: 400 yen
Website: http://okayama-korakuen.jp/english/index.html
3.Kairakuen Garden (Mito, Ibaraki)
Kairakuen Garden (偕楽園) has opened since 1842, and its landscape gardening project was started by the feudal lord of Mito area Nariaki Tokugawa. A notable point is about 100 different species of plums blooming with a total of 3000 flowers in spring. The lord Tokugawa invited his guests to Kobuntei, the historical house in the garden. From the top of it, you can enjoy 360-degree view of Kairakuen.
Nearest Station: 20 minutes by bus (Platform No. 4, 6) from Mito station (JR)/Exit: North exit
Search this word "Kairakuen"on Google Map
Hours: 6:00am to 7:00pm(20th Feb-30th Sep)/7:00am to 6:00pm(1st Oct-19th Feb)
Hours (Kobuntei): 9:00am to 5:00pm(20th Feb-30th Sep)/9:00am to 4:30pm(1st Oct-19th Feb) Everyday
Fee: FREE
Fee(Kobuntei): 200 yen
Website: http://www.koen.pref.ibaraki.jp/foreign_language/en/index.html
↓↓↓For more articles about Japan, check these links!! ↓↓↓
▽Related Articles▽
▼Editor's Picks▼
---