Sukiyabashi Jiro: Best Sushi in the World
Review of my special sushi experience served by Jiro Ono at Sukiyabashi Jiro in Japan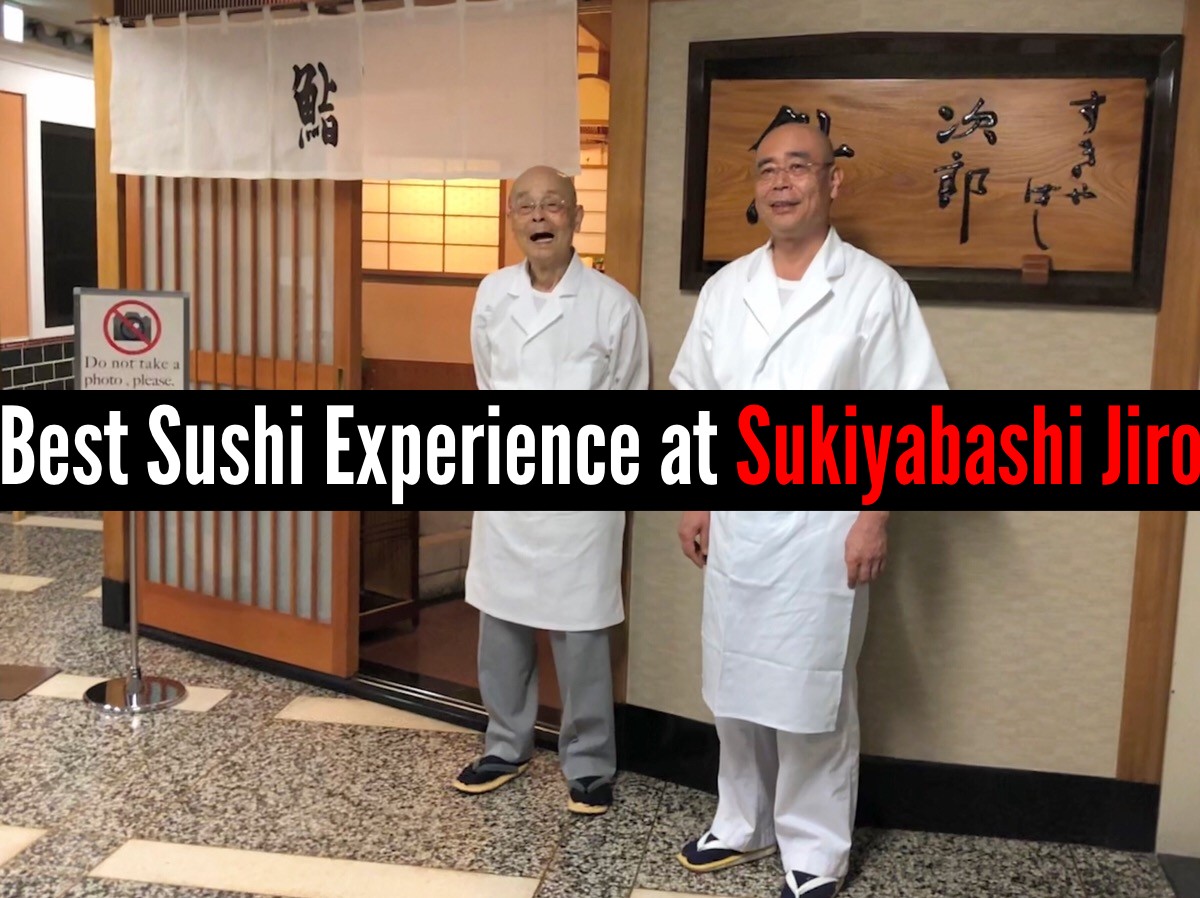 Finally, I got the chance to visit the worldwide renowned three stars Michelin restaurant Sukiyabashi Jiro for the one and only Sushi. The legendary Sushi restaurant is too difficult to book, however, I could book a luxury tour to Sukiyabashi Jiro in a special way fortunately. Here are my review for Sukiyabashi Jiro and how to make a reservation specially.
Sukiyabashi Jiro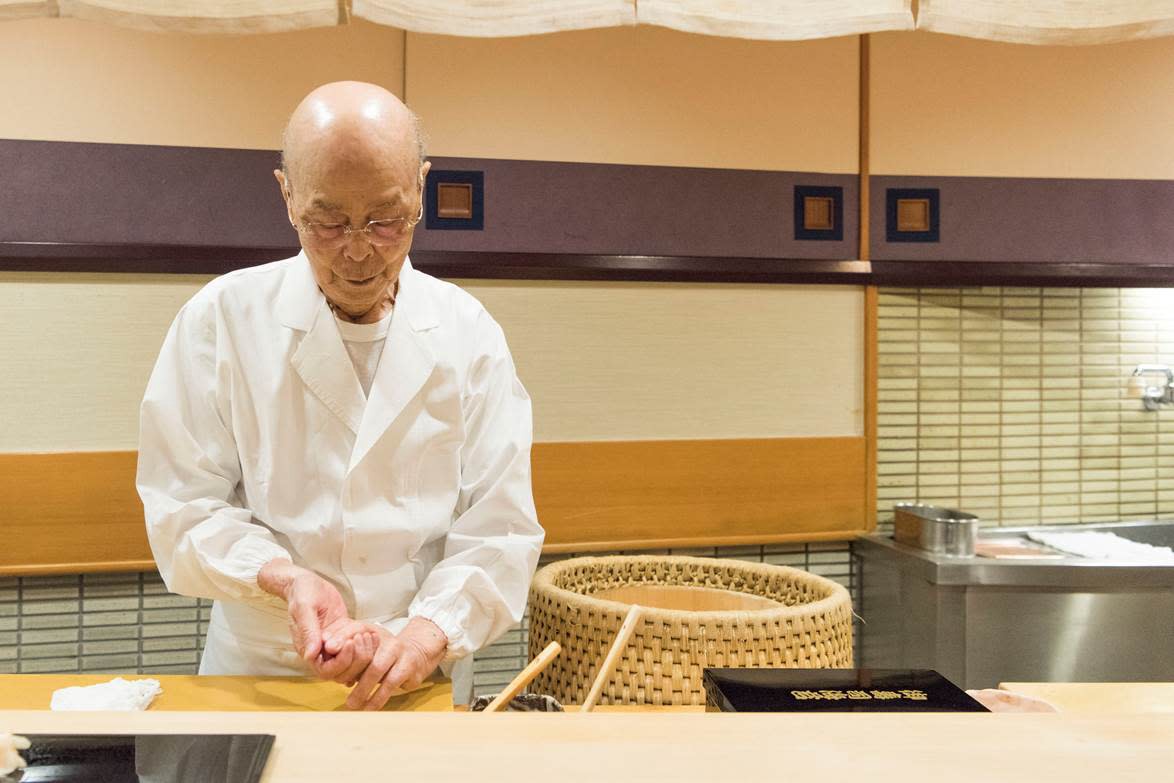 Sukiyabashi Jiro (すきやばし次郎) is one of the best praised Edo-style Sushi restaurants in Japan and all over the world, having been listed on the Michelin Guide as the three-star restaurant for 11 years running. It was opened at the current place in Ginza in 1965 by Jiro Ono who is the oldest chef (93 years old in 2019) of the three Michelin-starred restaurant. He still serves with his elder son Yoshikazu Ono there.
(Note: Sukiyabashi Jiro won't be listed on the 2020 Michelin Guide. Michelin recognizes that the sushi restaurant does not accept bookings except thought agencies or concierges, which is why Sukiyabashi Jiro loses its three Michelin stars.)
Sukiyabashi Jiro has been loved by lots of A-list celebrities including Arnold Schwarzenegger, Tom Cruise, David Beckham and Anne Hathaway. That world-famous French chef Joël Robuchon called the sushi restaurant one of his favorites in the world. In 2014, the former US president Barack Obama and Japanese Prime Minister Shinzo Abe enjoyed dining there.
The documentary film Jiro Dreams of Sushi in 2011 made Sushiyabashi Jiro become more famous worldwide. I really recommend to watch it before visiting the restaurant if you haven't.
Some people visit Japan only for dining at Sukiyabashi Jiro from overseas, but it is fully booked up months in advance as its website says. There are about 400–500 people on its waiting list at all times while only 10 seats in the restaurant. So, it never accepts a booking by calling and through its website. For those who want to book Sukiyabashi Jiro's seat by all means, I'd like to introduce how to book it in a special way below.
How was Sukiyabashi Jiro's Sushi?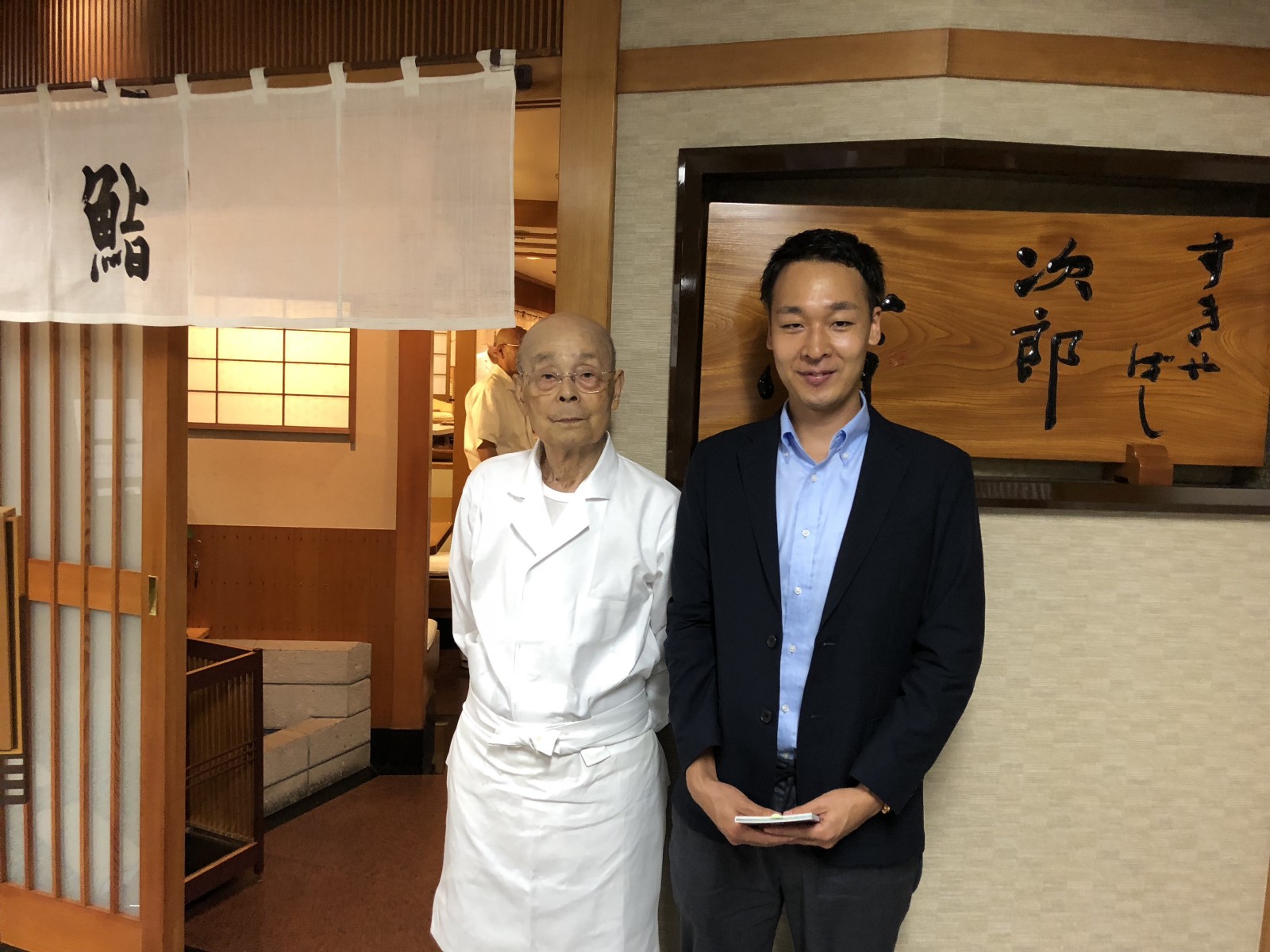 17:15 Meeting at Mitsukoshi Nihonbashi Main Store
We started this luxury tour in a small group (8 guests including me) on a first-class bus traveling around Ginza area. It was very hot and humid outside in this season, but the air-conditioned bus offered a comfortable time. An English-speaking guide kindly gave explanations for Sukiyabashi Jiro, how to eat Sushi and sightseeing spots around there passing Tsukiji Fish Market where the restaurant buys fish and other ingredients and Toyosu Market, the successor to Tsukiji Fish Market. You can fully enjoy the highlight of this tour Jiro's Sushi after getting to know these backgrounds.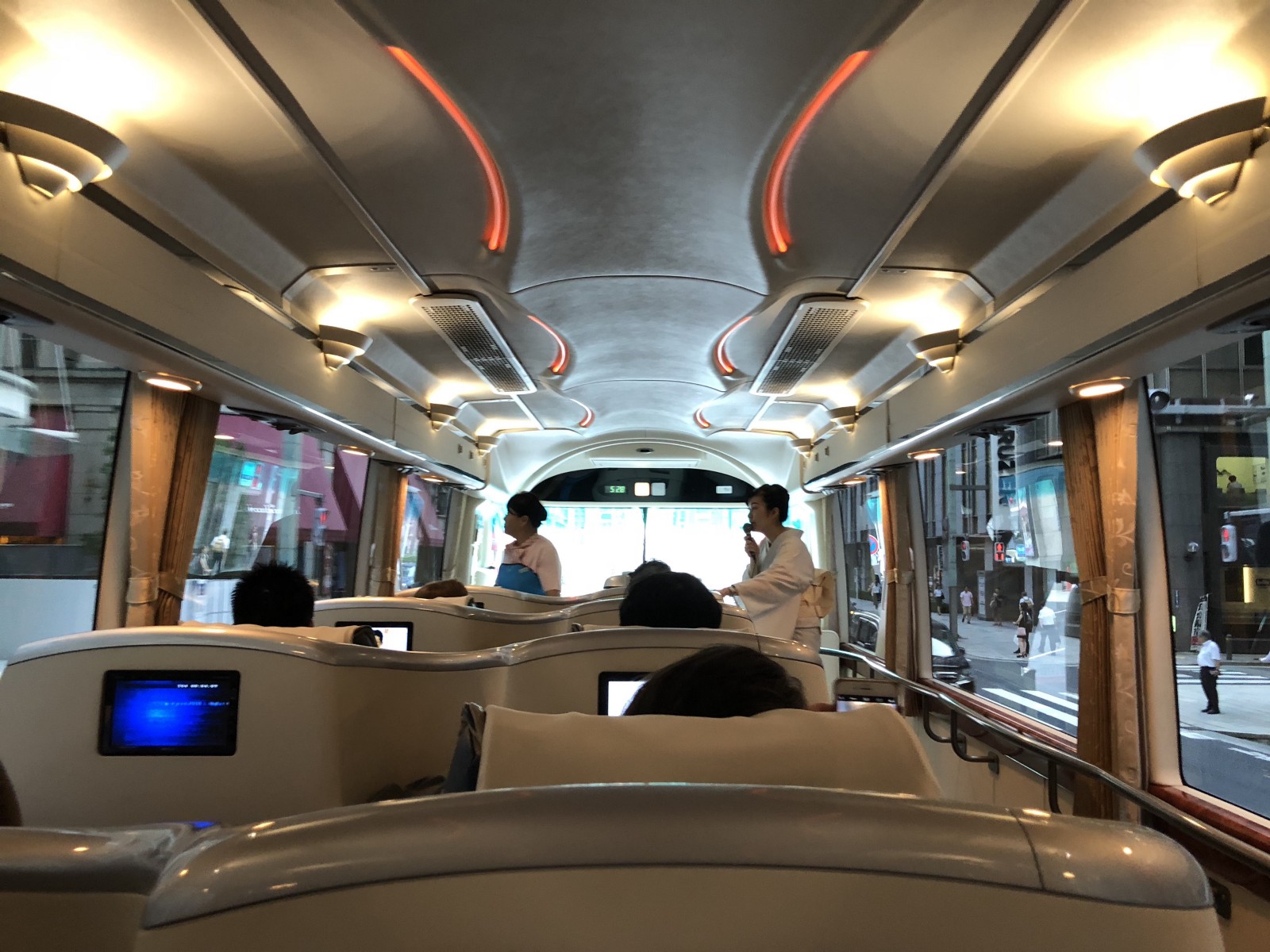 18:30 Arriving at Sukiyabashi Jiro
Finally, we arrived at Sukiyabashi Jiro with growing excitement. Some of us looked like excited but nervous since their dreams would come true: seeing Jiro and eating the dishes served by him.
There are only 10 seats in front of chefs including Jiro Ono and Yoshikazu Ono, and I sat in the very back followed by other seven guests. At the opposite end of my seat, the honored food critic Masuhiro Yamamoto sat, who is in the movie Jiro Dreams of Sushi. We could know what we were eating since Mr. Yamamoto kindly explained each Sushi piece and the guide interpreted it.
Then, hot green tea and cold water were put on the table, and I thought "Now, it's time." Sukiyabashi Jiro has only one menu: Omakase Course. They buy fish at Tsukiji Fish Market every morning and decide the course menu and the order depending on which ingredient they can get there. The order is decided by Jiro so that we can enjoy tasting each of the authentic sushi in the best order.
Mr. Yamamoto said that the course consisted of three movements like concerto. Each sushi piece was put on the black plate in front of us at a fast pace. It was highly recommended to eat them as soon as they were prepared on the plate for the best condition. You don't need to dip sushi in soy sauce since they are already flavored.
1st Part
The first movement of the course started with Hirame (Flounder) which was the king of winter whitefish. Sukiyabashi Jiro was the first restaurant to serve whitefish to begin that Omakase course.
Firstly, I was surprised that the dish was a little hard even for me (a Japanese local) to pick up by my fingers and chopsticks since it was pretty soft and sensitive. That was because the rice contained much air. Gently lift it up with your fingers or chopsticks in a not vertical but level way. You can eat Sushi with either your fingers or chopsticks. For fingers, use just your two; thumb and middle.
The rice with vinegar tasted a little sour in the first place, but it was getting more and more delicious every piece. Nextly, Sumi-Ika (Golden Cuttlefish) was served, and then Shima-Aji (Striped Jack).
Followed by three kinds of tuna, the symbol of Sushi, finally. The first one was Akami (Lean Tuna). The more I bit, the better it tasted. The next one Chutoro (Medium Fatty Tuna) was literally melting in my mouth. Jiro said "Maguro consists of Akami, Chutoro and Otoro. When it comes to Umami, nothing beats Chutoro." The most expensive part of tuna Otoro (Fatty Tuna) was just amazing.
The first movement ended with Kohada (Gizzard Shad) which is the most important Sushi topping for Jiro. The theme of the starting part was classic with traditional Sushi toppings.
2nd Part
Seasonal fish lined up in the second movement with the theme of "season". The first piece of the movement was the king of summer shellfish Awabi (Abalone) which was chewy and warm. The temperature of their Sushi entertained us. The next raw fish Aji (Jack Mackerel) was one of the most popular items. The Mexican guy sitting next to me told it was the best dish in the Omakase course and I agreed with him. It felt a little cold, and another character of the second movement was the temperature difference like a roller coaster.
The next Sushi Kuruma-Ebi (Boiled Prawn) was the freshest since the prawns were freshly peeled in front of us. Torigai (Cockle Shell) was the 11th piece, but I did not feel full at all. It appetized me much more.
Katsuo (Bonito), one of the most popular Sushi among foreign visitors, tasted rich and smelled smoky. It was followed by Shako (Mantis Shrimp), and then Aji-su (Vinegared Jack Mackerel). The second part finished.
The scene of Jiro and Yoshikazu's serving was like a conductor of an orchestra. During the course, I really felt as if an orchestra had been played in my head.
3rd Part
The final movement began with the most luxurious topping Uni (Sea Urchin). It may look like strange for some people, however, it's highly recommended to try. As Joël Robuchon exclaimed "It's as if I'm eating cream", it tasted meltingly delicious. Eat it at one bite with your mouth wide open.
Kobashira (Baby Scallops) perfectly matched the flavor of seaweed wrapped around the Sushi, which is roasted every morning. Nextly, Anago (Sea Eel) was served, and we were approaching the end of the course. Anago is one of the Jiro's specialties and tasted soft and creamy. Jiro said "Because we cook Anago to be very tender, serving it in Sushi is very difficult."
Surprisingly, Kampyo-Maki (Dried Shavings of Calabash Gourd) was specially offered as an extra piece. And the whole of the course ended up with Tamago (Grilled Eggs). I heard that it took a few years to get an ability to cook the Tamago at Sukiyabashi Jiro. It was really soft and sweet like Castella.
I finished these 19 Sushi pieces within about 30–40 mins! Jiro's Sushi was extremely simple and pure. That's why the authentic tastes of the fish maximized.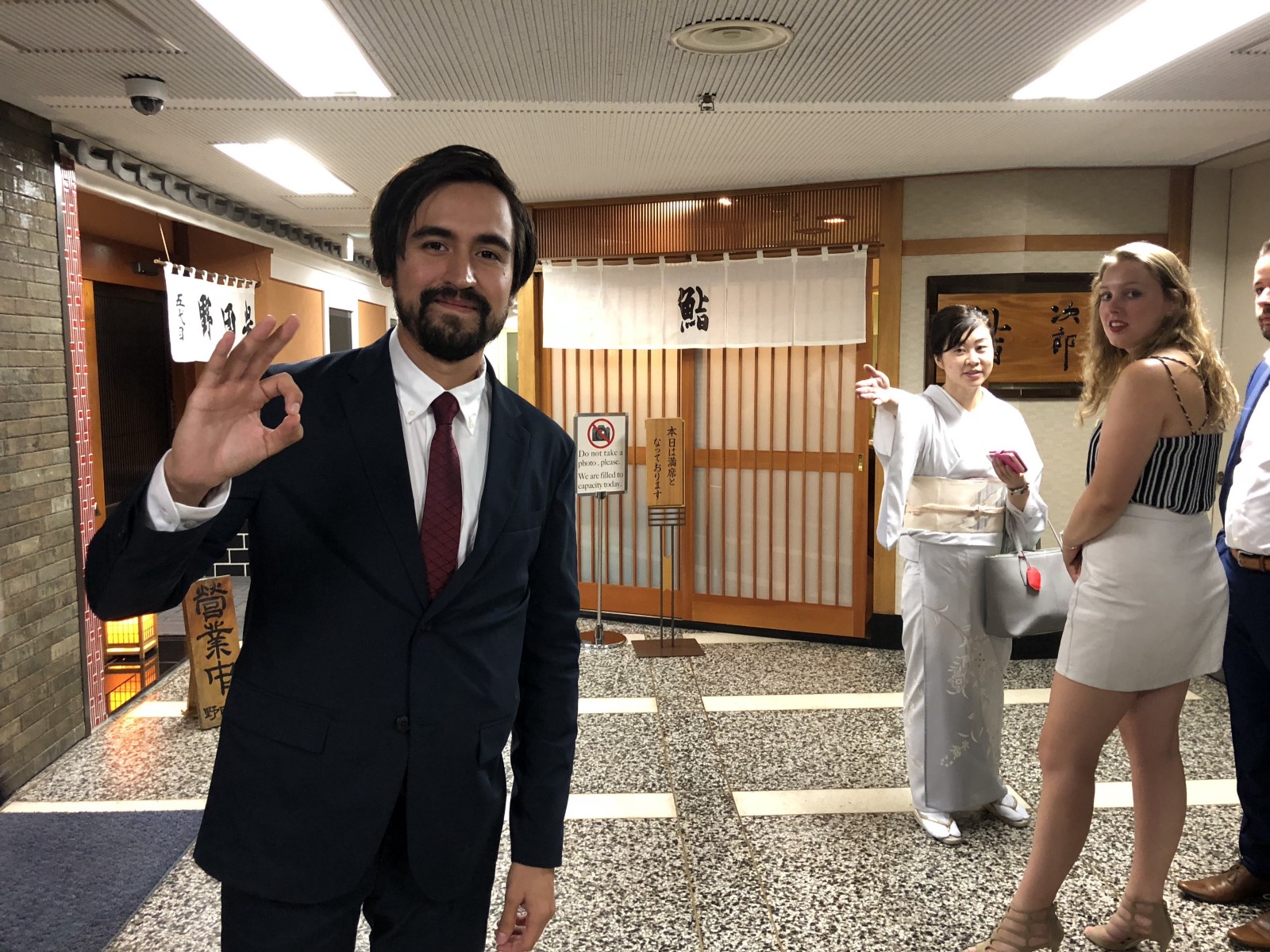 Other guests including American, Mexican, Dutch and Chinese said they had experienced top class restaurants in the world until then, but Sukiyabashi Jiro was one of their best ones. They looked so satisfied (so did I definitely.) I had a once-in-a-lifetime experience and memory.
19:30 Taking pictures with Jiro Ono
On this dining tour, you can get various information and tips about Sushi from Mr. Yamamoto, and you can take pictures with Jiro and Mr. Yamamoto in front of the restaurant. We could also take pictures with Yoshikazu specially at this time. The entrance of the restaurant sells a book about Jiro and his Sushi written by Jiro and Mr. Yamamoto with their signatures. Get one for your souvenir. Don't throw away your menu and bring it to your home since Jiro generously writes his autograph on it.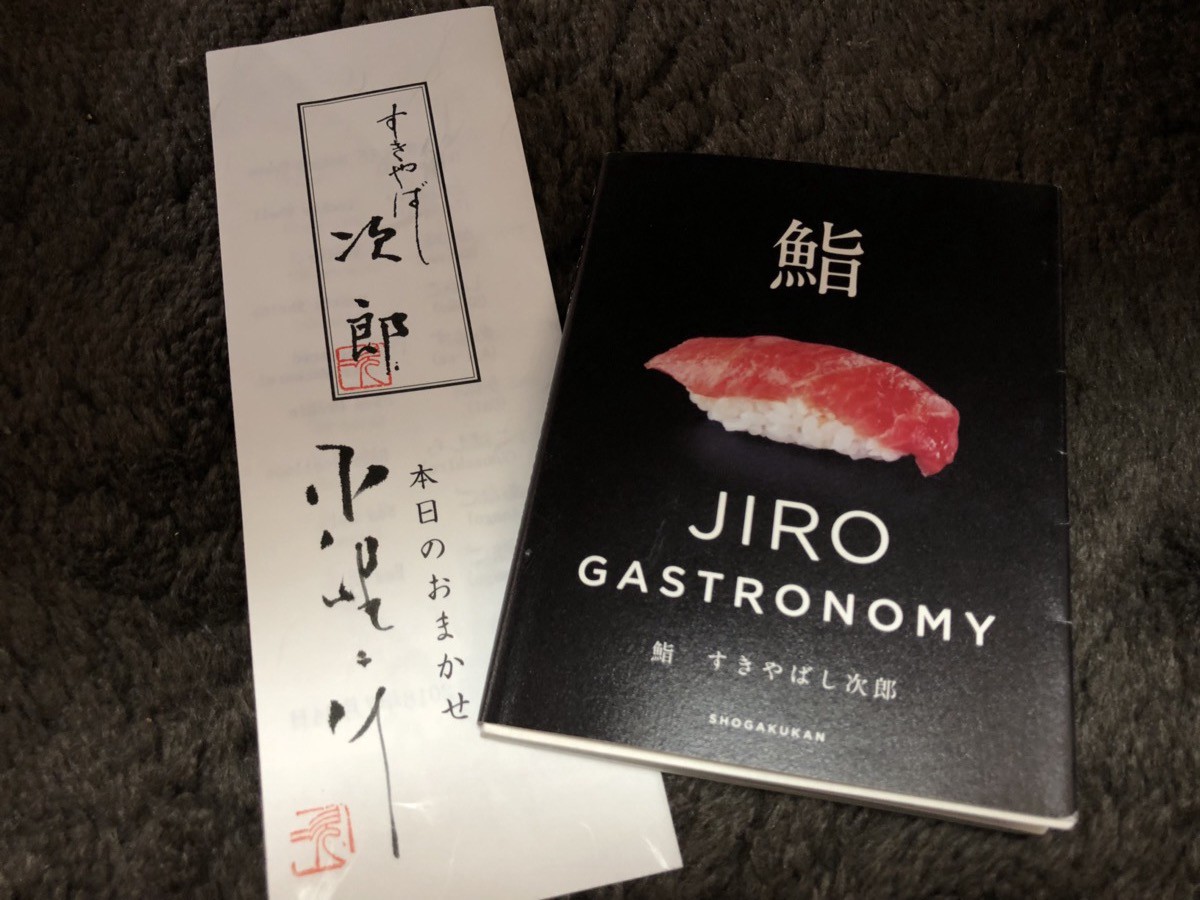 After the photo shoots, we had to say goodbye to them. They kindly saw us off with a smile and said "Come back again, please. We will offer different fish in winter." I really wish I will visit Sukiyabashi Jiro again.
How to Make a Reservation
Sukiyabashi Jiro is one of the most difficult restaurants to book in Japan for its popularity despite the limited seats. Visitors from overseas can check availability and reserve seats for Sukiyabashi Jiro only through hotel concierges according to the official website.
On the other hand, there is another branch of Sukiyabashi Jiro in Roppongi, which also gets Michelin Stars. You can have an authentic sushi experience there. It accepts reservations via this website below.
<<Click HERE to Reserve Sukiyabashi Jiro Roppongi Now!!>>
Overall
In conclusion, Sukiyabashi Jiro became my best dining experience ever while I have visited over a hundred Sushi restaurants in Japan. Totally worth it! I will get the chance to visit there in winter.
Some people said "unfriendly chefs served quickest and said less words", but I don't think so personally. Sukiyabashi Jiro is the best spot to just enjoy the authentic Sushi tastes. If you want to drink and chat a lot during eating Sushi, it's a potential alternative to choose other Sushi restaurants.
The book introduced above Sushi: Jiro Gastronomy is worth buying. There are descriptions and pictures of each Sushi served at Sukiyabashi Jiro and how to eat Sushi, written in both Japanese and English. Bring it to your country back.
And before visiting the restaurant, you should watch the documentary film Jiro Dreams of Sushi to fully enjoy it. Most of our group guests have watched it.
If you are not able to find any seats available during your stay in Japan or want to try the authentic Sushi at a more affordable price, I recommend to choose Sukiyabashi Jiro Roppongi Hills branch. The branch is Michelin 2-starred and Jiro's younger son Takashi Ono cook Sushi there!
▽Reserve Sukiyabashi Jiro Roppongi Hills branch!!▽
Information
Sukiyabashi Jiro
Access: 1 min walk from Exit C6 of Ginza Station (銀座駅)
Official Website: https://www.sushi-jiro.jp/
Notes:
*Refrain from taking photos of the sushi. The only sure way of enjoying Jiro's sushi is to concentrate on dining.
*Sukiyabashi Jiro has no special dress code. Many guests wear jackets. We may, however, refuse service to customers wearing collarless shirts or shorts, or sandals.
*No strong perfume
Get the information about things to do in Ginza before/after dining at Sukiyabashi Jiro!!
▶︎Best Things to Do in Ginza
▶︎Ginza Shopping Guide
For more information about food in Tokyo, check these articles below!
▽Related Articles▽
▼Editor's Picks▼
---