How to Get to Tokyo Disneyland and DisneySea by Bus or Train
Go to Tokyo Disneyland and DisneySea from Narita, Haheda Airports or Tokyo Station??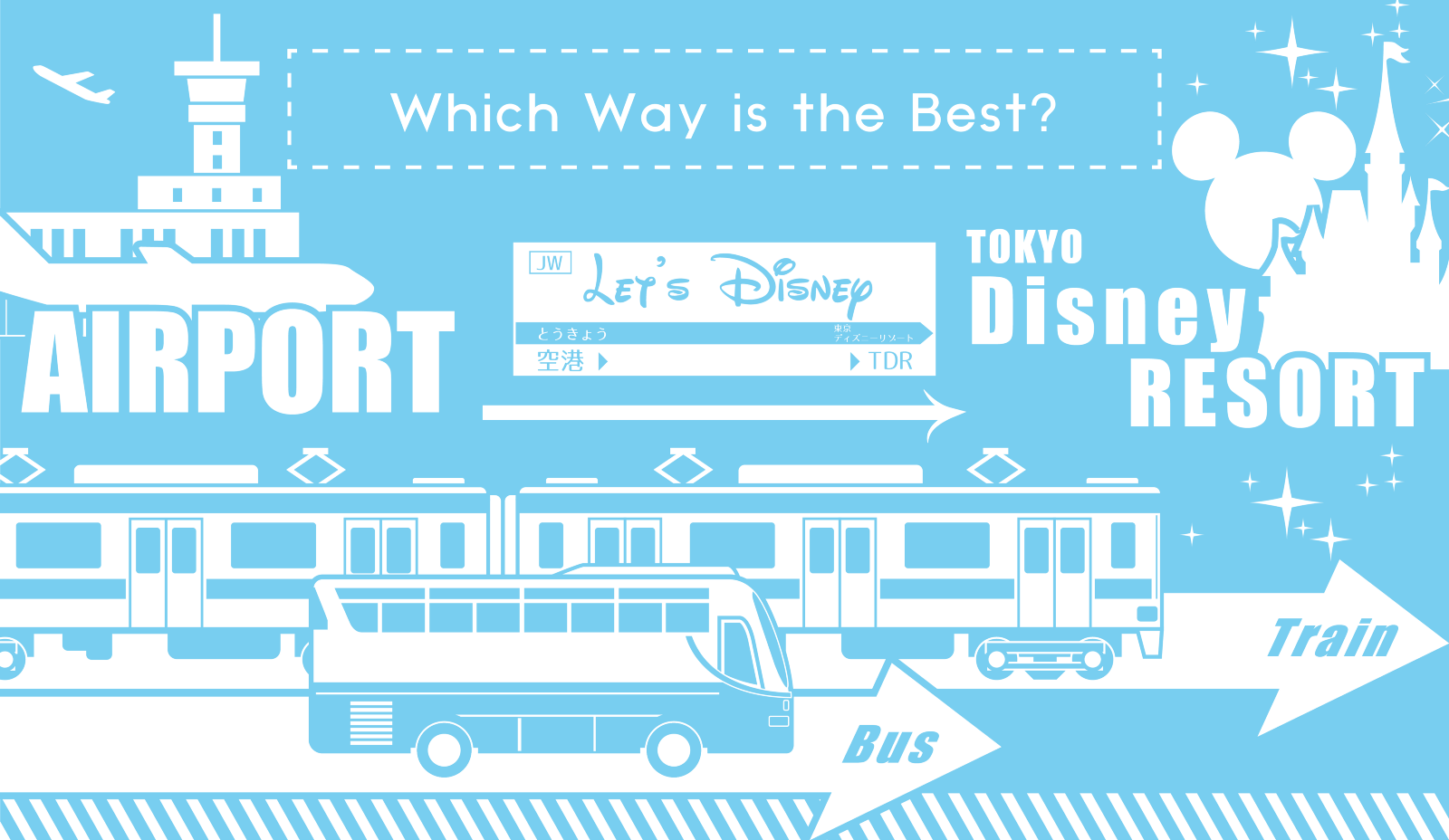 Tokyo Disney Resort is one of the top tourist attractions in Tokyo. But, funny thing, in fact Tokyo Disney Resort isn't in Tokyo but in Chiba, another prefecture next to Tokyo. I guess "Chiba Disney Resort" doesn't sounds as cool as Tokyo, and since they are close they thought "let's just say Tokyo, they will not notice it"😂 Anyways, the point I want to make is, get to Tokyo Disneyland or DisneySea from Tokyo city can take between 25-50 minutes depending on which part are you staying.
Planning to go to Tokyo Disney Resort from Narita/ Haneda airports directly or from Tokyo but not sure about which is the best way??
Here we are introducing the best way to go to Tokyo Disney Resort including Disneyland and DisneySea from major starting points in Tokyo: from Narita Airport, Haneda Airport, Tokyo Station and Shinjuku Station. Do you wanna learn here which way fits more for you, train, taxi or bus? Then keep reading!
▶️Book now your Tokyo Disneyland or DisneySea Tickets
▼Tokyo Disneyland Guide: Spend your limited time wisely▼
▼Tokyo DisneySea Ultimate Guide: How to Enjoy to the Fullest in a Day▼
---
How to Get to Tokyo Disney Resort: Train or Bus?
Before going into the details of each service, let's have a quick comparison to give you an idea. The following infographic shows some of the most important information.
Approx fare: This is the approximate cost for this service. In some services prices might change.
Time: This is the lowest time possible for this service. Time might change in some services depending on where your destination is or the conditions (heavy rain, traffic jam, etc).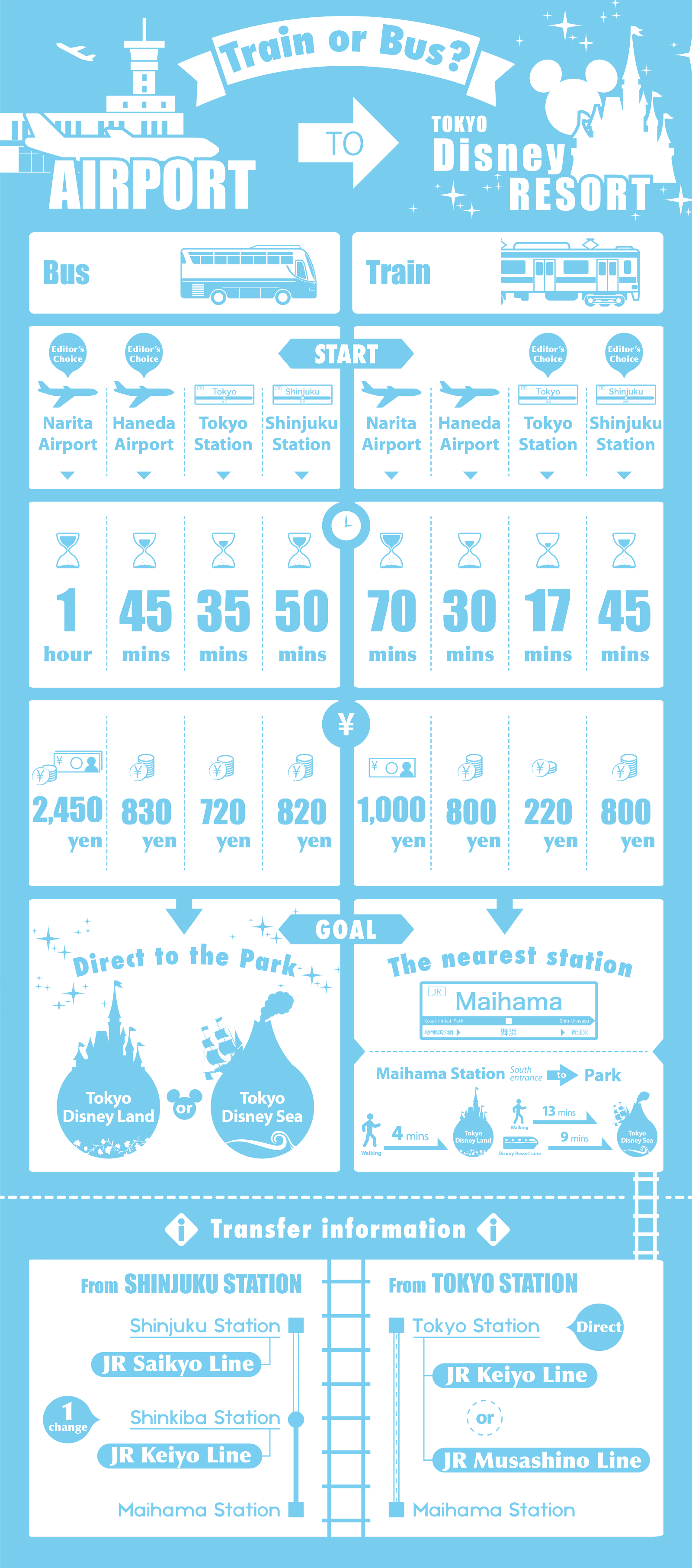 From Tokyo Station
The easiest and most convenient way to get to Tokyo Disney Resort is from Tokyo Station, since you don't need to change any trains. All you need is to get on JR Keiyo Line (京葉線) or JR Musashino Line (武蔵野線) and to get off at Maihama Station. Take the South entrance and walk 4 minutes to Tokyo Disney Land or use the Disney Resort Line 9 minutes to get to Tokyo Disney Sea.
Buses are also available, but they take more time and money, so is not the best option. In case you are traveling with family and/or kids, and budget isn't a problem for you, private transfers are also available. Even if train is the best way, Tokyo Station is one of the busiest stations in Japan, with a lot of people in rush hour and several lines, so it may be a bit overwhelming. The private transfer brings you from door to door, and you have your own space.
Train: 17 min/around 220 yen
Bus: 35 min/720 yen
Private Transfer: 20 min/from 14,000 yen
Using a private transfer? Book here your ride and get a 1,000 yen discount!

---
From Shinjuku Station
Shinjuku Station is the busiest train station in the world. Although centrally located and well used, it's not the one with the best connection to Tokyo Disney Resort. You need to take JR Saikyo Line to Shinkiba Station and get off at Shinkiba Station. Then, change trains to JR Keiyo Line (京葉線) to Maihama Station.
Shinjuku Station also has BUSTA, one of the largest bus terminal in Tokyo in front of its south exit. Buses to Tokyo Disney Land or DisneySea run from 6:40AM–9:50AM. Both the train and the bus take approximately the same time and the price is similar, so in this case you can choose the option you feel more comfortable with. On the one hand the bus can encounter traffic and delays, and on the other hand Shinjuku station is quite chaotic and the Saikyo line is one of the most used by Tokyoites to go to work so early in the morning it is VERY crowded.
As with Tokyo Station, the option of a private transfer is also available.
Train: 45 min/around 800 yen
Bus: 50 min/1,000 yen
Private Transfer: 30 min/from 14,000 yen
---
From Narita Airport
I recommend to get to Tokyo Disney Resort from Narita Airport by bus rather than by train. A bus takes less time to get there while it's a little more expensive. And it's much easier to use than the complicated train system. In addition, the bus allows you to leave your luggage in the trunk and travel much more comfortably. And now the bus ticket price has gone down! So it's a good value for money.
If you prefer to take a train to save more money, then you need to go to Tokyo Station and change trains to JR Musashino Line or JR Keiyo Line to Maihama Station. Alternatively, you can take the Keisei Narita Skyaccess to Higashi Matsudo and change trains there to Maihama Station.
Train: 90 min/from 1,300 yen
Bus: 60 min approx./1,900 yen
Private Transfer: 45 min approx./from 25,650 yen
▼Bus ticket counters in the Terminal 1▼

▼Bus ticket counters in the Terminal 2▼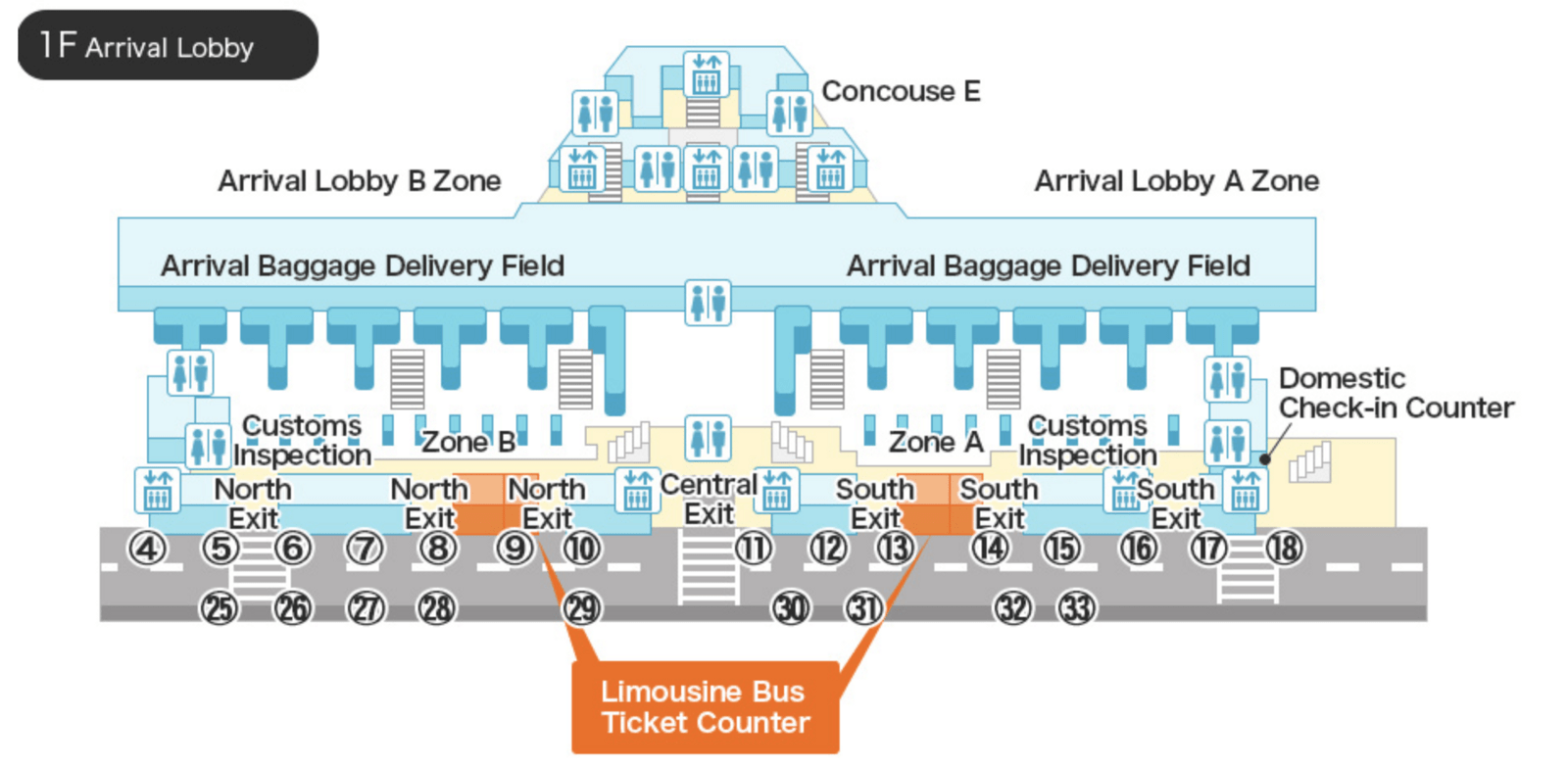 Your large luggage is a pain to carry, isn't it??
Deliver your luggage to your hotel from Narita Airport if you directly go to Disneyland and DisneySea just after landing.
---
From Haneda Airport
From Haneda Airport, buses should be the first option. The time and fare needed are almost the same as each other. But it's even easier for foreign tourists to use buses than a train which requires to change trains some times.
Haneda Airport it's near to Tokyo Disney resort by car, so a private transfer it's also a good option for those traveling without a budget.
Train: 30 min/around 900 yen
Bus: 45 min/1,000 yen
Private Transfer: 30 min/from 17,070 yen
▼Bus ticket counters in the International Terminal▼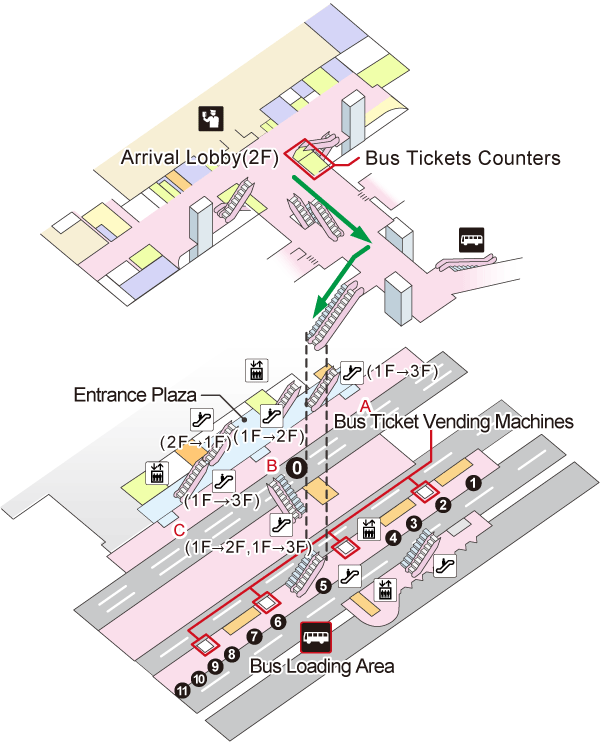 ---
Move to each other Disneyland and DisneySea
From Maihama Station, Disney Resort Line runs through both parks. The fare is 260 yen per a ride and it's a super cute train decorated with Disney characters.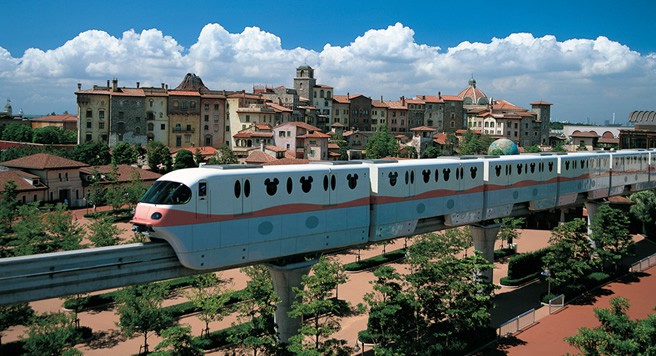 ---
Searching for a private transfer in Tokyo? Our affiliate provider Airport Taxi is one of the best services for transfer, with a competitive fixed price and English speaking customer open every day from 8:00 to 23:00. In addition, they use comfortable 7-seater vehicles so it's ideal for big groups.
And now only for Japan Web Magazine readers, all orders with Airport Taxi have a 1,000 JPY discount using this coupon code!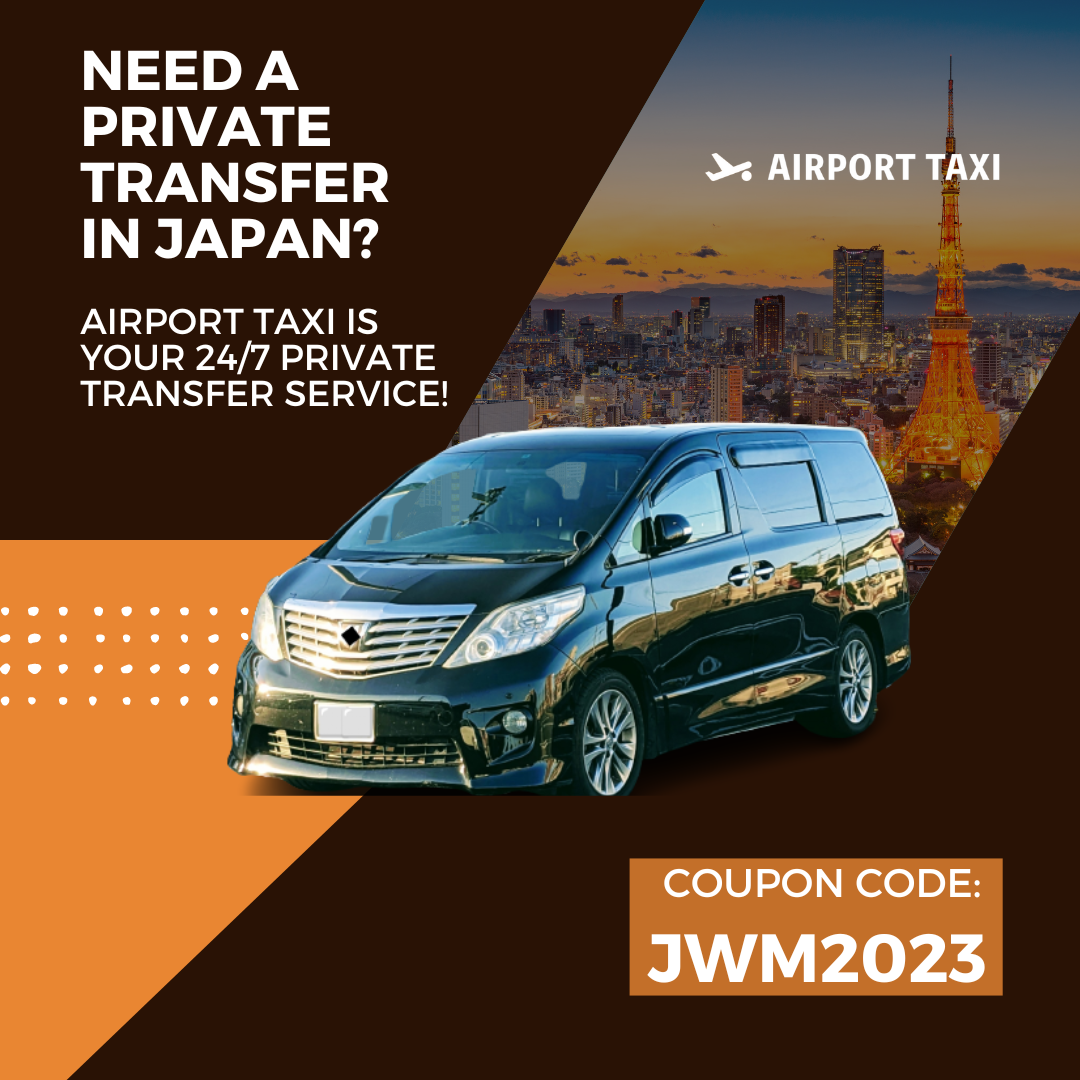 If you want to make a booking from your hotel in Tokyo to the park, please contact the customer service. For bookings from Narita or Haneda Airport, you can make it yourself through the website.
▶Check the official website: https://www.airport-taxi.tokyo/en
If you are planning to enjoy both parks and stay one night near to Tokyo Disney Resort, don't miss this article 🙂
---
Did you get to know which way is the best to you and how to get to Tokyo Disney Resort? For more info about Tokyo Disneyland and DisneySea, or best things to do in Tokyo, check these articles below!!
▽Related Articles▽
▼Editor's Picks▼
---