Haneda Airport Garden
Enjoy a luxury hotel, selected restaurants & shops, and a 24-hour onsen!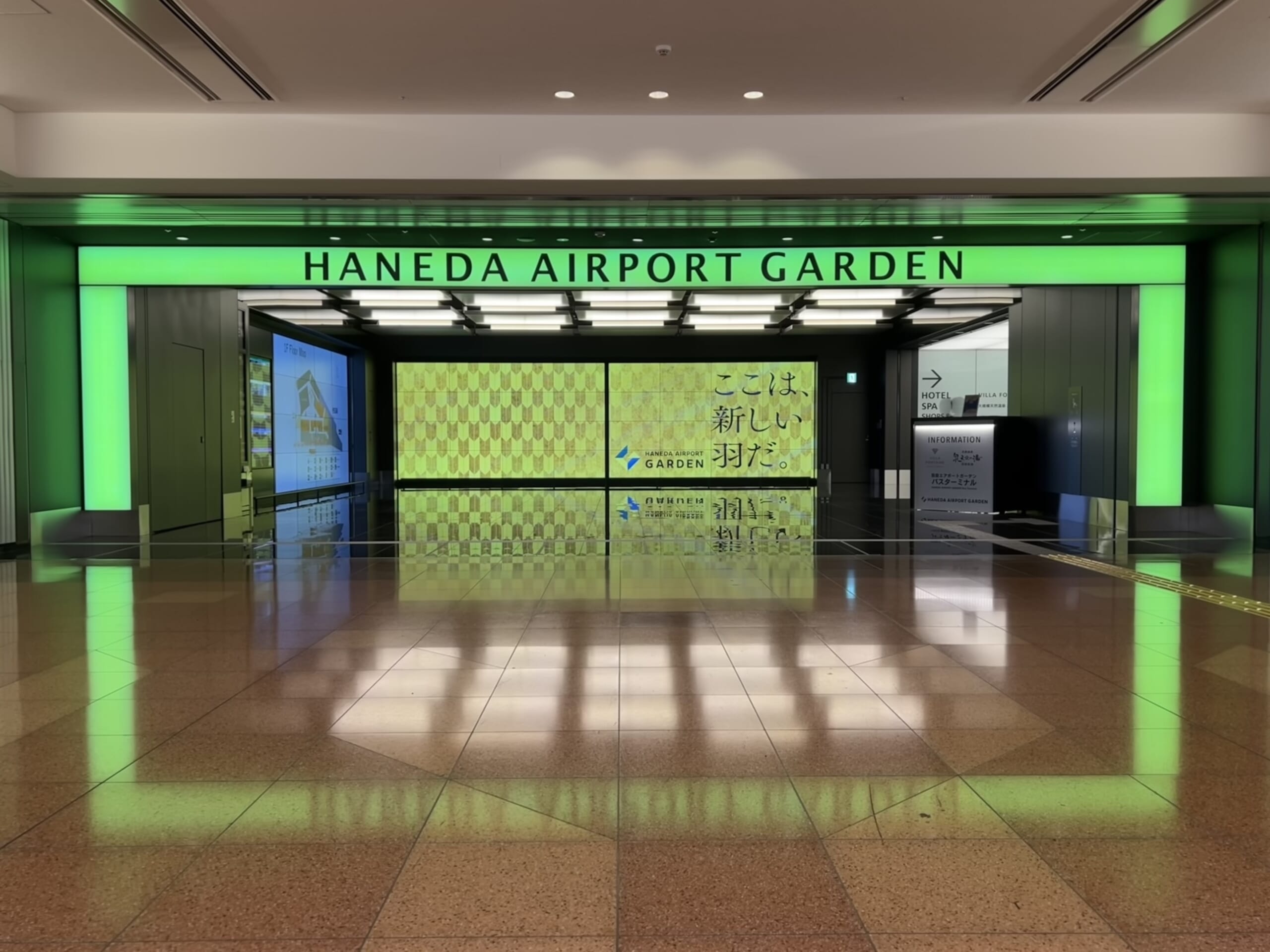 Located much closer and more centrally than Narita Airport, international flights arriving or departing from Haneda Airport have been increasing. In a project to improve the tourist experience in Japan, Haneda Airport has recently added a new entertainment facility: the Haneda Airport Garden.
The Haneda Airport Garden project was scheduled to open in April 2020, but Japan closed its borders to the world and it had to be stopped. In 2023, with tourism coming back to Japan, Haneda Airport Garden has finally opened its doors.
From a luxury hotel to selected restaurants and souvenir shops, and even a 24-hour hot spring, Haneda Airport Garden has a lot to offer. We were able to visit it recently and spend a night there, enjoying and getting to know the place first hand, and we loved it. So today in this article I would like to introduce you to Haneda Airport Garden!
VILLA FONTAINE GRAND HOTEL
Haneda Airport Garden boasts the largest airport hotel in the country, HOTEL VILLA FONTAINE, divided in two hotels Grand and Premium.
The hotel has over 1500 rooms, including Japanese-Western style, twin, triple, queen, king and more! The design of the rooms is carefully thought out, offering luxury and comfort even in the Grand's rooms.
There are two front desks, one for GRAND and one for PREMIUM guests and each front desk has a waiting room. The hotel has also two restaurant inside. The GRAND hotel restaurant connects directly to the Haneda Airport Garden restaurant area, and is open to the general public, while the PREMIUM hotel restaurant is exclusively for guests and also has a bar area overlooking the river.
HOT SPRING IZUMI TENKU NO YU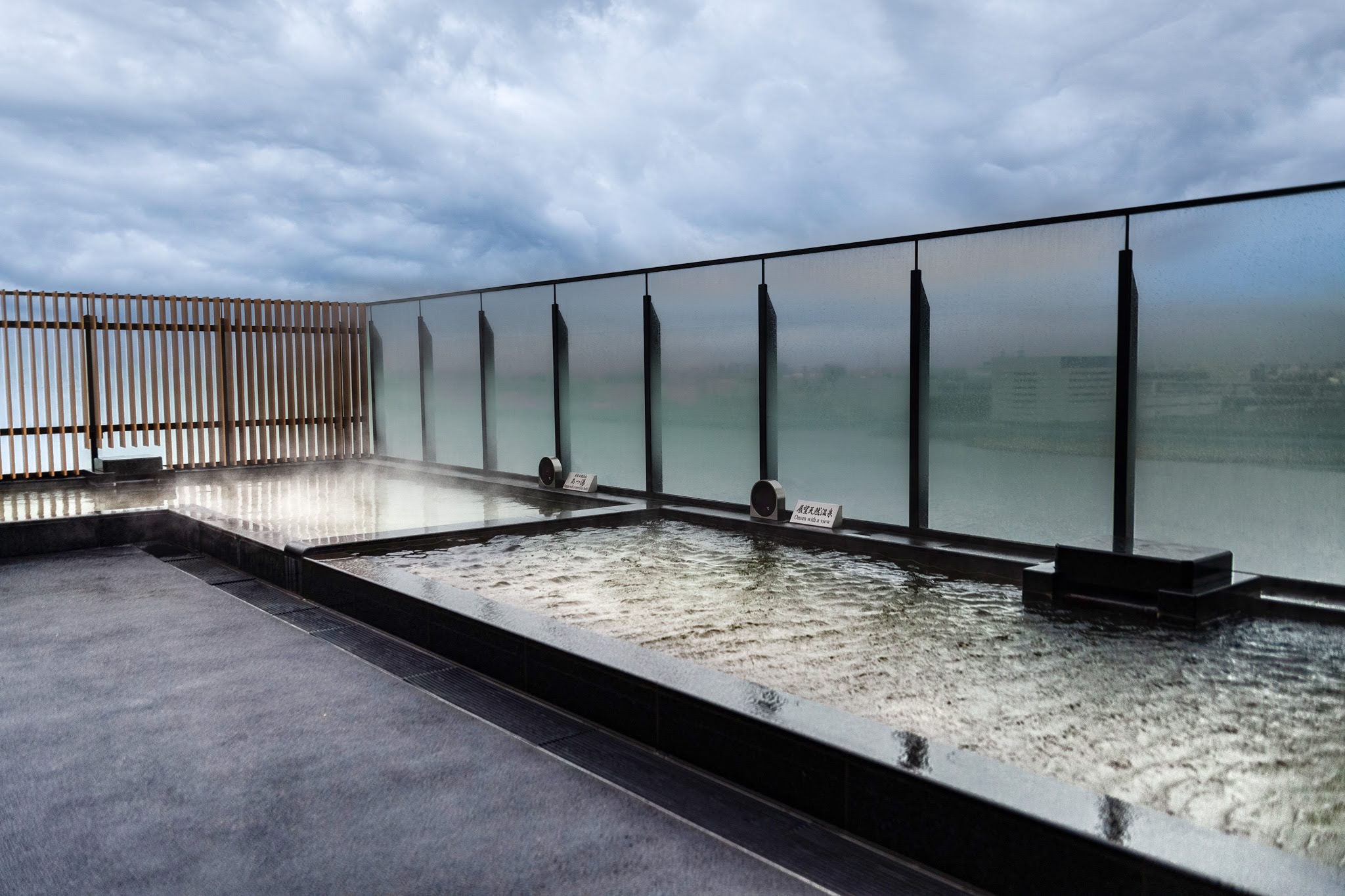 The jewel in VILLA FONTAINE's crown is its wonderful onsen, Izumi Tenku no Yu. Japan is famous for its hot spring culture, one of the favourite activities of the Japanese. The hot springs are believed to have many beneficial properties for the body, helping you to stay healthier and younger.
The hot spring water at Izumi Tenku no Yu comes from about 1,500 meters underground and containing iodine. This type of hot spring water it's know as "beauty hot water", having an excellent moisturizing and warming effects. In addition, since it's middle alkaline it's also beneficial for guest with poor blood circulation or dry skin.
Visitors can enjoy the hot spring water at four different types of indoor baths (carbonated spring, cold bath, jet bath, etc). But what makes the VILLA FONTAINE's onsen special is the open-air baths at the rooftop with an incredible and beautiful view of the city of Tokyo. On a clear day you can see Mount Fuji from the women's bathroom!
The Haneda Airport Garden onsen is open 24 hours a day and the entry is available to everyone, not only hotel guests. In addition to the indoor and outdoor baths, the space has a restaurant where you can enjoy gourmet food with a view, several saunas (including different temperatures and hot stones), drink vending machines, massages and beauty options and a relaxation room with recliners than includes TV. It's the perfect place to relax after a long journey, or to get ready before boarding the plane.
SHOPS & RESTAURANTS
One of the most striking parts of Haneda Airport Garden is its carefully chosen selection of shops and restaurants.
Inside, on the first floor, there is a wide variety of souvenir shops and special products. For example, snacks with exclusive flavours, such as the famous regional Kit Kat or an exclusive collaboration with the National Museum of Art, which offers snacks with mythical illustrations of Japan that you have surely seen on occasion. There are also special luxury products, such as the famous handmade Japanese umbrellas, travel bags or bags made in Japan, shirts, chopsticks, etc. Not forgetting one of the country's main attractions: merchandise of the most popular anime and manga. It's the perfect place to buy a unique and special souvenir of your trip to Japan, for yourself or for friends and family.
On the other hand, the restaurants, mostly located on the B1, are also worth mentioning. You can try the famous Japanese eel dish (unagi) at one of the best restaurants, or a sukiyaki (hot pot) with wagyu beef. If you prefer something without meat or fish, our recommendation is the udon restaurant, a type of Japanese noodle made from wheat flour.
OVERALL
Haneda Airport Garden is a project in which many businesses and locals have put their trust, effort and enthusiasm. For almost 3 years they had to wait, with no date on the horizon as to when they would be able to resume, but now the project has finally seen the light of day. Talking to the people involved in the project you can feel that enthusiasm and effort to offer the best possible experience to visitors.
The design of the space as well as the shops and venues offer a pleasant experience, and it is the perfect place to wait before your departure flight or if you arrive late and prefer to rest and spend the rest of the day there before leaving for central Tokyo the next day.
By the way, we can't finish without mentioning that Haneda Airport Garden has a bus station with a wide variety of options! You can go directly from the airport to distant cities like Niigata, Osaka and more.
---
In the following article, we have compiled information on various types of accommodations in Japan, including hotels and traditional Ryokan. With our Japan Accommodation Guide, find the perfect lodging experience for you!
▽Subscribe to our free news magazine!▽
Looking forward to coming to Japan? Here you have some tips and the newest openings on 2023 to enjoy your trip the best!
▽Related Articles▽
▼Editor's Picks▼
---