20 Best Things to Do in Asakusa
From Sensoji Temple to Tokyo Skytree, Best Things to Do in Asakusa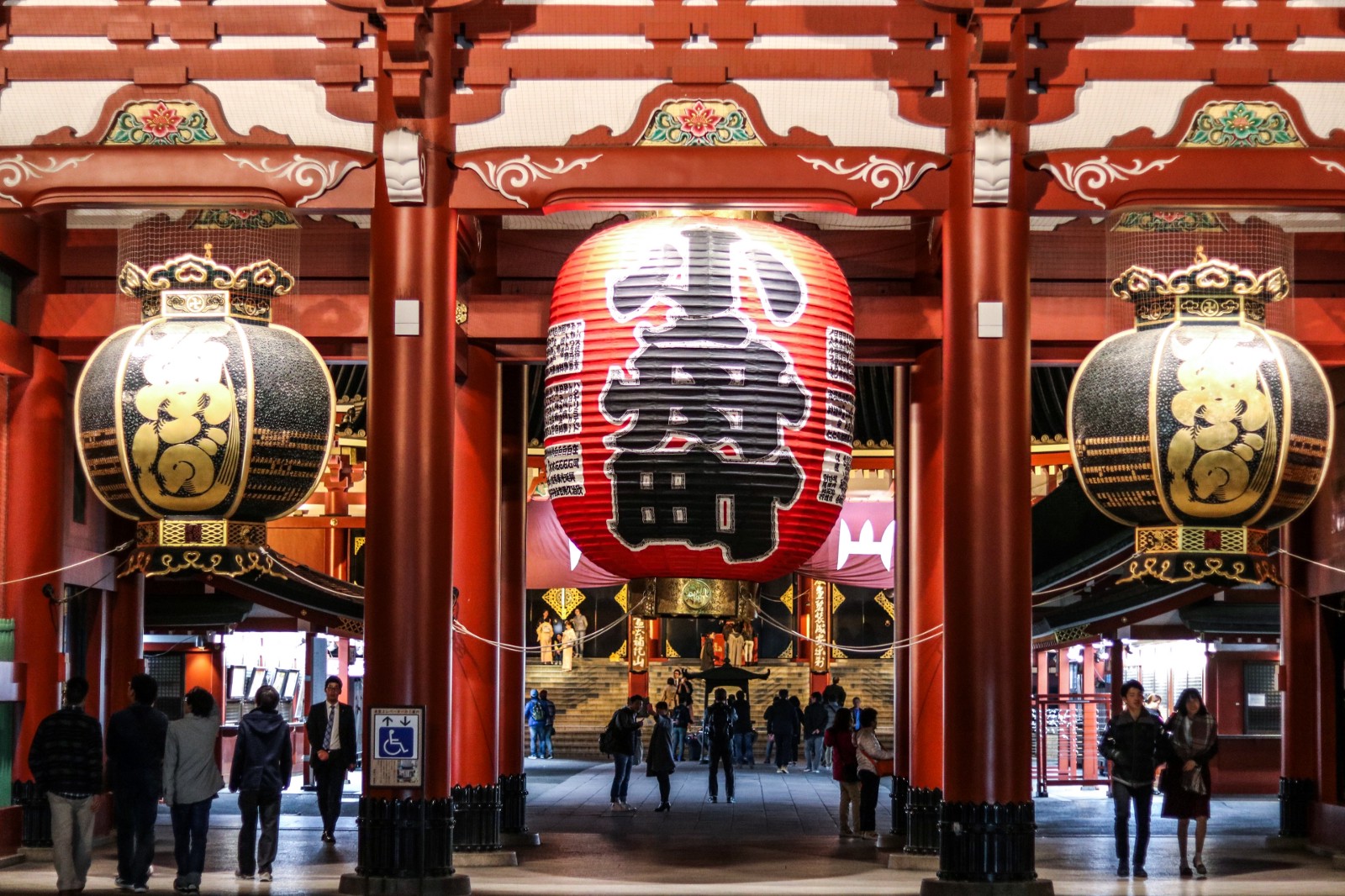 Representing the traditional and historical side of Tokyo, Asakusa is home to Tokyo's oldest temple Sensoji and the center of traditional downtown district of the city. Asakusa is one of the most visit areas in Tokyo by both Japanese and foregn tourists and there are a lot of attractions and activities available in Asakusa area such as rental kimono, riding rickshaw, munching delicious street food. While soaking in historical sites and nostalgic vibes, you can easily extend your trip from Asakusa to many other places like the new symbol of the city Tokyo Skytree, chefs' shopping paradise Kappabashi and Ueno area.
Please check the best highlights, what to do and see in Asakusa area on this list of the Best Things to Do in Asakusa!
*Please note that this article contains affiliate links.
---
1. Sensoji Temple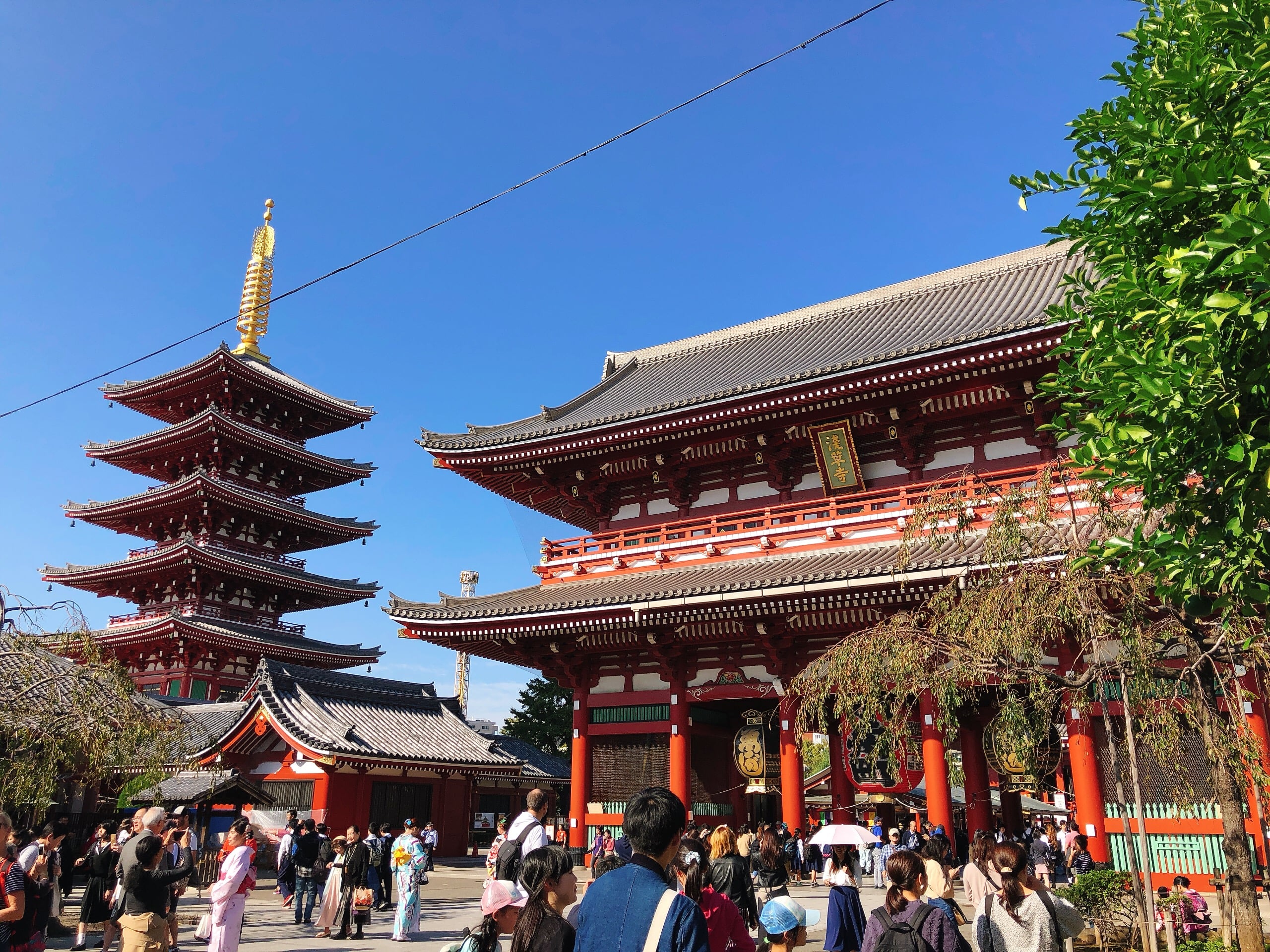 Sensoji Temple (浅草寺) is an ancient Buddhist temple in Tokyo and one of the most visited sightseeing spots in Japan. Being an important center of both religious faith and touristic landmark, Sensoji Temple draws over 30 million worshippers and tourists every year.
Sensoji Temple is the oldest temple in Tokyo and originally built in 7th century. The temple complex consists of gates, approach, halls, garden and a 5-storied pagoda, and its vivid red buildings are super photo-worthy. The famous entrance of the temple complex, the Kaminarimon Gate is a popular photo spot for every visitor, which has a massive red lantern with two guardian statues standing by side. After passing the gate, there is the Nakamise-Street on an approach to the main hall of the temple.
Several traditional events are held at/around Sensoji Temple through the year including Hatsumode (New Year Visit), Setsubun (Coming of Spring) and Sanja Matsuri, one of the biggest festivals in Tokyo.
More info ▶ Sensoji Temple in Asakusa Tokyo
2. Nakamise Shopping Street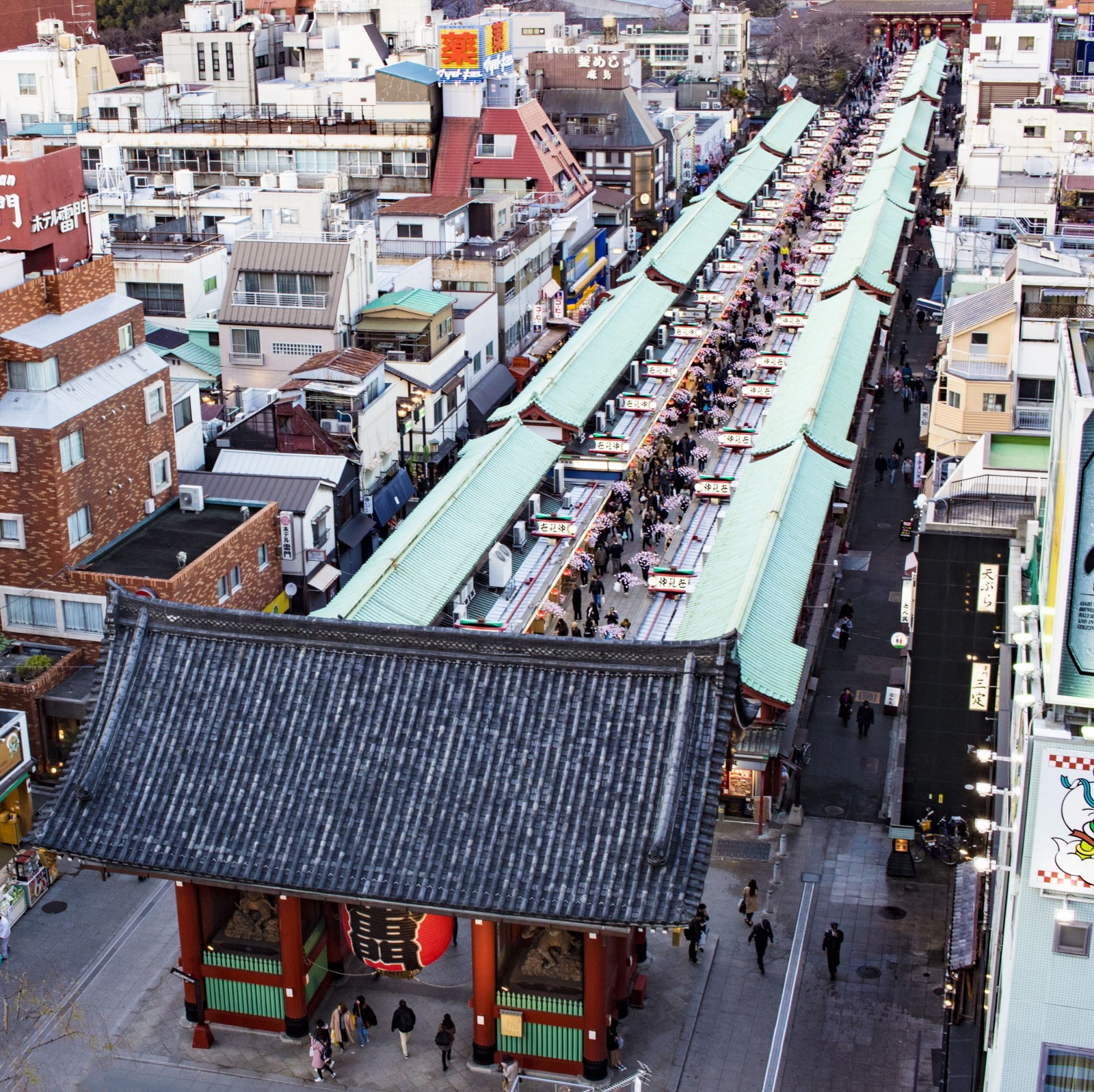 Nakamise Shopping Street (仲見世通り) is an approx 250m long approach that connects the front gate (Kaminarimon Gate) and the inner gate (Hozomon Gate) of Sensoji Temple. Nakamise has a long history and is believed to be established in early 18th century when locals of Asakusa were granted permission to open shops on the approach to the temple. Today, the street is lined by dozens of local shops and food stalls on both sides and is a great place to taste local flavour and shop souvenirs, especially if you want to find something traditional.
More info ▶ Nakamise Shopping Street : Must-Try Asakusa Street Food
3. Asakusa's Street Food
Dive into Asakura's vibrant culture by savoring its street food. From traditional Japanese dishes to instagram-worthy sweet delights like Dango and Daifuku, there's a diverse array of flavors waiting for you. Exploring the city's food scene isn't just about satisfying your cravings – it's a delicious journey into local life. Each vendor has a story to share, offering a unique taste of Asakura's rich heritage. So, wander the streets, try the specialties, and enjoy the authentic atmosphere of this charming city, one bite at a time.
Check out the link below to find out the most popular street foods in Asakusa today!
4. Hoppy Street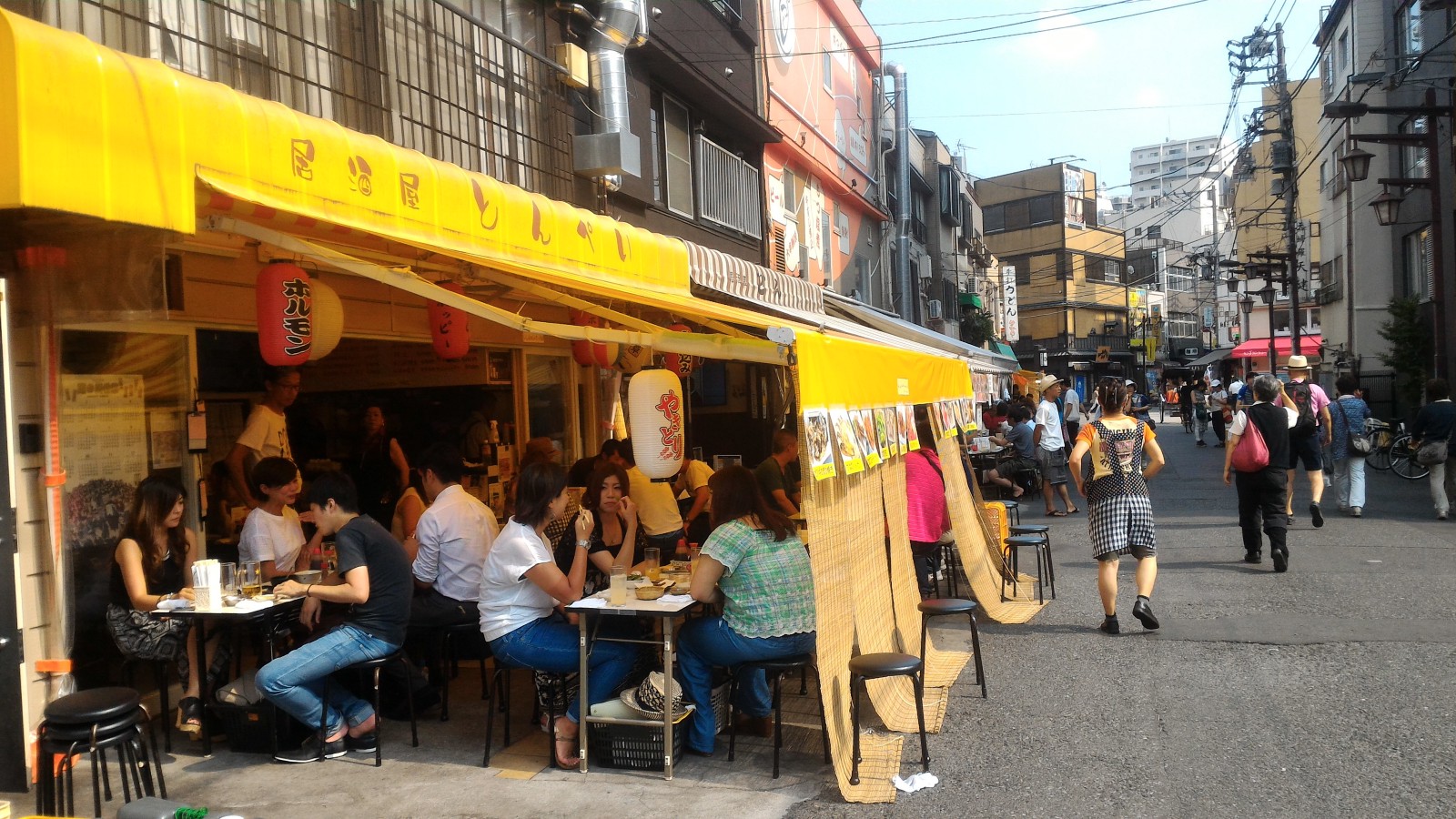 Hoppy Street (ホッピー通り) is a street in Asakusa that is packed with small, nostalgic izakaya bars. The lively drinking alley is one of the most popular spots for nightlife in Tokyo. If you wish to experience Tokyo's drinking culture, you can enjoy drinking on the Hoppy Street, sipping on inexpensive drinks and trying authentic Japanese style bar food. The name of the street refers to the famous cheap low-alcohol beverage "Hoppy" which is also served at some of izakaya on this street.
5. Information Centre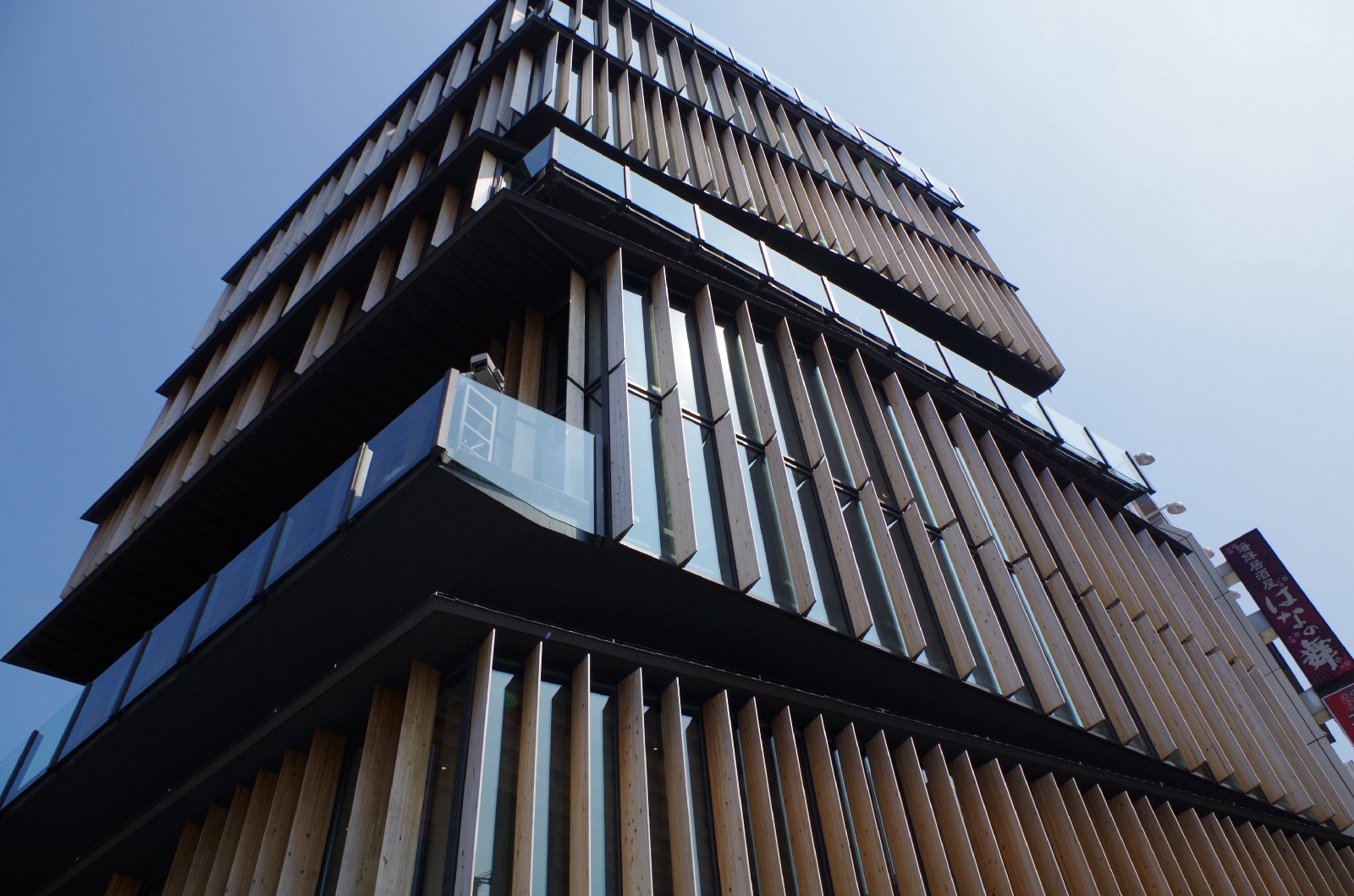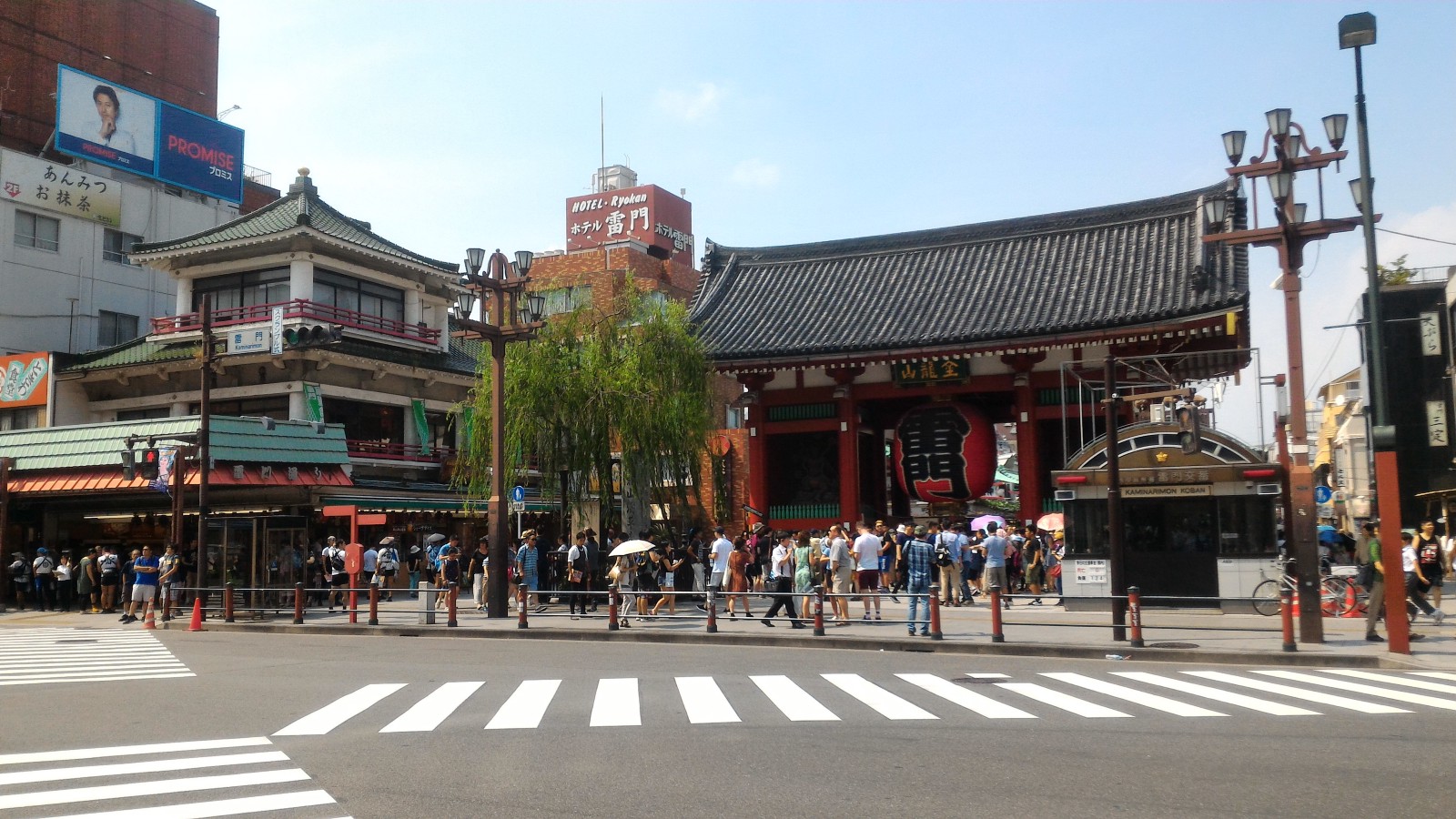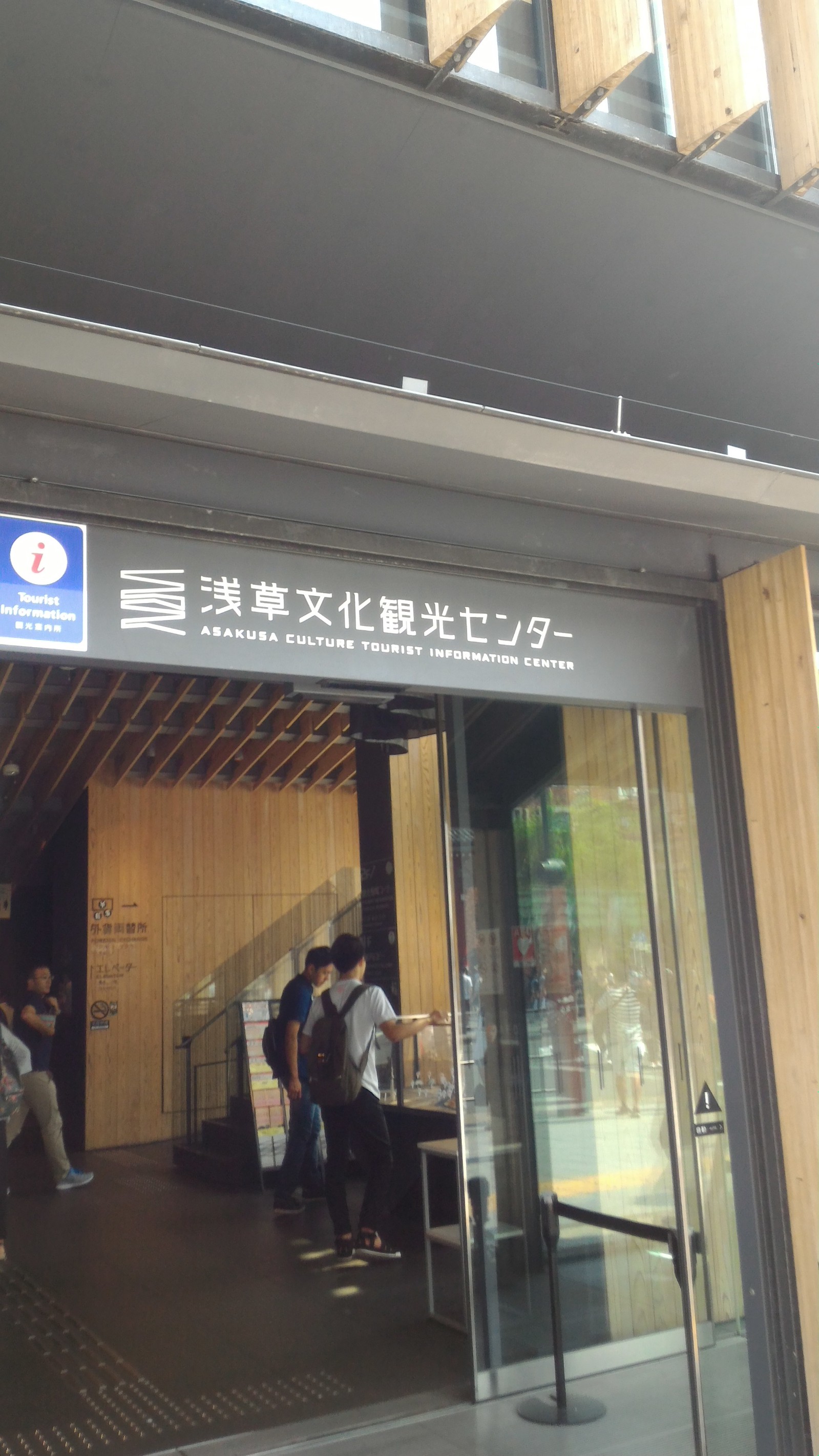 If you are going to visit Asakusa for the first time and want to get some tourist information, it's recommended to make your way to Asakusa Culture Tourist Information Center (浅草文化観光センター). The modern landmark of Asakusa is free to enter and provides tourist information in Japanese, English, Chinese and Korean as well as organizing tours and cultural experiences for tourists. There are also free wifi and use of PC with the internet. The cool 8-story building is built by the famous Japanese architecture, Kengo Kuma. It has a cafe, exhibition hall, money exchange, meeting rooms, nursing room for babies. On the top floor, there is an observation deck offering a great view of Nakamise Street and Sensoji Temple.
Map: https://goo.gl/maps/tKY5E3utsGKGEkJFA
Access: :1 min walk from Asakusa Station Exit 2
Hours: 9:00~20:00 (observation deck until 22:00)
6. Kappabashi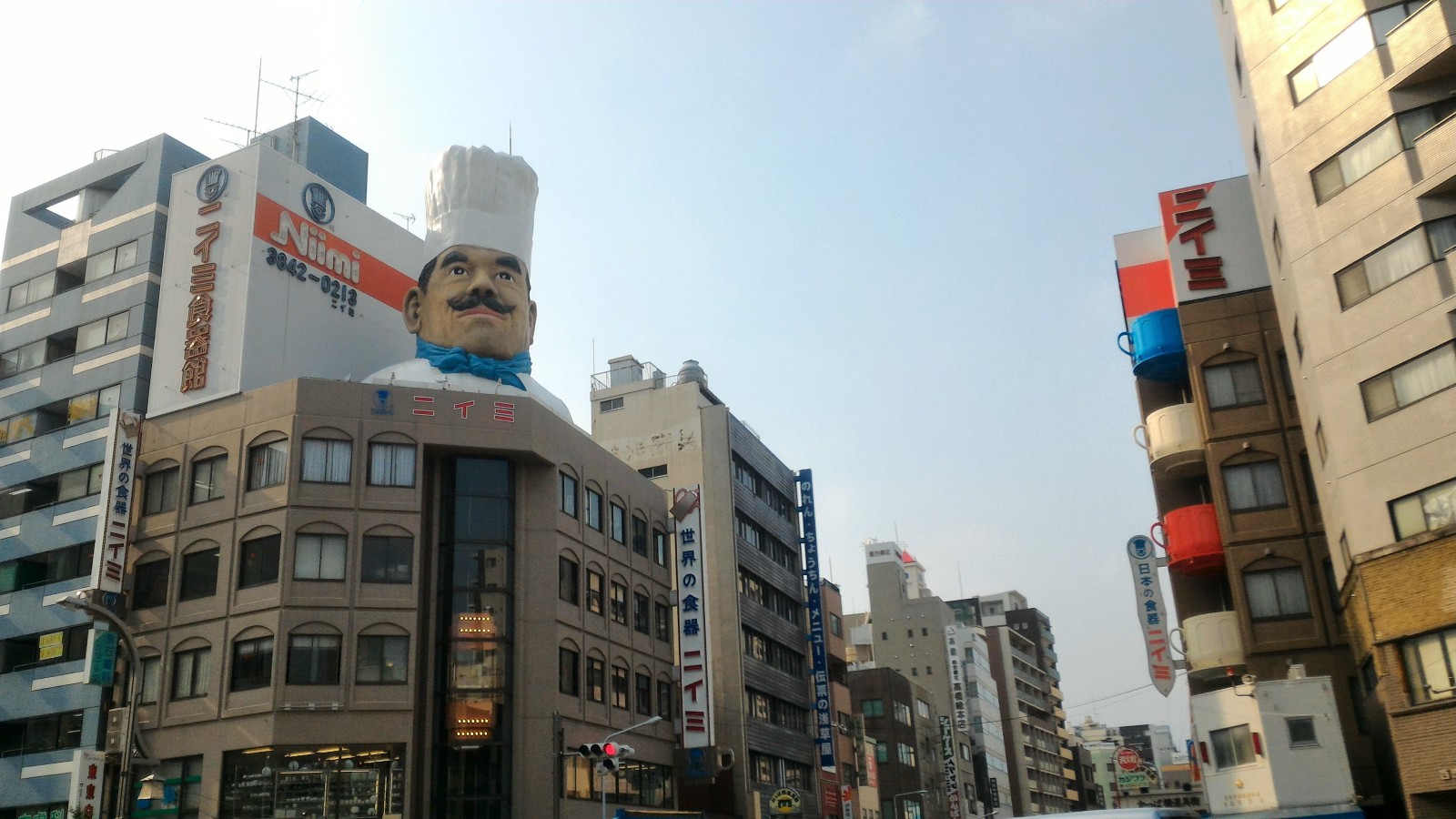 Kappabashi (かっぱ橋) is a shopping street stretching between Asakusa and Ueno. The street is lined by numbers of stores dealing with kitchen tools and restaurant-related items and it's a popular place to shop among professional and amateur chefs and restaurant owners. You can find all kinds of food-related items in Kappabashi except for fresh food such as knives, pans, dishes, cooking utensils, shop signs, tables, chairs, food samples and more. Kappabashi can be accessed easily from Asakusa area and it takes about 10 mins by walk from Sensoji Temple.
More info ▶ KAPPABASHI : Best Street to Shop in Tokyo for Chefs!
7. Sumida River Cruising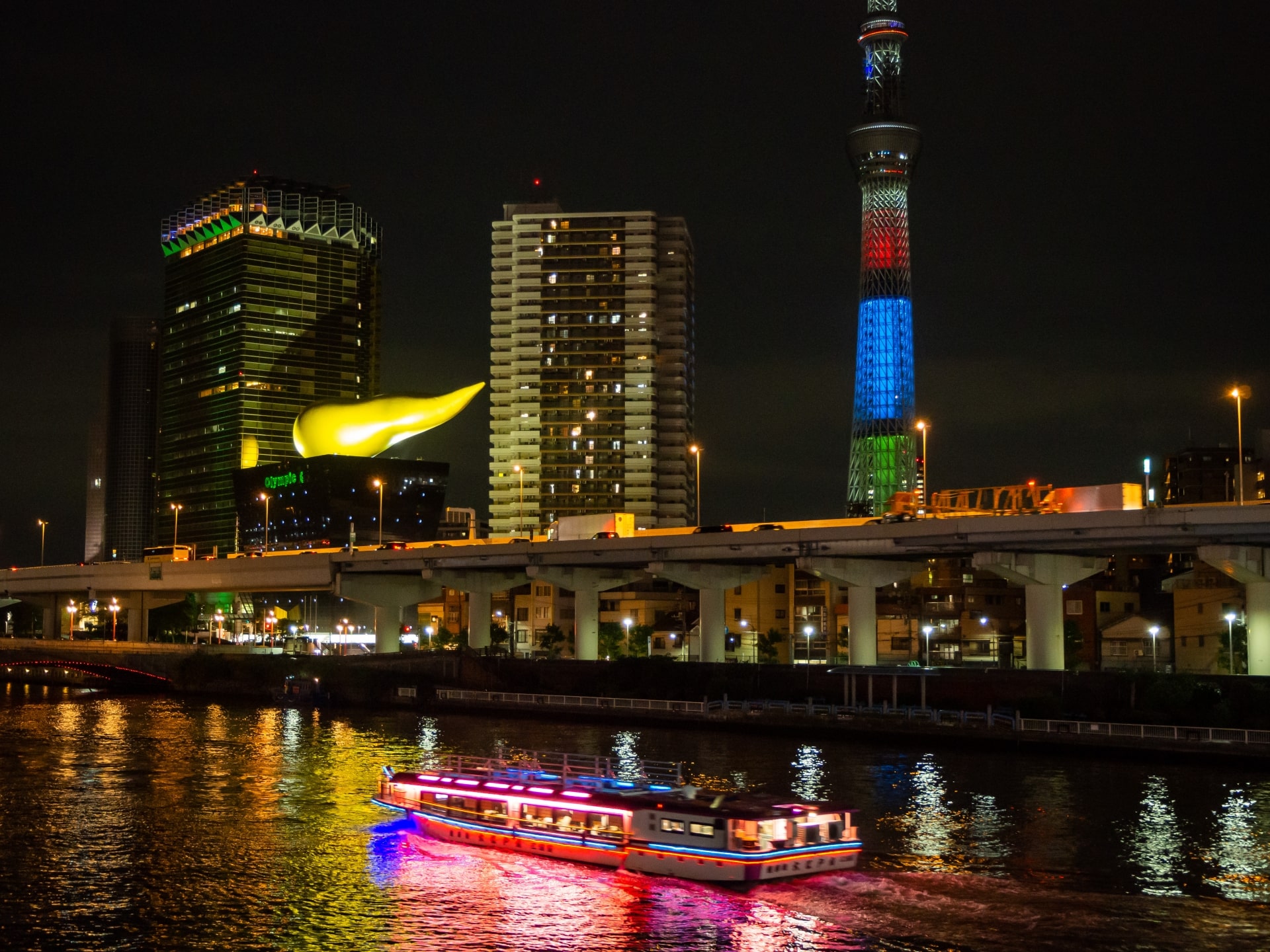 Sumida River (隅田川) is a river that run through the center of Tokyo and it's one of Tokyo's icons. Cruising on Sumida River is one of the coolest ways to explore the city, especially if you wish to try something more unique and exciting. Tokyo Mizube Line is a water bus that connects Asakusa and Odaiba area, which are both highly popular areas among tourists. You can hop on/off the water bus while enjoying a scenic journey on the river.
▶ Book Sumida River Cruise between Asakusa and Odaiba
8. Tokyo Skytree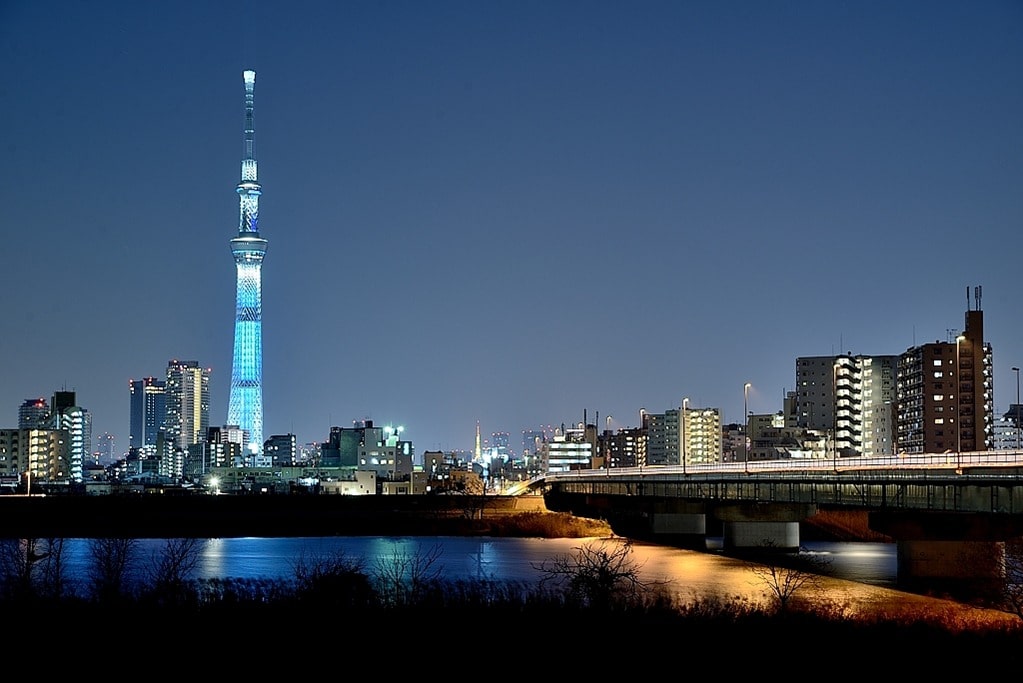 Tokyo Skytree (東京スカイツリー) is a new must-visit place in Tokyo today and can be easily accessed from Asakusa area across the Sumida River. Tokyo Skytree is a 634m tall broadcasting tower, which is the tallest building of the country and the tallest tower in the world. The new symbol of Tokyo has been fascinating millions of visitors since opening in Sumida ward in 2012. Enjoy seeing the stunning architecture design of the tower as well as the breathtaking view of Tokyo and the surrounding area from the observatories. At the base of Tokyo Skytree, there is also a shopping, dining and entertainment complex Tokyo Solamachi with over 300 shops and restaurants as well as an aquarium.
▶ Book tickets for Tokyo Skytree!
More info: Tokyo Skytree: The New Symbol of Modern Tokyo
9. Tokyo Mizumachi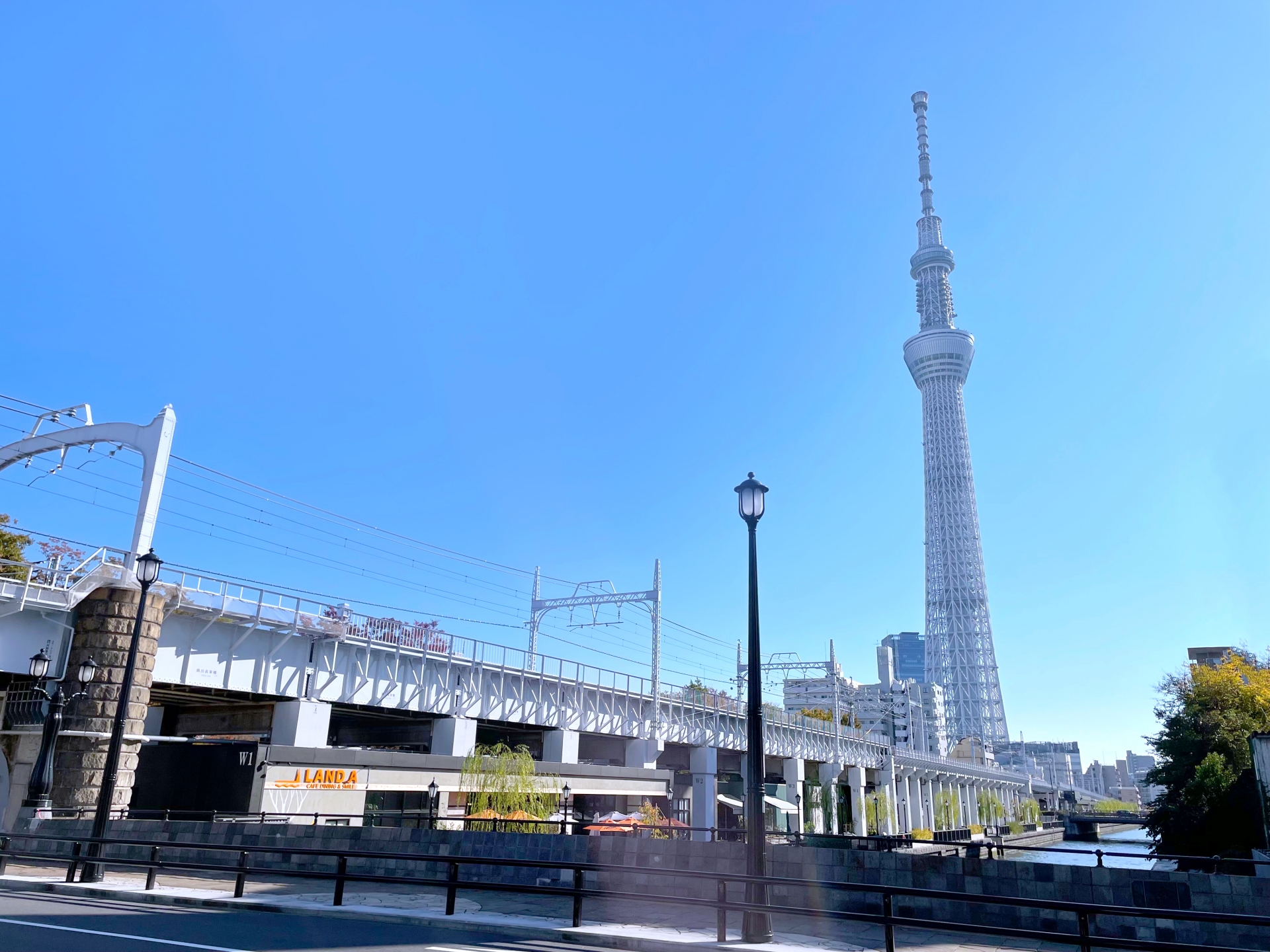 Following the giant shopping complex Tokyo Solamachi opening at the base of Tokyo Skytree in 2012, the Asakusa and Sumida area welcomed a new cultural spot Tokyo Mizumachi in March, 2020. The new river front commercial complex is built along the Tobu Line and connects Asakusa and the Tokyo Skytree area by Sumida River Walk, the new pathway across the river. Tokyo Mizumachi offers various unique and trendy facilities including restaurants, cafes, stylish hostel and bouldering gym.
Map: https://goo.gl/maps/fduh8sFvqQqDzhR46
10. Wear Kimono
When you visit Japan, one of the best ways to explore the beauty of Japan is wearing kimono, the traditional Japanese dress. Nowadays, there are many kimono rental shops in Tokyo, which provide everything you need so you don't need to bring anything with you. Asakusa is possibly a perfect place to try on traditional Japanese dress as you can make an unforgettable memory by wearing kimono and strolling down the charming historic town. Most of kimono rental shops have a big selection of the dress with various patterns and colours, and some shops offer makeup and hair do as well as photoshoot with professional photographer. If you want to have a Japanese kimono experience in Asakusa, go ahead and make a reservation!
▶ Recommended Kimono Rental in Asakusa
11. Ride Rickshaw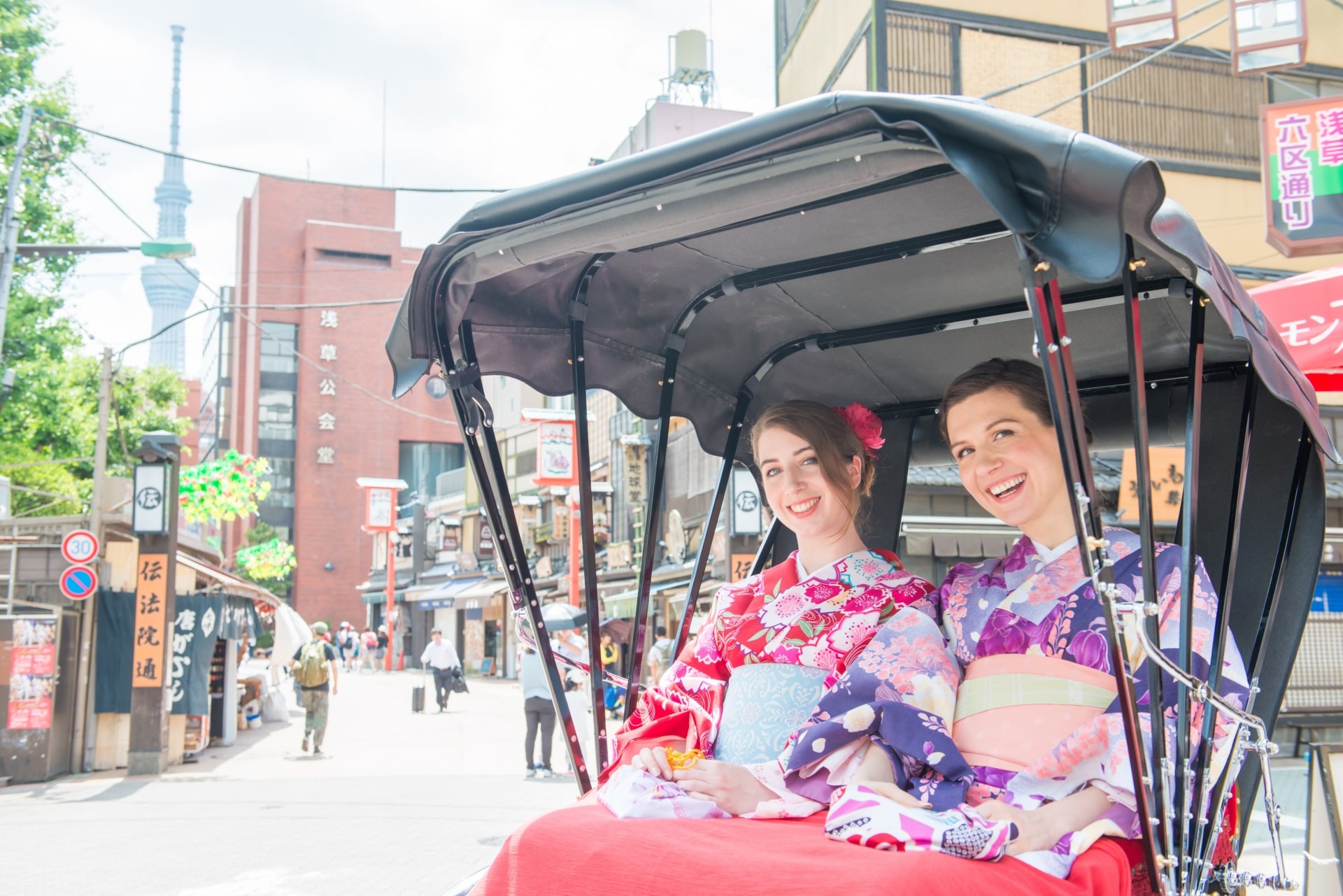 Like kimono, rickshaw is also a popular cultural experience among tourists in Japan. Asakusa is one of the best towns in Japan to ride rickshaw and you can find many rickshaw tour guides there who can take you to famous landmarks and show you the charming townscape of Asakusa. Riding rickshaw also gives you a great opportunity to interact with a local guide and get learn about the culture and area. Rickshaw ride is available with various length usually from 20 mins to 3 hours.
▶ Book Rickshaw Tour in Asakusa
12. Sumo Morning Practice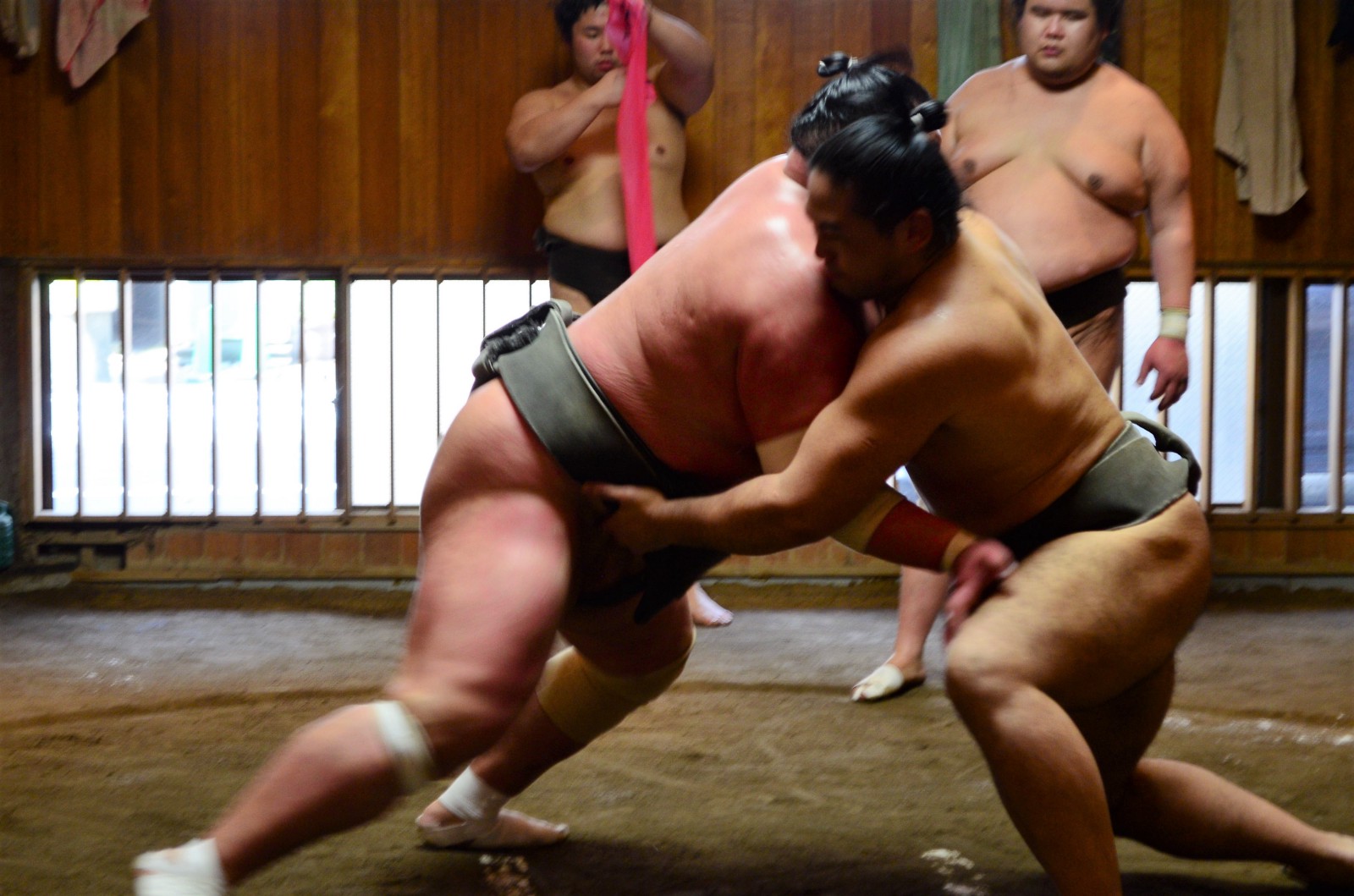 Ryogoku (両国) a.k.a. the Sumo Town is the center of sumo, Japanese wrestling since Edo preiod and home to many sumo stables and the sumo stadium Ryogoku Kokugikan arena. Ryogoku is situated approx 2km southeast of Asakusa area. One of the hottest tours in Tokyo today is visiting a sumo stable and watching sumo wrestlers morning practice. The tour gives you an amazing chance to watch professional sumo wrestlers in action up close, and learn about the tradition and discipline of sumo culture.
▶︎Book Tokyo Sumo Stable Tour!
More info: My SUMO Morning Practice Experience in Tokyo!
13. Sumida Park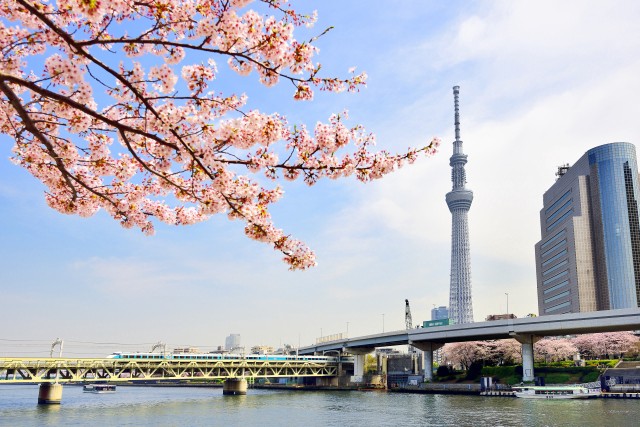 Sumida Park (隅田公園) is a public park situated along Sumida River. The riverfront park boasts an area of approx 80, 000 square meters on both sides of the river. The park can be accessed by 5 mins walk from Asakusa Station. Sumida Park is one of the most popular spots for cherry blossom viewing in Tokyo as there are about 700 cherry trees planted along the river. The cherry blossom festival is held annually in spring with light-up of the trees at night.
More info: Sumida Park Cherry Blossoms
14. Asakusa Yokocho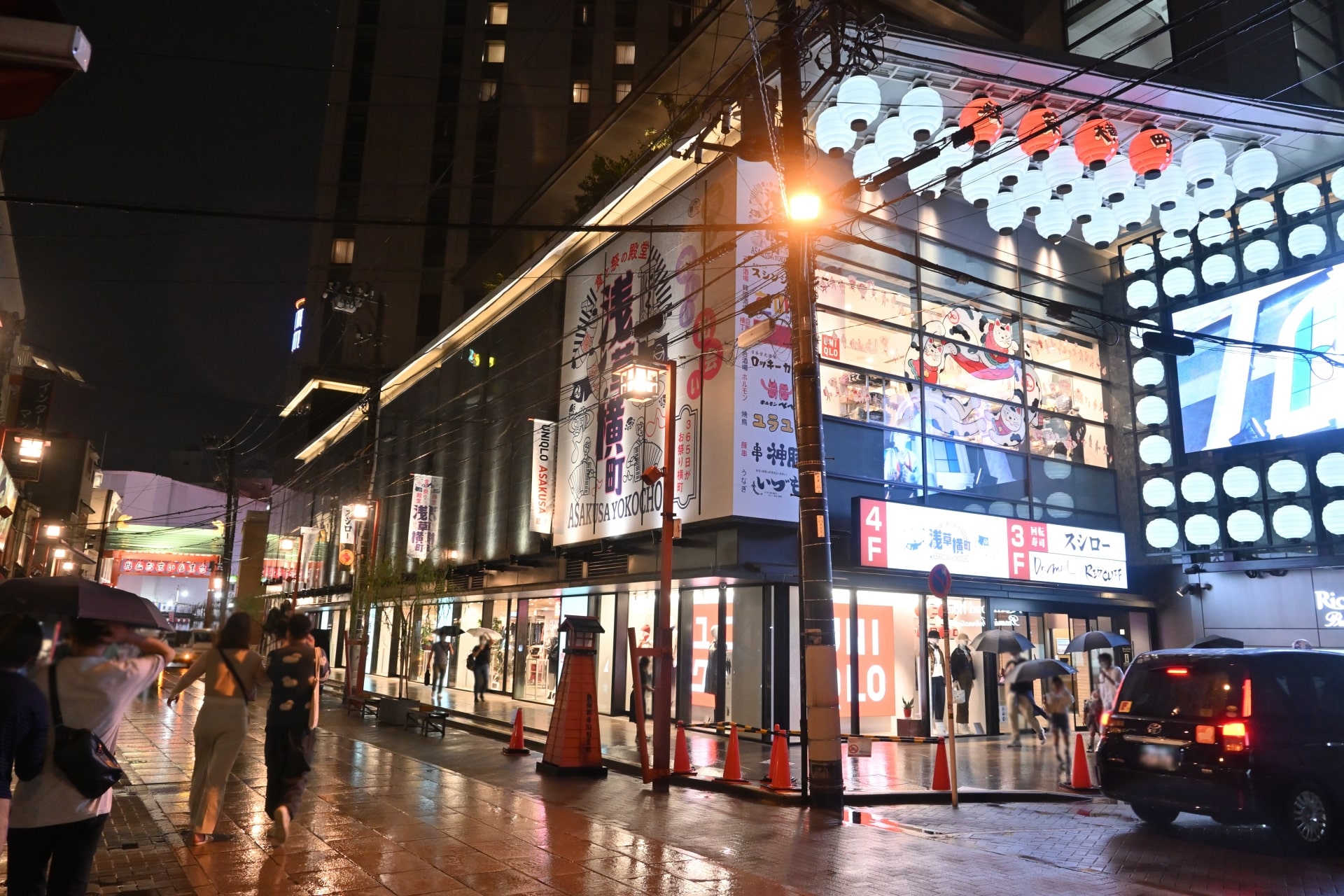 A new food and culture facility Asakusa Yokocho (浅草横町) opened in 2022 in the heart of Asakusa. It is located on the fourth floor of Rakutenchi Asakusa Building, which is also famous for Uniqlo Asakusa on its first and second floors. Asakusa Yokocho has seven unique restaurants that are categorized as Izakaya, sushi, Korean and so on. You can see cultural events like traditional Japanese Awa Dance and Yosakoi Dance performances there.
Map: https://goo.gl/maps/Y6nM8P7KBw7i1Uk56
15. Hanayashiki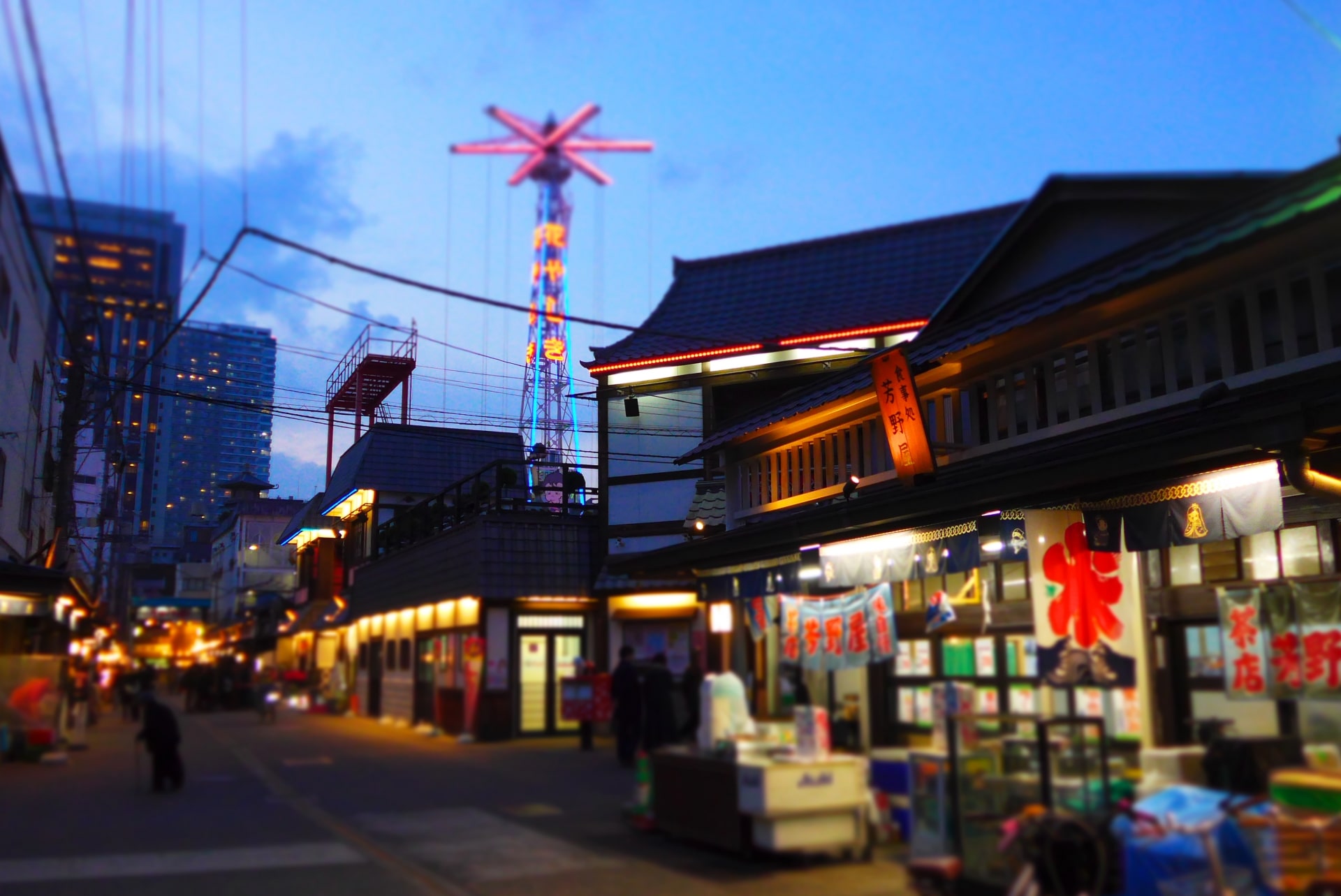 Hanayashiki (花やしき) is the oldest amusement park in Japan that originally opened as a botanical garden in 1853 at the end of Edo period. The 170 years-old park is located in the neighbourhood of Asakusa and just a couple of minutes walk from Sensoji Temple. The retro and nostalgic park offers a wide variety of attractions, rides (including Japan's oldest roller coaster) and eataries in a space of 5,800 square metres, which can be enjoyed by both adults and kids.
More info: Hanayashiki: An Amusement Park in Asakusa
16. Udon Making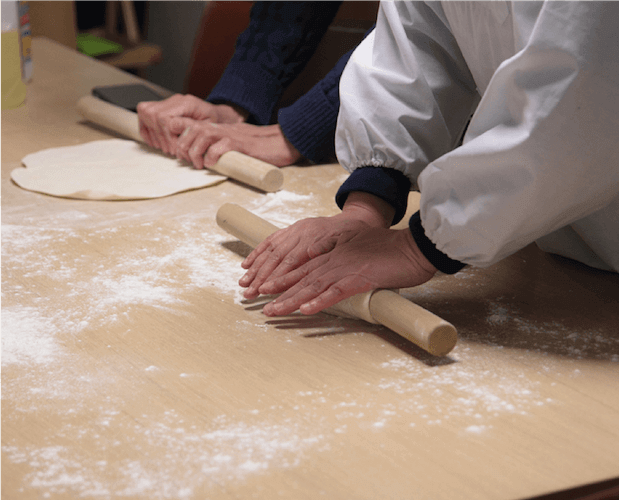 Are you looking for fun and unique activities in Tokyo? Cooking class is one of the most popular activities in Japan among tourists. From sushi making to vegan food, there are various kinds of cooking classes available in Tokyo today, but this Udon making class held in Asakusa area is one of the most unique and extraordinary ones! Through the class, you will make traditional Japanese noodle Udon from the scratch, taste it with delicious tempura toppings and also learn about Japanese culture with a friendly local teacher!
More info ▶ Handmade Udon and Tempura
17. Sanja Matsuri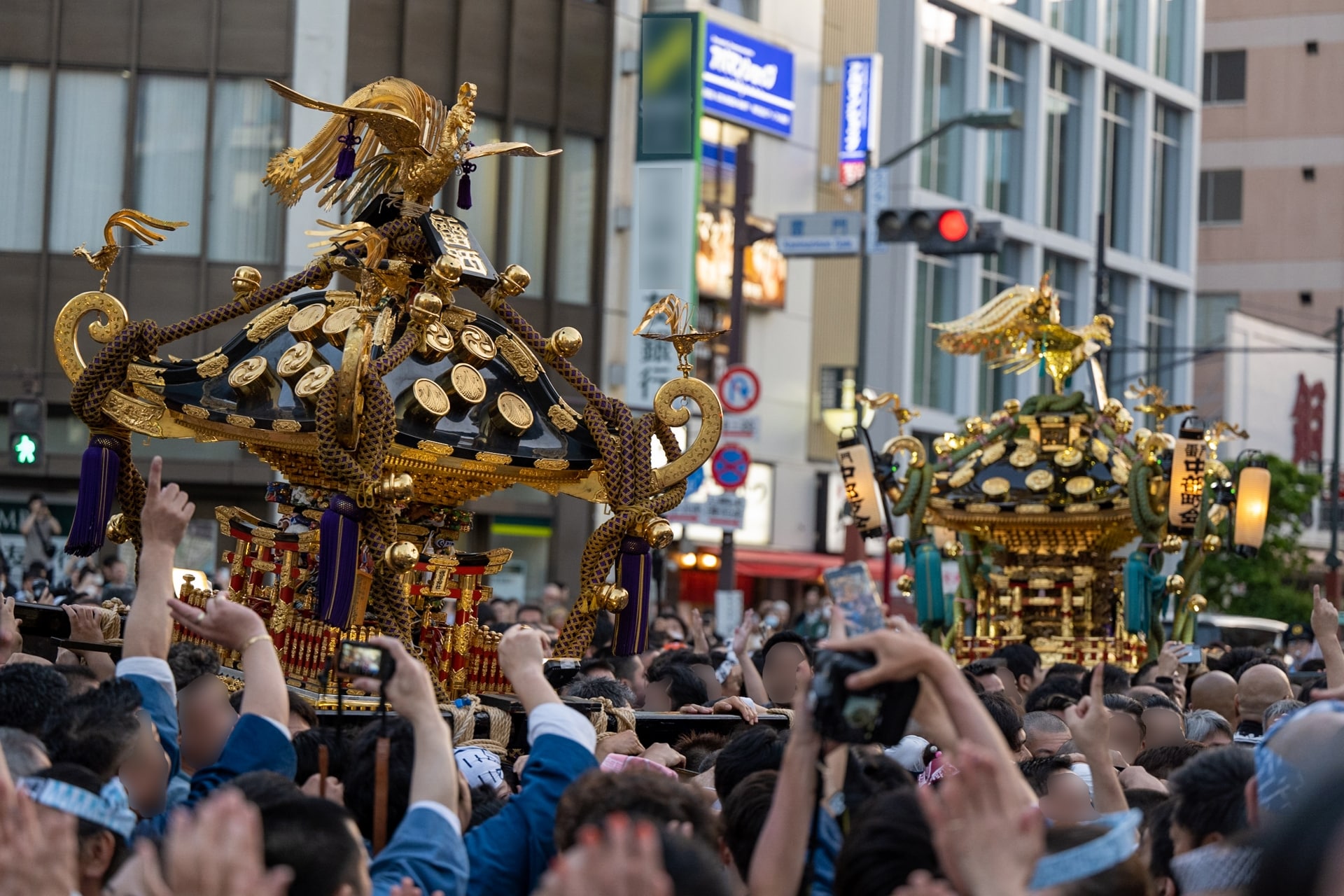 Sanja Matsuri (三社祭) or Sanja Festival is one of the three great Shinto festivals in Tokyo and is held annually for 3 days on the third weekend of May. The festival takes place in Asakusa Shrine which is located near Sensoji Temple, and the event is held in honor of Hinokuma Hamanari, Hinokuma Takenari and Hajino Nakatomo, the three men who founded Senso-ji Temple. It's known as the largest and wildest festivals in Tokyo and draws over 2 million viewers in 3 days every year. The event features parades with mikoshi (portable shrine) with traditional music and dance.
More info ▶ Sanja Matsuri: Tokyo's Biggest Festival
18. Asakusa Cultural & Street Food Walking Tour
Do you want to explore Asakusa area but don't have enough time? Then joining a guided tour is the best option so you can see the most highlights of Asakusa in one day! "Asakusa Cultural & Street-food Walking Tour" by Magical Trip is a popular walking tour in Asakusa area. Visit the popular Sensoji Temple, try local snacks at Nakamise Shopping Street, walk along the famous Kappabashi Street and more.
Save your time and maximise your trip at the same time! Check out more details on the link below and book the tour!
19. Sumida Aquarium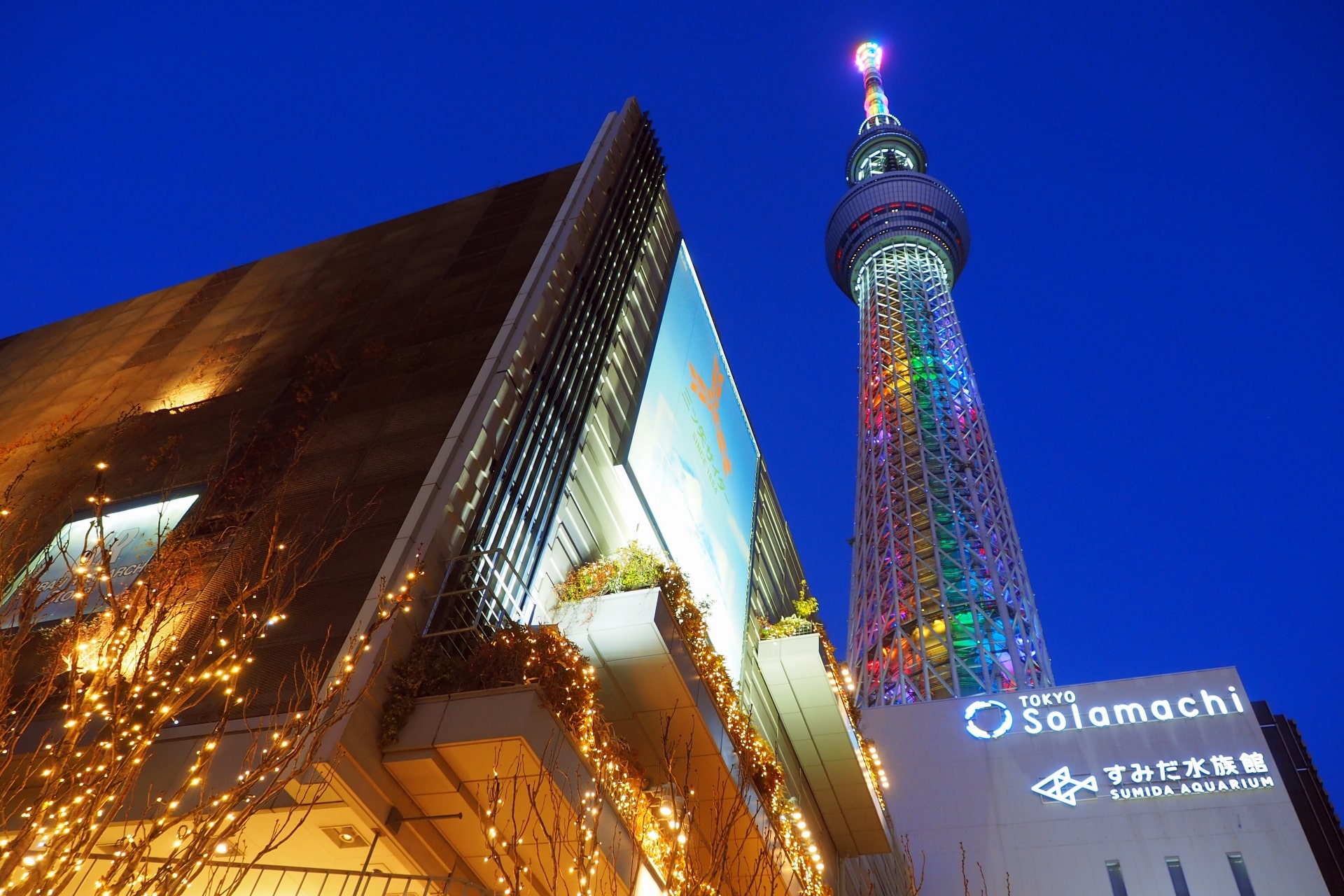 Sumida Aquarium (すみだ水族館) is an urban aquarium located on the 5th and 6th floors of Tokyo Skytree. The aquarium is home to approx 7,000 sea creatures of 260 species including penguins, seals, jellyfish and shark, and displays them in 9 divided sections. There is a 6m deep fish tank called the "Water's Blessing Tokyo Tank" which is designed to represent the ocean world of the Ogasawara Isands, a World Natural Heritage site.
▶ Book tickets to Sumida Aquarium!
20. Ninja Experience Cafe Asakusa
Ninja Experience Cafe Asakusa is an unique cafe offering guests ninja experience. At Ninja Experience Cafe Asakusa, you can have a special training as a ninja by dressing up in the authentic ninja attire and learning some ninja tricks and moves with some classic ninja weapons such as shuriken and blowgun. The cafe also offers special ninja-themed dishes and drinks. This unique ninja experience can be enjoyed both adults and kids even on a rainy day!
▶ Book Ninja Experience Cafe Asakusa!
---
Wanna go directly to Asakusa from the airport or hotel?
Airport Taxi is one of the best services for transfer to and from Narita and Haneda Airport.
Now JWM readers have a 1,000JPY discount if they book with Airport Taxi!!
Coupon Code: JWM2023

---
If you are deciding what to do in Tokyo, check this article below!
▶︎Things to Do in Tokyo
Are you also looking for the things to do in the areas near Asakusa?
▶︎Best Things to Do in Ueno
▶︎Best Things to Do in Ginza
For more info around Asakusa area, please check out these articles, too!
▽Related Articles ▽
▼Editor's Picks▼
---