Best 6 Street Food in Asakusa
Nakamise street at Asakusa is one of the best places to enjoy Tokyo's street food!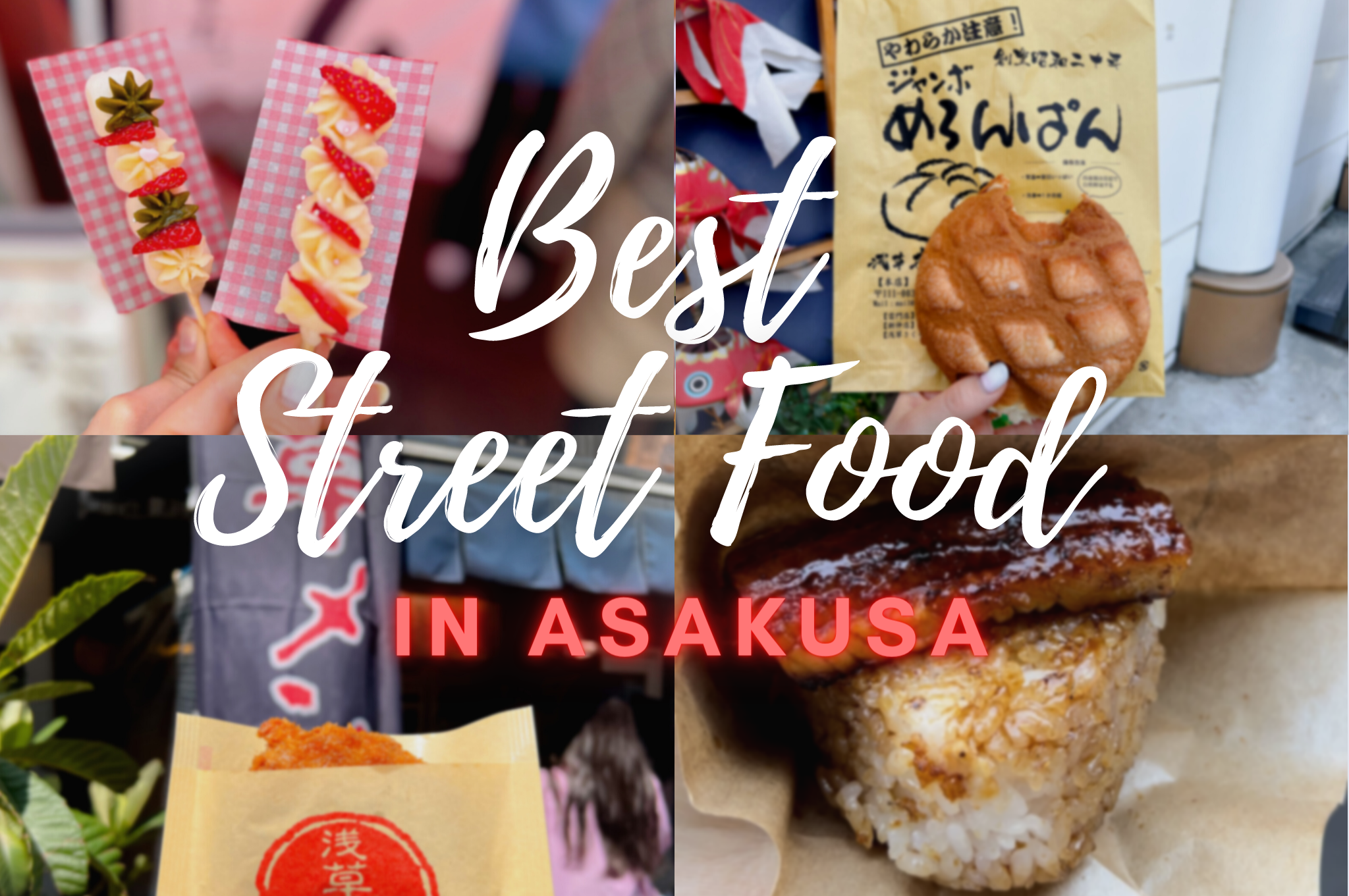 Asakusa is one of the oldest historical areas of Tokyo, and the most visited tourist destination in the city. It is also a very popular area among the Japanese. The main centre of interest is the Sensoji Temple and its incredible entrance, Kaminarimon Gate. Between the gate and the main part of the temple is Nakamise, a shopping street.
There was a time in ancient times when there were many soldiers who went to Sensoji Temple before leaving, or pilgrims who came to seek the temple's favour. A kind of flea market then began to be set up, with people selling things to make their return journey and so on. Over time, local people in Asakusa were given permission to open shops, and Nakamise Street was born, a 250 meters shopping street with over 80 shops.
<<Click HERE to Book a Sensoji and Asakusa Food Tour Now!!>>
Nakamise Street has many souvenir shops, and in Japan souvenirs also include local food! It also has a large number of food stalls, and one of the best and most popular activities in Asakusa is try Tokyo's street food! For all the foodies out there, in this article I'd like to introduce my top 6 must-try street food and snacks onAsakusa! Ready? Let's go!!
1. Cute Strawberry Dango – Asakusa Soratsuki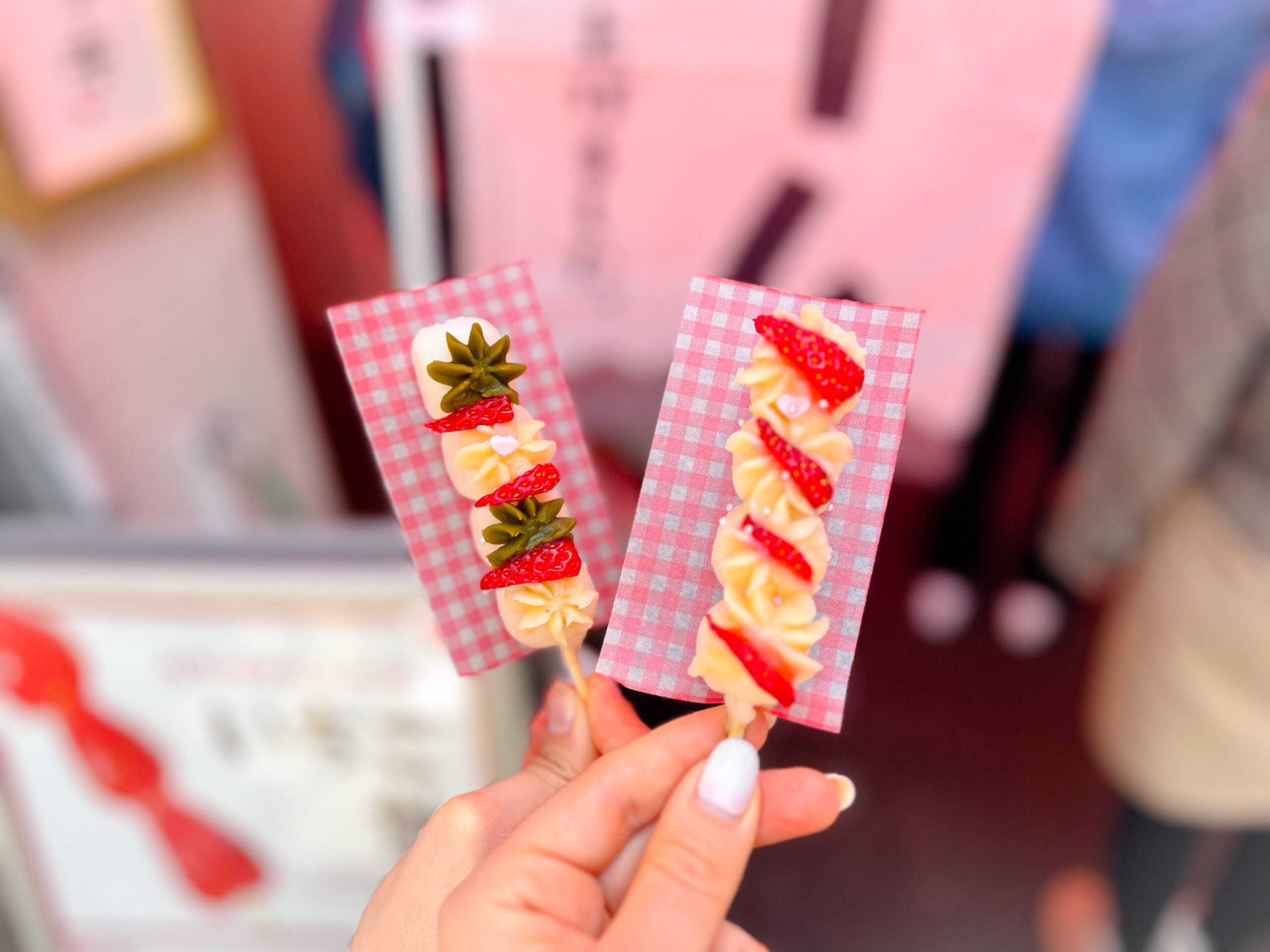 I'm not going to kid you, this little stand of adorable strawberry dangos seems to have been created 100% to appeal to social media fans. But that doesn't take away from the fact that these dangos are extremely cute and photogenic, but they also taste delicious! Besides, it is unusual to be able to eat dango in this way, with different flavours. If you don't like dango, they also have stickers of delicious Japanese strawberries!
Price: 300 yen
2. Melon Pan – Asakusa Kagetsudo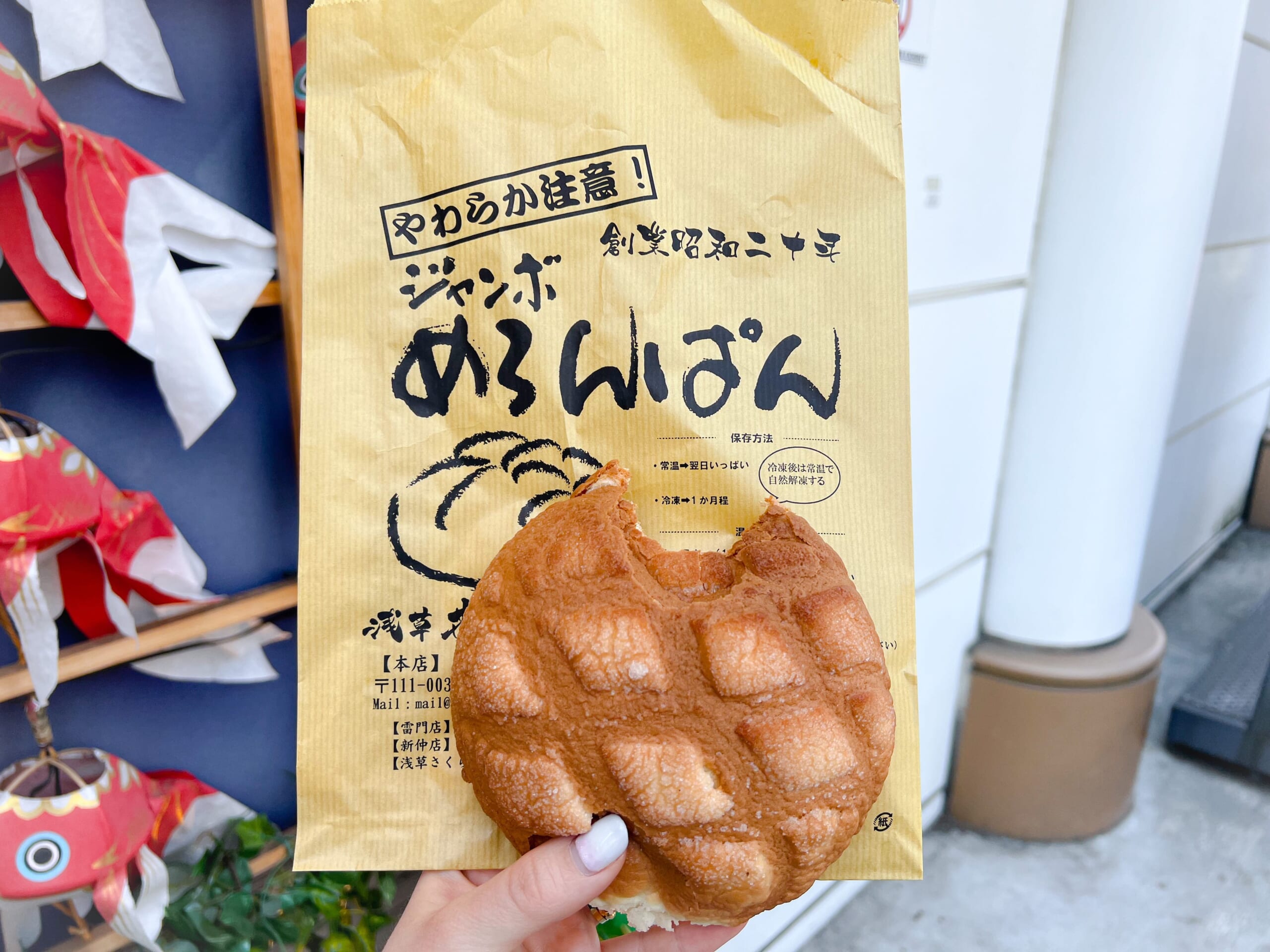 You can't go to Asakusa and not try Kagetsudo's famous melon bread. Although the name may be misleading, Japanese melon bread does not taste like melon (yes, I know, it can be disappointing to discover this). It is simply a sweet bread or bun, made with butter and milk, but it tastes delicious! Normally you can find it in any supermarket or convenience store (conbini), but Kagetsudo's melon bread is different. Handmade, made with the family recipe since 1945 and in different flavours! You can choose the basic one, or you can add different flavours of ice cream.
A definitely must-try if you go to Asakusa!
Price: 280 yen
3. Cutlet – Asakusa Menchi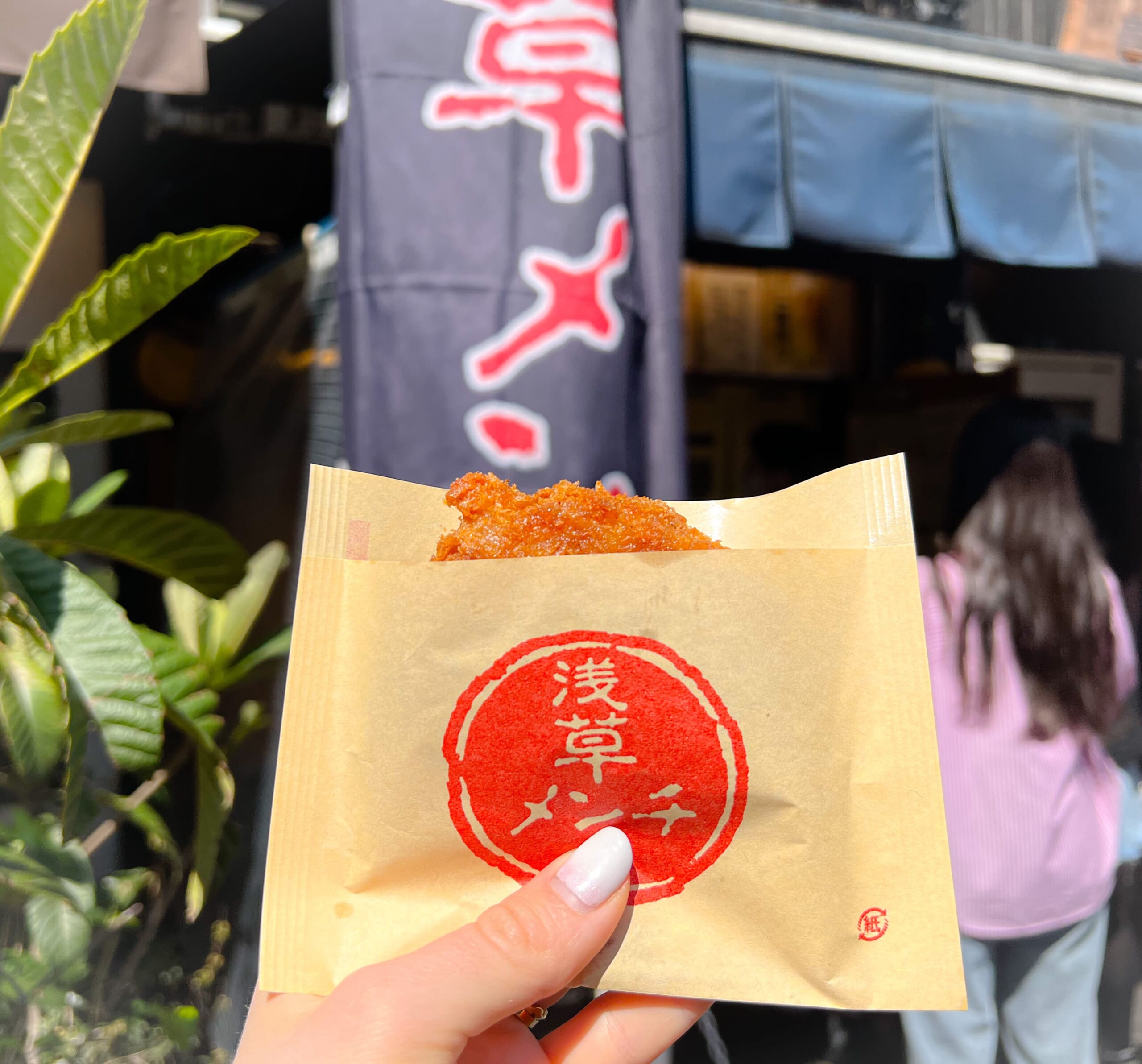 Menchi or Menchi Katsu is a fried minced meat croquette and it's very common to find it in different shops and places. Asakusa Menchi is a very small place, but it has one of the best menchi in Tokyo! They use koza pork, selected as one of the 100 best foods in Kanagawa Prefecture, mixed with none other than the coveted and famous Japanese wagyu beef. The result is simply delicious! The place is always full of people waiting, including Japanese.
Price: 350 yen
4. Eel Riceball – Asakusa Unana
Asakusa Unana is one of the new trends in the Asakusa district, serving one of Japan's top foods: eel, called unagi in Japanese. Japanese eel is a very popular dish among the Japanese, and if it's of good quality it can fetch quite high prices. It's usually eaten in a bowl with white rice as a base and the eel is grilled and topped with a soy sauce-based sweet sauce.
At Asakusa Unana one of the specialties is an onigiri (rice ball) of unagi. Trying a whole eel is very expensive, or even a bowl of eel (which is usually about 1/3 or 1/2 of a whole eel). With this unagui onigiri you can try a small portion of eel at a reasonable price without having to eat a whole bowl.
The shop has a ticketing and shift system. You go in, buy what you want from a machine and they give you a ticket to come back after a while. We went to the store around 12:30 and we got a ticket for 15:30, so it's recommended go with time!
Price: 600 yen
5. Pork Bun – Sekine
One of the most popular street foods in Japan is Nikuman or pork bun. They came to Japan from China, like many other dishes, and quickly became very popular. You can often find them in any conbini. But if you want to taste an authentic nikuman made in the traditional way, Sekine was founded in 1925 and has one of the best nikuman in town! I can assure you that the taste is totally different from the others that you can find made in a quicker and more artificial way.
Price: 290 yen
6. White Strawberry Daifuku – Ginkado Asakusa
Ginkado Asakusa is one of the newer shops in Nakamise, but definitely one of my favourites! The shop is actually one of my old ones in Nakamise, but they have gone from selling souvenirs to selling delicious daifuku! The original daifuku are usually filled with anko, red bean paste, a very popular sweet among the Japanese but not so much among foreigners. I myself am not a fan of anko. But at Ginkado they have daifuku in different flavours, such as chocolate, custard cream or green tea!
If you don't know which one too choose, the most special one is the white strawberry daifuku, since you can also try the famous Japanese white strawberries. But my top favorite one is the custard cream one!
Price: 600 yen
<<Click HERE to Book a Sensoji and Asakusa Food Tour Now!!>>
Extra: 3D Latte Art – Hat Coffee
Although this is not food, I can't pass up the opportunity to introduce you to this place! One of the latest trends in Tokyo is 3D latte art, lattes in the shape of animals or popular anime characters. You can even customize it and make a latte with the face of your pets!
This place is about 5 minutes away from the main street of Nakamise, on the opposite side. As it's very popular, you have to ask for an appointment and wait patiently. If you don't like coffee, don't worry because there is also a matcha latte option with the famous Japanese green tea. And if you are vegan or milk intolerant, they have different vegetable options available!
---
Bar Hopping
If you are not only looking for street food but also something to drink, Asakusa is also one of the best places in Tokyo for bar hopping! In the streets around the Sensoji temple you have a lot of small bars where you can feel the atmosphere of Japanese nightlife. Being a tourist area, many of the locals are foreigner friendly, but for those who are not sure a safe option is to book a private tour! You will be able to enjoy like a local, discover the best places and meet Japanese people.
Make your own Taiyaki!
For a different and original experience, instead of buying street food, you can take a class and make your own food! Taiyaki is a typical Japanese sweet that consists of waffle-like dough, but in the shape of a funny fish and with filling! The traditional filling is anko, red bean paste, but it can also be filled with chocolate, cream or more!
---
Did you enjoy the list? For more info around Asakusa area, please check out these articles, too!
▽ Related Articles▽
▼ Editor's Picks▼
---