10 Best Places to Visit in Japan in Autumn 2023
Most Beautiful Places in Japan in Autumn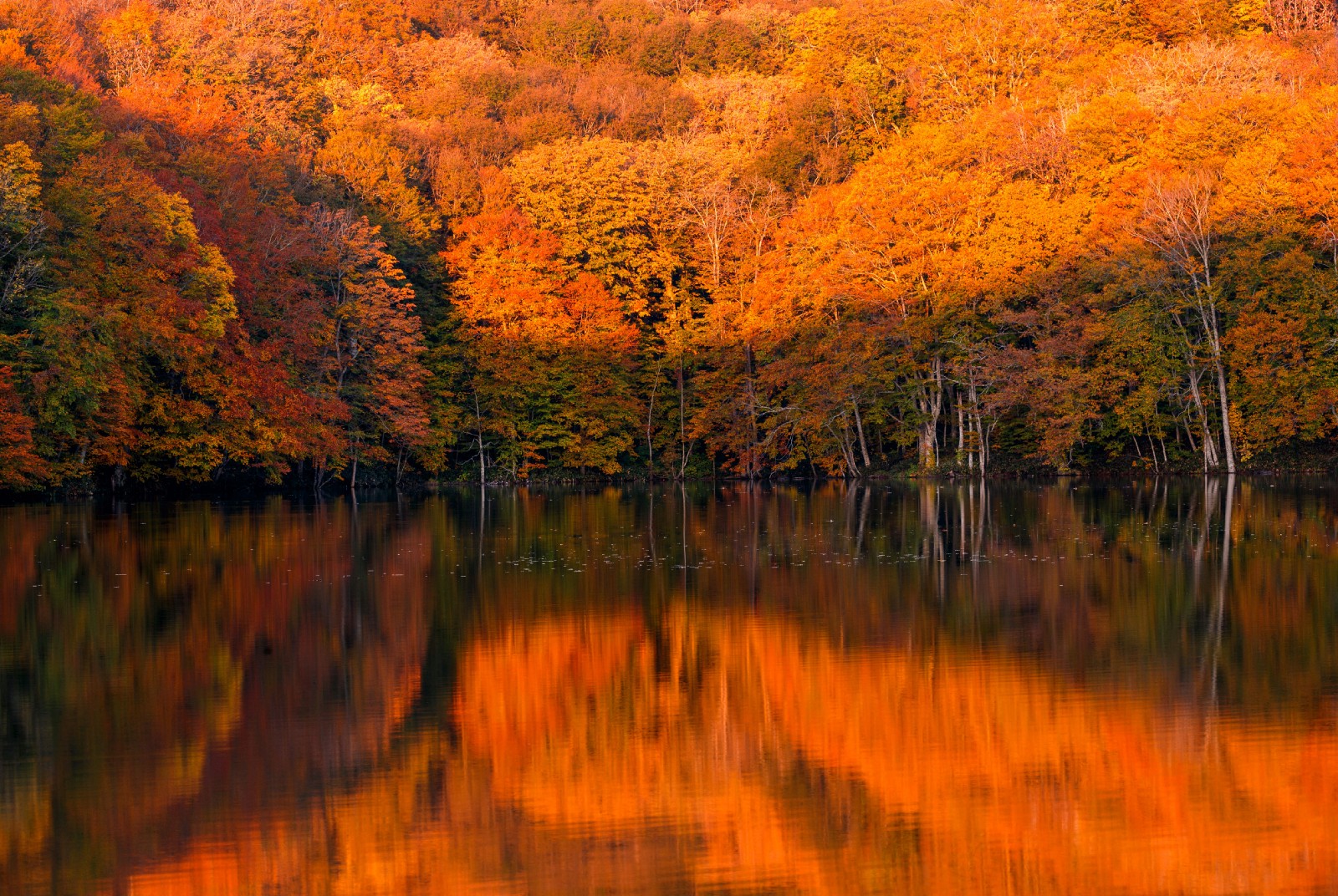 Autumn is considered as the most beautiful season of the year in Japan as the colourful autumn leaves display the beautiful scenery across the country. But there are many other great things to see in Japanese autumn. Today, I have selected some of best autumn scenery in Japan, which you should definitely see one in your lifetime! Here is 10 Best Places to Visit in Japan in Autumn 2023!!
---
1. Sea of Clouds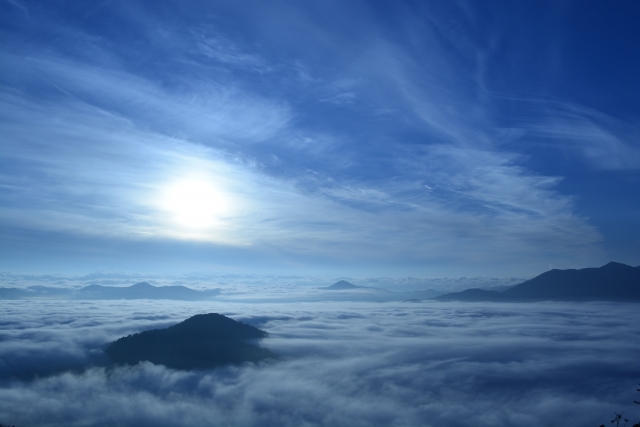 Sea of clouds (Unkai in Japanese) is a natural phenomenon formed by overcast layers of clouds that can be captured only certain places and timing. Although it's a rare sight, there are several places in Japan where sea of clouds can be observed in some days, especially around mountainous areas.
The Unkai Terrace in Hokkaido is one of the most famous and visited spots to capture sea of clouds in Japan. It's a part of Hoshino Resort Tomamu in central Hokkaido and open from May to October when sea of clouds most likely appear. The terrace is situated on a mountain at 1,088 above the sea level and can be only accessed by gondola which can be used by both hotel guests and non hotel guests. At the terrace, there are several observation facilities as well as a shop and a cafe.
Related article: Unkai Terrace in Hokkaido: Where to Watch the Sea of Clouds in Japan
2. Tsutanuma Pond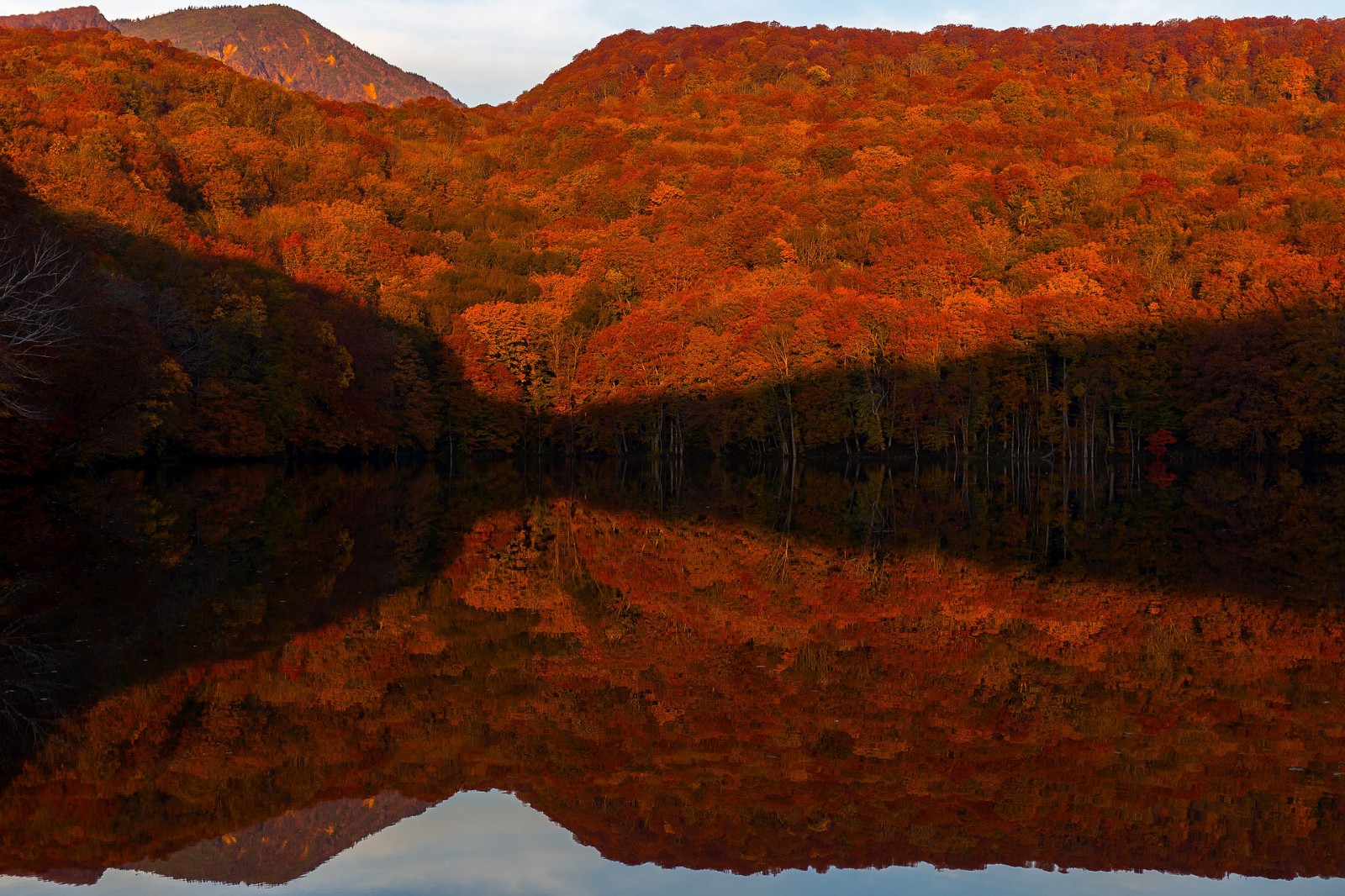 Tsutanuma is a picturesque pond within Towada-Hachimantai National Park. It's one of Tsuta Nana Numa, a collective name for seven marshes, lakes, and ponds situated around Tsuta Bird Sanctuary in the park. The lake is surrounded by beech trees which change their colour to warm red and orange in autumn and create an astonishing scenery with the reflection on the mirror-like pond.
The best time to capture the scenery is early morning around sunrise as the sun rises over the top of the mountain and casts a brilliant golden colour over the pond and surrounding trees. As the sun goes up, the dazzling morning light bursts all over the place. Every autumn, many photographers visit there trying to capture the most beautiful moments in the morning.
Related link: http://www.en-aomori.com/scenery-004.html
3. Yamadera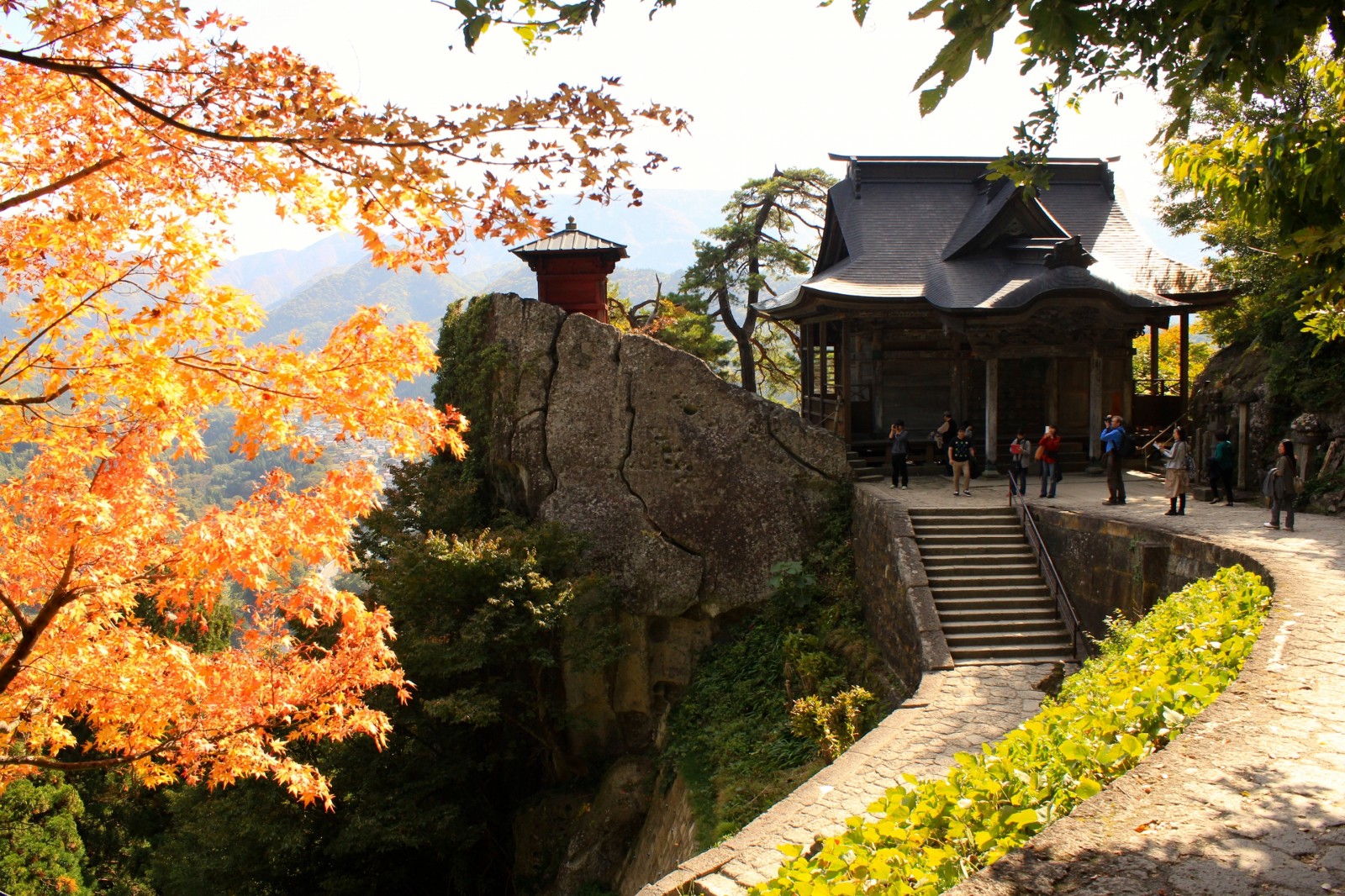 Risshakuji Temple, better known as Yamadera is a scenic, mountain-top temple complex in the northeast of Yamagata City, Yamagata Prefecture. Yamadera which literally means "mountain temple" comprises several halls and buildings on Mt Hoju's slope, and there are in total 1015 stone steps to climb up to top of the mountain. The temple is also known as the place where the legendary Japanese poet, Basho Matsuo wrote his famous haiku "The Cry of Cicada".
The stunning view of Yamadera can be enjoyed thought the year, yet autumn could be the best time as the surrounding nature displays gorgeous autumn colours. The best viewing time for autumn leaves in Yamadera is late October to early November.
Related article: Yamadera: 1,015 Steps to Japan's Most Scenic Temple
4. Kochia Carnival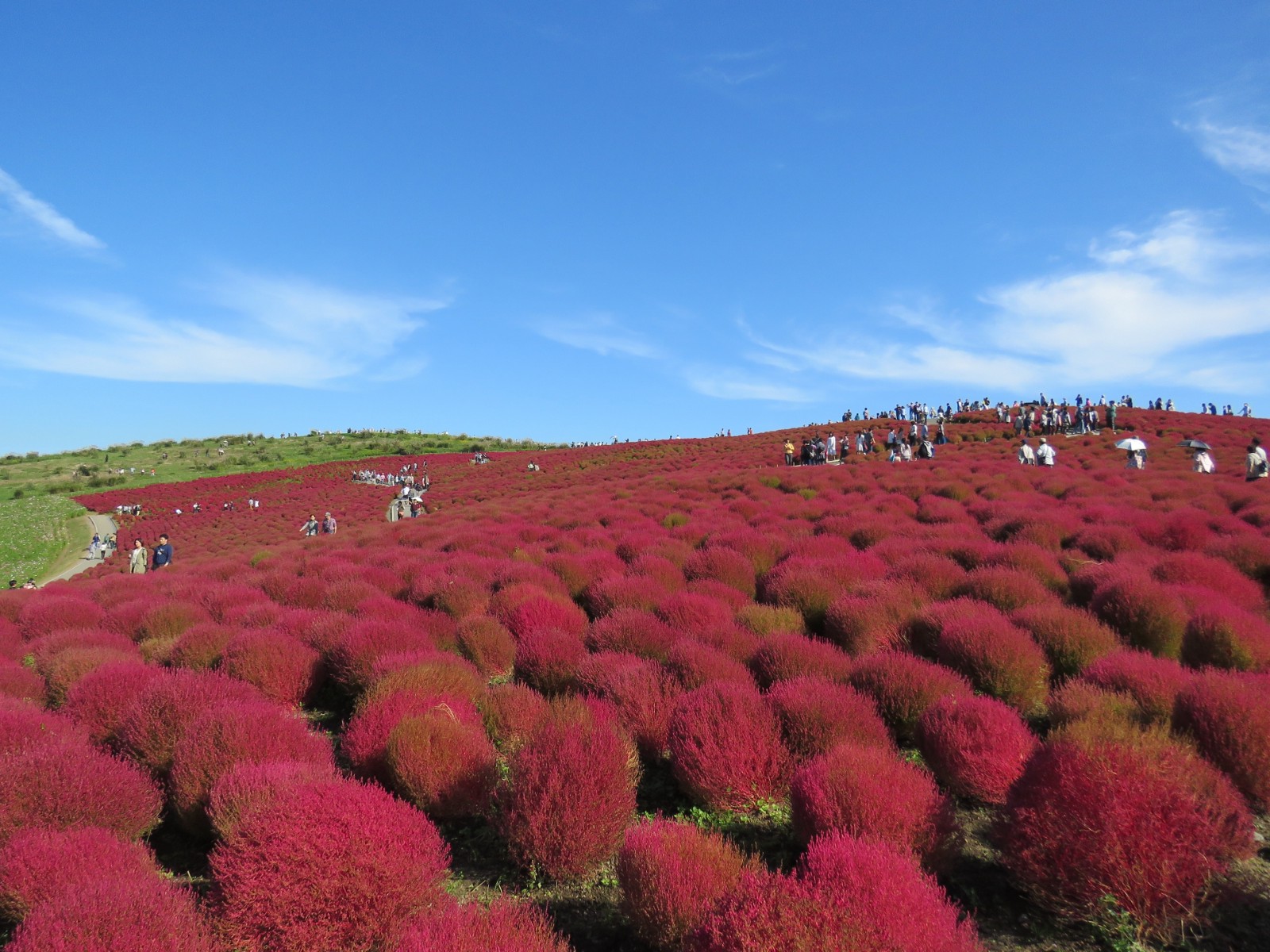 Kochia Carnival is a popular seasonal event held at Hitachi Seaside Park in Ibaraku Prefecture. It features over 30,000 kochia plants in a field of 350ha which is transformed into a vivid red carpet of kochia during autumn.
Bushes of kochia are planted at the Miharashi Hill of the park in June and grow in size from 15 to 70-80cm through summer. The colour of the kochia changes from green to red gradually from summer to autumn, and the astonishing sea of kochia is displayed at the park usually from early October. Next to the kochia field, there is a cosmos field which is also in season in October. Visitors can enjoy walking through the pavements by the fields watching an amazing collaboration of two charming autumn plants.
More info: Kochia Carnival at Hitachi Seaside Park Autumn
5.
Karasawa Cirque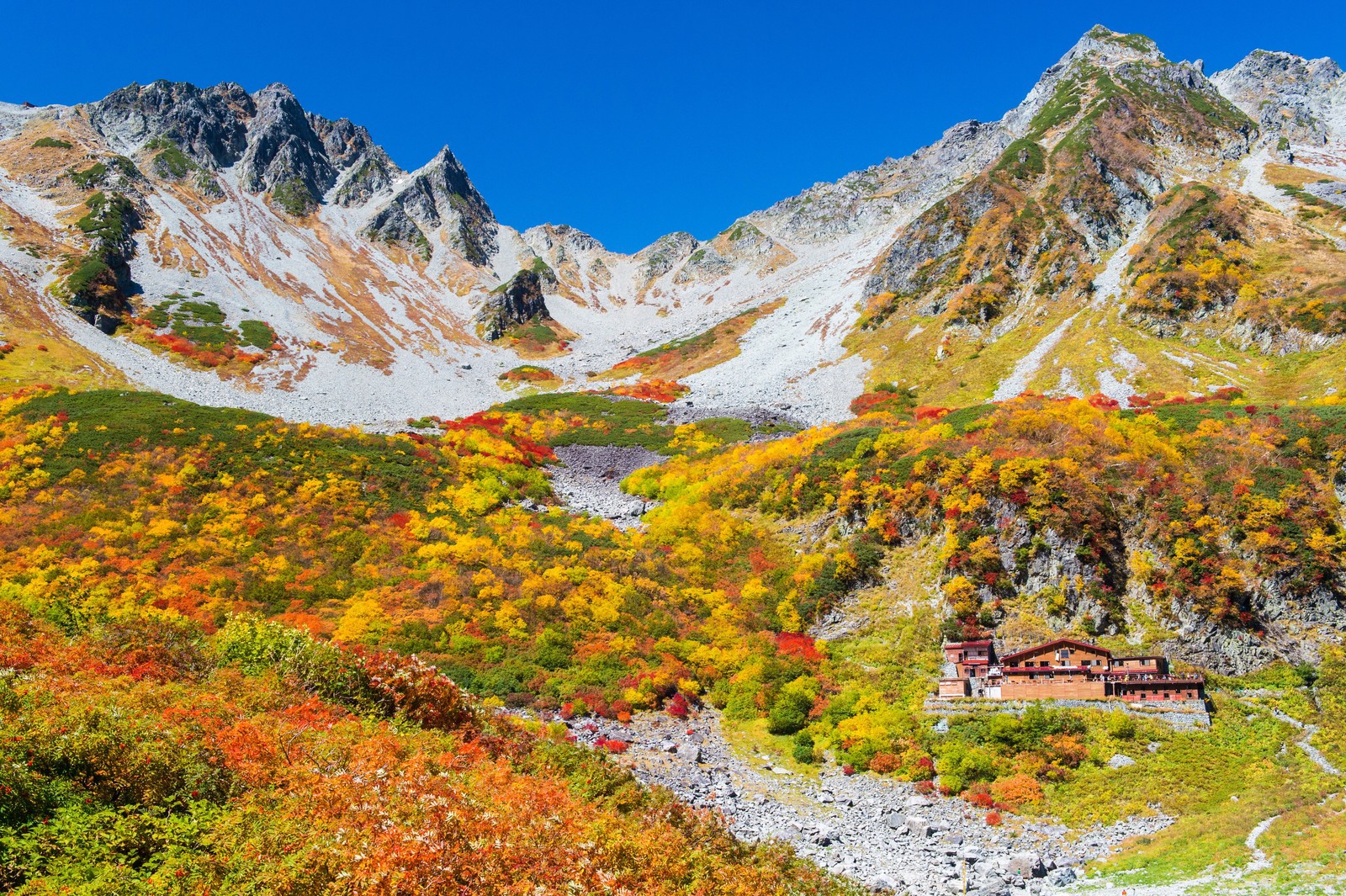 Karasawa Cirque is a glacial cirque in Matsumoto City, Nagano Prefecture. It's a part of Chubu Sangaku National Park and one of the most attractive places to hike in Japan. The cirque is situated halfway up Mt Hotaka in the Northern Alps at an altitude of 2,300 m and takes around 6 hours to climb from Kamikochi.

Kawasawa Cirque is a popular place to hike from spring to autumn and is a center for climbing Mt Hotaka. Many climbers camp at the site and it's filled with colorful tents during summer. There are also hutte and hut where climbers can also stay over. The cirque displays stunning scenery in each season, yet, draws a large crowd in autumn as it's considered as one of the best autumn leaves viewing spots in Japan. The astonishing view of autumn tint against a backdrop of mountains can be enjoyed usually from mid September to early October.
Related link: https://karasawa-hyutte.com/
6. Kiyomizudera Temple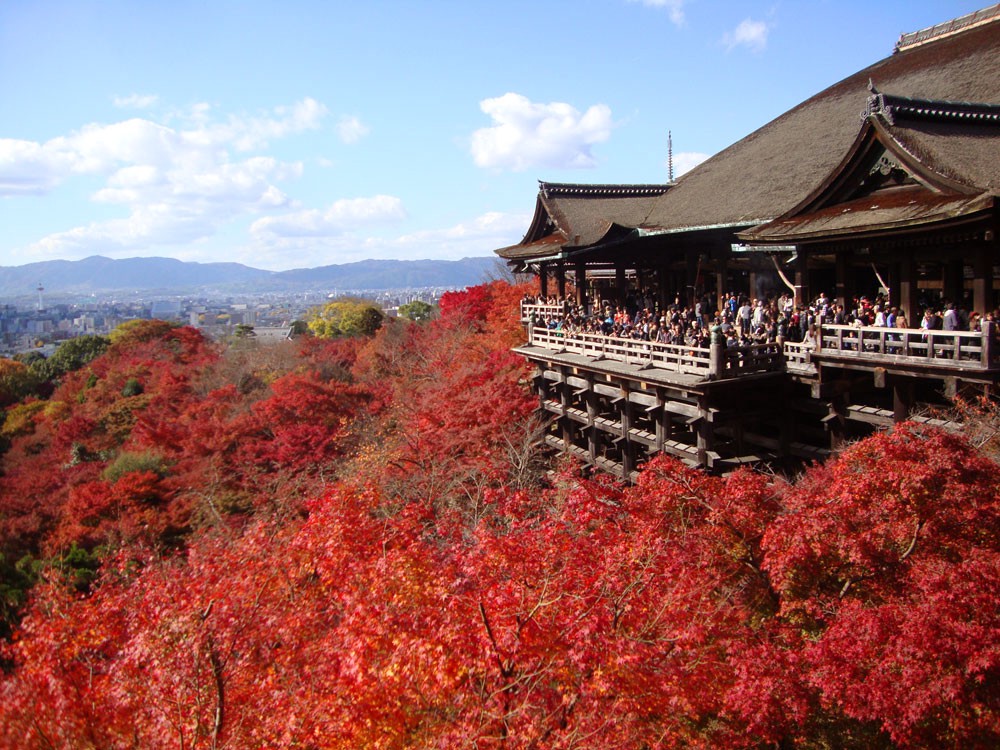 The ancient capital city, Kyoto is Japan's top destination for autumn leaves viewing as the gorgeous views of tinted leaves and historic monuments can be appreciated at many sites. Kiyomizudera, the Buddhist temple with over 1200 years of history and part of the Historic Monuments of Ancient Kyoto UNESCO World Heritage Site, is one of the most popular tourist sites in the city.
There are around 1,000 trees at the temple site which slowly turn warm autumn colours. The breathtaking view of a sea of autumn leaves can be seen in front of the iconic sight of Kiyomizudera's large wooden terrace.
More info: Kyoto Kiyomizudera Temple: When is the Best Time to Visit?
7. Enko-ji Temple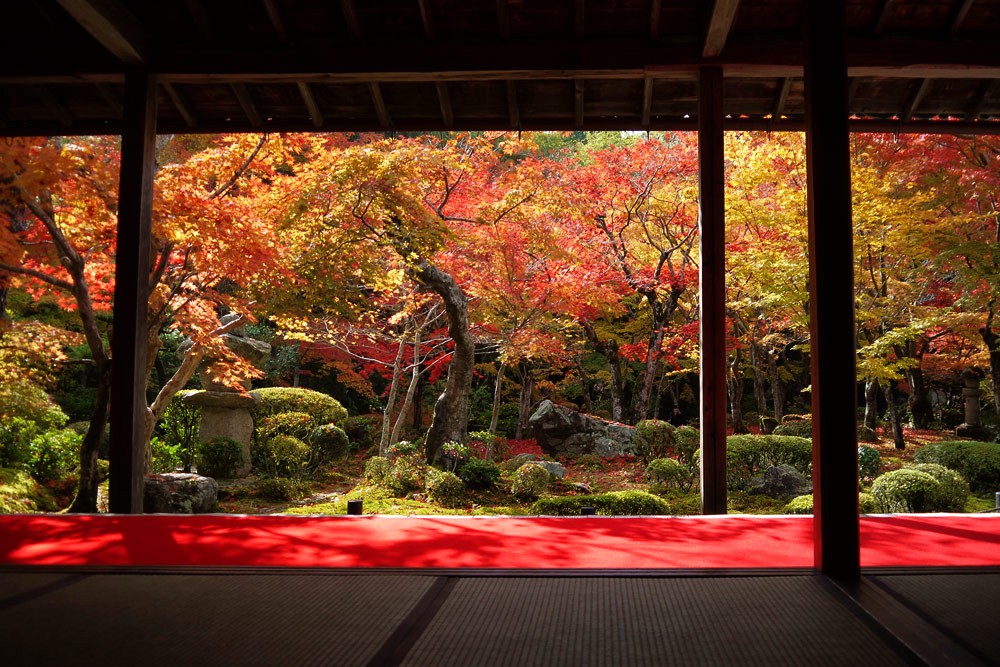 As the gorgeous scenery of autumn leaves can be enjoyed at numbers of historic sites in Kyoto, the temples and shrines tend to get really crowded during the season. Enkoji Temple is one of Kyoto's best kept secret, located outskirts of the city.
Enkoji Temple has a beautiful zen garden with a pond which can be viewed from the main hall. It displays stunning scenery through the year, yet the most splendid view can be enjoyed in autumn when the leaves turn red and yellow. Even after the leaves fall, the ground is covered by a carpet of tinted leaves. The temple also has a beautiful stone garden and bamboo path.
More info: Enkoji Temple: The Best Hidden Temple in Kyoto
8. Nachi Fall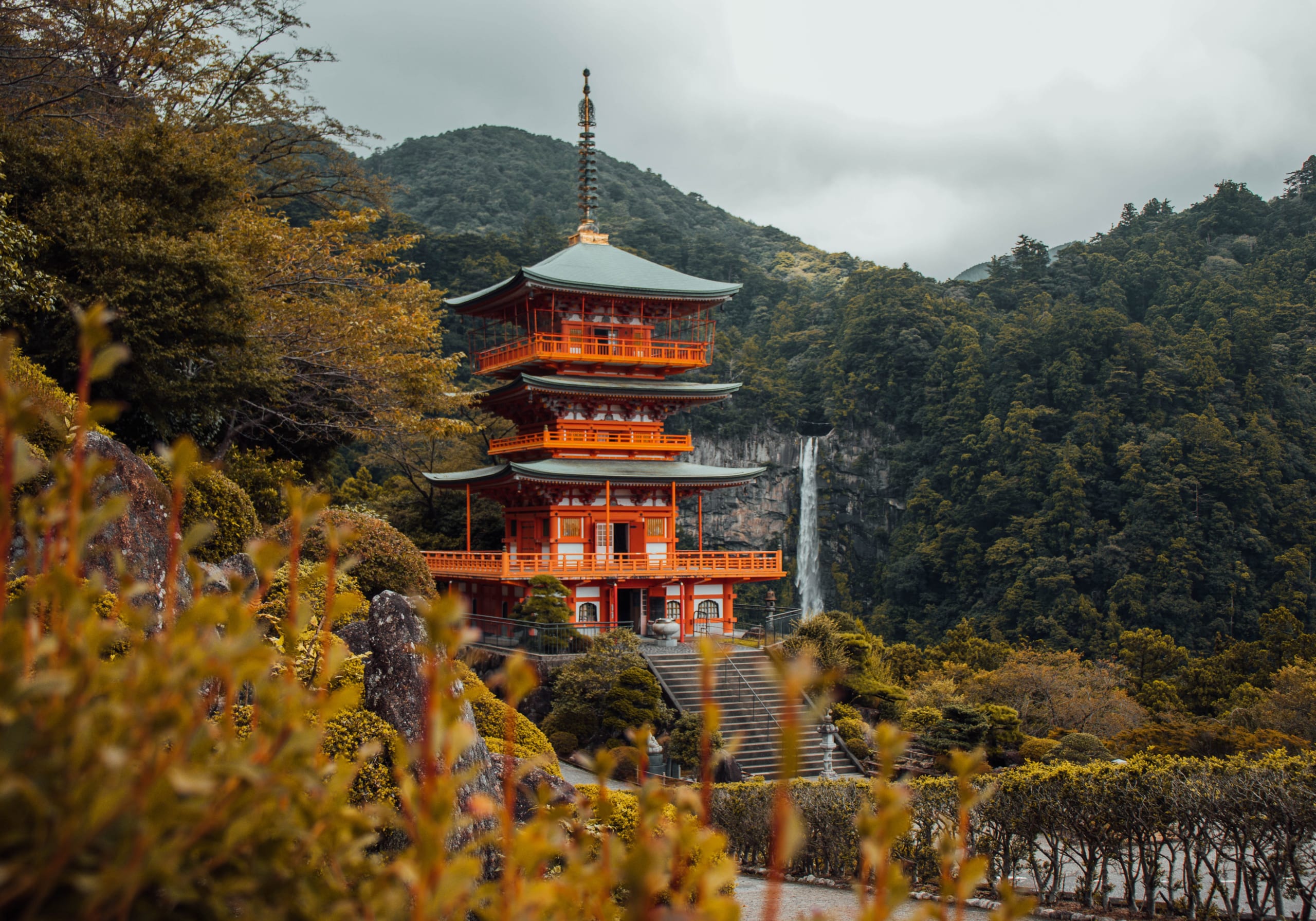 Nachi Falls is one of the most famous waterfalls in Japan located in Nachikatsuura, Wakayama Prefecture. It's part of UNESCO World Heritage Site "Sacred Sites and Pilgrimage Routes in the Kii Mountain Range" along with the famous ancient pilgrimage route, Kumano Kodo. Nachi Falls is Japan's tallest uninterrupted waterfalls with a drop of 133 meters.
Short walk from Nachi Falls, there is Seigantoji Temple, Tendai Buddhist temple with a red pagoda. The view of the three-storied pagoda with the waterfall in the background is one of the most picturesque scenery in Japan. In autumn, around the waterfall and the temple display the beautiful autumn colours.
Related article: Nachi Falls: The Best Scenic Waterfalls in Japan
9. Irohazaka Slope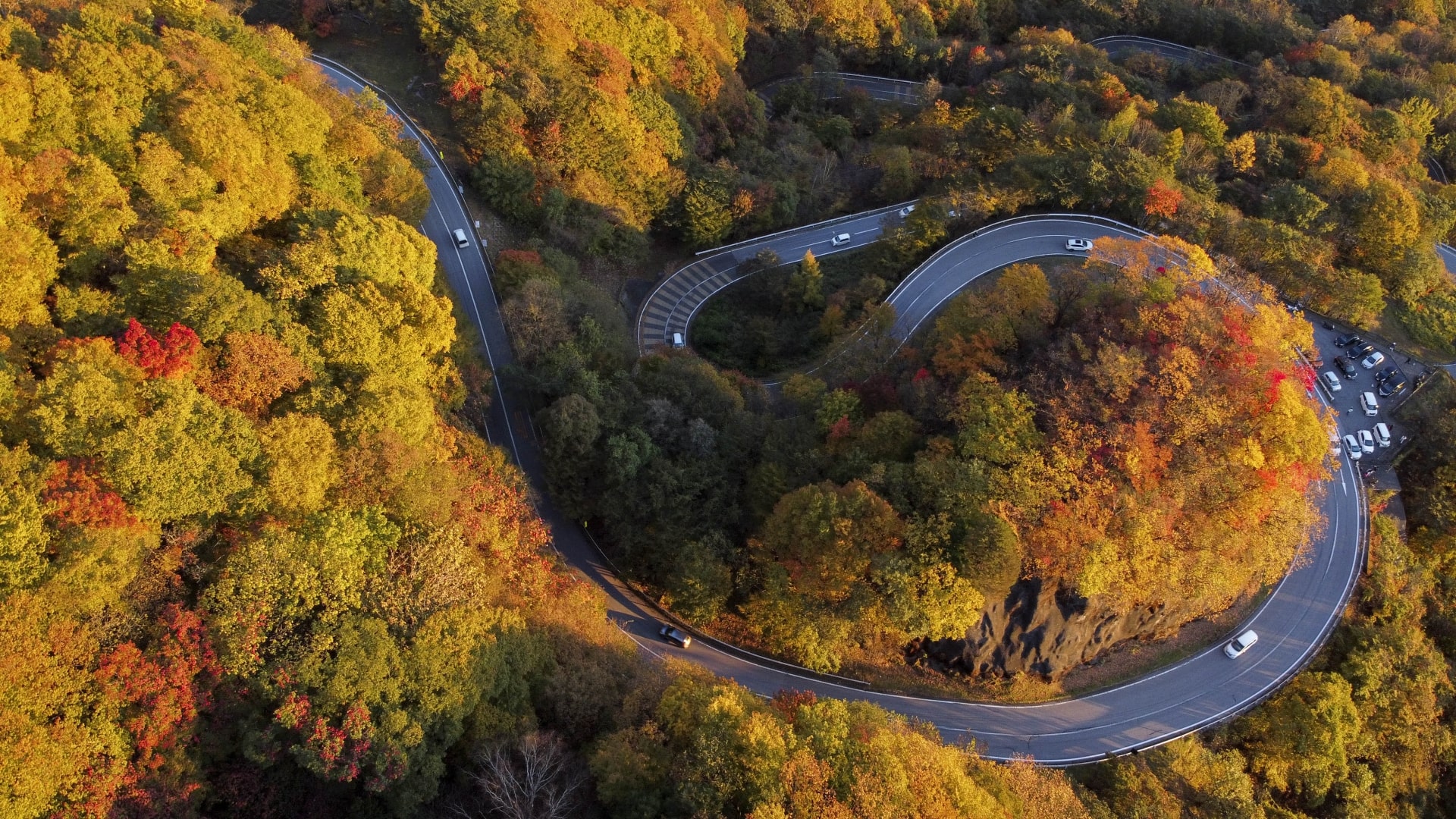 Nikko is a city in Tochigi Prefecture and a popular day-trip destination from Tokyo. Nikko is known for Nikko Toshogu Shrine, one of the most important historic sites in Japan, as well as the rich nature and landscape that display beautiful scenery in each season.
Irohazaka slope is a pair of sightseeing route in Nikko, Tochigi Prefecture, connecting Nikko City and the mountanious Lake Chuzenji area. The 15.9km long winding road with 48 sharp curves is one of the best places to enjoy scenic drive in Japan. The popular time to visit the slope is autumn when the leaves start changing the colours gradually from the middle of October to the beginning of November.
Related article: Nikko: Best Things to Do
10. Metasequoia Avenue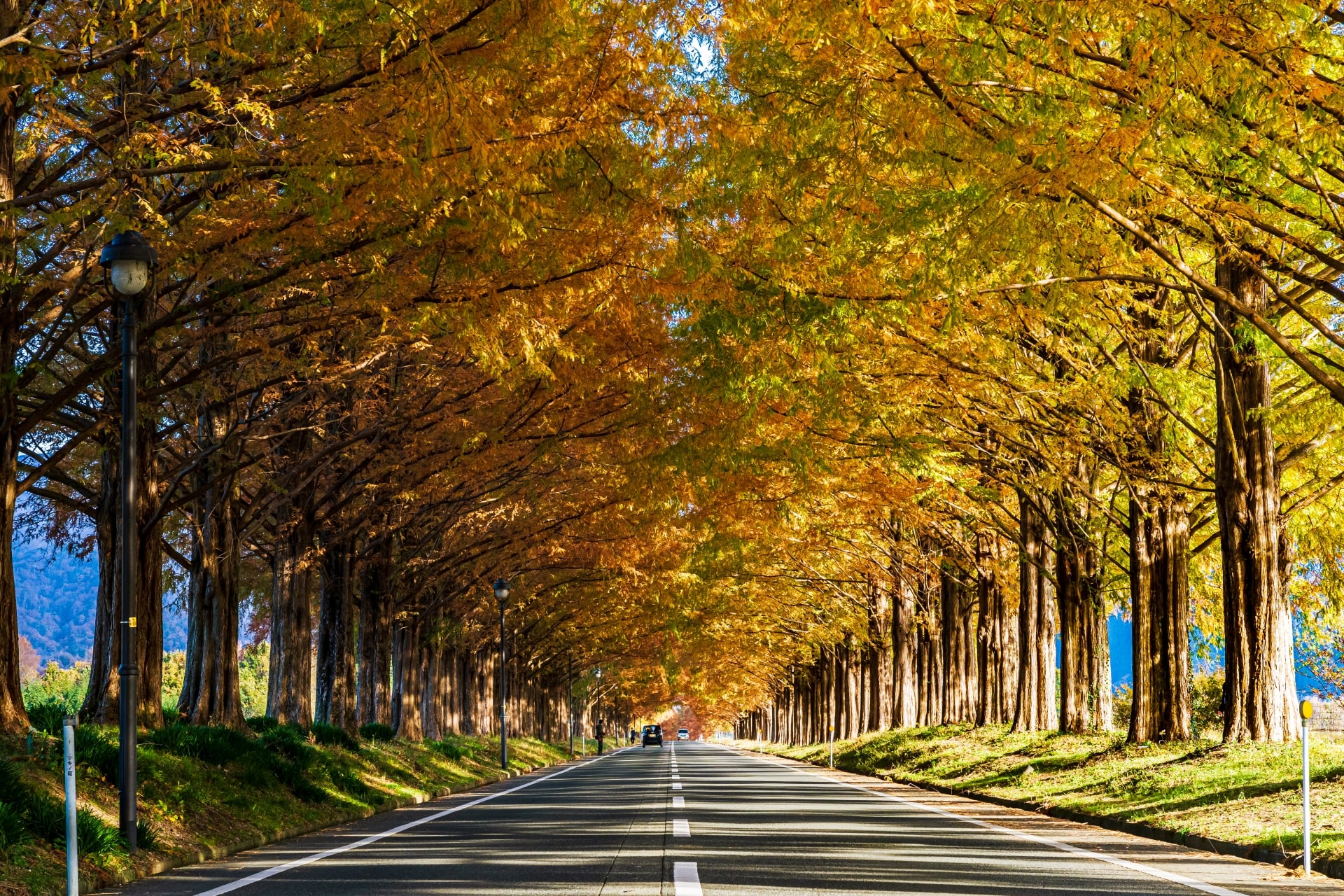 The Metasequoia Avenue is a picturesque road with two parallel rows of giant metasequoia trees in Takashima City, Shiga Prefecture. Approximately 500 metasequoia trees are planted on the prefectural road Koaraji Makinosawa Line, which stretches a length of approximately 2.4 km.
The metasequoia trees change its colour through the year and visitors can enjoy various scenery in each season. Trees are covered with deep, vibrant green in summer, them turn into warm golden colour in autumn.
Related link: https://takashima-kanko.jp/spot/2018/06/post_155.html
---
How did you enjoy the list? For more beautiful places in Japan in other seasons, please check out listed articles!
▽Related Articles▽
▼Editor's Picks▼
---