Nishiki Market Tour: Food and Shopping Guide
Food and Drink Tour at Nishiki Market: Enjoy delicious local food with the Best Walking Tour in Kyoto!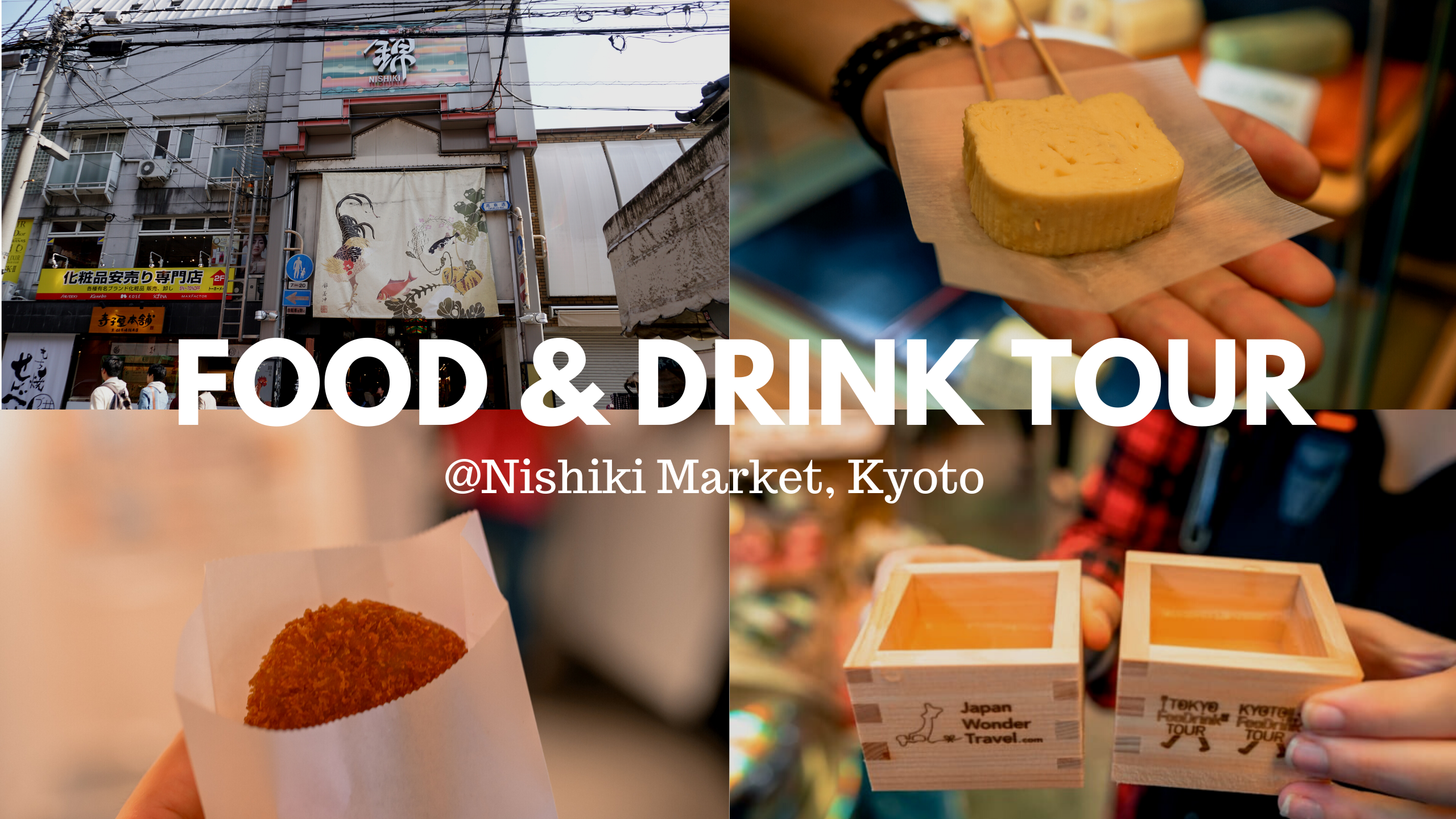 Enjoy Nishiki Market and Gion with the best food walking tour in Kyoto!! Croquette, Kyoto style Omelet, Sake, Shopping, Secret Gion, Japanese sweets…etc, this is my best experience at Nishiki Market Tour!!
*Please note that this article contains affiliate links.
In my opinion, the best way to explore a country is with guided tours since you can learn the culture and the history of the city with local expert guides, making your trip much more interesting. In recent years, the number of agencies offering tours and activities has grown in Japan, and the variety of things you can do in the country has increased! Now you have a huge range of possibilities. But among all these things, food and drink tours are especially popular. Food is a good way to know the country you are visiting better, and Japanese food is a top attraction of the country (and being honest: people love eating, and I completely understand that! 😂)
In Kyoto, the top destination for food lovers is Nishiki Market. With more than 100 shops and restaurants, Nishiki Market is the best place in Kyoto to discover the real Japanese food. Of course, you can go by yourself, but it's highly recommended to join one of the several Nishiki Market tours that are available in the area, since you can learn about the neighbourhood in-depth while eating authentic local food.
Recently, I have joined a popular food tour in Kyoto, Food and Drink Tour at Nishiki Market and I have a really super fun time! And, I would love share with you my amazing experience in this interesting food tour at Nishiki Market! If you are interested in Nishiki Market or like the Japanese food culture, I'm completely sure you're gonna love this tour as much as I did.
Meeting at DAIMARU KYOTO department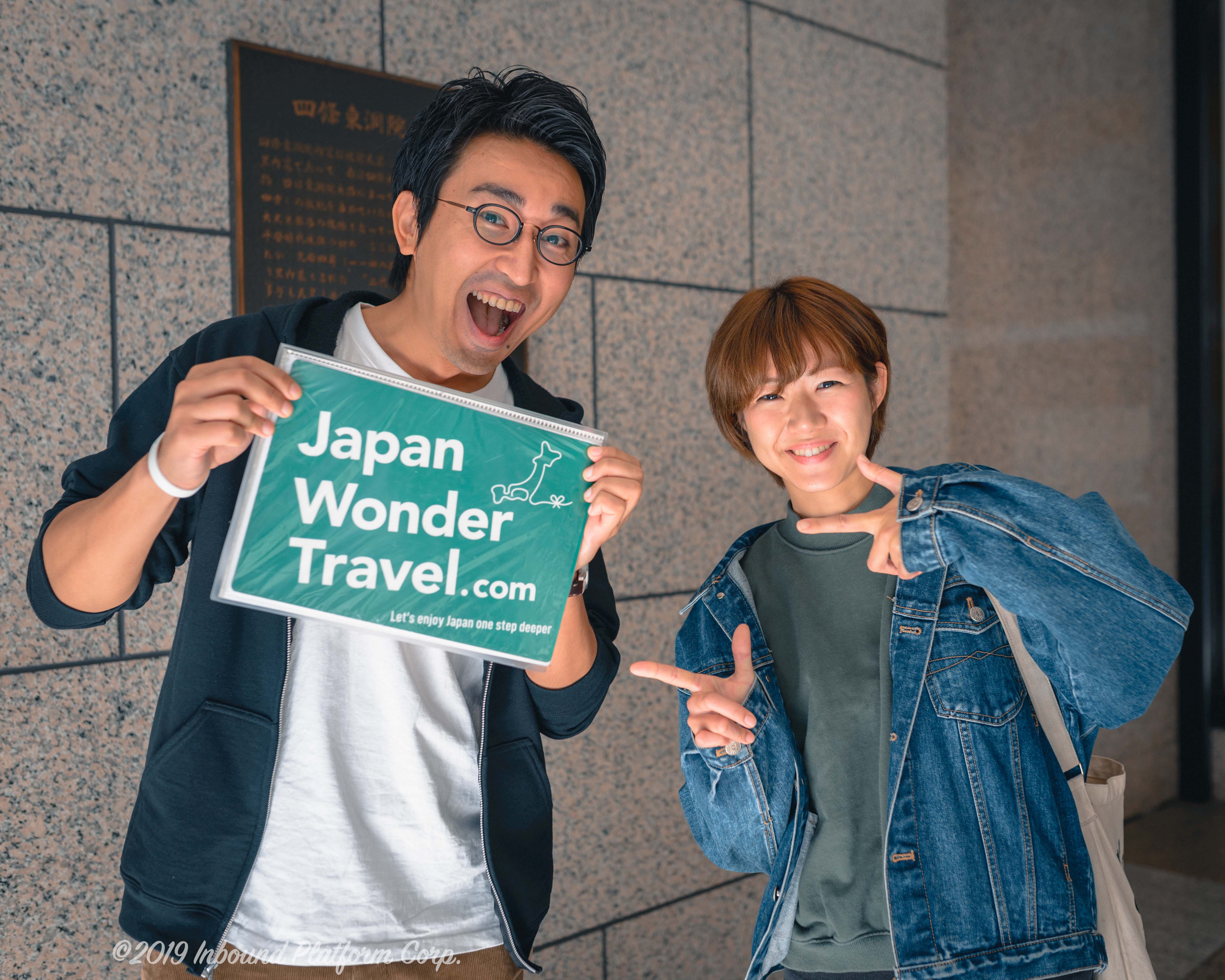 The meeting point of the "Kyoto Food and Drink Tour at Nishiki Street & Gion" was in front of the main gate of Daimaru Kyoto department. Be careful and don't mistake the place, since there are two Daimaru's departments in the same area. Even if the company already warning me about this in the confirmation e-mail, I trusted too much in Google Maps and I went to the wrong one, so don't do like me.
Our tour guide was waiting for us just in front of the main gate with the company name in a sign board. The tour guide for that day was Tatsuya, a guy who already seemed very funny and friendly from the beginning (he had our names written with a pen in his hand for not forgetting them)! His English was very fluent and he knew the city perfectly!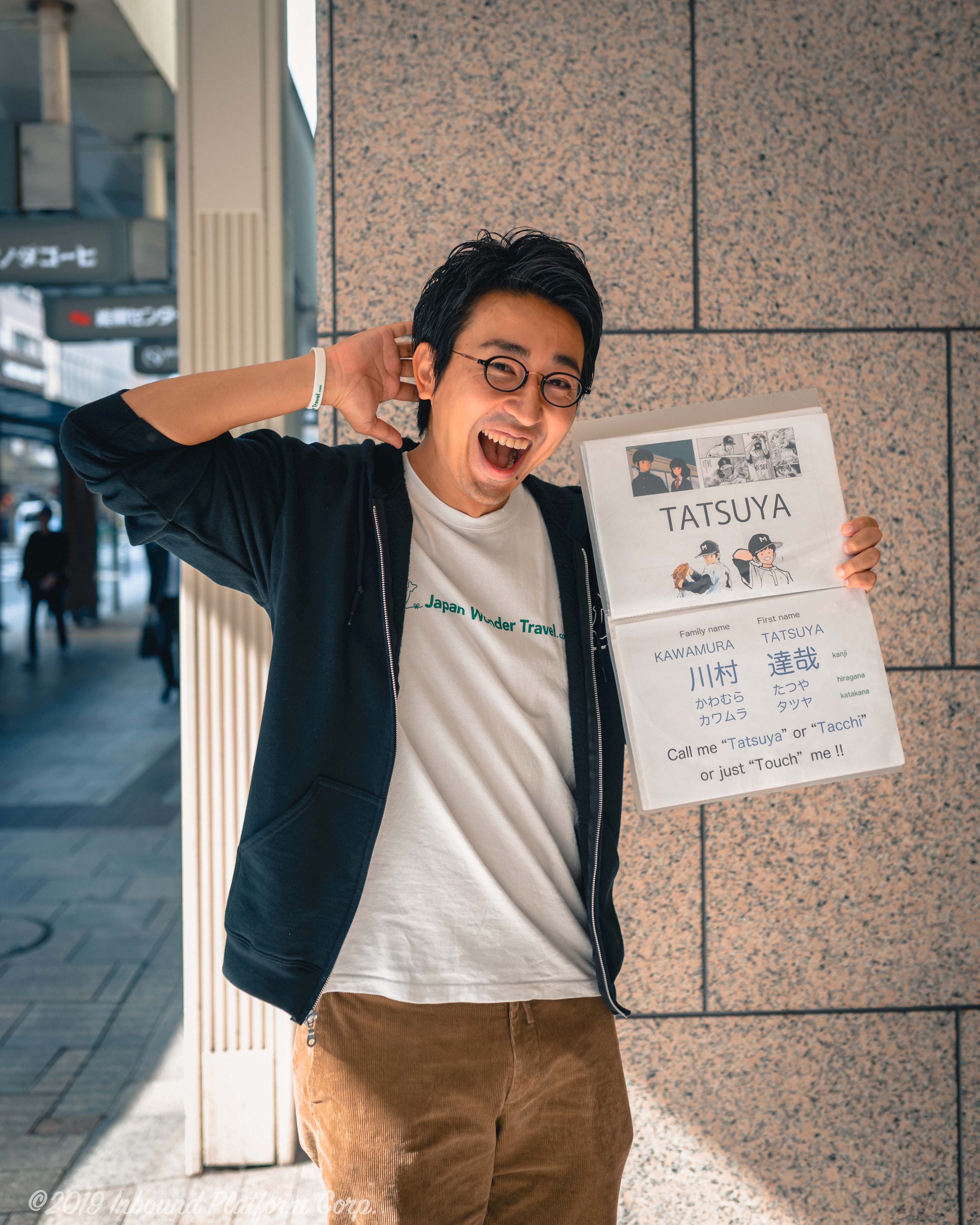 After introducing ourselves, he briefly explained us the schedule of the tour and taught us some words in 'kansai-ben' (Japanese dialects in the Kansai region). We took a quick walk on the food floor of the Daimaru department and had a bathroom break (since there is not toilet in Nishiki market) and finally we moved on to Nishiki Market! Let's eaaat!!
Nishiki Market (Nishiki Ichiba)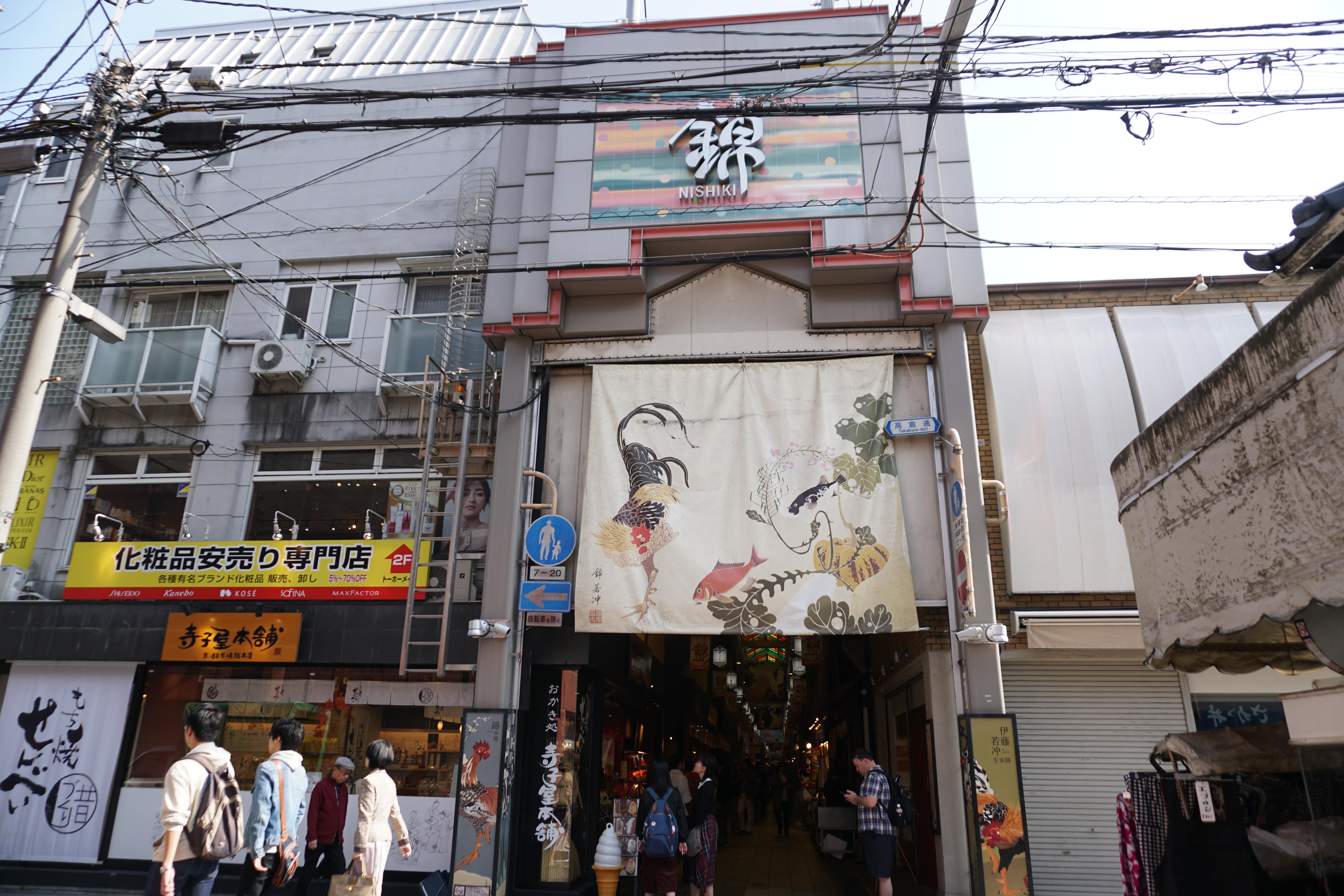 Nishiki Market (錦市場) is known as "Kyoto's Kitchen", and is the largest traditional food market in the ancient city. While other markets are wider or more circular and you have to go around them from one place to another, Nishiki Market is a narrow, 400-meter long shopping street lined by 130 shops and restaurants. The market is 1300 years old, so some of its shops have been there for a long time, passing from generation to generation with traditional recipes. Although there're also some shops and restaurants that are newer, such as one dedicated to Snoopy! You can find all kind of food ingredients in the market, including meat, vegetable, fruit, dried food, snacks, alcohol drinks, etc.
In the surroundings of the Nishiki Market there is abundant groundwater, and in fact this was one of the reasons why hundreds of years ago the market began to form there (there were no refrigerators at that time so people used the groundwater to keep the food fresh). Nowadays many shops and restaurants in the market keep to have direct connection with this groundwater, and they use this water to wash their products or for any other type of thing. In fact, our guide explained to us that merchants can dispose of this water for free, although how the tap comes directly from the ground 'you can't stop' and the water must always be running. This water is part of the secret of the market.
Unlike what happens at the Toyosu Market in Tokyo, in the Nishiki Market, there isn't any fish auction and luckily for those who don't like getting up early, market stores usually start to open between 9-10am in the morning and close around 5 -6pm in the afternoon.
While walking down on the market, Tatsuya stopped by at several shops that he recommended to eat/shop particular items. You could tell he really knows Nishiki Market very well. In some of the shops, we could talk to the owners or the staff who explained us more things about their products or shop. Tatsuya helped us by translating into English. It seemed like he was a friend with every shop owner we've been passing! I loved this part because that let us get closer to the locals, knowing better the culture and having a more authentic experience. And speaking about culture, during the tour Tatsuya not only talked about food but also made some stops where he explained us about aspects of Japanese culture and history. A totally complete tour!
Our guide did not only take us to try the best food but also helped us do shopping around the place. Sometimes when we are in a country where we don't speak the language, buying souvenirs or goods can be a problem: we don't know which products are quality and which are not, or what they are or how to use it, etc. From cooking ingredients or utensils such as Japanese knives with your name and dishes to special soaps, you can find almost everything in this market. So having Tatsuya helping us make our shopping much easier!
We also visited Nishiki Tenmangū, a Shinto shrine in the end of the market, which is in charge of protecting the shops and restaurants of the market. Therefore, in some of the lanterns at the entrance are the names of some of the businesses we saw during our tour. And here, Tatsuya showed us how to pray in a shinto Japanese shrine. A really interesting experience!
And, to finish off a perfect tour, we went to Gion! But not the part of Gion that everyone knows and is full of tourists. Tatsuya took us to meet the secret Gion and explained curiosities about the geishas of the place. A perfect way to end the tour!
Food and Drink Menu
Since it's a food tour, we made several stops during our tour to try some of the delicious local specialties of Kyoto. Are you ready to see aaaall what we ate in this Nishiki Market tour? I warn you can get really hungry! (I got hungry writing this article and remembering the taste of some of the things)
Yuba Sashimi
This is the first stop of the tour, and maybe the weirdest food for foreigners. Yuba sashimi is literally tofu skin, and its taste and texture can be too strange for foreigners. But don't worry! There are also delicious donuts made with soy milk so soft and delicious that everyone likes. Even if usually I don't like soy milk I loved this donuts!!
Sesame Cracker
Very close to the donut shop, we went to a cozy shop with several and varied Japanese products, such as green tea for milk. And there are few things with a more Japanese flavor than the famous sesame crackers. The shop staff was very friendly, and they let us take a rest at a small table at the bottom of the store, where they served us chestnut tea and delicious rice with chestnuts, a seasonal specialty (since is autumn).
Hamo
Although I'm not passionate about fish and this part worried me a bite, it was delicious and I loved it!! Don't trust me? Watch my happy face in the picture! We tried two different types, and my favorite was the batter you see in the picture (left one), but both were very tasty. Also, the staff at this shop was especially nice and lovely and they won my heart. When I return to Kyoto I will go again for sure!
Kyoto style Omelet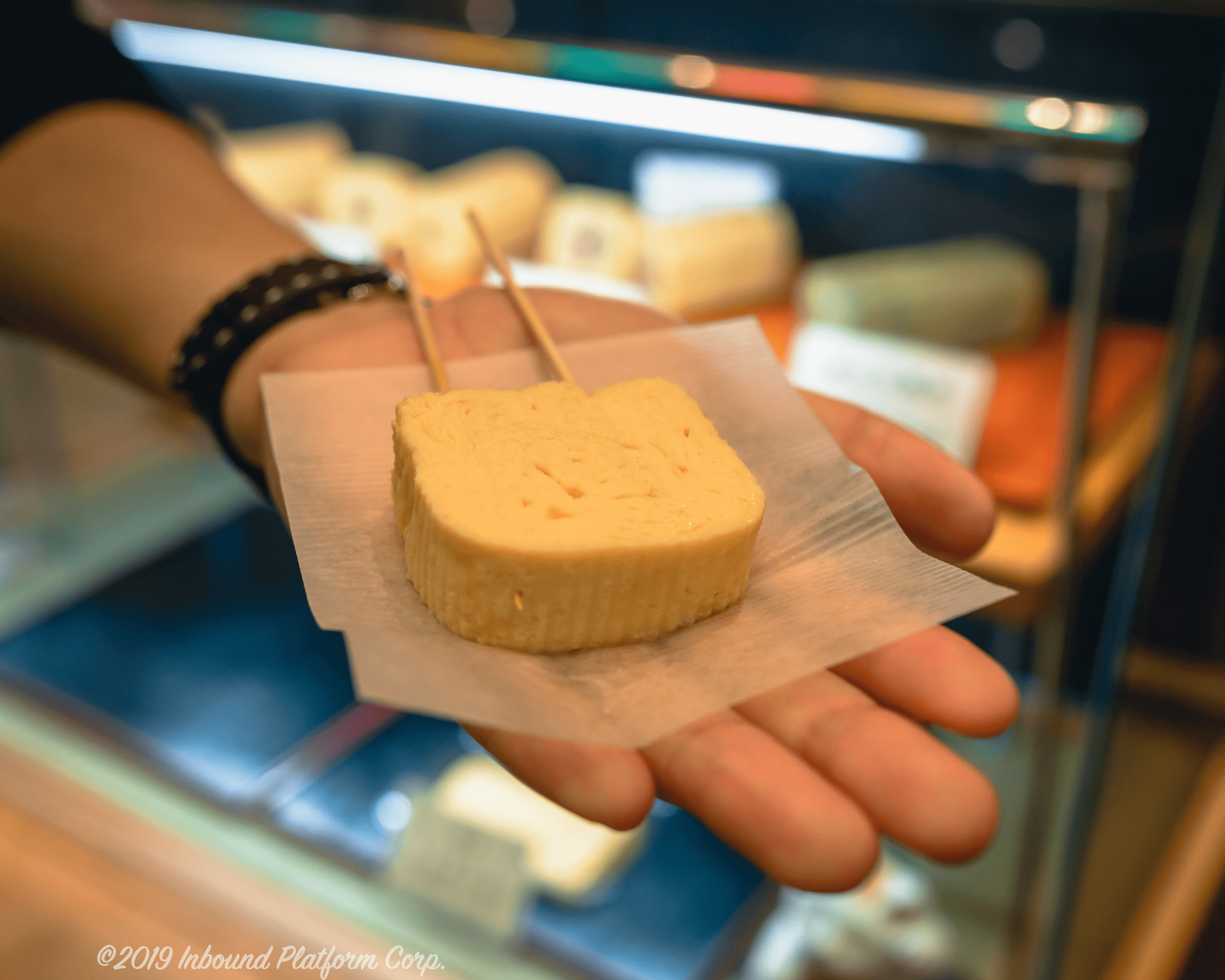 This was without a doubt one of my favorite things on this tour! The omelet that is prepared in Tokyo has a sweeter taste, while in Kyoto it's salty. And personally, perhaps because of the influence of my own country's food, I find it much more yummy with this salty taste instead of sweet.
Sake
I don't usually drink sake because it's too strong to me, so at first I asked only a little bit, but this one was light and smooth and tasted really good! So I ended up asking for more😁The sake was served in a traditional wooden cup called Masu and before leaving, the guide gave us the masu cup with the name of the tour and the company printed on it as a souvenir.
Croquette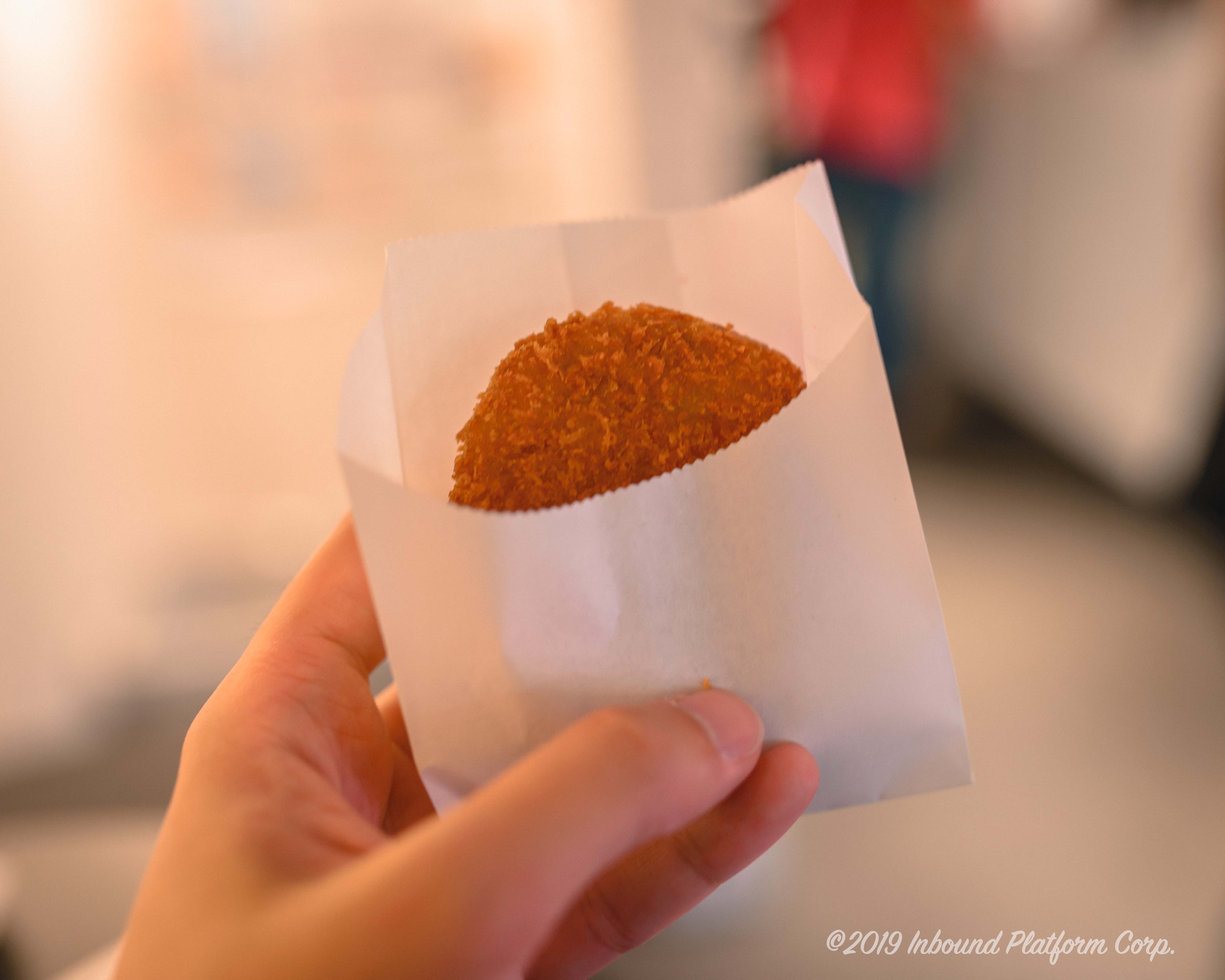 My winner by far away! This delicious wagyu meat croquette was SO good that I think I could feed only that for days (although my body was going to resent). I highly recommend you to try it!
Japanese sweets
And what a better way to end a food tour with a traditional Japanese sweets as dessert? Mochi is a Japanese sweet made from rice paste, which is eaten throughout the country. But only in Kyoto it's typical the cinnamon mochi. And of course, green tea is a must in the area.
Even if I tried, I can't say enough how amazing all this food and drink were… so you really must try by yourself 😉
Overall
Although this was my fifth visit to Kyoto, it was my first time visiting Nishiki Market. Before when I was traveling to Kyoto, I focused on visiting temples and shrines. And many times, in the general guidebook on what to see in Kyoto, they don't include Nishiki Market. Contrary to Tsukiji Market (or new Toyosu Market) in Tokyo, Nishiki Market is not hugely known among tourists. However, after visiting it this time, I sincerely thought it had been a shame not to discover it before in my previous trips.
Probably many of you will be thinking that it isn't necessary to pay for a tour and that you can enjoy the market by yourself searching for information online, or for example following this article. But I have traveled many times on my own without a guide and I can assure you it's not the same. There's a lot of information that isn't in any guidebook, and the experience of being able to talk with the local people in the market and create precious memories that is priceless. Besides, the cost of the Nishiki Market tour is only 9,500 yen including all the food and drink that I mentioned above so I think it's pretty cheap for the amount of food you eat.
Also, in recent years Kyoto is suffering overtourism, and some tourists don't follow the rules, annoy the locals and behave in a rude way. This has made some locals not welcoming to tourists. But going with a local guide can help tourists to get closer to locals and receiving warm welcomes, and the guide also knows perfectly which shops are foreign tourists friendly. And if you have allergies or a specific diet (for example you are vegan or Muslim) and inform it in advance, they can guide you well which foods you can eat and which ones you cannot, and they can arranged the food menu by advanced requests. Feel free to send them inquiries when you book the tour! They really want you to enjoy their city and will do everything possible because you spend the best time and enjoy the tour
A super big thanks to our tour guide Tatsuya who showed us around Nishiki Market and Gion. I honestly have enjoyed every minute of the tour, and I highly recommend it to anyone who is planning a trip to Kyoto and wanna enjoy the Japanese food beyond sushi and have a really good time!
▶︎Check out Kyoto Food and Drink Tour @Nishiki Street!
Japan Wonder Travel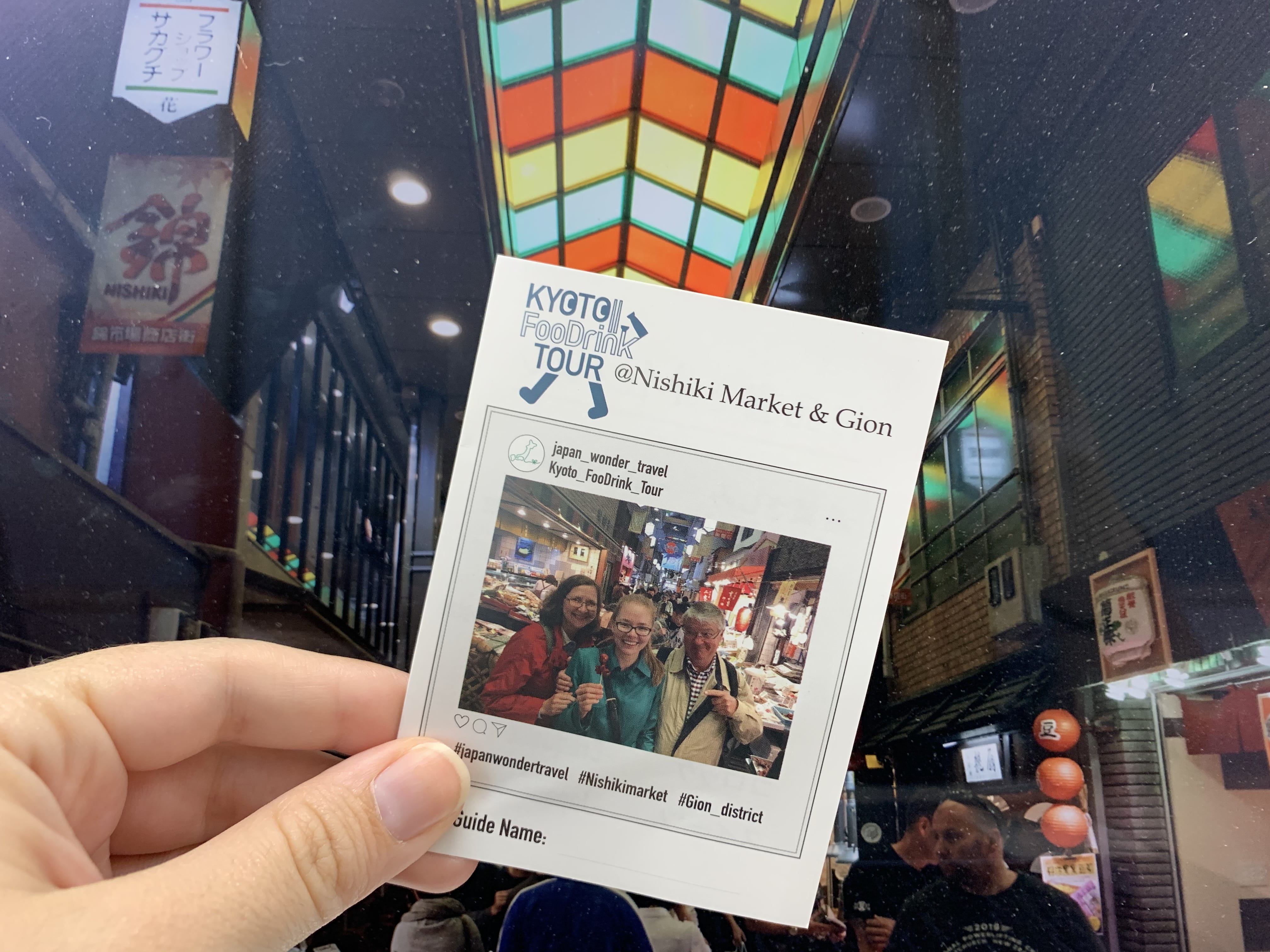 Kyoto Food and Drink Tour at Nishiki street & Gion by Japan Wonder Travel is one of the most popular food tours in Kyoto. I know there are many tours in Kyoto from many different companies, and the decision can be difficult, but I bet you won't regret choosing this one!
Japan Wonder Travel is one of the best tour agencies in Japan, as they prove the thousands of comments from happy customers and be the winners of the TripAdvisor Certificate of Excellence! They have original tours across the country guided by professional and experienced guides who are familiar with each area. But personally, the best point to me is that the tour company only selects guides that have a passion for showing foreigners their country and are friendly. Nobody wants to pay money for a guide who knows a lot but is unpleasant, huh? The best thing about a tour is having a good time and creating nice memories! And we have a lot of fun with Tatsuya!! 😃
There are several more food walking tours available at different locations in Kyoto including Arashiyama, and not only in Kyoto, but they also organize their original and interesting tours and activities across Japan including Osaka, Tokyo and Mt Fuji. So take a look at their website and see which tour you wish to join!
Hope you have enjoyed reading my Nishiki Market walking food tour experience! For more unique things to do in Kyoto or Japan, please check out these articles, too!
(Photo credits: https://www.instagram.com/willalvein/ or https://josluisrofa.smugmug.com/)
▽Related Articles ▽
▼Editor's Picks▼
---