1 Week Itinerary: the Very Best of Japan for First Timers
Classic itinerary (Tokyo-Hakone-Kyoto and Osaka): How to make the best travel in Japan in 1 week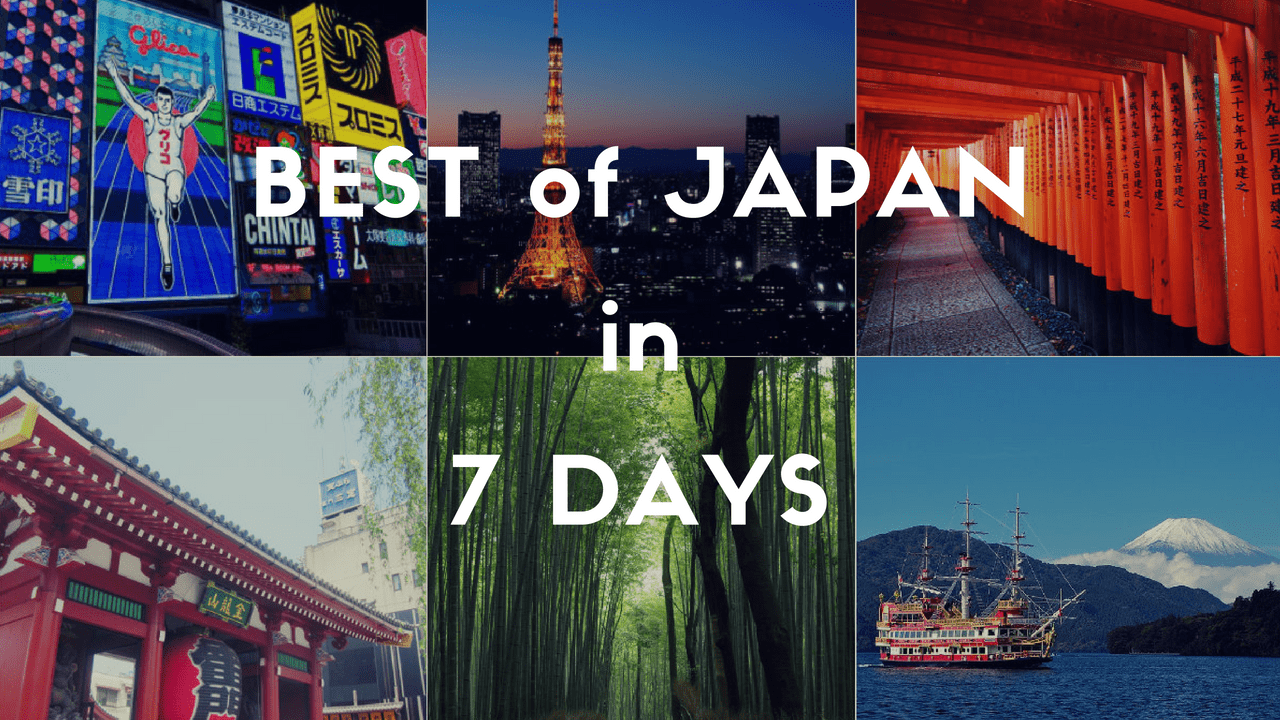 Are you a first time traveller to Japan??
If I'm honest, I'd suggest to take 2 weeks to enjoy best highlights of the country. However, if you have only 1 week to travel Japan for the first time, it is quite short but still you can make a great first time trip in Japan! Check my suggested classic itinerary which includes best cities, attractions and spots as well as things to buy and dishes to eat.
This is a classic 1 week itinerary for first time visitors to Japan!
*Please note that this article contains affiliate links.
---
7 days in Japan (In Tokyo Narita Airport/Out Kansai International Airport)
Day 1-3. Tokyo
3 days in Tokyo sounds quite short but it is long enough to see what you want if you plan your itinerary in advance.
The city offers various kinds of attraction in each area, and deciding which area to visit really depends on what you are interested. So here is a best suggestion for your interests.
Traditional, Historical Tokyo in 1 day: Ueno+Asakusa+Tokyo Skytree
The northern Tokyo is known as the old downtown of the city, and it's a great area to see historical sites, local lives and the rustic atmosphere. Ueno has one of largest parks in Tokyo, Ueno Park which consists of rich nature, a zoo and some great museums. Also the shopping street called Ameyoko (Ameya Yokocho) is one of most chaotic spots in Japan. (lots of bargaining and street food!).
▶ Check more info about Ueno
Asakusa is known as the historic capital of Tokyo, and the main attraction Sensoji Temple is the oldest temple, and its approach, Nakamise Street is a great spot to shop and try local street snacks. Walk along the Sumida River and you can easily reach Tokyo Skytree by walk.
▶ Check more info about Asakusa
Trend and Shopping in 1 day: Shibuya+Harajuku+Shinjuku
Whoever is into Japanese pop culture, fashion and trends, Shibuya and Harajuku are best areas. There are numbers of shopping malls and boutiques, especially for young generation, trendy cafes and restaurants, chaotic streets like Shibuya Scramble Crossing and Takeshita Street. While Harajuku is home to teenage culture, it also owns one of greatest shrines in Japan, Meiji Shrine which is dedicated to the deity of Emperor Meiji.
▶ Check more info about Shibuya
▶ Check more info about Harajuku
▶ 1 day walking itinerary in Shibuya and Harajuku
Shinjuku also has numbers of shops and places to eat but it's the best district to visit at night. Also there is a park with a beautiful Japanese garden nearby called Shinjuku Gyoen, which is highly recommended for cherry blossom viewing.
When it gets dark, enjoy strolling by the flashy neon lights in Kabukicho, or get tipsy with old fashioned Izakaya Alley such as Omoide Yokocho or Golden Gai.
▶ Check more info about Shinjuku
Be a Foodie in 1/2 day: Tsukiji+Ginza
Seeking for fresh seafood?? Michelin starred restaurants?
The world's biggest wholesale market used to be located in Tsukiji area. In 2018, the inner market of Tsukiji was relocated to Toyosu area, and the famous tuna auctions also take place in early morning in Toyosu Market now.
Despite the relocation, Tsukiji is still highly attractive tourist site in the city. Numbers of restaurants, food stands and shops remain there, and serve and sell great quality food and cooking utensils like high-quality Japanese knives.
Ginza is located within a short distance from Tsukiji, and the area is known as the poshest district of Tokyo as there are numbers of department stores and boutiques with luxury brands. Even if shopping Louis Vuitton or GUCCI is not for you, Ginza is still attractive area if you are a food lover.
The area is home to numbers of world finest restaurants including several Michelin starred restaurants. Sushi restaurants like Sukiyabashi Jiro or Kyubey are hard to get a table nowadays.
▶ Check more info about Tsukiji and Ginza
Get geeky in 1/2 day: Akihabara
Japanese underground culture has been secretly attracting the world in past years. Starting from gaming and manga, the deep Otaku culture became one of most influential things from Japan, and Akihabara is indeed home to it. If you are into Otaku culture or love shopping high tech gadgets, you can easily spend a whole day in Akihabara.
But for quick visit, make sure you visit one of maid cafes, an electric store, an anime store. If you are not familiar with the culture, simply walking down the street of Akihabara would be a great attraction!
▶ Check more info about Akihabara
Explore Modern Tokyo in 1/2 day: Roppongi+Tokyo Tower
Roppongi is the most cutting-edge and sophisticated area in Tokyo with some modern shopping complexes and museums. Also it's known as the best district for clubbing. There are numbers of luxurious hotels with nice bar lounges, too.
The area is not very far from Tokyo Tower, but if you have no time to make a visit to the tower, go to Tokyo City View (at Mori Tower in Roppongi) where the great view of Tokyo Tower and Tokyo Skytree can be gazed.
▶ Check more info about Roppongi
Shopping in Tokyo
Here are amazing things/shops from Tokyo which you may wanna check out for your souvenir shopping:
▶ 10 Must-Buy Souvenirs in Tokyo
▶ 5 Best Shops You Will Fall in Love in Japan
▶ 5 Popular Japanese Clothing Brands
Eating in Tokyo
Looking for popular Japanese dishes in Tokyo? You may wanna dine at these restaurants:
Sushi ▶ 5 Top-Rated Sushi Restaurants in Tokyo
Tempura ▶ 5 Best Michelin Star Tempura Restaurants in Tokyo!
Ramen ▶ 10 Best Ramen Restaurants in Tokyo
Wagyu ▶ Enjoy Wagyu Beef! 7 Best Steakhouses to Dine in Tokyo
Head to Hakone in the afternoon of day-3. It takes 90–120 mins to Hakone from Tokyo. The easiest way to get Hakone would be travelling from Shinjuku Station by Hakone Romance Car (Odakyu Line) or if you have JR Pass, you can take Shinkansen from Tokyo or Shinagawa Station towards Odawara then change to Hakone Tozan Railway.
Hakone area is best known as hot spring resort and ideally it's on the way to western Japan. So let's stop over for a night before visiting Kyoto, and have an authentic Onsen experience! Make sure to book hotel or ryokan (Japanese style inn) with hot spring bath, or if you are shy to go naked, Hakone Yunessan is highly recommended as it's a Onsen theme park where you can visit with swim suite.
Day 4. Hakone
Explore Hakone for a half day. You won't have much time so I'd recommend you to visit around the Lake Ashi where you can enjoy an amazing view of Mt.Fuji and surrounded nature. Take a cruise on the lake and visit Hakone Shrine nearby. Or take a rope-way to explore the mountain of Hakone if time allows. Hakone also have several great museums including Hakone Open Air Museum and Pola Museum.
▶ 10 Best Things to Do in Hakone
▶ Check more info about Onsen in Hakone
Leave Hakone late afternoon. It takes around 3 hours to reach Kyoto from Hakone (the fastest way is by Shinkansen from Odawara Station).
Day 5–6. Kyoto
For first time visitors to Kyoto, there are 3 historical landmarks that can not be missed: Fushimi Inari Taisha Shrine, Kiyomizudera Temple and Kinkakuji Temple (Golden Pavilion).
On the first day, let's do first two spots and explore surrounded area. Fushimi Inari Taisha Shrine is where the famous countless red torii gates are located. The spot is always crowded and slightly distanced from other tourist attractions, so it's better if you visit there in early morning, especially if you are keen on photography.
After spending about an hour, head to Higashiyama, the preserved historical district where Kiyomizudera Temple and many other attractions can be found. The temple is one of oldest building existing in Japan today, and known for the gorgeous view of the wooden terrace.
Along with the Kiyomizudera Temple, many other attractions are within walking distance such as Gion district (famous for Geisha), some more temples and shrines, Ninenzaka (shopping streets), numbers of restaurants and more. It's a great area to do your souvenir shopping, too.
▶ Walk guide for Gion and Higashiyama area
▶ 10 Must-Buy Souvenirs in Kyoto
If you love Japanese sweets especially Matcha, Kyoto is the best city to try Matcha desserts. Stop by a traditional tea house and indulge yourself with a delicious Matcha parfait or ice cream!
▶ Top 5 MATCHA Cafes in Kyoto
On the second day, visit Kinkakuji Temple for the first thing in the morning. The gorgeous Golden Pavilion is definitely worth visiting once in a lifetime.
After visiting Kinkakuji, head to Arashiyama area. Arashiyama is outskirt area of Kyoto (west of Kyoto City) where rich nature and historical sites coexist. The wooded mountains, the river and the charming bridge.. the landscape of Arashiyama is simply amazing, and there are also several must-see landmarks such as Bamboo Groves, UNESCO World Heritage Sites Tenryuji Temple, Monkey Park and a preserved street.
▶ Check more info about Arashiyama area
Go back to Kyoto Station and head to Osaka at night. Osaka City gets more energetic and vibrant as it gets dark. Enjoy the neon lights of the famous Dotonbori area, and eat delicious Osakan local food such as Okonomiyaki, Takoyaki and Kushikatsu. The small Izakaya alley off the main street of Dotonbori, Hozanji Yokocho is also a great spot to get tipsy at night.
Day. 7 Osaka
It depends on your flight time but if you have a half day in Osaka, the best option would be visiting one of these spots:
Shinsaibashi Shopping Arcade: The 600 m long, biggest shopping arcade in the city where you can shop everything from fashion items to local souvenirs.
Shinsekai: The nostalgic, old downtown area of Osaka with local shops and the symbolic Tsutenkaku Tower.
Osaka Castle: One of the greatest Japanese castles.
Osaka Aquarium: Home to a whale shark. The large aquarium in Osaka's bay area.
Or if you have a whole day available, why don't you visit one of world's greatest theme parks Universal Studios Japan.
Osaka is one of the best cities for night-out in Japan! Enjoy the famous "Osaka food", get tipsy at local drinking spots and be entertained all night long at the coolest nightlife spots in the city!
Before leaving Osaka, don't forget delicious local souvenirs to shop!
▶ 10 Must-Buy Souvenirs in Osaka
---
▽How to Get Internet Connection during traveling in Japan▽
▶︎Perfect Guide to Get WiFi Connection in Japan
▶︎Which Pocket WiFi Rental is the Best in Japan?
▶︎Which SIM card Option to Choose in Japan?
▶︎How to Find and Use Free WiFi in Japan
How did you like the story?? I hope this 1 week itinerary can be a help to plan your trip to Japan! For travelling in Japan with longer duration, please check out my suggested itineraries listed below!
▽ Related Articles ▽
▼ Editor's Picks ▼
---