3 Days Itinerary in Kyoto
3 Days Kyoto Itinerary: Best Things to See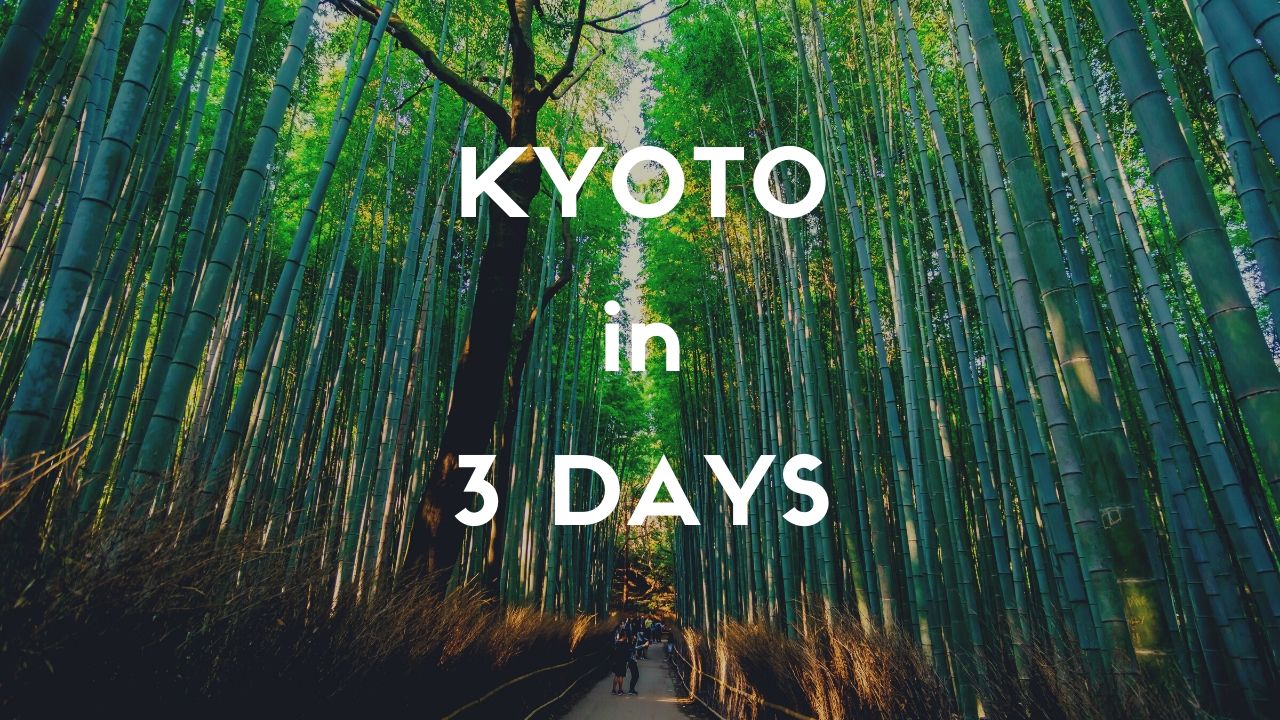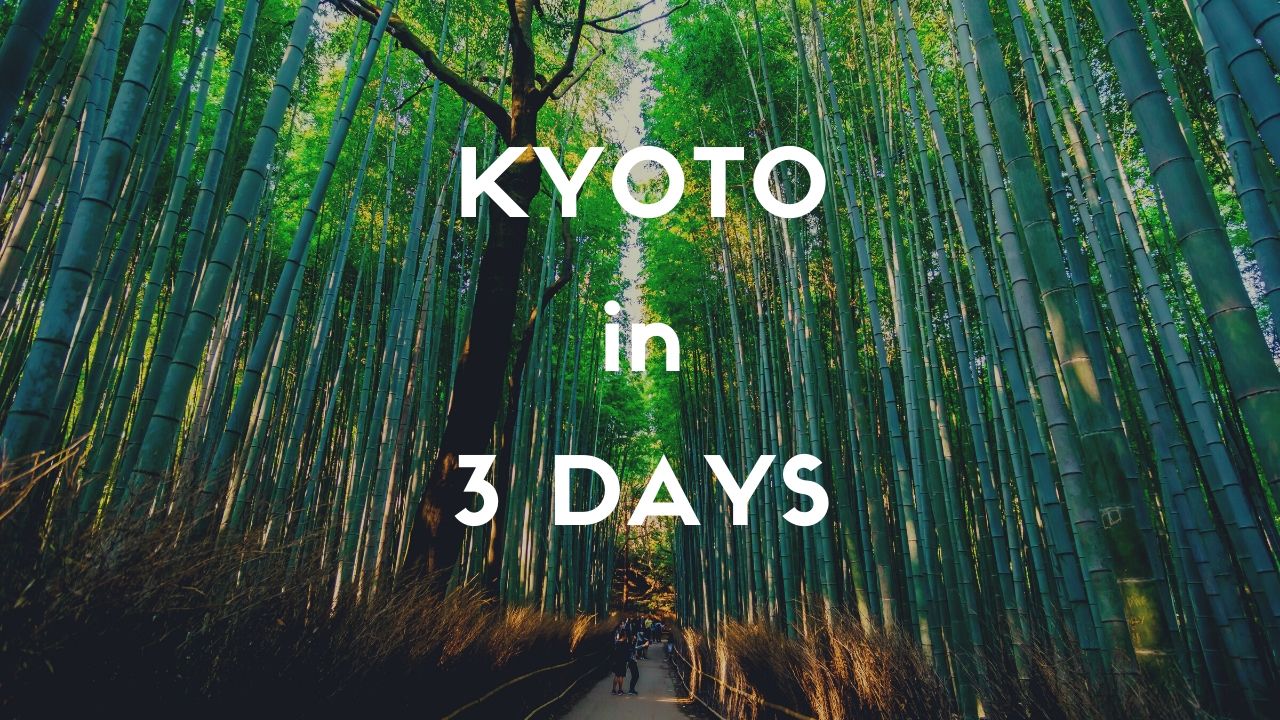 Planning to visit Kyoto soon?? Kyoto is one of the most attractive cities in the world with the rich history of ancient Japan and the remarkably unique and traditional culture like no other places on earth. The city is filled with well-preserved historic monuments such as temples, shrines and Japanese gardens including 17 UNESCO World Heritage Sites. Besides magnificent historical sites, Kyoto offers plenty other attractions to tourists such as pleasant nature, traditional entertainments and activities, shops, local food and more.
We can never have enough time to fully explore this capital city of ancient Japanese culture and history, but it is possible to see the best highlights and visit the most important sites of Kyoto within a couple of days.
As a lot of tourists in Kyoto spend 2–3 days averagely, today, I'd like to suggest you guys the perfect 3 days itinerary in Kyoto including the classic must-visit temples and shrines, unique experiences and some travel tips in Kyoto. So let's check out what to do in Kyoto in 3 days!
*Please note that this article contains affiliate links.
Day 1- Temples, Shrines & Kyoto Nightlife Experience
The top attractions in Kyoto are definitely the beautifully preserved historic monuments such as temples and shrines with over centuries histories. There are several must-visit historic monuments which should be on every visitor's bucket list, and one of them is Fushimi Inari Taisha Shrine.
Fushimi Inari Taisha Shrine is one of the most popular sightseeing spots in Kyoto, known for its iconic red torii gates. It's a must-visit place for every visitors to Kyoto, and the reason for many tourists to come to Kyoto. If you are planning to visit there, keep in mind that the shrine is extremely crowded by tourists.
However, there is a secret route at the shrine where you can feel the peaceful and serine atmosphere surrounded by the pleasant nature escaping from the mass crowds. "Fushimi Inari Hidden Hiking Tour" is an ideal half-day tour for those who wish to explore the hidden gems, enjoy the quiet and peaceful moment and take photos without crowds. The tour is held usually twice daily starting at 9 am or 2 pm. You can check the attached link below for more details about the tour!
Before/after visiting Fushimi Inari Taisha, spend a couple of hours more for visiting some of must-visit landmarks in Kyoto such as Kinkakuji Temple (the Golden Pavilion), Kiyomizudera Temple and Gion district. There are many more spectacular historical monuments in the city of Kyoto with different features. From a traditional Japanese rock garden to a magnificent pagoda, pick wisely your travel destinations in Kyoto!
I have listed an useful link introducing some of the best sightseeing spots in Kyoto!
▶ Kyoto Bucket List: Top Things to Do
▶ Must-Visit Temples and Shrines in Kyoto
▶ Best Photo Spots in Kyoto
If you need a little break while doing sightseeing in Kyoto, how about stopping by at one of traditional Kyoto style teahouses to have delicious Matcha drink or Matcha dessert?? Matcha is famous food product in Kyoto, and there are many cafes and teahouses offering delightful Matcha desserts.
If you enjoy tasting Kyoto's Matcha products, make sure to get some of them as souvenirs to take home! Souvenir shops in Kyoto offers various Matcha products such as Matcha powder, cookies, chocolate and cakes!
After exploring the city during the day, you may feel tired and going back to your hotel to rest, but if you are travelling in Kyoto for a short period, don't waste any moment and make the most of it! Because you can have an authentic Kyoto experience even at night.
Bar hopping is one of the most popular activities in Japan among foreign visitors nowadays, and it is available in Kyoto, too. "Kyoto Bar Hopping Nightlife Tour in Pontocho" is one of the most recommended tours in Kyoto, introducing the authentic nightlife experience in Kyoto by visiting hidden Izakaya and trying out delicious local food & drinks just like locals do! With an expert local guide, you will be able to visit some of hidden eateries on the backstreets of Kyoto which might be hard find on your own!
Check out the link below and book the tour on your wished date before it's fully booked!
Day 2- Customized Tours & Delicious Kyoto Cuisine
On the 2nd day in Kyoto, how about having slightly more unique experiences than ordinary tourist routes?? Depending on your preference and travel style, there are various unique ways to explore the city.
If you are an active person or want to keep fit while travelling, I'd recommend you to take the Bike Tour which allows you to see several landmarks and historical sites only in a half day. As Kyoto is one of the busiest and most crowded tourist destinations, the traffic could get heavy or it might be hard for tourists to use public transportation, but with the cycling tour, you won't be suffering from these problems as you are with a local guide who is familiar with Kyoto's streets. With a guide, you can also learn about the history of Kyoto deeper!
Check more details about the "Kyoto Highlights Bike Tour" via the link below!
If you are a foodie and wish to explore the authentic food culture of Kyoto, I'd recommend you to head to Nishiki Market (錦市場), the center of known as "the Kitchen of Kyoto". The 390m long shopping arcade is lined by over 100 shops and eateries, offering fresh seafood, seasonal food, Kyoto specialties, kitchenware, etc. This local oriented market may be hard for first time visitors to get around or when it comes to tasting authentic Kyoto food, so it's highly recommended to join a guided tour to explore the place in depth. "Nishiki Market Breakfast Walking Food Tour" is a 2-hour walking tour in Nishiki Market and the surrounding neighbourhood which you can learn the deep history and culture of Nishiki Market and Kyoto'd food culture. More details about the tour can be found from the attached link below!
Another amazing way to explore Kyoto's food culture is through their Sake products. Fushimi area in Kyoto is one of the most famous Sake producing areas in Japan, and there are several Sake breweries within the district. "Kyoto Sake Brewery & Tasting Tour" is a great day-trip tour in Fushimi district offering an amazing Sake experiences such as tasting 22 kinds of locally brewed Sake, learning about the culture and history of Sake and walking around the charming neighbourhoods of Fushimi district. Either if you are a Sake lover or want to have unique experiences off the main tourist route, this Sake brewery tour is highly recommended!
Before/after joining these tours, you can still continue exploring the beautiful city of Kyoto and visit some more temples and shrines which you may have missed on the first day.
▶ Must-Visit Temples and Shrines in Kyoto
Or there are many other attractions in Kyoto besides temples and shrines!
▶ Best Things to Do in Kyoto apart from Temples and Shrines
In the evening, indulge yourself with delicious local Kyoto cuisine! Kyoto is one of the best cities when it comes to dining as there is s variety of restaurants including cheap Ramen, mouthwatering Wagyu beef and Michelin starred Japanese restaurants. Here are list of the greatest restaurants in Kyoto!
▶ Best Restaurants in Kyoto
▶ Best Michelin Star Restaurants in Kyoto
▶ Best Wagyu Restaurants in Kyoto
▶ Best Ramen in Kyoto
Day 3- Day Trip from Kyoto and Souvenir Shopping
It's possible to explore the best highlights of Kyoto in 2 days, so on the 3rd day, I'd suggest you to take a step out of the city to amazing neighbouring cities!
Arashiyama (嵐山) is a very popular area located in outskirt of Kyoto, and one of the most popular getaways from the city center of Kyoto. Arashiyama area is surrounded by mountain, and its rich nature displays stunning landscape in each season. From the serine nature to UNESCO World Heritage Sites, there are a plenty of tourist attractions in Arashiyama area.
▶ Best Things to do in Arashiyama
If you wish to explore Arashiyama area efficiently with limited time, I'd highly recommend you to take a guided tour, not only for saving time but also explore the area in depth. Kyoto Arashiyama Insider Walking Tour is one of the top choices among visitors to Arashiyama area, including the best highlights of the area such as Togetsukyo Bridge, the Bamboo Grove and the UNESCO World Heritage site, Tenryuji Temple as well as some local hidden spots. This 4-hour tour also includes delicious and authentic Kyoto style lunch! Please check the link below for more details about the tour and make a reservation on your wished date before it sell out!
Besides Arashiyama, there are some more great destinations where you can visit for a day-trip from Kyoto such as Nara and Osaka. If you are visiting Kyoto, it's very much worth exploring other cities of Kansai region as they offer a plenty of tourist attractions. Here are some recommended day (half-day) tours which you can explore neighbouring cities efficiently in a short time with local guides!
Nara Day Trip Walking Tour:
Osaka Kuromon Market Walking Food Tour:
After coming back to the city, let's spend some times for shopping before leaving! When visiting Kyoto, shopping souvenir is one of must-do activities for every visitors as a variety of unique and traditional items can be found.
In the streets of Kyoto, there are a lot of traditional souvenir shops offering Kyoto's specialties such as authentic crafts, delicious sweets and snacks. Please take a look at the listed article below introducing some of the best-selling souvenirs from Kyoto!
Suggested Itineraries in Kyoto
▷ 5 Days in Kyoto
▷ One Week in Kyoto, Osaka and Hiroshima
▷ One Week in Kyoto, Osaka and Nara
Thanks for reading! I hope my suggest Kyoto itinerary could help you planning a perfect trip in Kyoto! For more itinerary ideas travelling in Kyoto and other cities in Kansai Region, please check out my other articles!
▽Related Articles▽
▼Editor's Picks▼
---