Kyoto at Night: 5 Best Temples in Kyoto to Visit at Night
Best temples in Kyoto to see autumn leaves light-up at night

Kyoto is one of the best places to visit in autumn. If you are going there for colourful autumn leaves hunting with their historical architectures, don't just watch them during the day cos you will be missing lots of it. Visit some of marvelous temples for light-up autumn leaves and enjoy the long autumn nights in Kyoto.
*Please note that this article contains affiliate links.
1. Eikan-do Zenrin-ji Temple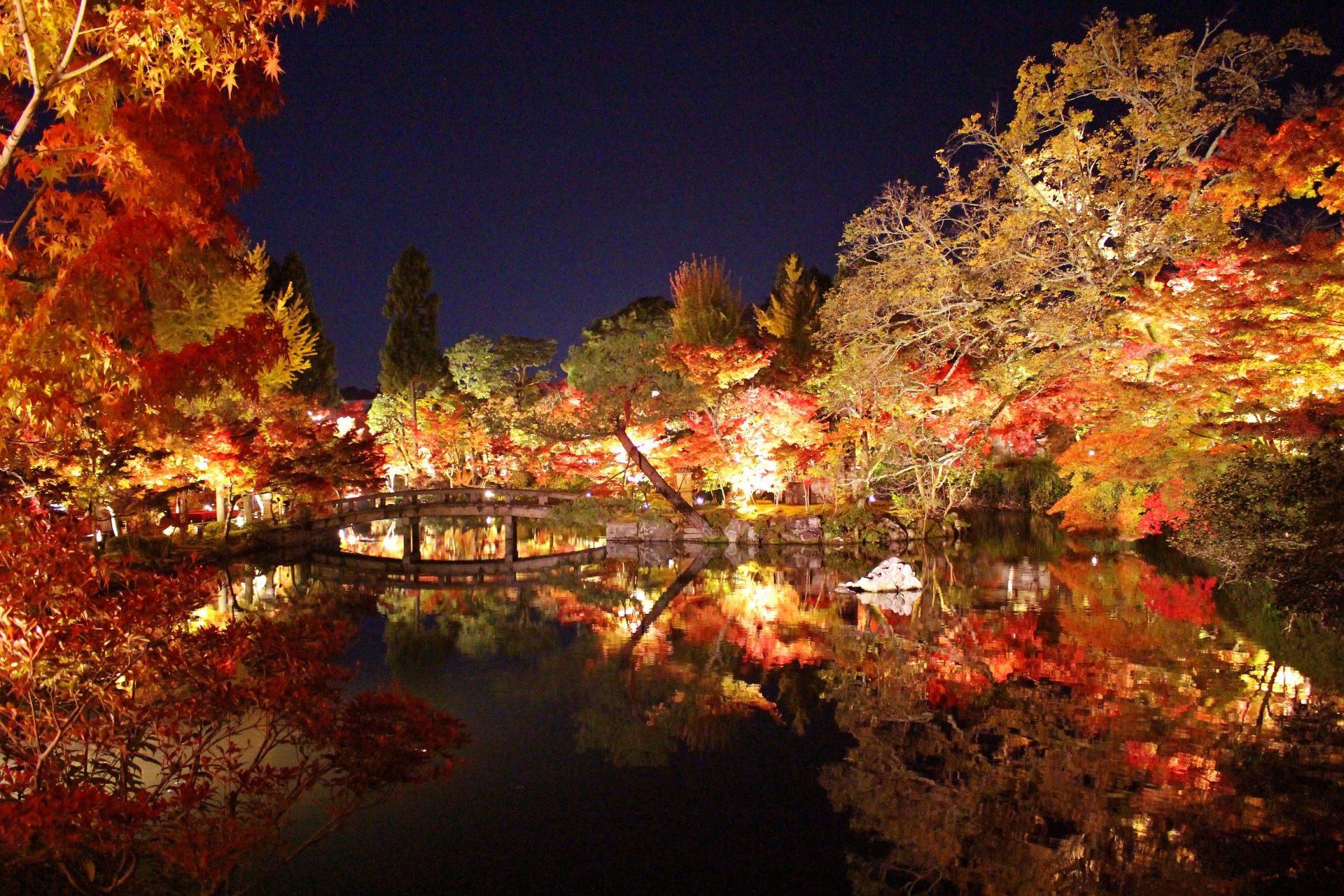 Founded in 853. Eikando Zenrin-ji Temple (永観堂 禅林寺) is one of the most popular temples for autumn foliage in Kyoto. You can enjoy the view of the beautiful temple with a pagoda, pond and colourful autumn leaves.
Address: 48 Eikando-cho, Sakyo-ward, Kyoto
Nearest Station: 15 mins walk from Keage station (Tozai line)
Hours: 09:00 to 17:00
Light-Up: early November to early December (17:30 to 20:30)
Fee: 600 yen
Website: http://www.eikando.or.jp/English/index_eng.html
Related article: Eikando Zenrinji Temple: Best Autumn Leaves Illumination
2. Kodaiji Temple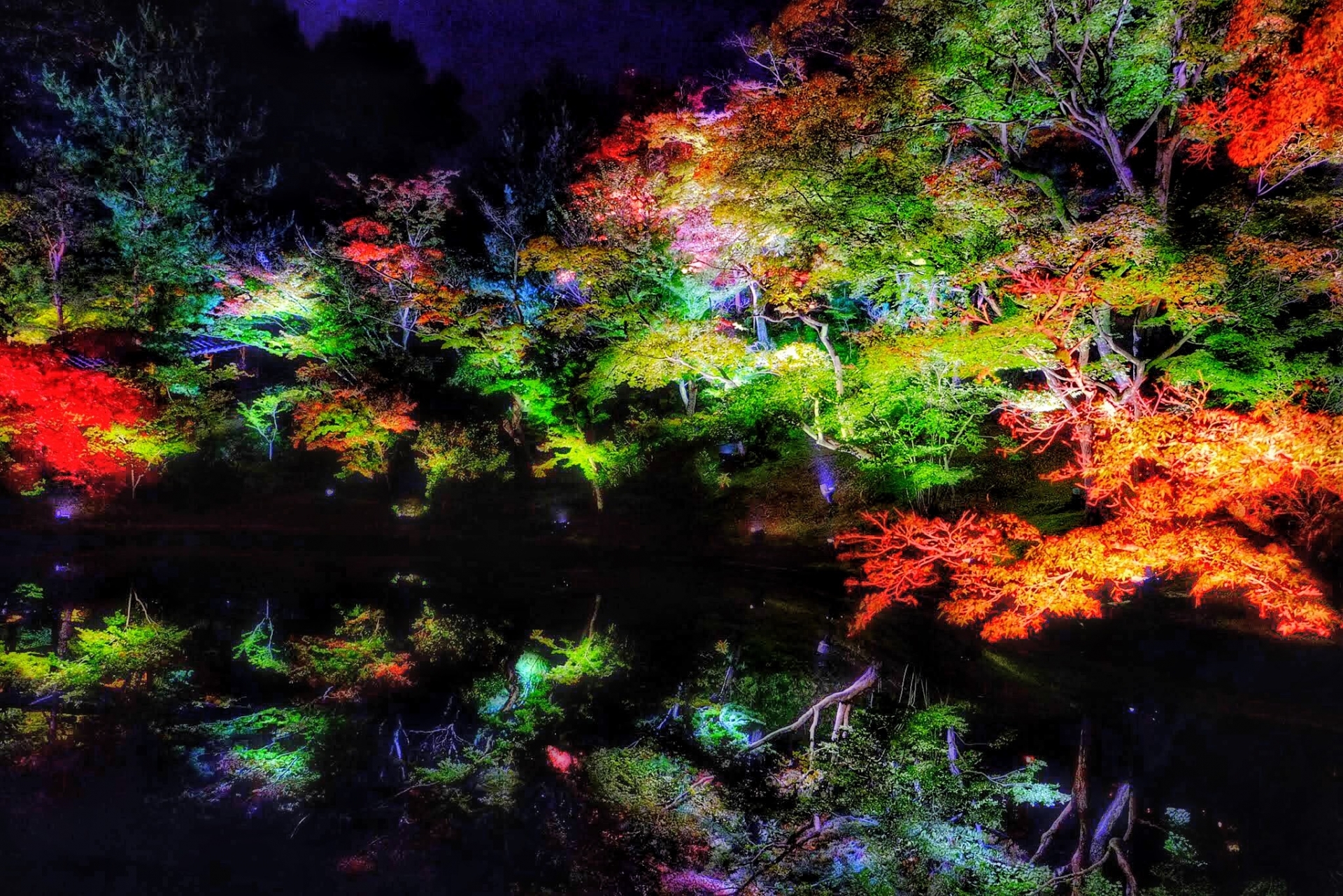 Kodaiji Temple (高台寺) is located in Higashiyama area, Kyoto. The temple is best known for its astonishing rock garden. The rock garden and the temple site with stunning nature and a pond display amazing scenery during autumn, which is lightened up at night
Address: 526 Shimokawaracho, Higashiyama-ward, Kyoto
Nearest Station: 10 mins walk from Gion Shijo station (Keihan line)
Hours: 09:00 to 17:30
Light-Up: late October to mid December 2020 (17:30 to 22:00)
Fee: 600 yen
Website: http://www.kodaiji.com/e_index.html
Related article: Kodaiji Temple: Gorgeous Stone Garden Temple
3. Kifune Shrine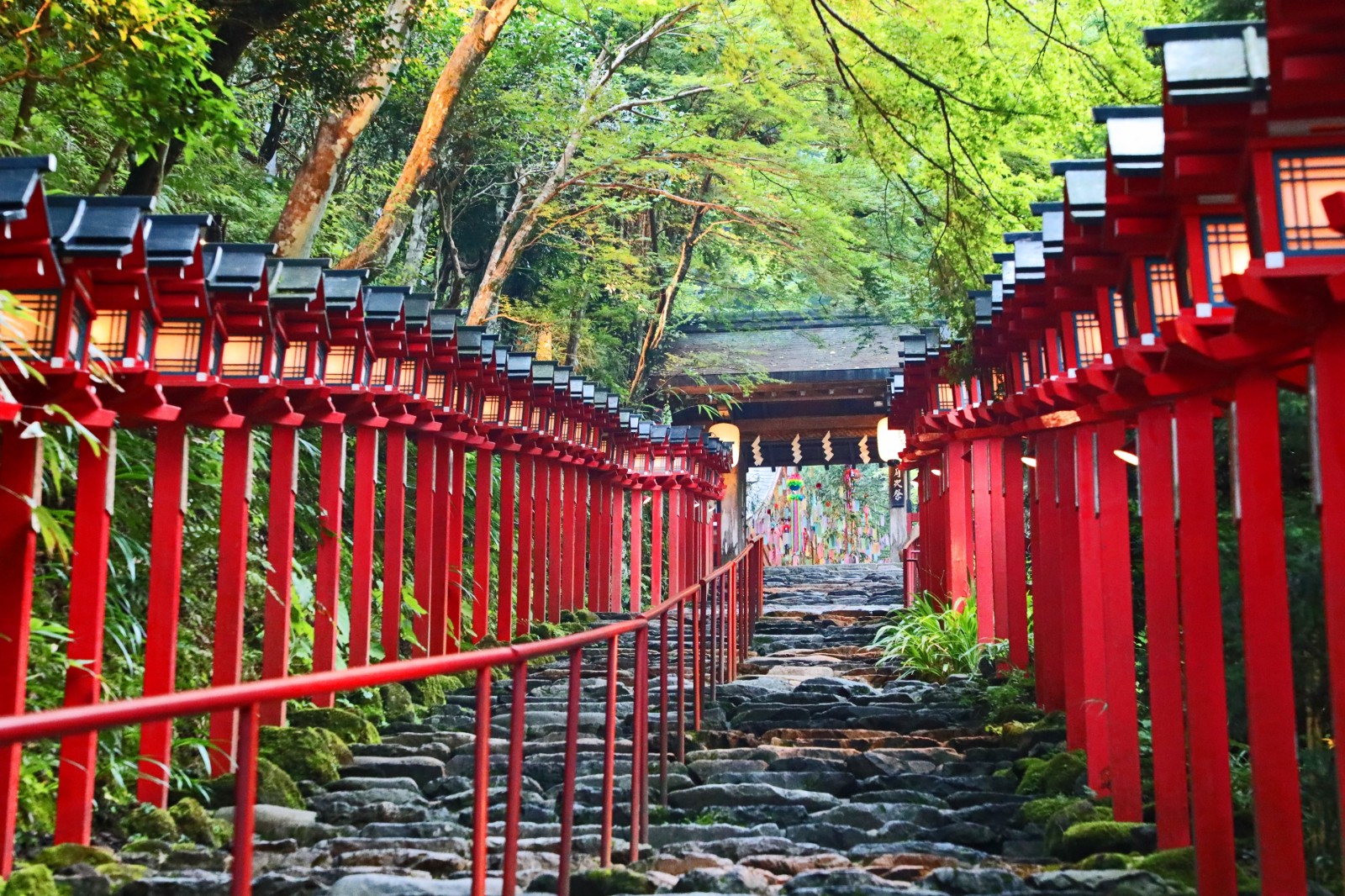 Kifune Shrine (貴船神社) is one of the most picturesque historic sites in Kyoto. The shrine is famous for its stone stairs lined with red lanterns, which is an approach to the main hall of the shrine. Maple trees turn into the warm autumn colour gradually from October to November, and the special light up event is held at night at the shrine.
Address: 180 Kuramakibunecho, Sakyo Ward, Kyoto Prefecture
Nearest Station: : 25 mins walk from Kibuneguchi station or take a bus №33 to Kifune
Hours: 06:00 to 20:00 (till 18:00 from December to April)
Light-Up: November (sunset to 20:30)
Fee: Free
More info: Kifune Shrine: New Travel Destination in Kyoto
4. Shorein Temple
Shorein Temple (青蓮院) is best known as Kyoto's best hidden temple by night. As well as the temple does ordinary light-ups, there are over 1,000 blue lights which create totally amazing and mystical space.
Address: 69-1 Awataguchi Sanjobocho, Higashiyama-ward, Kyoto
Nearest Station: 5 mins walk from Higashiyama station (Tozai line)
Hours: 09:00 to 17:00
Light-Up: late October to early December (18:00 to 22:00)
Fee: 800 yen
Website: http://www.shorenin.com/english/index.html
5. Kiyomizu-dera Temple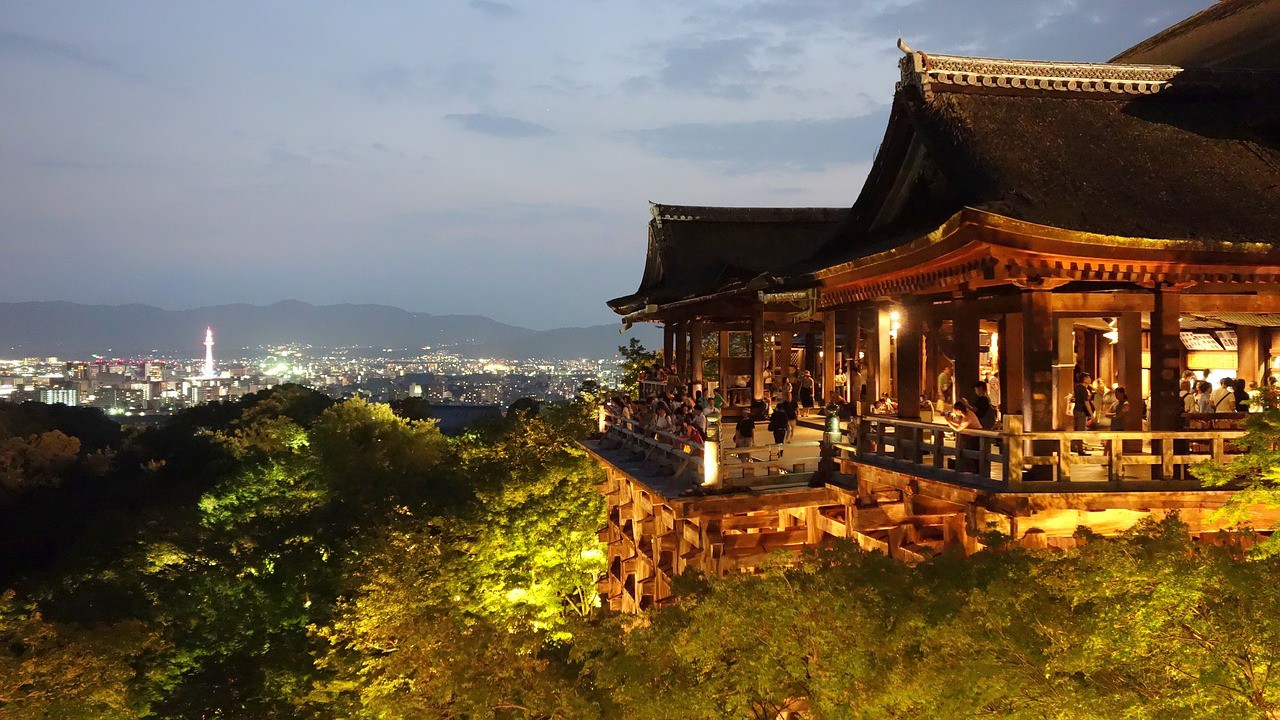 Kiyomizu Temple (清水寺) is where every visitors to Kyoto goes. Yet, it has one of the best views of the autumn leaves with light-up which makes the temple look like burning up on the warm coloured leaves. It could be very crowded but worth visiting.
Address: 1-294 Kiyomizu, Higashiyama-ward, Kyoto
Nearest Station: 25 mins walk from Kiyomizu Gojo station (Keihan line)
Hours: 09:00 to 17:00
Light-Up: November (17:30 to 21:00)
Fee: 400 yen
More info: Kiyomizudera Temple the Best Time to Visit
+NAKED FLOWERS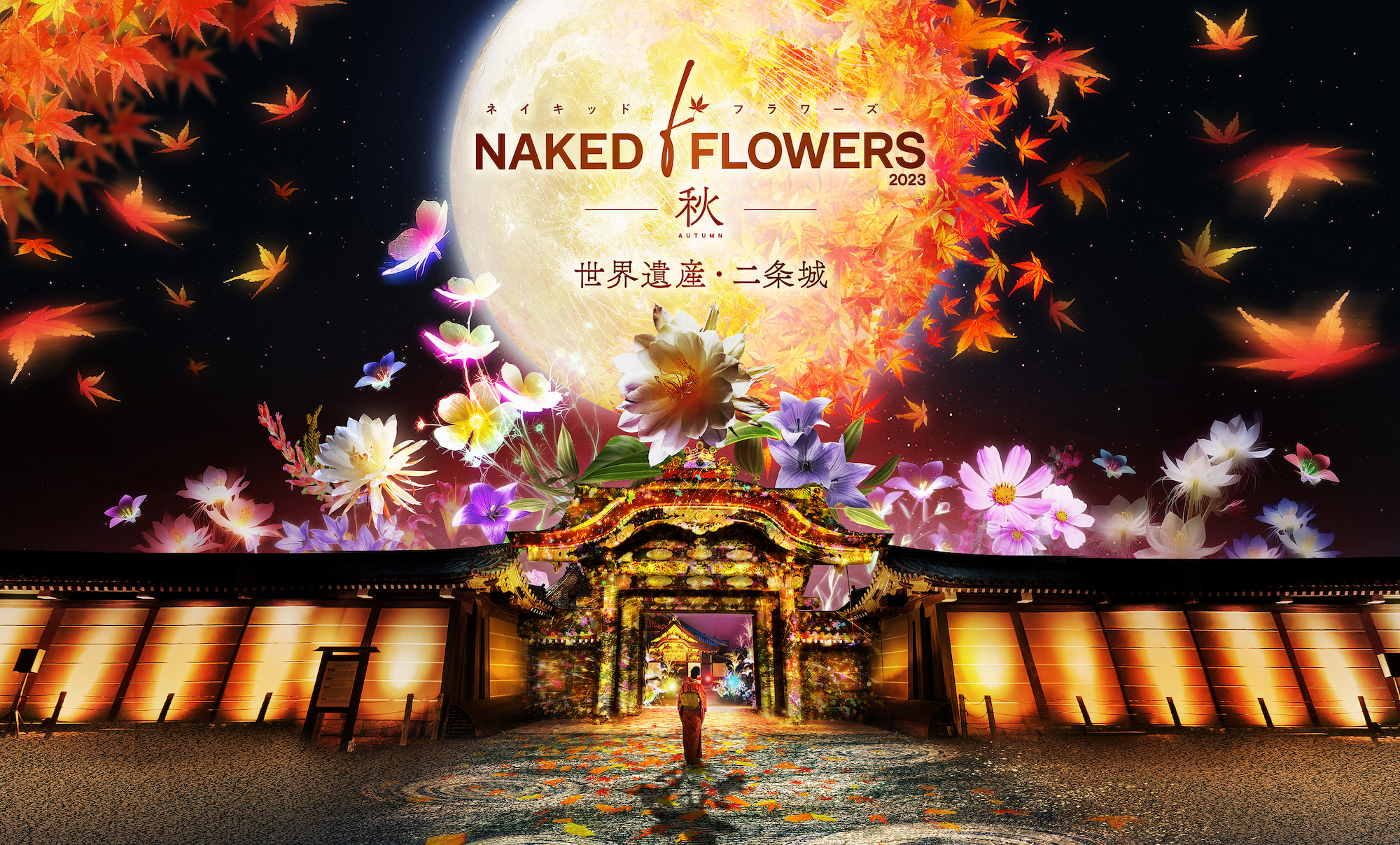 Nijo Castle (二条城), built in 1603, was the Kyoto residence of Tokugawa Ieyasu, the first shogun of the Edo period. It's a UNESCO World Heritage Site designated as part of Historic Monuments of Ancient Kyoto. A popular autumn event by the creative company NAKED, NAKED FLOWERS will be held at Nijo Castle every night during the autumn leaves season. The event features the light up, special lighting effects and digital artworks in a collaboration with the gorgeous autumn leaves and historic monuments.
▶ Book Ticket for NAKED FLOWERS 2023 Autumn at Nijo Castle
Map: https://maps.app.goo.gl/iyCcv8T1snntnrUv6
Date: 27 October 27 to 3 December 2023
Hours: 18:00 ~ 22:00 (last admission 21:00)
More info: Nijo Castle Autumn Light-Up by NAKED
Although I recommend these temples to visit at night, they are all beautiful and worth visiting also during the day! 🙂
After strolling down at the beautiful night temples in Kyoto, how about joining a popular local guide tour for dinner and drinks?? "Kyoto Night Foodie Tour" by Magical Trip offers an authentic Kyoto food experience! Visit the hidden restaurant and enjoy traditional local dishes with delicious sake tasting! Stroll down the charming streets of Gion district by night 🙂 Check out the link below for more details! Book the tour with a discount!
For more hot places in Kyoto, please check out these articles listed below, too!
▽ Related Articles ▽
▼ Editor's Picks ▼
---