7 Best Instagram Worthy Temples and Shrines in Kyoto
7 Historical and Instagrammable Spots in Kyoto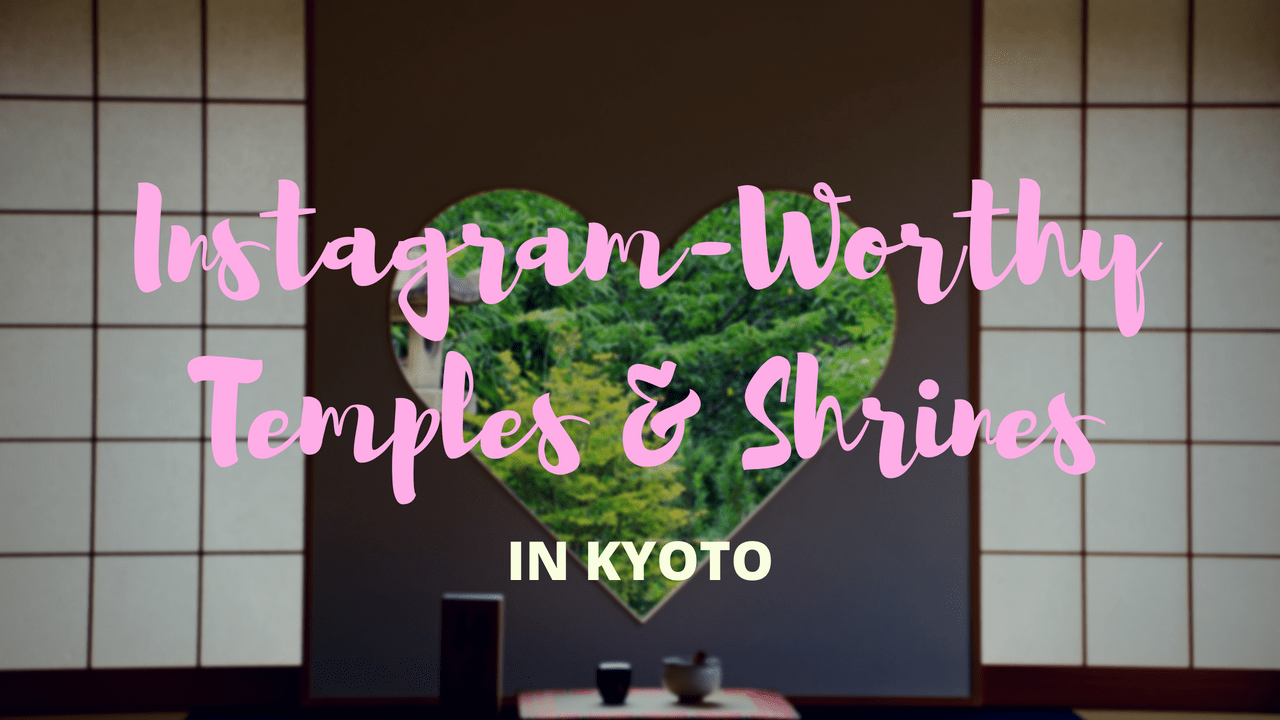 Taking splendid pictures during a trip and posting them on social medias is one of the biggest trends today in all over the world! Of course, Japan is no exception for that, and more and more photo worthy spots are to be discovered nowadays.
Kyoto is one of the most popular cities among Instagram lovers, as there are numbers of scenic instagrammable spots including some historical sites such as temples and shrines, and some of them really stand out by their unique and stunning appearances!
Starting with the famous Fushimi Inari Taisha, which is on the bucket list of most of travellers to Kyoto, I'm going to introduce 7 temples and shrines in Kyoto, where we can not help taking photos! Let's check out 7 most instagram worthy temples and shrines in Kyoto 🙂
1. Fushimi Inari Taisha (伏見稲荷大社)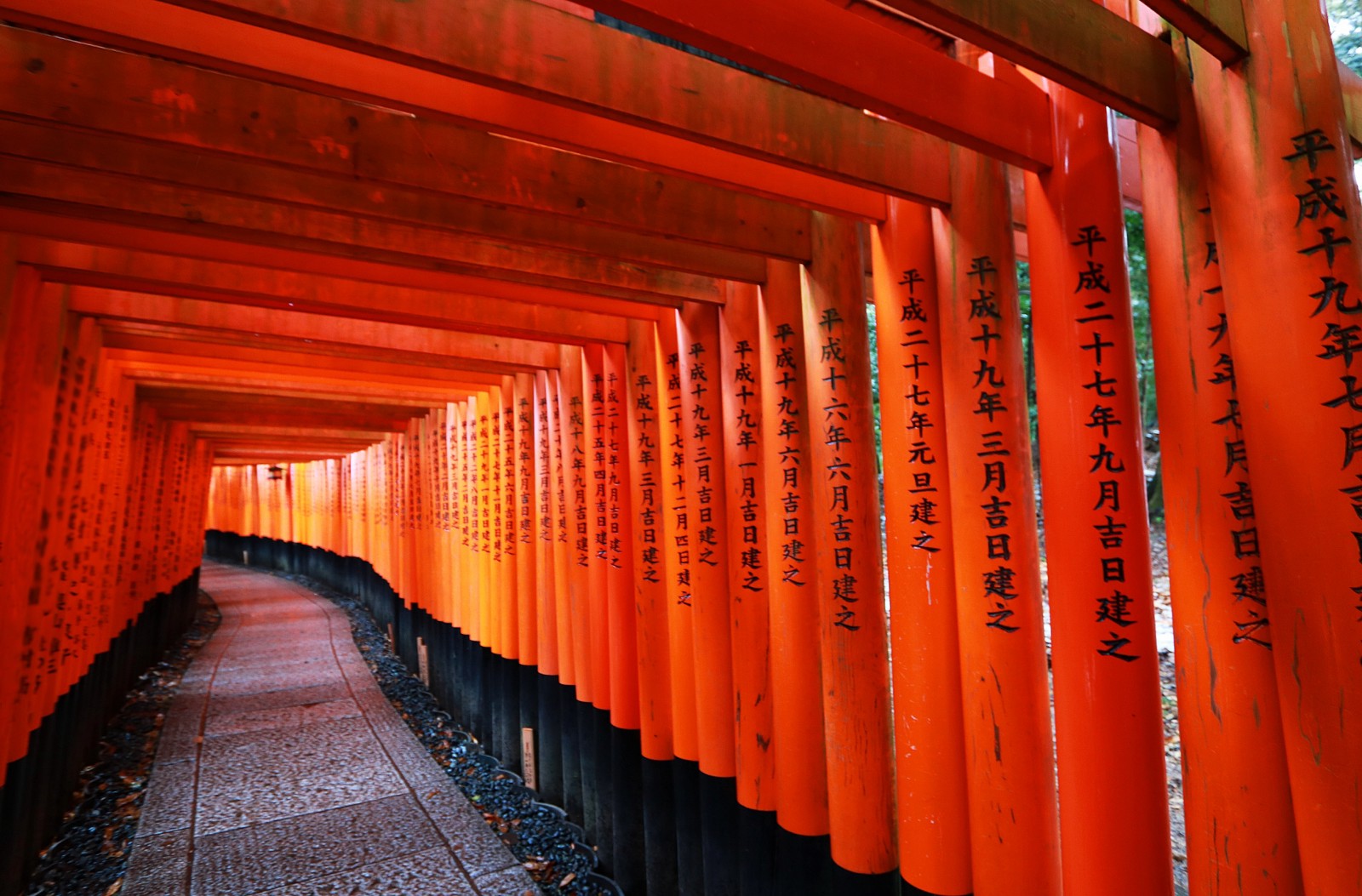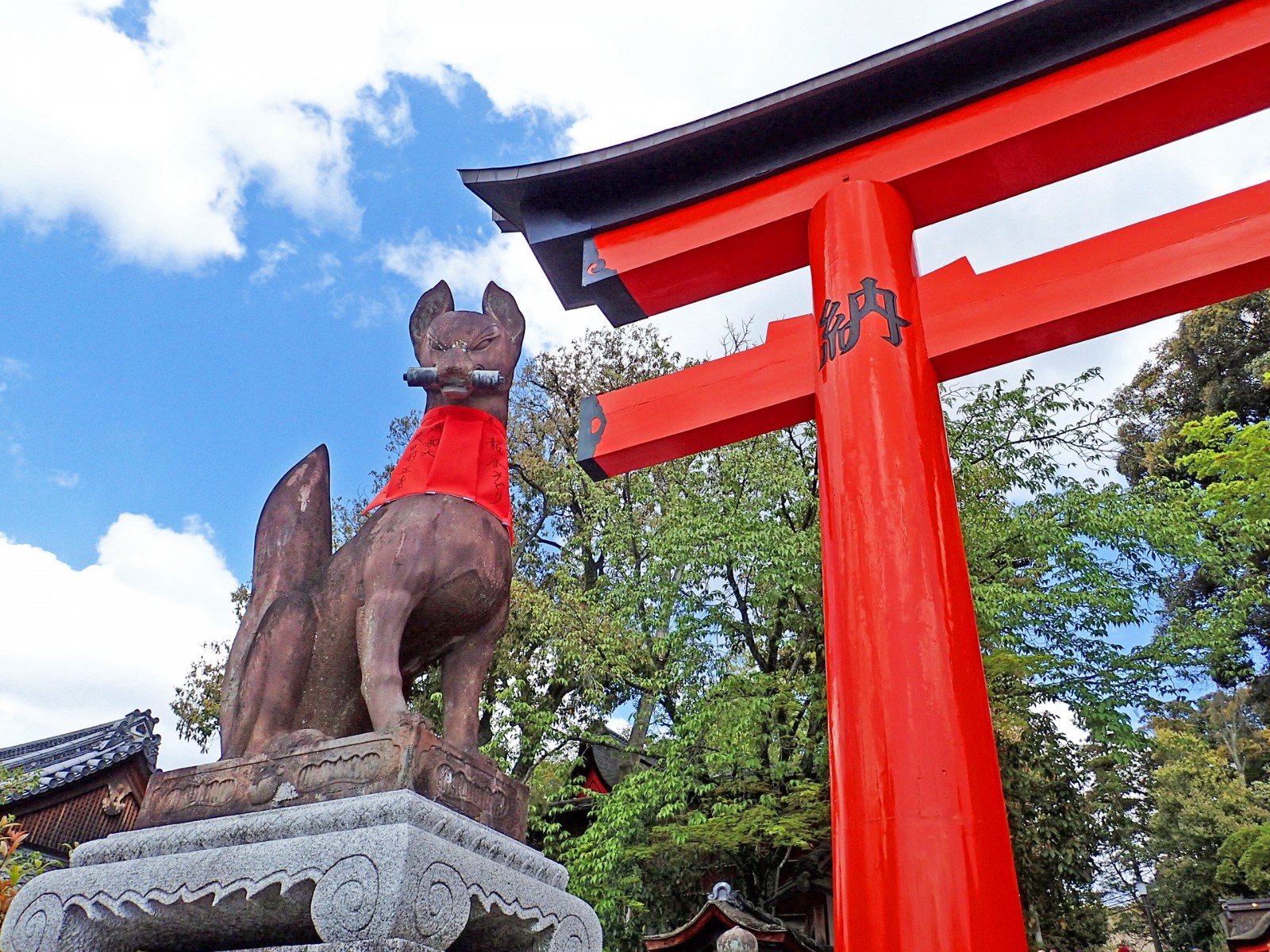 One of most popular landmarks in the country, Fushimi Inari Taisha (伏見稲荷大社)'s iconic red torii gates tunnel is super photogenic, and in fact, it's one of most instagrammed spots in the country.
▶ more info: Fushimi Inari Taisha: Kyoto's Most Visited Shrine by Foreign Visitors!
Access: 1 min walk from JR Nara Line "Inari station" OR 5 mins walk from Keihan Main Line "Fushimi Inari station"
Hours: Always open
Fee: Free
2. Shojuin Temple (正寿院)
Shojuin Temple (正寿院) has been the hottest tourist destination in 2017, especially among girls. Although the temple is located slightly remote area of the city, it's very much worth travelling to see their heart-shaped window with stunning colourful paints of ceiling!
▶ more info: Shoujuin Temple: the Best Photogenic Temple in Kyoto!
Access: Take bus №180/182/184 from JR Uji Station (25 mins), get off at "Ichumae" stop then take another bus "Community Bus" (17 mins), get off at "Okuyamada" stop and walk 10 mins.
Hours: 8:30~16:30
Fee: 400 yen
3. Yasaka Koshindo Temple (八坂庚申堂)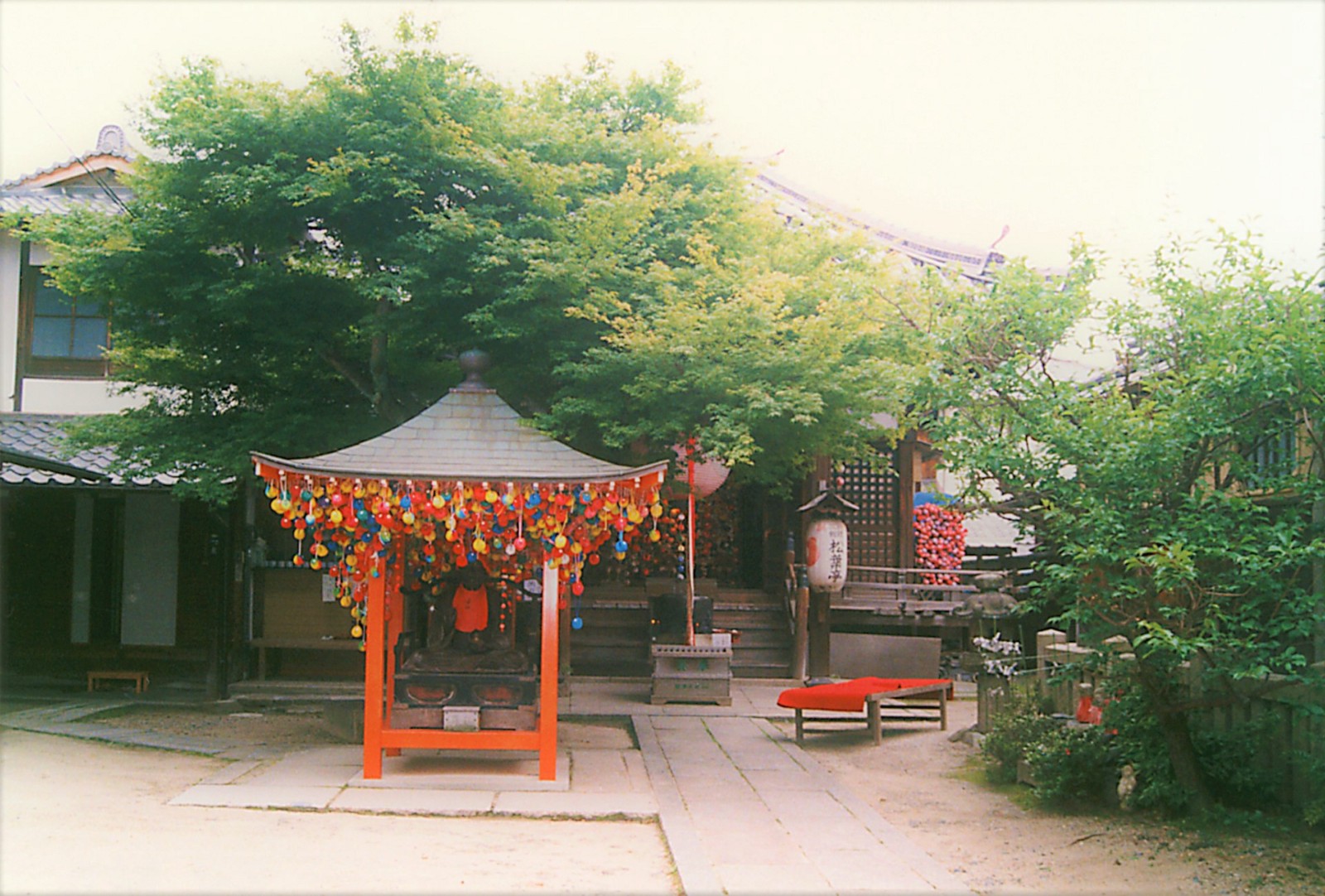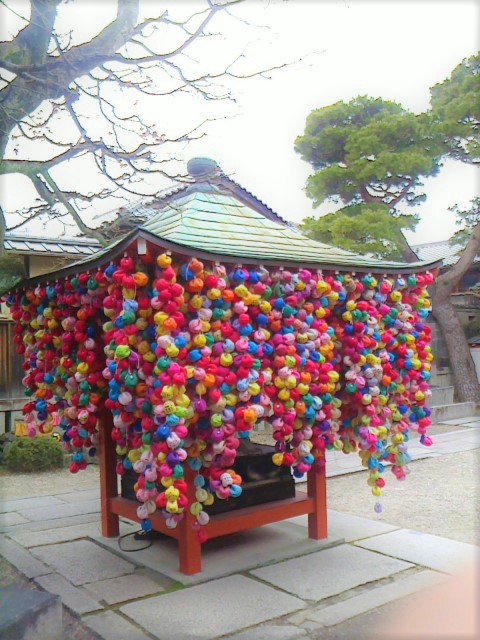 This tiny temple, Yasaka Koshindo (八坂庚申堂) is really popular among Instagram users. Cute and multi-coloured balls called "kukurizaru" are not only hanging at the site to carry visitor's wishes, but also creates the ordinary temple to the outstanding photo spot!
and they are truly photogenic!
▶ more info: Yasaka Koshindo: the Most Colourful Temple in Kyoto
Access: Bus №206 from Kyoto station to Shimizudo Stop then walk 7 mins
Hours: 9:00~17:00
Fee: Free
4. Otagi Nenbutsu Temple (愛宕念仏寺)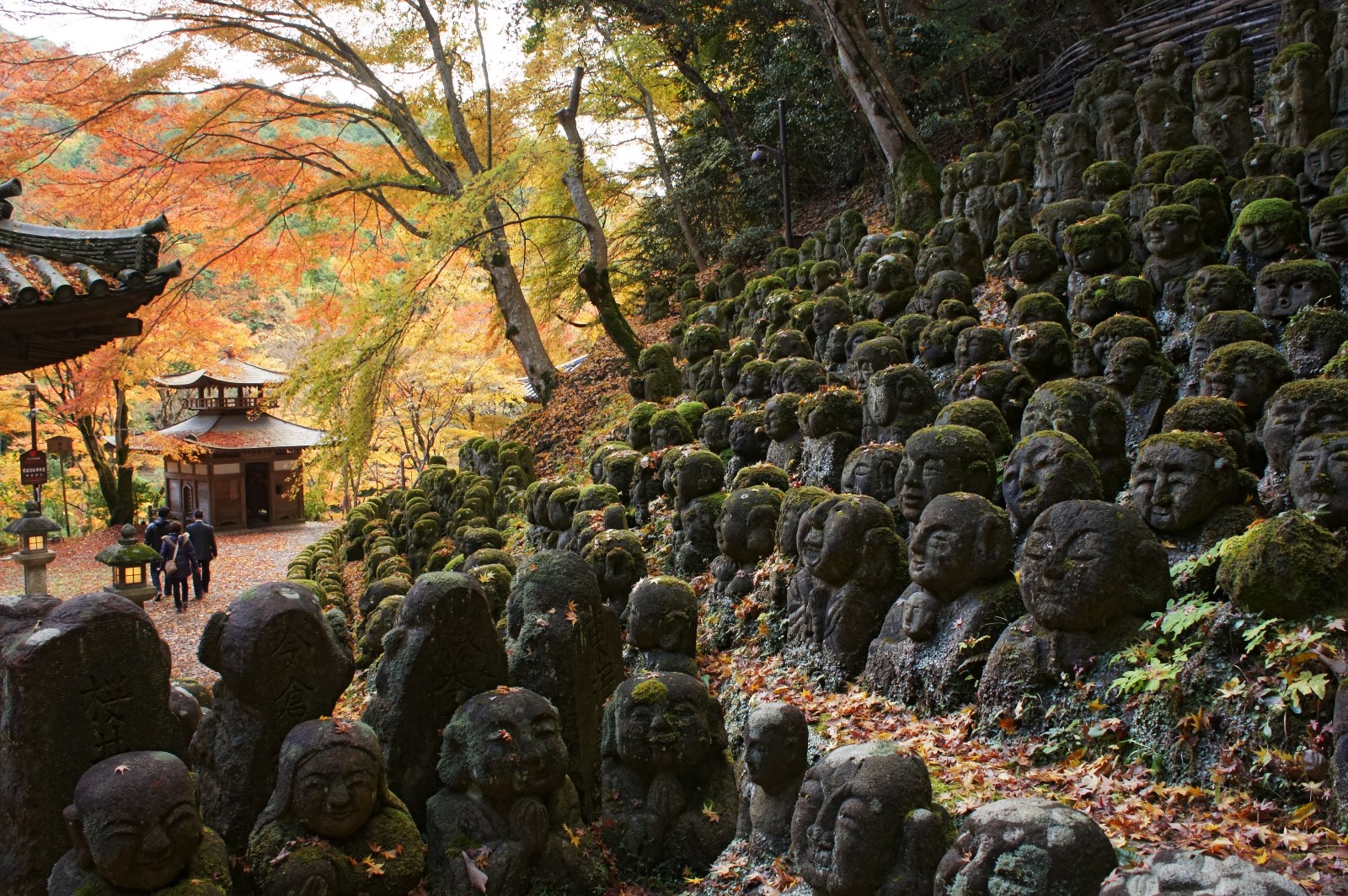 Otagi Nenbutsu Temple(愛宕念仏寺) is an unique and mysterious temple located in Arashiyama area, Kyoto. The temple houses 1,200 stone statues "rakan", which represent the disciples of Buddha.
▶ more info: Two Most Curious Temples in Kyoto
Access: Take Kyoto Bus from Kyoto Station towards Kiyotaki then get off at Otagi Dera Mae Bus Stop
Hours: 8:00~17:00
Fee: 300 yen
5. Okazaki Shrine (岡崎神社)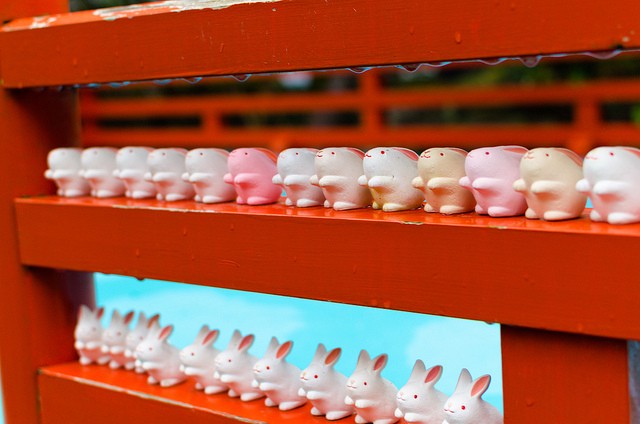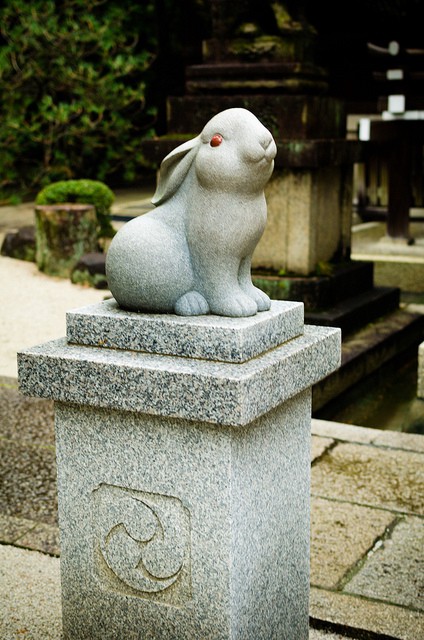 Okazaki Shrine (岡崎神社) a.k.a. the bunny shrine is believed to be associated with the gods of fertility and easy childbirth. The site has several statues and motifs of rabbits, so try to find as many rabbits as you can!
▶ more info: http://www.okazakijinja.jp/ (Japanese)
Access: Take a bus №32/93/203/204 from Kyoto Station then get off at Okazakijinja Mae Stop
Hours: 9:00~17:00
Fee: Free
6. Rurikoin Temple (瑠璃光院)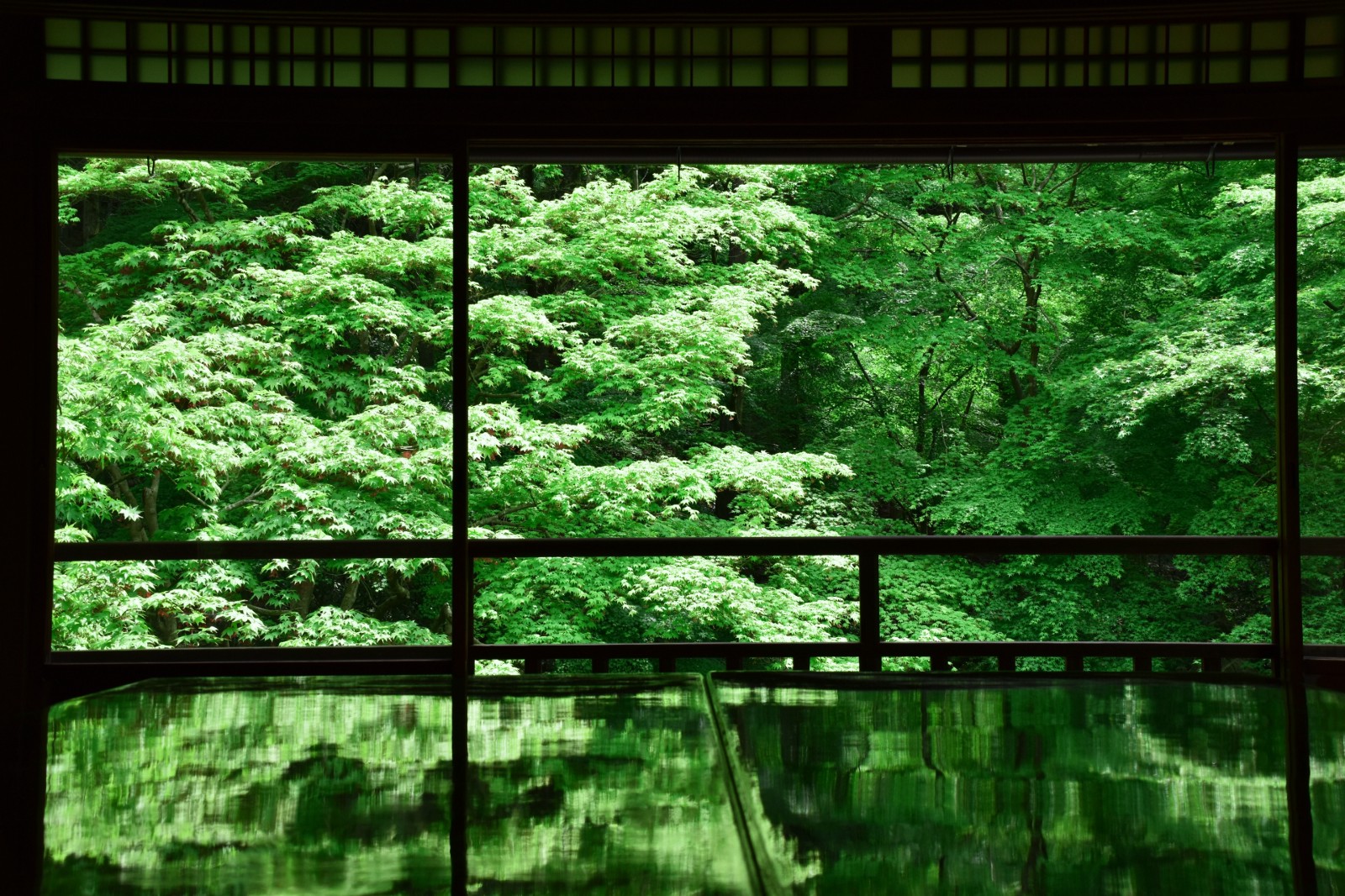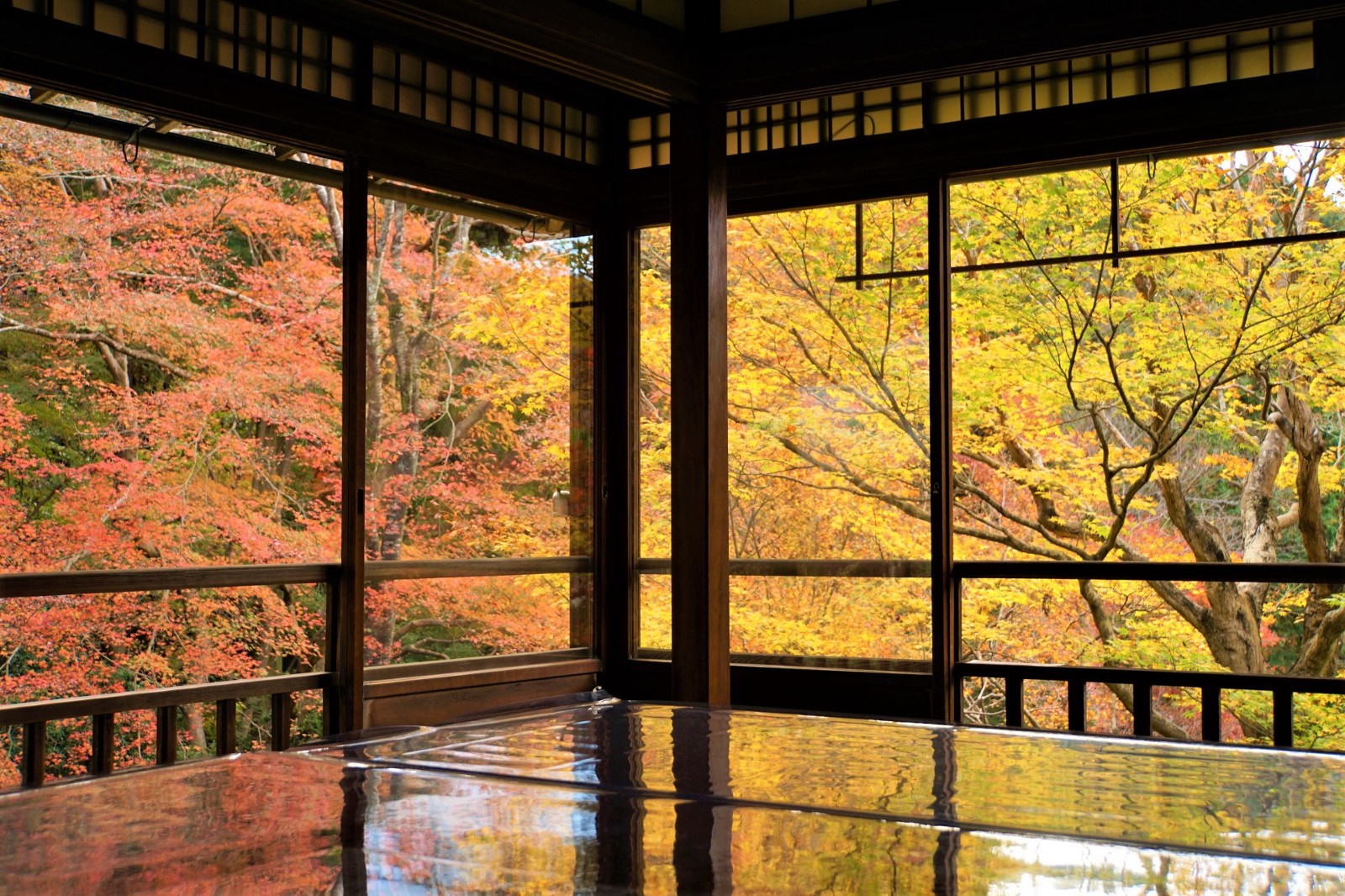 Rurikoin Temple (瑠璃光院) is a beautiful temple which opens for public only twice a year: viewing for green maple trees during spring and for colourful leaves during autumn. The collaboration of the temple, garden and the seasonal colour is just breathtaking.
▶ more info: Rurikoin Temple Kyoto : Picturesque Temple with Maple Leaves
Access: 5 mins walk from Yasehieizanguchi Station (Eizan Main Line) OR 7 mins walk from Yaseekimae Stop (Kyoto bus)
Hours:10:00~17:00
Fee: 2,000 yen
7. Kifune Shrine (貴船神社)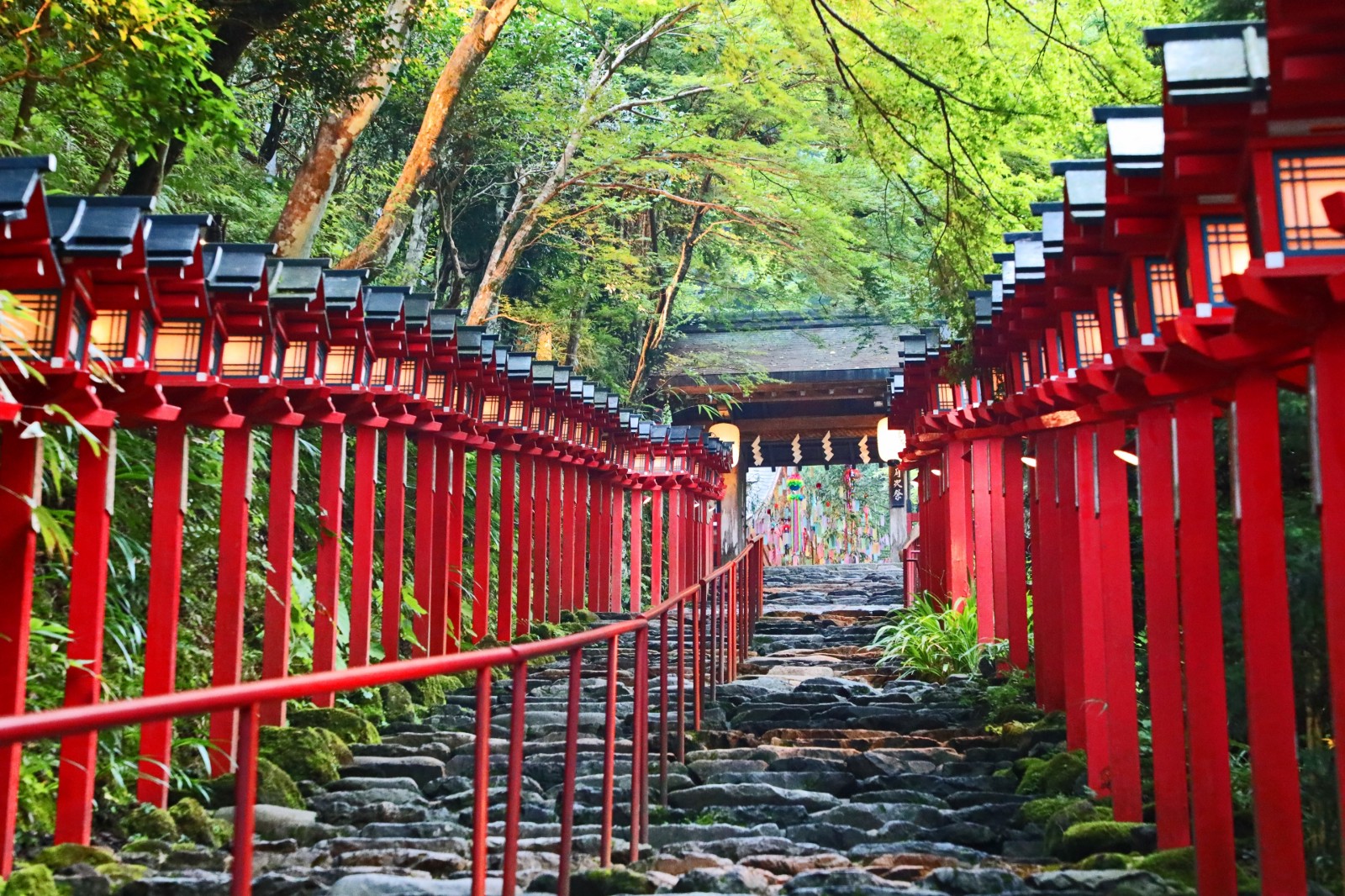 Kifune Shrine (貴船神社) attracts photographers by its gorgeous stairs of approach. The view with the iconic stone stairs with red lanterns are very photogenic, and also recommended to visit during winter when the light-up event takes a place (irregular).
▶ more info: New Travel Destination in Kyoto: Kifune Shrine
Access: 25 mins walk from Kibuneguchi station or take a bus №33 to Kifune
Hours: Always open
Fee: Free
What did you think about these temples and shrines?? They are now generally very popular spots among photographers and instagrammers, so if you wish to take nice photos, you may wanna visit these spots in early morning! For more unique & photo-worthy spots in Kyoto, please check out my other articles, below!
▽ Related Articles ▽
▼ Editor's Picks ▼
---