7 Best Instagram-Worthy Temples and Shrines in Tokyo
Tokyo's best shrines and temples for photography!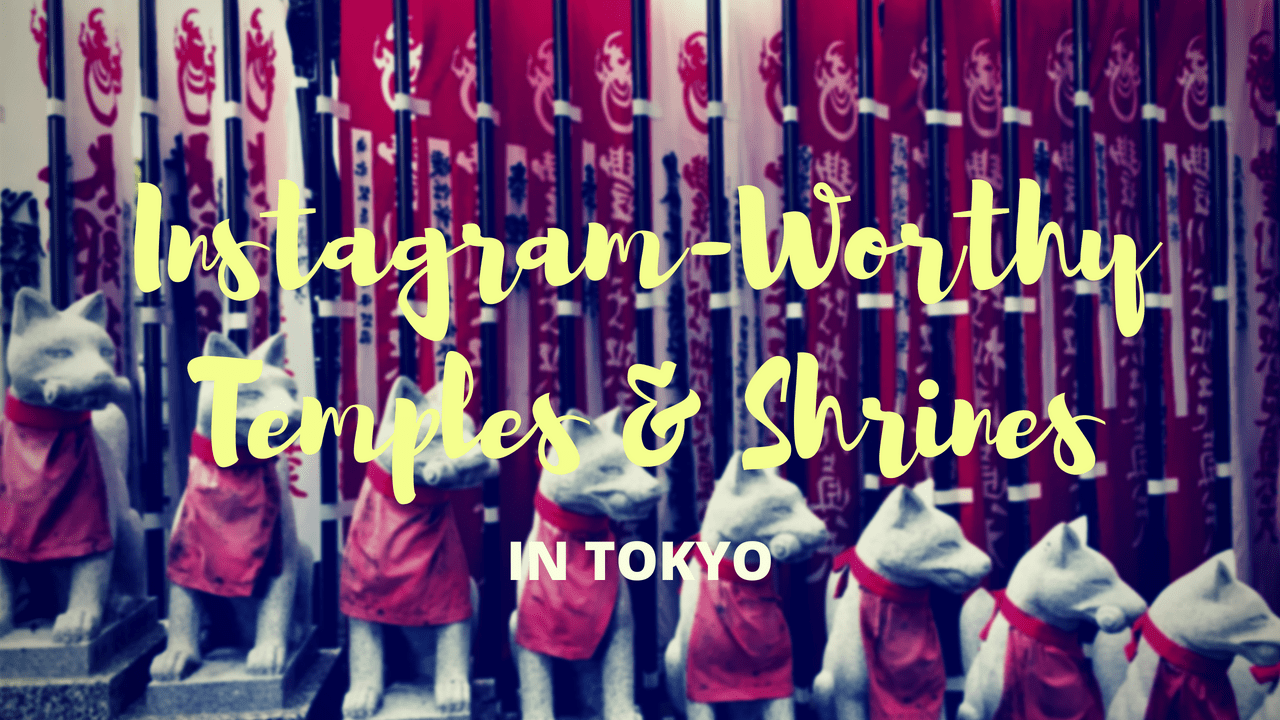 Looking for unique spots to photograph in Tokyo?? The city has numbers of Instagram-worthy spots such as swanky cafes with colourful desserts and streets with glaring neon lights. Along with those spots related to the modern culture of Japan, there are also some historical sites that offer unique and astonishing traditional Japanese scenery. If you are travelling in Tokyo, you should definitely hunt for these "only in Japan" instagram-worthy spots.
Today, I have picked 7 most unique and cool looking temples and shrines in Tokyo, which are highly recommended for photographers or Instagrammers 😉
1. Zojoji Temple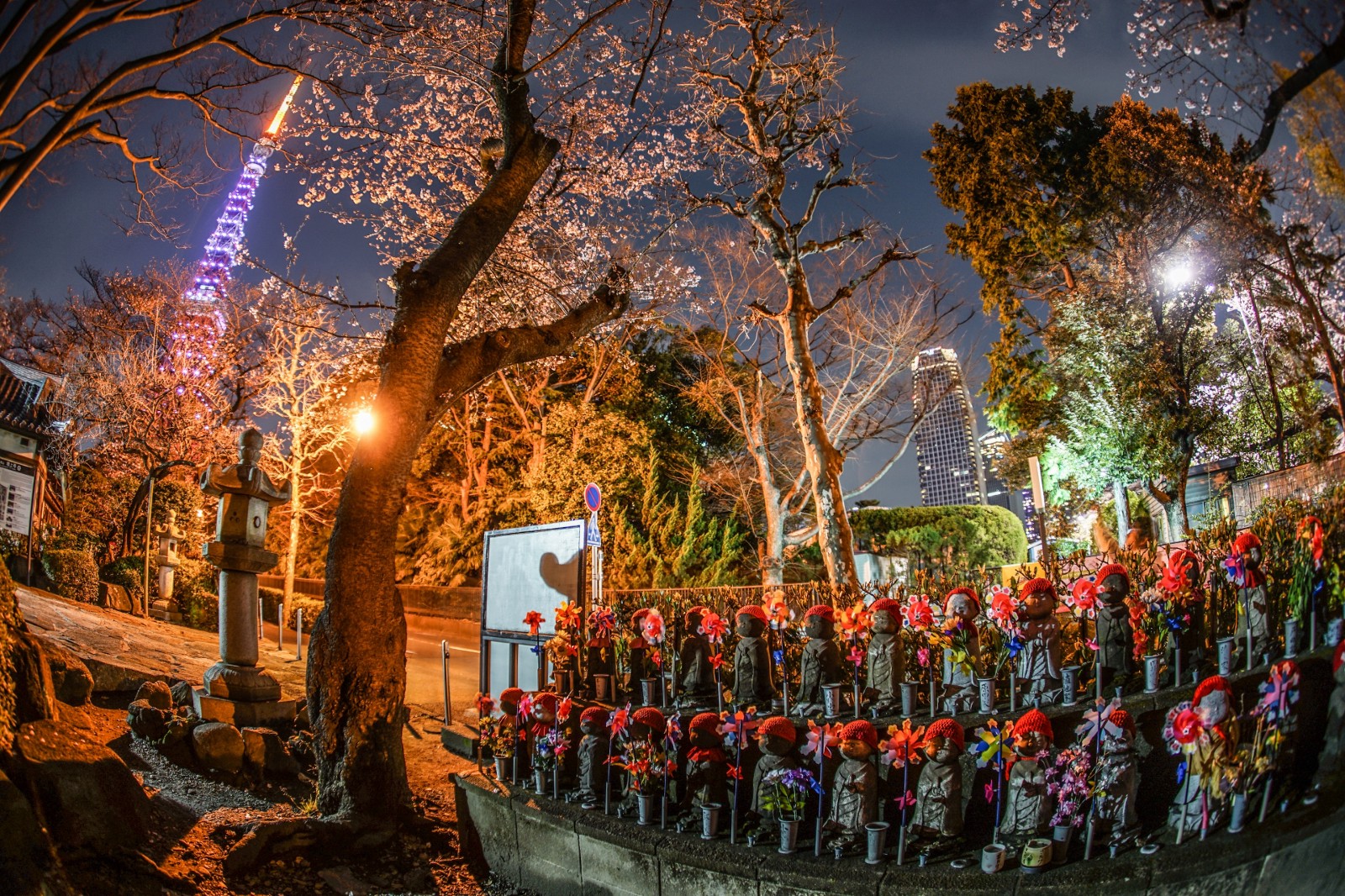 Zojoji Temple (増上寺) is possibly the most photo-worthy temple in the city. It's also called "the Wolverine Temple" since it made an appearance on the X-MEN's spin-off movie: The Wolverine in 2013. The temple is located very near Tokyo Tower, and this astonishing view of the temple with Tokyo Tower behind is actually real.
Zojoji is a Jodo sect Buddhist temple which is considered as one of the most important temples in Japan with its historical and religious sense, most notably it's the place where most members of Tokugawa clan (the Great shogunate of Edo period) rest in peace and Ieyasu himself.
The temple is also home of 1,000 "Jizou" statues (the guardian deity of children) which is another appealing photo spot.
Access: 3 mins from Onarimon or Shibakoen station
Hours: 9:00 to 5:00
▼ More info ▼
2. Toyokawa Inari Tokyo Betsuin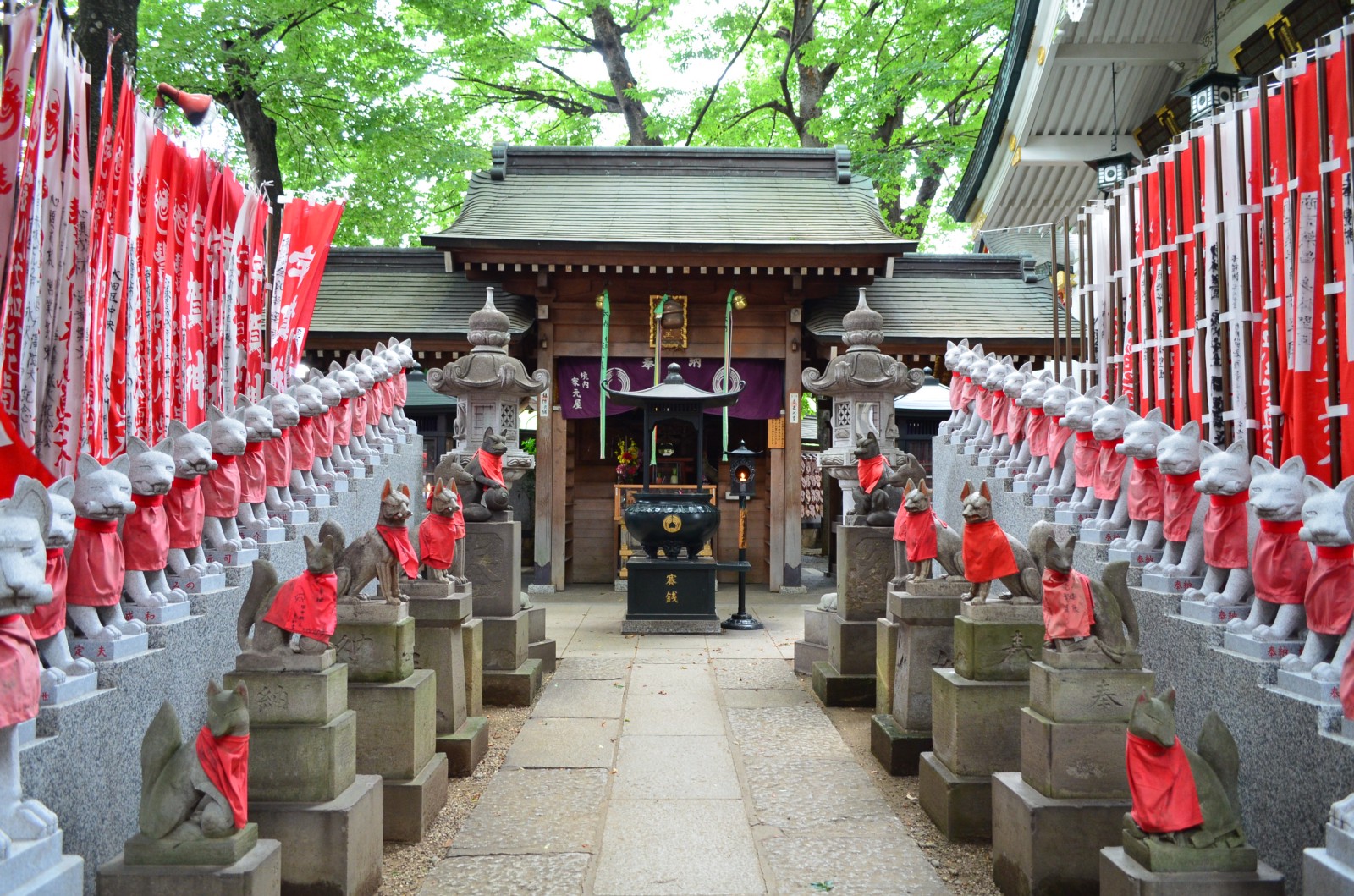 Toyokawa Inari Tokyo Betsuin (豊川稲荷東京別院) is a temple located in Akasaka, the upscale area of Tokyo where many office and luxury hotels are located. The temple is known for home to countless statues of foxes which creates very mysterious and unique atmosphere.
The temple was originally built in 1828 as a branch temple of the main Toyokawa Inari Temple which is in Toyokawa City, Aichi Prefecture. Foxes are associated with temples of Inari ( the Shinto deity of rice) and this is why every "inari" temples situate foxes and worship them as god.
Access: 5 mins from Akasaka Mitsuke station exit B or Nagatacho station exit 7
Hours: 6:00 to 20:00
▼ More info ▼
3. Hie Shrine
Have you seen the famous red torii gates tunnel at Fushimi Inari Taisha Shrine in Kyoto? Did you know you can find pretty similar thing in Tokyo, too? Hie Shrine (日枝神社) is Tokyo's one of best kept secrets with magnificent stairs lined with red torii gates, and it's 100% instagram-worthy.
This Shinto shrine is known for a divine favor of love knot, marriage tie and easy delivery of children, and welcome local worshippers all year around. It's located in Akasaka area and only 15 mins away on foot from Toyokawa Inari Tokyo Betsuin.
Access: 3 mins from Akasaka Station or Tameike-sanno Station
Hours: 5:00 to 18:00 (Apr-Sep)/6:00 to 17:00(Oct-Mar)
▼ More info ▼
4. Nezu Shrine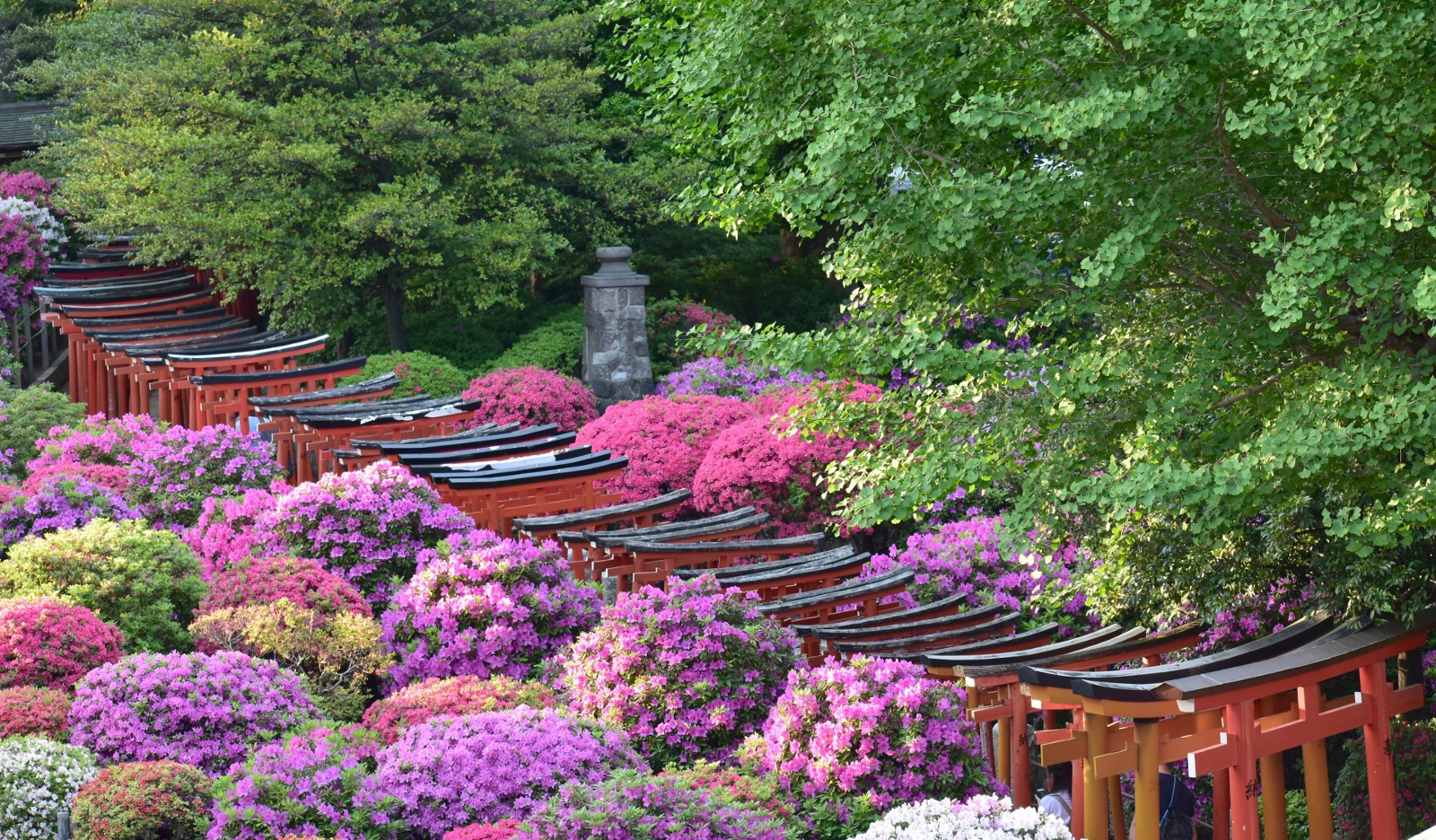 So after all, Hie Shrine isn't the only "red torii gates" kind of shrine in Tokyo. Nezu Shrine (根津神社) is another instagram-worthy torii gates shrine you can find in Tokyo. Hundreds of vermilion torii gates lies across the shrine sites and visitors can actually walk through them. The shrine holds one of Tokyo's most spectacular flower festivals "Bunkyo Azalea Festival" in every spring.
Nezu Shrine is located in Nezu area which is in Shitamachi area (Tokyo's old-fashioned downtown area) where unspoilt serene local life can be seen. It's also accessible from Ueno Park.
Access: 5 mins walk from Nezu station or Sendagi station
Hours: 9:00 to 17:00
▼ More info ▼
5. Gotokuji Temple
Gotokuji Temple (豪徳寺) is the most bizarre and eye-popping temple in Tokyo, where numerous statues of cat are placed. The cat statue is called Manekineko (the beckoning cat) and it's a popular lucky charm in Japan which people believe to bring a luck to its owner. Gotokuji Temple is known as the place of origin of Manekineko.
Today, worshippers buy beckoning cats dolls at the temple and when their wish come true, they tend to come back to the temple to dedicate cat statues. This is why the temple has numerous cats and known as the most blessed temples in town. The shrine is located in a residential area, slightly off the major tourist areas in Tokyo, however, it's very much worth a visit. Enjoy taking photos of cute little cats from different angles!
Access: 6 mins from Miyanosaka Station or 8 mins from Gotokuji Station
Hours: 8:30 to 18:00
▼ More info ▼
6. Meiji-jingu Shrine
Tokyo's most visited shrine, Meiji Jingu Shrine (明治神宮) invite over 300 visitors every year. The shrine is dedicated to the Emperor Meiji and the Empress Shoken since 1920.
Although it's located at Harajuku, one of the most bustling districts in Tokyo, the shrine retains calm and peaceful atmosphere since it's surrounded by the forest of 100,000 trees. The rich nature of Meiji Jingu Shrine lies from the main entrance with the enormous wooden torii gate to the main hall of the shrine. Besides the shrine building itself, the most popular photo spot at Meiji Jingu Shrine is the colourful sake barrels which are stored at the middle of the approach to the shrine's main hall.
Access: a short walk from Harajuku Station or Meiji Jingumae Station
Hours: 5:00 to 18:00
▼ More info ▼
7. Sensoji Temple
Sensoji (浅草寺) is located in Asakusa, one of the most popular tourist areas in Tokyo. Tokyo's oldest temple was founded in 7th century and has been serving as a symbol of the district for many centuries. The magnificent temple and the surrounding area represent the old-time Tokyo where nostalgic and historical atmosphere remains from many years ago.
The most popular photo spot of the temple is Kaminarimon Gate which is situated at the very beginning of the approach to the main hall of the temple, the massive red gate with the humongous lantern hanging. As the place seems to be always busy, it's recommended to visit at night for photographers.
Access: 2 mins from Asakusa Station
Hours: 6:00 to 17:00 (Kaminarimon Gate is always open)
▼ More info ▼
Have you enjoyed the list?? If you need more travel guide about unique and trendy photo spots in Tokyo, please check out my other articles listed below!
▽Related Articles▽
▼Editor's Picks▼
---