Best One Day Private Tour in Kyoto
One-day private tour around Kyoto with all the places you must go in a first experience!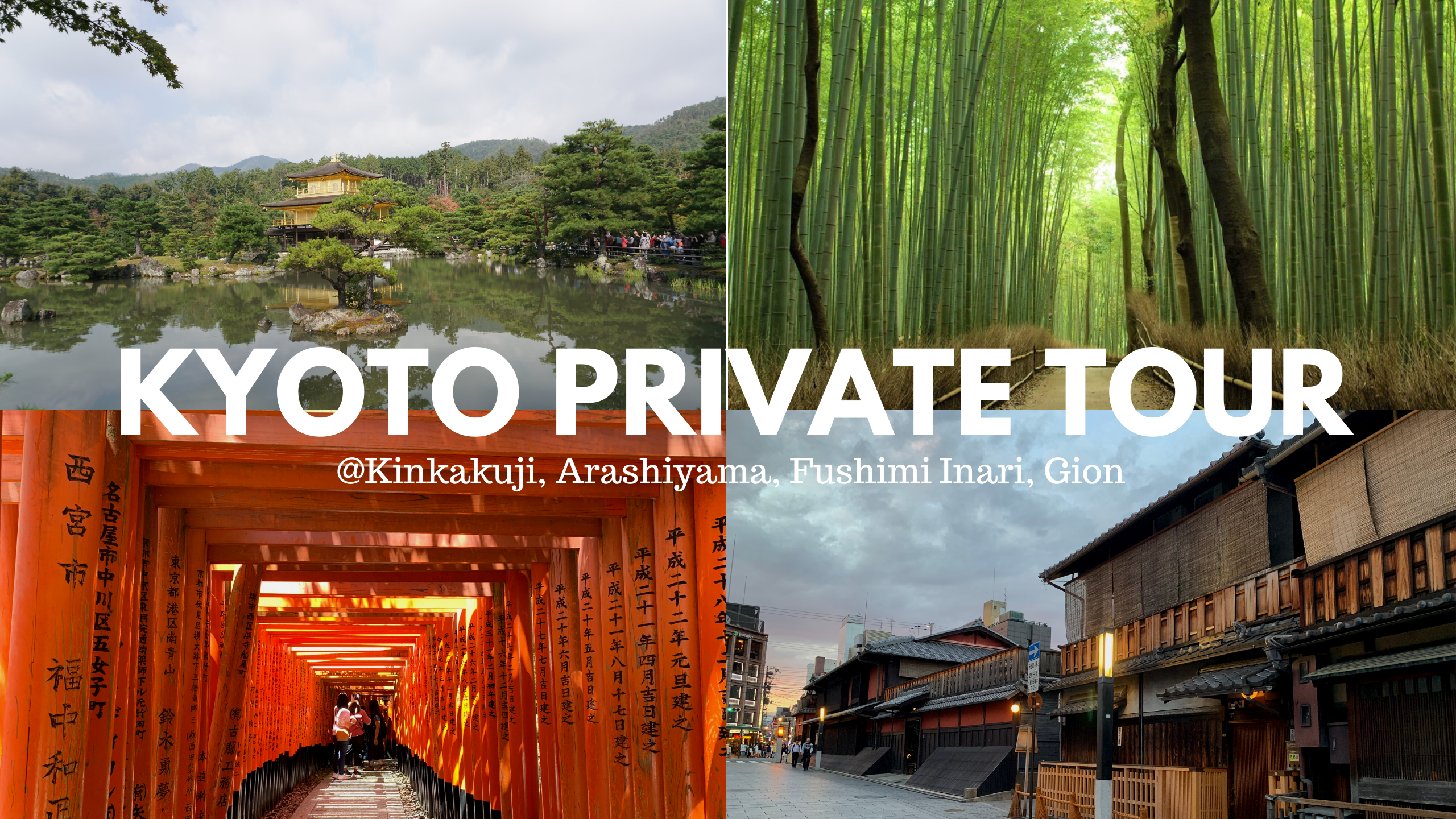 It's a fact that in recent years Japan has become a very popular destination among travelers, and the number of tourists has been increasing more and more in cities like Tokyo, Kyoto or Osaka. And one of the favourite options among these new tourists is being a part of private tours.
The latest trend in Europe and some cities in USA is the called "Free tours", where you pay the amount you think it's appropriate or you can afford it. That's possible because European cities usually have a 'old town' and the tourist monuments and interesting parts to be are concentrated there. You can visit almost all the tourist spots in the city by walk, in a 1-2 tour. But in Japan, cities don't usually have a "center" and everything is far from each other, so you have to take the train (several times in the day) if you want to visit the most emblematic of the main cities. That is why 8-hour private tours are being most requested and new companies are appearing to cover these needs.
In places like Tokyo, for example, where the stations can become authentic labyrinths, many people prefer to go with someone who knows the area and maximize time. In Kyoto the stations are smaller, and people usually use the bus. But still, if you don't have too much time to fully explore the ancient capital of Japan, so going with a guide can help you make the best route and see as many spots as possible.
A cheaper option may be a group tour. However, that takes away your freedom of choice and in my opinion, it's more overwhelming and cold. With a large group the guide can't be aware of everyone, nor can please everyone's wishes.One of the positive points of choosing a local guide instead of going on your own is that it's a way to get to know the local culture better and have a fun time. In my personal opinion, if I pay for a tour because I want to learn about the place and not only go to the highlights spots and take pictures. Kyoto used to be the capital of Japan and is a city with a lot of history and there's a lot to learn and ask. Besides, being honest, in a group tour you can meet people you don't get along with, and that can ruin your dream trip that you've been preparing for so long.
My experience taking a private tour in Kyoto
On my recent visit to Kyoto I took a private tour called "Kyoto Private Full Day Walking Tour [Customizable] " led by Japan Wonder Travel. Japan Wonder Travel has original tours across the country guided by professional and experienced guides who are familiar with each area and is one of the best tour agencies in Japan. Don't trust me? Check out their website and you would see thousands of comments from happy customers! The client-satisfaction rate is impressively high and they are the winner of the Certificate of Excellence by the TripAdvisor.
One of the many positive points of private tours instead group tours, is that private tours are 100% customizable. You can talk in advance with the company or the guide and tell them what kind of things and activities you like. Or if for example it isn't your first time in Japan and you want something out of the standard, you also can have the advice by local experts.
In our case, we decided to take the standard route which includes the most famous landmarks in Kyoto such as Kinkakuji Temple, Arashiyama, Fushimi Inari Taisha Shrine, Gion area and Kiyomizudera Temple. This time we took the time to make this journey. It was lucky that I was able to get to Kiyomizudera Temple after visiting some major spots by moving quite quickly. Also, as I said, it was not my first time in Kyoto. For first time travelers, I recommend to make a more relaxed itinerary and visit 3 to 4 spots, taking your time to really appreciate and enjoy every spot, rather than packing up. You can also decide the best plan for you consulting with Japan Wonder Travel. They really know well the city and can make the best Kyoto tour according to your preferences!
Meeting point
Usually, the meeting point for the tour is at the client's hotel. The guide goes to pick up you up at your hotel, which is very convenient. However, on this occasion we met at the Kyoto station, since I had spent the night in a nearby city and came directly from there. Therefore, if you are staying in Osaka or any other place outside of Kyoto, you can do like us and meet at the station. The meeting point is very easy to find and they send you directions and pictures by mail.
Our guide for that day was Connie, a very nice Japanese woman with a fluent English who has an official guide's license and a lot of experience as a tour guide in Kyoto. After a briefly presentation, we went to our first destination. The journey took about 30 minutes, so we have the chance to talk with Connie and get to know each other more. She's so friendly and it's very easy to talk to her! And before we knew it, we had arrived at the site.
Kinkakuji Temple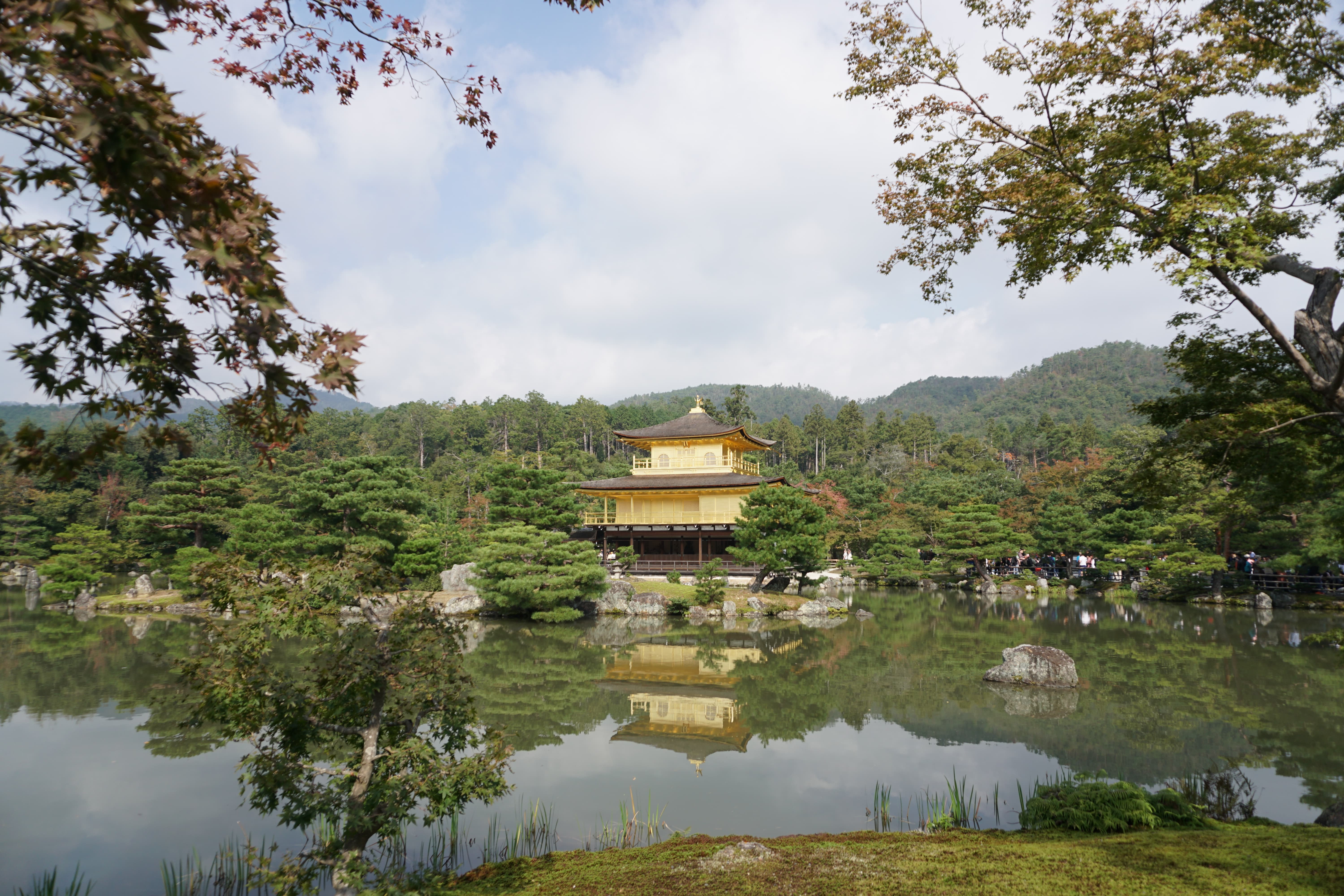 The visit started in one of the most famous landmarks in Japan, Kinkakuji Temple (金閣寺) a.k.a. the Golden Pavilion. There are many temples in Japan, but Kinkakuji (builded in 1397) stands out above the other temples for its golden color and beauty, being listed on the UNESCO World Heritage Sites. The image of the temple reflected in the lake is one of the most photographed among those who visit Japan. What you don't see in these photographs is the number of people behind taking the same photo. When we went the temple was suuuuper crowded and it was difficult to move around and take pictures.
We arrived to the Kinkakuji and our guide went to buy the tickets for us and while we were walking around she was explaining the history of the temple and curiosities that hide some corners of the Kinkakuji, such as a waterfall that has a connection with a Japanese legend about tents (called koi in Japanese). So even if it was crowded we spent a really interesting time while talking with Connie and learning about Kyoto.
More info ▶ Kinkakuji Temple: Kyoto's Golden Pavilion
Arashiyama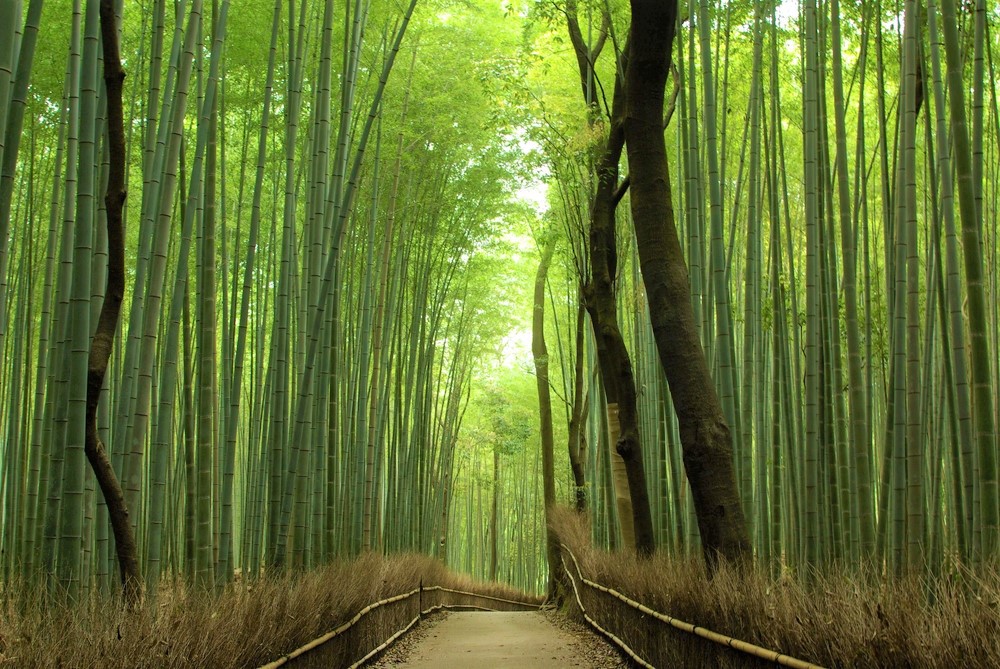 The tour continues in another iconic landmark of Kyoto: Arashiyama. Arashiyama (嵐山) is one of the oldest districts in Kyoto. Therefore, you can find numerous temples and shrines in the area that are really old, as well as other interesting places. But is specially famous for his bamboo grove, which runs between Tenryuji Temple and Okouchi Sanso Garden. The bamboo grove it's one of the most popular photo spots in Kyoto. And another of the most visited places in Arashiyama is the traditional Japanese garden of Tenryuji Temple. Maybe it's not as impressive as the Kinkakuji Temple, since Tenryuji Temple it's more sober and simple, but the garden is really beautiful and bring you a lot of peace. It is also one of the UNESCO World Heritage Sites in Kyoto as well as Kinkakuji Temple. People usually sit down for a rest after walking through the bamboo grove while contemplating the garden.
More info▶ Kyoto's Iconic Arashiyama Bamboo Grove
More info▶ Kyoto's Yet Another UNESCO World Heritage Site: Arashiyama Tenryuji Temple
Fushimi Inari Shrine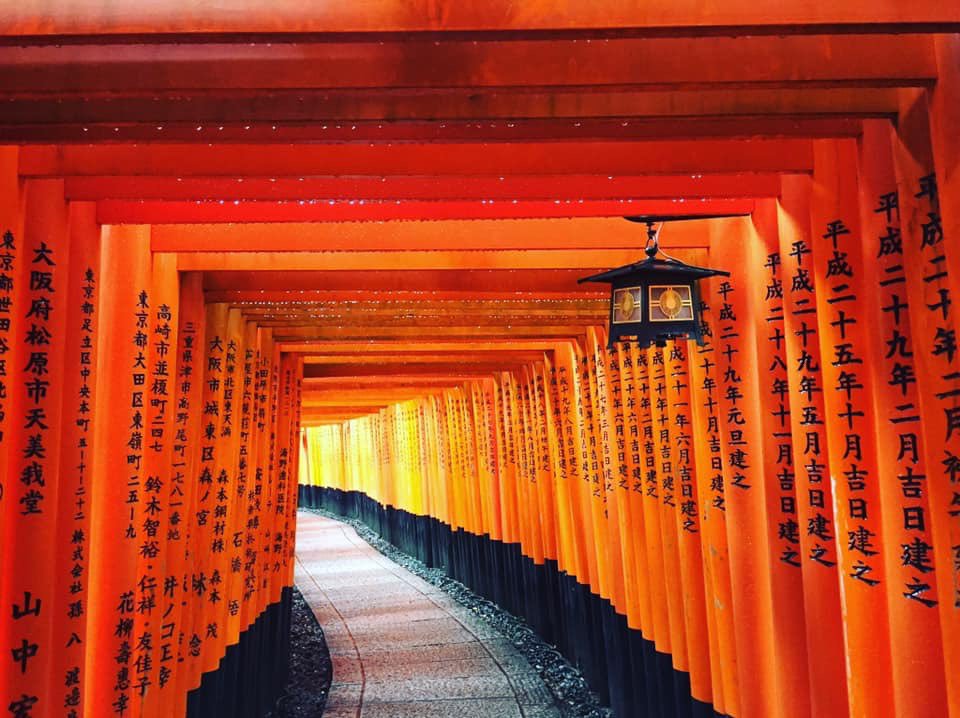 Fushimi Inari Taisha Shrine (伏見稲荷大社) became Kyoto's most visited shrine since the shrine's iconic vermilion torii gates made an appearance on the movie Memoirs of a Geisha in 2005. And of course, it was as crowded as the Kinkakuji Temple.
As all the other tourists, we went to see the famous red torii gates. But Fushimi Inari also has other charms. For example, I like the street food stalls that are in the streets adjacent to the shrine, and the different local stores where you can buy all type of souvenirs for family and friends or for yourself. The most part of souvenirs are about foxes, and I reaaaally love it!
In Fushimi Inari Connie took us to eat at a local restaurant that despite being near the shrine wasn't visited by so many foreigners. However, there was a long queue of Japanese people to enter. A good indication that it was a good place to try authentic Japanese food! And I can assure you that the food was delicious. In our case, we just followed Connie's recommendation, but if you have any preference when it comes to eating as things you want to try in the city, or the opposite, things you cannot eat because you have allergies or a specific diet, the guide will look for the best place for you following your requirements. But it's always better if you let them know beforehand so you can have it prepared before the tour.
More info▶ Fushimi Inari Taisha: Kyoto's Most Visited Shrine by Foreign Visitors!
Gion area and Kiyomizu-dera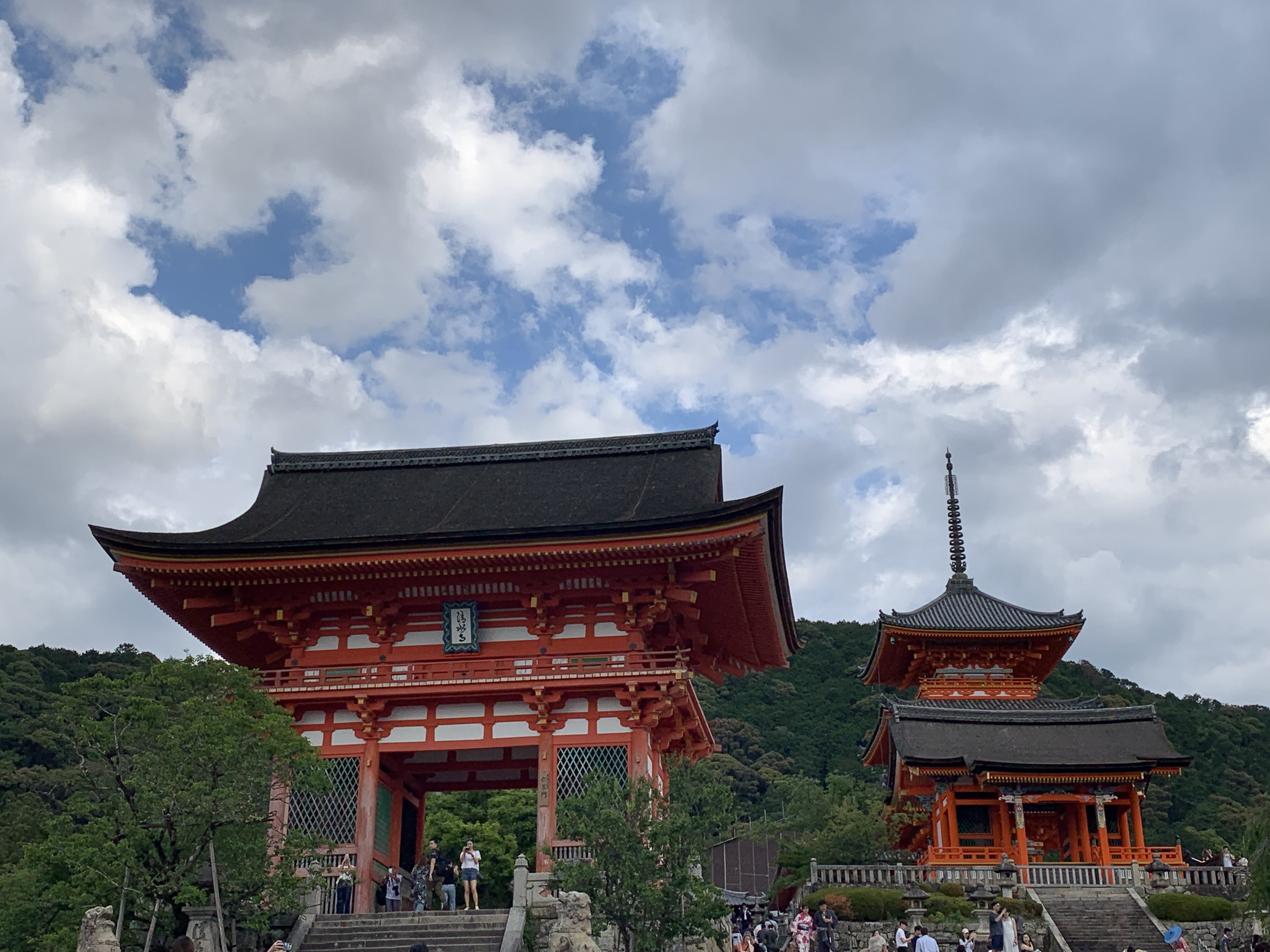 And to end of the day, one cannot go to Kyoto without visiting the emblematic Gion neighborhood, where if you're lucky, you can see a real geisha! And near Gion is another of the most beautiful and unique temples in Japan: the Kiyomizudera Temple (清水寺). Connie took us through some Gion's streets while she explained curiosities about the area, and we took a pleasant walk until finally reaching the Kiyomizudera Temple. The visit to Kiyomizudera Temple is worth not only for the temple, but for the surrounding streets. Ancient streets full of charm and photo-spots like the Yasaka Pagoda.
The tour ends at 5 pm, but before leaving the guide asks you what you want to do next or where you want to go to help you showing the fastest route to arrive or other advice. Or if you don't know what to visit, you can ask to the guide and get some suggestions! They are really nice and are always happy to help you to enjoy their city.
Overall
As I mentioned before, it wasn't my first visit to Kyoto. And already had been several times in to the places that we visited in this tour. But I wanted to see by myself the difference to go with a guide or not, and I can assure you that it's very worth going with a good guide like Connie! It was like discovering those sites again. I learned many things that I didn't know about the places, even though I studied about Japan in college. So even for those who already have previous knowledge about Japan and its history, or they have been in Kyoto before, I highly recommend taking a private tour with a local guide for a brand-new experience.
As explained earlier, this course can be adjusted to the clients' interests. Let the guide know what your interests are, and then just enjoy the tour with no worries whatsoever. Also, we took the 8 hours tour, but they have a half day option as well. If you want an option that is not on the website (a longer or shorter tour- a 6 hours tour, for example) you can send them an email and they will be happy to make a different tour for you!
▽Check more details about this 1-Day Kyoto Private Tour!!▽
▽Check more details about the 4-hour Kyoto Private Tour!!▽
Recommended Tours in Kyoto and Kansai Area:
▶ Kyoto Food and Drink Tour @Arashiyama
▶ Kyoto Food and Drink Tour @Nishiki street & Gion

Want to know more things you could do during your stay in Kyoto? Check these other articles for more ideas!
▽Related Articles▽
▼Editor's Picks▼
---