Best Places to Drink in Kyoto
Best Drinking Spots/Izakaya Alleys/Nightlife in Kyoto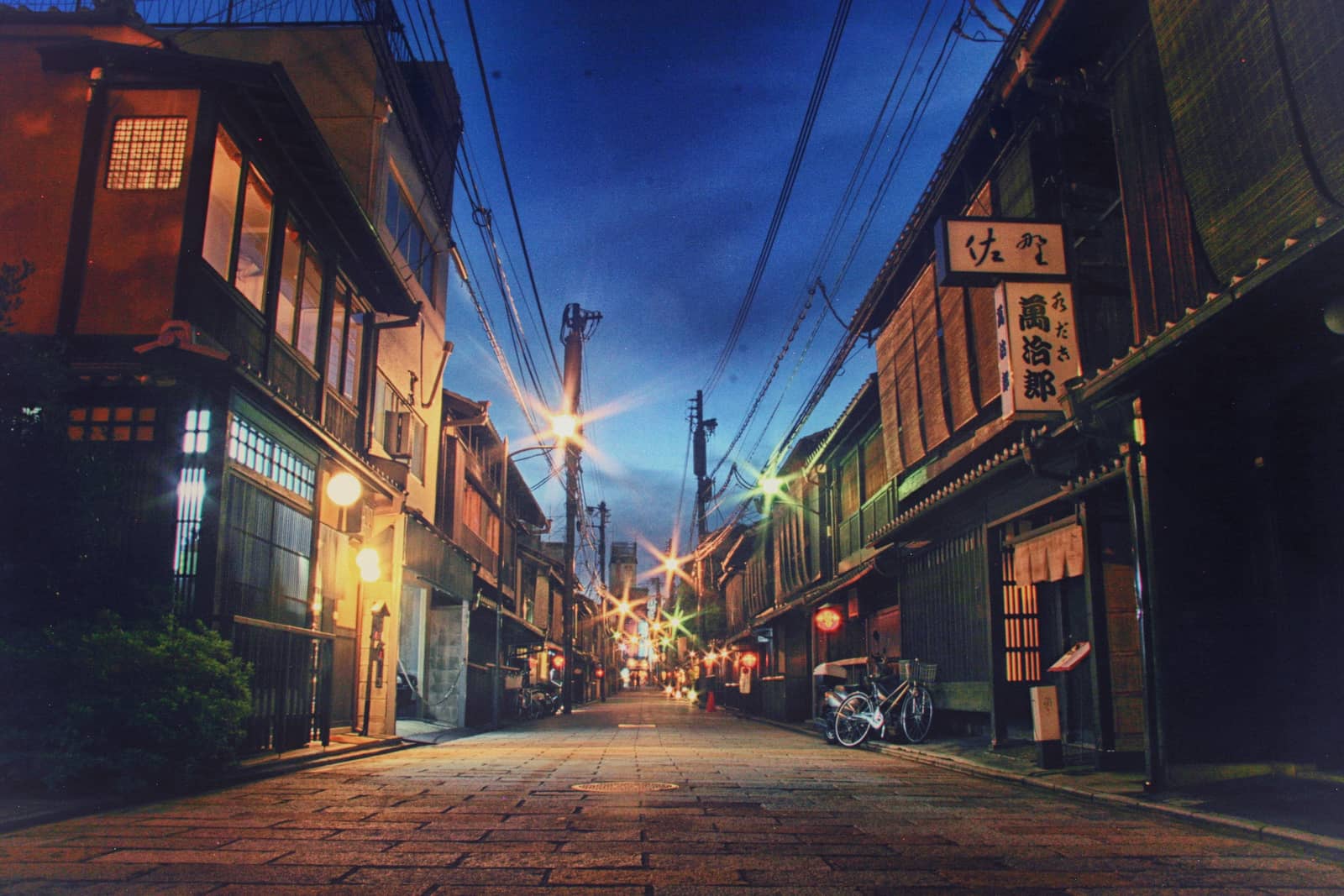 Kyoto is an ancient capital of Japan, and known for its well preserved magnificent historical monuments including UNESCO World Heritage Sites. Along with the modern capital city Tokyo, Kyoto is the top tourist destination in Japan and attracts millions of visitors from all over the world every year.
While Kyoto's main tourist attractions are picturesque temples and shrines, the city is highly enjoyable after dark, too. In fact, Kyoto is one of the best cities in Japan for nigh-outs, and there are various ways to fulfill your nightlife.
There are several drinking districts in Kyoto where you can find inexpensive bars and Izakaya alleys serving delicious local food with drinks as well as old entertainment districts where you may be served by beautiful Geisha and enjoy strolling down the atmospheric historic streets lit by dimmed lights.
In this article, I would like to introduce some of the best drink/nightlife spots in Kyoto including Izakaya Alley and former red-light district. If you are planning to visit Kyoto, don't miss Kyoto's wonderful nightlife!
1. Pontocho Alley
Pontocho (先斗町) is one of the most charming districts in Kyoto, known as a dining area with a narrow stone-paved alley running from Shijo-Dori Street to Sanjo Dori Street, one block west of the Kamo-gawa River.
Pontocho alley is lined with numbers of restaurants and bars in a wide price range including upscale traditional Kyoto cuisine dining and inexpensive Izakaya bars. It's one of the best spot for bar hopping in Kyoto where you can enjoy delicious food and drinks with a great atmosphere of the old town.
The district is also famous for the well-preserved traditional Kyoto style architecture and entertainment, and it's home to traditional tea houses and Geiko houses where Geisha and Maiko perform. Therefore, you may have a chance of spotting them on the street of Pontocho area. (MAP: http://bit.ly/2wmjgBx)
If you are looking to for deep nightlife experience in Kyoto, I'd highly recommend you to join a Kyoto Bar Hopping Nightlife Tour by Magical Trip! This guided night tour will let you explore hidden Izakaya bars, enjoy Kyoto's delicious specialties and drinks, and stroll down the charming backstreets in Pontocho area, Kyoto!
Check out the link below for more details and book the tour on your wished date before it's too late!
2. Gion
Gion (祇園) is Kyoto's most famous entertainment area often called "the Geisha District". The district was originally developed during the Sengoku period where visitors and travellers to shrines stopped to rest, then eventually became one of the most elusive and lavish geisha district in the country.
The famous Hanamikoji Street in Gion district is lined with preserved Machiya houses which now run as restaurants, bars and tea houses, offering fine Kyoto cuisine and some of the dining establishments offers an exclusive dinner with geisha and maiko performances. (MAP: http://bit.ly/32I0h0G)
More info ▶ Gion: Traditional Geisha District in Kyoto
If you are interested in a exclusive dining experience with the fine Kyoto cuisine and an interaction with geisha and maiko while travelling in Kyoto, please check out this popular night activity, "Enchanted Time With Maiko Geisha in Kyoto". You can watch maiko and geisha performing in front of you and interact with them while being indulged with amazing full course dinner!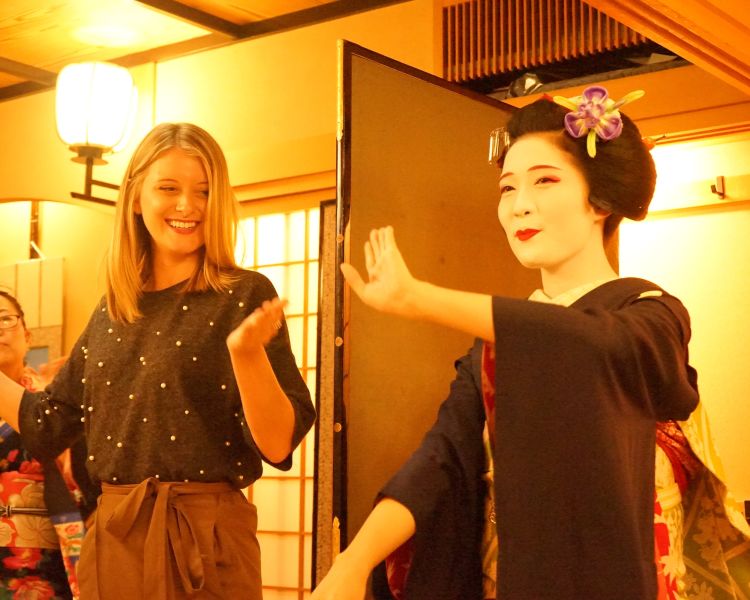 Click the link below for more details!
While the pricing at many restaurants and bars within the district is set pretty high, you can still find inexpensive local eateries in the backstreets of Gion. To find hidden restaurants and Izakaya bars in Gion area, you may need a little help of locals, it would be a great idea to join a local food tours.
"Kyoto Night Foodie Tour with a Local" by Magical Trip is one of the top choice among travellers in Kyoto. You can enjoy strolling down the beautiful streets of Gion and stop for drinks and various authentic Kyoto dishes. With a local guide, you can learn a lot of things about the culture and history of Kyoto!
Check the link below for more details about this popular food tour in Gion area!
3. Kiyamachi Street
Kiyamachi Street or Kiyamachi-dori (木屋町通り) is an atmospheric streets in Kyoto, running approx 2.8 km from north to south between Kiyamachi Nijo and Kiyamachi Shichijo on the east side of the Takase River. The cherry blossom lined sidewalk of the river is a popular spot during spring.
Kiyamachi Street is situated near Pontocho and Gion, two most popular nightlife districts in Kyoto, and lined with many bars and restaurants, but you will probably see here less tourists crowds and more locals hanging out.
From long-established Kyoto style restaurants and inns to French and Spanish bars, the street offers a wide range of dining options with a mix of traditional and modern. Visitors may also enjoy the view of the street with preserved wooden houses and dimmed lights. (MAP: http://bit.ly/2I82ngK)
4. Karasuma Bar Yokocho
Karasuma Bar Yokocho (烏丸バル横丁) is a new style of drinking spot open near Karasuma Oike Station in Kyoto in 2017. The yokocho alley has an unique concept of a fusion between Japanese and Spanish bar cultures, and offer visitors to enjoy many different dishes and drinks in one place.
Karasuma Bar Yokocho consists of up to 10 restaurants and bars from authentic Japanese style Izakaya bars to international cuisine dining, where guests can enjoy hopping one to another freely.
If you visit there between 17:00 to 19:00 on weekdays, there is a happy hour offering drinks with a big discount! Some of restaurants are also open for lunch, so try visit there early if you wish to enjoy delicious food with more calm and quiet atmosphere before workers hit the place after 5pm. (MAP: http://bit.ly/2PATGzG)
5. Nishiki Machi no Akari Shotengai
Nishiki Machi no Akari Shotengai (錦 街の灯り商店街) is an unique Izakaya bar located near Karasuma Station and the famous food market, Nishiki Market in Kyoto. It's a great place to enjoy many kinds of Japanese food in one place and enjoy the bustling Izakaya bar atmosphere.
The cozy dining is resembled as a nostalgic Izakaya alley, and 6 stores in different genres gather offering various menu including seafood, meat, tempura, gyoza and more with inexpensive price. For a quick booze, "Senbero Set" is a perfect option which comes with 2 drinks and 2 dishes and costs only 1,000 yen!! (MAP: http://bit.ly/3ab2xjk)
+ Sake Brewery
If you are into Japanese Sake, I'd also recommend you to visit Fushimi Sake District in Kyoto, one of the most famous Sake producing areas in Japan and home to several long-established Sake breweries.
A popular day-trip tour, "Kyoto Sake Brewery & Tasting Tour" by Magical Trip gives you an amazing opportunity to visit the Sake brewery in Fushimi district and actually taste many different kinds of locally brewed Sake. With an English speaking local guide, you can also learn the culture and history of Sake and explore this charming district.
While most of the tourists visit temples and shrines in Kyoto during the day, how about having an unique and off the beaten track experience by visiting the great Sake district in Kyoto!
Click the link below to find out more details about the tour!
+ Nishiki Market
If you are more like an early bird, you may enjoy a breakfast experience in the morning in Kyoto rather than hopping bars at night. And when it comes to authentic Kyoto food, Nishiki Market (錦市場) is the right place to visit.
One of the biggest food market in Kyoto, Nishiki Market is a 390m long shopping arcade lined by over 100 shops and eateries, offering a wide variety of food-related products including street snacks, fresh seafood, seasonal food, Kyoto specialties, kitchenware, souvenirs, etc.
The market is very local oriented, and it may be hard to communicate with sellers or choose what to eat, so I'd suggest you to visit there with a local guide to maximise your Nishiki Market experience. "Nishiki Market Breakfast Walking Food Tour in Kyoto" is one of the most popular food tours in Kyoto, allows you to explore the Kitchen of Kyoto, and try several authentic Kyoto specialties with a local expert!
For more details about the tour, please check the link below and make sure to book the tour on your wished date while it's available!
Did you enjoy the list?? I hope this will help you to maximise your trip in Kyoto and enjoy the nightlife!
For more information about things to do in Kyoto, please check out these articles, too!
▽Related Articles▽
▼Editor's Picks▼
---