Kamogawa River: 5 Nice Viewing Restaurants and Cafes on Kamogawa River
Enjoy dining along Kamogawa River in Kyoto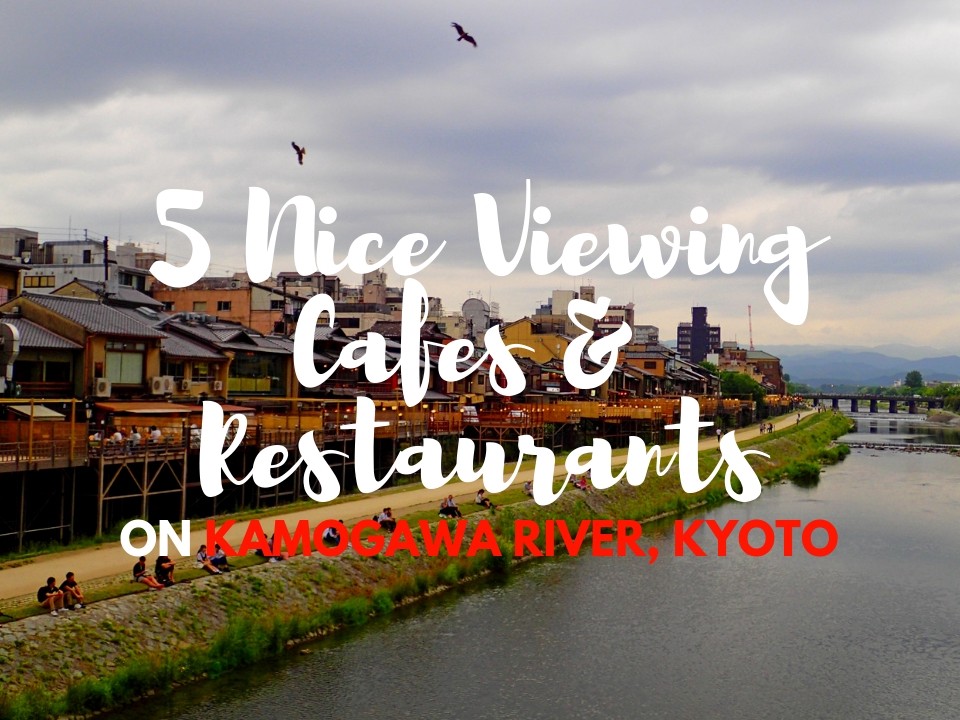 Kamogawa River is a 23km long river run across Kyoto City from south to north. The river has been an icon of the city and one of the most visited tourist sites. There are two famous alleys by the west side of the river called Pontocho Alley (先斗町通り) and Kiyamachi Alley (木屋町通り). Both own numbers of cafes and restaurants offering wonderful views of the river. The view gets even better in spring when cherry blossoms along the river flourish fully.
Enjoy dining at restaurants or take a rest at cafes on Kamogawa River with seasonal views.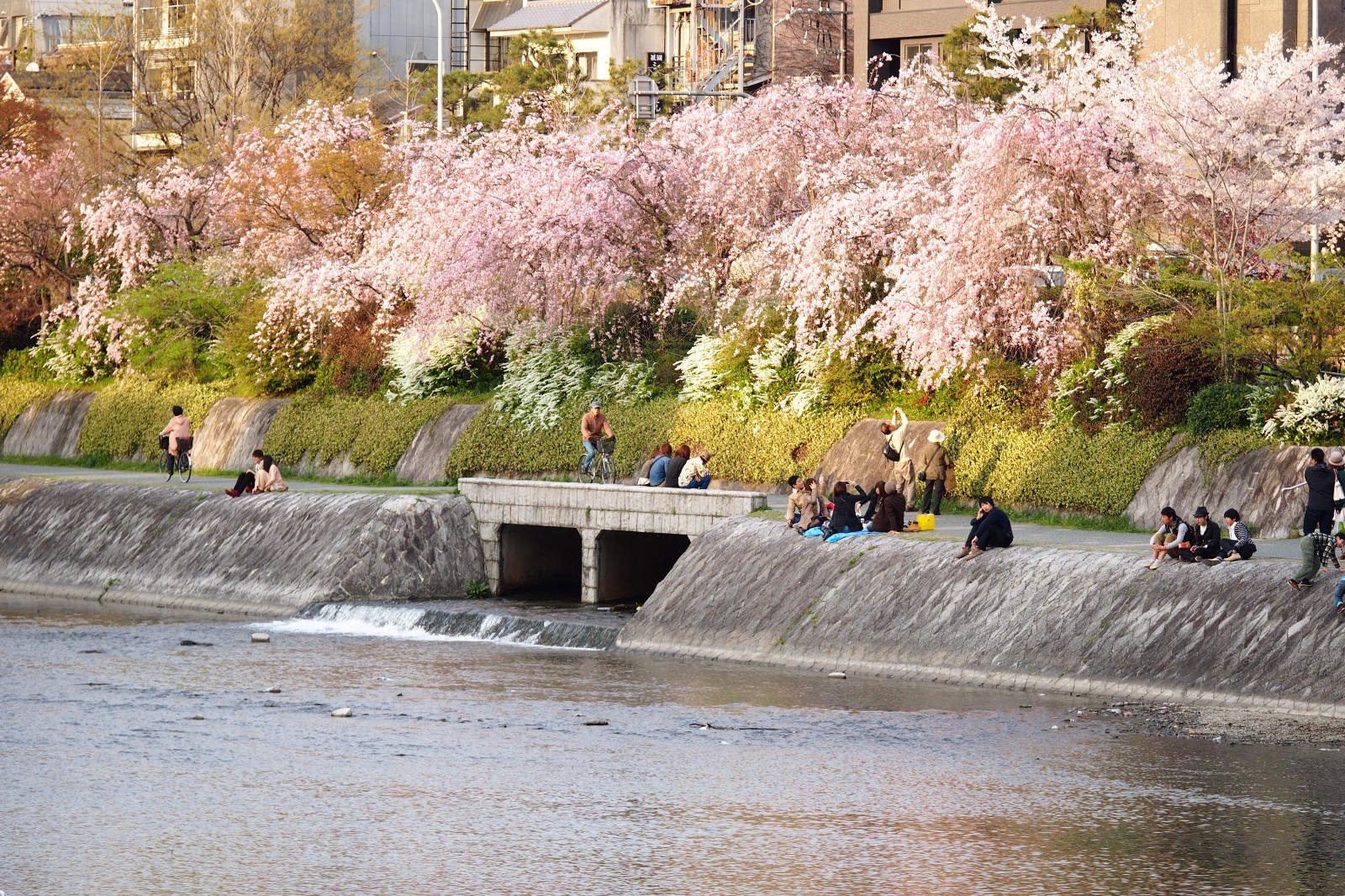 Summer is also a great time to visit there, as these cafes&restaurants extend their terraces towards the river and open special wooden terraces called Noryoyuka (納涼床)/Kawayuka (川床) from May to September. Dining at one of special open-air terraces is a highly recommended activity
in Kyoto, during summer. That offers the chance to take a beautiful photo.
From traditional Japanese to Italian, both alleys offer various kinds of restaurants serving quality dishes. So today, I'd like to introduce 5 most recommended restaurants by Kamogawa River with outstanding food and wonderful views.
1. Pontocho Misogigawa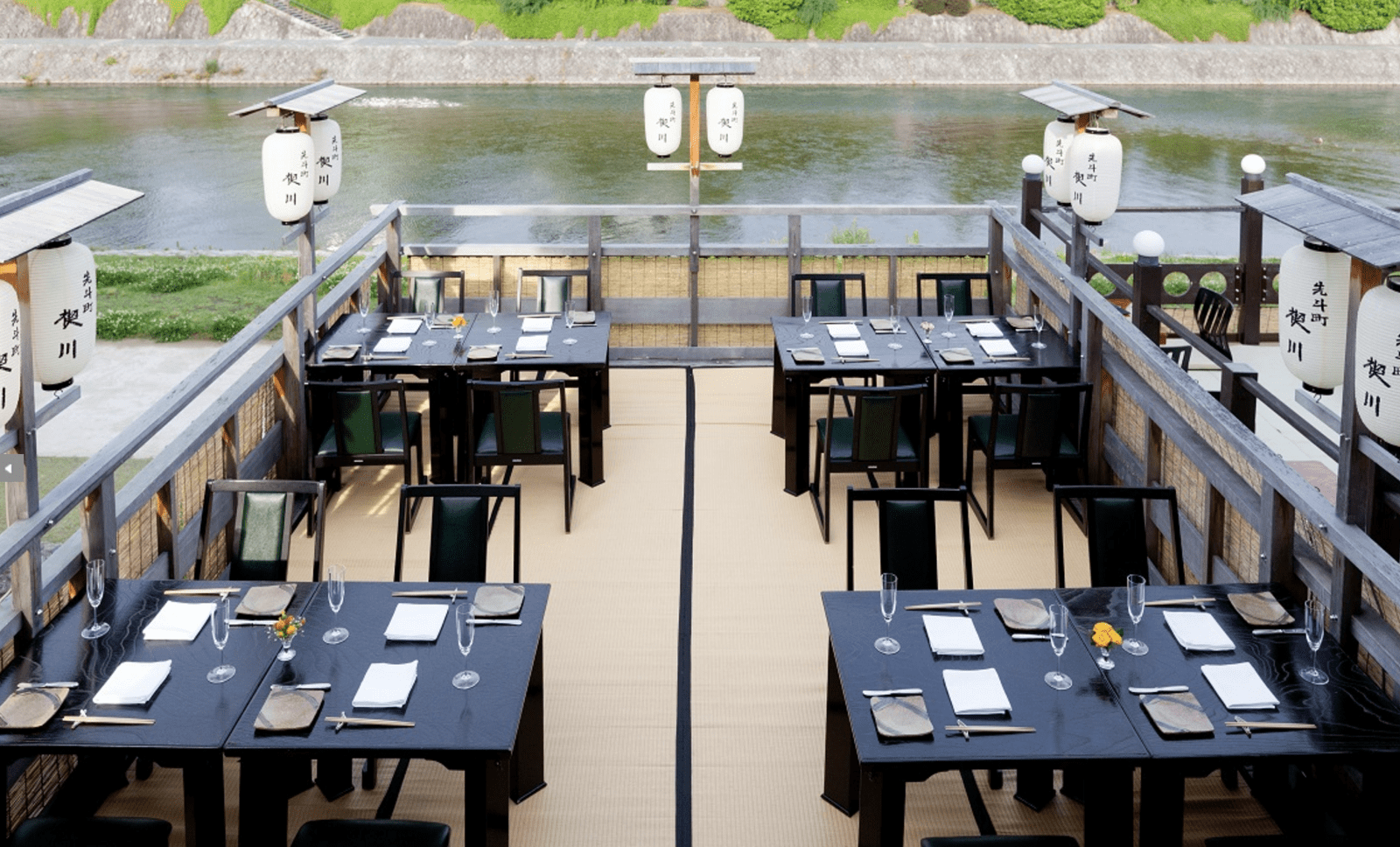 Pontocho Misogigawa (先斗町 禊川) is a French restaurant, serving classic Belle Epoque style French dishes since opening in 1981. They offer unique way to enjoy authentic French cuisine with traditional Kyoto style dining and Kyoto ceramics.
Hour: 11:30–15:00(Lunch)/17:30–22:30(Dinner)
Close: Sunday&Wednesday
Budget: JPY7,000-(Lunch)/JPY15,000-(Dinner)
Website: http://www.misogui.jp/original11.html
2. Mimasuya Honten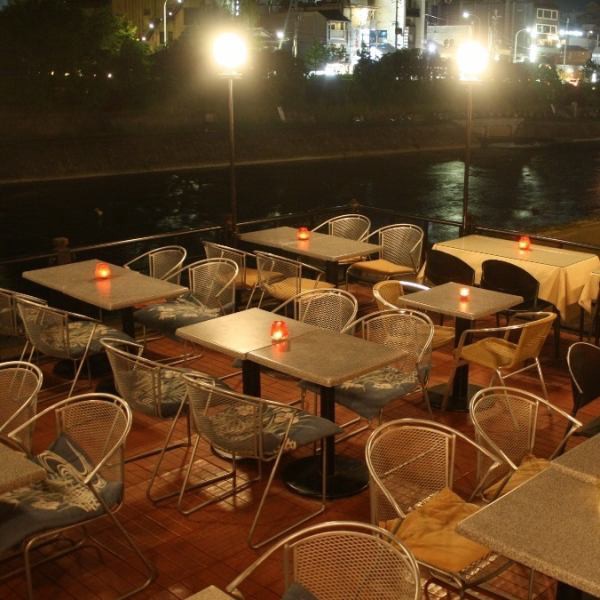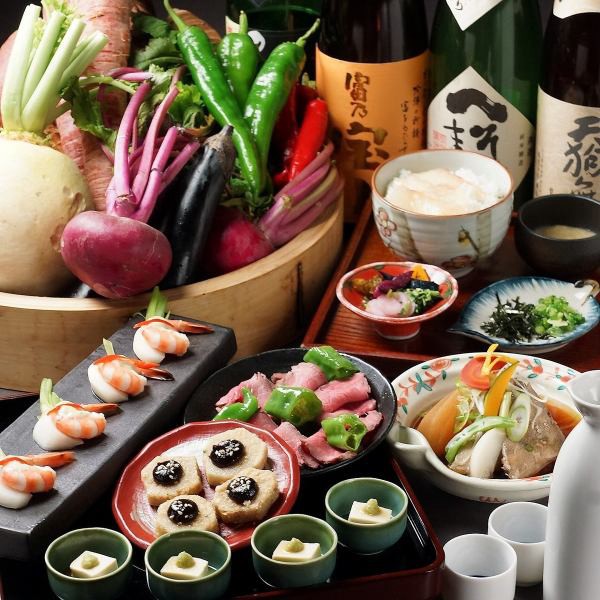 Mimasuya Honten (みます屋 本店) is a fine dining restaurant, offering great fusion dishes with French and Kyoto cuisine. Only selected seasonal ingredients are picked everyday to be served to guests. Enjoy dining at the 120 year-old historical building, yet in very modern and stylish atmosphere.
Hour: 17:00-23:30(Weekday)/12:00-14:00, 17:00-23:30(Weekend&Holiday)
Budget: JPY3,000-(Lunch)/JPY6,000-(Dinner)
Website: https://mimasuya.owst.jp/en/
3. Amore Kiyamachi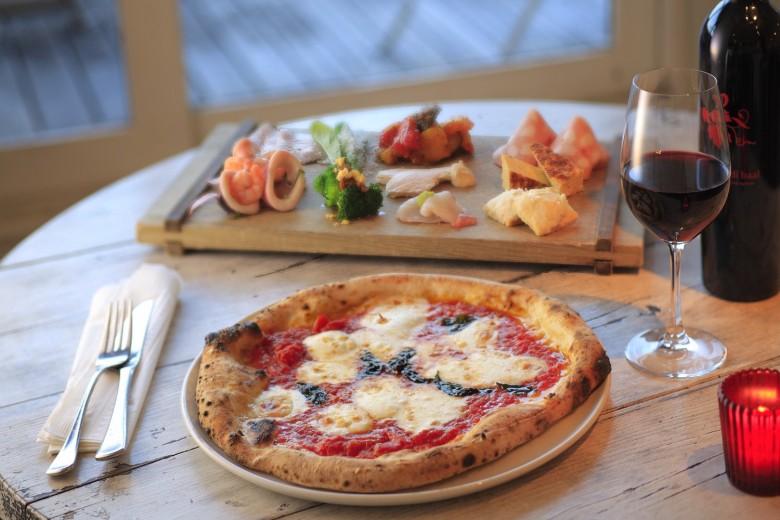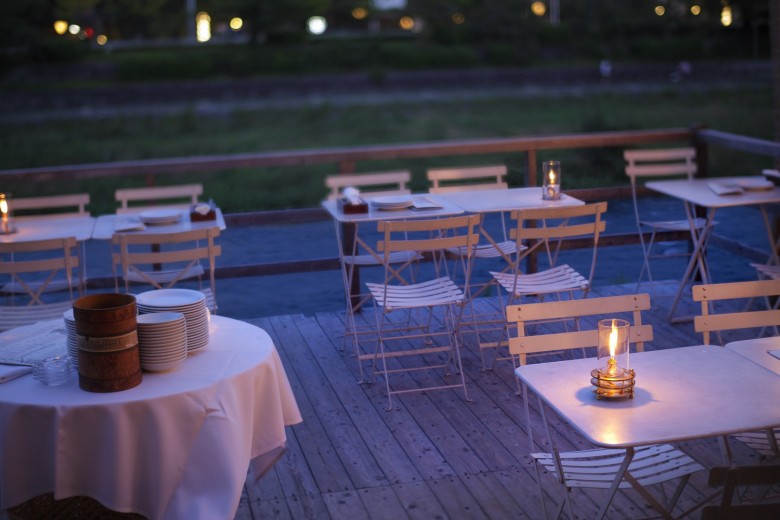 At Amore Kiyamachi (アモーレ木屋町), enjoy authentic southern Italian cuisine such as hearth-baked pizza with a wide selection of delicious wine. The restaurant is renovated from a traditional Kyoto house, and there are 4 floors with different themes with Japanese and European essences. Open through a day from lunch to dinner, so you can eat anytime there at your convenience.
Hour: 11:30-23:00
Budget: JPY1,500-(Lunch)/JPY5,000-(Dinner)
Website: http://www.kiwa-group.co.jp/restaurant/282/
4. Starbucks Sanjo Ohashi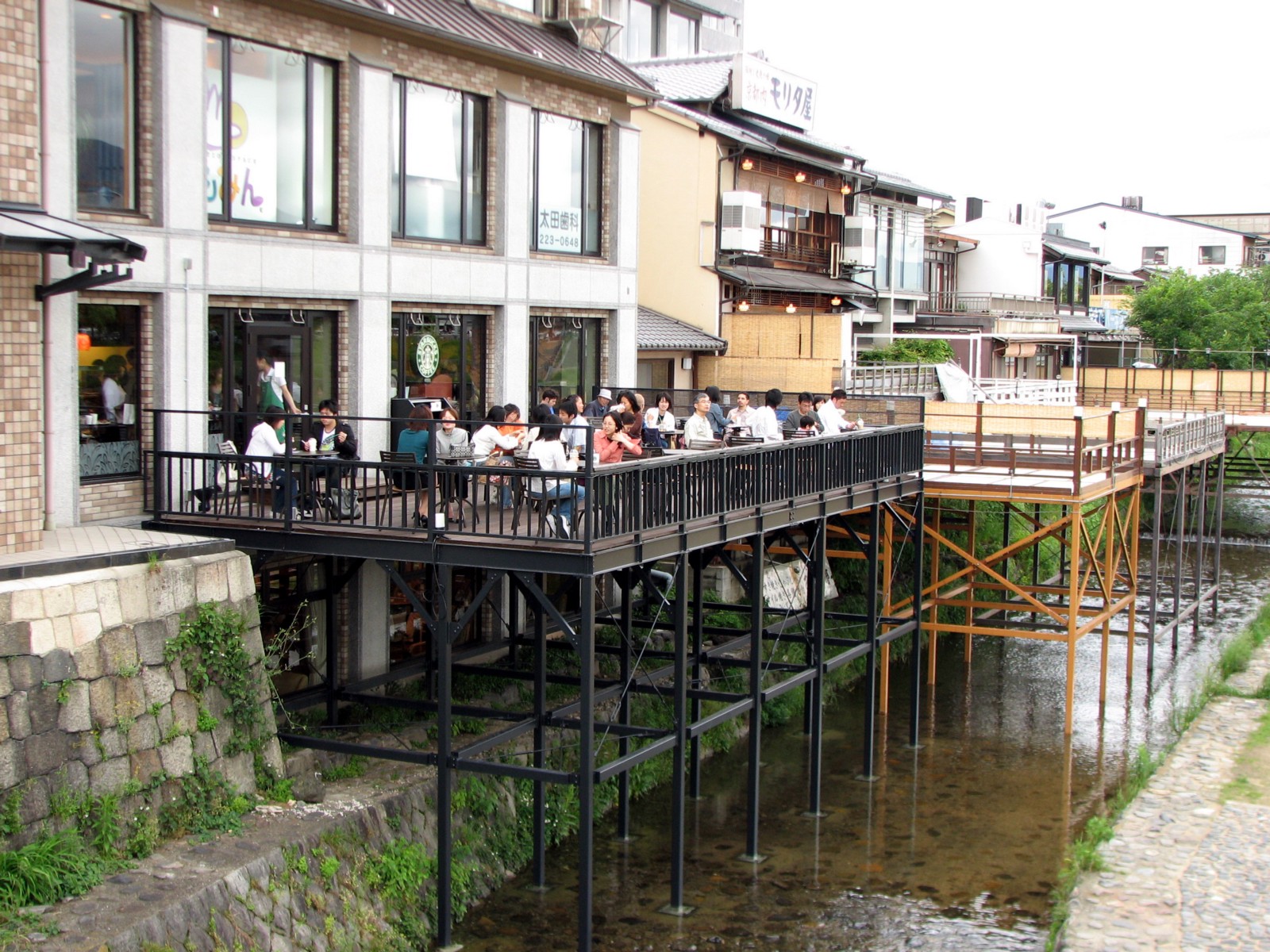 One of the most unique Starbucks stores, Starbucks Sanjo Ohashi (スターバックス 三条大橋) is located near Sanjo Station. The store has a regular menu, same as other Starbucks, but offers much more special view of Kamogawa river and Sanjo Ohashi bridge nearby. The only cafe which has Kawayuka terrace.
Hour: 8:00-23:00
Budget: JPY1,000
Website: http://www.starbucks.co.jp/en/search/detail.php?id=68&search_condition=Kyoto&pref_code=26
5. Salon de Royal Kyoto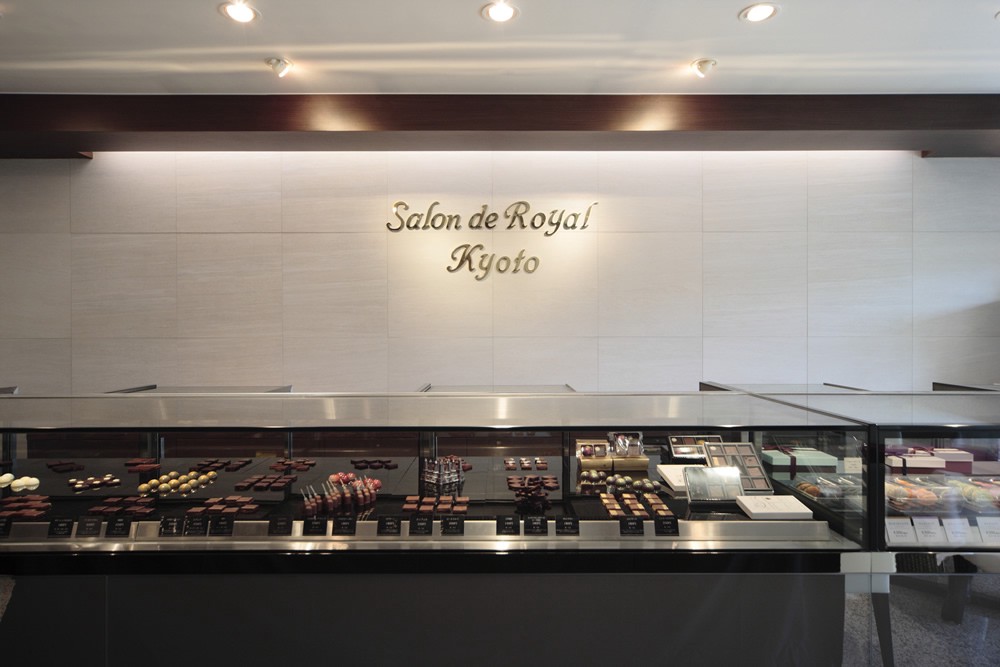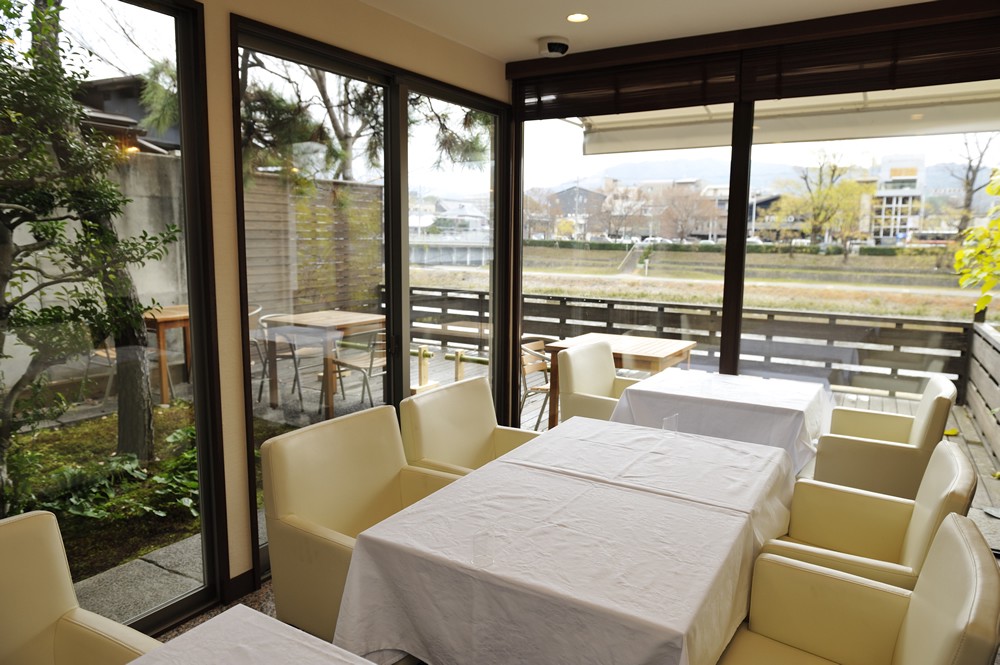 Opened in 1935, Salon de Royal Kyoto (サロンドロワイヤル京都) is a long-establish chocolatier offering quality, french desserts. As well as chocolates, a variety of sweet desserts such as colorful macaroon and seasonal cakes are displayed gorgeously at the shop just like jewelries.
Hour: 11:00-20:00/11:00-21:00(May-Sep)
Budget: JPY2,000
Website: http://www.s-royal.com/kyoto/
MAP:
Apart from temples and shrines, Kamogawa River and around is definitely the area worth exploring in Kyoto. Enjoy delicious food with great views of the history and nature collaborated!
For more info about Kyoto, you might also like these articles!!
▽Related Articles▽
▼Editor's Picks▼
---