10 Best Nightlife Areas in Japan
The Night is Young: Hotspots to Party From Dusk Till Dawn in Japan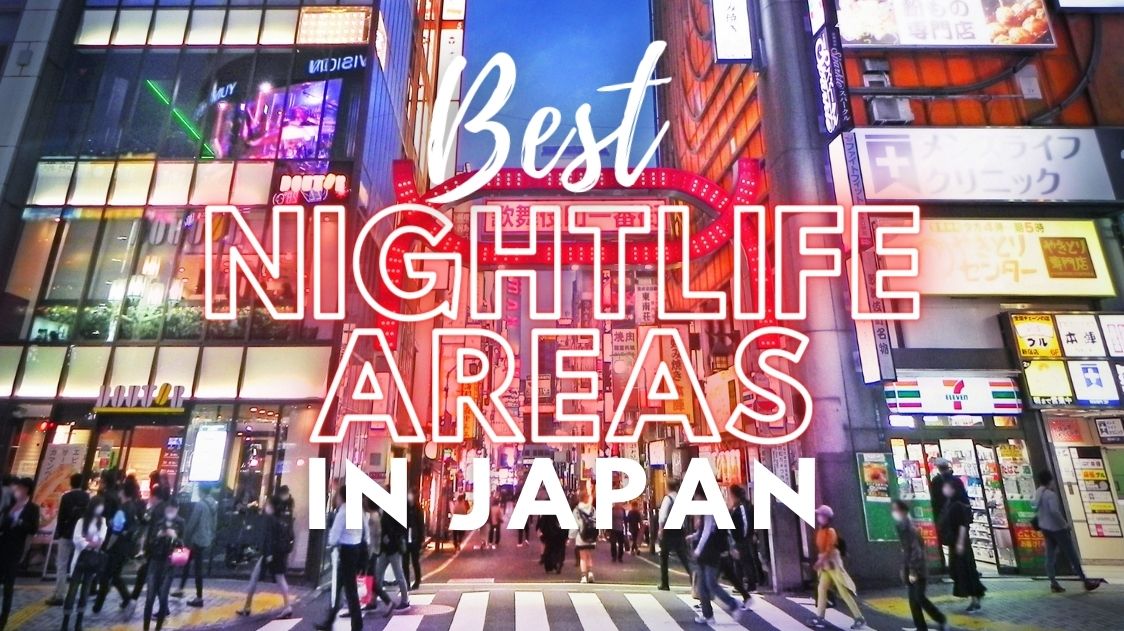 When the sun dips below the horizon in Japan, a different world awakens. Punctuated by the clinking of beer glasses in busy izakayas and the low hum of conversation in intimate sake bars, Japan's nightlife scene offers a unique fusion of tradition and modernity. Tokyo's night is a pulsating dance of neon lights and moving bodies, while Kyoto prefers a quieter song, with soft lights whispering from intimate bars down hidden lanes. The night here is not a time to rest—it's an invitation to discover a different side of Japan. A labyrinth of experiences waits to be explored – so come with us and dive into the best nightlife areas in Japan!
---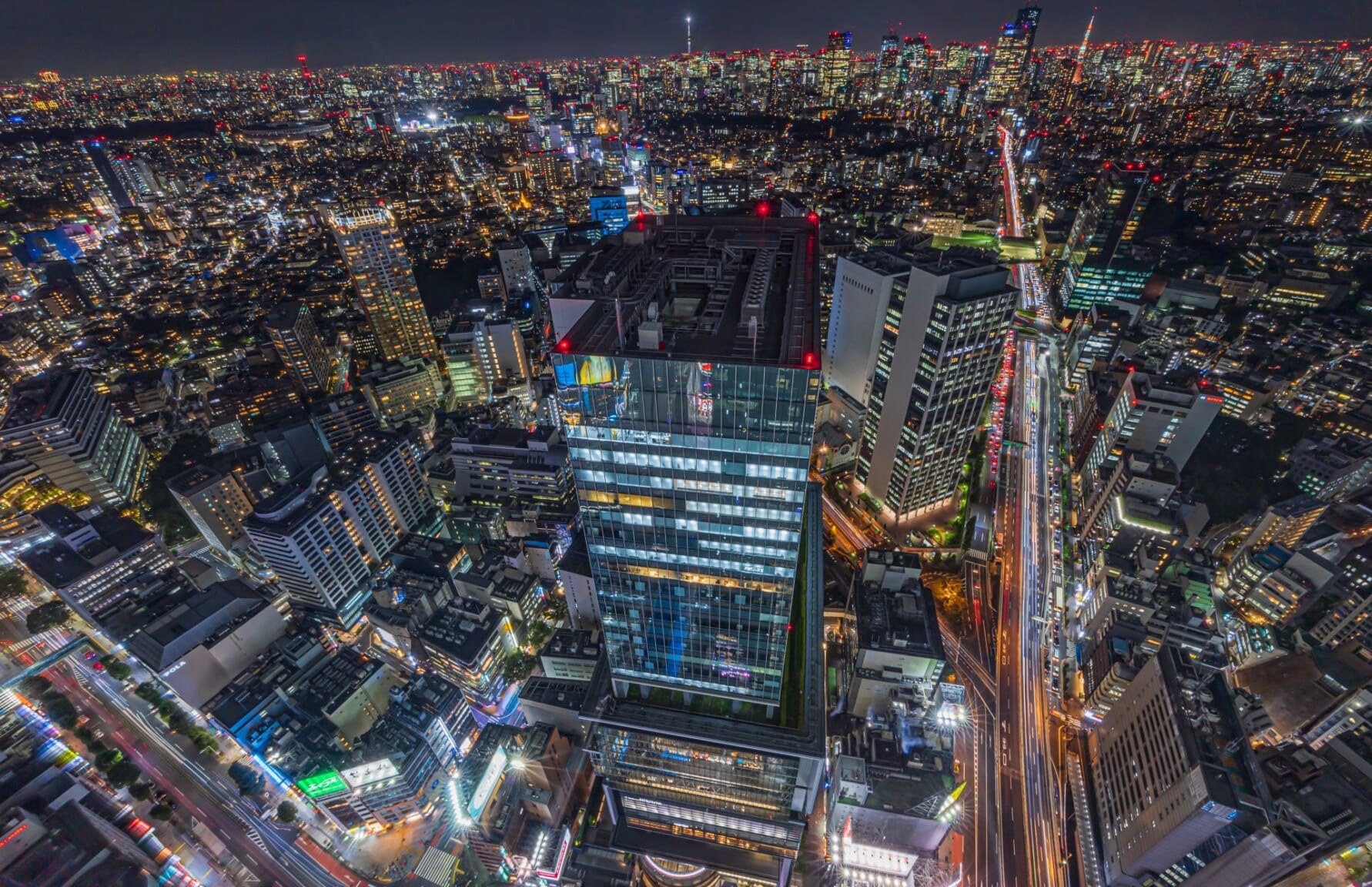 When people mention Shibuya (渋谷) it's impossible not to picture a torrent of humanity coursing across Shibuya's worldwide famous scramble crossing. As dusk descends, Shibuya pirouettes into a whirlwind of nocturnal mischief. Here, karaoke bars nestle against highbrow wine parlors, while places like Nonbei Yokocho (のんべい横丁), or Drunkard's Alley (sounds inviting, doesn't it?), bristles with quaint pint-sized bars and eateries. Love Hotel Hill, meanwhile, flaunts a selection of uniquely themed hotels to… well, let your imagination run wild. And if dance music's your thing, clubs like Womb and Sound Museum Vision will leave you starry-eyed.
▽ More ideas about activities in Shibuya! ▽
▶ Book a Shibuya Bar Hopping Tour Here!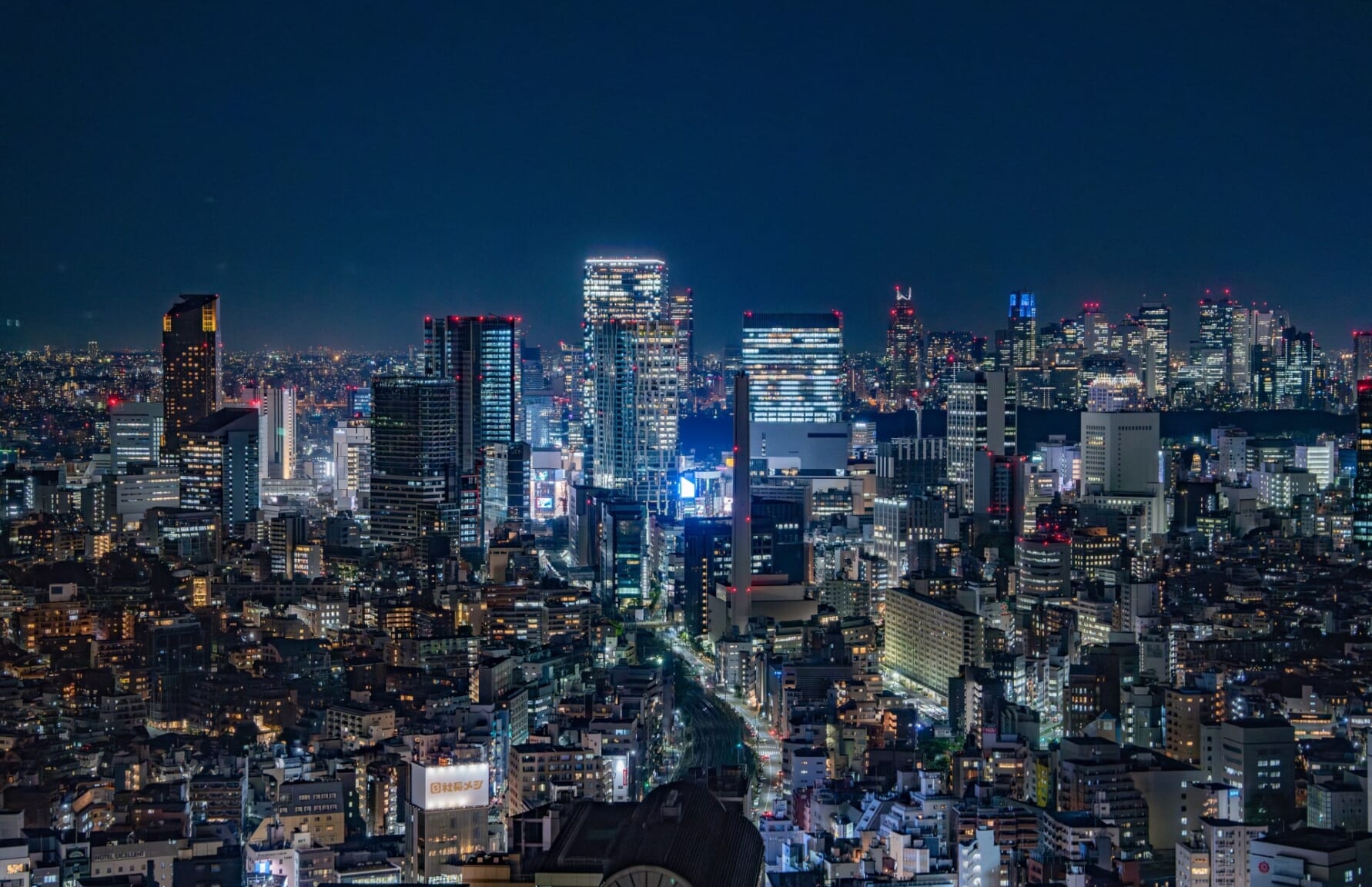 Roppongi (六本木), the great melting pot of Tokyo's expat night owls. Brimming with English-friendly establishments at every corner, even the most directionally challenged tourist could feel (almost) right at home. Amidst the city's nocturnal tunes, Roppongi Hills and Tokyo Midtown stand as monoliths of modernity, boasting a selection of upscale watering holes and restaurants, ready to satiate most palates and needs, both demanding and undiscerning. Additionally, this area is also home to many popular Latin dance clubs if moving your hips and spinning to salsa tunes is right up your alley. And for those who prefer their nights throbbing with energy, clubs like V2 Tokyo and 1Oak are just the ticket.
▽ More information about what to do around Roppongi! ▽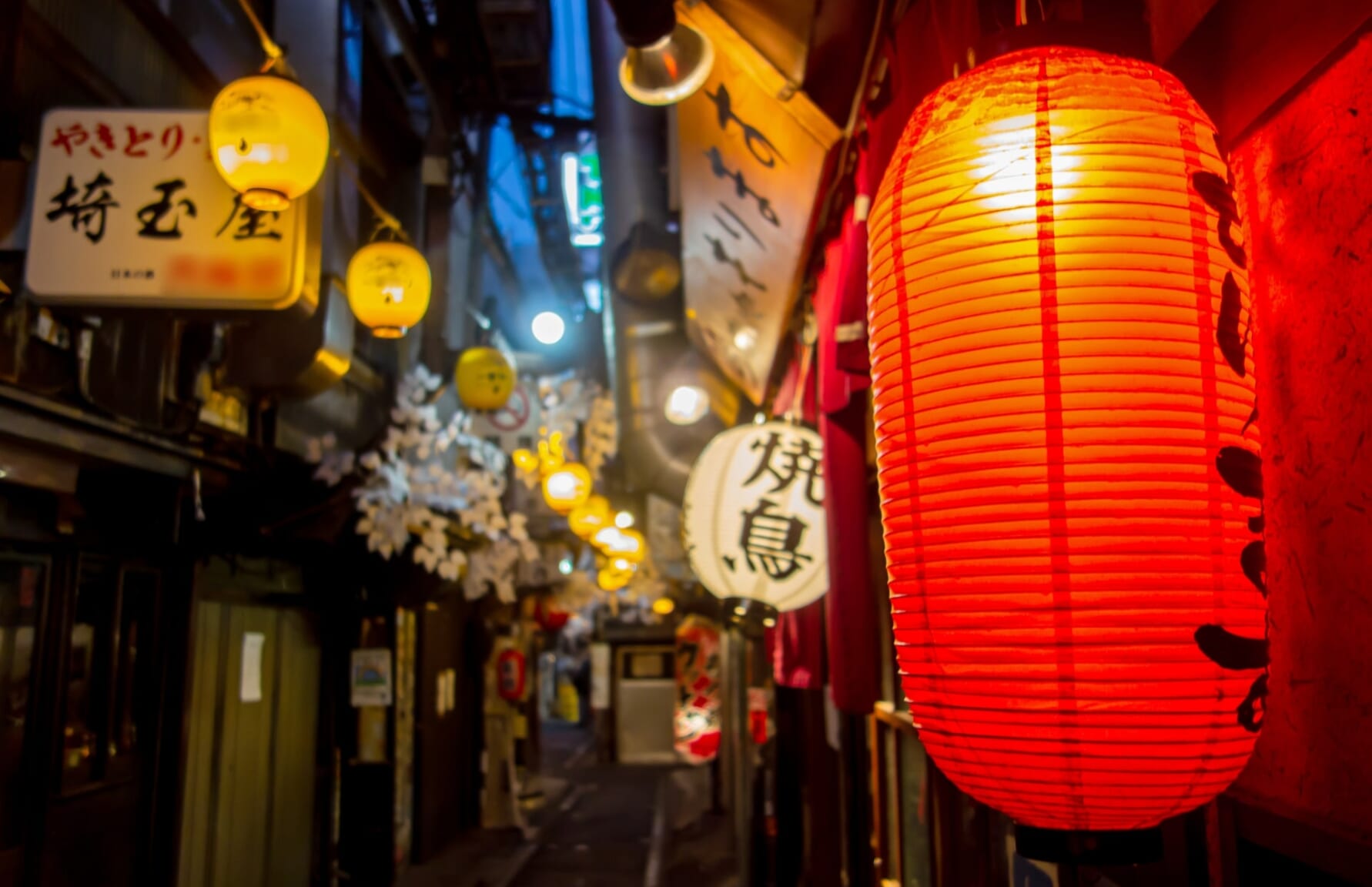 When twilight paints the town in hues of fading gold, Shinjuku (新宿) springs into a different kind of beast. At its heart lies the Golden Gai (ゴールデン街), a spiderweb of narrow alleys brimming with tiny bars, each echoing with laughter and clinking glasses from the multitude of petite bars tucked away within this hive of personality and spirit. Over in Shinjuku Ni-chōme (新宿二丁目), the rainbow flag flies high, as the neighborhood boasts the world's densest cluster of LGBTQ+ friendly joints. And then, for a taste of the authentic, Omoide Yokocho (思い出横丁), a fun and charming culinary alley where the smell of grilling yakitori ensures your taste buds aren't left out of the fun.
▽ More information about Golden Gai and Omoide Yokocho! ▽
▶ Book a Shinjuku nightlife tour here!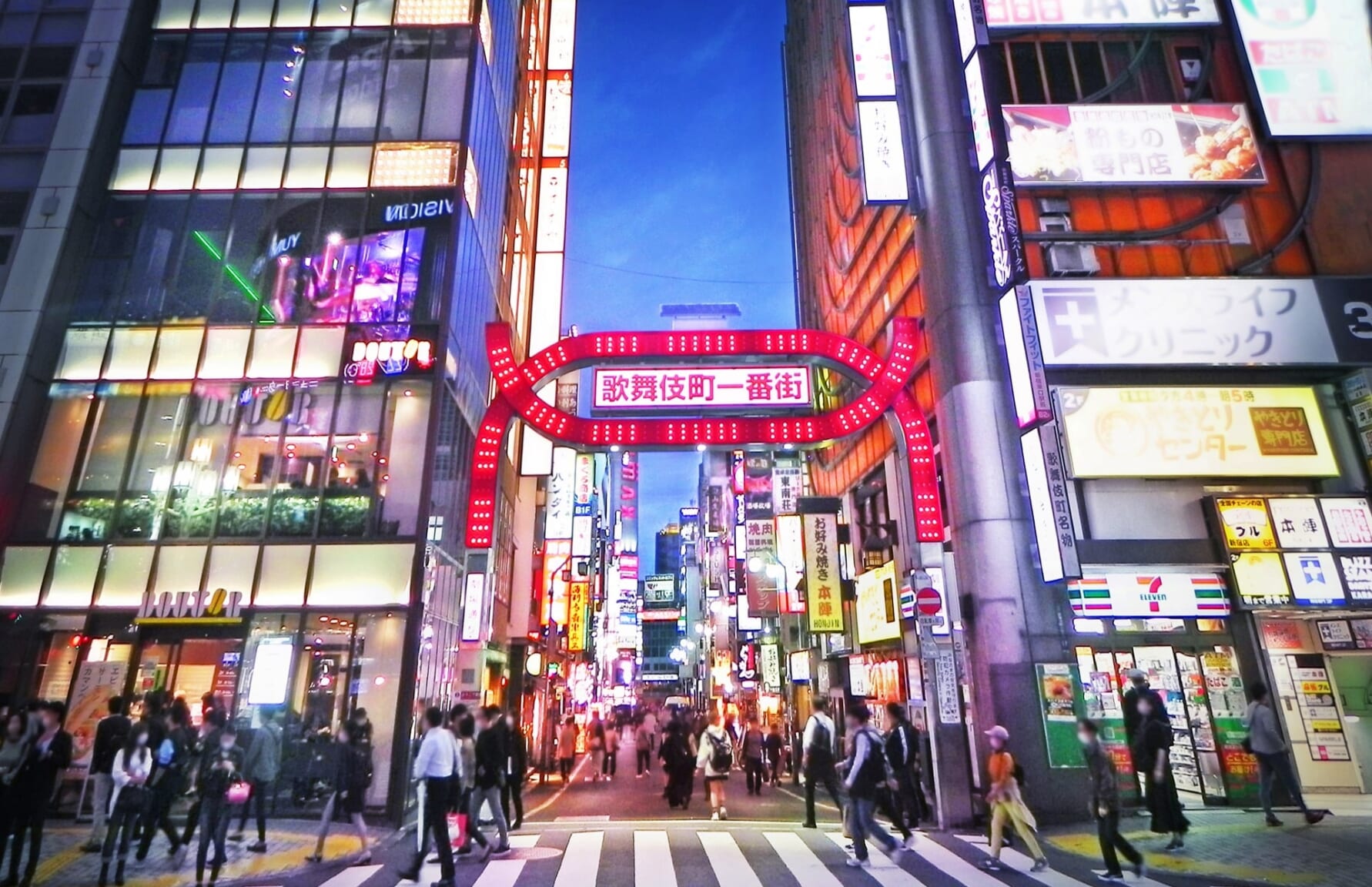 Kabukicho (歌舞伎町) might be Tokyo's largest red-light district, but it's no one-trick pony. Kabukicho does in fact belong to Shinjuku, but the latter covers quite a wide area, so the specific district of Kabukicho requires a section of its own!
Nestled within its bustling streets are cafes, bars, and restaurants that have thrown the concept of 'normal' out the window. For an evening that rides the line between surreal and spectacular, the Robot Restaurant beckons.
Here, dinner is served with a side of giant robots and a generous helping of neon spectacle. Stroll down the Godzilla Road for a face-off with the King of Monsters, flip a coin with lady luck in some of its R-rated establishments, or risk your wallet's wellbeing at some of its numerous girls/boys bars (where you pay hefty sums for both your drinks and the drinks of the bar's girls/boys in exchange for their lively company).
Despite its well-earned shady reputation, for the most part, you will be safe around here as long as you avoid drunken brawls with certain flashy clothed, and tattooed individuals or stay out of bars with pushy reps asking you to come in, as that's usually the way some sad stories of Kabukicho scams start. Don't say we didn't warn you!
▽ More information about Kabukicho! ▽
▶︎ Get 11% OFF Shinjuku Robot Restaurant Ticket here!
5. Namba (Osaka)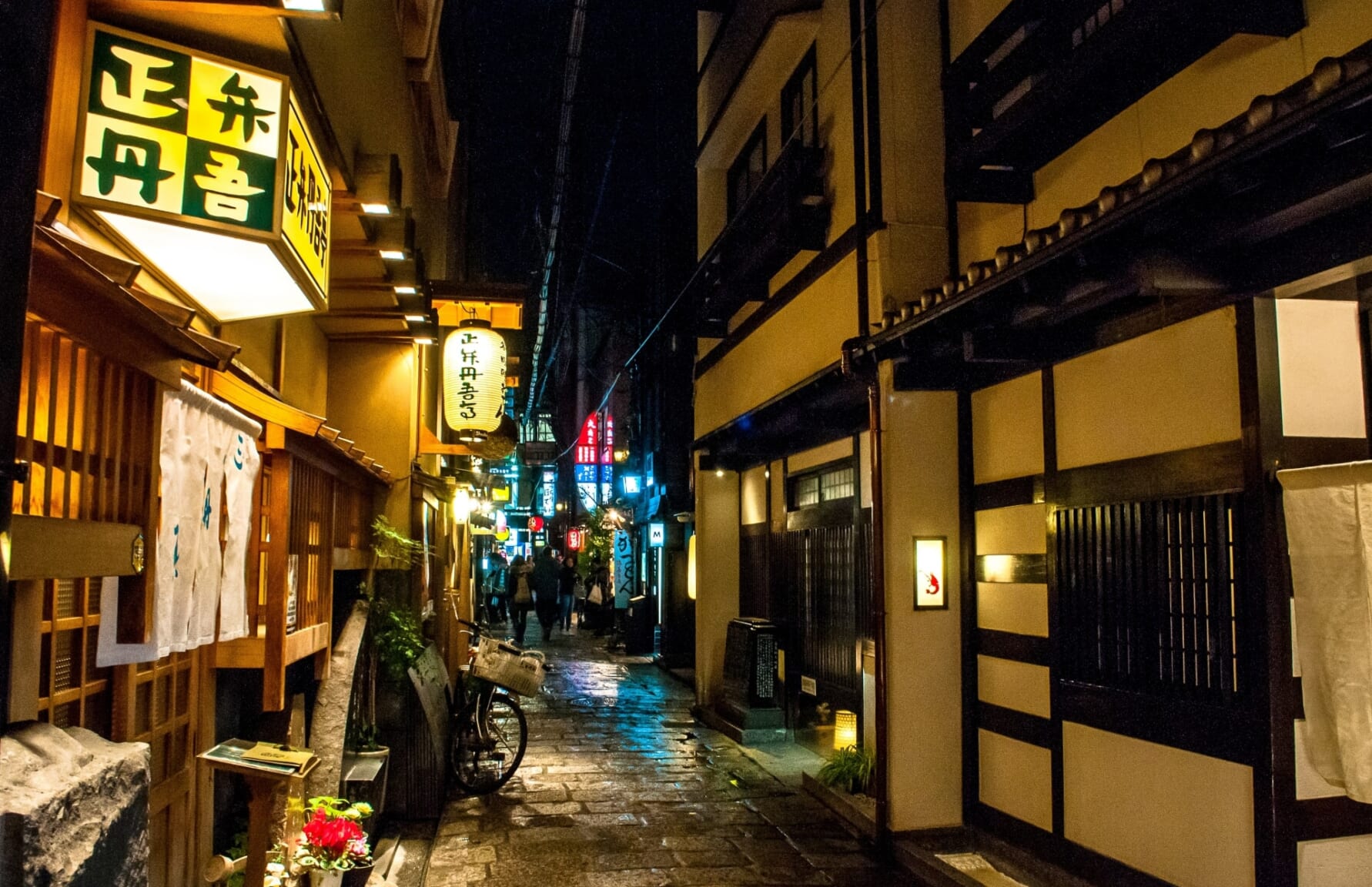 Namba (難波) wears many hats: it's the beating heart of Osaka, a shopping enthusiast's paradise, and an absolute nirvana for food lovers. When night falls, it takes you by the hand and leads you on a waltz through streets that come alive with the hum of activity and the glow of neon signs. Tucked away from the main streets, Hozenji Yokocho (法善寺横丁) offers a leap back in time with its cobblestone pathways and rustic watering holes. If you still have some room left for exploration, the Sennichimae Doguyasuji Shopping Street stands ready with a veritable feast of food and kitchen essentials. Who knows, you might just find that perfect tempura pan you've been searching for!
▽ More information about what to do in Osaka at night! ▽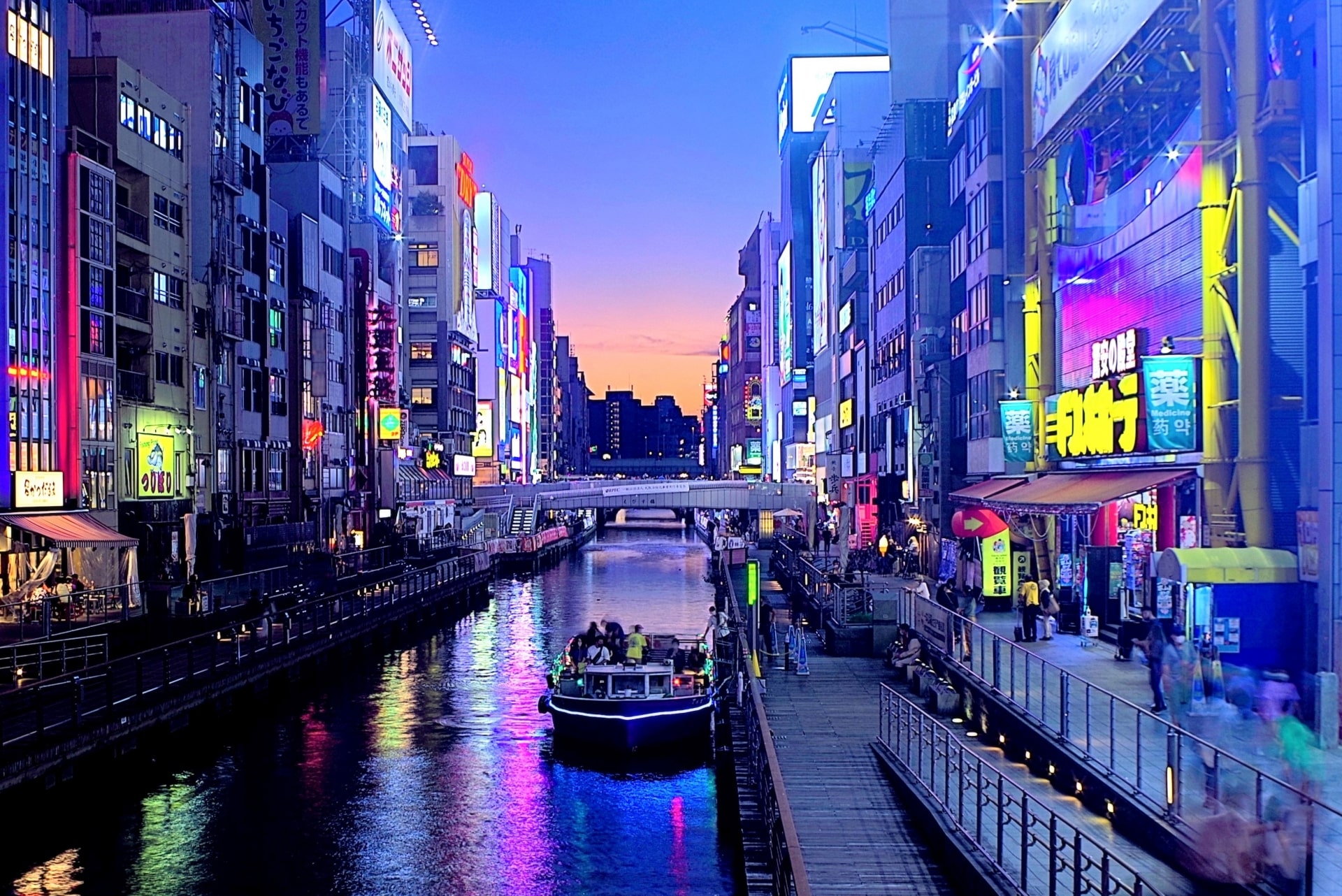 Dotonbori (道頓堀) is actually located within Namba, but just like Shinjuku and Kabukicho, we would be doing a disservice if we didn't shine a spotlight just for Dotonbori!
Imagine if Willy Wonka decided to go Japanese and swap candy for scrumptious street food, neon-lit wonders, and scenic promenades. That's more or less Dotonbori in a nutshell! It's a veritable playground for the senses, its appetite arguably larger than its famed Glico Man sign. Here, a smorgasbord of Osaka's finest dishes is always within arm's reach, from piping hot takoyaki to savory okonomiyaki. As the day concludes, there's nothing quite as soothing as a romantic nighttime cruise down the Dotonbori canal, the city's bright lights reflecting off the water as the cool breeze whispers stories of the city.
▽ More ideas about what to do around Dotonbori! ▽
▶ Book a food and nightlife tour in Osaka here!
7. Pontocho (Kyoto)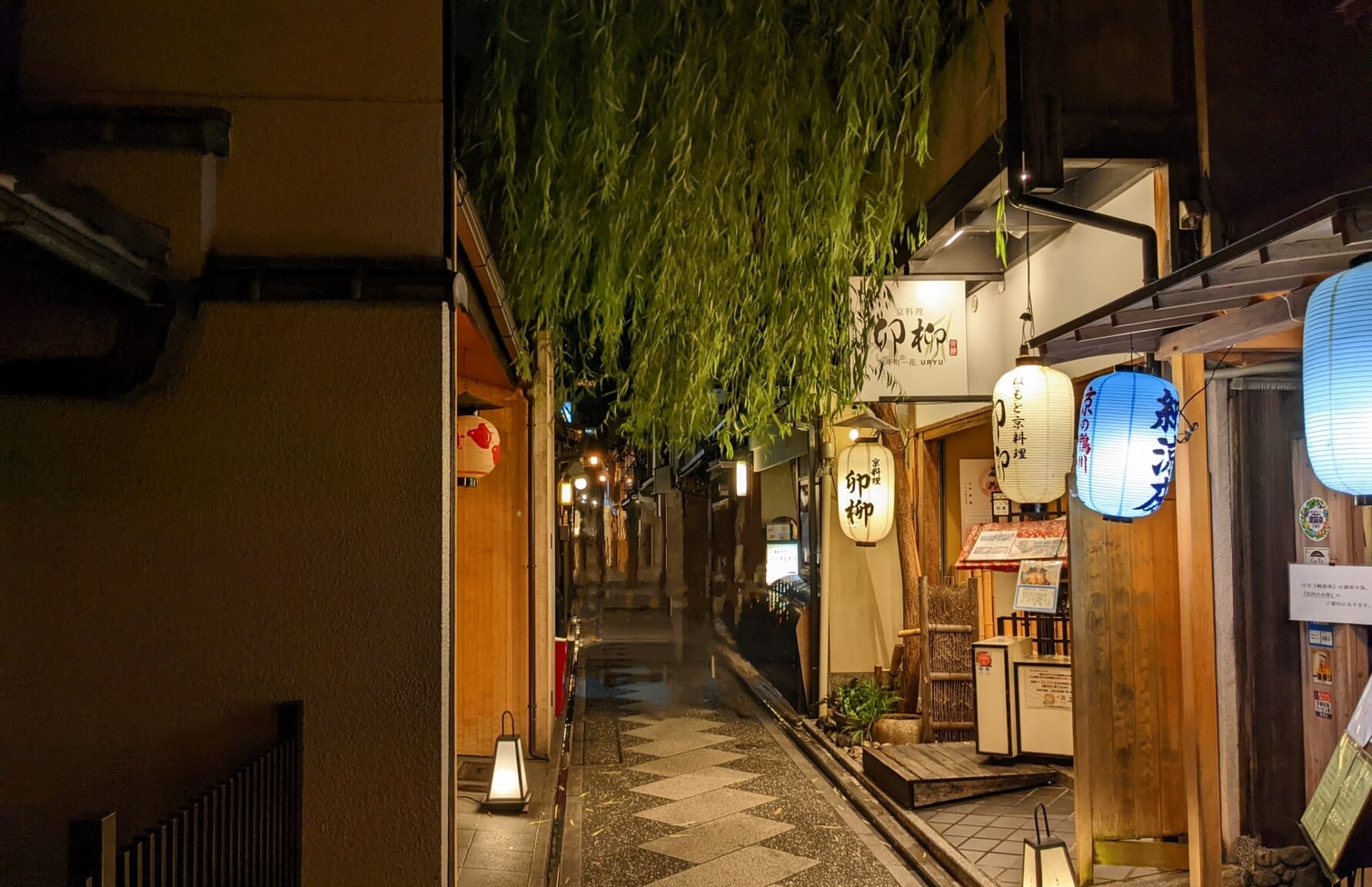 Pontocho (先斗町) is a narrow alley running from Shijo-dori to Sanjo-dori, one block west of the Kamogawa River. This area is one of Kyoto's most atmospheric dining areas. It's a delightful place to dine, with many restaurants offering riverside dining on the Kamo River. The district comes to life when the paper lanterns are lit at dusk, and patrons start to fill the machiya-style houses that are now restaurants and bars. The types of establishments vary from inexpensive yakitori to exclusive establishments requiring an introduction. Traditional performances are held at the Kamogawa Odori Hall in Pontocho from May, where maiko (apprentice geisha) and geiko (geisha) entertain. Pontocho's picturesque, narrow lanes give off a very traditional old Kyoto feel, which becomes especially magical at night. It's truly an iconic place to experience Kyoto's nightlife.
▽ More information about Kyoto nightlife fun! ▽
8. Nagarekawa (Hiroshima)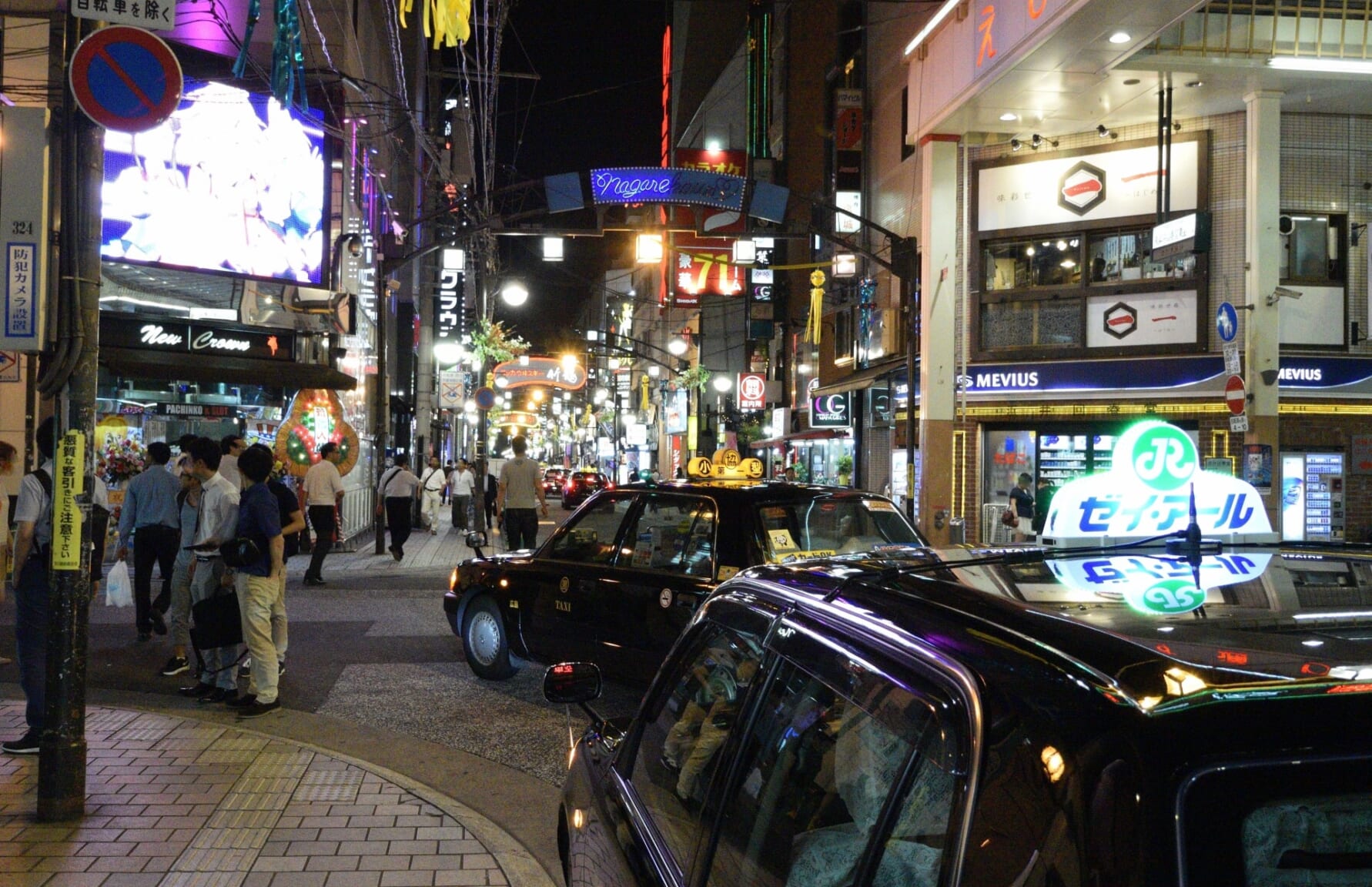 If you ever wondered where the party is at in Hiroshima, follow the sound of clinking glasses and the wafting aroma of grilled food to Nagarekawa (流川). This neon-lit grid of streets plays host to an army of bars, clubs, and restaurants, all eager to show you a good time. Stumble into a hole-in-the-wall izakaya, or say "cheers" to an expertly mixed cocktail in a swanky bar. For a taste of the street-side soul of Hiroshima, Yatai-mura beckons with its cluster of food stalls. Here, every bite of okonomiyaki and skewer of grilled seafood is a love letter to the city's vibrant culinary culture.
▽ Need extra ideas for activities in Hiroshima? ▽
9. Susukino (Sapporo)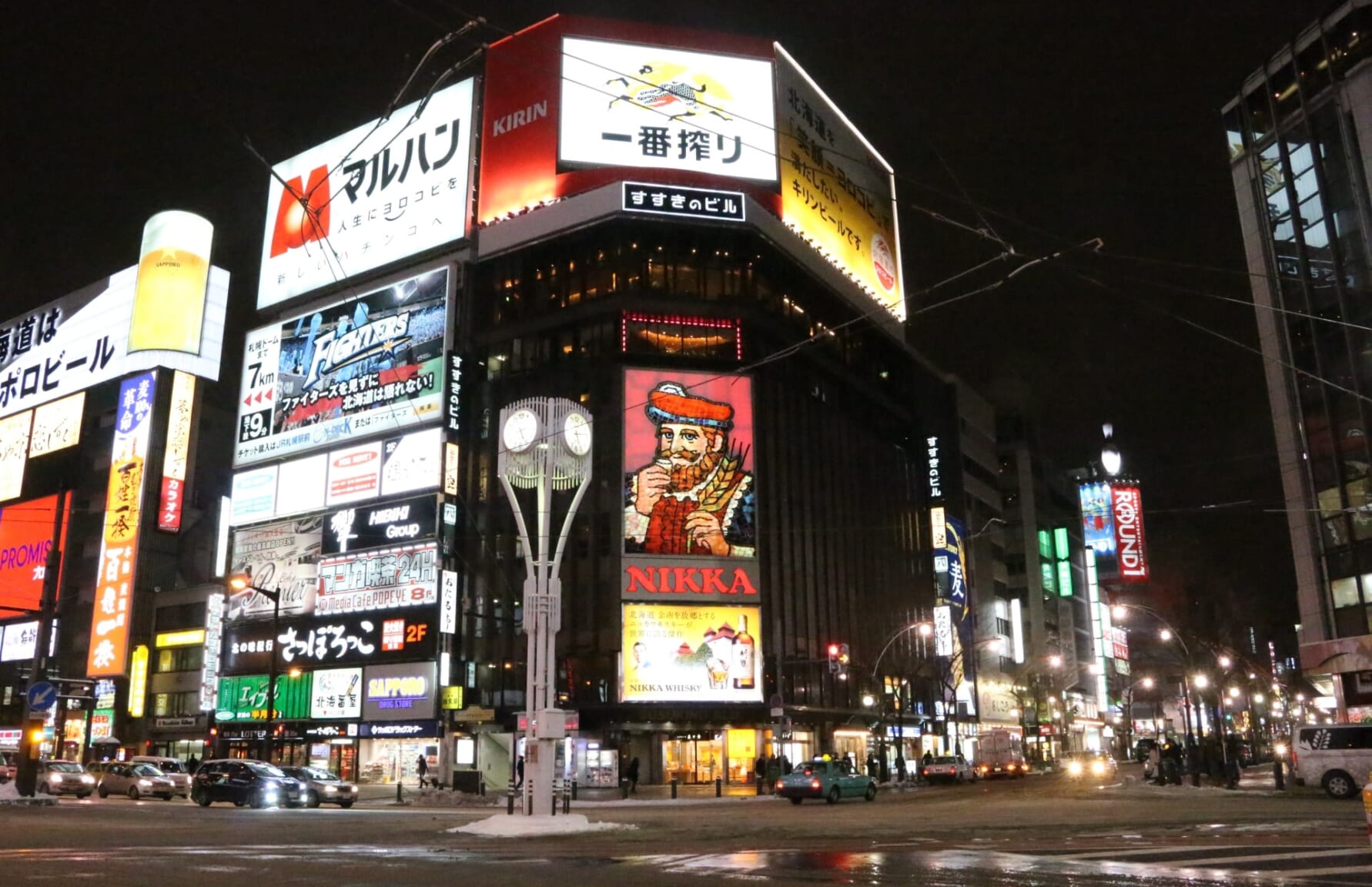 Think of Susukino (すすきの) as Sapporo's answer to Tokyo's Kabukicho. This entertainment district lights up the northern sky, buzzing with the frenetic energy of pachinko parlors, heartfelt karaoke bar serenades, and nightclubs' flashing lights. A wander down Ramen Yokocho—a.k.a. Ramen Alley—is akin to a rite of passage, where steaming bowls of Sapporo's famed miso ramen fight for your attention. Come winter, Susukino trades its neon canvas for a glistening landscape of ice sculptures and snow lanterns, playing host to the Sapporo Snow Festival. Even amidst the chill, the warmth of Sapporo's hospitality prevails, transforming this bustling district into a welcoming winter wonderland, transforming into a dazzling park of ice sculptures and snow lanterns.
▽ Don't miss our Sapporo guide here! ▽
10. Tenjin (Fukuoka)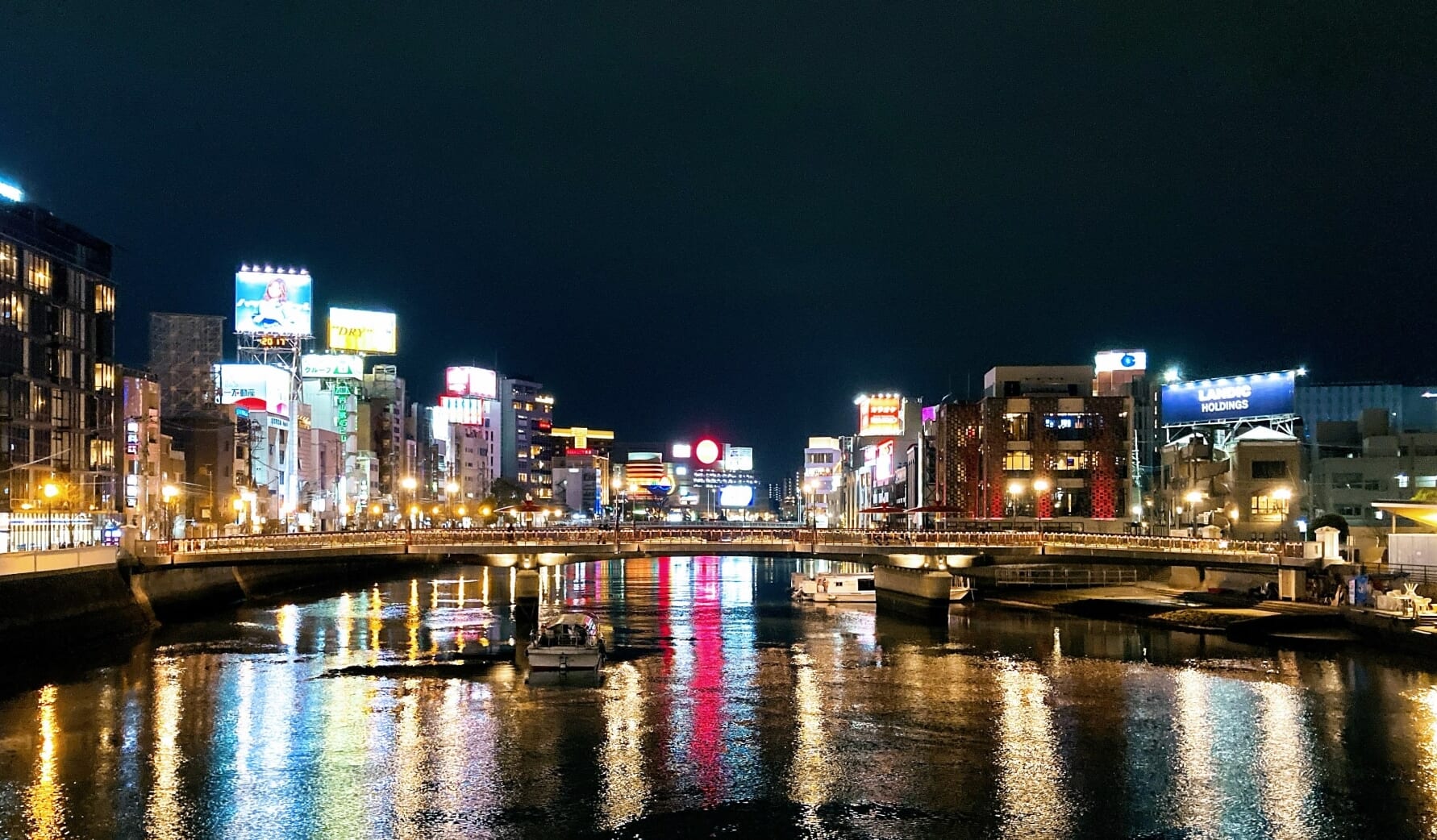 Tenjin (天神) is Fukuoka's heart that beats to the rhythm of clattering shopping bags by day and clinking glasses by night. A multitude of bars and restaurants are ready to satiate your cravings, but the Yatai (屋台), or open-air food stalls, steal the show. These little culinary theaters serve a wide variety of delicious specialties, like the city's signature Hakata ramen, as well as yakitori skewers, oden (Japanese one-pot dishes), fried chicken, fried noodles, etc. The casual ambiance while eating and drinking, sharing narrow spaces with shop owners and locals, coupled with the friendly demeanor of Fukuoka inhabitants, transforms these meals into an intimate exchange of stories with locals. For a second helping of nightlife fun, saunter over to Nakasu Island, where the revelry continues well into the wee hours.
▽ Check out our Fukuoka guide here! ▽
---
No doubt, Japanese nightlife hits differently. A twilight realm where bustling markets, serene alleyways, and pulsating clubs coalesce into a tapestry of unforgettable experiences. So dive in, be it for sizzling street food, chilled drinks, or simply to soak in the ambiance, There's a nocturnal adventure waiting just for you.
▽Subscribe to our free news magazine!▽

For more information about travel and leisure in Japan, check these articles below, too!
▽Related Articles▽
▼Editor's Picks▼
---