16 Best Nightlife Activities in Tokyo
Enjoy Tokyo all night long! Best things to do in Tokyo at night!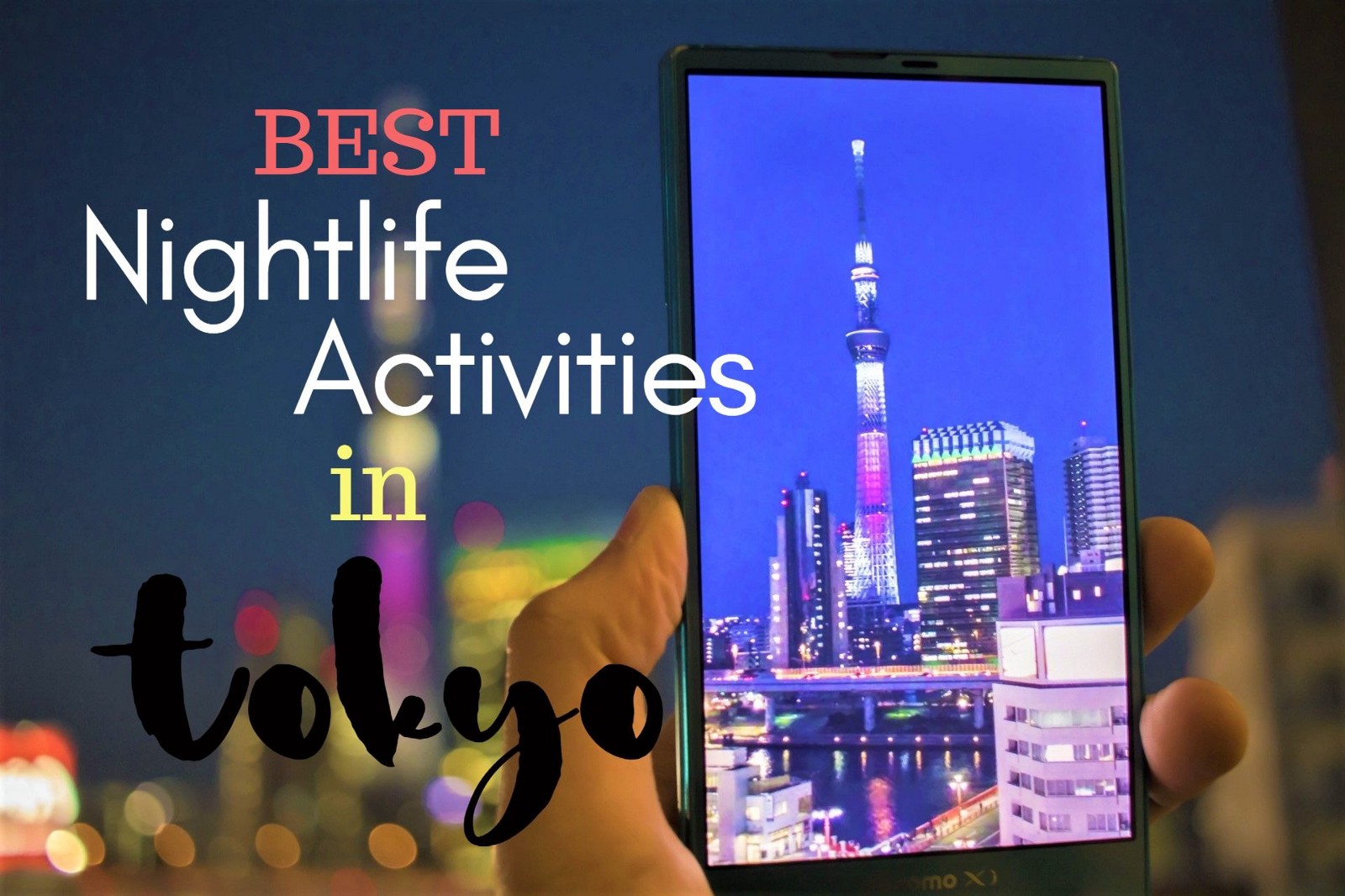 Tokyo is the city never sleeps! Most of entertainment facilities in Tokyo are open for all day long, and nightlife in Tokyo is as enjoyable as at day time. Here are the most recommended activities and things to see in Tokyo at night!
1. Robot Restaurant <<Permanently Closed>>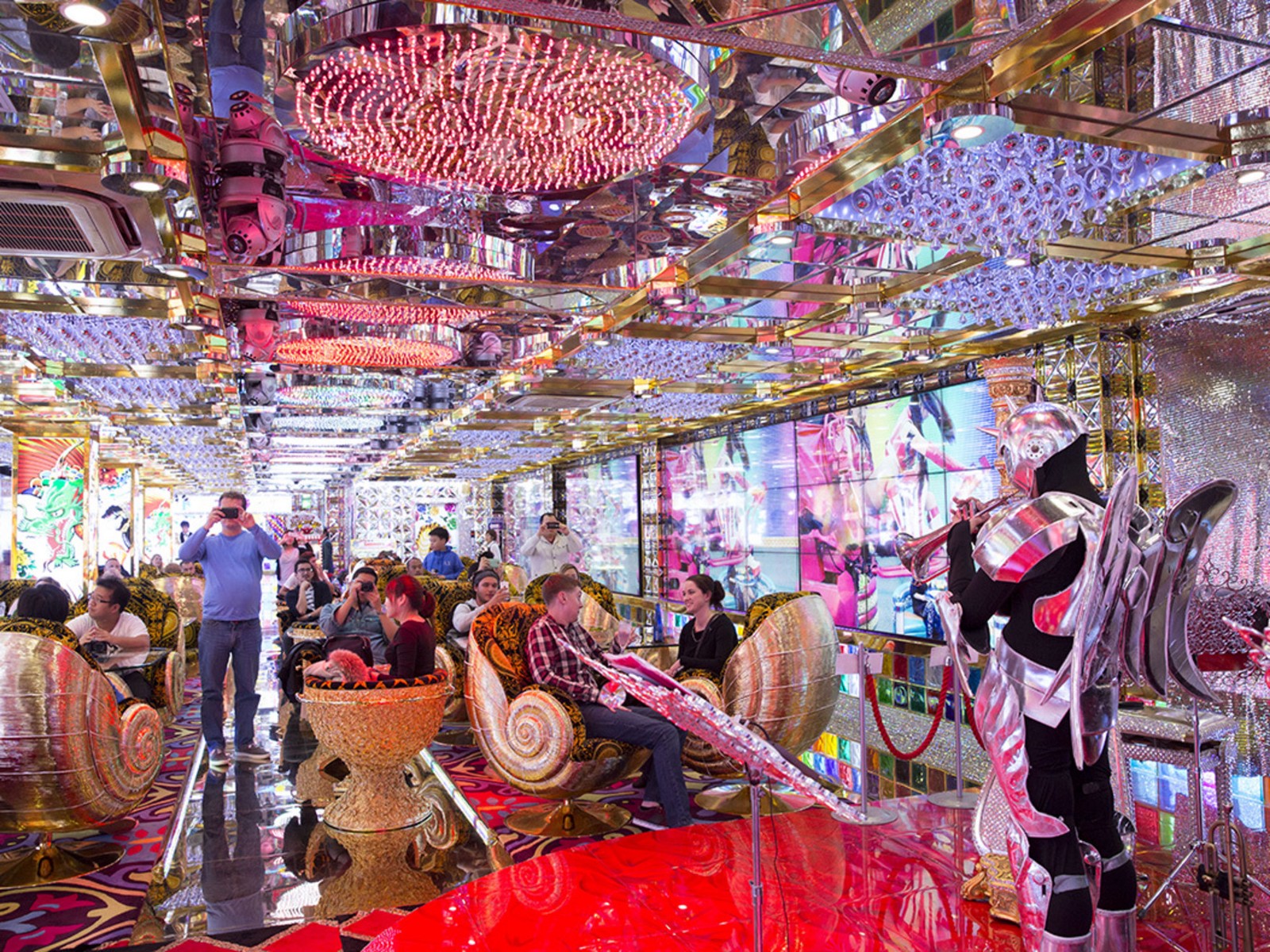 Robot Restaurant has been one of the most popular tourist attractions in Tokyo for past years. It's located in the biggest red light district in Tokyo, Kabukicho, Shinjuku district. Robots, neon-lights and pretty girls.. let's party in the most extravagant way! You can reserve your seat at Robot Restaurant through the link blow with the special discounted rate!!
2. Shinjuku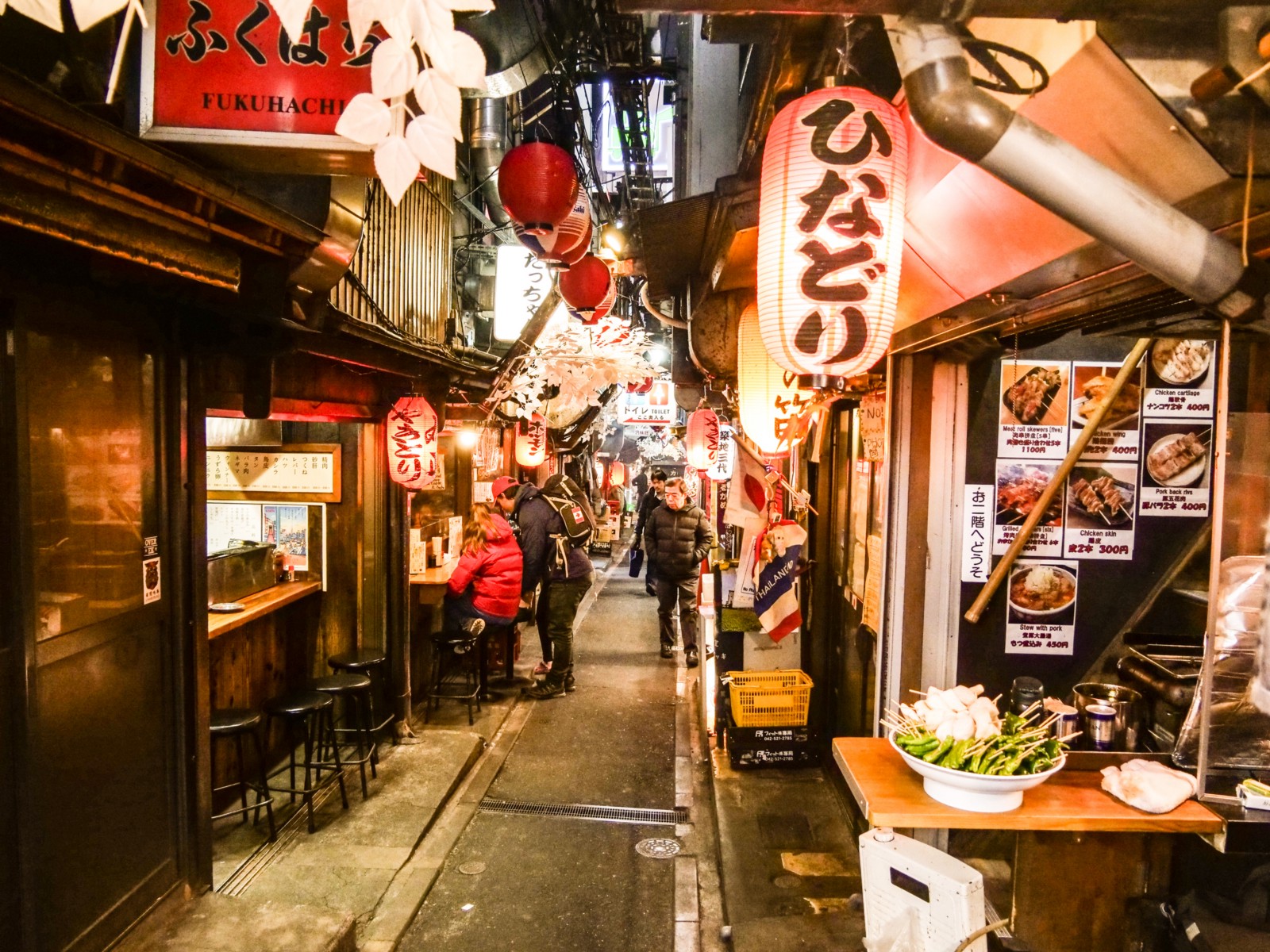 Shinjuku is Tokyo's best neighbourhood for night-out with three famous nightlife spots. Kabukicho: the biggest red light district in Japan, Golden Gai: cozy and unique bar area and Omoide Yokocho: old-fashion and nostalgic Izakaya alley.
Shinjuku nightlife wouldn't complete without eating local dishes and at traditional izakaya bars. Try this Tokyo Bar Hopping Food tour by Magical Trip to explore hidden izakaya bars at night.
3. Izakaya Hopping (Pub Crawl)
Like Shinjuku, there are many other areas in Tokyo where many local Izakaya bars are gathered. Joining some of Izakaya hopping tours could be the best way to explore the local drinking culture. Sip some Sake and enjoy Japanese pub food to experience the local nightlife in Japan! Shibuya and Asakusa are two most popular areas to explore Tokyo's nightlife besides Shinjuku area. Shibuya area offers a young and energetic nightlife which is perfect for trendy foodie travellers. On the other hand, Asakusa is a perfect area to learn the retro and historical culture of Tokyo. If you want to know the old-fashioned nightlife of Tokyo rather than modern and glaring nightlife, Asakusa is more for you. Check out the links below for more details about night food tour in Shibuya and Asakusa areas.
4. Clubbing
Tokyo has numbers of famous night clubs especially in Roppongi and Shibuya areas. If you love clubbing, how about hop in at several great clubs and enjoy amazing music all night long?? The nightclubbing pass allows you to enter some of best clubs in Tokyo for a week including one free drink or shot at some of clubs.
5. Live Shows
There are many different kinds of live performance shows available in Tokyo today, such as a traditional Japanese show, comedy show held in a local bar and unique themed performance! Here are some of recommended night shows available in Tokyo today!
-Kingyo
-Tokyo Comedy Show Tickets by a Japanese Comedian
-KAGUWA Traditional Japanese Cabaret Show
6. Baseball Games
Baseball is the most popular sport in Japan, and during the season, baseball games are held frequently in Tokyo. The biggest baseball stadium, Tokyo Dome is home to Yomiuri Giants and Jingu Stadium is home to Yakult Swallows, which is located near Harajuku and Shibuya area. If you are around during the season, don't miss a chance to see the world's greatest baseball matches in Tokyo!
7. Observatories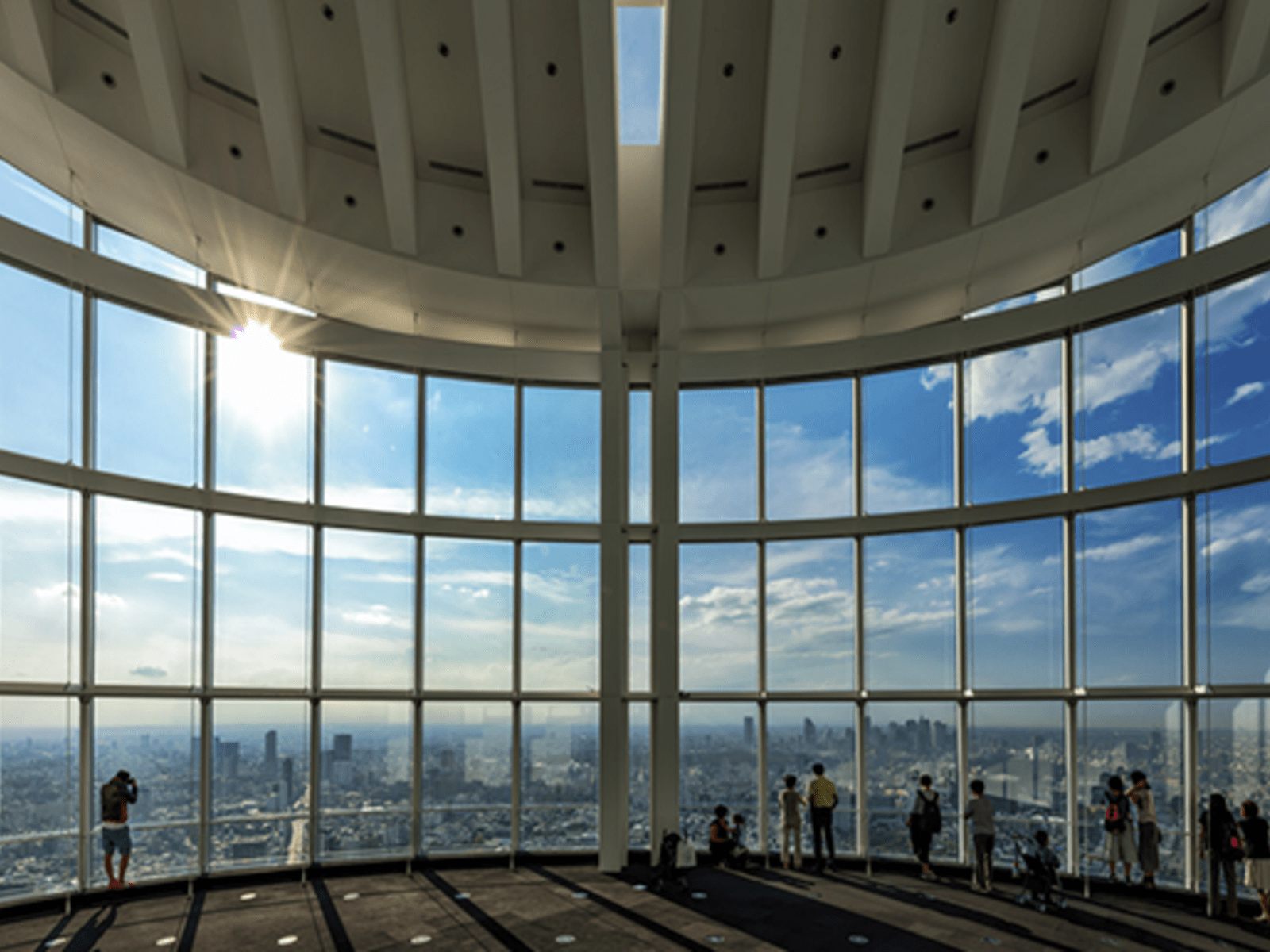 Gazing the city view from skyscrapers is one of must-do things in Tokyo. Tokyo has numbers of amazing observatories to see the panoramic view of the city even including Kanto area and Mt.Fuji when the visibility is good during the day. Also the views are even more spectacular at night when the whole city glows like a jewel box. Here are some of the most recommended observatory decks that you shouldn't miss in Tokyo!
Mori Tower
Tokyo Tower
Tokyo Skytree
8. Night Cruise at Tokyo Bay
Looking for different way to enjoy the city view? Watching Tokyo from the ocean could be more exclusive, and it's even better with meals. Tokyo Bay Night Cruise offers luxurious french course lunch or dinner with the romantic view of Tokyo.
For more extraordinary cruising experience, I'd recommend the Tokyo Bay Cruise with a Traditional Entertainment Show. The cruise offers an exciting and dynamic live performance as well as delicious meal with a quality Maguro Tuna dinner course with fresh tuna directly brought from the Tsukiji Fish Market.
9. Kawaii Monster Cafe <<Permanently Closed>>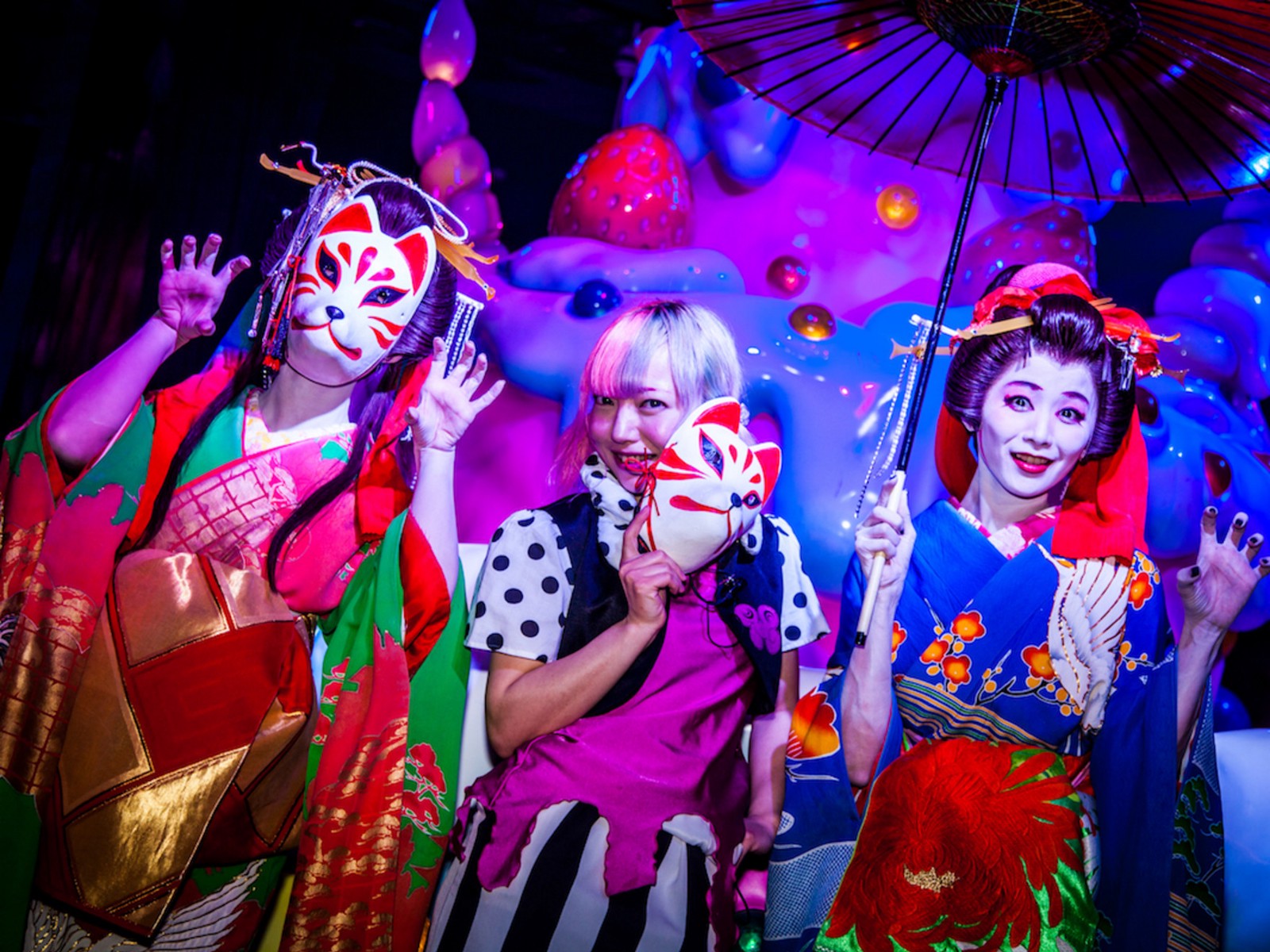 【Important Notice: Kawaii Monster Cafe is permanently closed】
Kawaii Monster Cafe is one of Tokyo's top attractions which is a super cute and colourful Tokyo pop culture themed cafe. At night, the cafe offers special entertainment shows from Tuesday to Friday, and each night with different themes.
Tuesday: Kawaii Monster Cafe Oiran
Wednesday: Tokyo Pop Culture Night
Thursday: Kawaii Monster Cafe Burlesque
Friday: TOKYO Under Land
10. Local Food Walking Tour
If you wish to have an authentic food experience in Tokyo, joining one of food walking tours in Tokyo is highly recommended. Not only tasting delicious Japanese dishes, but also learn the real food culture and discover hidden eateries which you may not find on guidebooks. This night foodie tour is one of the most popular food tours which takes place in Shinjuku. Visit some restaurants and enjoy authentic Japanese dishes and desserts! Click the link below for more details and book the tour with discount now 🙂
11. Helicopter
If observatory decks and cruising are not impressive enough for you, how about gazing the city from the sky? The Tokyo Sky Cruising with a helicopter tour offers the best experience of viewing Tokyo City from the sky, only for yourself!
12. Karaoke
Karaoke is one of the most unique culture in Japan, and it's extremely popular. Especially, many Japanese go to Karaoke after drinking! It doesn't matter if you like singing or not, Karaoke is simply the great way to have fun with friends, and also learn the Japanese culture! Join the local tour "Night-time Karaoke Bar Experience in Tokyo" which will take you to one of the best Izakaya streets of Tokyo, get tipsy then hit Karaoke to party like Japanese!
13. Host Club
As I mentioned earlier, Kabukicho area in Shinjuku district is Tokyo's biggest red light district. Host club is one of the most significant things about Japanese nightlife culture where guests can spend time with professional hosts who entertains and make guests feel special!
14. Ninja Shinjuku
Ninja Shinjuku is the great entertaining restaurant featuring the world of Ninja from Edo period and delicious Japanese cuisine. The high quality Japanese food including Wagyu Beef and creative fusion dishes are served by Ninjas who also play magical illusions in front of guests.
15. Magic Show Bar
Magic Show Bar has been a trending night spot in Tokyo for the past years. It's an unique style of the bar where guests can watch mind-blowing illusion by talented magicians up close while drinking. Moreover, you will have the chance to win cash prizes (1,000 yen per trick) presented nightly to guests who is able to solve the tricks.
16. Light-up Spots/Events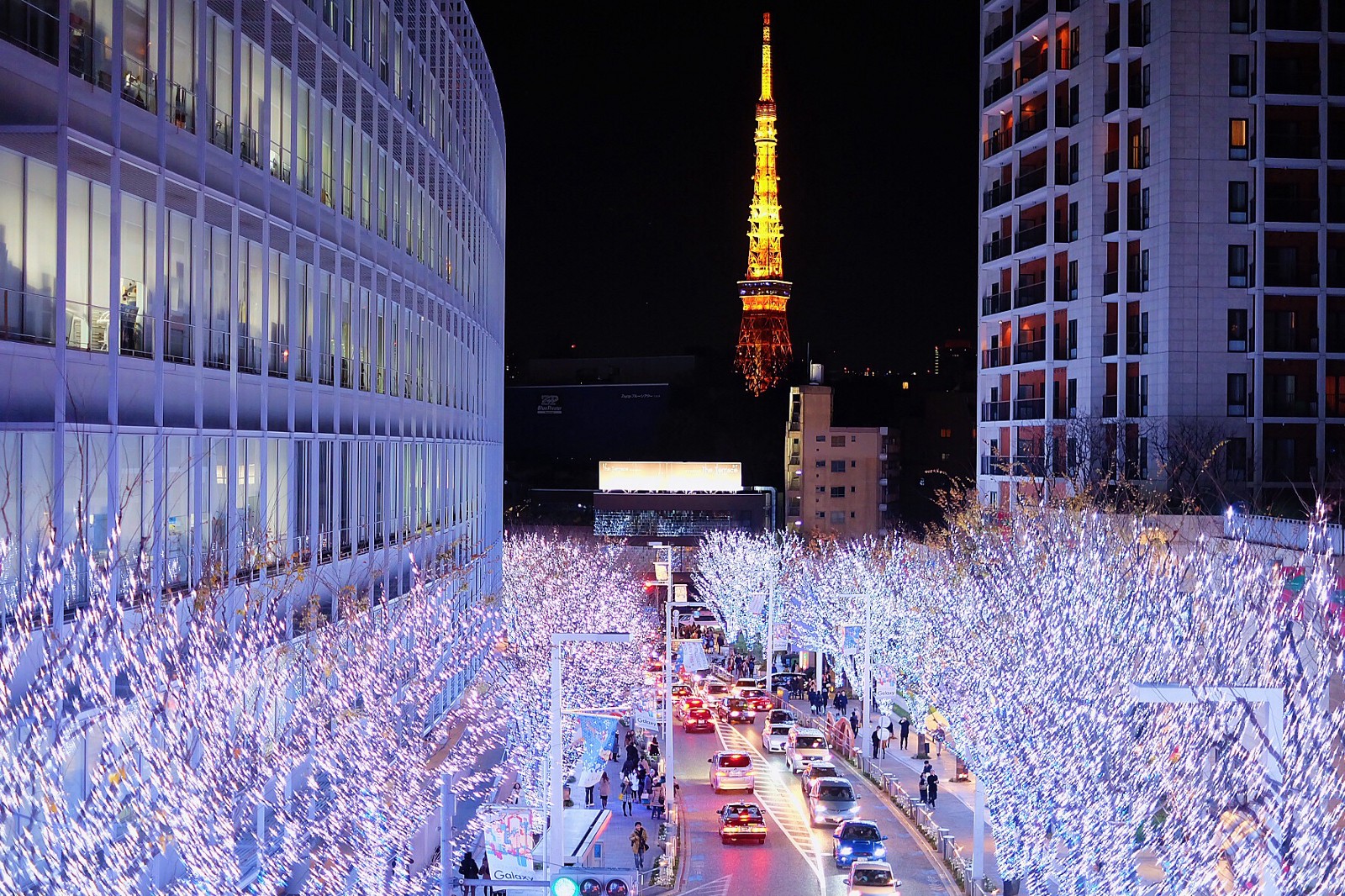 Japanese people love light-ups. And there are several spots and events available through the year, offering spectacular and romantic lights to illuminate the city.
The best season to see spectacular light-ups in Japan is winter as winter illumination events are held across the country from late autumn to early spring. Likewise, there are numbers of illumination events held in Tokyo, and it's indeed the most popular activity in winter time. Check the article for more info about winter illuminations in Tokyo.
▶ Tokyo Winter Illumination Guide
Other recommended season is spring and autumn, as these two seasons hosts particularly popular events in the country: cherry blossoms and autumn leaves. During the peak season for both events, light-ups are specially held at numbers of best viewing spots in the city, such as temples, gardens and parks. Check the articles below for popular cherry blossoms and autumn leaves spots in Tokyo.
▶ 10 BEST Cherry Blossom Viewing Spots in Tokyo
▶ Top 5 Autumn Leaves Spots in Tokyo
Did you enjoy the list?? Tokyo is absolutely entertaining both day and night! Enjoy your day in Tokyo all day long with fun and unique night activities 🙂
For more info about special activities and interesting things to do in Tokyo, you may wanna check out these articles, too!
▽ Related Articles ▽
▼ Editor's Picks ▼
---