16 Best Themed Cafes and Restaurants to Visit in Tokyo
Unique and crazy themed cafes and restaurants in Tokyo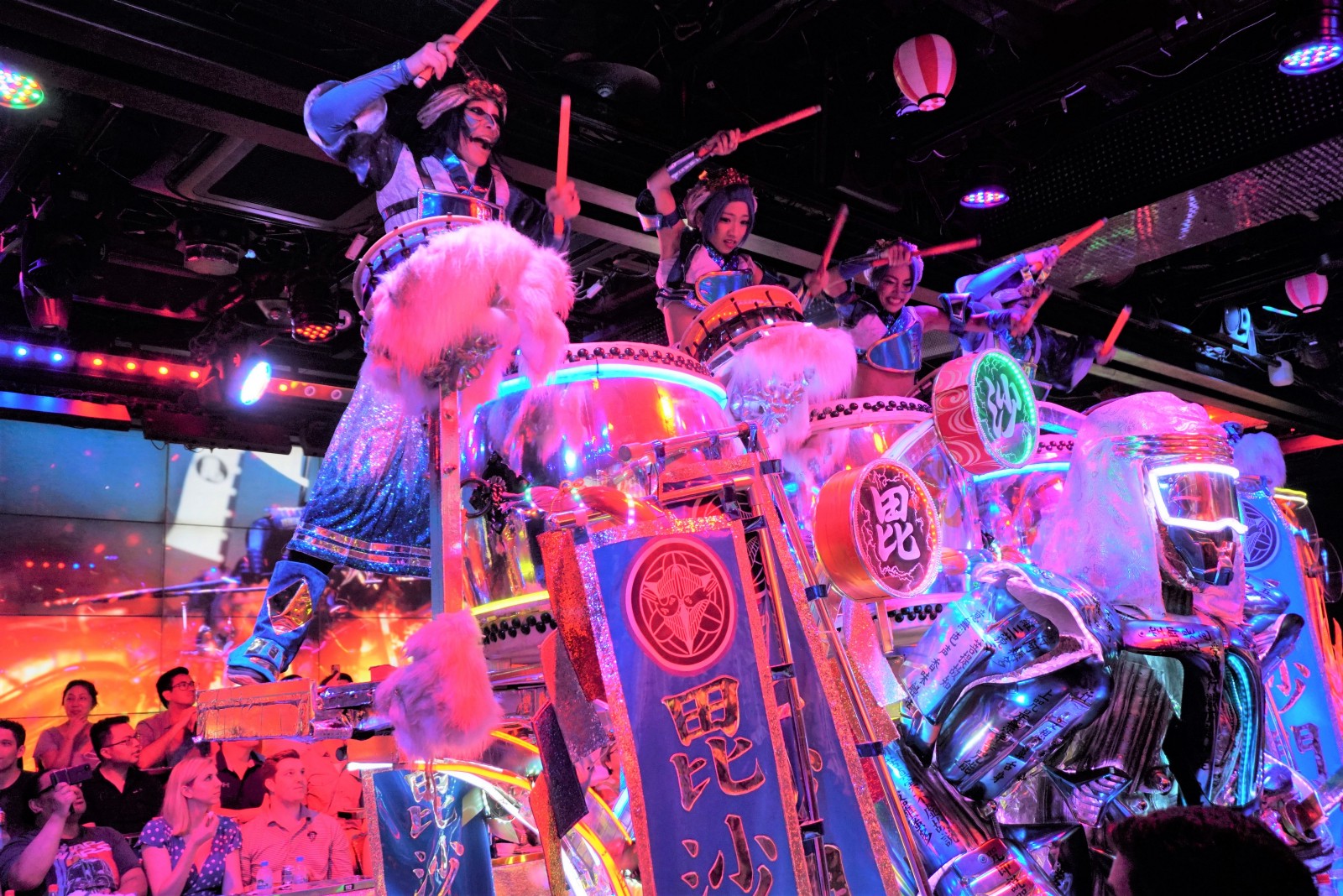 Tokyo has numbers of unique themed cafes and restaurants, and they are popular tourist attractions today. Here are Tokyo's must visit themed cafes and restaurants in Shibuya, Shinjuku and more!
*Please note that this article contains affiliate links.
---
1. Robot Restaurant/Samurai Restaurant
Robot Restaurant was one of the most popular tourist attractions and a top nightlife activity in Tokyo. Whoever has been to Japan could recognize the place with flashing neon lights and gigantic robots. It was located the famous red-light district, Shinjuku Kabukicho. After initially closing down in 2021, Robot Restaurant has made a comeback and reopened its doors in the same spot in Shinjuku in May 2023.
Related article: Robot Restaurant Reopened in Shinjuku
Currently, Robot Restaurant is closed due to technical issues and no reopening date has been announced. However, a new show called Samurai Restaurant is now available at the same location, GiraGiraGirls in Shinjuku Kabukicho. The show features traditional Japanese theme with energetic dancing, dynamic choreography, flashy neon lights and fast tempo music, packed with craziness and excitement just like Robot Restaurant. If you wanted to visit the Robot Restaurant, the Samurai Restaurant is definitely worth a visit!
<<Get 11% OFF Shinjuku Robot Restaurant/Samurai Restaurant Ticket here! >>
Review: Samurai Restaurant to Open in Shinjuku
2. Maidreamin
If you want to explore the Otaku culture of Japan, visiting one of maid cafe is a great idea and the best area to enjoy maid cafe is Akihabara, the center of Japanese Otaku culture. Maidreamin is one of biggest franchised maid cafes in Japan. You can enjoy unique food, drinks and chatting with waitresses dressed in maid costume!
For more popular maid cafes in Tokyo, please read this article ▶ Best Maid Cafe in Akihabara, Tokyo
3. Alice in Fantasy Book Restaurant
Let's get lost in the world of Alice in Wonderland! Enjoy the themed food and drinks in the cafe themed after the popular 1865 novel, "Alice's Adventures in Wonderland". If you like fairy tale and fantasy, you will surely enjoy dining at this place!
Map: https://goo.gl/maps/jMCJYPq42eui9WVR6
Access: 3 mins walk from Shinjuku Station East Exit
Hours: lunch 11:30~14:30, dinner 17:00~23:00 (~22:00 on Sunday)
Official Website: http://www.alice-restaurant.com/ehon/
4. Eorzea Cafe
Final Fantasy is one of the most popular role-playing video games in the history and has fans all across the world. Eorza Cafe is a Final Fantasy theme cafe located in Akihabara, Tokyo. Guests can enjoy themed food and drinks, and play a computer game!
Official Website: https://www.pasela.co.jp/paselabo_shop/ff_eorzea/
5. Ninja Cafe & Bar Asakusa
Another Ninja themed spot, yet this one is more for interaction and entertainment. Ninja Cafe & Bar in Asakusa offers guests an unique and fun ninja experience with special training and playing as a ninja. The guests can dress up in authentic ninja costume and learn some ninja tricks and moves and how to use classic ninja weapons such as shuriken and blowgun. Besides the activity, the cafe also offers special ninja-themed dishes and drinks. It's a great fun for both adults and kids!
▶ Book Ninja Experience Cafe Asakusa!
6. Pokemon Cafe
The first permanent Pokemon theme cafe opened in Nihonbashi, Tokyo in 2018, and has been attracting Pokemon fans in Japan and from overseas. The cafe features Pokemon character themed food and drinks including seasonal dishes, and original merchandise exclusively available at the cafe.
Related article: Pokemon Cafe Tokyo
7. Hedgehogs Cafe HARRY
Animal cafes have become top tourist attractions in Tokyo in past years, and now more kinds of animal cafes can be found in Tokyo. Grab your opportunity to meet the cute little creature, hedgehog while you are in Tokyo.
Related article: Cuteness Overload!! Hedgehog Cafe HARRY in Roppongi Tokyo
8. Anakuma Cafe
Anakuma Cafe is a unique coffee stand in Harajuku area where guests are served by bears. Anakuma means "bear in a hole" which literally describe the cafe itself as guests receive their ordered coffee from a fluffy bear paw through the hole on the green wall. Besides coffee, there are a variety of drinks and some snacks available for takeaway.
▶ ANAKUMA CAFE coupons (drinks, food sets, etc.) in Tokyo
9. Ninja Shinjuku
The unique Ninja themed restaurant is a perfect place to enjoy authentic Japanese cuisine and be entertained at the same time. Ninja Shinjuku serves quality and creative Japanese food including Wagyu beef, served by Ninja. Guests can also enjoy the special magic performances while dining.
Official Website: http://ninjaworld.jp/shinjuku/
10. Vampire Cafe
The Vampire Cafe is one of most unique theme cafes in Tokyo. The cafe is decorated in red and black colour with mysterious coffins and chandelier, and the waiters are also dressed in gothic motif costumes. A variety of creative and photo-worthy dishes and drinks are served at the cafe.
Map: http://bit.ly/2ZWJkOc
Access: 4 mins walk from Ginza Station
Hours: 17:00–23:00
Official Website: https://www.dd-holdings.jp/shops/vampirecafe/ginza#/
11. Penguin Bar
Penguin Bar is one and only unique place where you meet adorable penguins. Guests can enjoy their wide selection of alcohol/non-alcohol beverages and various food, snacks and desserts while watching the cute penguins living at the spacious space at the bar.
Official Website: https://penguinbar.jp/en/
12. Snake Cafe
If cute animals like Hedgehogs and Penguins are not for you, how about sipping a coffee next to snakes?? How awkward! You can even put them around your neck and take pictures for your brave memory in Tokyo 🙂
Official Website: https://snakecenter.jp/
13. Magic bar CUORE
Enjoy sipping on authentic cocktails while watching spectacular magic show! Magic bar CUORE is an unique and entertaining bar located in Kabukicho area, Shinjuku. The magic show with mind-blowing tricks and illusions are performed by professional magician, and guests can enjoy watching it up close while enjoying a variety of cocktails.
Map: http://bit.ly/2HJPCdi
Access: 7 min walk from Shinjuku Station
Hours: 19:00~4:00 am next day
Official Website: https://cuore.bar/
14. Science Bar INCUBATOR
If you are a science geek, this bar will not let you down. Science Bar INCUBATOR is a small unique laboratory themed bar is located near Shinjuku. A bartender in a white coat serving beverage in laboratory glassware and cook small snacks on alcohol burners. Try their "wine tasting" which comes in test tubes.
Map: http://bit.ly/2PKarqU
Access: 3 mins walk from Yotsuyasanchome Station
Hours: 18:00~2:00
Official Website: https://www.incubator.sc/
15. Kawaii Monster Cafe <<Permanently Closed>>
Together with Robot Restaurant, Kawaii Monster Cafe was an icon of Tokyo and drawn a massive number of international tourists. This extremely colourful, trendy and totally instagram worthy cafe was located in Harajuku, the center of Japanese pop culture.
Kawaii Monster Cafe has closed its door during COVID pandemic.
16. Sengoku Buyuden <<Permanently Closed>>
If you are into Japanese history, especially during Sengoku Period, what better way than dining Senguku Buyuden in Shinjuku, Tokyo! This samurai-themed restaurant offers delicious authentic Japanese cuisine at the Warring States Period (Sengoku Period (戦国時代) in Japanese) themed dining with Samurai armor statues.
Sengoku Buyuden has shut its door in 2020.
---
▽Check out Unique Themed Restaurants and Bars in Shinjuku, too!▽
So what did you think about the list?? If you have already decided to visit one of them, click the link and make a reservation in advance since these cafes are extremely popular nowadays! For more unique and crazy things to do in Tokyo, please check out these articles listed below!
▽ Related Articles▽
▼ Editor's Picks ▼
---