Tokyo Dome City: the Popular Entertainment Complex in Tokyo
Guide to Tokyo Dome City in Tokyo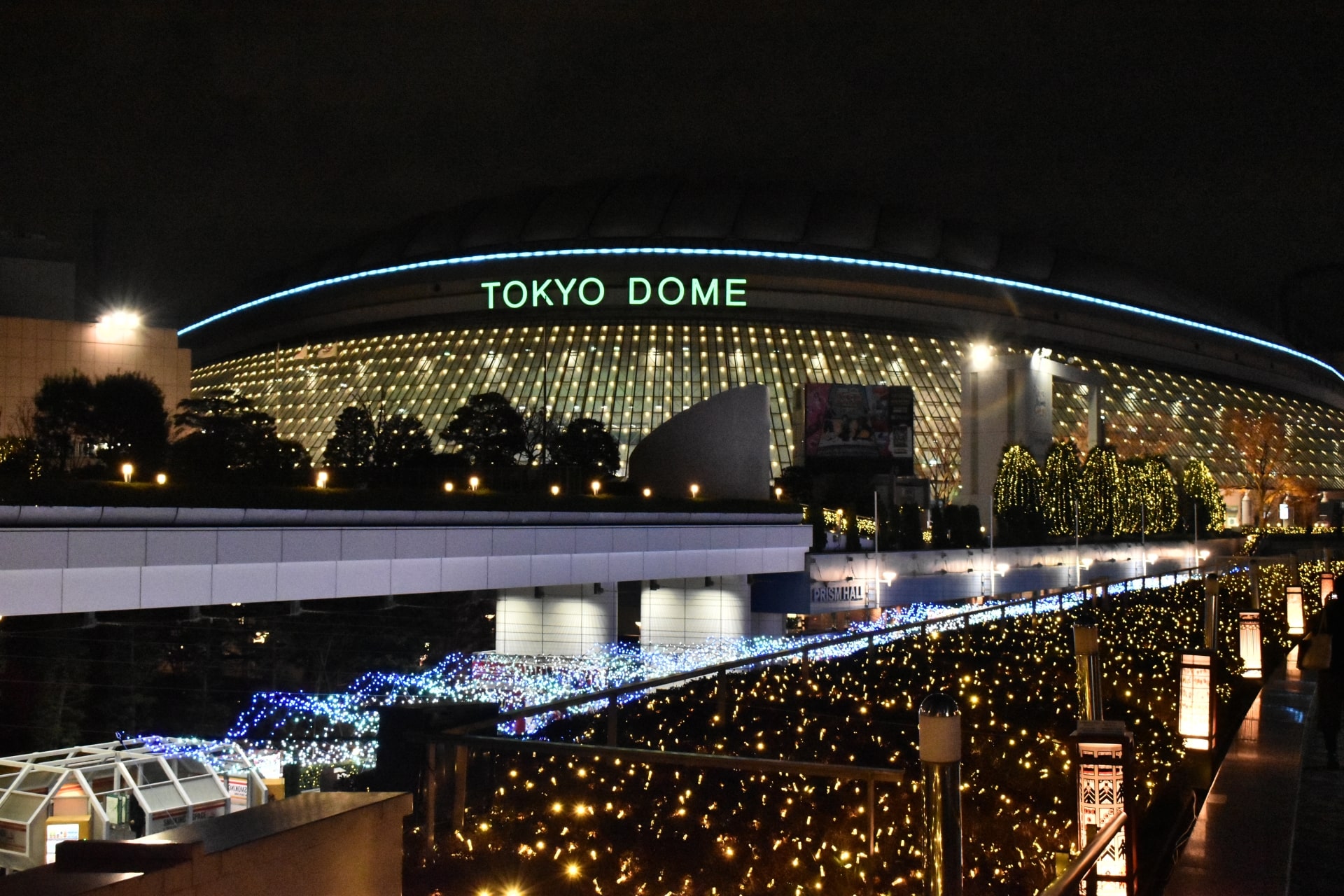 Tokyo Dome City is a popular entertainment complex in Tokyo. Its sprawling grounds offer a variety of activities, including amusement park rides, arcade games, shopping, dining, water play, spa relaxation, and so much more. You can easily spend an entire day here, with family or with friends, in rain or in shine. The entertainment centers are built around Tokyo Dome itself, built in 1988 as a multi-purpose stadium and home to the professional baseball team, the Yomiuri Giants. Here is all you need to know about getting to and making the best of your visit to Tokyo Dome City.
---
What is Tokyo Dome City?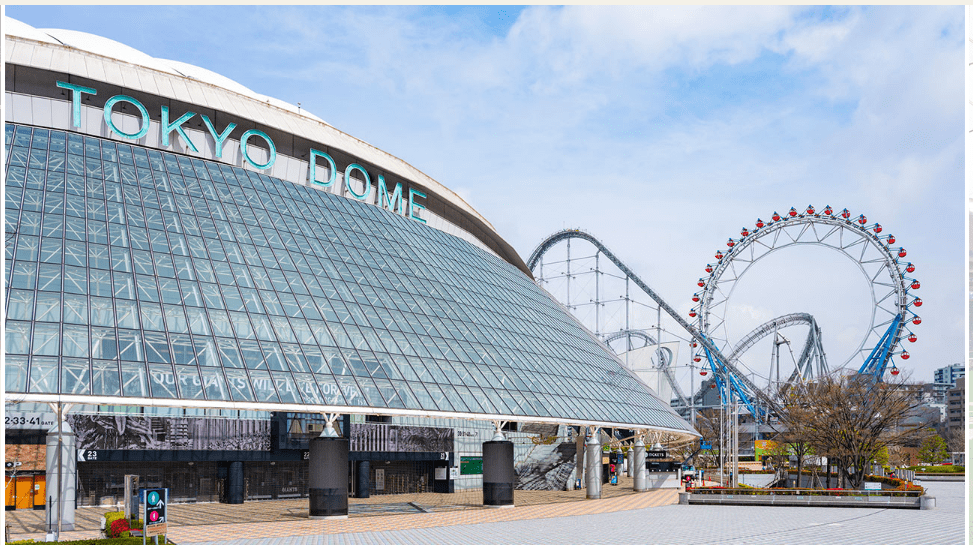 Tokyo Dome City consists of the Tokyo Dome Stadium, the amusement park and attractions, shops and restaurants, the Tokyo Dome Hotel, and Spa LaQua hot spring. These various entertainment zones are all connected and conveniently accessible by a pedestrian bridge. The amusement park, which has undergone multiple renovations since it opened in 1958, is still one of the most popular in Tokyo today. There is no admissions fee, so you can pay for only the rides you like. With numerous indoor attractions, Tokyo Dome City is one of the best places in Tokyo to have fun on a rainy day.
What to do at Tokyo Dome City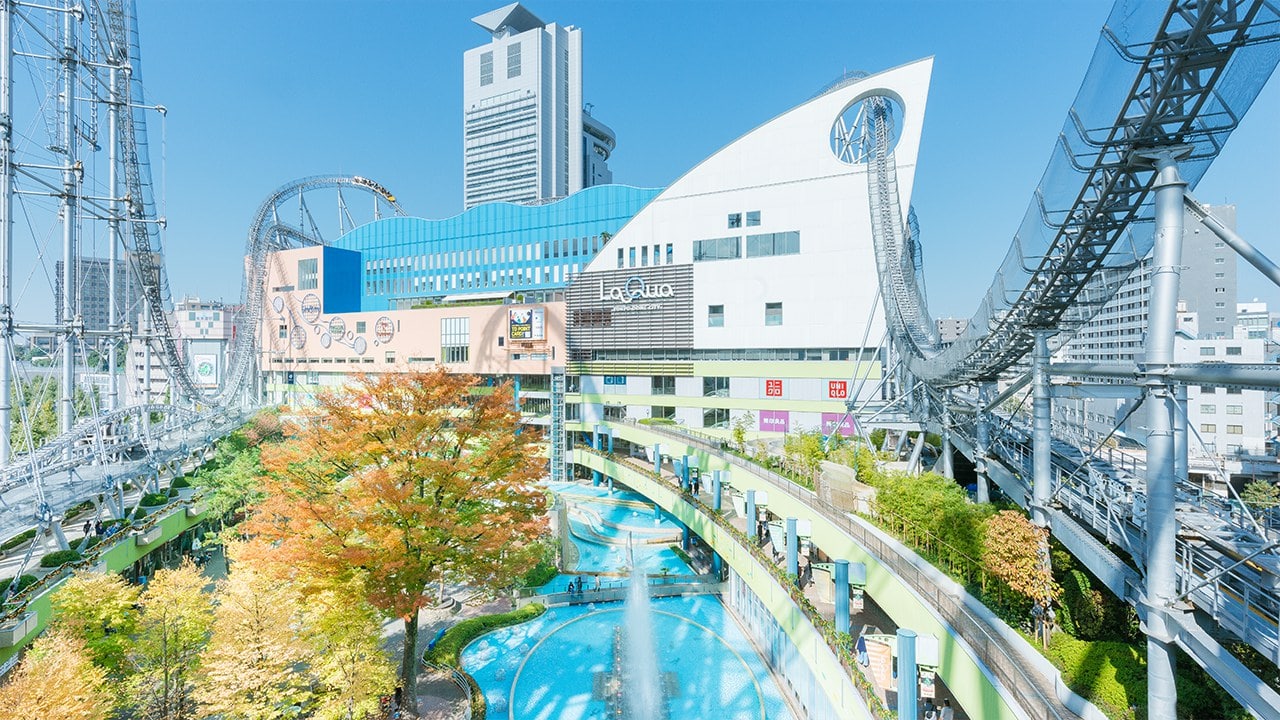 The amusement park is a top attraction for adults and kids of all ages. The Thunder Dolphin roller coaster is a thrilling ride that takes you through a building and ferris wheel. Ride the grand Big-O Ferris Wheel to take in the neighborhood views from atop. If these are your types of rides, you won't want to miss the Wonder Drop, which takes you on a deep 3-story plunge that ends in a massive splash.
More relaxed rides include the Venus Lagoon, a delightful carousel that lights up in the evening. The Corocco is a manually operated trolley that takes you through a fairy forest. Younger kids will also enjoy the spinning Pixie Cups, where you can record your own voice and listen to it as you spin. For infants and toddlers, free rental strollers are offered at customer service.
The LaQua area houses shopping, restaurants, and a spa with a natural hot spring. Try the charming Moomin Cafe or go Italian with Pizzeria Mar de Napoli. Dining options abound, from sit down restaurants to more casual ones such as Shake Shack.
What to do on a Rainy Day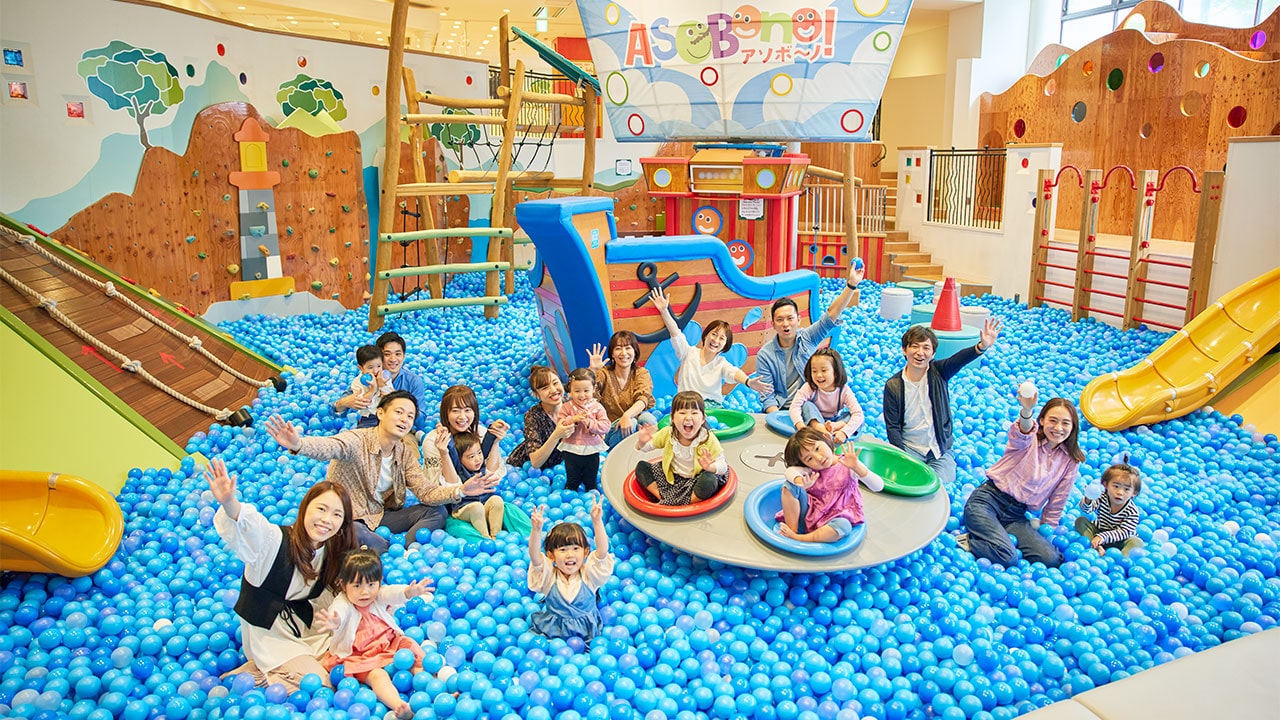 ASOBono is one of the largest indoor play spaces for young kids ages 0-7. They have climbing structures, a giant ball pit made to look like the ocean, a jungle gym, slides, and a miniature town with roleplaying areas, trains, and playing blocks. ASOBono also has a dedicated baby space called Hi-Hi Garden for infants ages 0-2.
▶Check out more about ASO Bono here
If it is raining, but you still want to get moving, head to one of the various indoor sporting facilities. The Tokyo Dome Roller Skate Arena is open until 10 pm on most days, making it a great night activity. In the same building is the Tokyo Dome Bowling Center, which offers two spaces – a laid back space for families on the 4th floor and a more adult atmosphere with bowling and drinks at the CuBAR Lounge on the 5th floor. If you want to have multiple options in one place, Spo-Dori! is an indoor sports facility offering bouldering, batting and pitching, and a members-only golf range.
The TeNQ Space Museum provides a slower pace and is the perfect place to learn about the universe through interactive exhibits, which are in both English and Japanese.
Check out more details about these places on their official website.
▶Tokyo Dome City official website.
How to get to Tokyo Dome City
As with most large attractions located in central Tokyo, the easiest way to access Tokyo Dome city is by metro. Tokyo Dome City is a 5 minute walk from Suidobashi Station via the local JR Chuo Line – be sure to take the yellow local train. It is a 10 minute walk from Korakuen Station via the Marunouchi and Namboku Lines. From the Kasuga Station via the Oedo and Mita Lines, it is about an 8 minute walk.
Tourist attractions near Tokyo Dome City
Koishikawa Korakuen was built in the early Edo period and is one of Tokyo's oldest traditional Japanese gardens. With its maple trees, gingko trees, plum trees, and cherry blossom trees providing a symphony of colors through the changing seasons, this garden is a beautiful and serene escape from the urban hustle.
Tokyo Wonder Site Hongo opened in 2001 as a government-funded art center. It is a space dedicated to cultivation and promotion of new art in the heart of Tokyo. The Tokyo Wonder Site Hongo hosts a rotating selection of galleries, seminars, and exhibits.
Yushima Tenjin Shrine is the shrine of scholars and students, who flock here for enlightenment and good grades. It was established in 458 and is dedicated to the god of learning, Tenjin, its namesake.
---
The best thing about Tokyo Dome City is the flexibility it provides. The diversity of entertainment options offers everyone something to enjoy, regardless of the weather. Whether you are looking for thrills or relaxation, you will find it here. The countless number of restaurants affords you the option of staying and playing the entire day. You can customize your amusement park experience ride by ride, as there is no admission fee. Simply come and enjoy one or two rides of your choice. Or for 4,200 yen, you can opt for the one-day passport that gives you unlimited access to the rides. In addition, the neighborhood surrounding Tokyo Dome City is a destination in and of itself. Koishikawa Korakuen, Tokyo Wonder Site Hongo, and Yushima Tenjin Shrine are just a few attractions of the Bunkyo area amidst posh restaurants and historical shops.
View Information
Hide
Information
| | |
| --- | --- |
| Access | 5 minute walk from Suidobashi Station via the local JR Chuo Line. 10 minute walk from Korakuen Station via the Marunouchi and Namboku Lines. 8 minute walk from the Kasuga Station via the Oedo and Mita Lines. |
| Address | 1 Chome-3-61 Koraku, Bunkyo City, Tokyo 112-8575 |
| Business Hours | 10 am - 9 pm daily |
| Price | No general admission fee; 4,200 yen for adults 18+; 3,700 yen for seniors 60+ and junior high and high school students; 2,800 yen for elementary school students; 1,800 yen for ages 3 up to elementary school |
| Telephone Number | 03-5800-9999 |
| Official Website | https://www.tokyo-dome.co.jp/en/tourists/dome/ |
For more information about traveling in Japan, check these articles below, too!
▽Related Articles▽
▼Editor's Picks▼
---