Toyosu Market: World's Largest Fish Market
Things to know before visiting Toyosu Market in Tokyo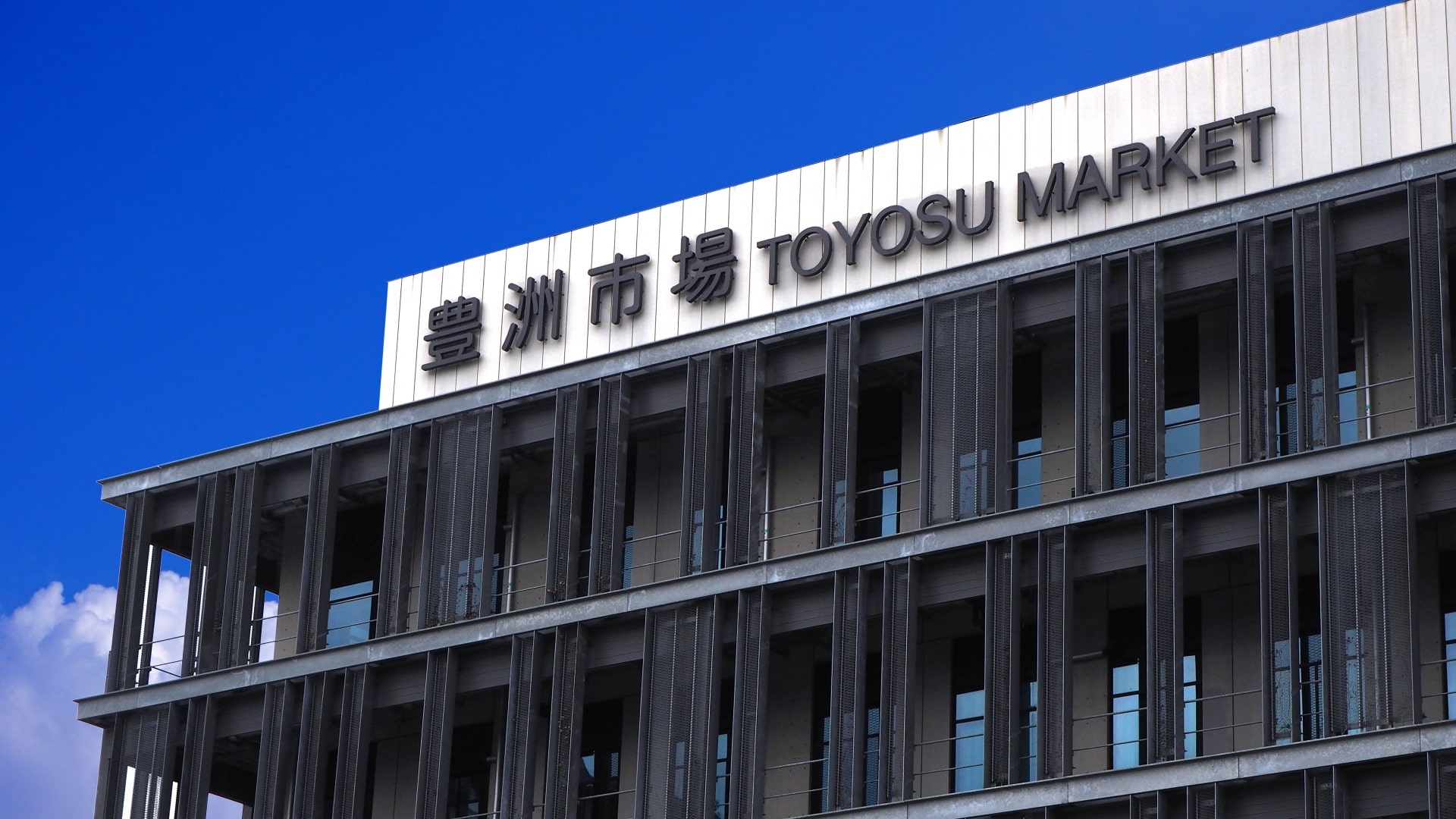 Until a few years ago, one of the most popular tourist locations in Tokyo was the Tsukiji market.
As you may already know, what used to be the largest fish market in the world located in Tsukiji, was relocated to Toyosu in the year 2018. So now, the official largest fish market in the world is in Toyosu, Tokyo.
Along with this large-scale relocation, many new ideas were incorporated into the new market. Because of this, the new fish market has many new characteristics and offers various new services.
In this article, I will show you what the Toyosu market is as well as what it offers and why you should definitely visit this location when coming to Tokyo.
---
What is Toyosu Market?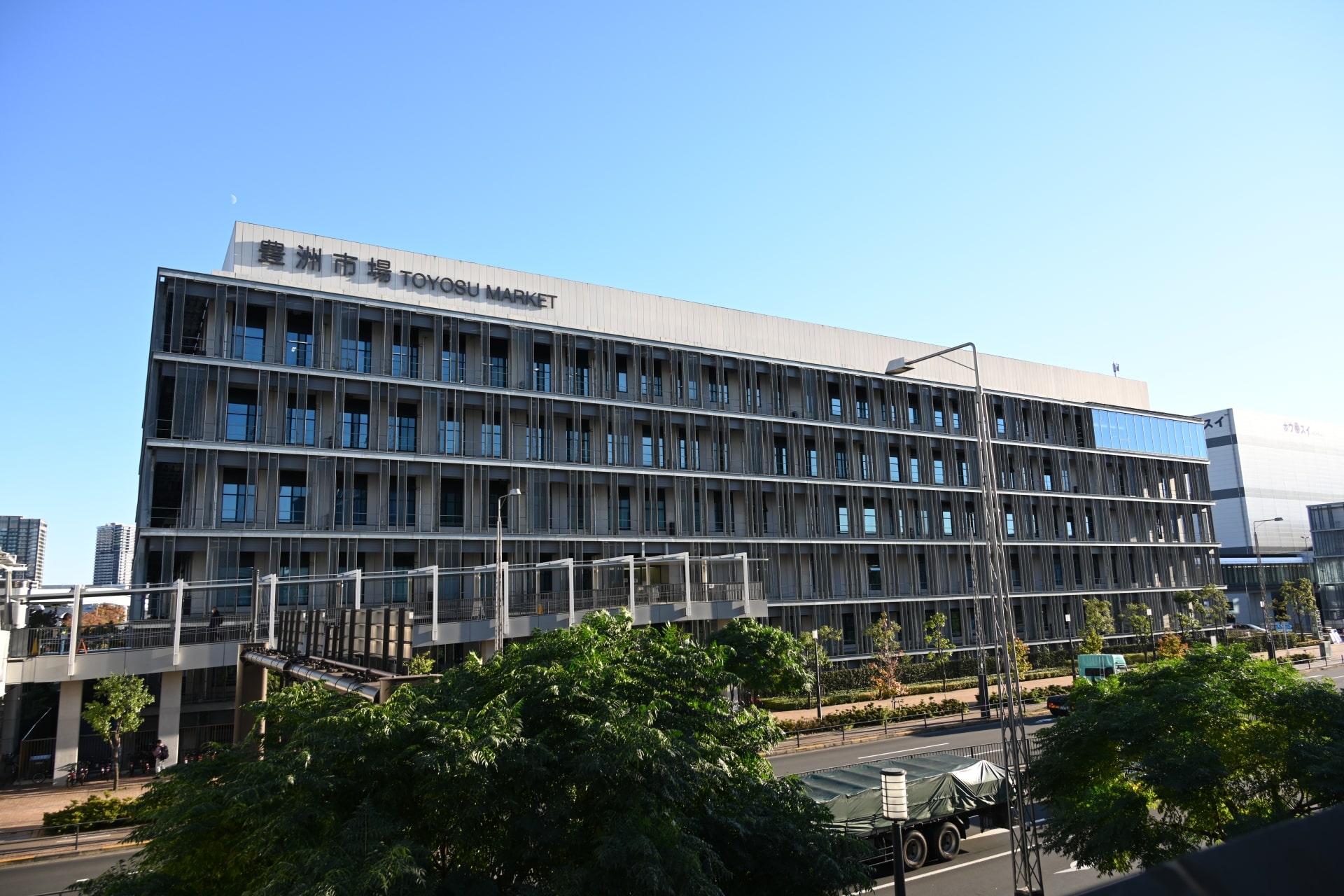 As I mentioned in the intro, Toyosu market (豊洲市場) is now the largest fish market in the world. It is located in Tokyo and it is the new version of the Tsukiji market, which previously had the title of being the largest fish market in the world.
There are a few reasons why they decided to make this large-scale relocation, even though Tsukiji was already such a historically and culturally important place. This was huge news when it was first announced because we're talking about the largest fish market in the world here. So, it is not difficult to imagine that many people were against this idea in the beginning.
The main reason for this relocation was to improve the infrastructure. The old Tsukiji market operated for over 80 years, and the infrastructure clearly needed many improvements. When the market first opened in 1935, there were no such things as large trucks, so the roads and facilities were clearly not made for these trucks to come and go safely. Also, since this market is located in an open area, it would get too hot during summer, and too cold in the winter, both of which made it a problem for the all people involved.
A few years after its relocation, Toyosu market is starting to gain its own popularity. This, while Tsukiji remains an important location even after the relocation of the market.
Not only can you find the freshest fish here, but you can also find many different fruits, vegetables, and cooking supplies. You will also find a wide variety of restaurants. And don't forget about the Tuna auction which is the main attraction of this market for many who come to visit.
How to Get to Toyosu Market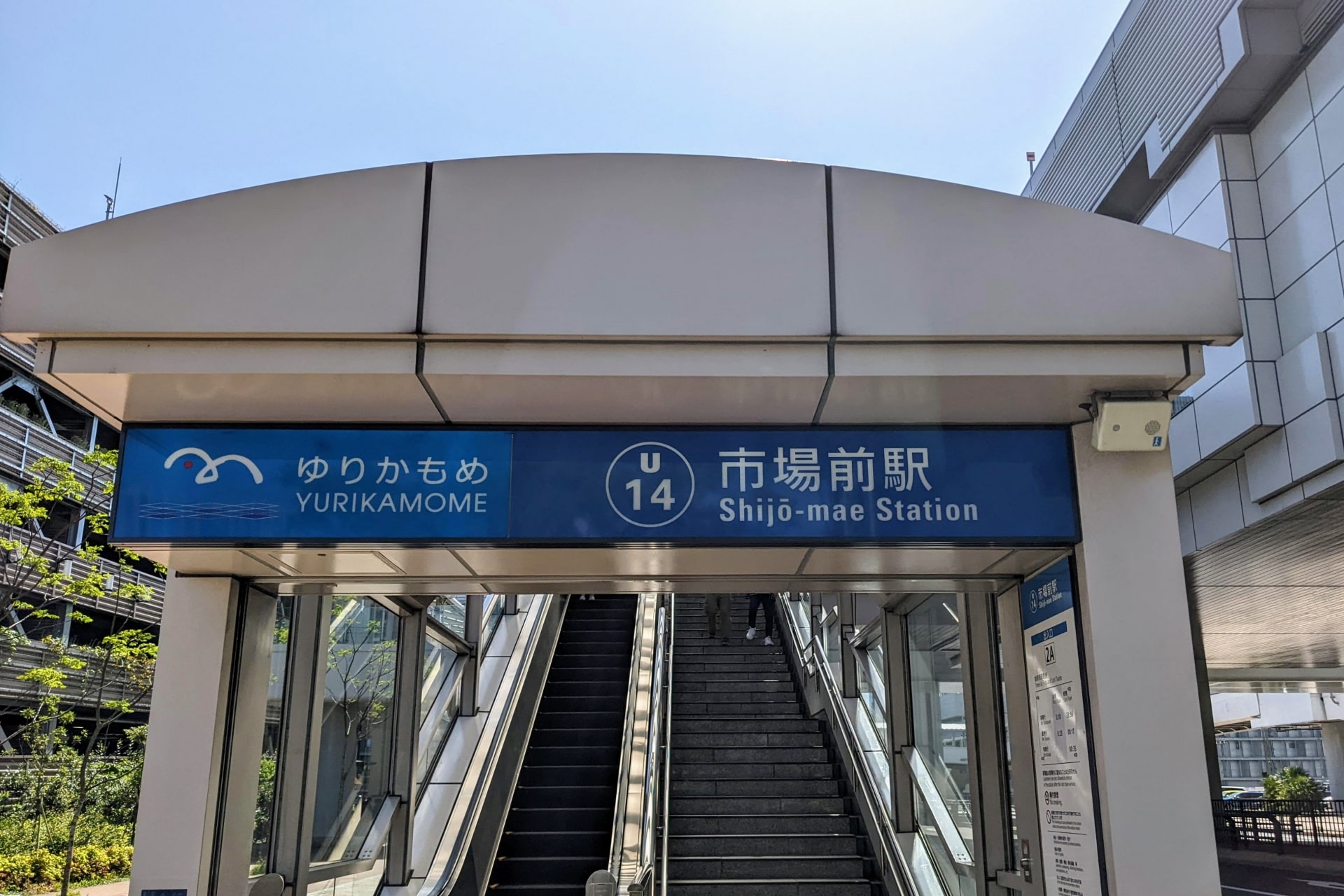 Toyosu market is located just 3 minutes walking from Shijo-mae Station (市場前駅) of the Yurikamome line. You can go directly from large stations such as Shinbashi station (about 27 minutes by train) and Toyosu station (about 3 minutes by train).
Here are some examples of how to get to Shijo-mae station from other main locations in Tokyo.
From Tokyo Station (東京駅): Take the JR Tokaido Line to Shinbashi Station (新橋駅), then change to the Yurikamome Line (about 40 minutes in total).
From Shinjuku Station (新宿駅): Take the Toei Oedo Line to Shiodome Station (汐留駅), then change to the Yurikamome Line (about 50 minutes in total).
From Asakusa Station (浅草駅): Take the Toei Asakusa Line to Shinbashi Station (新橋駅), then change to the Yurikamome Line (about 50 minutes in total).
What to Do at Toyosu Market
Although the main attraction of this place is the fish market, there are many other attractive things that you can see, do, and taste. Let me introduce to you just some of the awesome things you can do here.
Experience the authentic sushi restaurants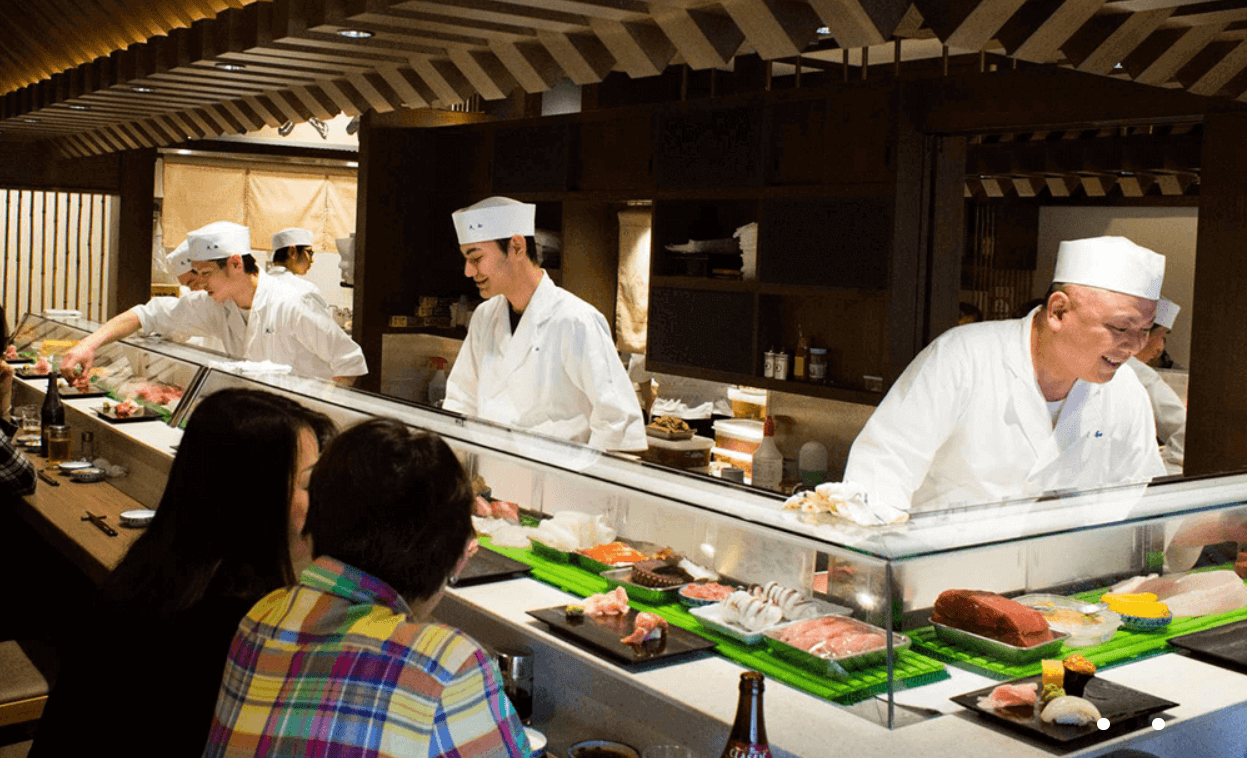 When the market relocated from Tsukiji to Toyosu in 2018, many of the restaurants within the market relocated as well. there are over 35 restaurants across the whole market facilities.
Although the main purpose of these restaurants is to feed the market employees, these restaurants have become popular among tourists. Some people come especially for the sushi restaurants since you can experience some of the best quality fish in the world.
Some of the more popular sushi restaurants include Sushidai (寿司大), Daiwa Sushi (大和), and Ichiba Sushi (市場鮨). If you want to know which are the best sushi restaurants in the Toyosu market, make sure to also check the following article!
Toyosu Market tuna auctions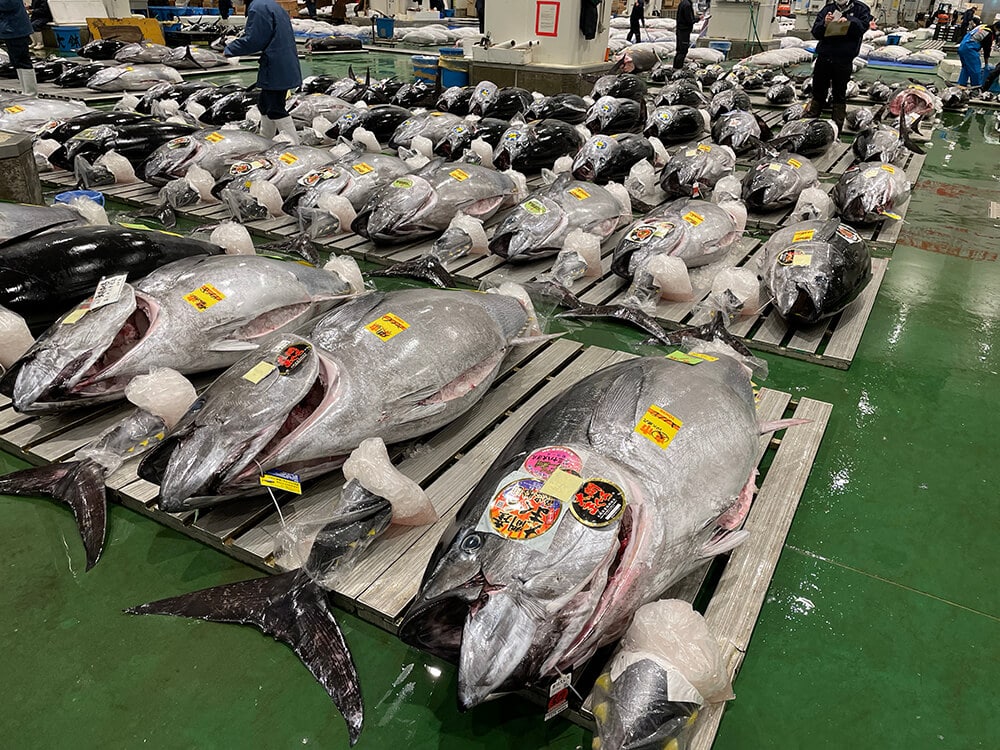 One of the most popular things to do when foreign visitors come to Tokyo is to come and see the tuna auctions. This was true when the market was located in Tsukiji, and it is still the case here in Toyosu.
The tuna auction takes place in the fish wholesales market area from 5:30 to 6:30. You will see about 1,000 of these huge tuna fish lying on the auction floor as the auction takes place.
There are some restricted areas where you need to book in advance, but for regular visiting, you can just go to the fish wholesales market area and you will find further instructions there.
Shopping the freshest ingredients
Although some parts of the market are exclusive for wholesale traders, there is a large area where anyone can go and buy fresh ingredients. This area is called Uogashi Yokocho (魚河岸横丁).
This area is located on the fourth floor of the Fisheries Intermediate Wholesale Market Building and it has over 70 stores. From fresh foods such as fish, seaweed, Japanese tea, wasabi, tsukemono, and tamagoyaki, to cooking supplies such as knives.
The quality of things that you will find here is guaranteed to be top-notch. So much so that you will see professional cooks and restaurant personnel come to buy ingredients here. It is a good place to find souvenirs.
*Note: it is advised to come to this area after 8 am since before that, the shopkeepers will be busy making business with sellers.
Views on the rooftop of the market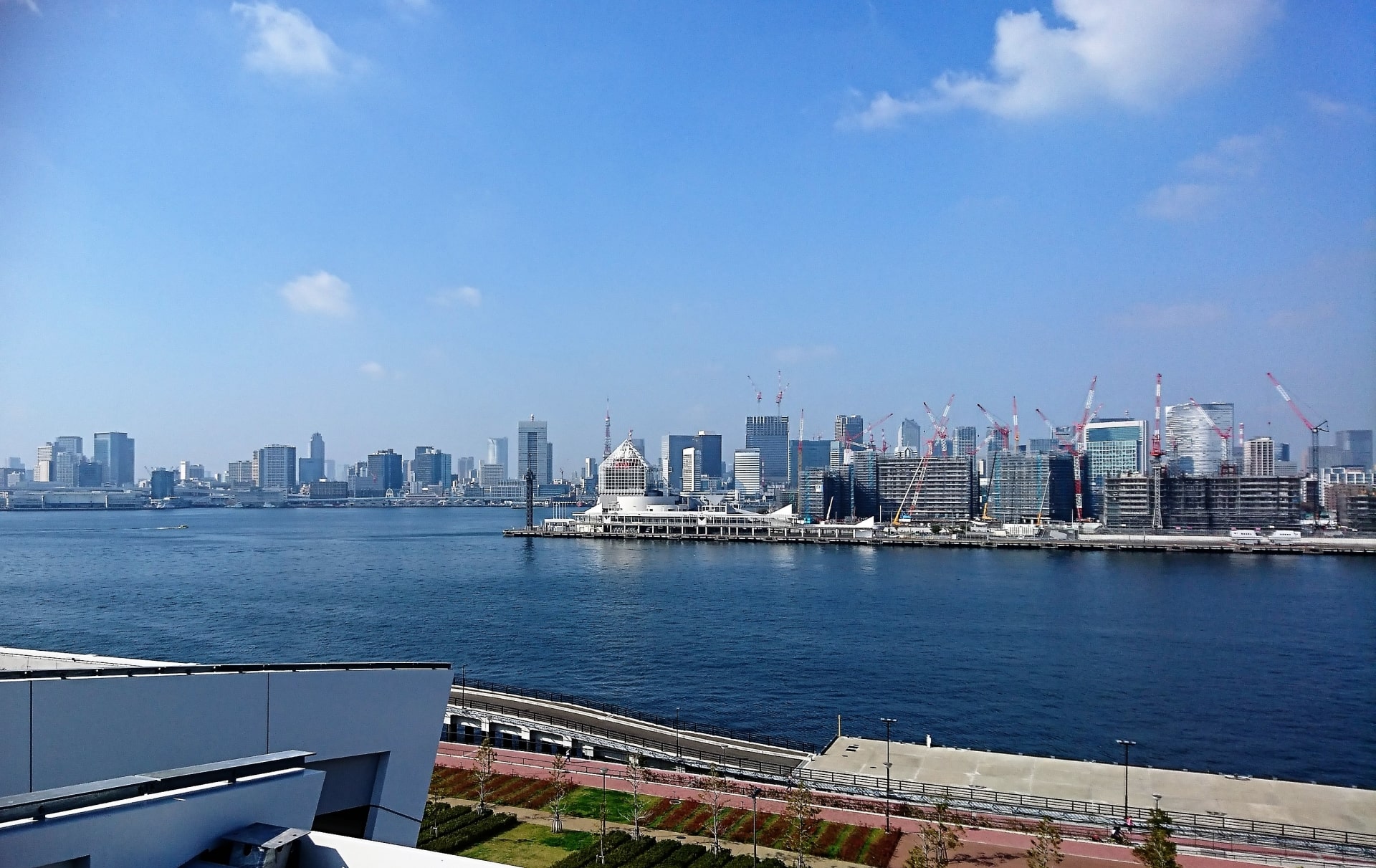 A hidden gem when it comes to the things to do in Toyosu market is to go to the rooftop of the Fisheries Intermediate Wholesale Market Building. This area is converted into a green area with turf where you can rest and see the beautiful view of the Tokyo bay area.
Moving to the previous fish market Tsukiji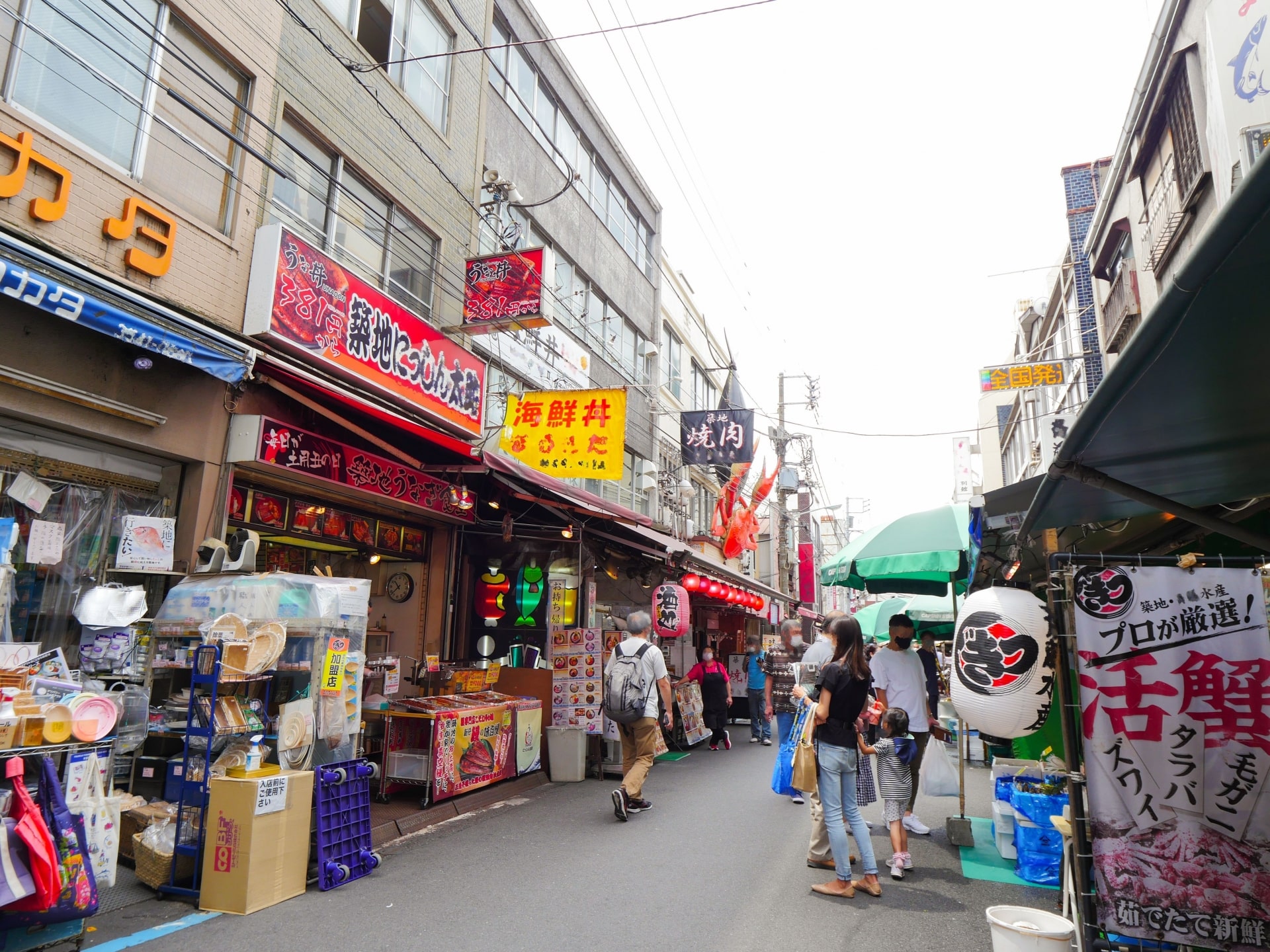 Lastly, although not part of Toyosu market, we still advise you to go visit Tsukiji. Even though the main fish market is no longer located there, there are still many shops and restaurants that you can visit and have lots of fun.
In order to get to Tsukiji, first take the Yurikamome Line to Shiodome Station (汐留駅). From there, change trains to the Toei Oedo Line and go to Tsukiji-shijo Station (築地市場駅). This takes about 40 minutes in total.
---
I hope you enjoyed this article. If you are interested to know more about sushi or other traditional Japanese foods, be sure to check our other articles as well.
▽Related Articles▽
▼Editor's Picks▼
---