Samurai Restaurant to Open in Shinjuku in October 2023
Enjoy the Action-packed Show with Japanese Food at the Samurai Restaurant in Shinjuku!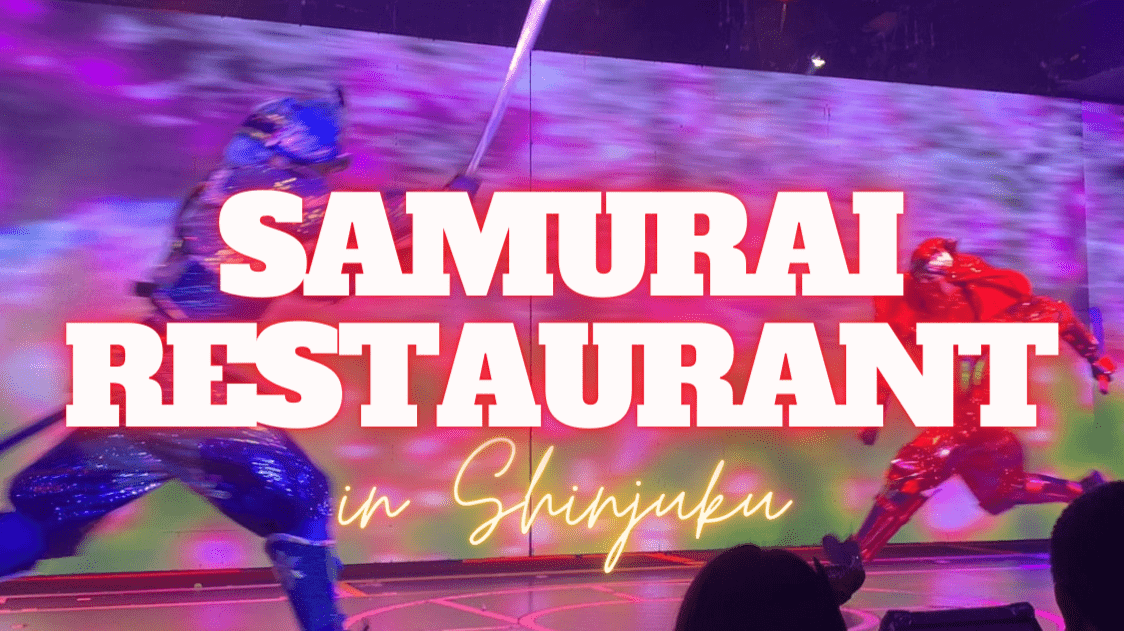 Are you looking for an experience that is unique and exciting and represents the craziness of the neon towns in Tokyo?
In the sprawling metropolis of Tokyo, many tours and experiences showcase the serene and traditional facets of Japanese culture. However, it's notably more challenging to discover experiences that encapsulate the contemporary, frenetic, and neon-lit side of Tokyo that captures the city's electric spirit. While Tokyo buzzes with historical allure, few attractions truly mirror its modern-day vibrancy and 'crazy' energy.
Enter the Samurai Restaurant: an over-the-top spectacle that stands out even in this city of wonders. Not only is the experience itself unique, with its dynamic dances and Samurai swordplay, but its venue also holds a special distinction in Tokyo. It is produced by the same company that created the highly popular "Robot Restaurant".
Make a point to immerse yourself in this unparalleled adventure! This show is available starting on October 10, 2023!
<<11% OFF vs Door Price! Samurai Restaurant Show Reservation in Shinjuku Tokyo>>
A few days ago, I had the opportunity to see this live performance. In this article, I will share with you my experience as well as my thoughts about this new show you can check out in Kabukicho, Shinjuku!
*Note: This experience is for guests aged 18+
*Please note that this article contains affiliate links.
---
First of all, for those who don't know about Kabukicho, let me quickly explain.
Kabukicho in Shinjuku is arguably Tokyo's most vibrant nightlife district. Unique for its blend of neon lights, entertainment venues, and cultural experiences, it's a magnet for tourists seeking Tokyo's eclectic mix of the modern and traditional. It is popular for bars, clubs, and theatrical shows and encapsulates Tokyo's energetic spirit.
What is Samurai Restaurant?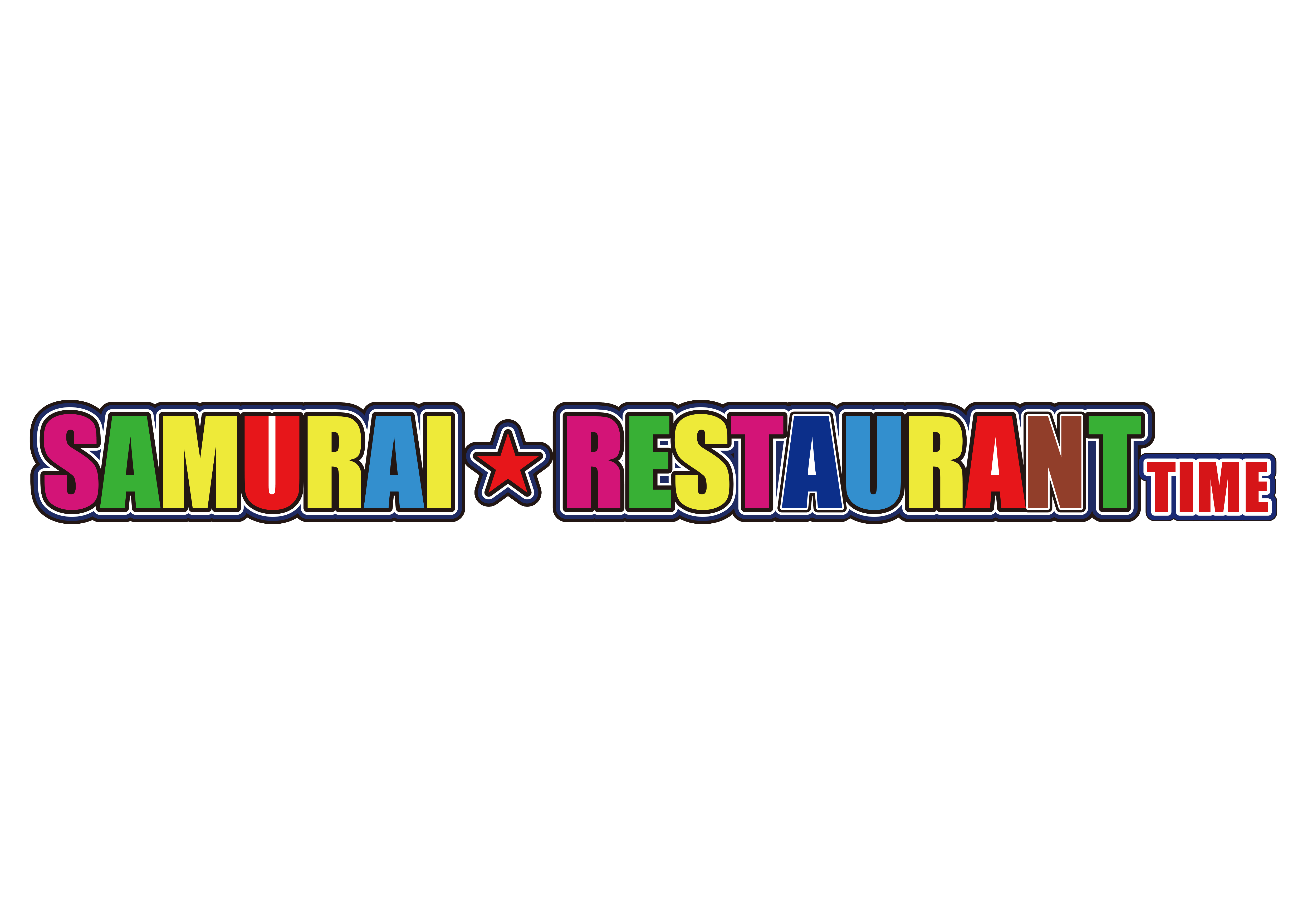 Located in this highly energetic area of Shinjuku is the Samurai Restaurant. Samurai Restaurant is not simply a restaurant with Samurai themes. It is a place where you can enjoy a live Samurai show while having Japanese food and drinks.
The live show consists of three acts, as well as having a pre-show performance beforehand. The show itself is something you will not forget! An over-the-top performance including energetic dances, action-packed choreography, colorful sets and dresses, and most of all, Samurai sword fighting action! You will even see robots taking the stage!
All this can be enjoyed while having Japanese food, drinks, and snacks. There is also a selection of souvenirs from which you can choose to purchase and take home!
My Experience at the Samurai Restaurant
From here, let me share with you my experience going to the Samurai Restaurant.
1. Arriving at the location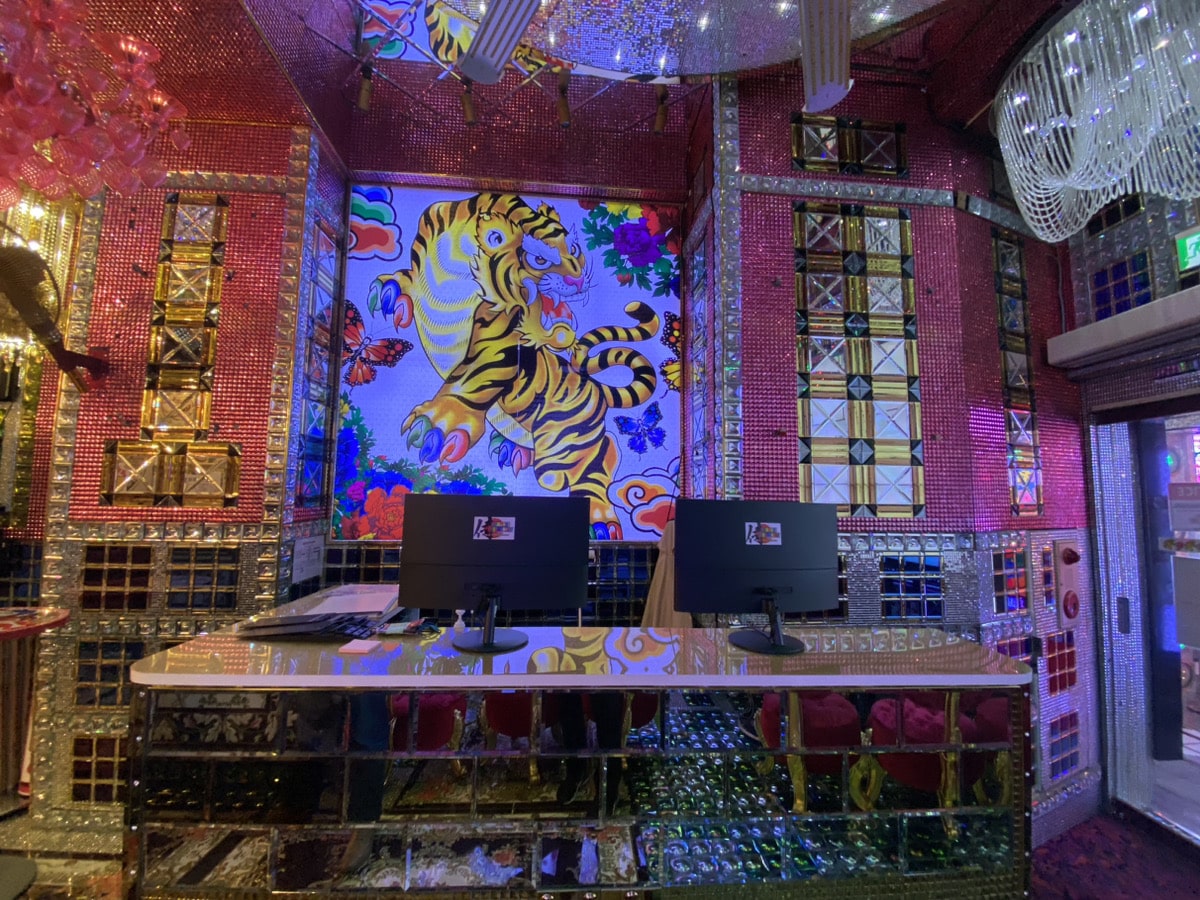 The place where the Samurai Restaurant is located is usually a girls bar called "GiraGiraGirls". The building has a huge neon sign, so there's no way you can miss it.
The main show is between 14:30 and 17:00, but the pre-show starts at 13:00. It is advised to get to the location before 14:00 so you can check in. At the entrance, there are lockers where you can store your luggage. After checking in, you will be guided to the restaurant floor.
The entrance, hallway, and stairs leading to the restaurant floor are some of the most colorful, with over-the-top decorations you will see.
The restaurant has space for up to 71 guests, and the seats are assigned as guests arrive, so if you want to get the best seats, be sure to get there early.
2. The Food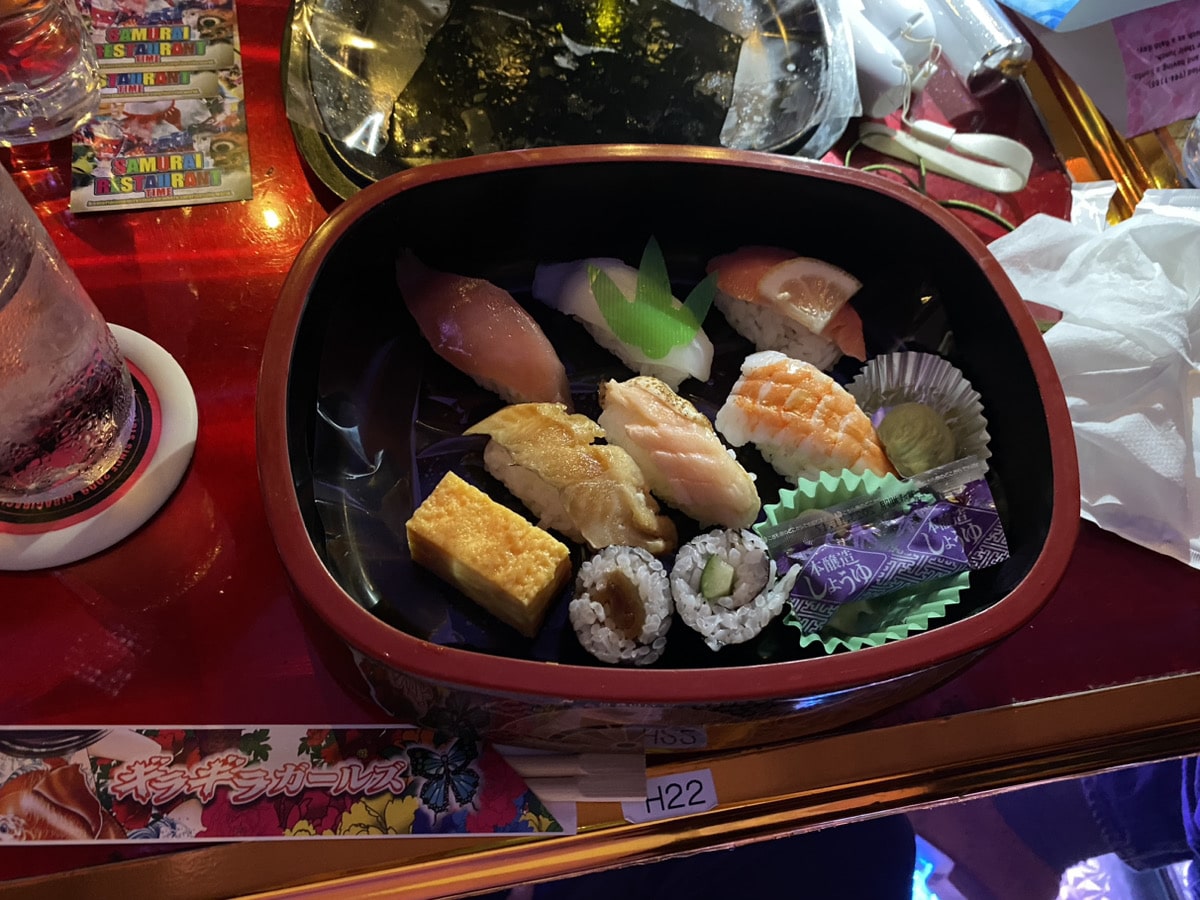 There are six sets from which you can choose, including Beef steak Bento, Samurai Sushi Bento, Ramen, and Udon. I chose the Samurai Sushi Bento which comes in a nicely decorated bento box. The bento box also came with a bottle of water. The sushi was really good, containing the most popular toppings such as salmon, shrimp, and tamago (egg-roll).
Although during the show, the place gets pretty dark, every table has a small table light, so you won't need to eat in complete darkness.
You can also order additional food, drinks (alcoholic and non-alcoholic), and snacks (these additional orders can be purchased with cash only).
*Note: the legal drinking age in Japan is 20, so alcoholic beverages can only be purchased by guests 20 years and older.
3. The Show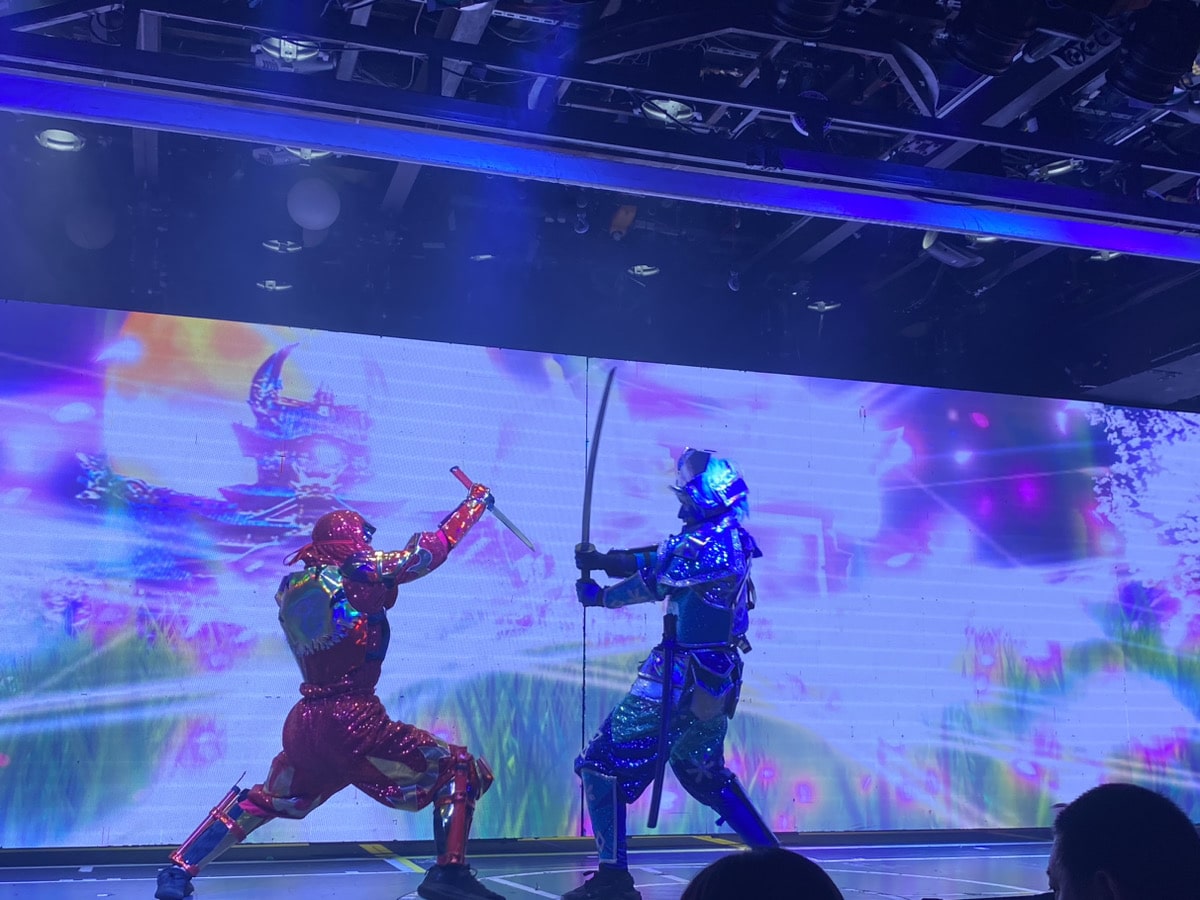 As I previously mentioned, the show consists of three acts (14:30 – 17:00), plus the pre-show that takes place from 13:00. Every table has a flashy stick you can turn on and waive during the show to be more immersed!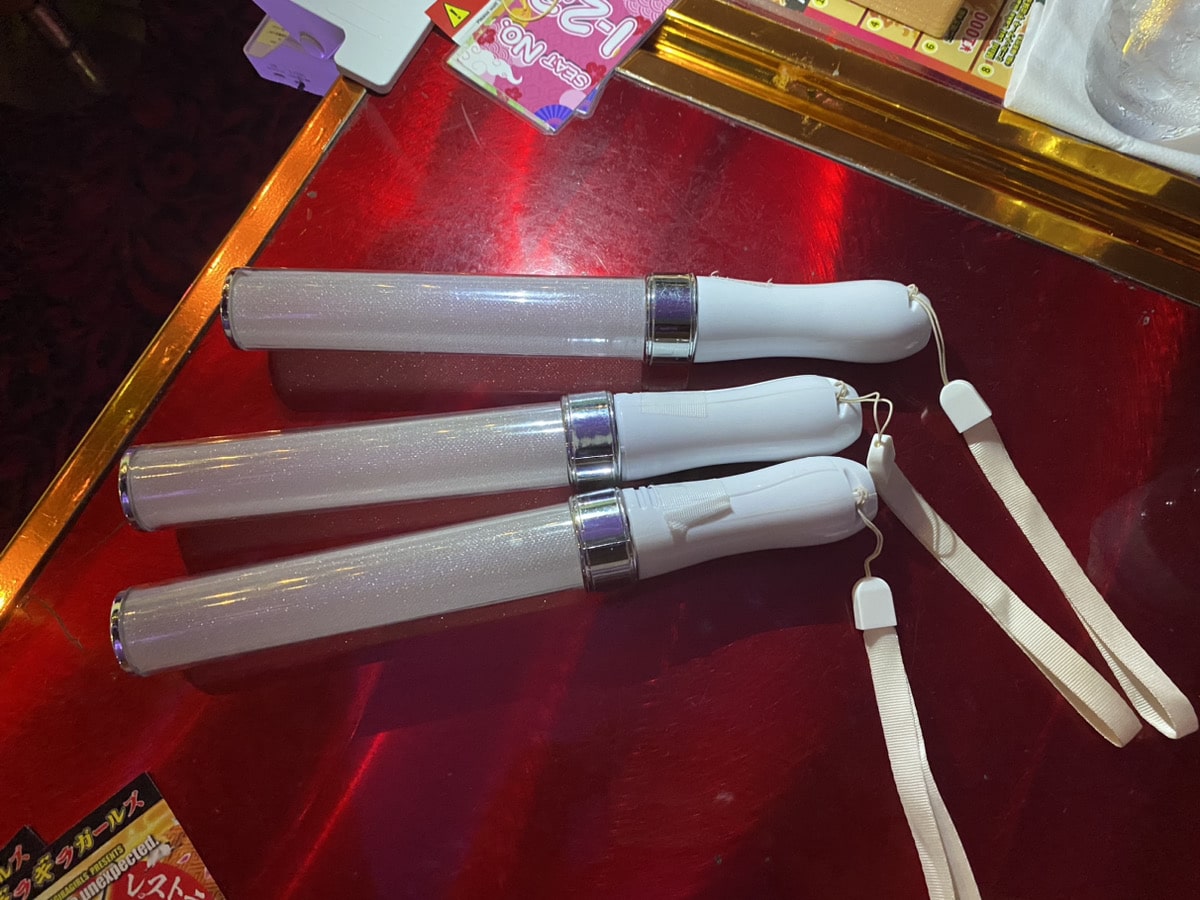 Before each act, there is a narration in English to explain the story as well as the characters in this play. And then, the show starts!
If you think you're going to experience a traditional Samurai story, think again. Once you enter the restaurant and see the crazy, over-the-top design of the place, you can have an idea of how the show is going to be! It is definitely a show you won't forget!
Traditional Japanese tunes are arranged in high-tempo, dance music. The show is action-packed with energetic dancing, high-intensity sword-fighting choreography, intricate, colorful stages and costumes, and there are even robots that take the stage!
On this occasion that I got to see the show, there were Japanese Yokai (demons) and zombies, due to being October (Halloween season). Apparently, this will change depending on the season.
There are short breaks in between the acts, which are convenient for those who want to go to the restroom or want to make additional orders. You can also take this opportunity to purchase some souvenirs!
My thoughts
My thought on this experience is that it is definitely something you won't experience elsewhere! So much color, lights, music, action in a single live show while enjoying a Japanese meal. I thought all this was a good representation of what Shinkuju (or Kabukicho to be more exact) is as a city that never sleeps with the neon lights and entertainment.
Whether you are interested in high-intensity live performances or want to have a different experience other than visiting traditional Japanese culture spots, the Samurai Restaurant will definitely be an experience you won't forget.
Samurai Restaurant Tickets
As I previously mentioned, the Samurai Restaurant will be open starting on October 10, 2023. You can book online from the link below to get an 11% off discount!
<<11% OFF vs Door Price! Samurai Restaurant Show Reservation in Shinjuku Tokyo>>
If you're planning on being in Shinjuku after October 10, be sure to check out this completely unique show!
How to Get to Samurai Restaurant
Samurai Restaurant is only a 5-minute walk from Shinjuku Station (East exit). However, Kabukicho can be a bit labyrinthine and confusing if you are new to the city, so let me show you a quick and easy way to get there.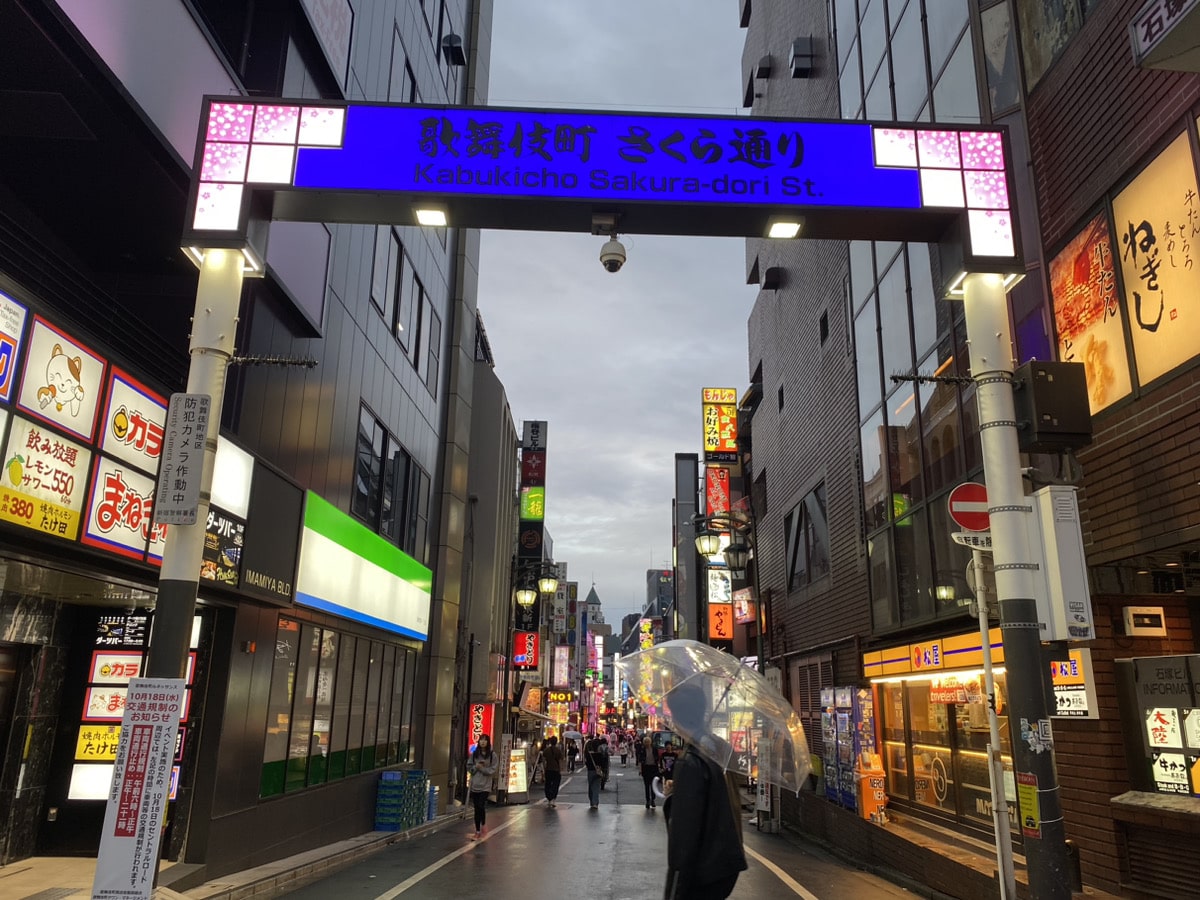 First, find the main entrance to Kabukicho with Gozilla in the background. Cross the crosswalk towards Don Quijote, and keep walking until you find the entrance to "Kabukicho Sakura-dori St."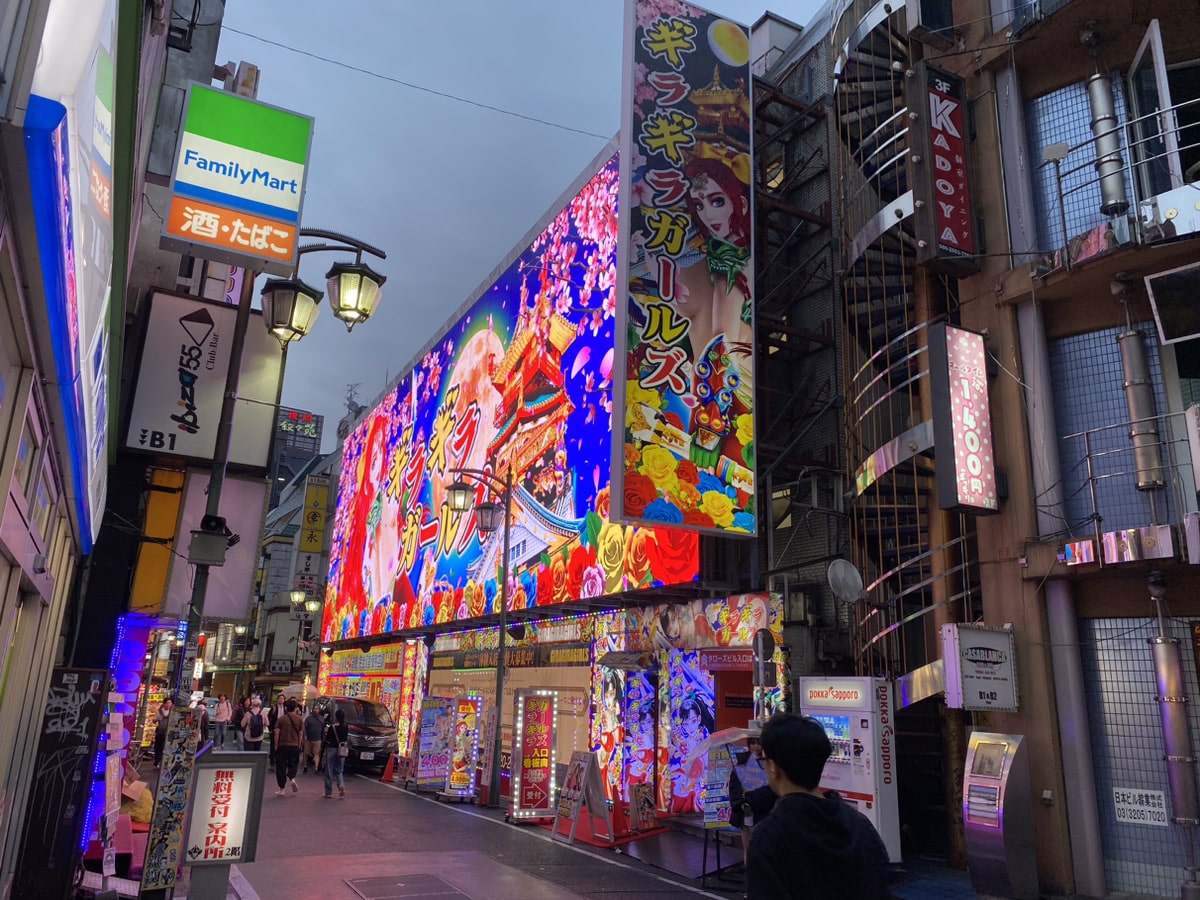 Follow that street straight ahead and you will soon find a huge building like the one in the picture. There is a FamilyMart right in front of it just so you know.
-Samurai Restaurant-
View Information
Hide
Information
| | |
| --- | --- |
| Access | 4 minute walk from Shinjuku Station (JR) |
| Address | 1−7−7 Kabukucho, Shinjuku, Tokyo, 160-0021 |
---
I hope this report has helped to spark an interest in you for this highly entertaining show that the city of Shinjuku has to offer you! If you have a chance to visit Shinjuku, be sure to take this place into account!
▽Subscribe to our free news magazine!▽

For more information about things to do in Kabukicho, check these articles below!
▽Related Articles▽
▼Editor's Picks▼
---