Guide to Sapporo Snow Festival 2024
Sapporo Snow Festival: The Biggest Winter Festival in Japan Held at Sapporo City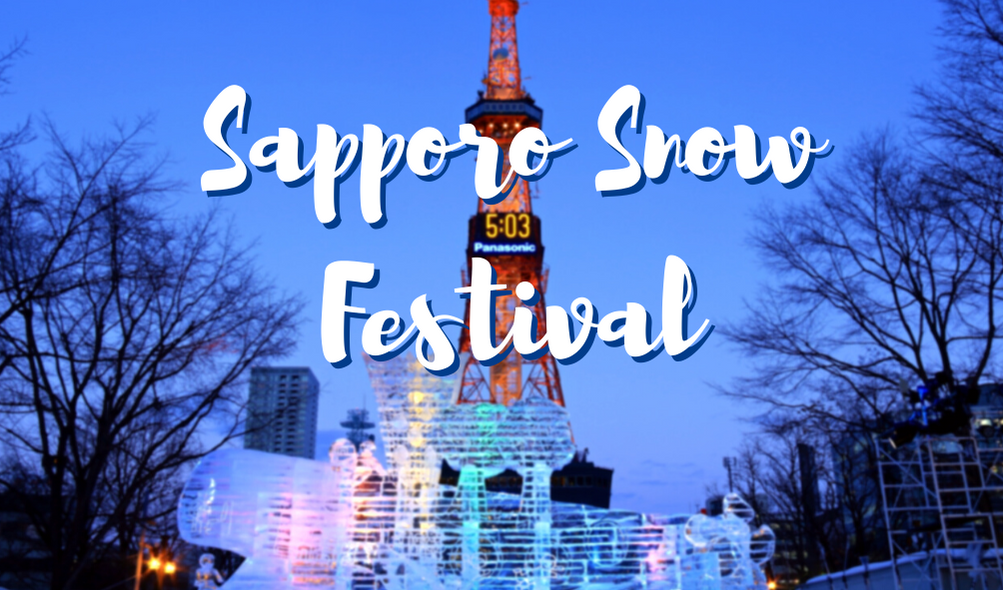 The Sapporo Snow Festival or Sapporo Yuki Matsuri (さっぽろ雪まつり) in Japanese is the biggest winter festival in Japan!
Sapporo City is the capital city of Hokkaido Prefecture, the northernmost prefecture of Japan. So as can be expected from being in the North, Hokkaido Prefecture is famous for being one of the coldest areas of Japan with heavy snowfalls during Winter.
And what can you do when you have lots of snow every year? Obviously, snow sculptures! Held in early February every year, the Sapporo Snow Festival started in 1950 and became bigger and bigger and nowadays is one of the top tourist attractions in Japan during Winter time. Before 2020 the festival was welcoming over 2 million visitors from Japan and abroad and now is back again! The 74th Sapporo Snow Festival 2024 is being held from 4th to 11th February in 2024.
Sapporo Snow Festival
The Sapporo Snow Festival have 3 venues: Odori Site, Susukino Site and Tsu Dome Site.
The main part of the festival is held in Otori Site. While walking in the 1.5km long main street, visitors can enjoy the famous and impressive snow sculptures, including over 10 m tall large scale ones as well as food/beverage stalls, dance shows, shops and more. At night time, some of the sculptures light-up and a few have even an illumination show!
In the other hand the Susukino site is located in Hokkaido's red-light district Susukino area, and is the venue for the ice made sculptures. If you want to take a rest from visiting, you can enter in one of the ice-bars.
Lastly, the Tsu Dome Site it's the funniest area of the festival and the children's (and not so children's) favorite! Usually this venue hold snow attractions such as snow slides and snow maze.
The 73rd Sapporo Snow Festival will be held only at Odori Site and Susukino Site from 4th to 11th February in 2023.
My Experience at Sapporo Snow Festival
I had never been to a snow festival before and I really loved it!
My friends and I arrived for the last days of the festival. Our first day in Sapporo even though we caught an early morning flight between arriving, checking in at the hotel and going to lunch we didn't have much time left to see all the snow sculptures at the festival. But we did get there in time to enjoy what became one of my favorite parts of the festival, the yosakoi style dance performances by students from different schools and universities.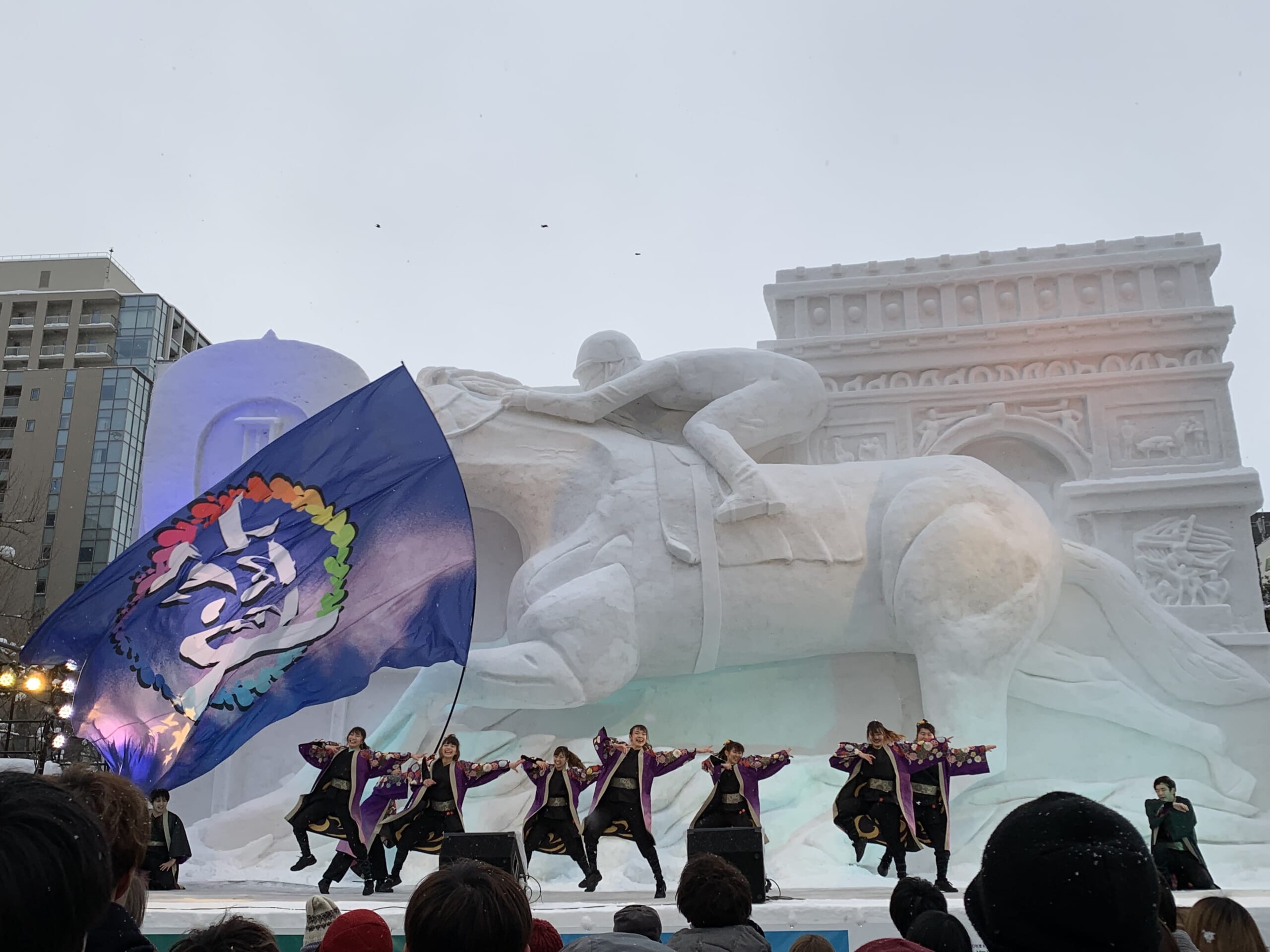 Yosakoi is a unique dance style created in Japan and seen at festivals (called matsuri in Japanese). This dance is characterized by being very energetic and lively, and I love it! You can see how the participants give their all and give it their all, while enjoying themselves. Another particularity of this dance is that there is always one of the members behind all the others holding a huge flag, representing the group. Flying that giant flag and holding it up is not easy and requires a lot of strength, and it is a part that I like a lot too.
We were also able to enjoy some of the delicious food from the food stalls. As it started to snow and it was cold, in the evening we went for a delicious Sapporo-style ramen for dinner.
The next day we got up early to enjoy the festival to the fullest! First we went to the Odori Site to admire with more time and tranquility all the impressive snow sculptures. The festival consists of 4-6 gigantic and impressive sculptures, and hundreds of smaller sculptures among which we can find anime or video game series like Pokemon, Ghibli, etc. The walk is much longer than it may seem and it takes a while to see it all!
An interesting activity to do after seeing the sculptures is to climb the Sapporo Tower to have a panoramic view of the entire festival, although we did not do it due to lack of time.
We then headed to Susukino Site to admire the ice sculptures. These are smaller and occupy less space, but they are incredibly beautiful and well detailed. At this point while looking for a place to eat we also visited some of the temples and shrines in the area. Finally we went to the Tsu Dome Site but by the time we got there they were closing and we couldn't try any of the activities, which was a shame because they looked like so much fun!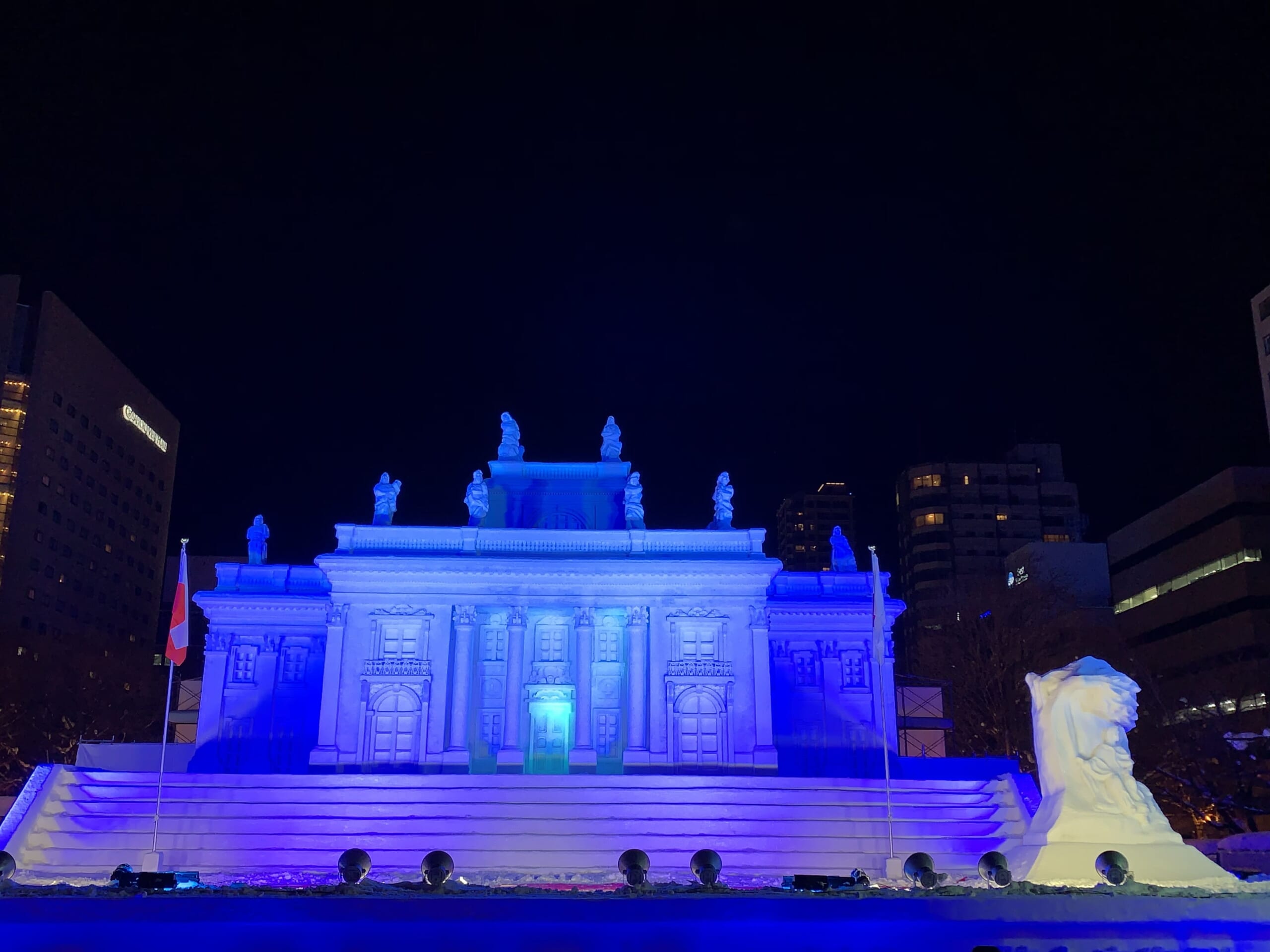 With the sky already dark, we went back to the Odori Site as the giant sculptures have a nighttime illumination show! Before going to the Sapporo snow festival I did not know that there was this night illumination, so I was very surprised. To end the day in Sapporo, we went to dinner at an izakaya type restaurant where the specialty was bear meat and deer meat, which seems to be popular in the area (although we ordered something else).
Overall
The Sapporo Snow Festival is undoubtedly one of the best winter events in Japan! Not only the festival, the city of Sapporo is also a popular tourist spot and Hokkaido prefecture is home to some of Japan's best ski resorts, such as Niseko.
After several years of traveling in Japan, some things don't impress me as much as they did on the first day. But the Sapporo snow festival was definitely one of my favorite trips, and a unique and different activity.
If you are planning a trip to Japan in winter, I definitely recommend not to miss Hokkaido and the Sapporo snow festival!
Other interesting things to do near
If you have some extra days, I recommend you visit the Otaru Snow Festival too.
Otaru is a harbour city near to Sapporo City and is famous for their Otaru Snow Light Path Festival or Otaru Yuki Akari no Michi (小樽雪あかりの路). Otaru's Snow Festival is one of the most popular Hokkaido Snow Festival after the Sapporo Snow Festival, getting about 500,000 visitors.
Usually the Otaru Snow Festival starts around when the Sapporo Snow Festival ends, so the timing it's perfect!
---
-Sapporo Snow Festival 2024
Odori Site & Susukino Site
Access: 2 mins walk from Odori station or 10 mins walk from Sapporo station
Hours: all day (light-up till 22:00)
Tsudome Site
*More information coming soon
Fee: Free
Official Website: http://www.snowfes.com/english/
---
Winter is certainly the best time to visit Hokkaido! If you are looking for more things to do in Hokkaido area specially during Winter time, please check out these articles too!
▽ Related Articles ▽
▼ Editor's Picks ▼
---