15 Best Things to Do in Fukuoka
Things to Do in FUKUOKA: Hakata Ramen, Dazaifu Tenmangu and more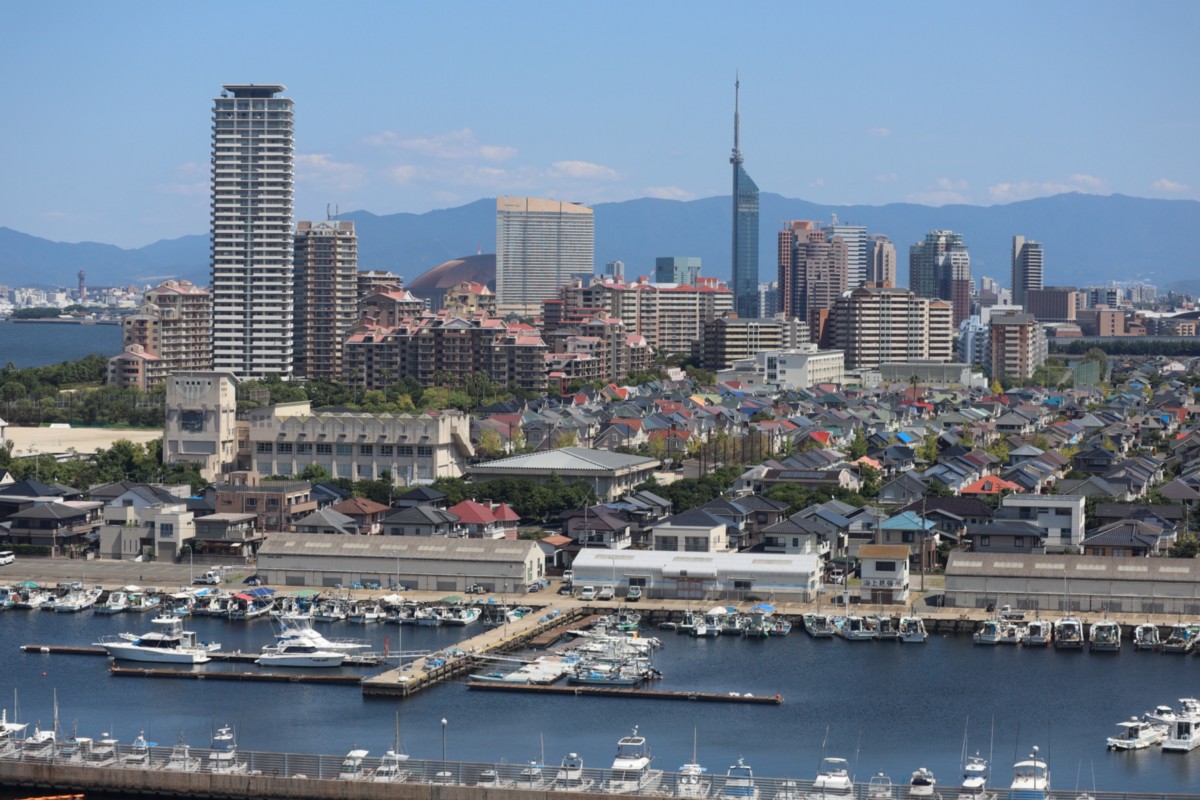 Fukuoka Prefecture is situated at the northernmost of Kyushu Region. It's the largest city and the business center of the region for many years, and the city is accessible from several Asian countries such as China, Taiwan and South Korea, therefore, it's been serving as an important city for trading and has an unique diverse culture.
Fukuoka is also a hub for visitors to Kyushu Region with the principal airport of the region that connects a large number of domestic and international flights as well as the port for cruising ships. If you are planning a trip to Kyushu Region, it's definitely worth spending some days at Fukuoka Prefecture as it offers tourists a wide range of attractions. From the delicious local food like Hakata Ramen to the historical monuments, check out the best things to do at Fukuoka Prefecture!
1. Food
Fukuoka Prefecture is known as one of the most gourmet cities in Japan and Fukuoka's local food is a huge attraction of the prefecture. There are numbers of signature dishes such as Mentaiko (spicy cod roe), Motsunabe (hot pot dish), Gyoza (dumpling), Yakitori (chicken skewers), etc.
-Tonkotsu Ramen
The most famous regional dish from Fukuoka would be Tonkotsu Ramen (pork broth Ramen)! Hakata Ramen is the most famous regional Ramen in Japan that has fans across the world. The well-known global franchised Ramen shops like Ichiran and IPPUDO are both from Fukuoka Prefecture. There are Kurume Ramen and Nagahama Ramen which are also popular regional Ramen from Fukuoka Prefecture. Delicious bowls of Ramen can be tasted at local Ramen stores or at the food stalls called "Yatai".
-Yatai
As I mentioned above, one of the most attractive things about Fukuoka is its local delicacies. And the best place to enjoy them is "Yatai" the atmospheric traditional food stalls lined on the streets, serving a variety of authentic local food and drinks at inexpensive price.
There are many Yatai open at night at several locations and cities in Fukuoka Prefecture, but the most vibrant area would be Nakasu where a few dozens of Yatai stalls lined along the river. Yatai is not only a great place to enjoy delicious food but also to know real local culture as you may have chance to mingle with locals at these small stalls!
-Cooking Class
One of the best ways to explore the distinctive food culture of Fukuoka is joining a local cooking class! A wide variety of cooking classes are available at many cities in Japan including Fukuoka, and it's one of the most popular activities among foreign visitors nowadays. Cooking classes offer visitors opportunities not only to learn how to make dishes but also to get to know Japanese culture deeper. You can interact with local teachers and learn the Japanese food culture and history, too! From Japanese signature dishes such as Ramen to authentic home-cooking dishes, pick your favourite cooking class available in Fukuoka! Click the link below to find the best cooking class in Fukuoka!
2. Fukuoka Tower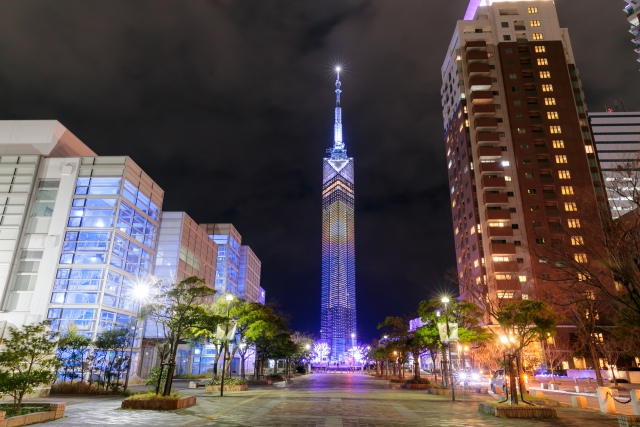 Fukuoka Tower (福岡タワー) is a symbolic landmark of Fukuoka City, and one of the most visited attractions in the city. The 234 m tall tower is Japan's tallest seaside tower, offering a spectacular panoramic view of Fukuoka City from its observation deck during day and night.
▶ Book E-tickets for Fukuoka Tower!
3. Canal City Hakata
Canal City Hakata (キャナルシティ博多) is the large shopping and entertainment complex in Hakata area, Fukuoka City. It's a "City within the City" type of buildings which houses hundreds of shops, restaurants, cafes, cinemas, hotels and the canal which runs through the complex as well as exhibition and events held seasonally. Visitors can easily spend a whole day at this massive entertainment facility and it's a great place to hang-out on a rainy day.
4. Hakata Gion Yamakasa Festival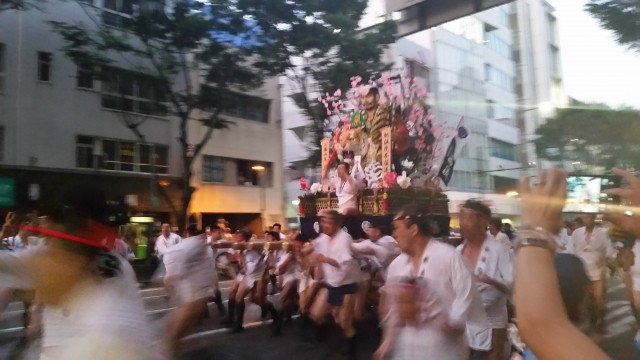 Hakata Gion Yamakasa (博多祇園山笠) is one of the most exciting traditional Japanese festivals that is held in Hakata every year for over 700 years. The celebration starts on 1 July and continues till 15th July, featuring massive and colourful festival floats that are carried through the city for about 5 km by male carriers in traditional costume. The floats parade and race take place from 10 July and the grand finale will be on early morning of 15 July. The festival attracts around 1 million visitors during the period.
Official Website: https://www.hakatayamakasa.com/ (Japanese)
5. Dazaifu Tenmangu Shrine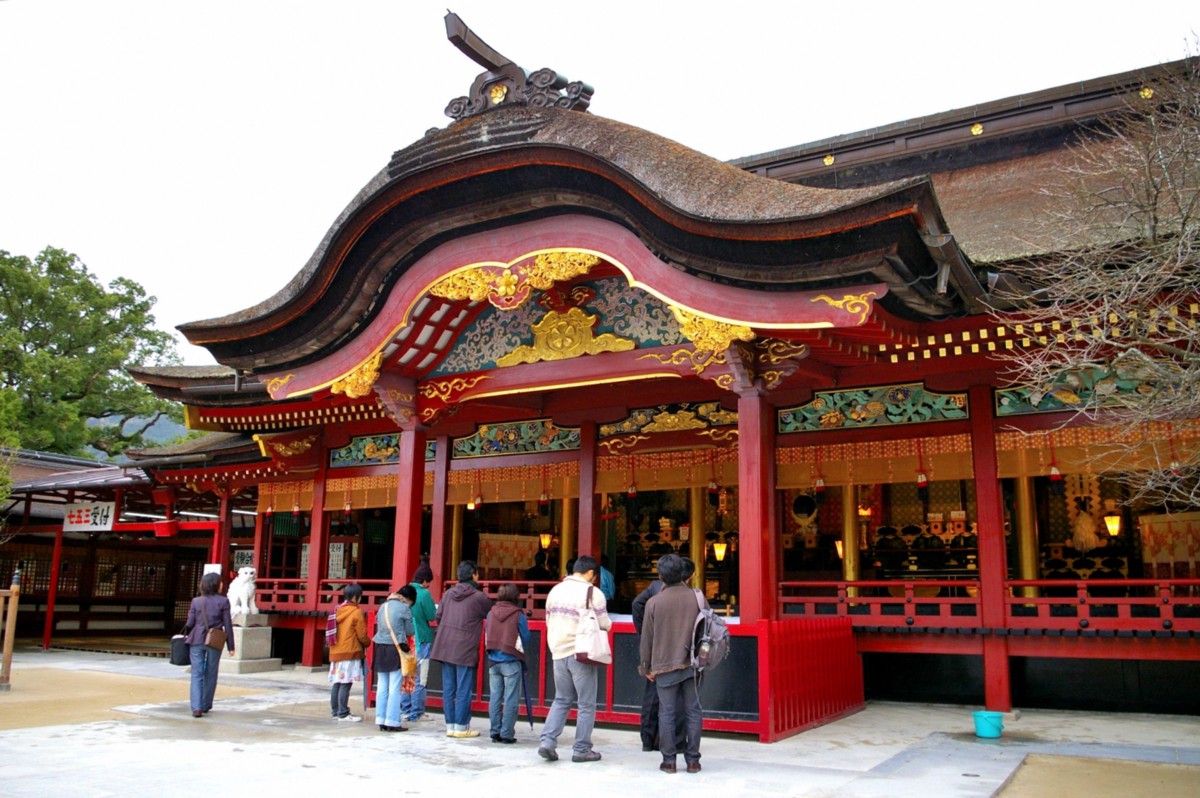 Dazaifu Tenmangu Shrine (太宰府天満宮) is a Shinto shrine located in Dazaifu City, Fukuoka Prefecture. The shrine is dedicated to Sugawara Michizane who was a scholar, poet, and politician of the Heian Period in Japan, and known as the god of learning, therefore the shrine is busy through the year by worshippers praying for academically success. There are over 6,000, 200 kinds of plum trees planted at the shrine site, which bloom beautifully in February to March.
When you visit Dazaifu Tenmangu Shrine, do try Umegae Mochi, the traditional street snack sold at the approach to the shrine, the grilled mochi cake filled with azuki bean paste and has the print of a plum tree flower.
Recommended tour ▶ Dazaifu Shrine, Yufuin and Beppu Day Trip in Kyushu
Map: http://bit.ly/2FHjGEq
Access: 5 mins walk from Dazaifu Station
Hours: Open at 6:00 (6:30 from mid Sep to mid Mar)/Close 18:30 (Dec to Mar), 19:00 (Apr, May, Sep, Oct, Nov), 19:30 (Jun, Jul, Aug), 20:00 (every Fri & Sat)
Fee: Free
6. Kyushu National Museum
Kyushu National Museum (九州国立博物館) is located in Dazaifu City, near Dazaifu Tenmangu Shrine. It opened in 2005 as one of Japan's four national museums (others are in Tokyo, Kyoto and Nara). While other three national museums mainly exhibit art, Kyushu National Museum is more focused history. The museum is also known for its modern architecture and the use of technological innovations such as high resolution video system.
▶ Get Kyushu National Museum Admission
Map: https://goo.gl/maps/HiZct1vJHvuyxQQ17
Official Website: https://www.kyuhaku.jp/
7. TeamLab Forest Fukuoka
There are several cool digital art museums produced by TeamLab in Japan such as TeamLab Planets and MORI Building DIGITAL ART MUSEUM: teamLab Borderless in Tokyo. In 2020, TeamLab Forest Fukuoka was founded in the center of Fukuoka City. It is comprised of two areas: The Catching and Collecting Forest and The Athletics Forest. Both kids and adults can have a new experience with high-tech arts.
▶ Book TeamLab Forest Tickets!
Map: https://goo.gl/maps/T5uNjHow5EP2gnxn9
Access: 10-15 mins walk from Tojinmachi Station
Hours: 11:00~20:00 (Weekdays)/10:00~20:00 (Weekends & Holidays)
Fee: 2,200 yen (Age 16~)/800 yen (Age 4-15)/Free (Age 0-2)
More info:
8. Watch Baseball Game of Fukuoka SoftBank HAWKS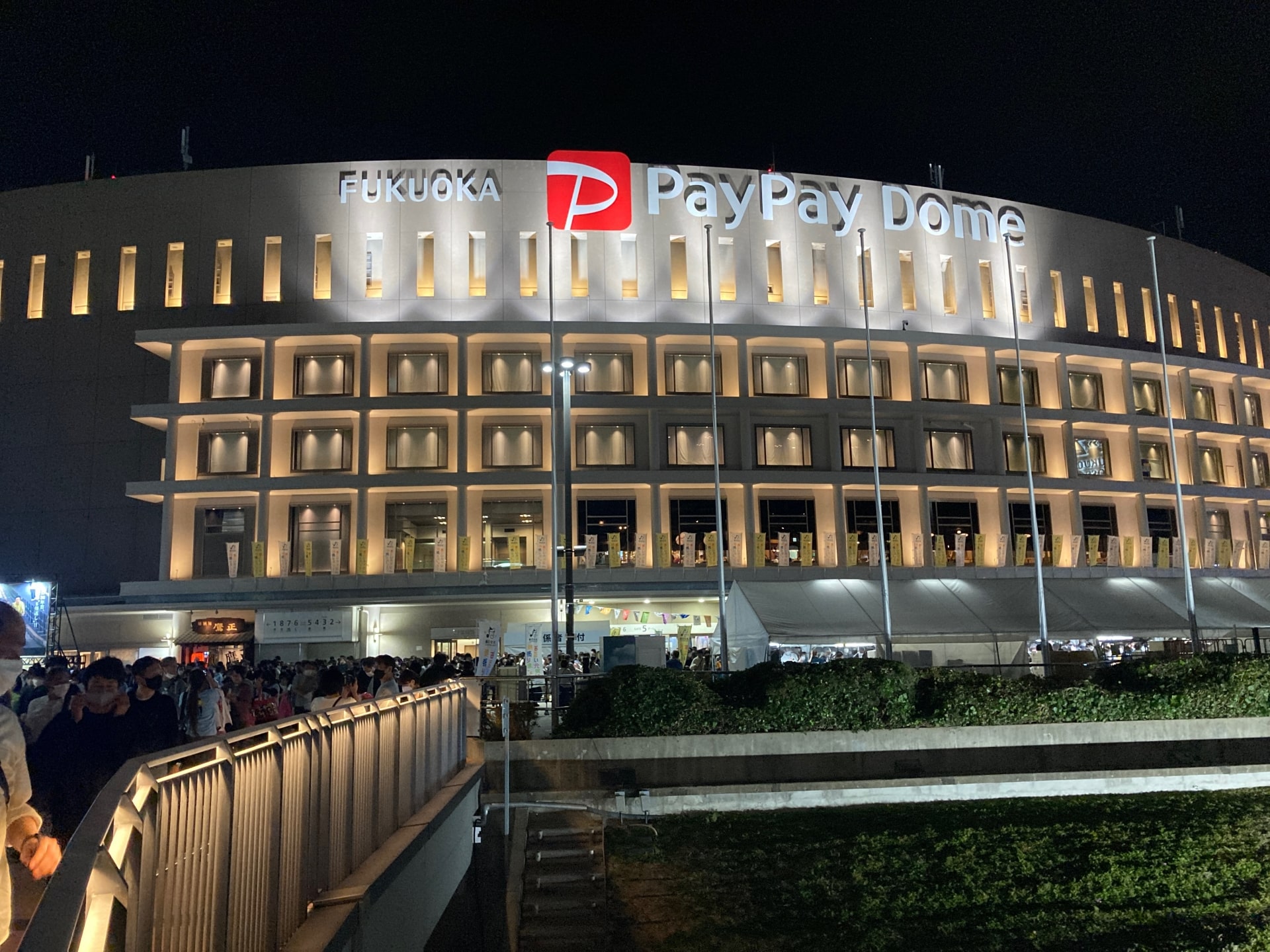 Fukuoka SoftBank Hawks is a Japanese professional baseball team based in Fukuoka City. During the game season, baseball games are played in their home ground, Fukuoka PayPay Dome which has a capacity of 40,000 seats. You can book tickets for a baseball game and enjoy watching with an exciting and thrilling atmosphere surrounded by enthusiastic fans!
▶ Book tickets for Fukuoka SoftBank Hawks baseball game!
9. Sumo Grand Tournament
The traditional Japanese wrestling, Sumo's grand tournament is held 6 times a year at 4 different cities: Tokyo, Osaka, Nagoya and Fukuoka, and the Fukuoka Basho is held in mid November. Click the link below to purchase tickets and don't miss a chance to see the dynamic battles of Sumo wrestlers with the best seats!
10. Yanagawa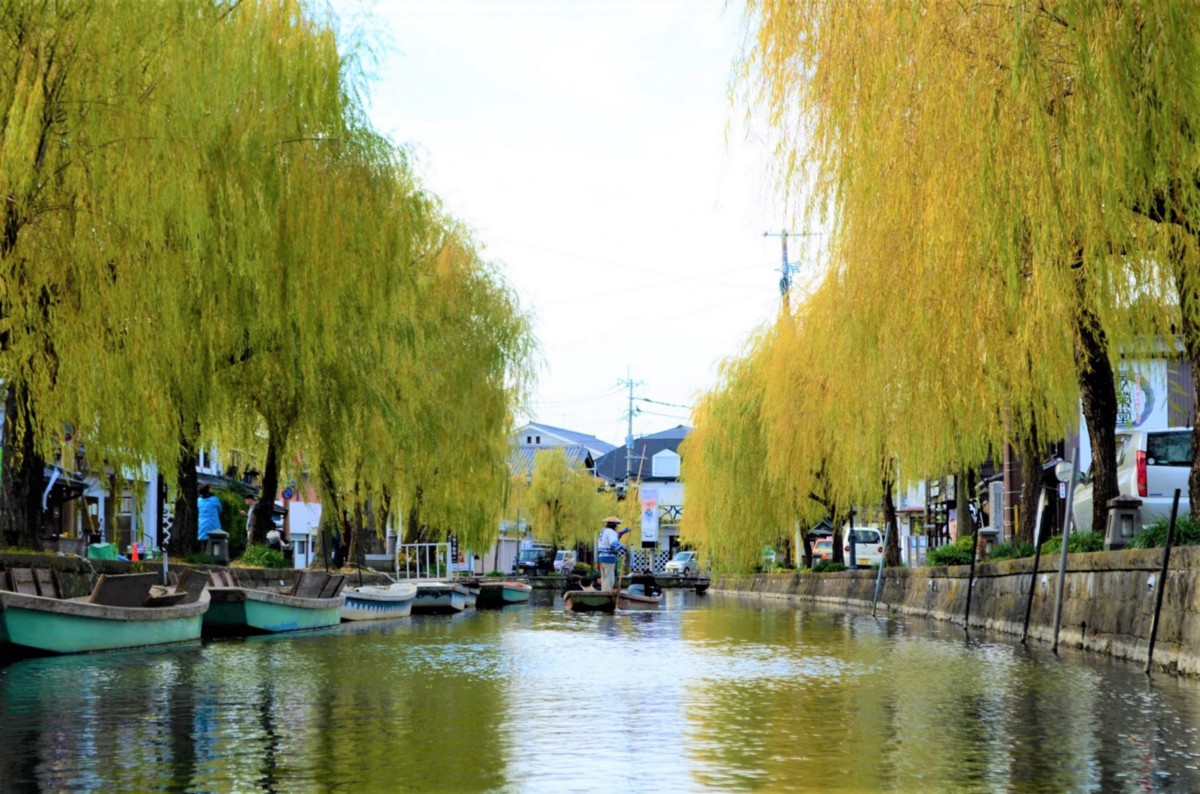 Yanagawa (柳川) is a former castle town in southwest Fukuoka Prefecture. The town is known for the charming townscape with a number of canals which can be toured through by small boat called Donkobune navigated by local boatman. The town is also famous for river eel dish. Seiromushi is a must-try dish when visiting Yanagawa, which is broiled eel on seasoned steamed rice, topped by sliced omelette and served in a traditional wooden box.
More info:
11. Itoshima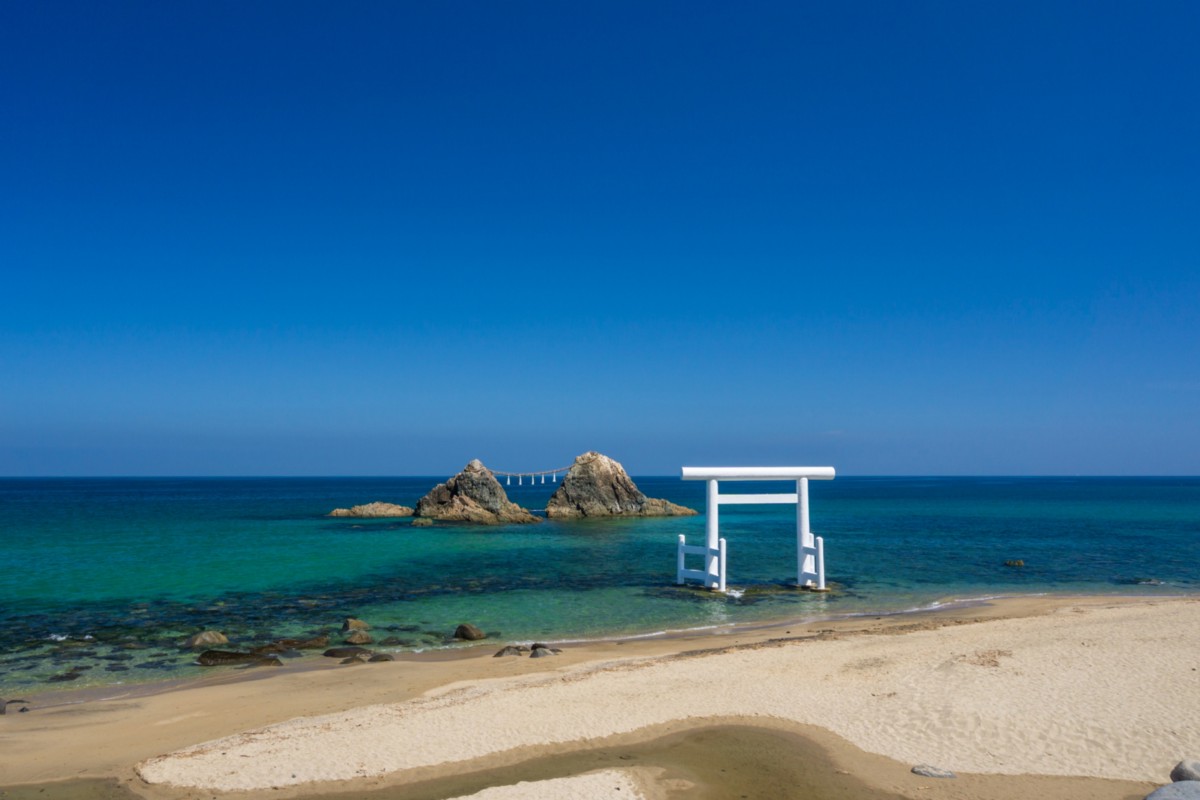 Itoshima (糸島) is a city in western Fukuoka Prefecture along the Genkai Sea. The small seaside city offers full of attractions and scenic spots, and has become a popular travel destination during summer in the past years, especially among Instagrammers and photographers. The city has several notable photo spots such as the white torii gate and the wedded rocks of Futamigaura Beach, the scenic driving road and the palm tree swing as well as stylish cafes and astonishing nature sites.
More info:
12. Kawachi Wisteria
Kawachi Wisteria Garden or Kawachi Fujien (河内藤園) is a private garden located in Kita Kyushu City. The garden has become world famous since it's been featured as one of the most beautiful places in Japan by CNN Travel as well as on numbers of global travel websites. This private garden is opens for public viewing only for certain periods of the year: in spring for wisteria and in autumn for autumn tint leaves viewings. The 1 ha garden is home to 22 kinds of colourful wisteria flowers that display delightful scenery from late April to mid May every year. The astonishing view of the colourful wisteria tunnel attracts visitors across the world.
More info:
13. Ainoshima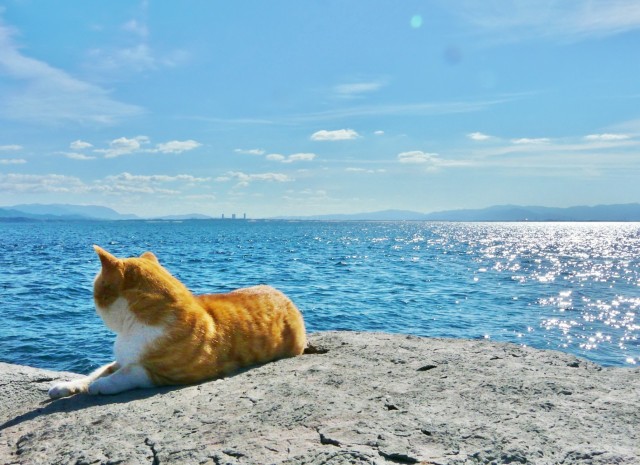 There are several unique places in Japan where you can meet particular animals, for example, the bathing snow monkeys at Jigokudani Onsen Park in Nagano Prefecture and adorable foxes at the Fox Village in Miyagi Prefecture. Fukuoka has one unique island called Ainoshima (相島) which is also called a "Cat Island". This small and peaceful island is situated about 6 km away from Shingu Port, the mainland of Fukushima Prefecture, and it became famous for approx 200 cats living on this island freely. If you are a cat lover, you should definitely visit Ainoshima Island to meet adorable cats and spend quality and relaxing time!
If you wish to travel to Ainoshima, the Cat Island, it's highly recommended to take this day-trip tour with a local guide to explore the island deeper! Use this exclusive coupon code "50WYT3RA" for my readers to get a special discount!
14. Nanzo-in Temple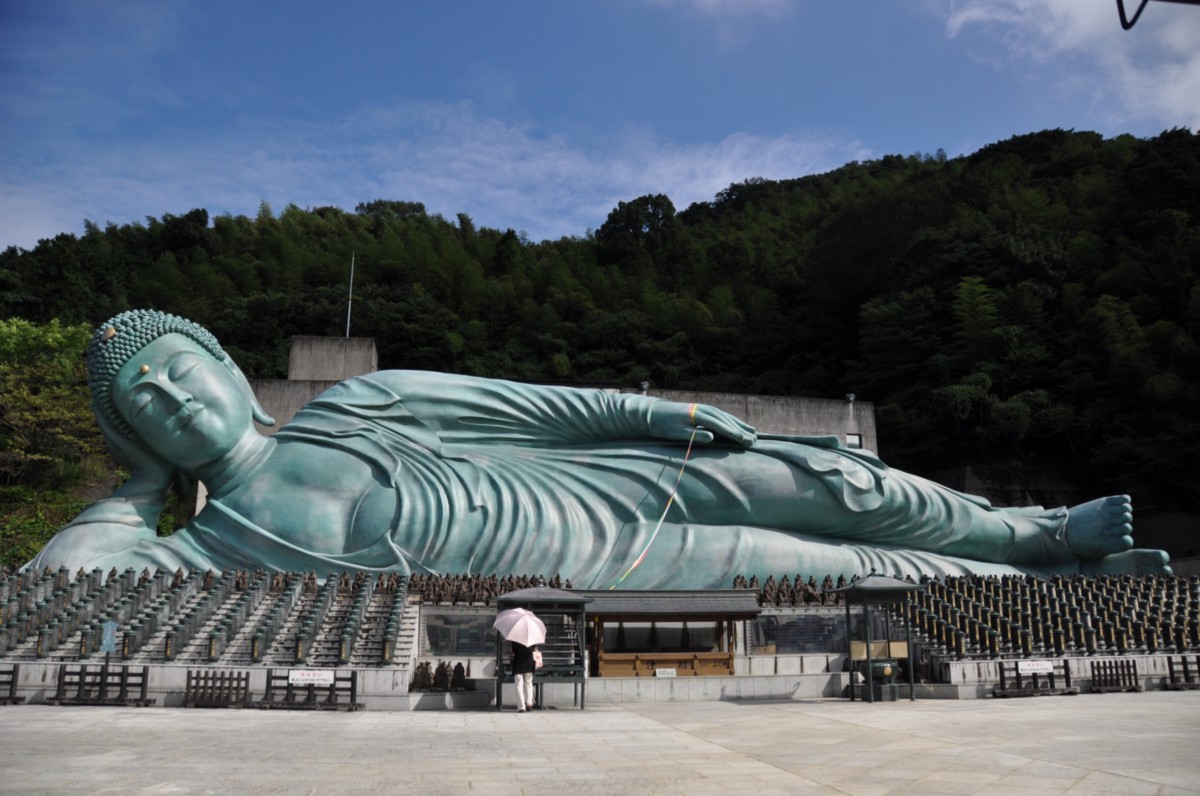 Nanzo-in Temple (南蔵院) is a Shingon sect Buddhist temple located in Sasaguri Town, Fukuoka Prefecture. The temple has a remarkable landmark, the bronze statue of reclining Buddha (it's the biggest bronze statue of reclining Buddha in the world), which is about 41 meters long, 11 meters high, and weighs 300 tons. It's one of the most unique and photo-worthy spots in Fukuoka Prefecture.
Map: http://bit.ly/2X65n2k
Access: 3 mins walk from Kido Nanzoin Mae Station
Hours: 9:00~17:00
Fee: Free
15. Sasaguri Kyudai Forest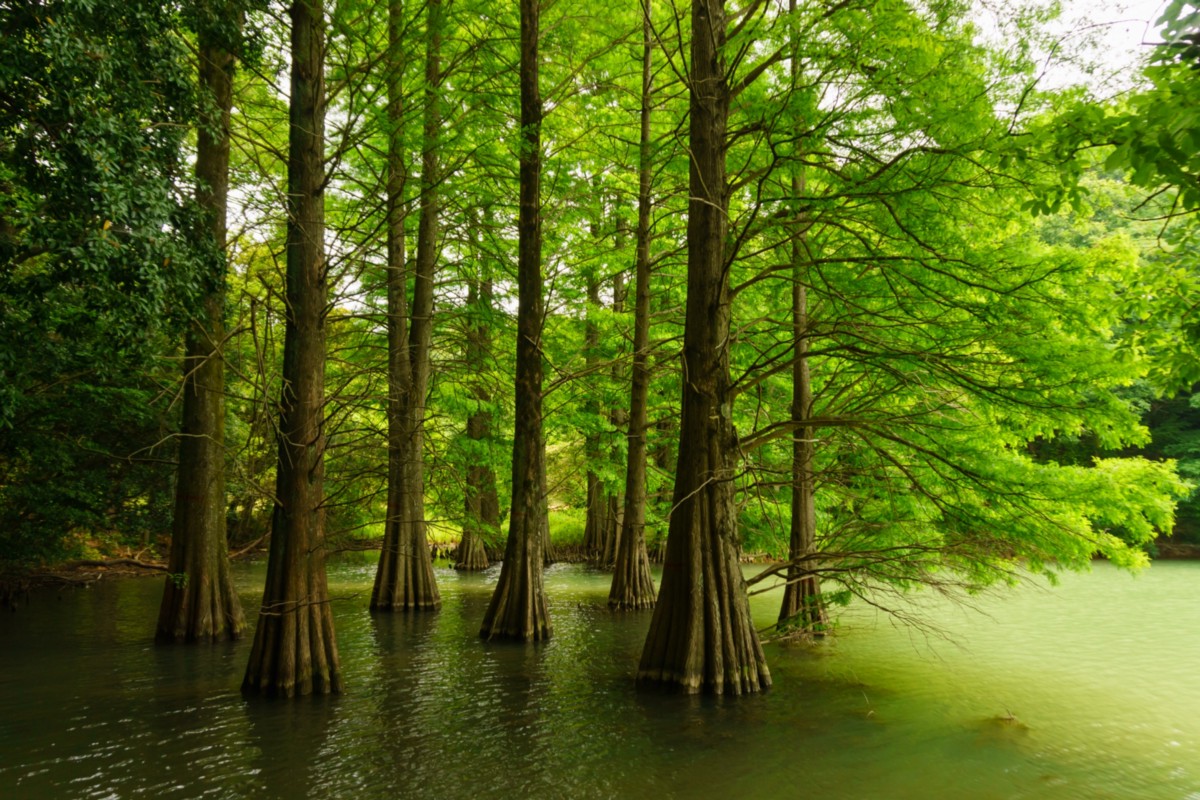 Sasaguri Kyudai Forest (篠栗九大の森) is a scenic site situated at the Kyushu University Fukuoka Research Forest. The 17 ha forest is home to around 50 evergreen broad-leaved trees and 40 deciduous broad-leaved trees, and has a 2 km promenade around the pond. The picturesque view of the bold cypress at the pond went viral on Instagram a few years ago, and this unknown forest has rapidly become one of the most famous photo-worthy in the country.
Map: http://bit.ly/2Ynz40i
Access: 10 mins by taxi or 30 mins walk from Sasaguri Station
Hours: 6:00~17:00 (April to September)/7:00~17:00 (October to March)
Fee: Free
<<Going to Fukuoka soon?? Search and book hotel rooms in Fukuoka with the best price! >>
Thanks for reading! Local food, historical monuments and stunning landscape.. Fukuoka offers a wide variety of attractions! If you are planning your trip to Fukuoka Prefecture or other areas in Kyushu Region, here are some more articles introducing the best travel information!
▽Related Articles▽
▼Editor's Picks▼
---