Best Things to Do in Nagasaki
Nagasaki Travel Guide: What to Do in Nagasaki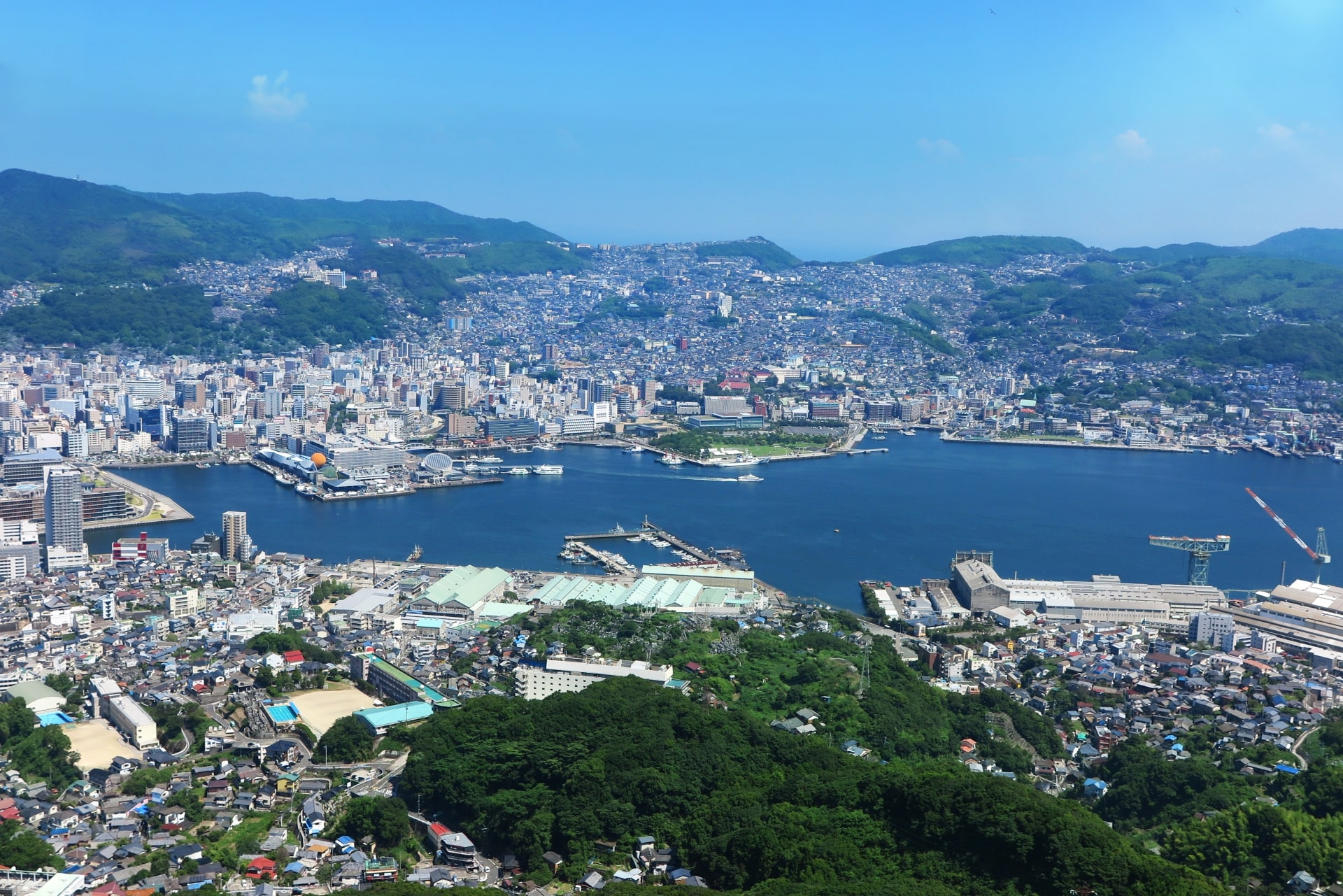 Nagasaki Prefecture is located in north-west of Kyushu region, bordering Saga Prefecture to the northeast. Nagasaki consists of mainland peninsulas as well as many small islands. The capital city of the prefecture in Nagasaki City and other major cities and sites includes Sasebo, Shimabara and Goto Islands.
Nagasaki has distinctive culture with a mixture of oriental and occidental with Chinese, Portuguese and Dutch influences as the prefecture has a long history of serving as a trade center from 16th century. In Nagasaki, visitors can find a wide variety of attractions including beautiful nature sites, historic monuments, amusement park and local delicacies. In this article, I would like to share with you the best highlights of Nagasaki. Let's discover the beauty of Nagasaki together!
With this Kyushu Region Bucket List, let's also check out the surrounding tourist attractions: Best Things to Do in Kyushu
---
1. Meganebashi Bridge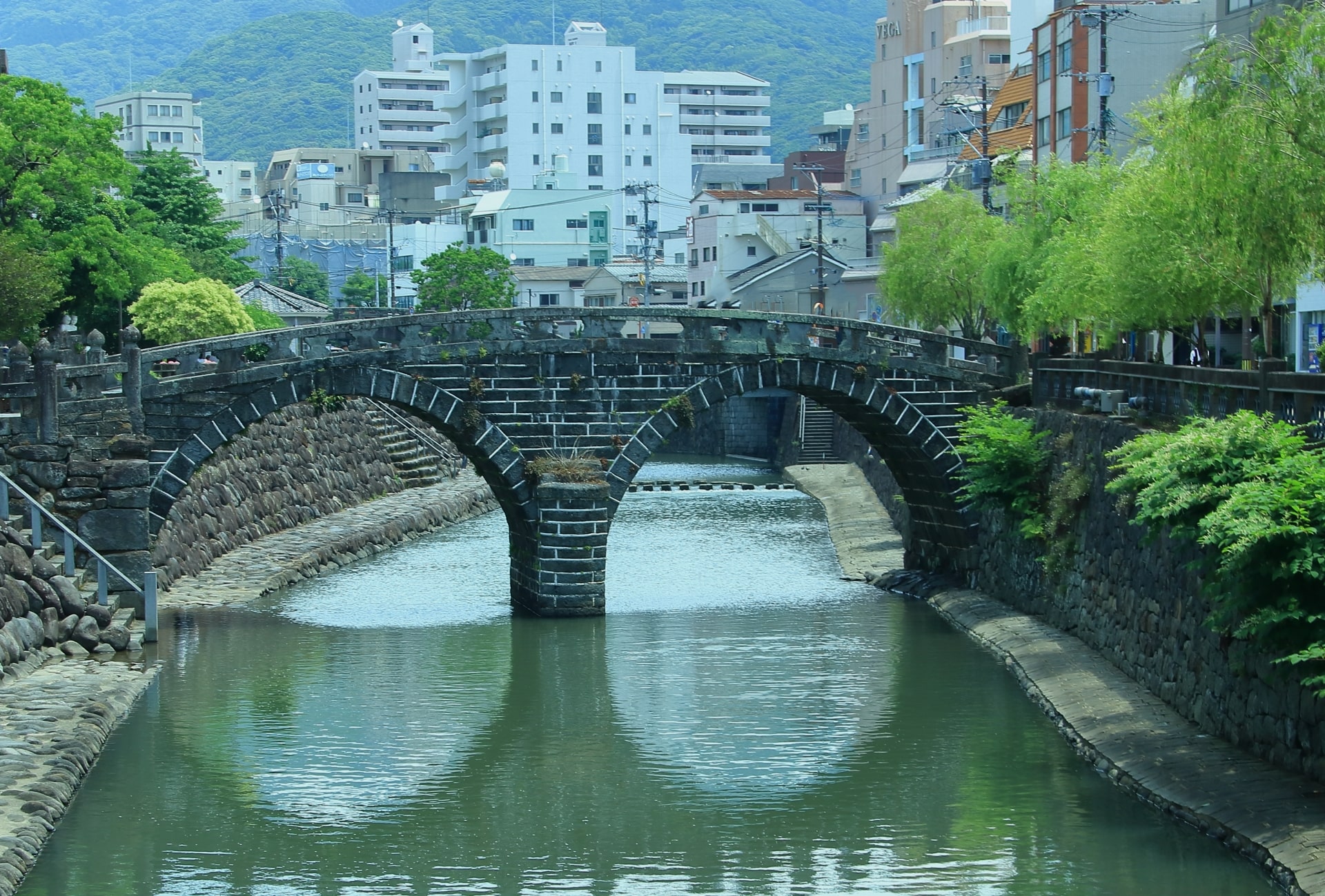 Maganebashi Bridge (眼鏡橋) or Spectacles Bridge is a stone arch bridge across Nakashima River that runs through the center of Nagasaki City. It's a popular landmark of in the city as it has an unique round shape that reminds of a pair of spectacles with the reflection on the river water. The bridge was originally built in 1643, and badly damaged by the flood in 1982, but the bridge was repaired with almost all the original stones retrieved.
2. Glover Garden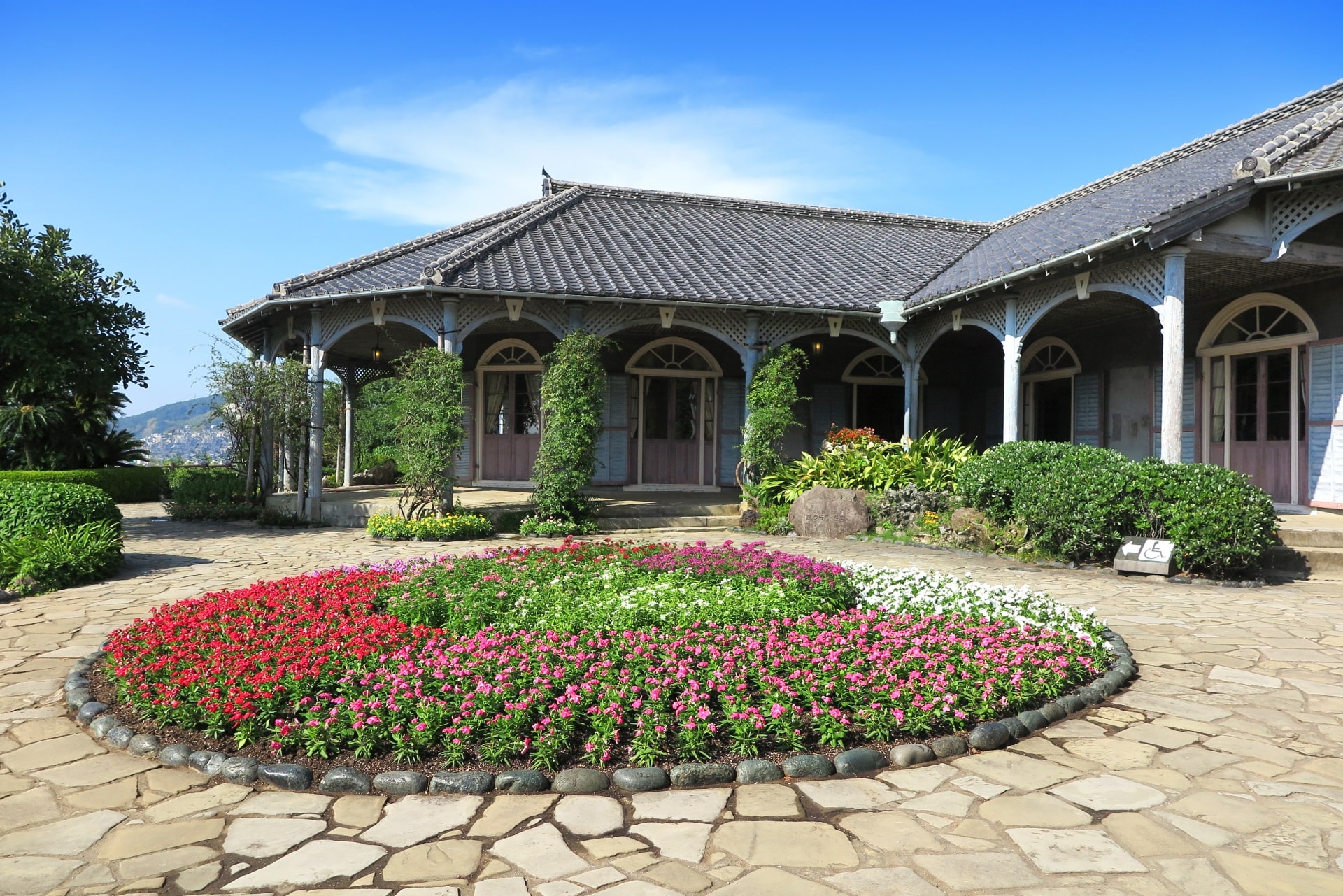 Glover Garden (グラバー園) is an open-air hilltop park in Nagasaki City, which was originally built in 19th century for Thomas Blake Glover, a Scottish merchant who contributed to the modernization of Japan in Shipbuilding, coal mining and other fields. The park also exhibits the Western-style buildings of former residents with well-preserved rooms, and the garden with the excellent view of the harbor and the city of Nagasaki City.
3. Nagasaki Shinchi Chinatown
As the port of Nagasaki is Japan's nearest port to China and other Asian countries, the city has a lot of influence from China. Nagasaki Shinchi Chinatown (長崎新地中華街) is one of three large Chinatown in Japan along with Yokohama and Kobe, and it's Japan's oldest Chinatown. It's the main venue for the famous Nagasaki Lantern Festival which is held there annually during winter to celebrate Chinese New Year.
Related article: Nagasaki Lantern Festival
4. Nagasaki Peace Park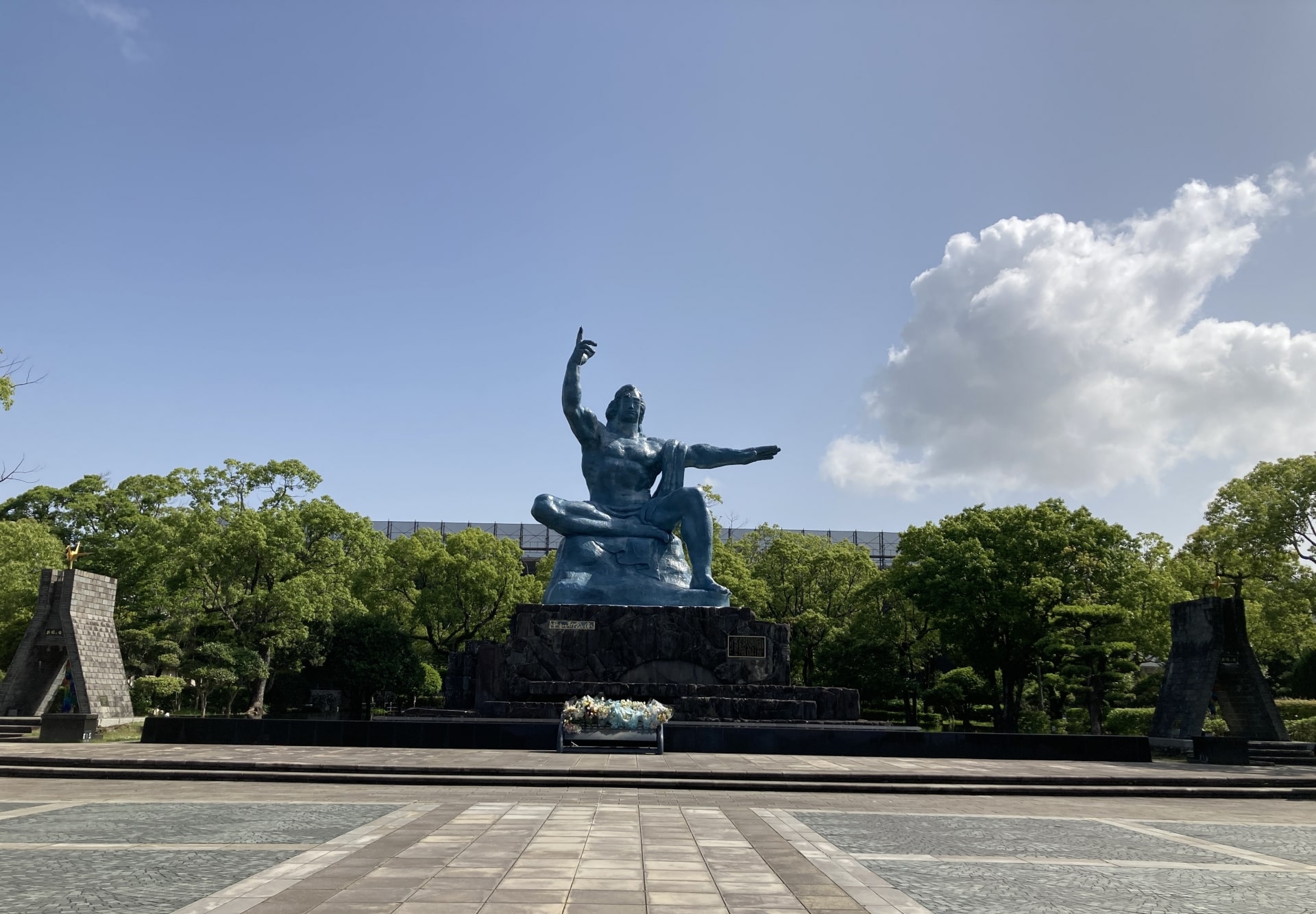 Nagasaki Peace Park (長崎平和公園) is a park in Nagasaki City, commemorating the atomic bombing of Nagasaki on 9th August 1945 during the World War Second which destroyed most parts of the city and killed tens of thousands of people. At the park, there is a 10-meter tall Peace Statue with its right hand pointing to the threat of nuclear weapons and the left hand symbolizing eternal peace. The park also consists of the Atomic Bomb Memorial Museum where visitors can learn the history and details of the atomic bombings of Nagasaki as well as the Peace Memorial Hall to remember and pray for the atomic bomb victims.
5. Mt. Inasa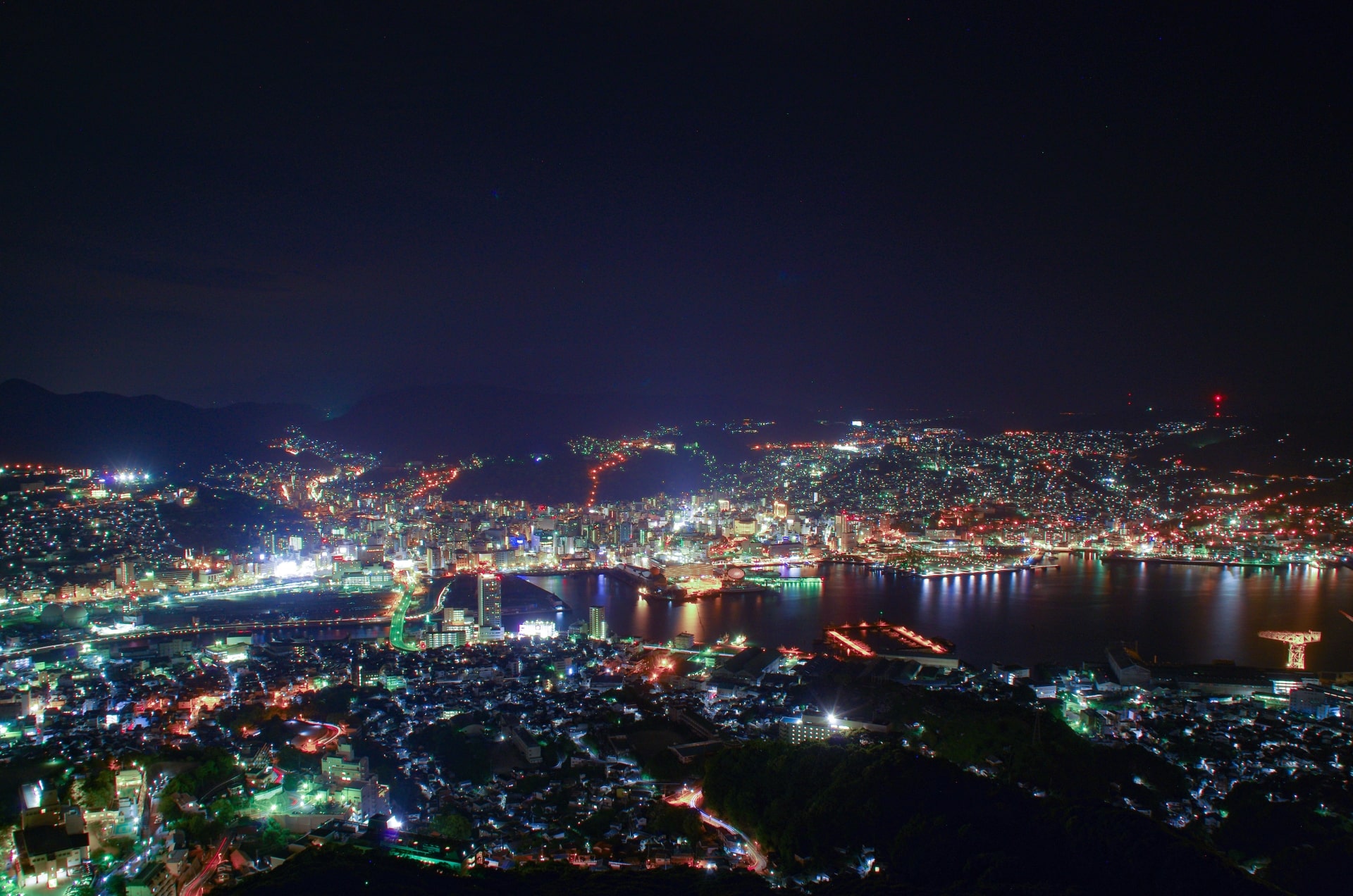 Mt Inasa or Inasayama (稲佐山) is a 333m tall mountain situated near the center of Nagasaki City. Visitors can take a ropeway to the top of the mountain and enjoy the stunning view over the city. The night view from Mt Inasa is considered as one of Japan's three greatest night views along with Mt Hakodate in Hokkaido and Mt Rokko in Kobe. There is also a bus service between Nagasaki Station and Mt Inasa.
6. Dejima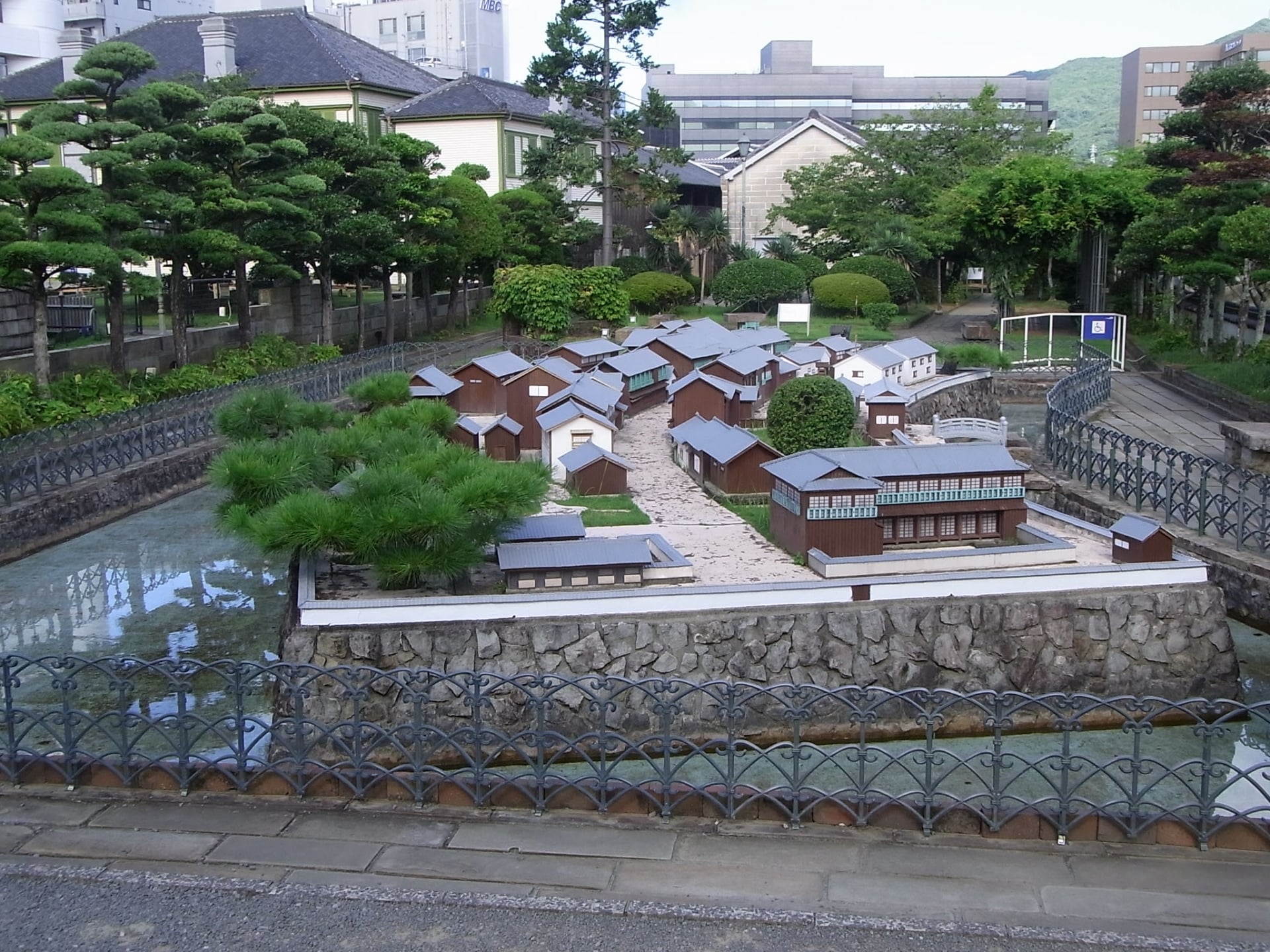 Dejima (出島) is a man-made island built in 16th century as a main trading port with Portuguese and Dutch. Dejima was used to separated Portuguese merchants from Japanese society while facilitating trade with the West. After Portuguese were expelled in 1639, the Dutch were moved there in 1641 under stricter control. Dejima was merged with a mainland after the Japanese economic growth in 20th century, and it's not an island anymore. However, the historical structures of Dejima remain and is a popular tourist sites of the city today.
7. Hidden Christian Sites in the Nagasaki Region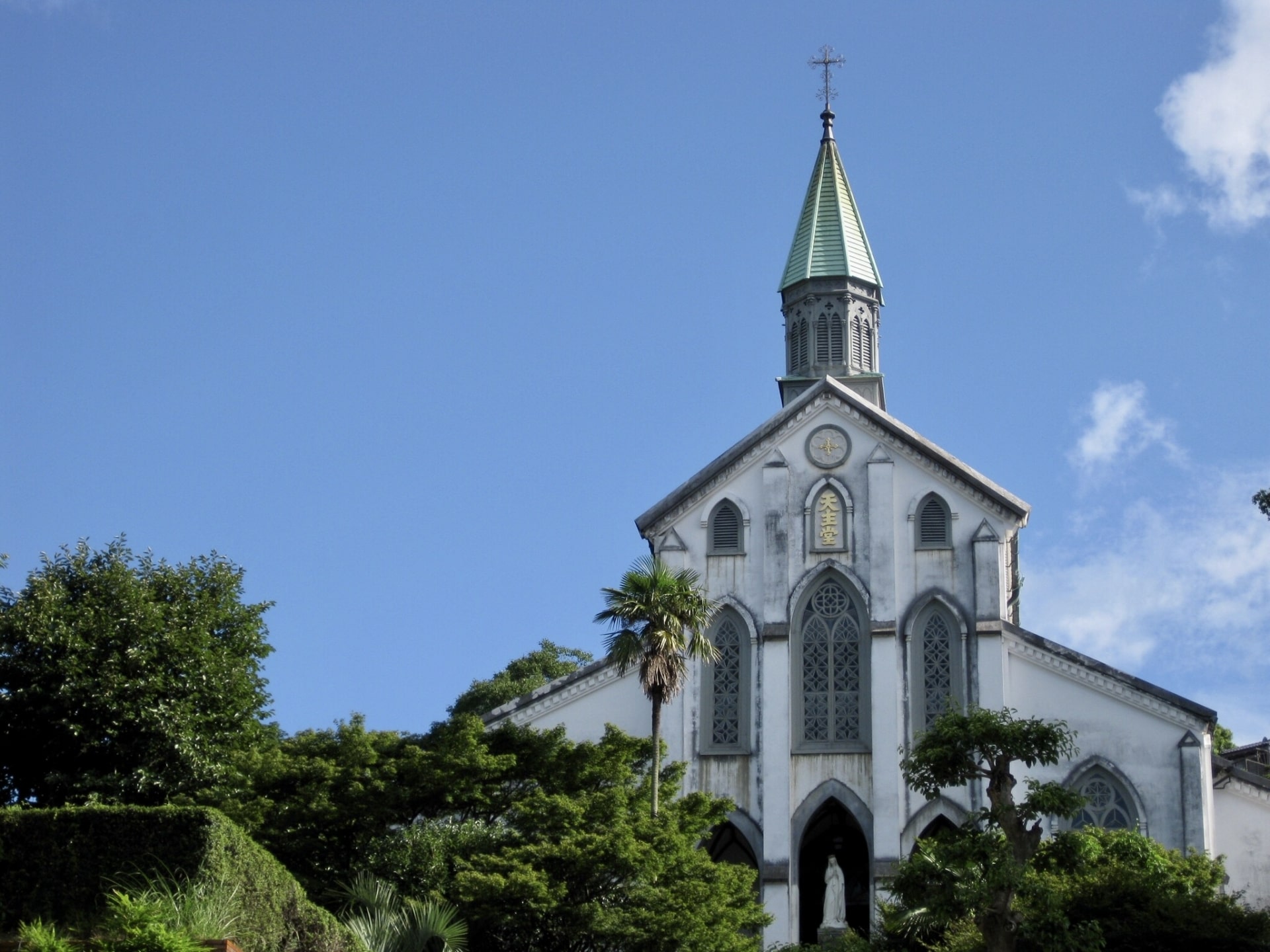 As Nagasaki has a long history of Christianity, there are several churches remain across the prefecture. Hidden Christian Sites in the Nagasaki Region is a group of twelve sites in Nagsaki and Kumamoto Prefectures which is designated to the UNESCO World Heritage List in 2018. The churches in Nagasaki are unique as they are influenced by both Japanese and Western, and also tells a history about the persecution of Christians in Japan. The twelve sites includes Oura Cathedral in Nagasaki City, the oldest church in Japan built in 1864.
Related article: Hidden Christian Sites in the Nagasaki Region : Must-See UNESCO World Heritage Site
8. Huis Ten Bosch
Huis Ten Bosch (ハウステンボス) is a popular amusement park in Sasebo City, Nagasaki. The park is themed and decorated as a charming old Dutch town and consists of canal, ships, windmills, gardens and traditional European-style buildings. The attractions of the park includes amusement rides, seasonal flower fields, theatres, museums, shops, restaurants, etc, and the most popular attraction is a spectacular night illumination featuring 13 million lights covering the entire park.
<< Book Nagasaki Huis Ten Bosch Ticket>>
Related article: Huis Ten Bosch: Kingdom of Lights
9. Gunkanjima Island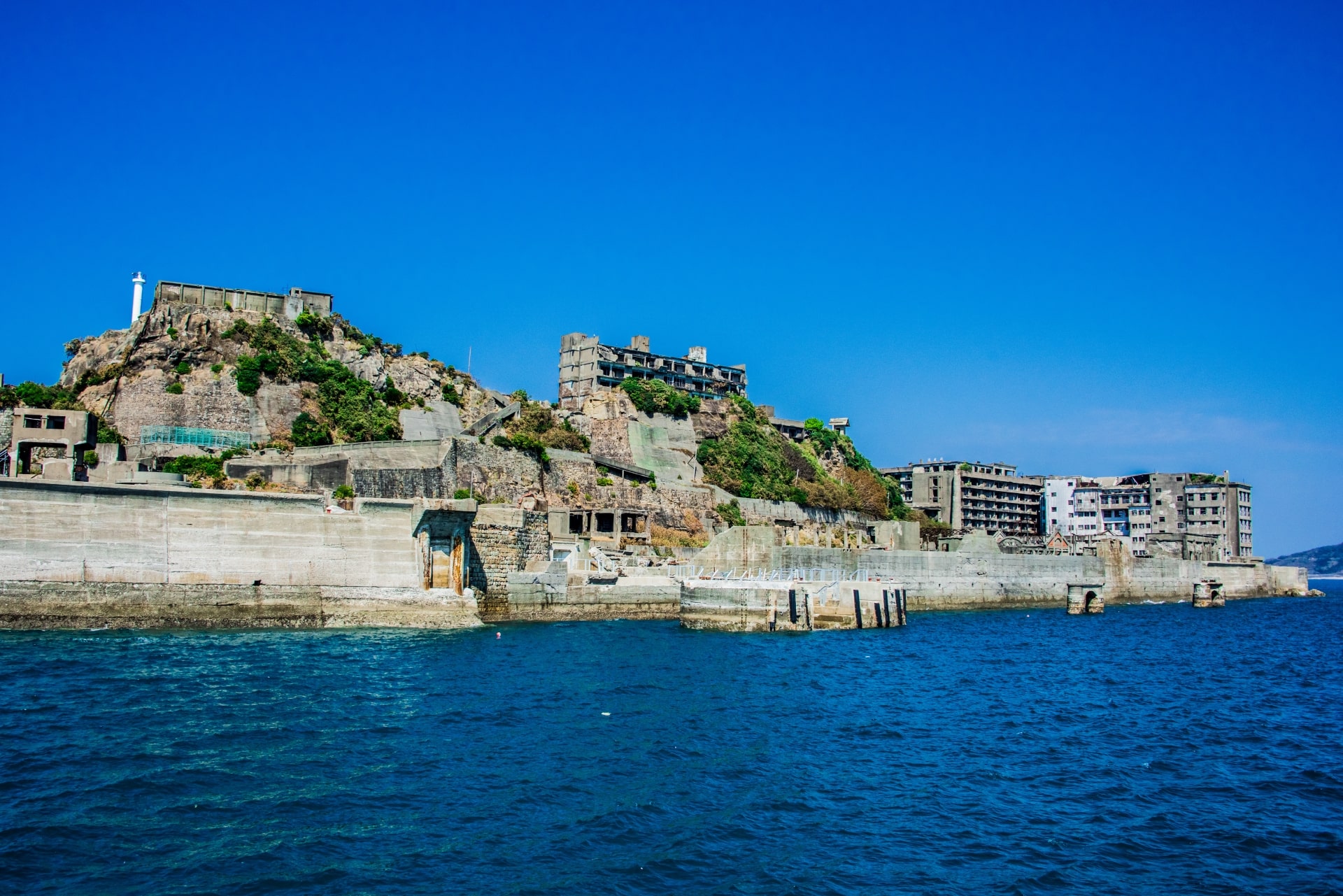 Gunkanjima (軍艦島) a.k.a. the Battleship Island is a small abandoned island located about 20 km from Nagasaki Port. The official name of Gunkanjima is Hashima Island. The island is a symbol of the rapid industrialization of Japan as it served as a coal mine and home to over 5000 residents in the 480m long, 150m wide island, hitting the highest population density in the history record in 1950s. The island only can be accessed by boat tour from Nagasaki port operated by several tour companies.
<< Book a tour to Gunkanjima Island HERE !!>>
10. Shimabara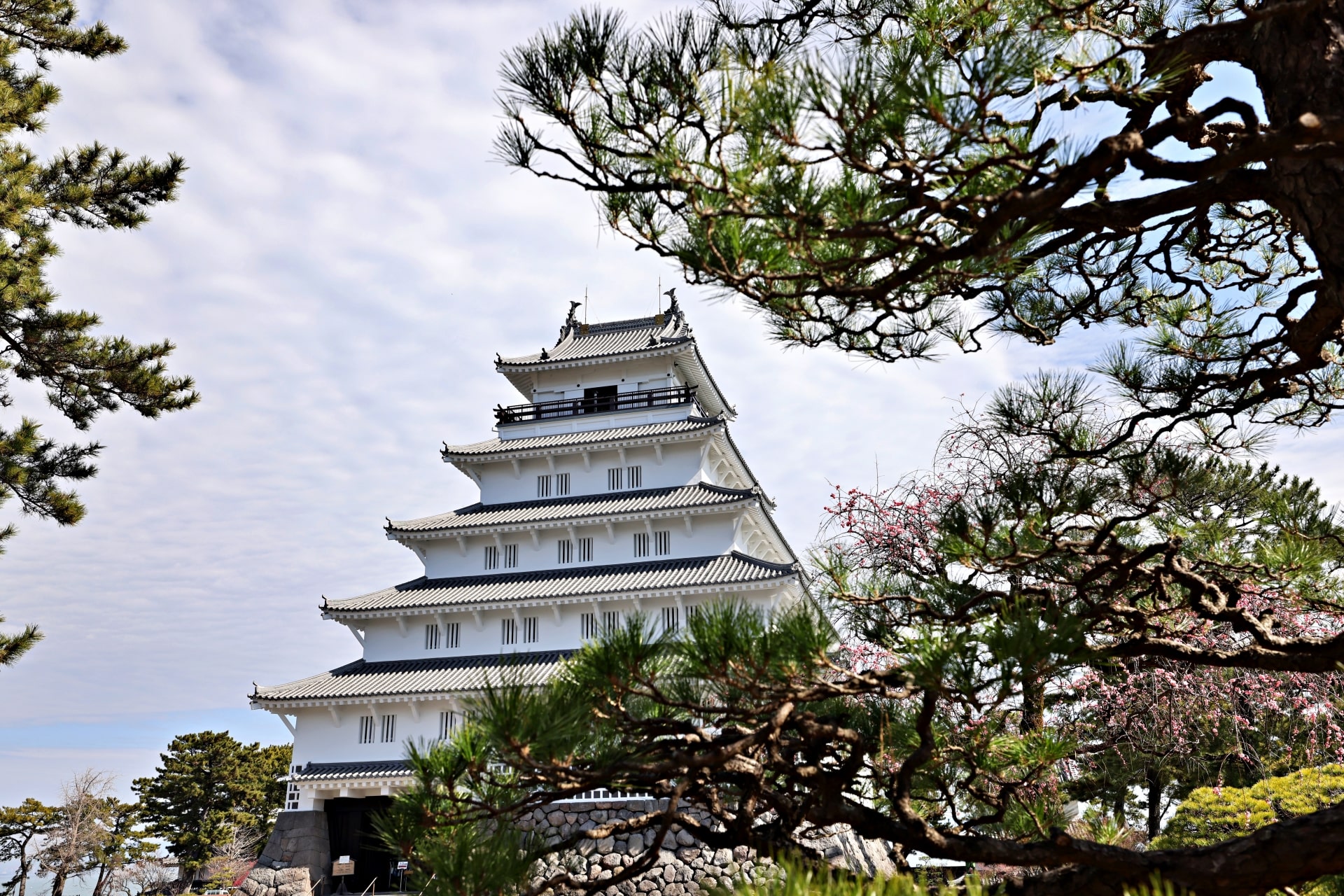 Shimabara (島原) is a city on the north-eastern tip of the Shimabara Peninsula, situated next to Ariake Bay and My Unzen. The city is known as a castle town as it served as the capital of Shimabara Domain during the Edo period. The main attraction of the city is Shimabara Castle, the reconstructed Japanese castle that displays the collection of ruins, armor and weapon. It's also a popular site for cherry blossom viewing in spring.
11. Mt Unzen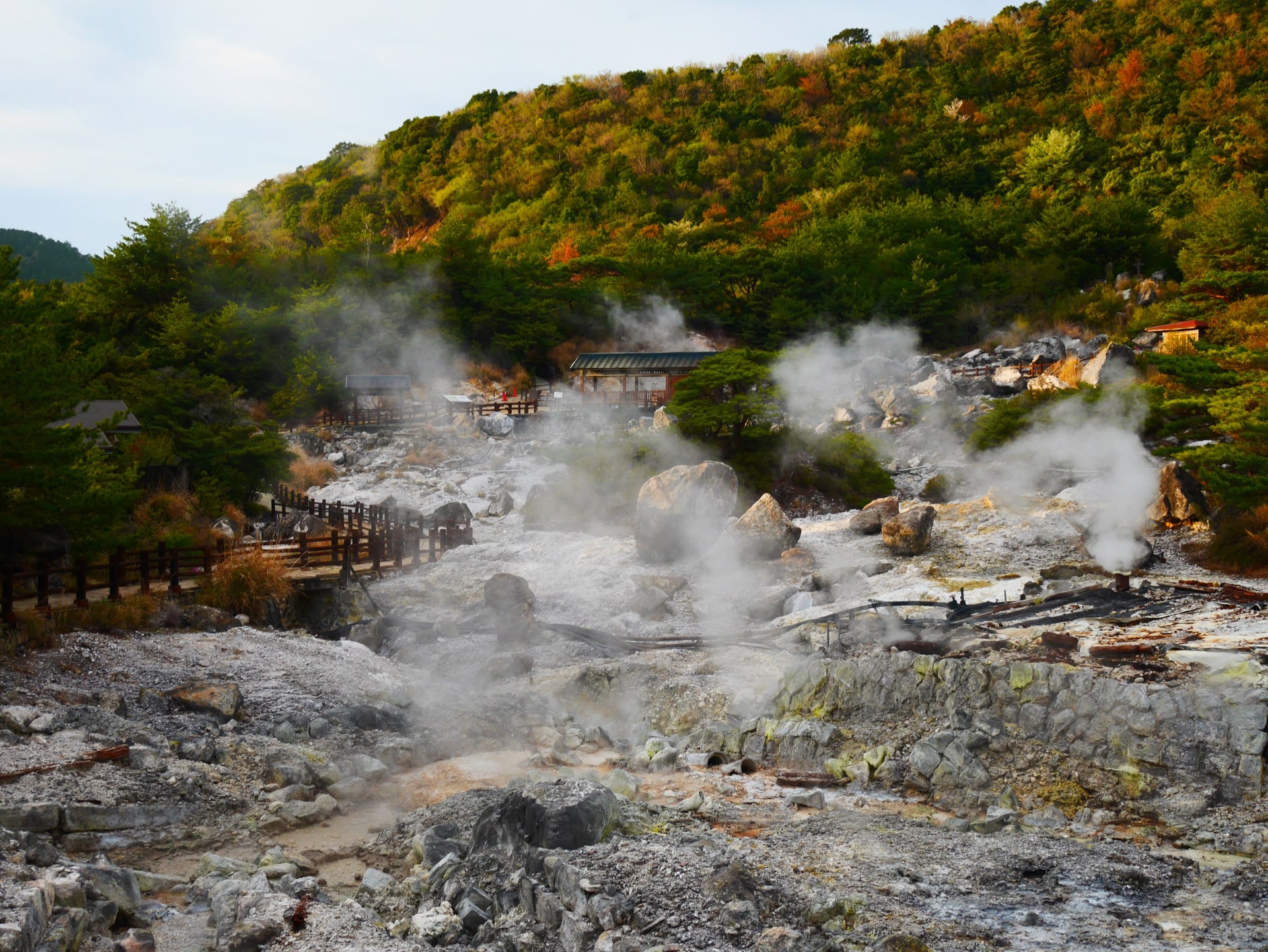 Mt Unzen or Unzendake (雲仙岳) is an active volcano on the Shimabara Peninsula. The mountain has erupted several times in the past few hundred years, and the most recent large eruption occurred in 1991 with pyroclastic flow that killed 43 people including three volcanologists.
Otherwise, Mt Unzen is a popular site as a hotspring resort and for hiking since it offers an abundance of beautiful nature. It's a part of Unzen-Amakusa National Park, Japan's first national park that stretches in Nagasaki, Kumamoto and Kagoshima prefectures.
12. Goto Islands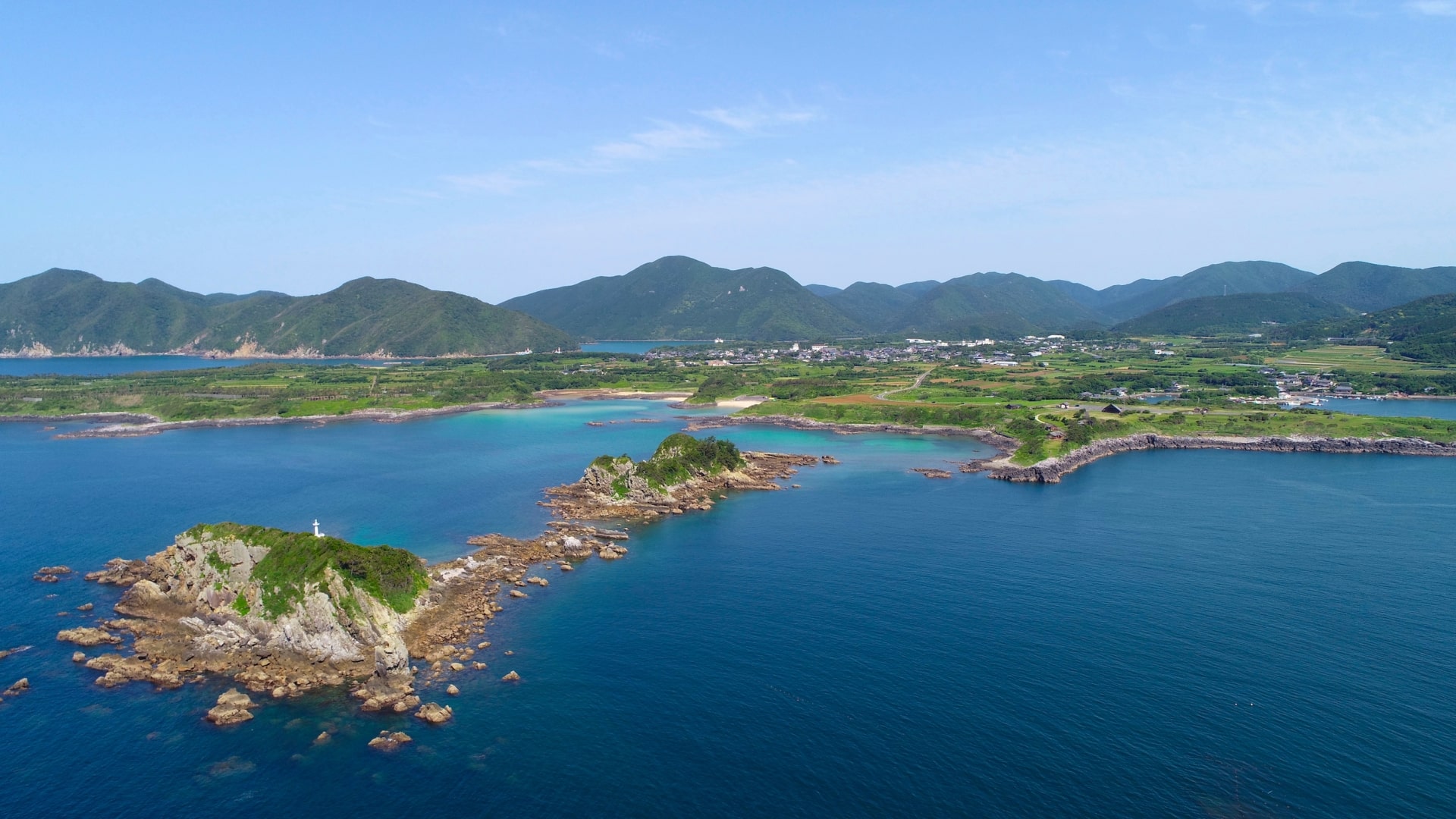 The Goto Islands (五島列島) are situated in the East China Sea, off the western coast of Kyushu region. It consists of 140 small and large islands including 5 main ones (Fukue, Hisaka, Naru, Wakamatsu and Nakadori) and the group of islands runs approximately 85 km. Goto Islands are known for their history related to Christianity as well as the beautiful beaches and untouched nature. Seafood products such as oysters and sea urchins are also famous from the islands.
13. Local Food
Nagasaki has lots of great local specialties! As the city has so much influence from Western countries and China, local food culture is so rich, unique and special compare to other parts of Japan.
Champon/Sara Udon
Champon is Nagasaki's signature dish, which may look like Ramen but is totally different. Noodles are served with creamy, rich soup made with chicken and pork broth, and lots of vegetables and seafood on top. Sara Udon (picture on the right) is a dry version of champon which is served with crispy fried noodle with thickened sauce on top
Castella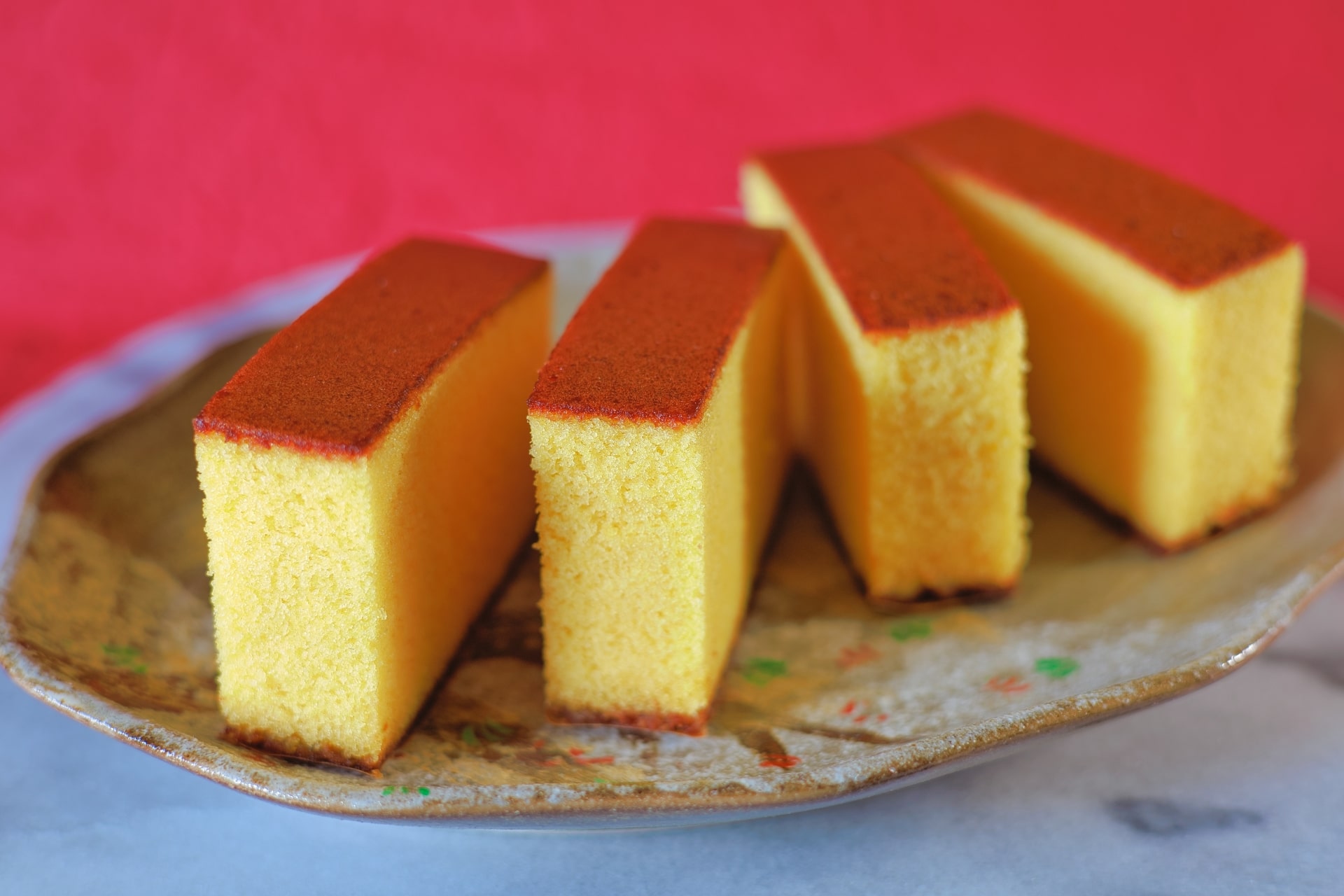 Castella is a sweet, moist sponge cake. Based on a recipe originally introduced by Portuguese missionaries in the mid-16th century. It is now the most popular and attractive souvenir of Nagasaki, irressistable to anyone worldwide.
Turkish Rice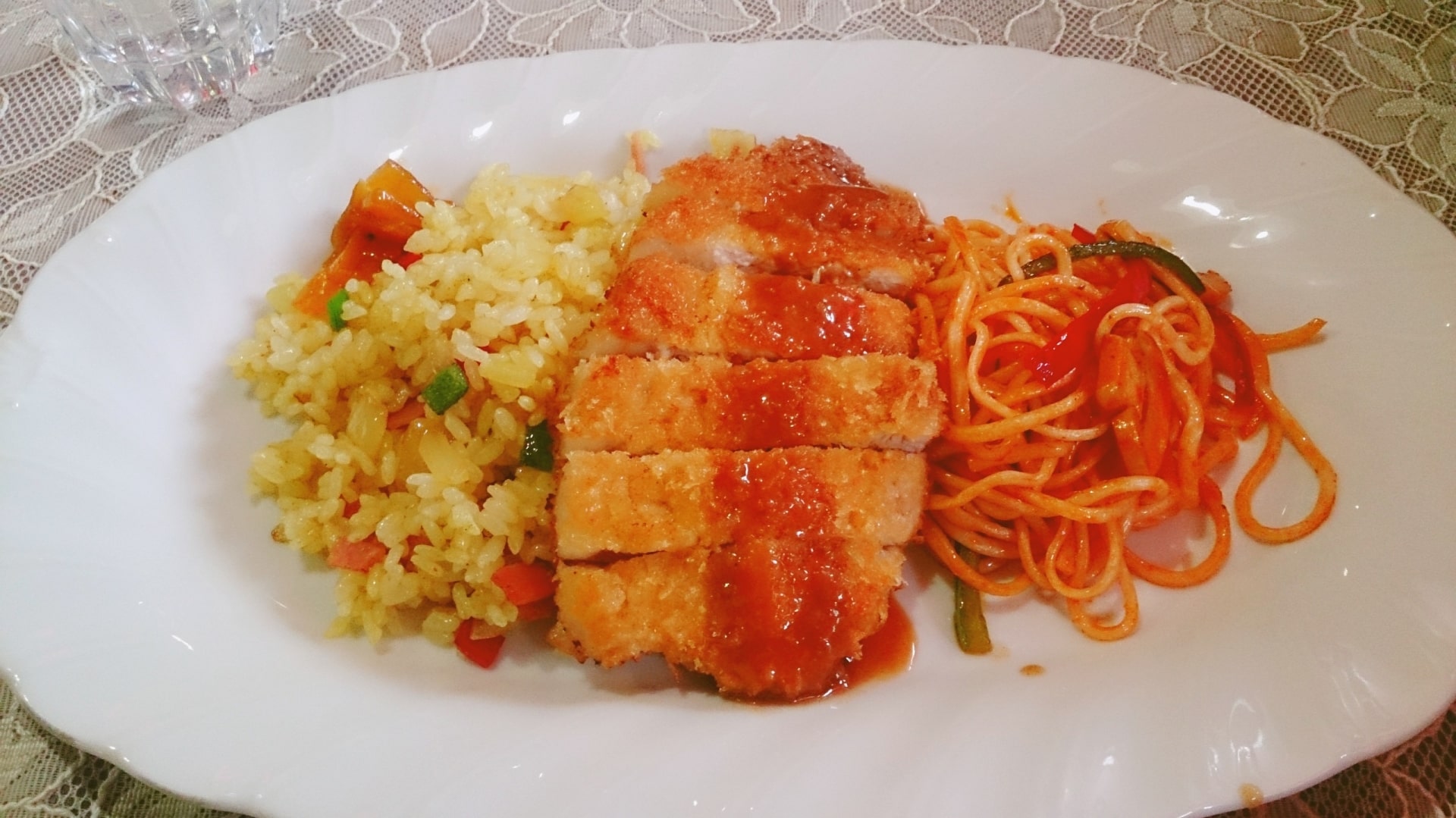 Turkich Rice is a Western-inspired dish from Nagasaki City, pilaf rice and spaghetti piled onto a plate along with a pork cutlet generously covered in sauce. It's not actually a Turkish dish but it's called Turkish rice apparently because the dish represent a border of Europe and Asia.
Nagasaki Milkshake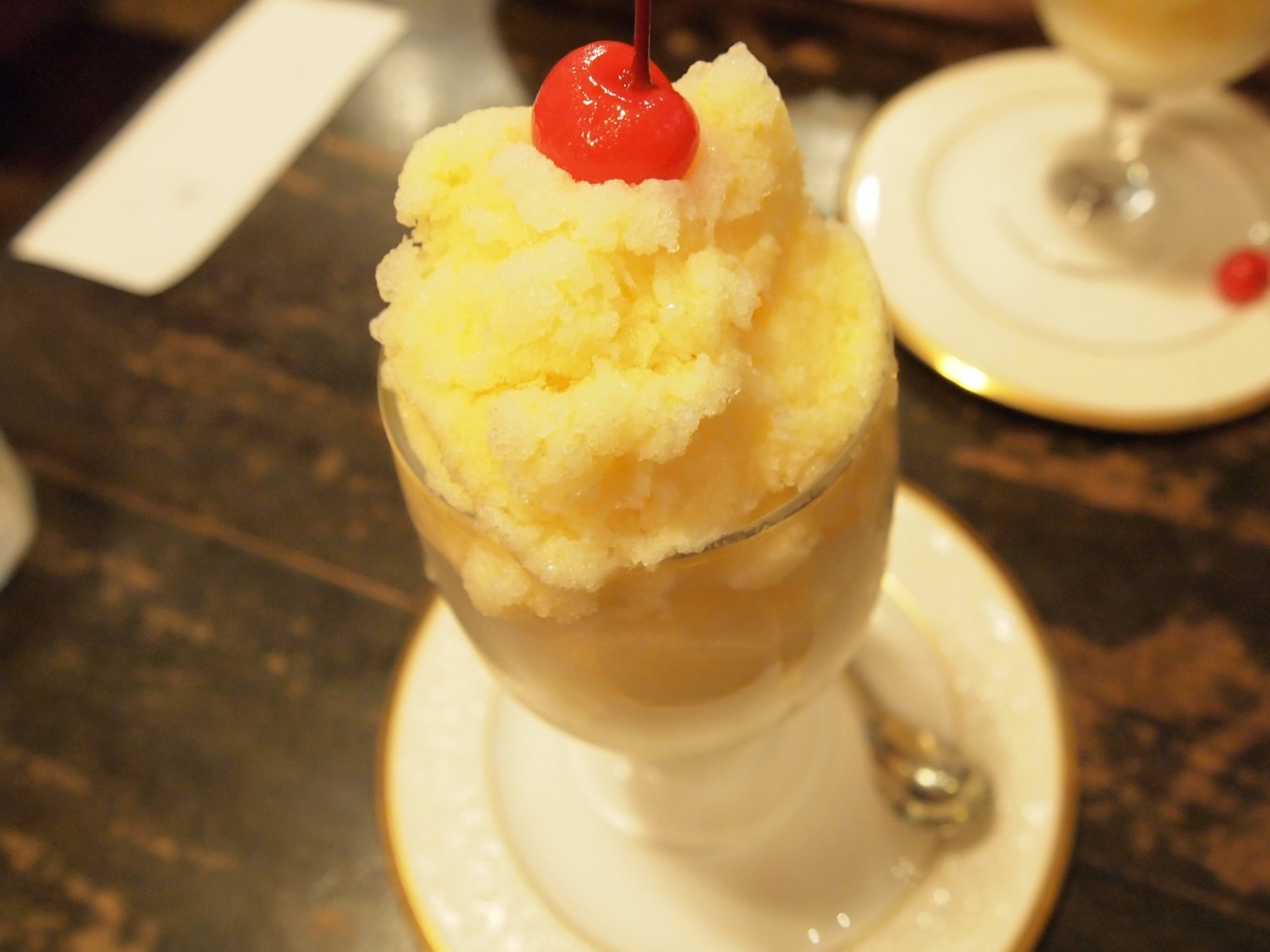 Don't even forget to try your only-here-or-never dessert! If you imagine regular milkshakes, it is quite different. Nagasaki milkshake is more like a dessert eat with a spoon. Made with egg,sugar (or condensed milk),milk,vanilla essence and crushed ice blended magically all together. Locals No.1 favourite!
---
▽Check more things to do in Kyushu Region and Okinawa!▽
▶︎15 Best Things to Do in Fukuoka
▶︎10 Best Things to Do in Saga
▶︎10 Best Things to Do in Kumamoto
▶︎10 Best Things to Do in Oita
▶︎10 Best Things to Do in Miyazaki
▶︎10 Best Things to Do in Kagoshima
▶︎25 Best Things to Do in Okinawa
▽Here are the attractions you should experience across Japan with this Japan Bucket List!▽
Thank you for reading! For more information about travelling Japan, please check out these articles, too!
▽Related Articles▽
▼Editor's Picks▼
---