10 Famous Churches in Japan
Beyond Temples and Shrines: The Churches You Must See in Japan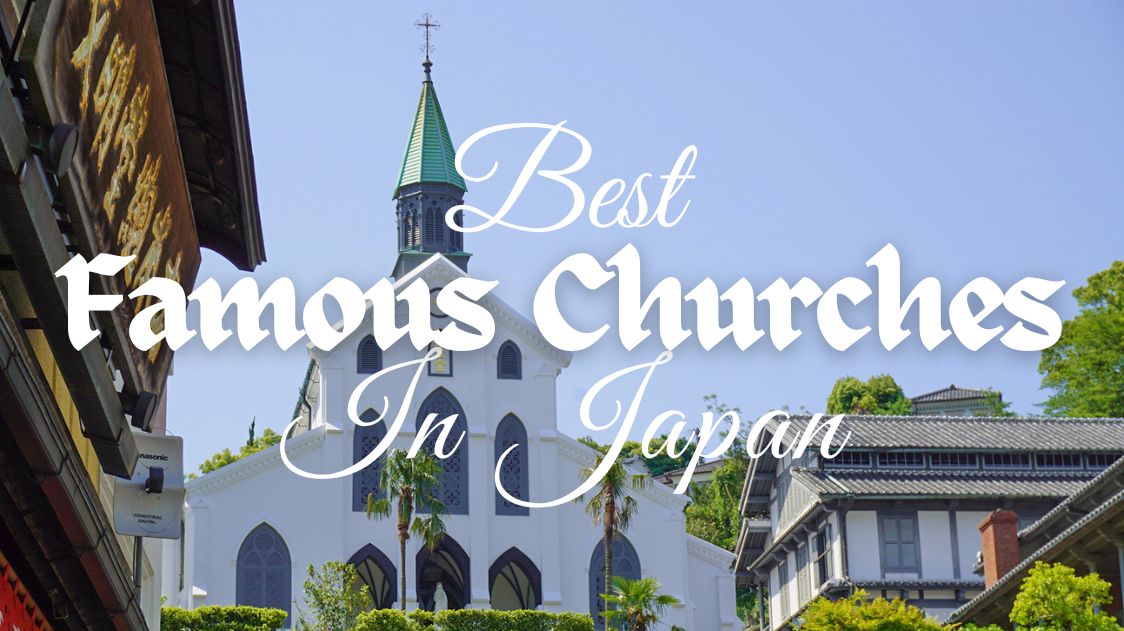 When you think of Japan, Shinto shrines and Buddhist temples might monopolize the spiritual landscape in your mind. But hold that thought—Japan also harbors a collection of churches that are not just architectural marvels but also rich repositories of history and culture.
These famous churches in Japan offer a nuanced glimpse into how Western religious elements have found a home in a predominantly Eastern cultural setting.
So here we go to explore some of the most important and sometimes overlooked landmarks of Christian religion and culture that we can find across Japan! This is our list of 10 famous churches in Japan.
---
1. Oura Church (Nagasaki)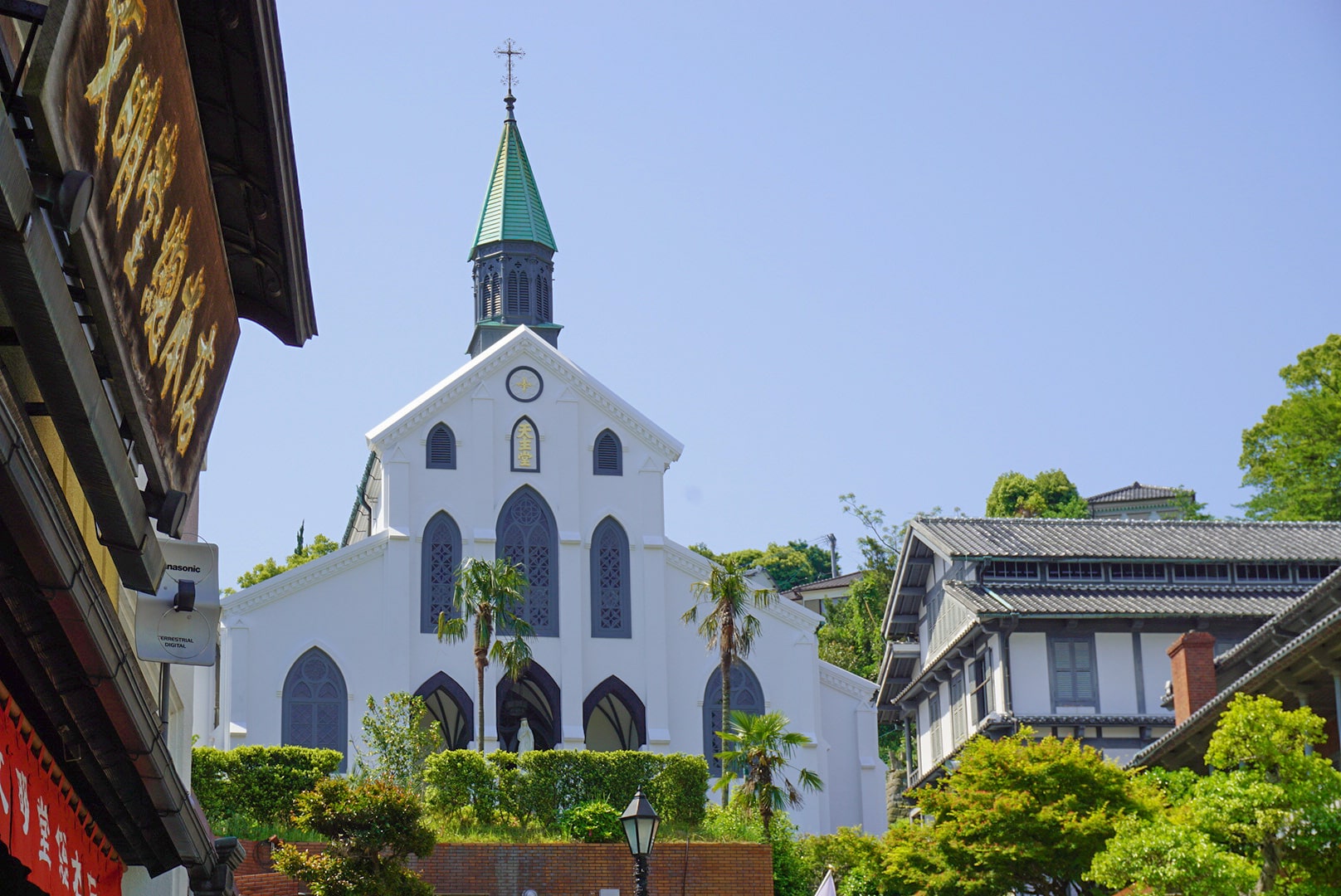 The Basilica of the Twenty-Six Holy Martyrs of Japan (日本二十六聖殉教者聖堂) also known as Oura Church (大浦天主堂) in Nagasaki is not just a place of worship; it's a living museum that captures a poignant chapter in Japan's history.
Built in 1864, it's the oldest Christian church in Japan and has been designated a UNESCO World Heritage site. The church serves as a memorial to the Twenty-six Martyrs of Japan, who were crucified for their faith in the late 16th century. The architecture itself is a blend of Gothic and Romanesque styles, featuring stunning stained glass windows and intricate woodwork.
This is probably my favorite on the list, as the solemn silence made me feel enveloped in a sense of serenity, amplified by the church's elevated location which offers panoramic views of the city. The church's surrounding area is also quite an interesting blend of Western influences for those like me who always enjoy learning about history and architecture, Oura Church offers a multifaceted experience that leaves a lasting impression.
2. Holy Resurrection Cathedral (Tokyo)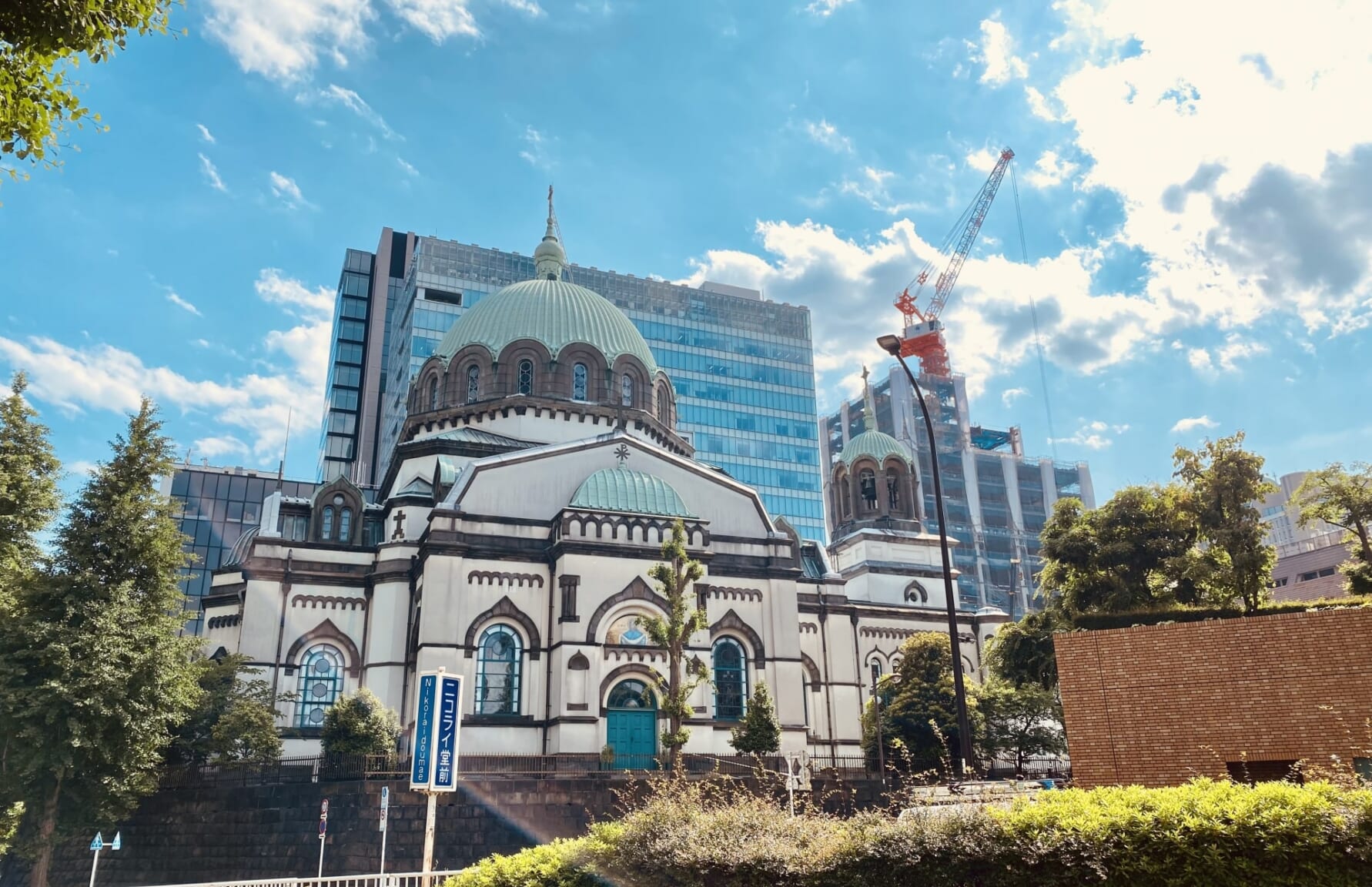 Located in the heart of Tokyo, the Holy Resurrection Cathedral (復活大聖堂), commonly known as Nikorai-do (ニコライ堂, nikorai-dō) is a striking example of Byzantine architecture.
I remember walking past it by chance and being immediately drawn by the contrasting architecture. Founded by St. Nicholas of Japan in 1891, the cathedral has been a Nationally Designated Important Cultural Property since 1962. The original structure was severely damaged in the Great Kanto Earthquake of 1923 but fortunately, it was meticulously restored, preserving as many of its original features as possible.
The cathedral serves as the main house of worship for the Japanese Orthodox Church and offers services in multiple languages, reflecting Tokyo's cosmopolitan nature. The interior is adorned with intricate frescoes and icons, creating a rich sample of religious art. It's a peaceful oasis amidst Tokyo's bustling cityscape, offering visitors a moment of tranquility and a glimpse into a different facet of Japan's diverse cultural heritage.
3. Cathedral of the Immaculate Conception of the Blessed Virgin Mary (Osaka)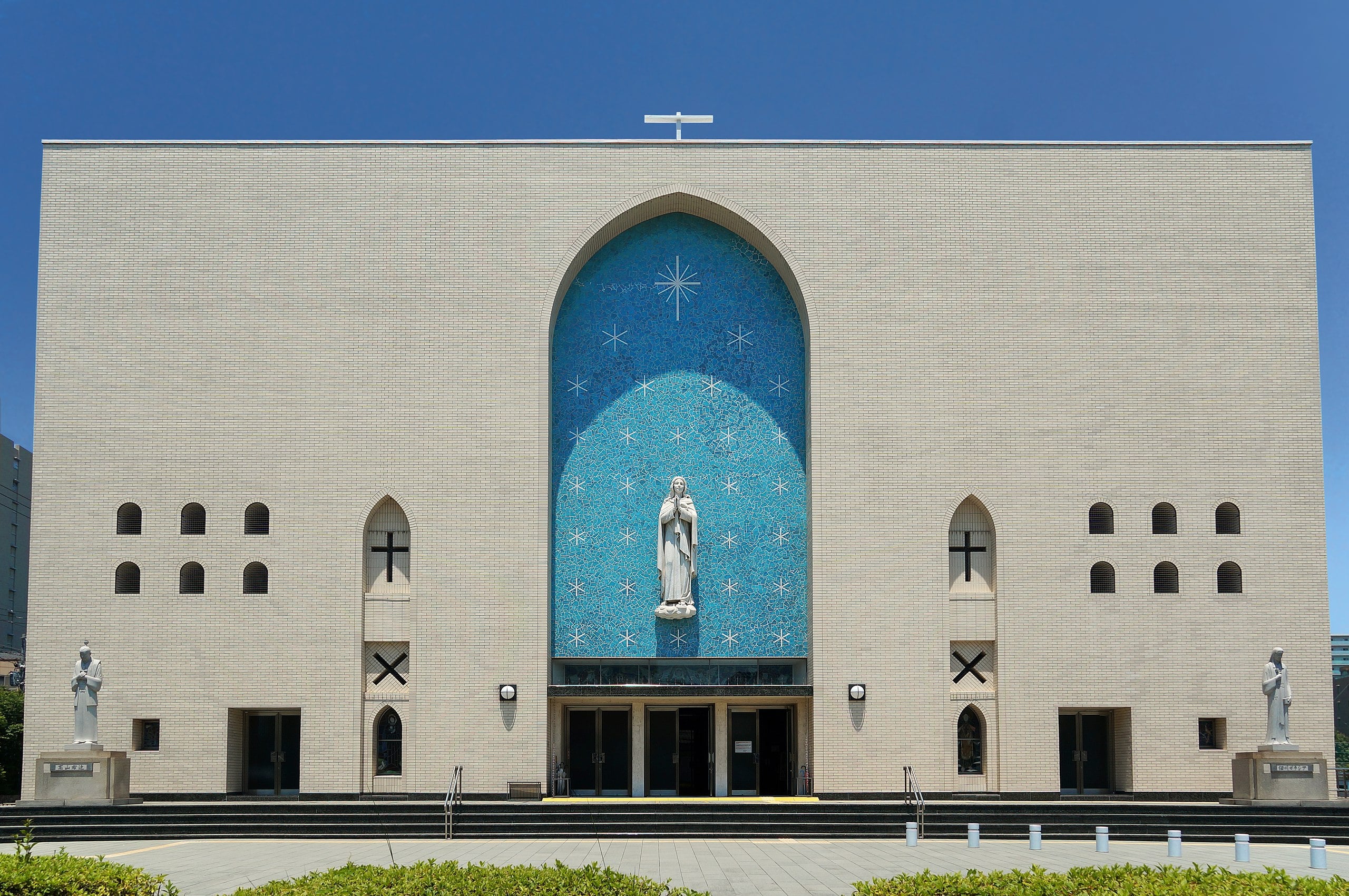 The Cathedral of the Immaculate Conception (カテドラル聖マリア大聖堂), also known as Tamatsukuri Church (カトリック玉造教会), is a phoenix rising from the ashes.
Located in Osaka, this cathedral stands on the grounds where the St. Agnes Cathedral once stood before being destroyed during World War II. Rebuilt twice before settling on its current form, the cathedral is a testament to resilience and faith. The interior is a visual feast, boasting around 100 stained glass windows that cast a kaleidoscope of colors across its large-scale murals and stone statues.
The church is not just an architectural marvel; it's a community hub where weddings, funerals, and public masses are conducted. The rich history and strong community bonds make this cathedral a local landmark that's worth a visit.
4. St. Peter and St. Paul Cathedral (Nagoya)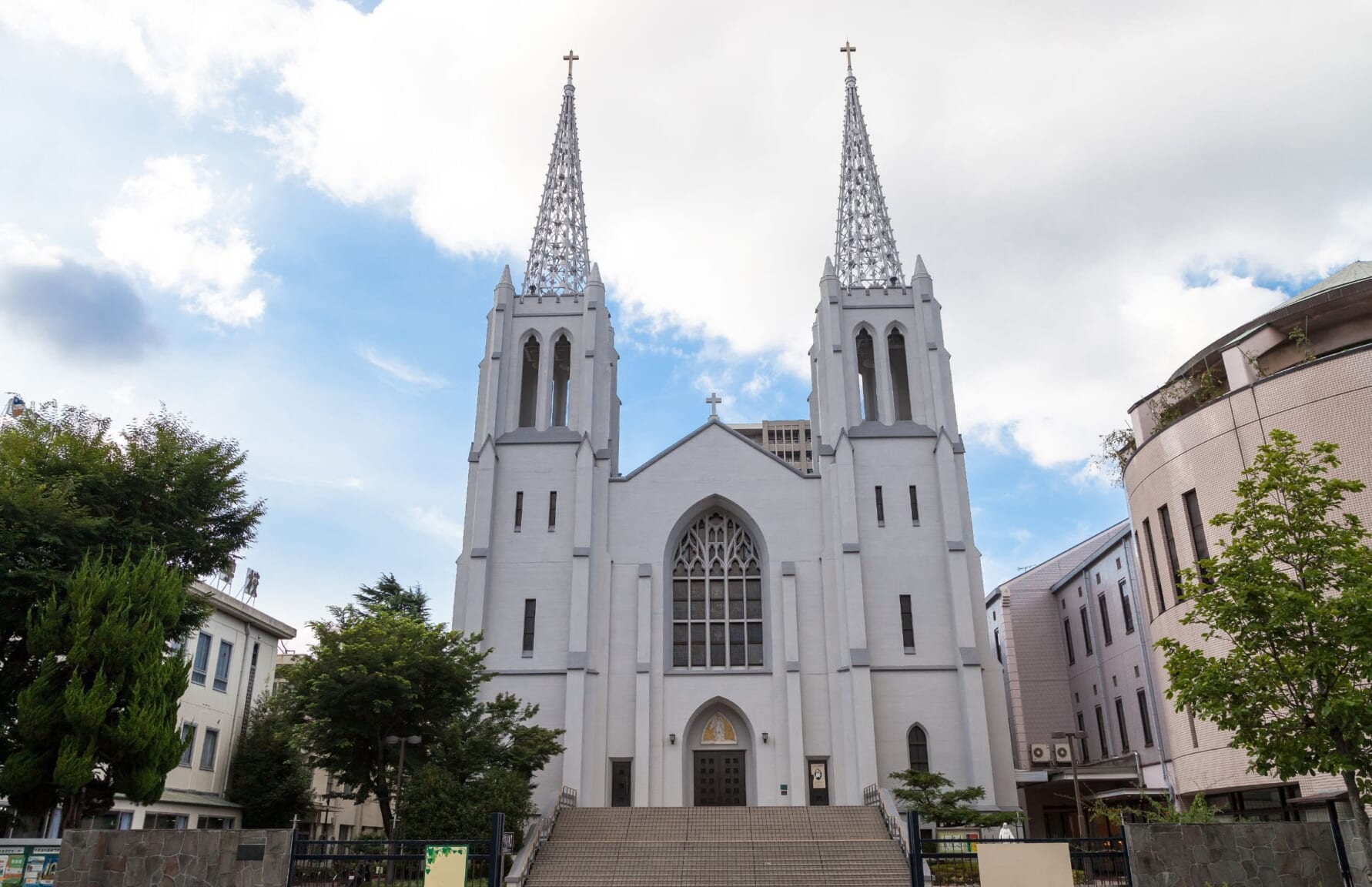 St. Peter and St. Paul Cathedral (聖ペトロ・聖パウロ司教座大聖堂), known locally as Nunioke Church (カトリック布池教会), is a cathedral in Nagoya that's a striking example of Gothic Revival architecture.
Built in 1962, the cathedral has been declared a Tangible Cultural Property, signifying its "high historical, artistic, and academic value to Japan." What sets this cathedral apart is its multicultural approach to spirituality. The church offers mass in a variety of languages, including Japanese, English, and Tagalog, catering to the diverse community it serves.
The interior is equally impressive, featuring intricate woodwork and stunning stained glass windows that add a touch of majesty to the spiritual experience. Both for locals and tourists alike, the St. Peter and St. Paul Cathedral offers a welcoming atmosphere that transcends language and culture.
5. Church Of The Light (Osaka)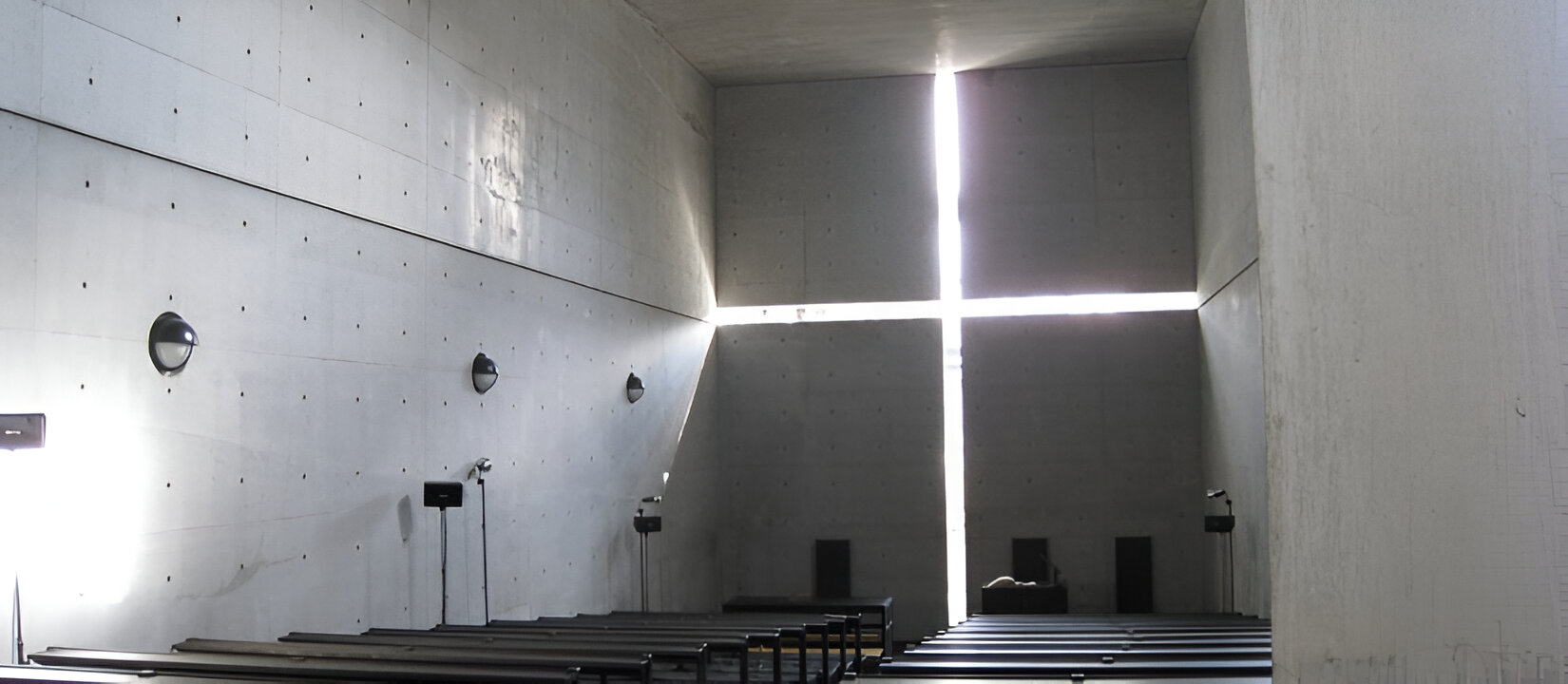 In a country where minimalism often takes center stage, the Church Of The Light in Osaka Prefecture, also known as Ibaraki Kasugaoka Church (日本キリスト教団茨木春日丘教会), is a modernist marvel that stands out for its simplicity.
Designed by the renowned architect Tadao Ando, this church is a masterclass in the use of light and shadow. Inspired by Zen philosophies, Ando opted for a barren interior, devoid of any ornaments, allowing light to become the principal feature. A cross-shaped opening behind the altar allows natural light to spill in, creating an ethereal atmosphere that many describe as poetic.
The church challenges traditional religious architecture and offers a unique spiritual experience, making it a must-visit for those interested in modern architecture and contemplative spaces.
6. St. Francis Xavier Memorial Church (Nagasaki)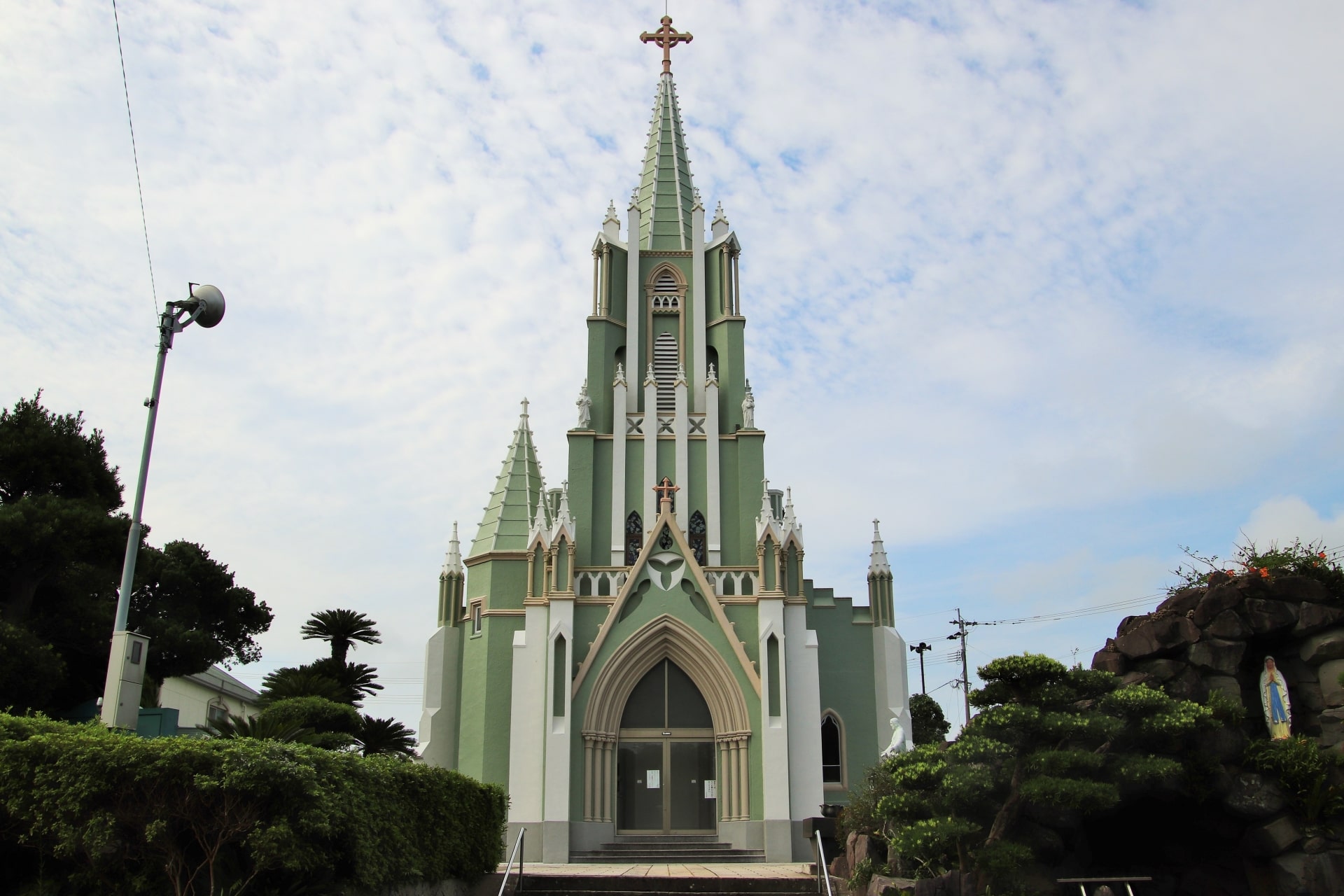 Perched atop a hill in Nagasaki, the St. Francis Xavier Memorial Church (平戸ザビエル記念教会) provides a panoramic view of traditional Japanese temples and the surrounding landscape.
Built in 1931, the church is relatively young compared to others on this list, but its beauty and unique location have quickly made it a popular tourist attraction. Named after St. Francis Xavier, who was instrumental in bringing Christianity to Japan, the church serves as a historical marker as well as spiritual solace.
Visitors can attend public services, making it not just a sightseeing spot but also a place for spiritual engagement. Its elevated position and historical significance add layers to its appeal, making it a must-visit when in Nagasaki.
7. Saint Ignatius Church (Tokyo)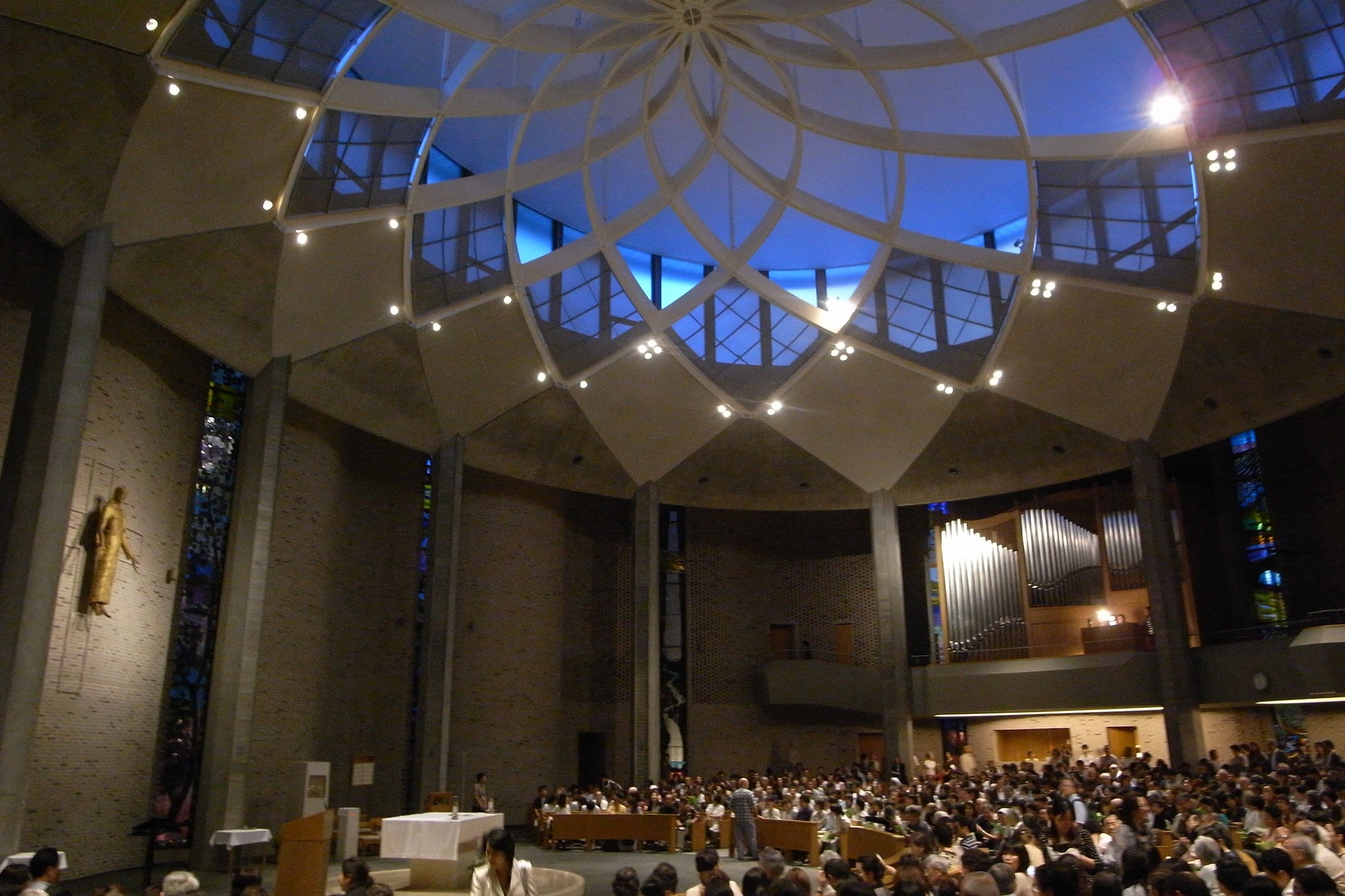 In the bustling metropolis of Tokyo, the Saint Ignatius Church (カトリック麹町 聖イグナチオ教会) stands as a historical and architectural landmark.
Named after Saint Ignatius of Loyola, who sent St. Francis Xavier to Japan in the 16th century, this church has a rich history that has seen it rise, fall, and rise again. Originally destroyed during World War II, the church was rebuilt four years later and underwent additional renovations in 1999. Today, it stands as a symbol of resilience and continuity.
The church's architecture is a blend of traditional and modern elements, offering a serene space for worship and reflection amidst the city's chaos. Whether you're interested in its historical significance or simply seeking a peaceful sanctuary, Saint Ignatius Church is well worth a visit.
8. Saint Mary's Cathedral (Tokyo)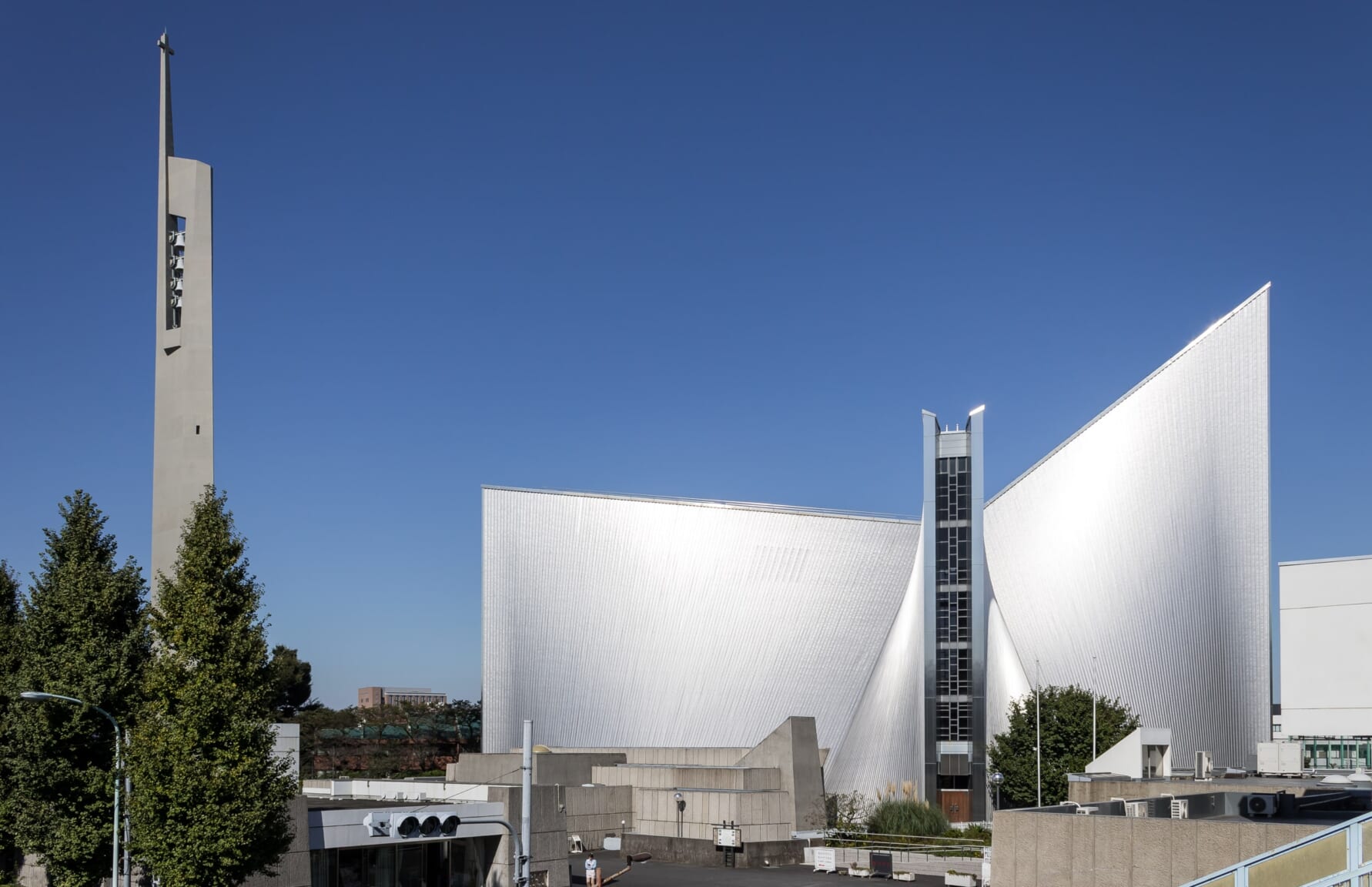 Saint Mary's Cathedral (東京カテドラル聖マリア大聖堂) in Tokyo offers an architectural experience that's as unique as it is spiritual.
Designed by Kenzo Tange, a Pritzker Prize-winning architect, the cathedral's floor plan is laid out in the shape of a cross. But the real magic happens when light filters through the strategically placed windows, forming a luminous cross inside the building. This clever design feature adds a layer of symbolism to the structure, making it a standout among Tokyo's religious sites. The cathedral's sleek, modern lines and innovative use of light make it a must-see for anyone interested in architecture, while its tranquil atmosphere offers a respite from the hustle and bustle of city life.
As an architecture enthusiast, I have to admit I feel a little ambivalent about this one, as the current building is a replacement of the original wooden Gothic Cathedral from 1899 that was destroyed during the air raids of 1945, and as much as I find the current building a fascinating structure, I wish we still had the old charm of the original one.
9. Motomachi Roman Catholic Church (Hokkaido)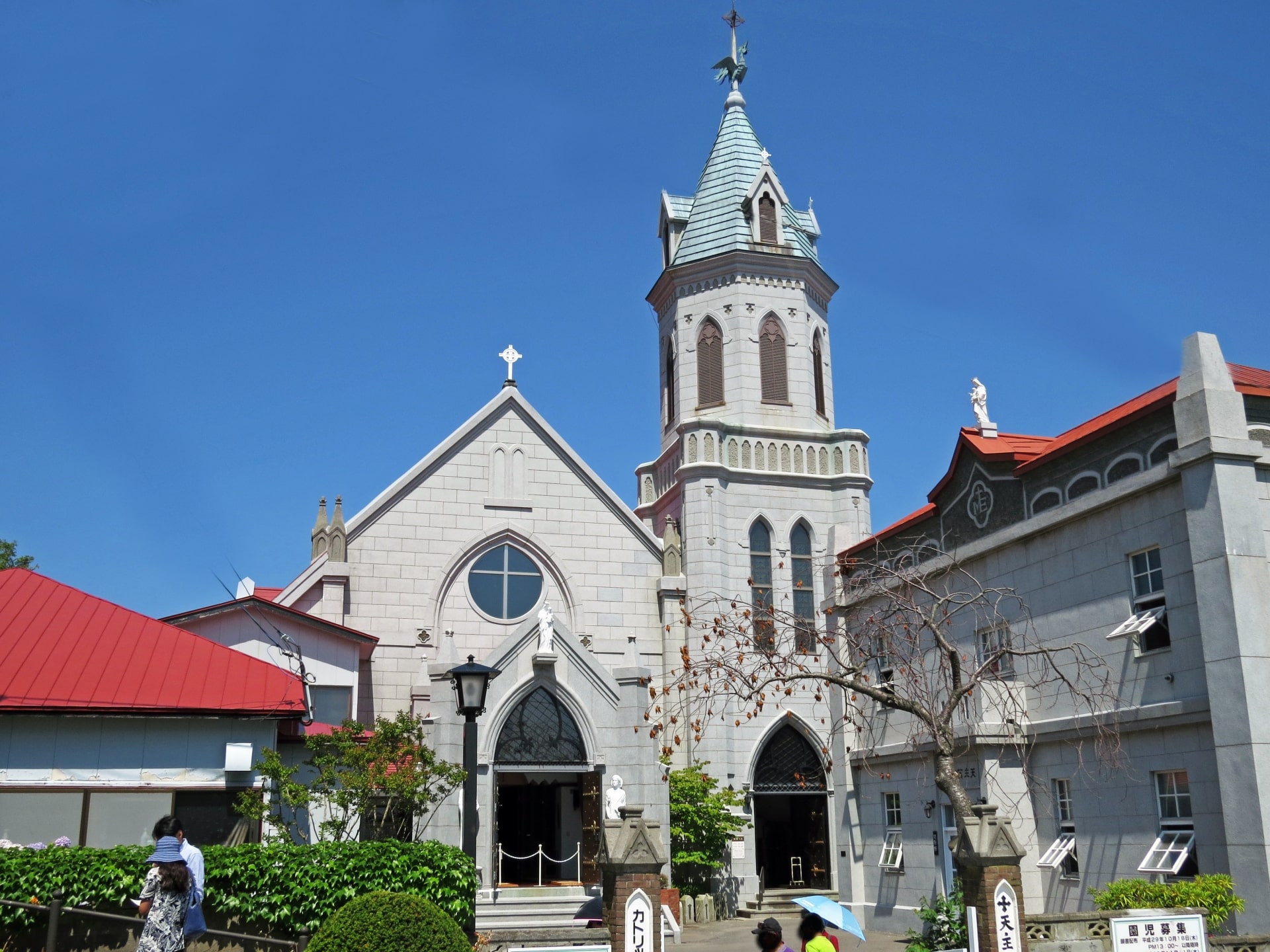 Situated in the northernmost region of Japan, the Motomachi Roman Catholic Church (カトリック元町教会) in Hokkaido is a Gothic-style sanctuary that takes on a magical aura in winter.
Covered in a blanket of snow and softly illuminated, the church offers a serene and picturesque setting that has captivated visitors and locals alike. Built in 1924, the church was a reconstruction effort after a devastating fire nearly destroyed the original building.
One of its most striking features is the altar, a gift from Pope Benedict XV, which adds a layer of historical and religious significance to the church. Whether you're visiting in the snowy serenity of winter or the vibrant bloom of summer, Motomachi Church offers a peaceful retreat and a touch of European architecture in the heart of Hokkaido.
10. Immaculate Conception Cathedral (Nagasaki)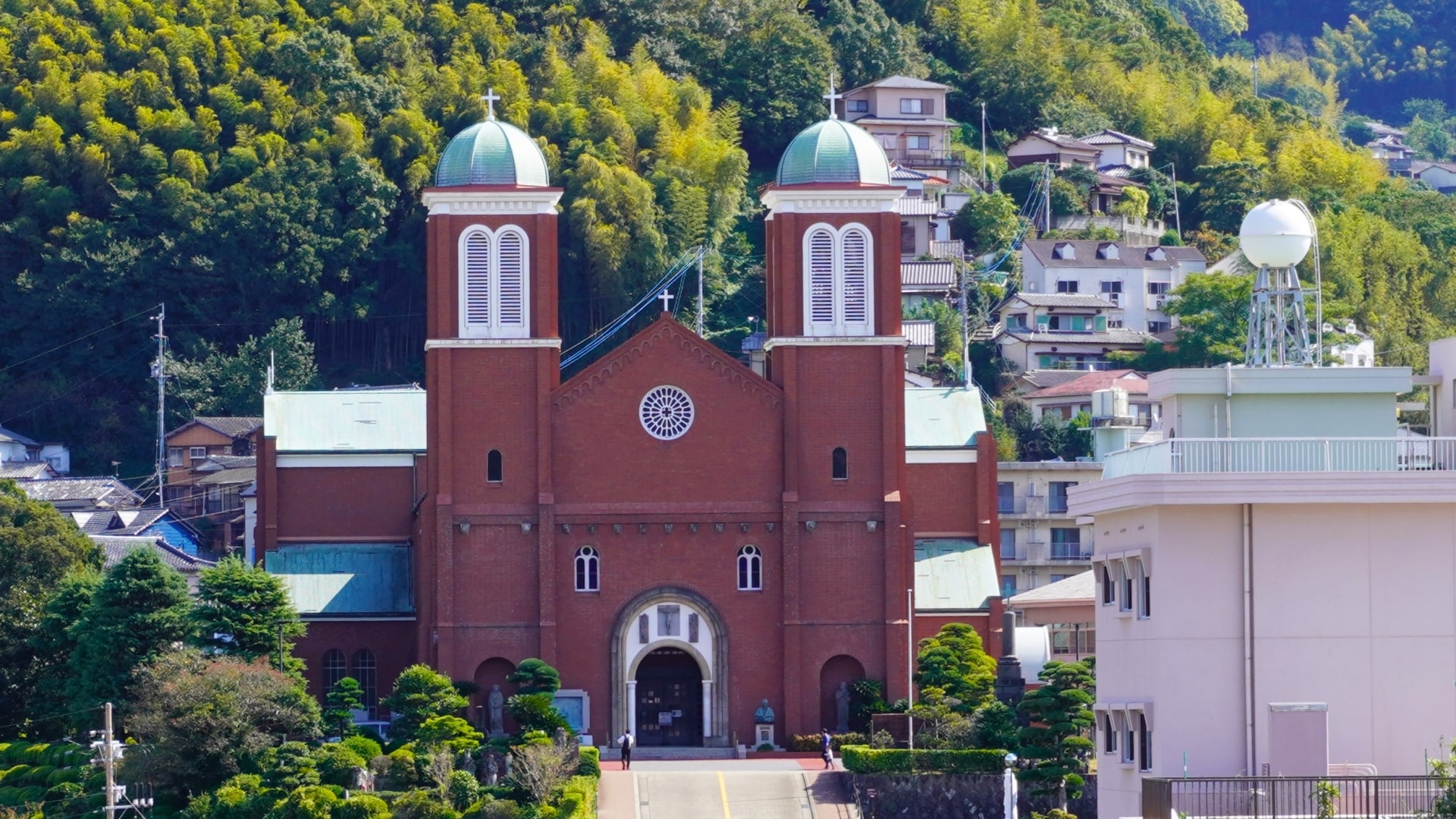 The Immaculate Conception Cathedral (カトリック浦上教会), commonly known as Urakami Cathedral (浦上天主堂), is a symbol of resilience and hope in Nagasaki.
Originally destroyed by the atomic bomb in 1945, the cathedral was rebuilt in 1959 and stands today as a testament to the indomitable spirit of its community. The interior is a marvel of complexity and beauty, featuring intricate woodwork, stunning stained glass, and an array of religious art that rivals many cathedrals worldwide.
Beyond its architectural splendor, the cathedral holds a deeper emotional resonance for visitors, serving as a poignant reminder of the past and a beacon of hope for the future. It's not just a place of worship; it's a pilgrimage site that tells a story of survival, faith, and the enduring power of the human spirit.
Some Things You Should Take Into Account When Visiting Churches in Japan
Churches in Japan are not open 24/7. This can be a little surprising for us Westerners, particularly those used to Catholic tradition, as although this is not official policy, churches are traditionally not only open for mass but to anyone who may want to enter and have a contemplative moment, regardless of faith.
Religious services are mostly done in the local language, which is Japanese. Depending on the location and the local community, you might find some churches offer services in other languages but this is not the norm.
---
Exploring these churches offers a unique lens into Japan's complex relationship with Christianity, blending history, architecture, and spirituality. Each site is a testament to resilience, faith, and the power of community, making them must-visit landmarks for both spiritual seekers and history enthusiasts.
▽Here are more lists of Japanese architectural delights▽
▶Coolest Buildings to Photograph in Tokyo
▽Subscribe to our free news magazine!▽

For more information about travel and cultural assets in Japan, check these articles below, too!
▽Related Articles▽
▼Editor's Picks▼
---