7 Best Okonomiyaki in Osaka
Best Okonomiyaki Restaurants in Osaka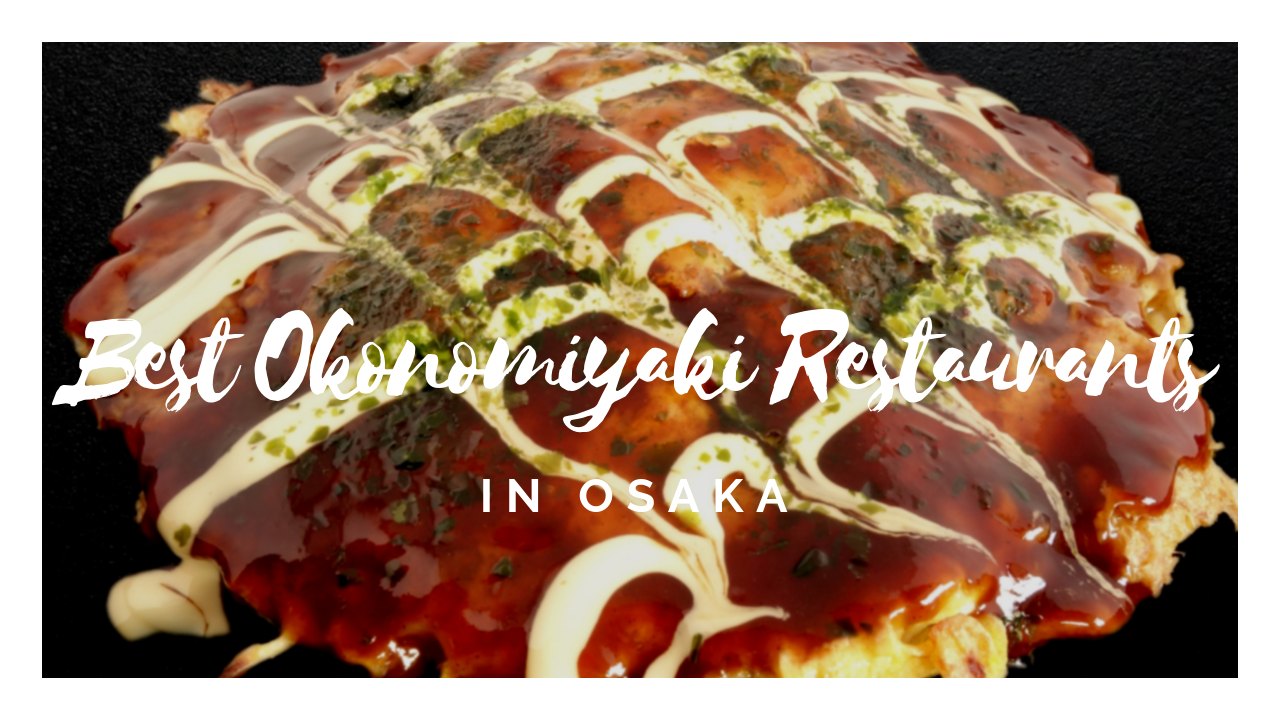 Okonomiyaki is one of the most popular and well-known Japanese dishes today. It's often described as Japanese savory pancakes, and consists of batter with blended Dashi (stock) soup, Japanese mountain yam, cabbage, a few kinds of condiments and various toppings such as pork, seafood, cheese and mochi. It's usually cooked on an iron griddle and fried to be crispy outside and fluffy inside, then topped with special sauce, mayonnaise, seaweed flakes and bonito flakes.
Okonomiyaki is commonly eaten across Japan, however, it is best known as a signature dish from Western Japan, especially Osaka and Hiroshima.
The common style of Okonomiyaki in Japan is based on Osaka style, and local people are really proud of it. Okonomiyaki and Takoyaki are two most famous and must-have dishes in Osaka, and there are hundreds of Okonomiyaki restaurants in Osaka City. Osakan people are really passionate about Okonomiyaki, and it's definitely the harshest and the most competitive battle ground in Japan, which means you can find genuinely authentic Okonomiyaki dishes at quite a few local restaurants.
As I mentioned, there are a lot of Okonomiyaki restaurants in Osaka, and you may get confused with choosing one to visit. So I have listed some of the best Okonomiyaki restaurants in Osaka which gained great reviews both from locals and foreign visitors! Let's check out the best Okonomiyaki in Osaka!
1. Mizuno
Mizuno (美津の) is a long established Okonomiyaki restaurant founded in 1945 and now run by the third generation owner. It's located in Dotonbori area, the famous Okonomiyaki battleground in Osaka, and has been beloved by both locals and tourists for over 70 years. The restaurant has 38 seats including tables and counter seats. At the counter seats, you can enjoy watching the staff making the dishes right in front. The authentic Okonomiyaki at Mizuno is made with their original recipes and selected local ingredients purchased at Kuromon Ichiba, the biggest wholefood market in Osaka.
Access: 5 mins walk from Namba Station or Nihonbashi Station
Hours: 11:00~22:00
2. Houzenji Sanpei
Houzenji Sanpei (法善寺 三平) is a very popular Okonomiyaki restaurant who has been running their business for over 40 years. It's located at the famous atmospheric street, Hozenji Yokocho near Dotonbori area. Houzenji Sanpei's Okonomiyaki is known for its fluffiness and generous amount of the fillings. Okonomiyaki is available with a huge choice of toppings, but you should definitely try the "Suji, Negi, Konjac Okonomiyaki" which is the signature dish on the menu comes with Beef tendon, scallions and konjac jelly.
Access: 5 mins walk from Namba Station or Shinsaibashi Station
Hours: 17:00~23:00 (Weekdays)/Lunch 11:30~15:30, Dinner 17:00~23:00 (Weekends & Holiday)
Closed: Tuesday
3. Chibo
Chibo (千房) is a franchised Okonomiyaki restaurant which has 70 stores across Japan and in abroad and 23 of them are within Osaka Prefecture. The main branch of Chibo is situated at Sennichimae area near Namba Station. Chibo offers various unique and innovative Okonomiyaki dishes in the clean and elegant dining. Beside Okonomiyaki, a variety of Teppanyaki dishes are on the menu including steak, seafood and course dishes.
Access: 5 mins walk from Namba Station or Nihonbashi Station
Hours: 11:00~23:30 (~23:00 on Sunday and Holiday)
4. Kiji Umeda
Kiji (きじ) is one of the busiest Okonomiyaki restaurant in Osaka as there is always a long queue outside during lunch and dinner time. The restaurant has been introduced by the Michelin Bib Gourmand guide in late years. Kiji has nostalgic and homey atmosphere and offers over 10 kinds of Okonomiyaki from classic to unique toppings. The large iron griddle is where each Okonomiyaki is cooked per order, and from the counter seats you can watch the dynamic action of the chefs making the dishes. Okonomiyaki at Kiji is cooked to be crispy outside and fluffy inside, and served with their original sauce.
Access: 5 mins walk from Umeda Station
Hours: 11:30~21:30
Closed: Sunday
5. Tsuruhashi Fugetsu
Tsuruhashi Fugetsu (鶴橋風月) is a franchised Okonomiyaki restaurant from Osaka and has over 80 branches across the country and abroad. The restaurant was originally founded in early 1950s, and has been serving the authentic taste of Osaka for over 60 years with selected ingredients and originally blended sauce. There are over 20 branches in Osaka City, and the main store is located in Tennoji area. The classic Okonomiyaki to a wide selection of side dishes, various Teppanyaki dishes can be enjoyed at Fugetsu.
Access: Short walk from Tsuruhashi Station
Hours: 11:00~23:00
6. Fukutaro
Fukutaro (福太郎) is a famous Okonomiyaki restaurant which currently has 4 branches in Japan (three in Osaka and one in Tokyo), and the main branch is located in Sennichimae near Namba Station. A cozy and nostalgic restaurants is always crowded and a lot of people visit there from outside of Osaka. Fukutaro serves authentic Okonomiyaki and Negiyaki (Okonomiyaki with a lot of scallions) with various toppings. Beside, there are a wide selection of Teppanyaki dishes including Wagyu Beef steak and side dishes.
Access: 5 mins walk from Namba Station
Hours: 17:00~0:30 (Weekdays)/12:00~24:00 (Weekends)
7. Ajinoya
Ajinoya (味乃家) is a long standing Okonomiyaki restaurant in Osaka, which was founded in 1965 and has been running for the 4th generations now. There are 2 branches currently in Osaka, and the flagship store is located near Namba Station. The restaurant has cozy and homey atmosphere, and has counter seats and tables with built-in iron griddles. From classic to unique ones, there are various toppings for fluffy and crispy Okonomiyaki. Delicious Okonomiyaki and Teppanyaki dishes are cooked right in front of the guests with the traditional way.
Access: 3 mins walk from Namba Station
Hours: 12:00~22:45 (Weekdays)/ 11:30~22:45 (Weekends and Holiday)
Closed: Monday
Thank you very much for reading! If you are visiting Osaka, you should definitely dine at least one of these great Okonomiyaki restaurants for the authentic Osaka food experience 🙂
For more information about travelling in Osaka, please check out these articles, too!
▽Related Articles▽
▼Editor's Picks▼
---