10 Best Restaurants in OSAKA
Osaka Restaurant Guide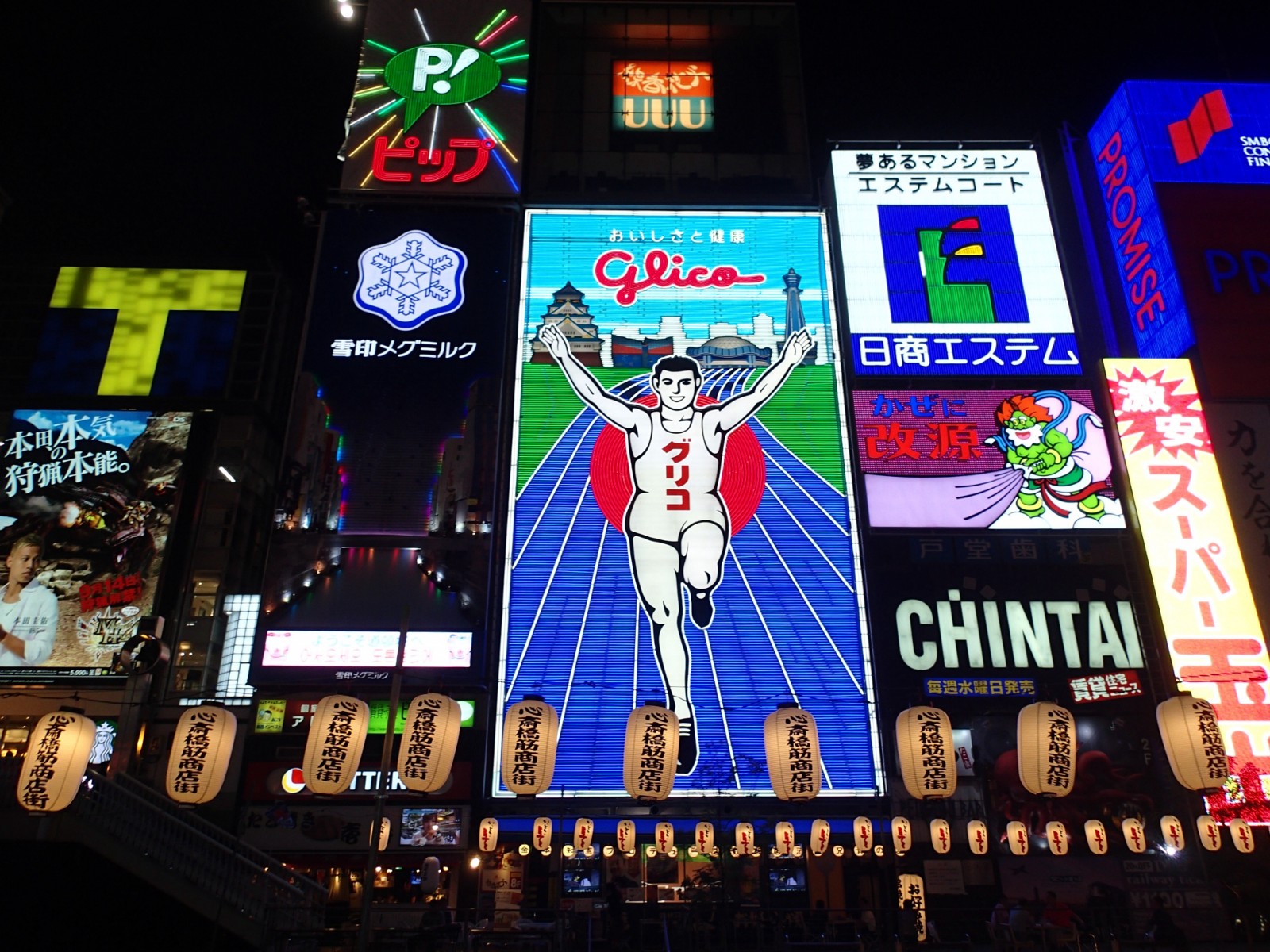 The Best City for Foodies!
Osaka represents insatiable appetite of Japan with its original food such as Okonomiyaki and Sukiyaki. The delicious prefecture has been called "The Kitchen of the Nation" since it was the commercial heart and logistics hub of Japan in Edo period. There are around 90 Michelin-starred restaurants in Osaka now.
A very popular and well-know market, Kuromon Market offers fresh ingredients to gastronome and professional chefs so that restaurants in Osaka can serve high-quality food.
1. Kuma Kafe
It might be quite a surprise this one of top popular restaurants in Osaka does not serve Japanese dishes like others. Kuma Kafe is a Western style restaurants serving delicious burgers, pizzas, pancakes etc.
As well as fascinating dishes, one of the reasons why people adore Kuma Kafe is the restaurant owner from Australia. With warm hospitality in English (needless to say), the kind and friendly staff will surely make you feel like being back home, and it's a great place to get some local advice for travelling.
For your information, the restaurant's name Kuma Kafe is named after "Bear" in Japanese (Kuma is bear in Japanese). It's apparently the favourite animal of the owner and he's often told that he looks like a bear 😉
It'a common story that you go abroad and miss the taste of home country (in this case, if you are from Western countries). Kuma Kafe could be the one to provide you a comfortable and delicious moment just like back home.
It's located near Kaiyukan Aquarium, the top tourist site in Osaka City.
Access: 5 mins walk from Osakako Station (Osaka Chuo Line)
Hours: 12:00–19:00
Close: Monday and Tuesday
Budget: 2,000–3,000 JPY
Genre: Western
Near Tourist Site: Kaiyukan Aquarium
2. Osaka Cuisine Asai (おおさか料理 淺井)
Osaka Cuisine Asai is a one Michelin starred Japanese restaurant, offering approx 150 different culinary creation dishes.
Fresh and seasonal ingredients are picked every morning by the chef at Kuromon Market, the biggest wholesale market in Osaka City, and their menu is created based on today's seasonal ingredients everyday.
The restaurant serves various course meals and a la carte menu. There are 3 types of "Omakase" course (chef's choice), which is recommended to whom wishes to have standard Japanese dishes, and a special course can also be served with an advance booking. It's a slightly higher price but highly worthy.
Nabe course (hot pot dish) is also one of most popular things on the menu, serving seasonal ingredients such as Pike conger and Snappers in Shabu Shabu style during summer, and Osaka's traditional "Tecchiri" (hot pot dish with Pufferfish) during winter.
The restaurant offers counter seats where guests can see chefs cooking right in front, and large tables which can fit up to 10 people. They have staff who can explain their meals in English, so you can really enjoy what you will have.
Access: 5 mins walk from Nagahoribashi station (Sakaisuji Line)
Hours: 17:00–24:00 (Monday-Saturday)/17:00–22:00 (National Holiday)
Close: Sunday
Budget: 10,000–15,000 JPY
Genre: Washoku (Japanese cuisine), Kappo
Near Tourist Site: Shinsaibashi
---
3. Okonomiyaki Chitose (お好み焼き ちとせ)
When in Osaka, we can not ignore their glorious local dish, Okonomiyaki and Chitose is one of the most popular Okonomiyaki restaurants in the town.
The store is located in a small alley, which is hard to find if you are not familiar with the neighbourhood. There is often a queue outside, but it's totally worth waiting for.
The various menu and toppings for Okonomiyaki are offered at Chitose, such as meat, seafood and vegetables. If you are not sure what to order out of their huge menu, simply ask the owner (who speaks English) his recommendation.
If it's your first time to try Okonomiyaki, "Butatama (豚玉)" is a must-try. It's a standard Okonomiyaki with a pork belly topping, which goes perfectly with a mug of beer. Sit by the counter and enjoy watching the process of making Okonomiyaki.
If you are already a fan of Okonomiyaki, why not to try their hidden menu "Takasuga-yaki(たかすが焼き)". It's an ultimate dish with Sobameshi (combined food with fried noodle and rice) covered with Negi-yaki (similar to Okonomiyaki, but cooked with Japanese leeks and thinner batter). The local customers often order it and some says it's better than Okonomiyaki!
Access: 3 mins walk from Dobutsuen-mae Station (Midosuji Line)
Hours: 12:00–21:00
Close: Wednesday
Budget: 1,000–2,000 JPY
Genre: Okonomiyaki
Near Tourist Site: Osaka Tennoji Zoo
---
4. Kanidouraku Dotombori-Honten (かに道楽 道頓堀本店)
Many of you may recognise the restaurant with the gigantic moving crab shop display. Kanidouraku is the most famous crab restaurant with over 40 stores in Japan, and their main branch is located at Osaka's most delicious district, Dotonbori.
The variety of crab dishes are served, including Sashimi (raw), Sushi, Shabu Shabu, Steak, Tempura, Soup, etc. Also course meals are available from 5,000 yen to 10,000 yen which you can choose depending on your budget.
If you wish to try their delicious crab with even more reasonably, charcoal grilled crab sticks are sold at the storefront with less than 1,000 yen. The handy crab stick is perfect snack for strolling down the street. Also a crab sushi box is available for takeaway with 1,600 yen.
To visit Kanidoraku, simply find the gigantic crab display!
<<Book your seat of Kanidouraku Dotombori-Honten right away!!>>
Access: 5 mins walk from 14th or 16th Exit of Namba station (Midosuji line)
Hours: 12:00–15:00 (Weekends and Holidays only)/17:00–24:00 (everyday)
Budget: 5,000–6,000 JPY
Genre: Yakiniku (Japanese style BBQ)
Near Tourist Site: Dotonbori
---
5. Tsuki no Odori Chicken Dining (月のおどり)
It is still not very easy to find Halal restaurants in Japan, so this restaurant could be a great savior to some of you. Tsuki no Odori Chicken Dining is a "Muslim-Friendly" Yakitori restaurant (grilled chicken skewers), which is hugely popular among foreign visitors in Osaka. The restaurant has its halal certification from Kobe Mosque.
At many Japanese restaurants, foreigners may sometimes have trouble with ordering as many dishes are not familiar or look quite weird. However, the menu at Tsuki no Odori is specially created as foreign friendly, which is easy to pick up what you want or can eat.
The restaurant was originally founded by the grandfather of the current owner back in 80 years ago, and it's been serving various chicken dishes mainly grilled skewers.
The top selling dishes on the menu is "Fried Chicken with tartar sauce", or "smoked chicken skewers" both are extremely popular among foreign customers. The restaurant also offers unique dishes such as foie gras skewers at very reasonable price.
The restaurants is located in Dotonbori area, the center district of tourism in Osaka.
Access: 6 mins walk from Namba station (Midosuji line)
Hours: 16:00–24:00
Close: Thursday
Budget: 3,000–4,000 JPY
Genre: Yakitori
Near Tourist Site: Dotonbori
---
6. Kitamura (北むら)
Established in the heart of Osaka City, Shinsaibashi area back in 1881, Kitamura has been serving an authentic Kansai Style Sukiyaki for over 100 years. The restaurant is rewarded with Michelin one star.
The biggest difference of Kansai (Western Japan) Style Sukiyaki from Tokyo is that it does not contain soup with stock. The seasoning is much more simple only with soya sauce, sugar, mirin (sweet sake) to stimulate the natural taste of ingredients. Also they use raw eggs to dip ingredients before eating. Today, most of Sukiyaki restaurants in Japan serve dishes with a raw egg on the side and accordingly this style was originated from Kitamura.
Kitamura serves Wagyu beef strictly selected from all over Japan by season, and cut into thick slices to cook in a special iron pan for Sukiyaki dish.
In addition, it's also recommended to eat the Wagyu beef in ShabuShabu style with ponzu sauce (citrus soya sauce) or simply pan-fry with batter and vegetables. Or you can simply ask their skillful chefs how you wish the dish to be cooked.
The restaurant has an authentic Japanese decor with tatami rooms, courtyard garden, and the large willow tree overhangs at the storefront as a landmark.
<<Book your seat of Kitamura right away!!>>
Access: 6 mins walk from Shinsaibashi station Exit No.6 (Midosuji line)
Hours: 16:00–22:00 (Monday-Saturday)
Close: Sunday and Holiday
Budget: 10,000–15,000 JPY
Genre: Sukiyaki
Near Tourist Site: Shinsaibashi
---
7. Kamukura Dotonbori (神座 道頓堀店)
As well as in Tokyo, Ramen is a popular dish in Osaka and there are numbers of famous franchised Ramen shops. Yet this one could only be tasted nowhere else but Osaka.
If you have already tasted ordinary Ramen in Japan, you may notice the difference in the dish served at this Osaka born Ramen restaurant Kamukura.
Kamukura serves Ramen with a concept of "fantastic combination of French cuisine and Japanese Ramen". Since the restaurant was founded back in 1986, they managed to keep their traditional flavour of the secret soup base and the original fine noodle for over 30 years.
The chefs at Kamukura are certificated as "Soup Sommelier", which only those who passes a strict examination, and this is why Kamukura keeps their standard so high. The Ramen has light flavour soya sauce based soup, which is light, aromatic and easy to sipping down. The standard topping comes with a generous amount of Chinese cabbage and barbecued pork belly, and other several toppings are also available. Kamukura also offers delicious side dishes such as fried chicken or dumplings, which go perfectly with their Ramen.
Access: 5 mins walk from Namba station (Midosuji line)
Hours: 11:00–23:00 (Monday-Friday)/11:00–5:00 of the next day(Weekend&Holiday)
Budget: 1,000 JPY
Genre: Ramen
Near Tourist Site: Dotonbori
---
8. Yotaro Honten (与太呂本店)
Founded in 1921, Yotaro Honten is an authentic Tempura restaurant with 2 Michelin stars. Yotaro is known as the founder of Kansai style tempura, which is slightly different from tempura in Tokyo. While tempura in Tokyo is commonly cooked with sesame oil, Yotaro uses cotton seed oil for cooking which has lighter flavour, and the batter is also much thinner to maximize the natural taste of the ingredients.
Only freshly stocked ingredients of the day are used (no frozen nor processed ingredients) for cooking and each Tempura dish is served straight away from the deep-frying pot to guests.
After being indulged with the outstanding tempura dish, enjoy Yotaro's another specialty "Taimeshi" (snapper rice), served with a whole wild snapper and rice cooked in an earthenware pot. The steamed rice absorbs the delicate and aromatic flavour of snapper. The dish is quite large so if you are not able to finish it, don't hesitate to take it away to home.
The restaurant has a spacey dining with modern and nostalgic interior from Taisho era, and if you wish to see the cooking process, choose their counter seats.
Access: 2 mins walk from Kitahama station Exit No.6 (Midosuji line)
Hours: 11:30–14:00 (Lunch)/17:00–21:00(Dinner)
Close: Sunday, Holiday, 2nd&4th Thursday
Budget: 8,000–10,000JPY
Genre: Tempura
Near Tourist Site: Osaka Castle
---
9. Ganso Kushikatsu Daruma (元祖串かつ だるま)
Osaka has numbers of must-try local dishes such as Okonomiyaki and Takoyaki, and Kushiage is one of them. Daruma is a pioneer of Kushiage dish, which was founded in 1929.
Kushiage is a deep fried stick dish hugely common in Osaka. Daruma offers various ingredients in delicious Kushiage dish, such as seafood (tuna, shrimp, etc), vegetables (tomato, leeks, etc) and meat (chicken, pork, etc).
Kushiage is served with special sauce usually placed on the side of the table to dip the dishes, but remember that it's not allowed to dip the same stick twice for hygienic reason. Remember, DIP ONLY ONCE! The crunchy Kushiage dishes taste even better with beer.
As well as a la carte, Daruma offers a standard set menu which you can taste 8 kinds of ingredients on one plate (pork, whiting, shrimp, tuna, lotus, etc). Also their special set menu "Sohonten Set" is recommended, which comes with 9 kinds of Kushiage sticks and Osaka's another specialty "Doteyaki" (beef tendon simmered in miso souce). English speaking staff is available, too!
Access: 6 mins walk from Ebisucho station Exit No.3 (Sakaisuji line)
Hours: 11:00–22:30
Close: New Year's Day
Budget: 2,000–3,000JPY
Genre: Izakaya
Near Tourist Site: Shinsekai
---
10. Matsuzakagyu Yakiniku M Hozenji Yokocho blanch (松阪牛焼肉 M 法善寺横丁店)
Western Japan is known as the great production of Wagyu beef and Matsuzaka beef is known as one of three greatest Japanese beef. The restaurant M offers delicious Matsuzaka beef with affordable price.
The M is a popular Yakiniku (Japanese BBQ) restaurant offering high quality Wagyu beef in the cozy and modern dining space. Various meat parts are on the menu including very rare part, Chateaubriand. Each meat is served with a label with the name of meat parts.
The M also offers a variety of side dishes with Matsuzaka beef such as meat sushi, Bibimbap (rice and meet cooked in hot stone pot) and Wagyu beef broth Ramen.
The restaurant is located at Osaka's famous Izakaya alley, Hozanji Yokocho which has great local atmosphere at night and it's very accessible in the heart of Osaka.
Access: 5 mins walk from 14th or 16th Exit of Namba station (Midosuji line)
Hours: 12:00–15:00 (Weekends and Holidays only)/17:00–24:00 (everyday)
Budget: 5,000–6,000 JPY
Genre: Yakiniku (Japanese style BBQ)
Near Tourist Site: Hozenji-yokocho Alley
---
In addition, if you want to try best izakaya food and drink in Osaka, try this Osaka Bar Hopping Food Tour with Magical Trip. We'll get to experience authentic Osaka foods and drinks by pub crawling local izakaya bars that travelers normally couldn't find.
▽Check out 5 Best Michelin Star Restaurants in Osaka, too!▽
Did the article help you know what to eat in Osaka? I would be happy if you choose one of them at least on your trip. Apart from the delicious food, Osaka is getting more attractive destination for their lots of sightseeing resources such as Universal Studio Japan and Osaka Castle. How about learning why Osaka is so popular now?↓↓
If you will visit Kyoto, too, please check the best restaurants in Kyoto↓↓
▽ Related Articles▽
▼ Editor's Picks▼
---