8 Best Things to Do in Shinsaibashi
Shinsaibashi Travel Guide: What to Do in Shinsaibashi, Osaka Now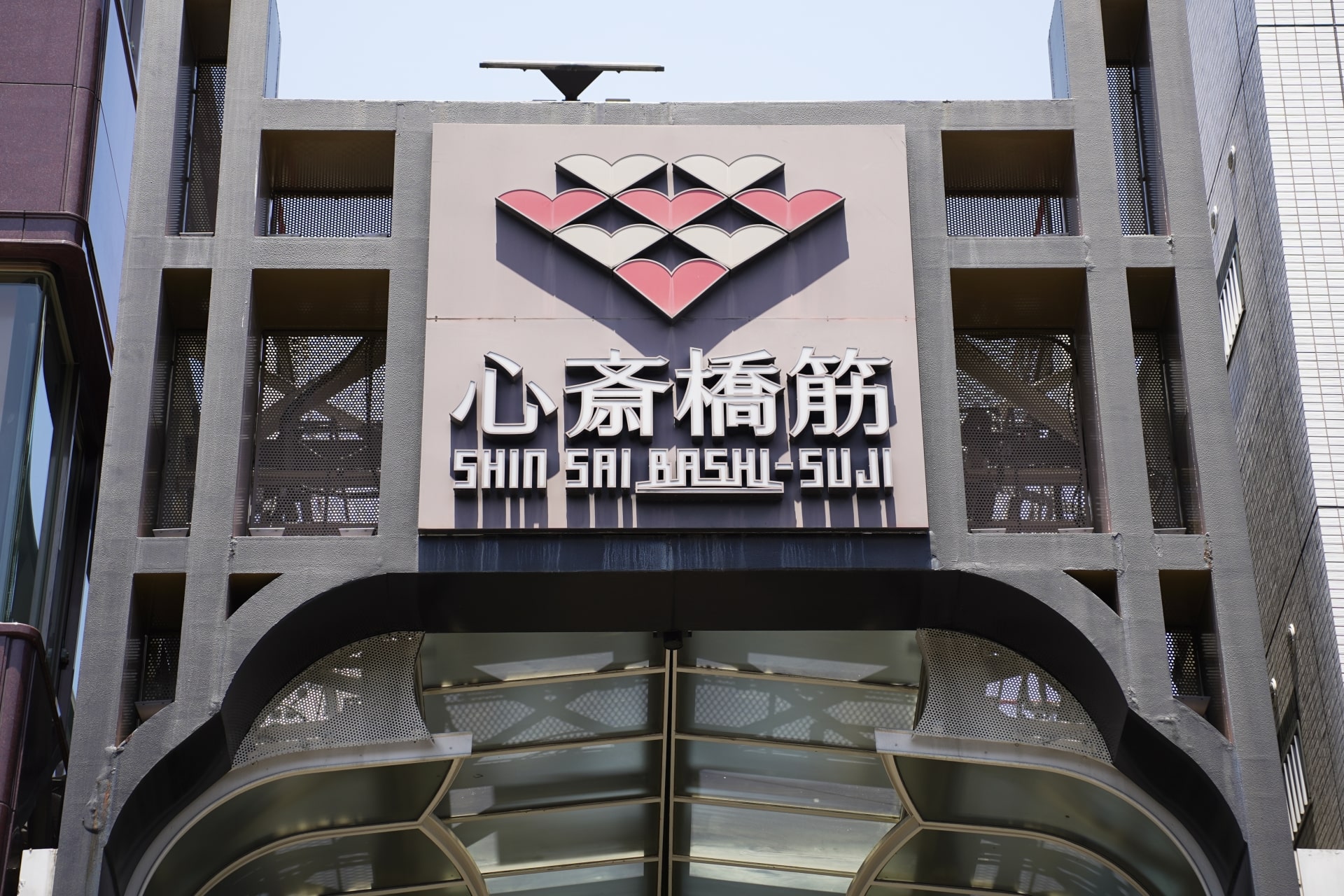 Osaka is the 2nd biggest city and very popular among tourists. Inside Osaka, Shinsaibashi is one of the biggest downtowns. Shinsaibashi used to be the bridge on the Nagahori River, but now it's the area from Midousuji to Shinsaibashisuji Shopping Street.
People used to call Shinsaibashi Western Ginza because there are many department stores and luxury brand branches on the Midousuji side. On the other hand, more reasonable stores are along Shinsaibashisuji Shopping Street.
There might be too many shops and restaurants to choose where you visit. Can't you decide where to go? Leave it to me!! Here I would love to introduce the best things to do in Shinsaibashi.
1. Shinsaibashisuji Shopping Street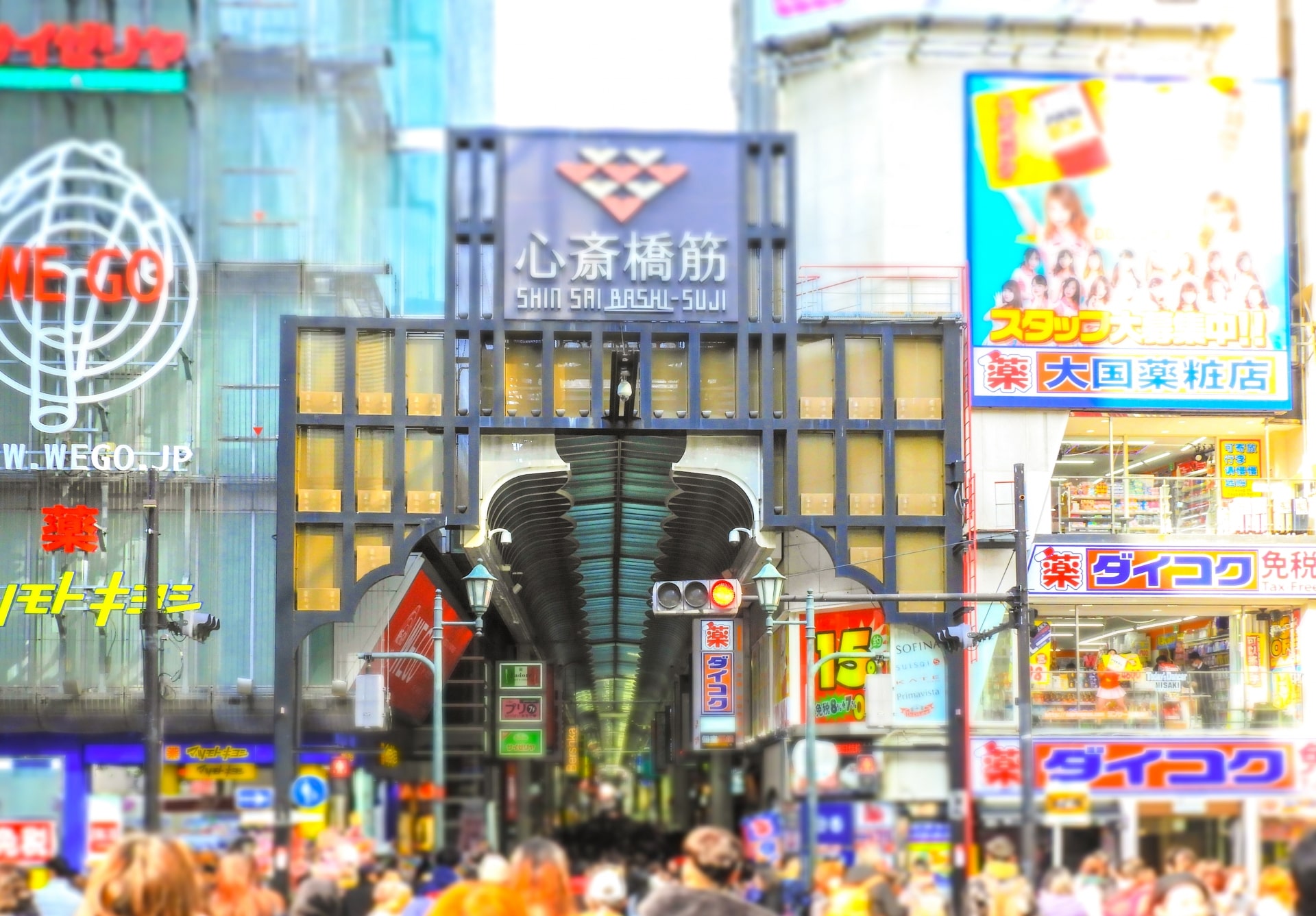 Shinsaibashisuji Shopping Street is the main huge shopping street in Shinsaibashi. It is 580m from north to south and is divided into 8 sections. There are more than 180 shops including clothes and restaurants, and 60,000 people on weekdays and 120,000 people on weekends come for shopping.
Shopping is one of the most exciting things about traveling, especially in Shinsaibashi. Once you go there, you can get anything like clothes, food, special souvenirs for Osaka and so on. There are many reasonable but high-quality Japanese shops like GU and UNIQLO, as well as high-brand shops like GUCCI and POLO RALPH LAUREN.
Are you hungry or thirsty during shopping? Don't worry. There are many restaurants and cafes as well. Kushikatsu Daruma is one of the most popular and famous restaurants in Osaka. Kushikatsu is a regional food of Osaka and Daruma has been loved by both tourists and local people for many years. There is always a long queue, but you should try it.
2. America Mura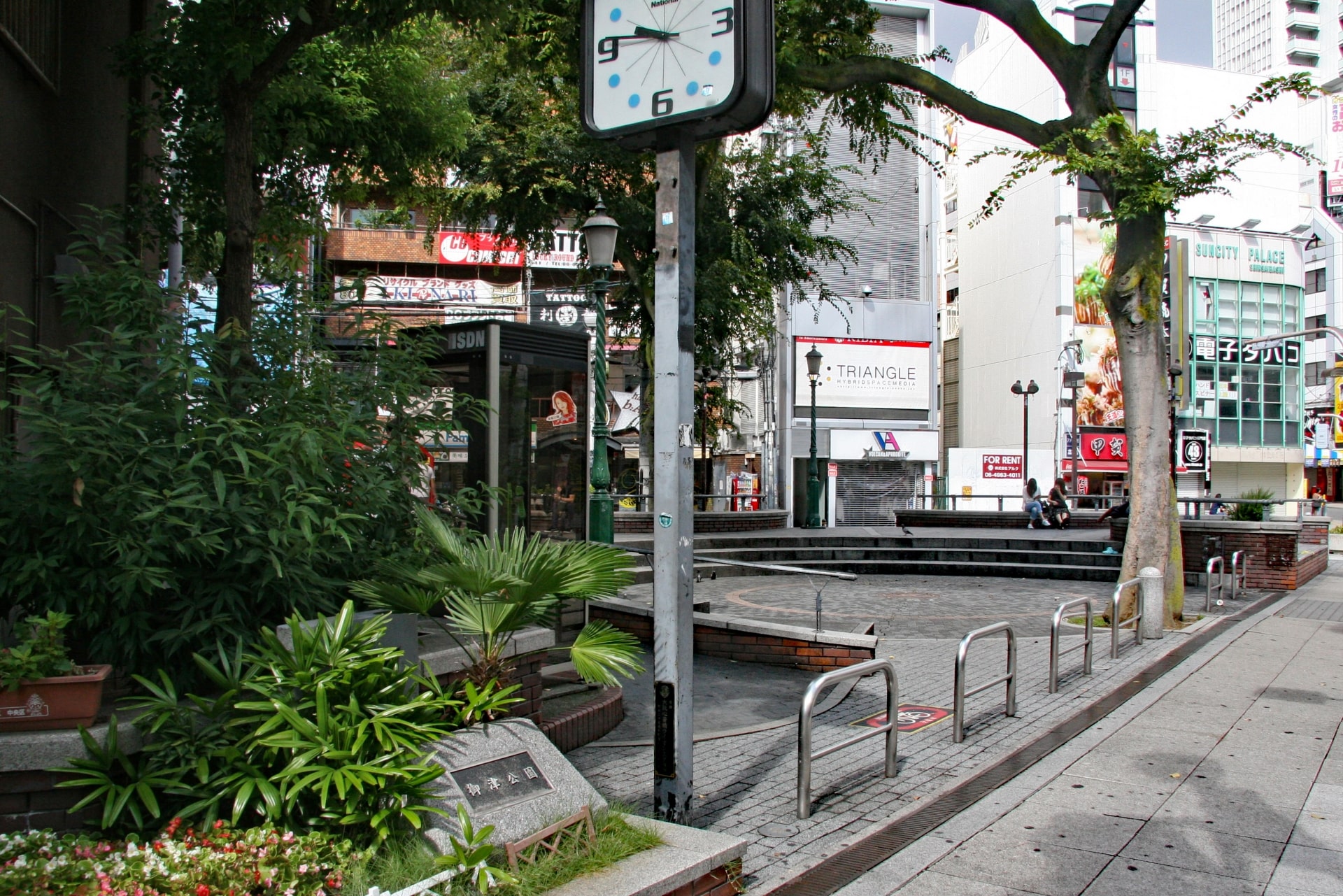 America Mura is the most popular spot among young people in Osaka. It is a counterpart of Harajuku in Tokyo. America Mura doesn't have any particular sign but it is the place around Mitsu Park (another name is Triangle Park).
America Mura has always been the mecca for a new culture in Osaka since it was renovated in the 1970s. There are many second-hand clothes shops and record shops as well as unique buildings. You can enjoy shopping at a reasonable price there.
If you like unique fashion and culture originating in Osaka, you should go there. At night, you would meet up with creative cultural people who want to be dancers, designers, or musicians in clubs or bars.
▽Check more details about America Mura▽
3. Midosuji Street Illuminations

If you come to Osaka in winter, don't miss the illumination events at Midosuji Street . Midosuji is the symbol street in Osaka. It lasts from Umeda to Namba for 4km. This huge-scale of illumination won the world record as the most illuminated trees on a single street, in 2015.
The illumination program is changed every year, but in 2021 Midosuji Street was divided into 6 sections and decorated with different colors of lights. In 2022, what special illumination can we see?
There is also another illumination program in Nakanoshima. Nakanoshima, which is known as a water city, is located between Doujima River and Tosabori River and it takes about 20 mins from Shinsaibashi. You can enjoy the illumination featuring a waterside view there.
These illumination events go on from the beginning of November to the end of January.
4. Cafes and Desserts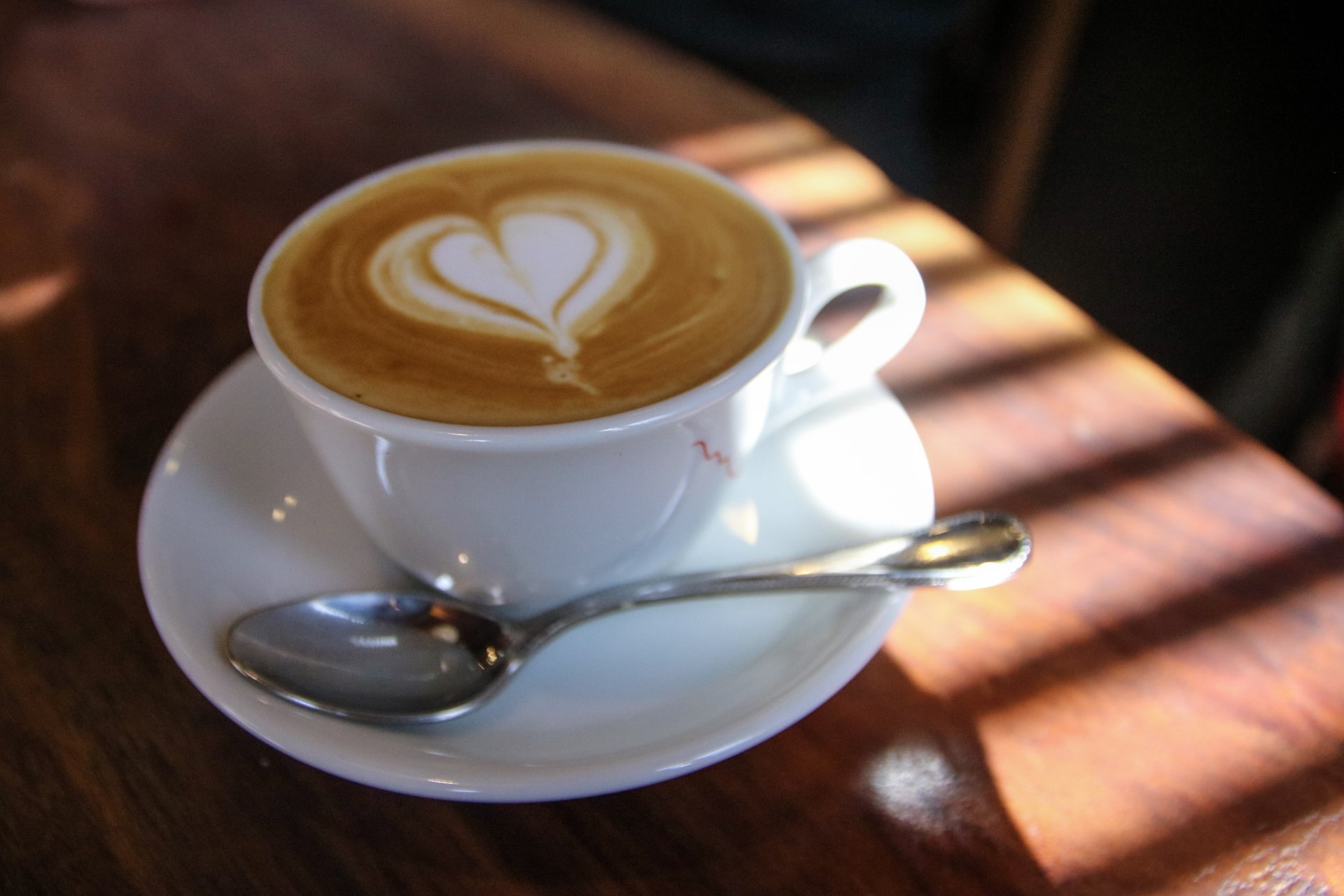 There are also many modern cafes in Shinsaibashi.
Bluepearpie just opened on 1st July in 2022. It's a specialty shop for pie and the branch of Bluepear Coff/Photo. The trendy cafe offers 3 sweet pies and 1 meat pie. All of them are very popular but the most attractive point is their sweet pie full of whip cream.
According to a rule of the shop, you must follow their instagram beforehand and show their staff the screen of the page when you get in there. You should go there as early as possible to get one. It takes about 6 mins from Shinsaibashi station.
Wad is also one of the most popular Japanese cafes in Shinsaibashi. With its concept of "Japanese good things", they serve selected high-grade Japanese tea with their plates and mugs that are hand-made by traditional Japanese ceramic art.
You can enjoy typical Japanese desserts like shaved ice with green tea syrup, mochi, monaka, and so on in a quiet room full of emotion. Don't miss the chance to have the authentic cultural experience only in Japan with their sophisticated interiors and tea set.
5. Eating the authentic Takoyaki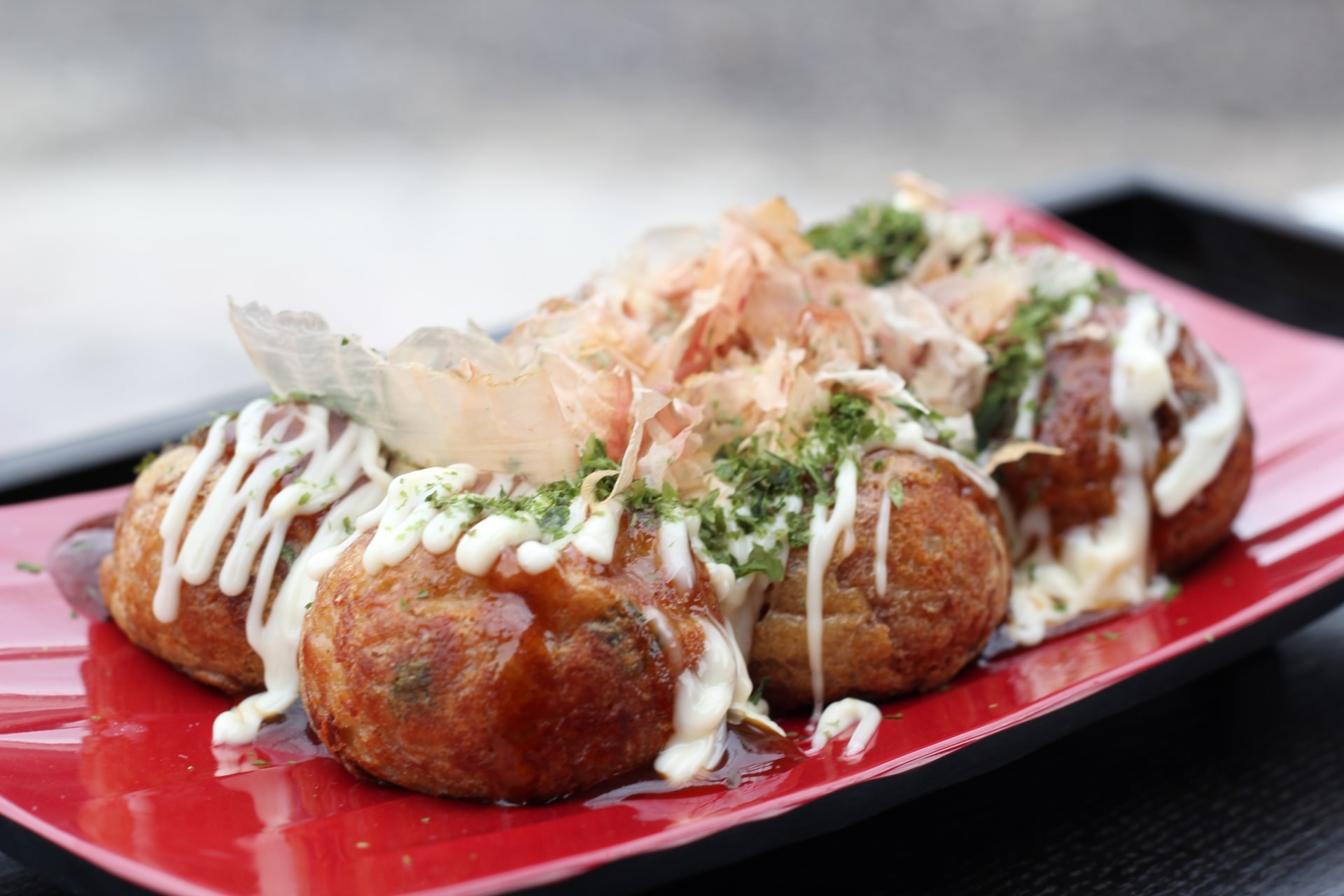 Osaka is the fierce battlefield for Takoyaki. Since it was born in Osaka in 1935, Takoyaki has been loved by a lot of not only tourists but also local people. I will show you 3 Takoyaki shops you should try in the Shinsaibashi area.
Takoyaki Ohako: Its Takoyaki are popular for being crispy outside and creamy inside. Ohako is the Japanese word for what a person is most confident about. They make a Takoyaki with their soul one by one, and it's their masterpiece.
Takoyaki Wanaka: Takoyaki Wanaka has been posted in the Michelin Guide of Osaka and Kyoto for 3 years. It makes Takoyaki with salt ginger instead of red pickled ginger which is more common with other Takoyaki. It also has 4 different sauces. The most popular menu is "Ooiri", in which you can choose your favorite 3 sauces from those 4 sauces in addition to 1 seasonal flavor.
Takoyaki Kukuru: Takoyaki Kukuru is one of the most famous and popular Takoyaki shops in Shinsaibashi. They stick to the quality of ingredients, especially octopus. You can enjoy the chewy big octopus and the fluffy and melty texture once you eat it.
There are many good Takoyaki shops besides what I introduced. Why don't you try as many shops as possible and find the best one?
6. Dotombori

Dotombori is connected directly to Shinsaibashi Shopping Street across the Dotombori River. Dotombori means the downtown along the south side of the Dotombori River.
The most famous symbol in Dotombori is the sign of Glico. Many tourists take a photo with the same pose as the Glico boy in front of it. Let's do it!!
There are other symbolic objects like Kuidaore or a big crab. You would find your favorite one.
You can overlook Osaka from Dotombori Big Ferris wheel named Ebisu Tower. It's on a discount store Don Quijote and it takes 15 mins to go around. The price is ¥600.
If you're interested in Dotombori more, please see the link below.
▽Check more things to do in Dotombori▽
7. Tombori River Cruise

Tombori River Cruise is a 20 mins cruise on the Dotonbori River. You can enjoy the scenery of Dotombori and Shinsaibashi from the middle of the Dotombori River. Along the riverside, many people would wave their hands to you. It would make you happy.
The ticket is available only on the day and you can't book it. You can buy the ticket at Don Quijote for ¥1,000. It is operated every 30 mins from 12:00 to 20:00.
Another plan is the Tombori River JAZZ Boat. It's a 40 mins cruise with JAZZ live on the boat. There are tambourines and mascara in the boat to join the live together.
The price is ¥1,800. It's operated every 1 hour from 13:30 to 19:30, except for 16:30. The night cruise with JAZZ live must be an unforgettable memory.
8. Hozenji Yokocho Alley

Hozenji Yokocho used to be the precincts of Hozen Temple. There were many worshipers and markets for them.
There are lots of shops and restaurants in renovated old Japanese houses along the narrow cobblestoned street. The atmosphere is completely different from that of the city. That's why Hozenji Yokocho is very popular among foreign tourists.
Hozenji Yokocho lasts 80 m. There are many restaurants of Osaka soul food, traditional food, and sweets as well as bars. Honkogetsu is one of the best Japanese cuisine restaurants. It won 2 Michelin stars in 2009.
Using only domestic seasonal ingredients, they serve the tableware like ceramics and Baccarat. You would have fun with both of their amazing cuisines and tableware.
---
Thank you for reading till the end. Did you find the best things to do in Shinsaibashi for you? As I wrote above, Shinsaibashi is the center of Osaka and a very convenient location to go to other popular tourist areas nearby. If you walk for a couple of minutes or take a train, you could find more fun and new things.
What I most recommend is to eat as many different kinds of Takoyaki as possible. There is no same Takoyaki for taste, sauce, texture, and ingredients. Let's find the best Takoyaki for you.
In addition to Shinsaibashi, you can extend your trip to one of the most popular places in Osaka; Universal Studio Japan while staying there. After you complete doing the best things in Shinsaibashi, don't forget to go there as well.
Now, let's go on the journey!!
---
For more information about traveling in Japan, check these articles below, too!
▽Related Articles▽
▼Editor's Picks▼
---