Best Areas to Drink in Osaka
Where to Drink in Osaka: Izakaya, Yokocho Alleys, Bars and more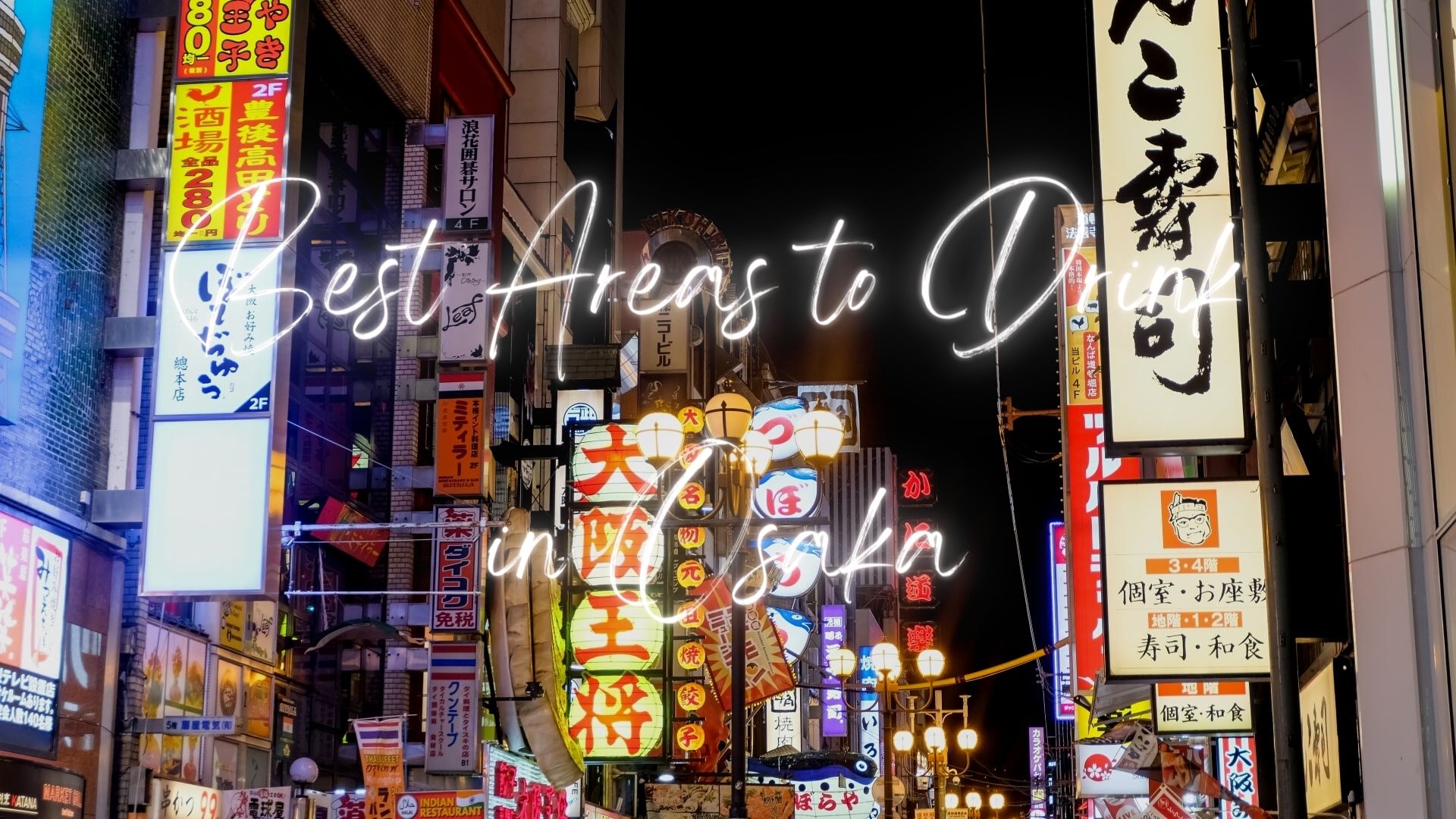 Osaka is one of the most popular cities in Japan among travellers and attracts millions of visitors every year with their distinctive culture, rich history, delicious local foods and modern entertainment facilities. One of the most attractive things about Osaka is its fun and unique nightlife and drinking culture. Within the city center, there are several great spots where you can explore the deep local drinking culture including local Izakaya, atmospheric Yokocho alley and flashy neon lights streets.
If you are planning a trip to Osaka, you should definitely hang out in the city at night and experience the unique nightlife just like locals! From the bustling districts with neon lights to nostalgic Yokocho alley filled with Izakaya, you can experience different types of nightlife depending on districts in Osaka.
In this article, I'd like to give some tips about where to drink in Osaka with the list of districts and Yokocho alleys recommended for night-out and drinking in Osaka.
---
1. Shinsaibashi area
Shinsaibashi (心斎橋) is an entertaining district in Minami area of Osaka City and known as Osaka's shopping center. The Shinsaibashi Suji is a 600 long shopping arcade with hundreds of shops of all kinds including trendy boutiques, fast-fashion retailers, drugstores and souvenir shops. Shinsaibashi is also home to numbers of eateries including franchised Izakaya, restaurants and fast food shops. However, if you are seeking for more authentic nightlife spots, there are a few attractive night out hideaways.
Related article: Best Things to Do in Shinsaibashi
The east of the Shinsaibashi Shopping Street, there is a district called Higashi Shinsaibashi (東心斎橋) where colourful neon signboards show up after dark creating the nostalgic night view of Japan. Numbers of small bar and eateries gather on this alley, offering affordable food and drinks. The district is lesser known among tourists, but many locals hang out here to avoid crowds!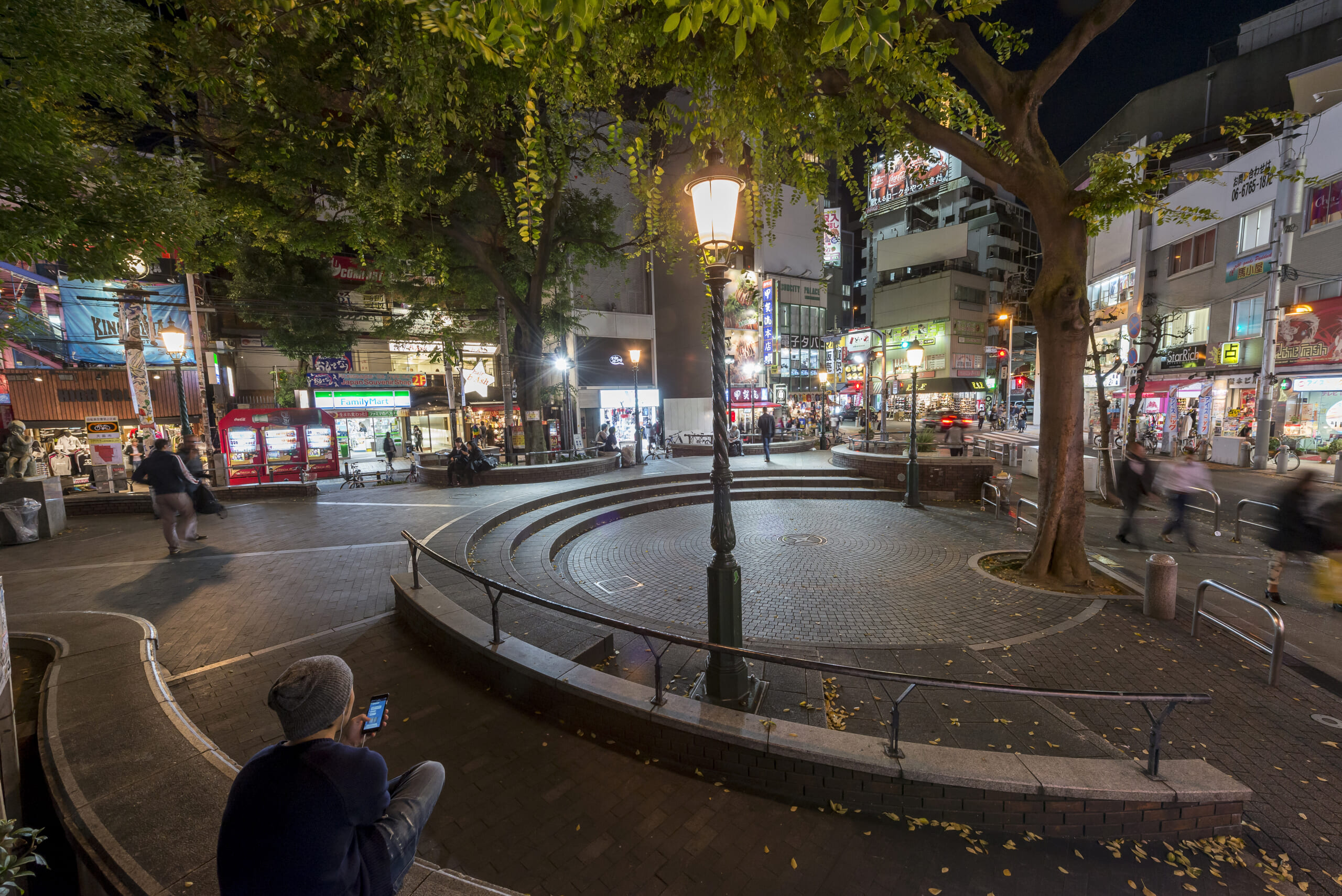 Americamura or American Village (アメリカ村) is the shopping district near Shinsaibashi area, often called the Harajuku of Osaka where numbers of small shops, fashionable boutiques and vintage clothes shops gather and is popular among young generation. There are also many stylish and chic cafes and restaurants, and also bars and nightclubs which open will late night.
2. Dotonbori area
Dotonbori (道頓堀) is located in just north of the Namba Station. It's the busiest district in Osaka and best known for neon lights and notable landmarks such as "Glico Running Man" and "Kuidaore Doll" which dazzle all night long. The main street of Dotonbori runs approx for 3 km long and it's lined by hundreds of restaurants and Izakaya which operate until late night or next day morning. People enjoy strolling down this bustling street, taking photos of shop displays and tasting delicious Osaka local dishes.
The district might be crowded by local and tourists every night, however, if you go off the main street, there are hidden alleys and eateries which you may not find on guidebooks.
Ukiyo Shoji (浮世小路) is a real hidden gem in Osaka. It's a small and narrow alley which many tourists barely notice, decorated by red lanterns and offering nostalgic atmosphere from Taisho and Meiji period. The street is only 1.2 m width and runs through from Dotonbori Street to Hozenji Yokocho Alley.
Hozenji Yokocho (法善寺横丁) is a stone-flagged alley which is filled with over 60 tiny traditional restaurants and bars. It's situated very near Dotonbori, but offers very different atmosphere just like from Edo Period. There is a historic temple "Hozenji Temple" with many lanterns hanging that creates the scenic and atmospheric streetscape. Many locals come here to hop several Izakaya and enjoy authentic food and drinks.
More info : Hozenji-yokocho Osaka: Old-Time Alley Filled with Traditional Restaurants
3. Ura Namba area
Ura Namba (裏なんば) literally means "Back Namba", which is the district of backstreets of Namba area. While Namba is the most vibrant dine-out and entertainment area of Osaka, Ura Namba offers unique and hidden underground night-out spots such as tiny Izakaya, standing bars and old-fashioned neon lights.
Misono Building (味園ビル) used to be very famous during the bubble era back in 80s, and it was occupied with bars, cabarets and dance halls. Although the place went down as the bubble collapsed in 90s, there are still unique and eccentric bars and restaurants run their business inside building. If you are interested in unique and deep Japanese sub-culture, this is a must-visit spot!
Torame Yokocho (虎目横丁) is an indoor food stall alley with numbers of vendors of famous restaurants and Izakayas gathered from Osaka. Passing through the red torii gate at the entrance, there is a vibrant and bustling space with 9 shops offering delicious and authentic local bites and drinks at inexpensive price.
4. Shinsekai area
The last area I'd like to introduce is Shinsekai (新世界), known as the old downtown of Osaka. Shinsekai means "New World", and the district was once developed early 1900s then experienced a massive economic corruption. Although the district was neglected for decades afterwards, it's now become a popular tourist area attracting visitors with the retro and nostalgic atmosphere. There are numbers of spots for dine-out and drinking in Shinsekai district. At the main street towards the symbolic Tsutenkaku Tower, restaurants and bars with colourful shops displays line up. Kushikatsu (deep-fried skewers) is one of the signature dish in Shinsekai area.
Jan Jan Yokocho (ジャンジャン横丁) is a 180 m long arcade where many small shops, restaurants and cafes gathered. The arcade has very local oriented, rustic atmosphere and you can enjoy the real lifestyle of locals hanging out.
More info: Shinsekai: Best Things to Do
---
Thanks for reading! Hope you have enjoyed my list of the best drinking areas in Osaka! For more information about travelling in Osaka, here are some more articles for you to check out 🙂
▽Related Articles▽
▼Editor's Picks▼
---