Takeshita Street Harajuku: Best Things to Do
Harajuku Takeshita-dori Street: Meet the Real Tokyo Kawaii Culture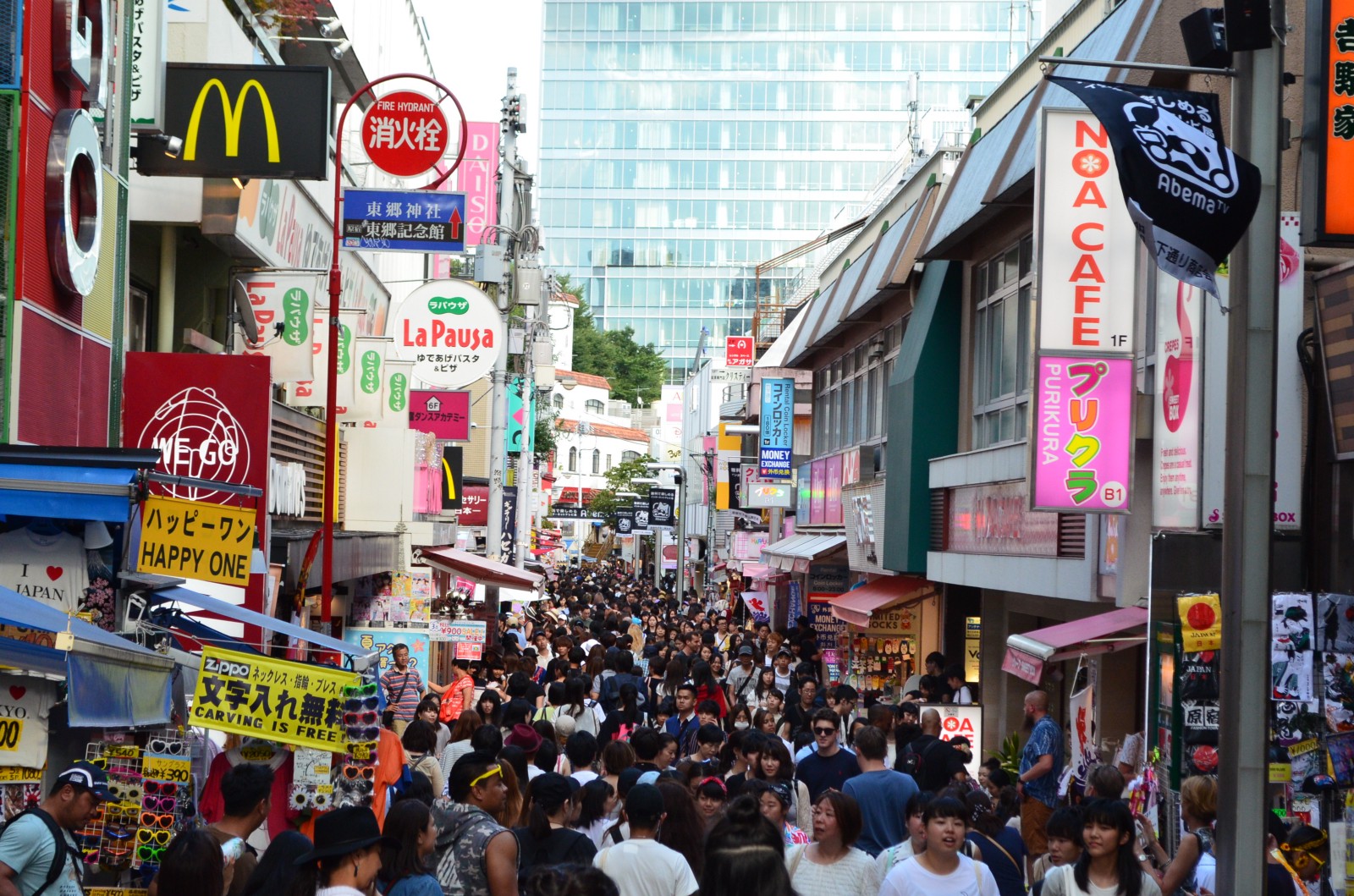 Harajuku's busiest fashion street called "Takeshita Dori (Takeshita Street)" is where Japanese kawaii (cute) culture was originated, and it's the hub for spreading Tokyo's pop-culture to the world, inspiring fashionistas and trend seekers including some worlds famous pop stars! (e.g. If you know the song "Harajuku Girls" by Gwen Stefani)
Harajuku, especially Takeshita Street is the place to experience real Kawaii culture in Japan. The 350 m street is full of colourful shops selling Kawaii clothes/goods with inexpensive price as most of shoppers in Takeshita Street are teens. The street is not just a shopping district but great place for eating out and sightseeing. Let's find out the best things to do in Takeshita Street, Harajuku!
*Please note that this article contains affiliate links.
-Meeting Tokyo's Pop Culture
One of the most amusing things in Harajuku is that you can actually witness those people dress in Born-in-Harajuku Fashion!
Not only shops but enjoy watching people who shop at Takeshita Street who are in unique and very Harajuku-ish fashion as it's the center of Tokyo's fashion trend!
Kawaii Fashion
The icon of the Japanese pop culture and the colourful Kawaii fashion for the past decade, Kyary Pamyu Pamyu (Japanese singer and fashion model), who is often labeled as " the Japanese ver of Lady Gaga" has been contributing massively to boost Harajuku's fashion trend as well as being an ambassador to spread the fashion and culture to abroad. As a result, she has gained more fans outside of Japan! Kyari Pamyu pamyu is also often called "Harajuku Pop Princess".
At Takeshita Street, there are numbers of shops and boutiques selling cute and colourful Kawii style fashion items at very affordable price!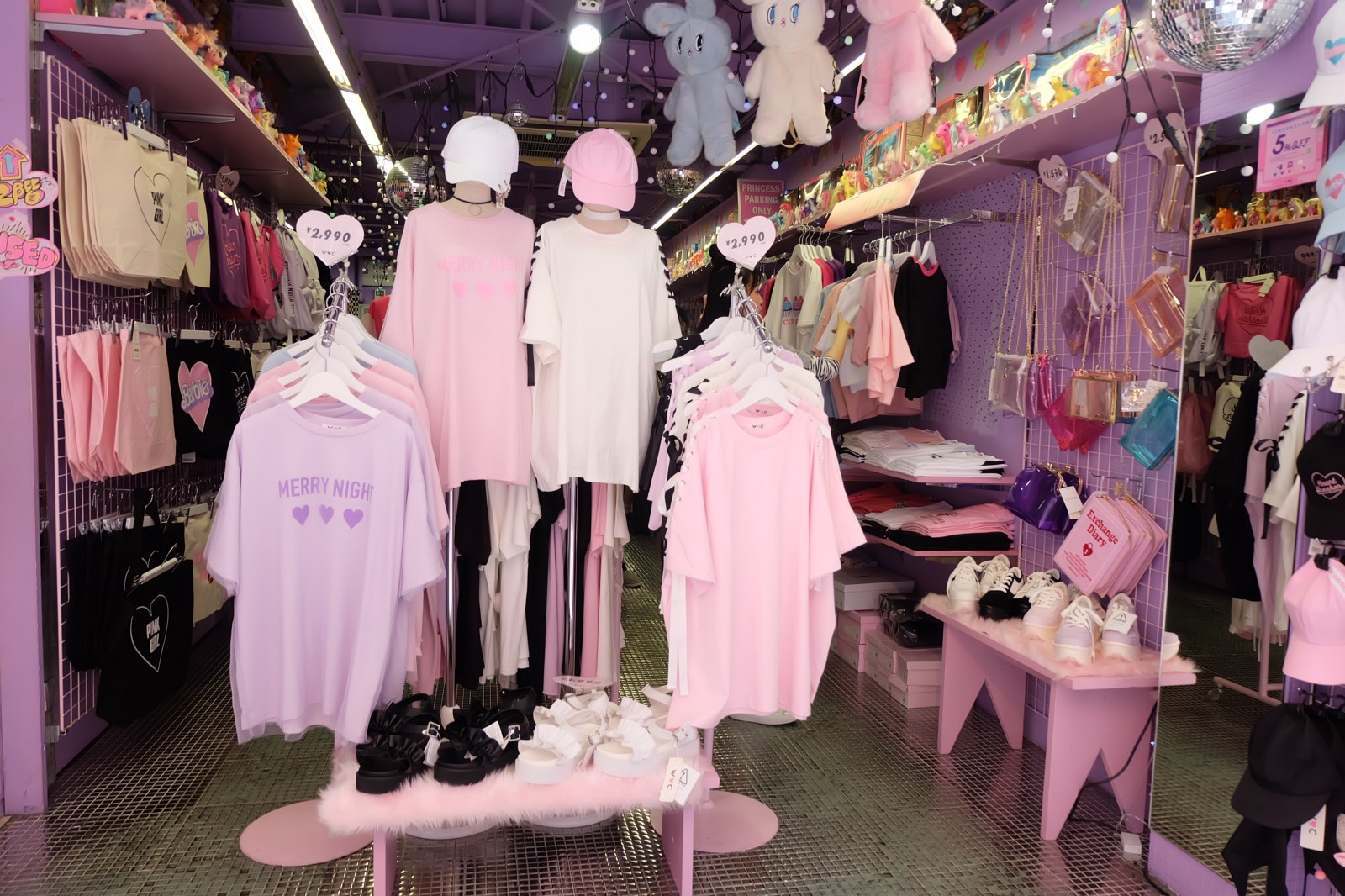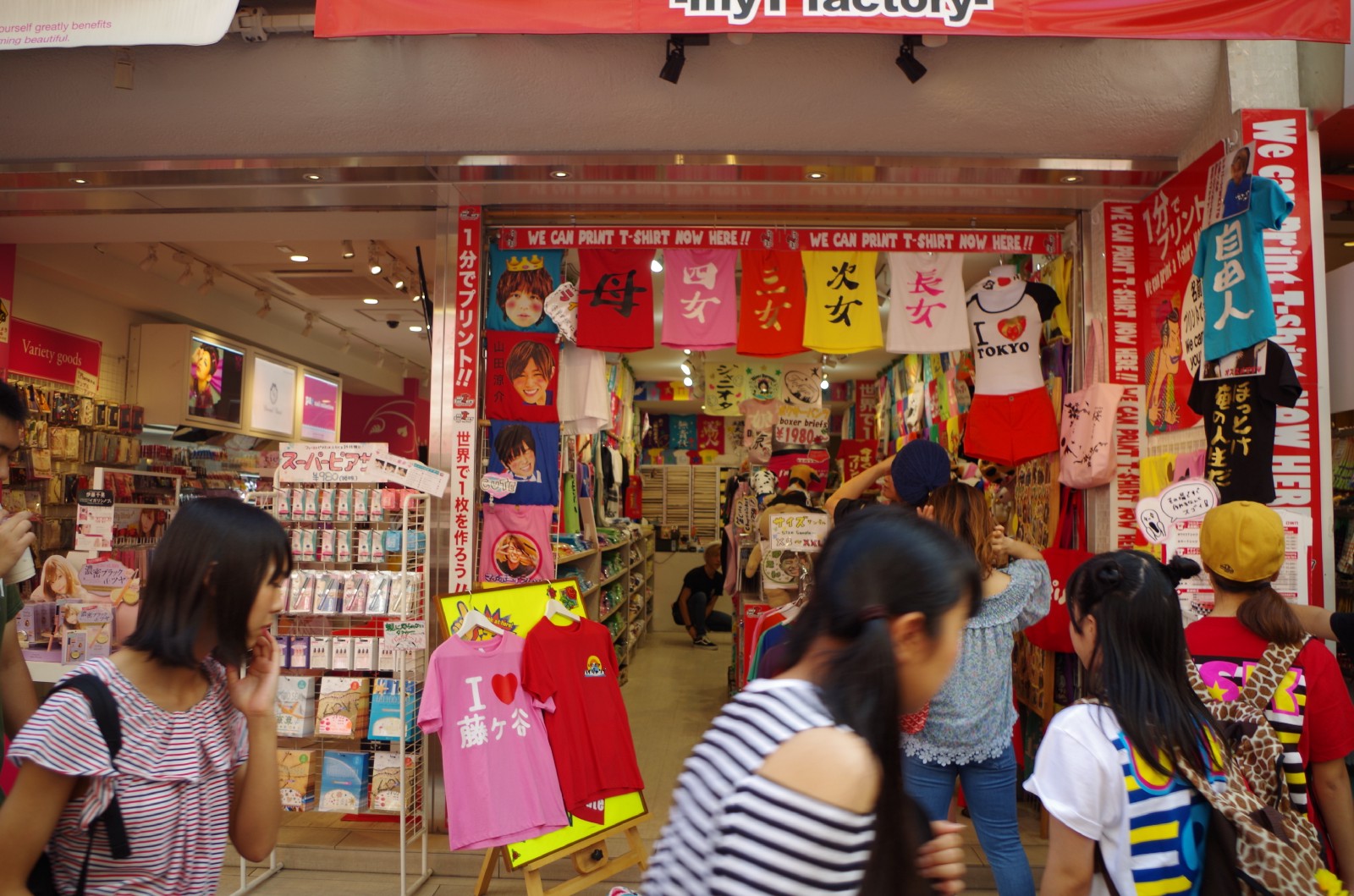 Goth/Lolita
Lolita fashion is a fashion subculture from Japan that is based on Victorian and Edwardian clothing.
Gothic lolita "GothLoli" is a combination of Gothic and Lolita fashion which originated in the late 1990s in Harajuku. Harajuku is a Mecca of Goth/Lolita lovers where they often hang around and have group meetings, not only Japanese but many from abroad!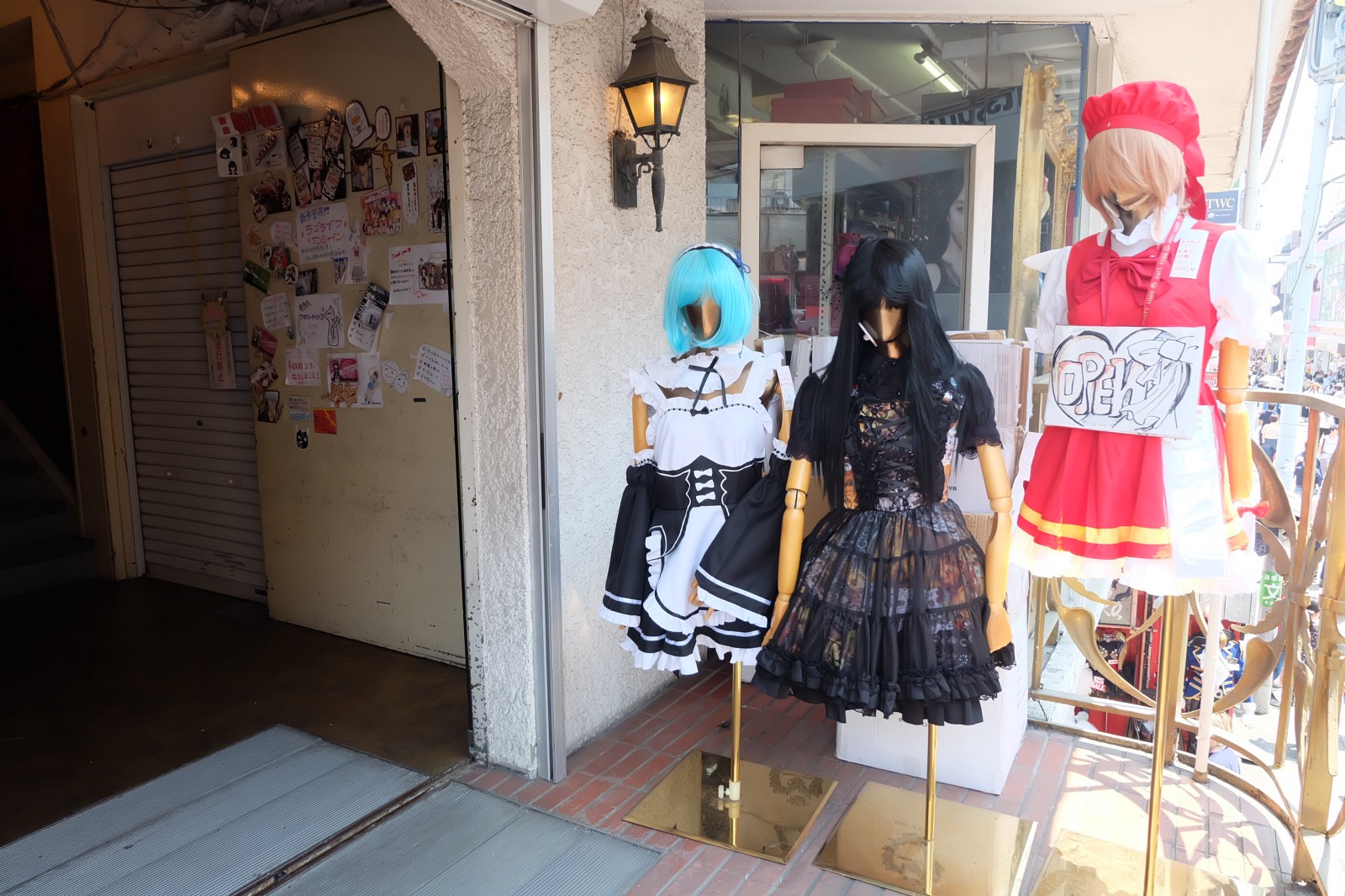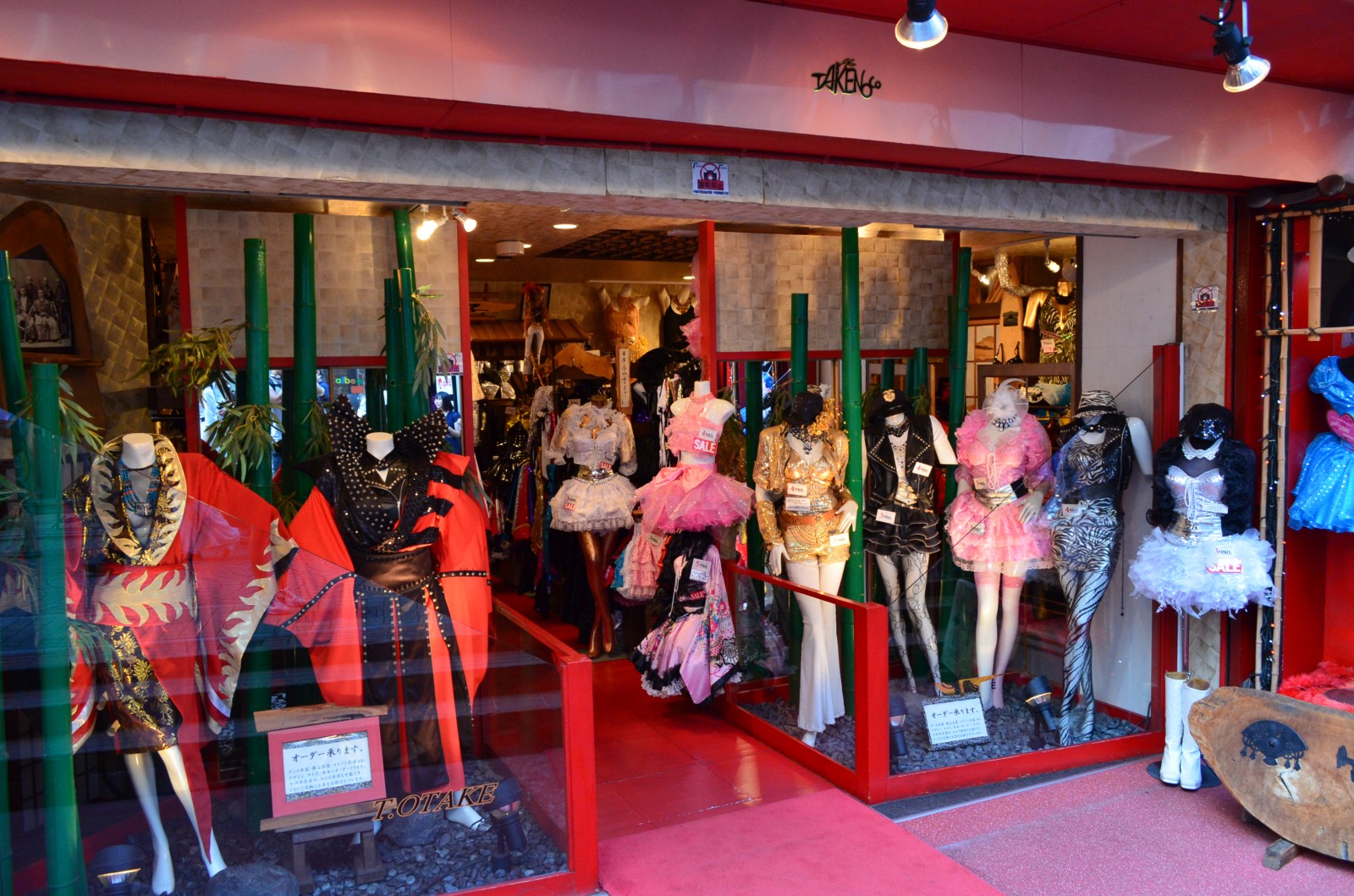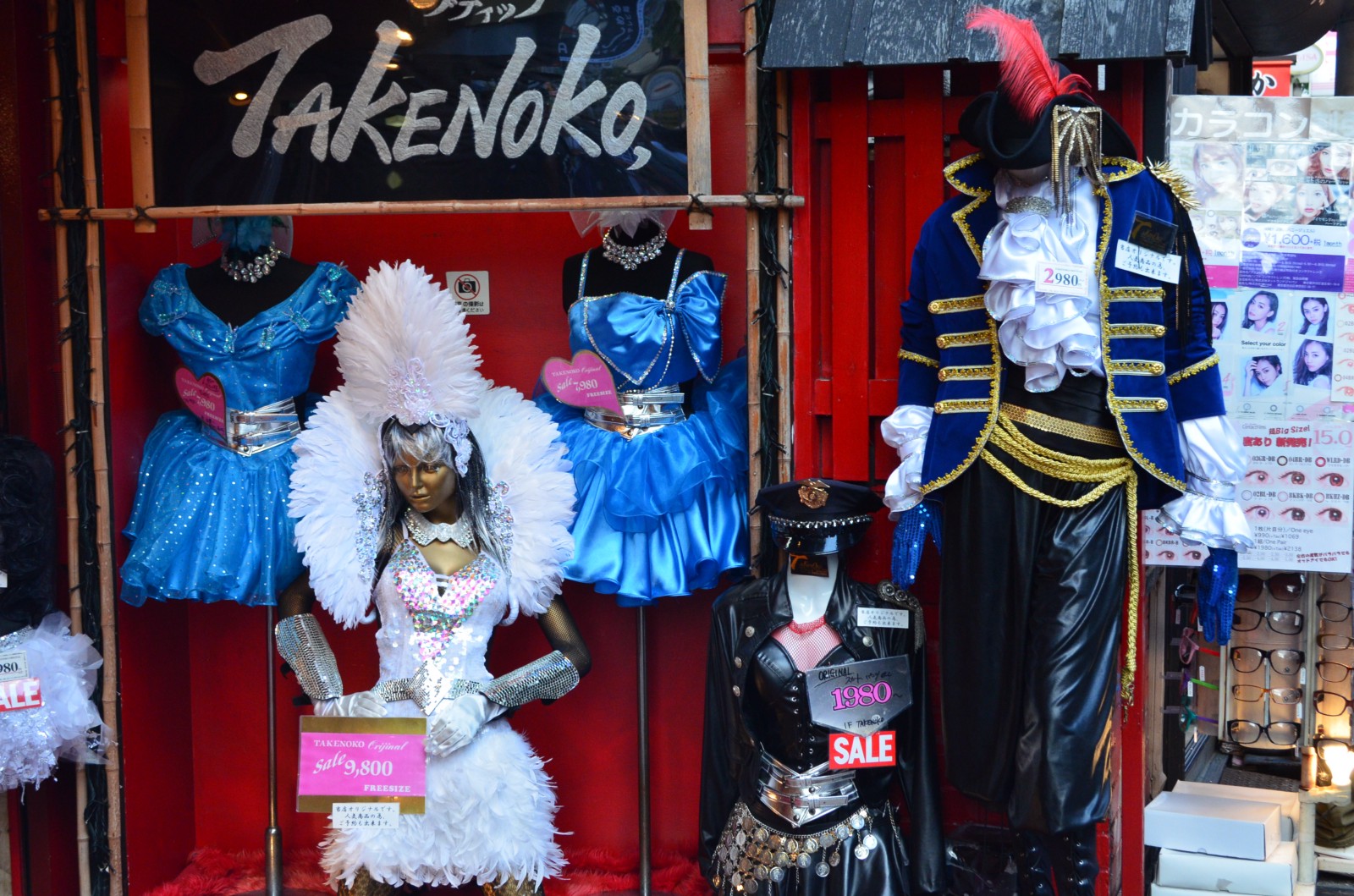 -Shopping
ALTA
Harajuku Alta which was launched in 2015 is a new iconic building of the city. It's a great shopping building where most of items related to Harajuku's pop culture can be found. They are extremely cute, colourful and inexpensive! The store is always packed with young girls hunting for the item to boost their Kawaiiness!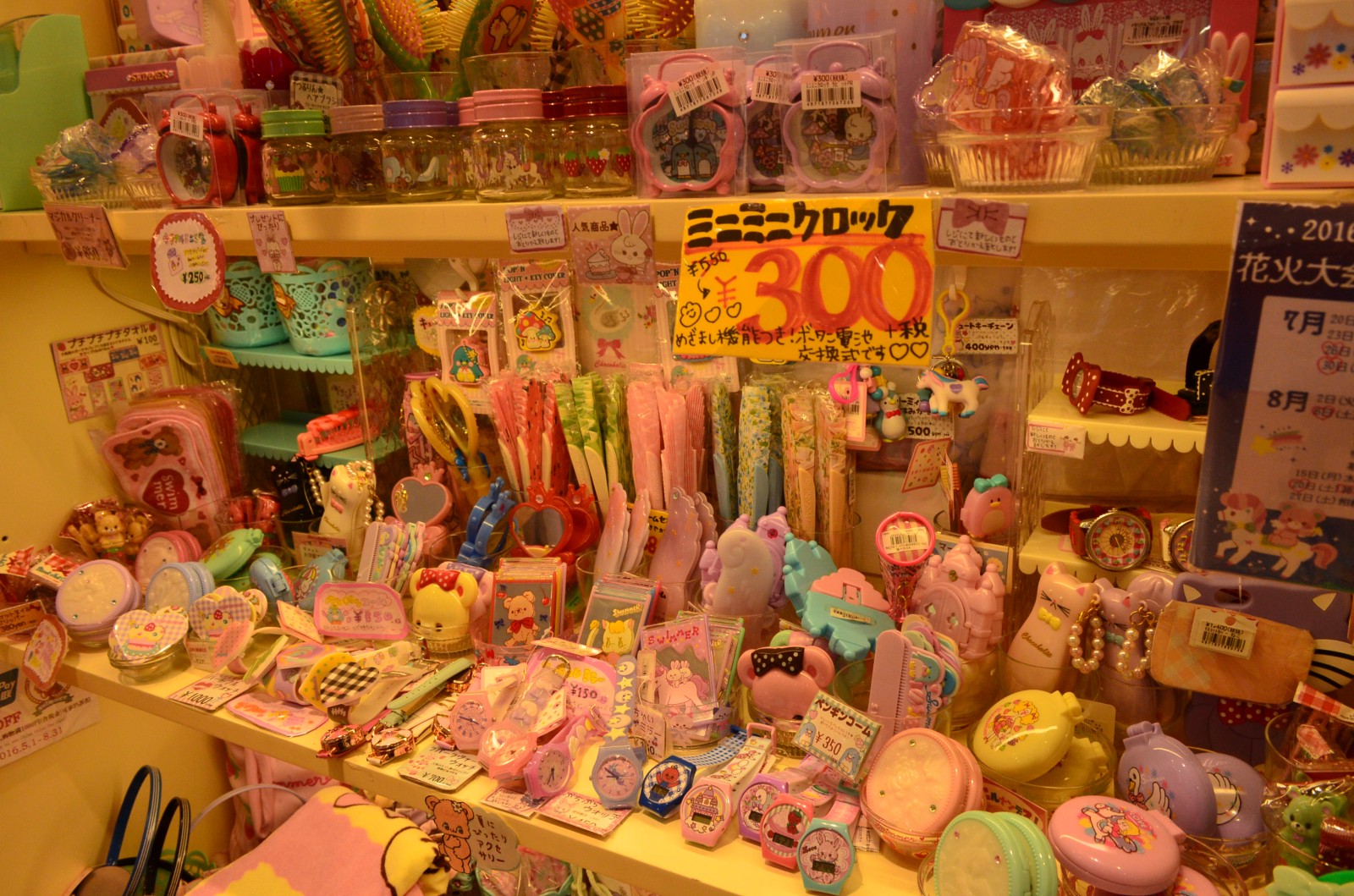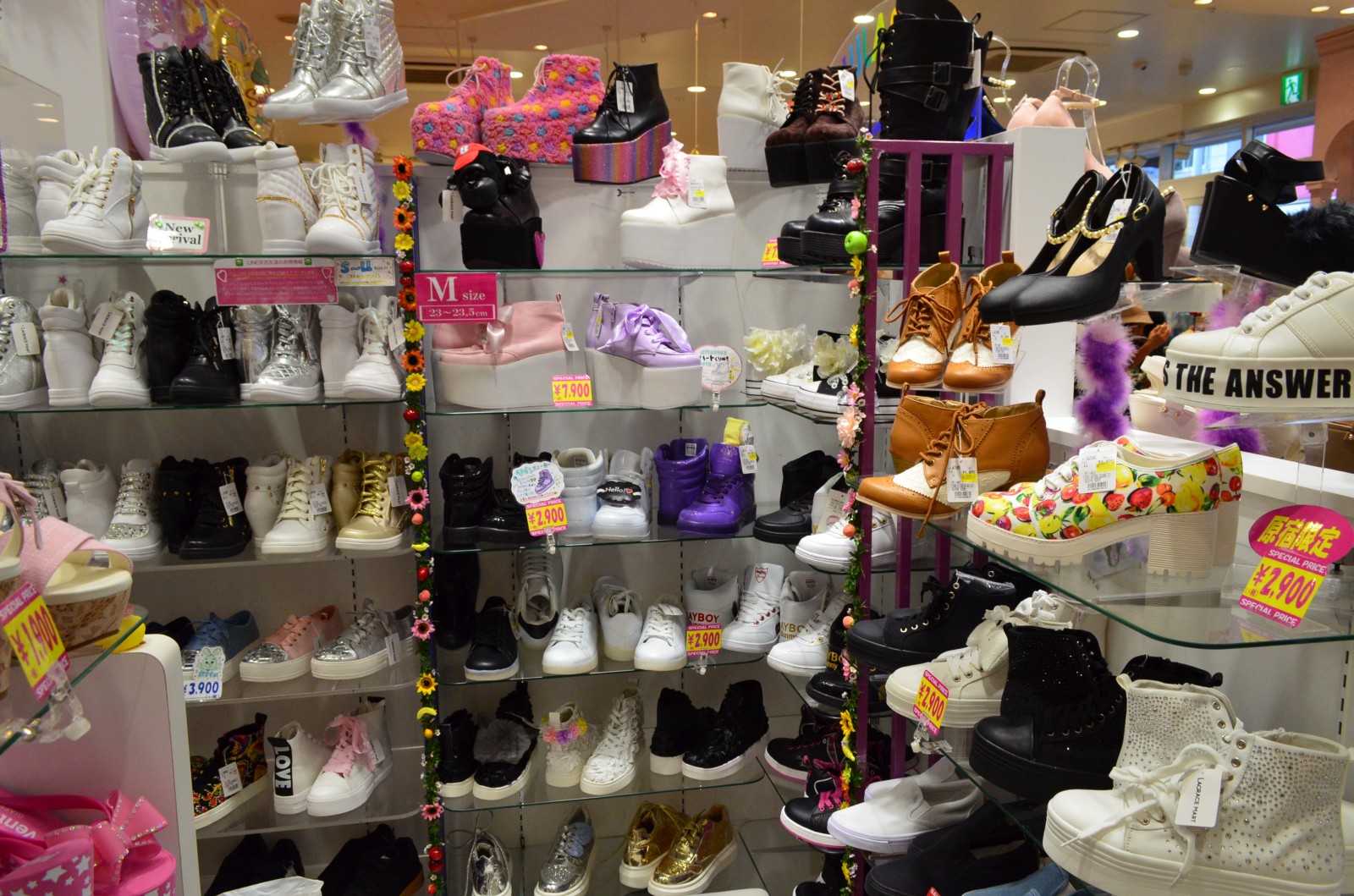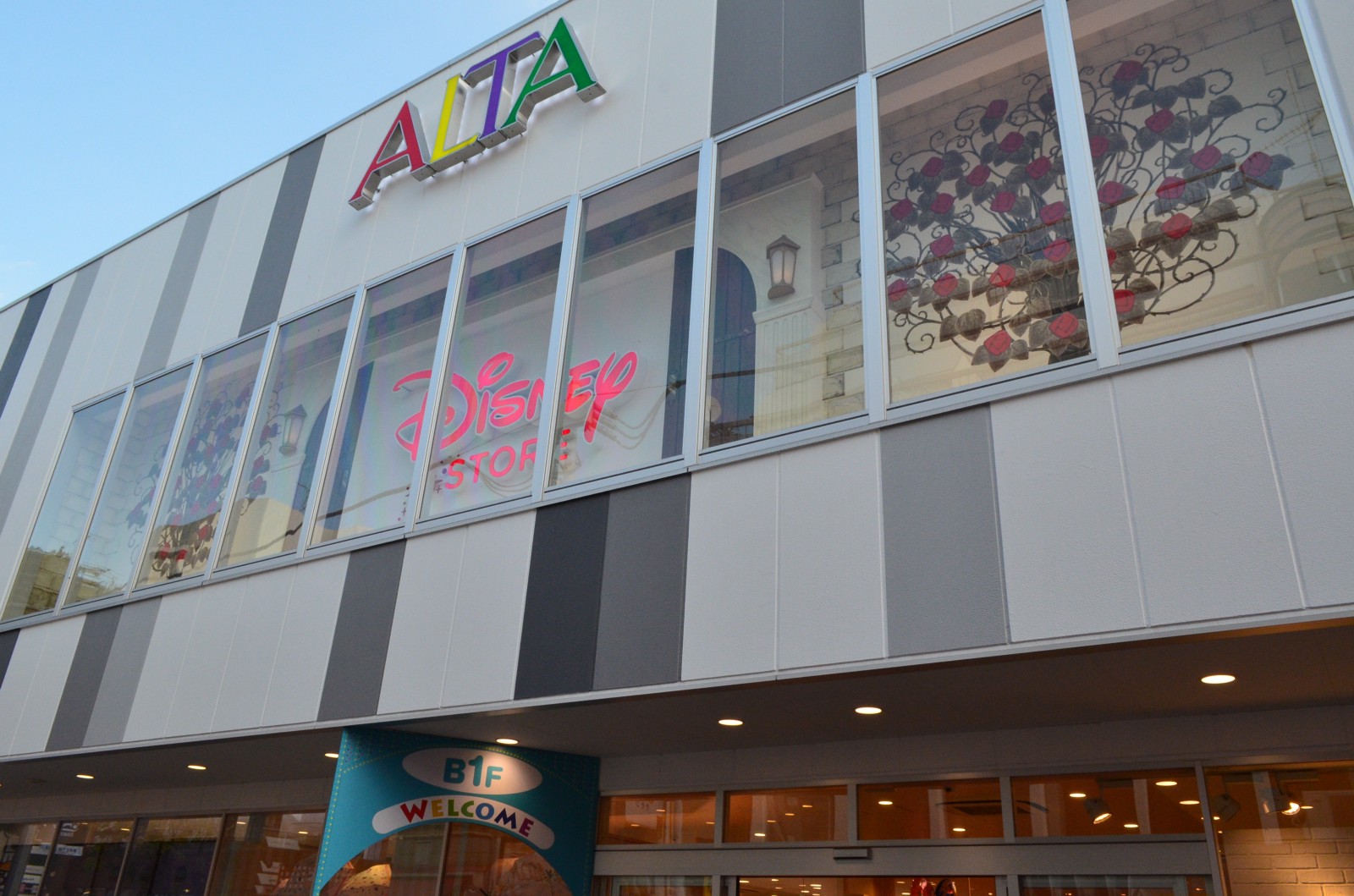 Calbee+
If you know Jagarico, Kappa Ebisen and Potato Chips, there are all from the Japanese famous snack company Calbee. Calbee+ is the retail shop from Calbee located in Takeshita street. What is special about this shop is that freshly made snacks are served and some of snacks sold there is limited in Harajuku!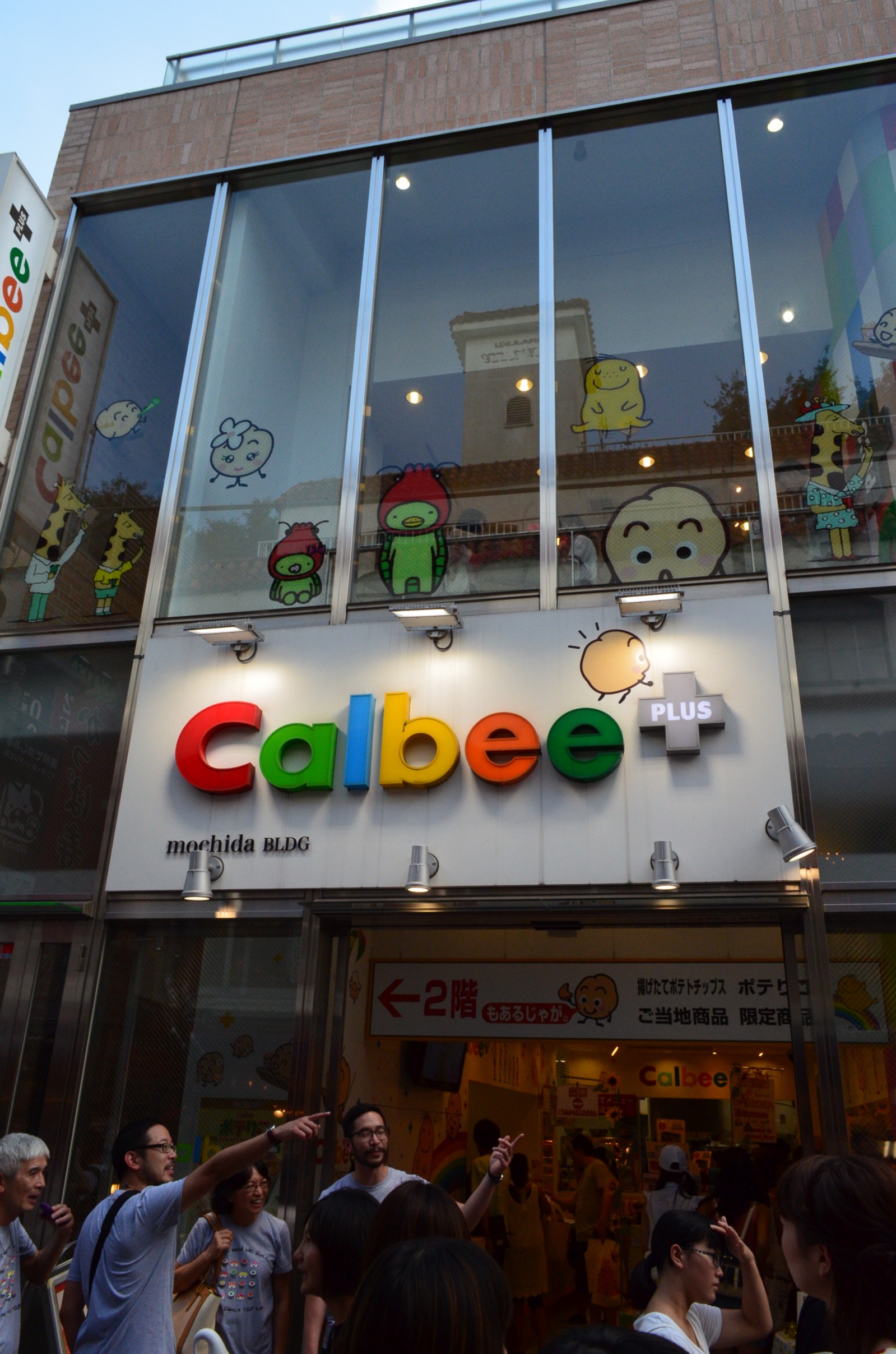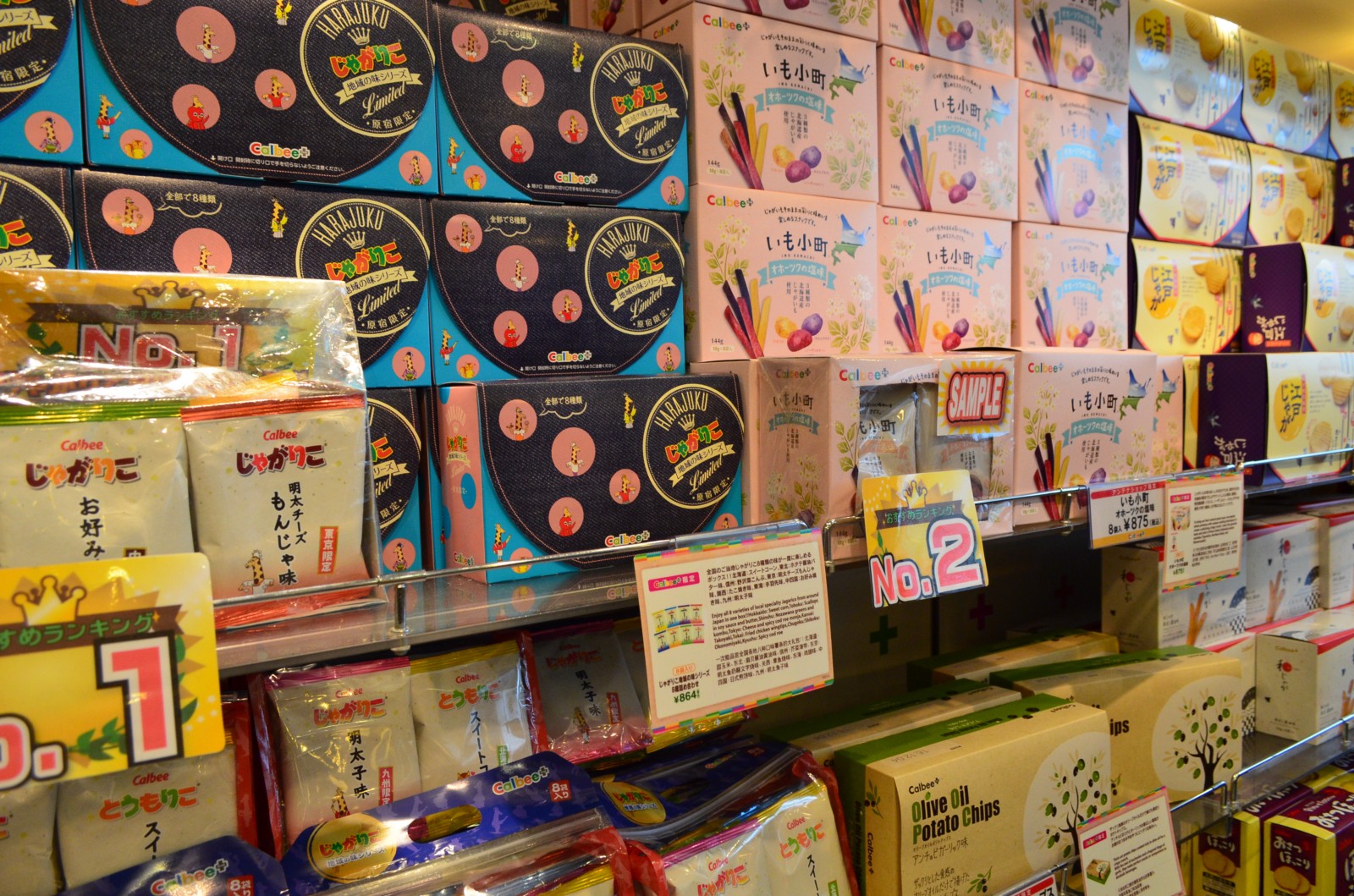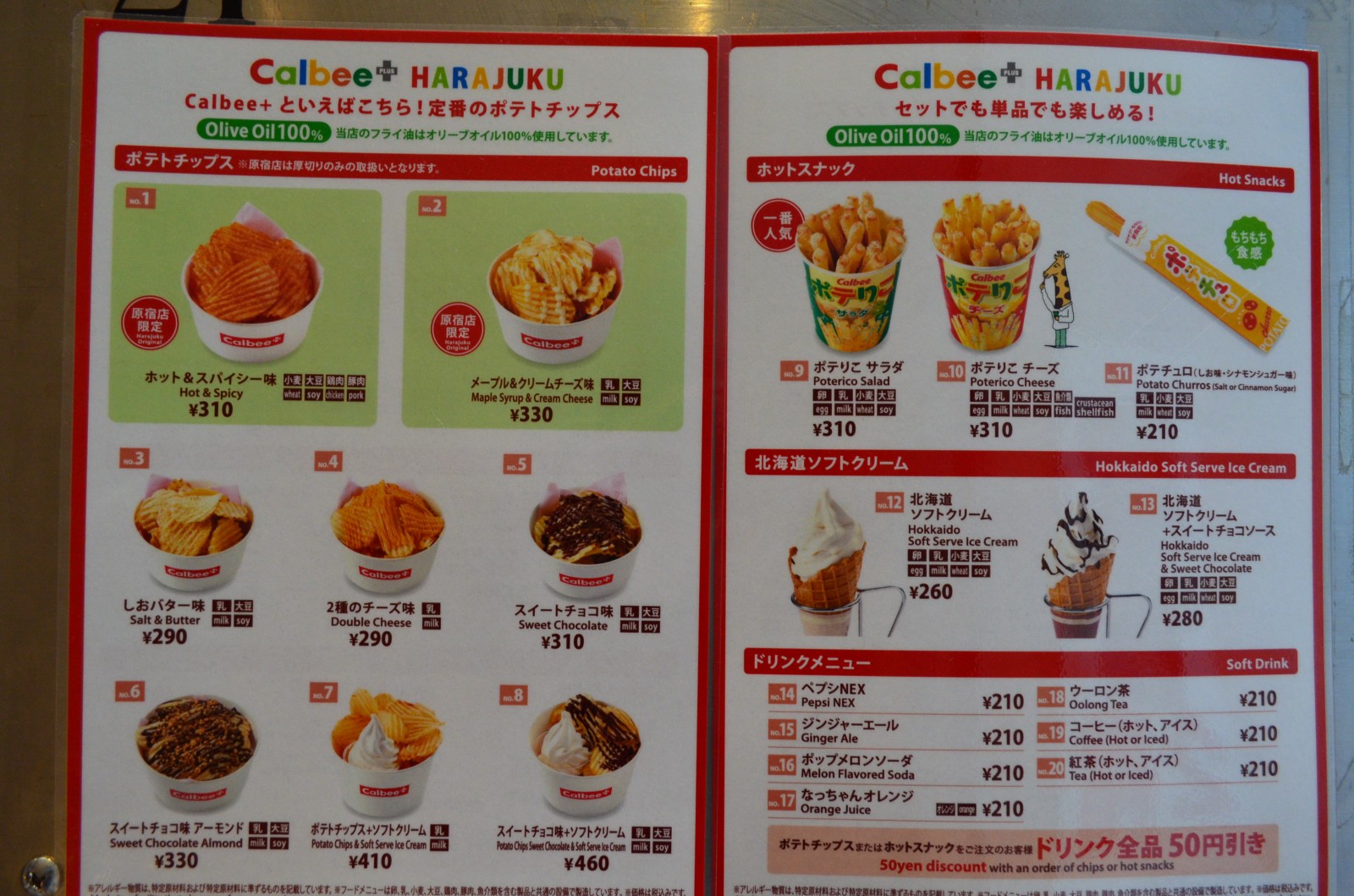 Daiso
Daiso is a franchised 100 yen shop located in all over Japan. The 4-storied building is lined up with thousands of items only at 100 yen! Daiso in Takeshita street offers both Japanese and English customer assistance and sells many items for foreign visitors such as chopsticks, handy fans, tableware and some of items are only sold at Harajuku branch.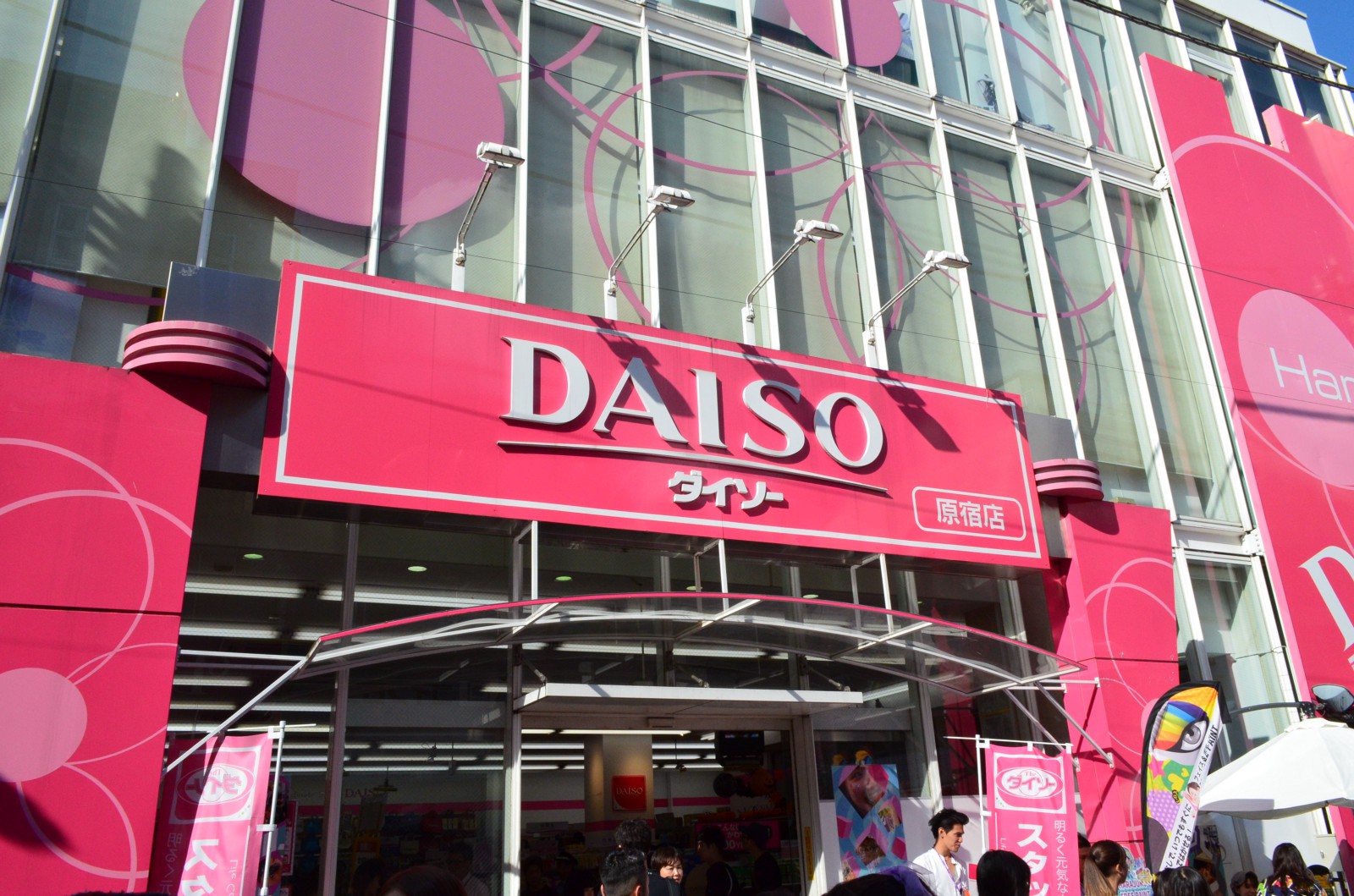 Check more shops in Harajuku area:
-Eat Street Food
Crepes
You can't separate Harajuku and crepes. It's a significant snack of the area and often be sold on the street. Harajuku's crepes might be different from what you imagine. Crepes in Harajuku style are normally served with a variety of fruit, sweet whipped cream/ soft ice-cream and wrapped into a handy shape.
There are considerably over 100 different flavour of crepes sold in Takeshita Street and create your own crepes by adding toppings!
▶ Best Crepe Shops in Harajuku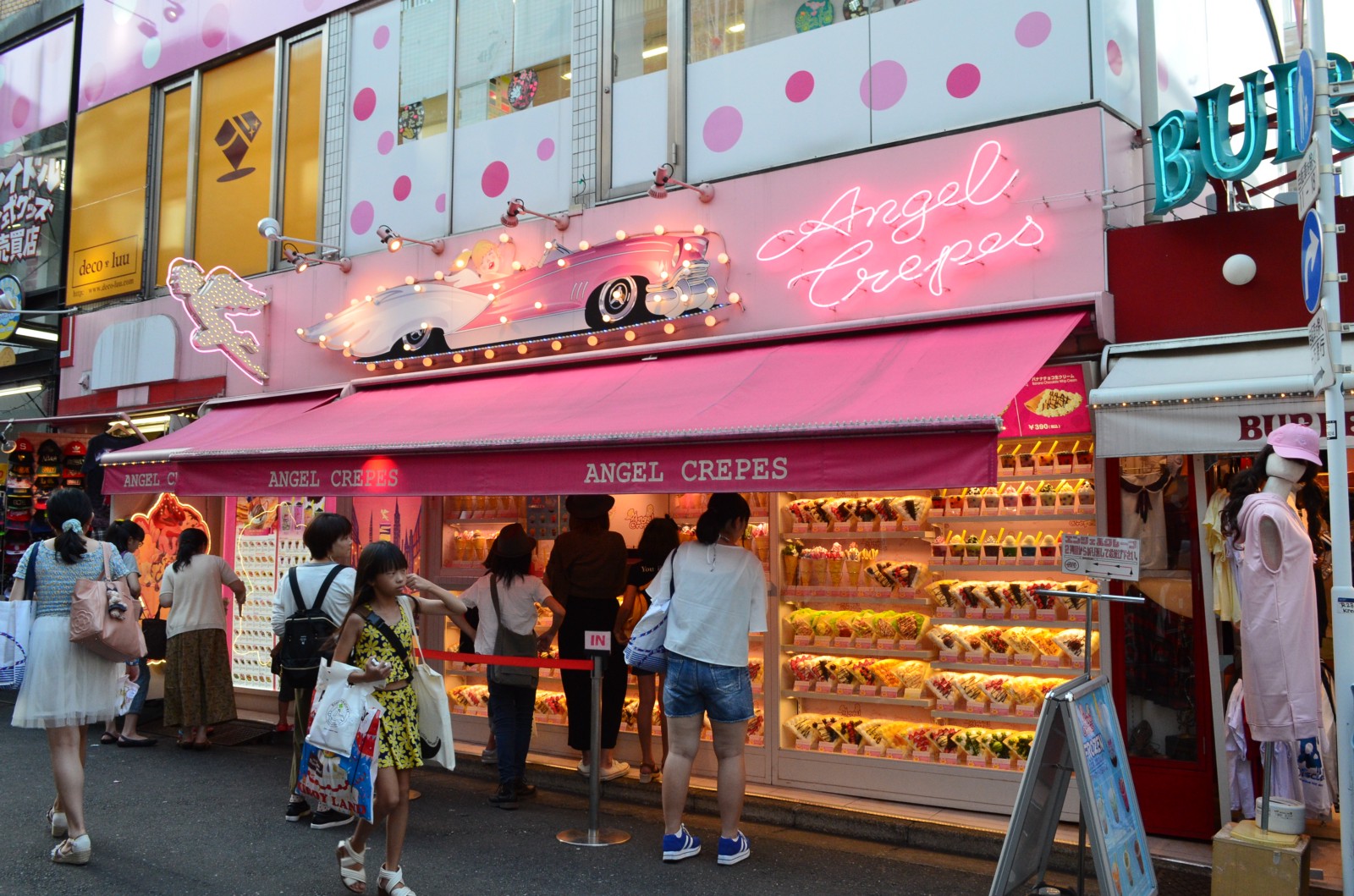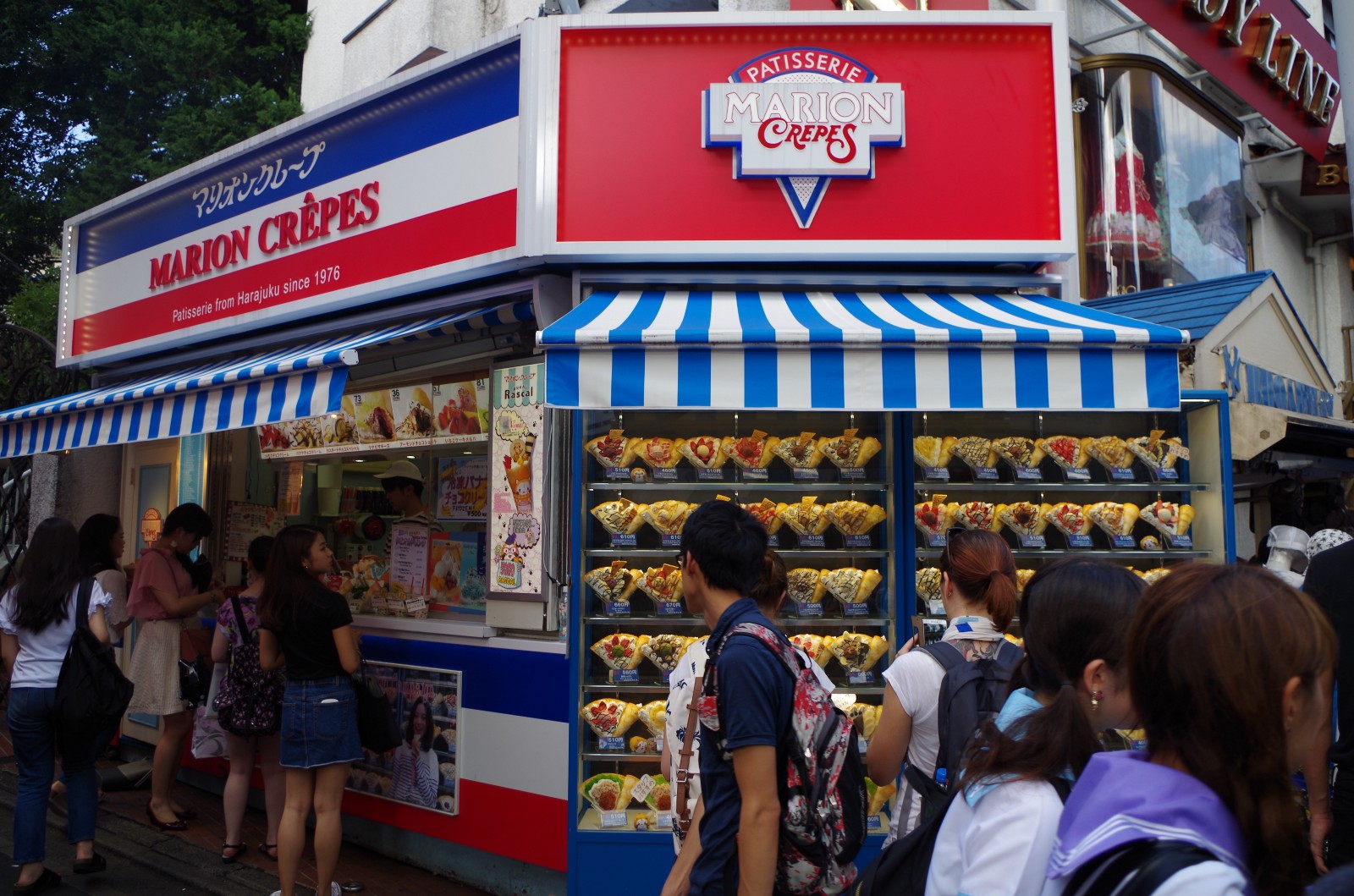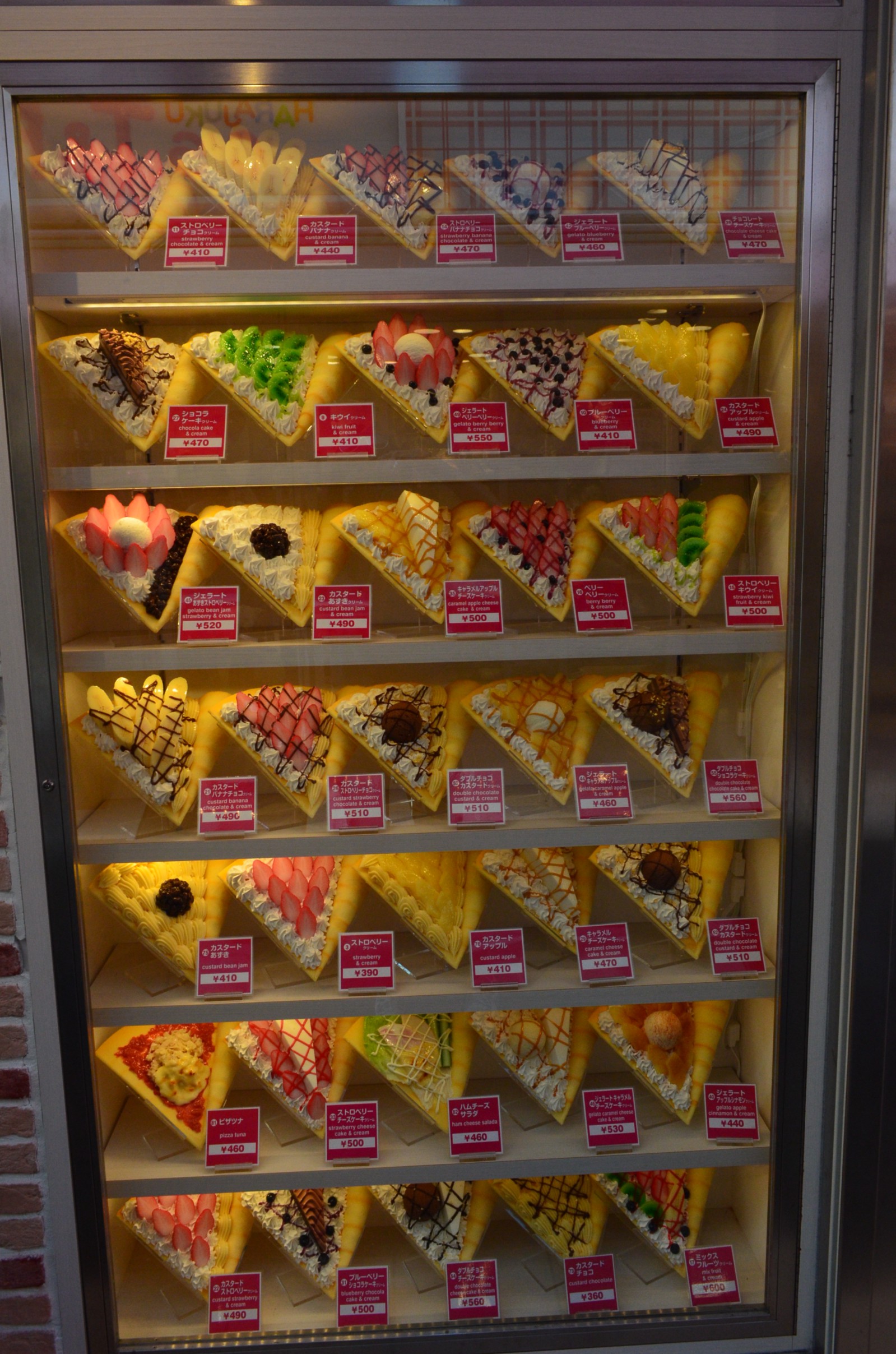 TOTTI CANDY FACTORY
The most instagram-worthy food in town today, the gigantic rainbow cotton candy can be hunted at TOTTI CANDY FACTORY at Takeshita Street!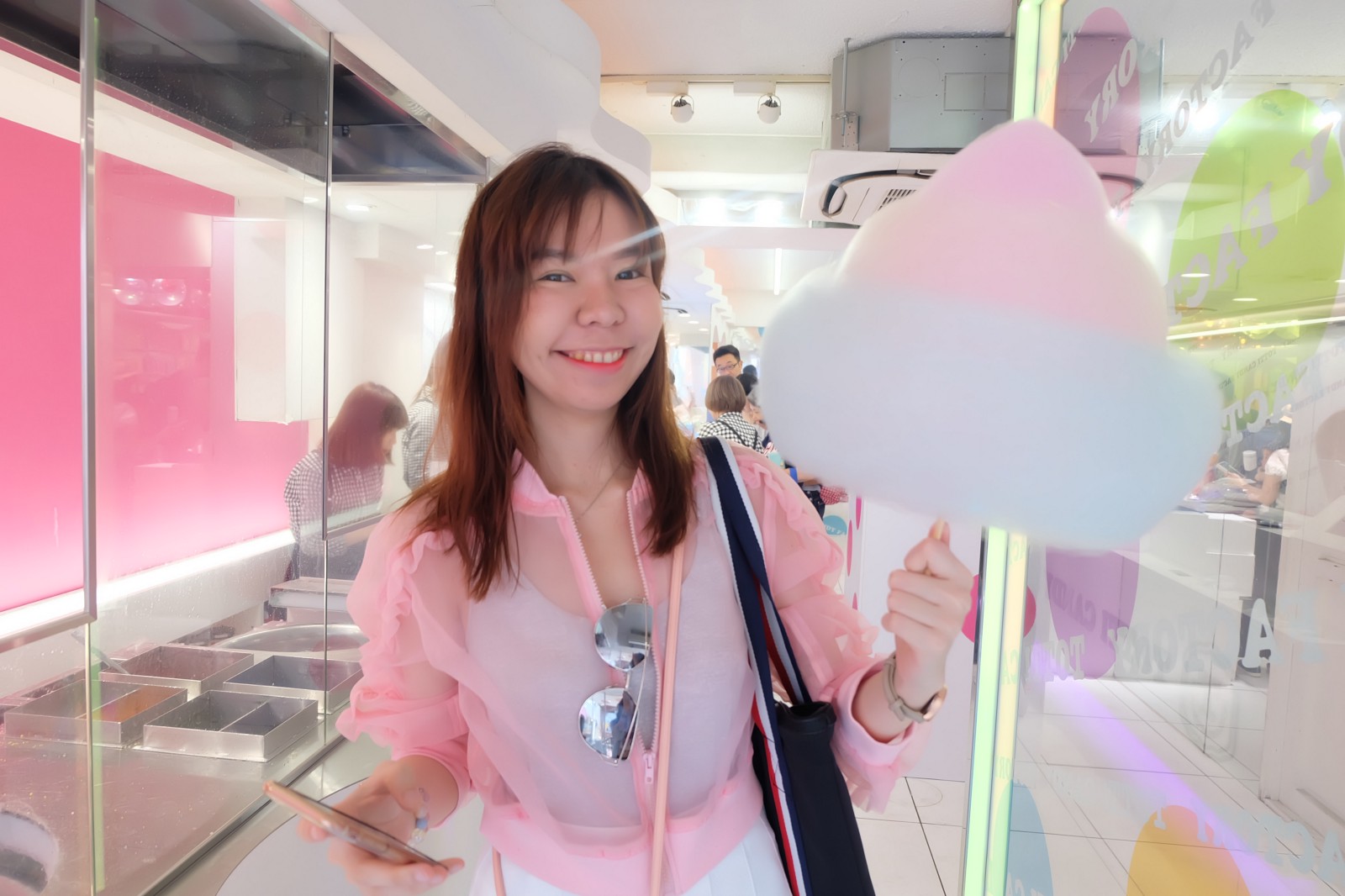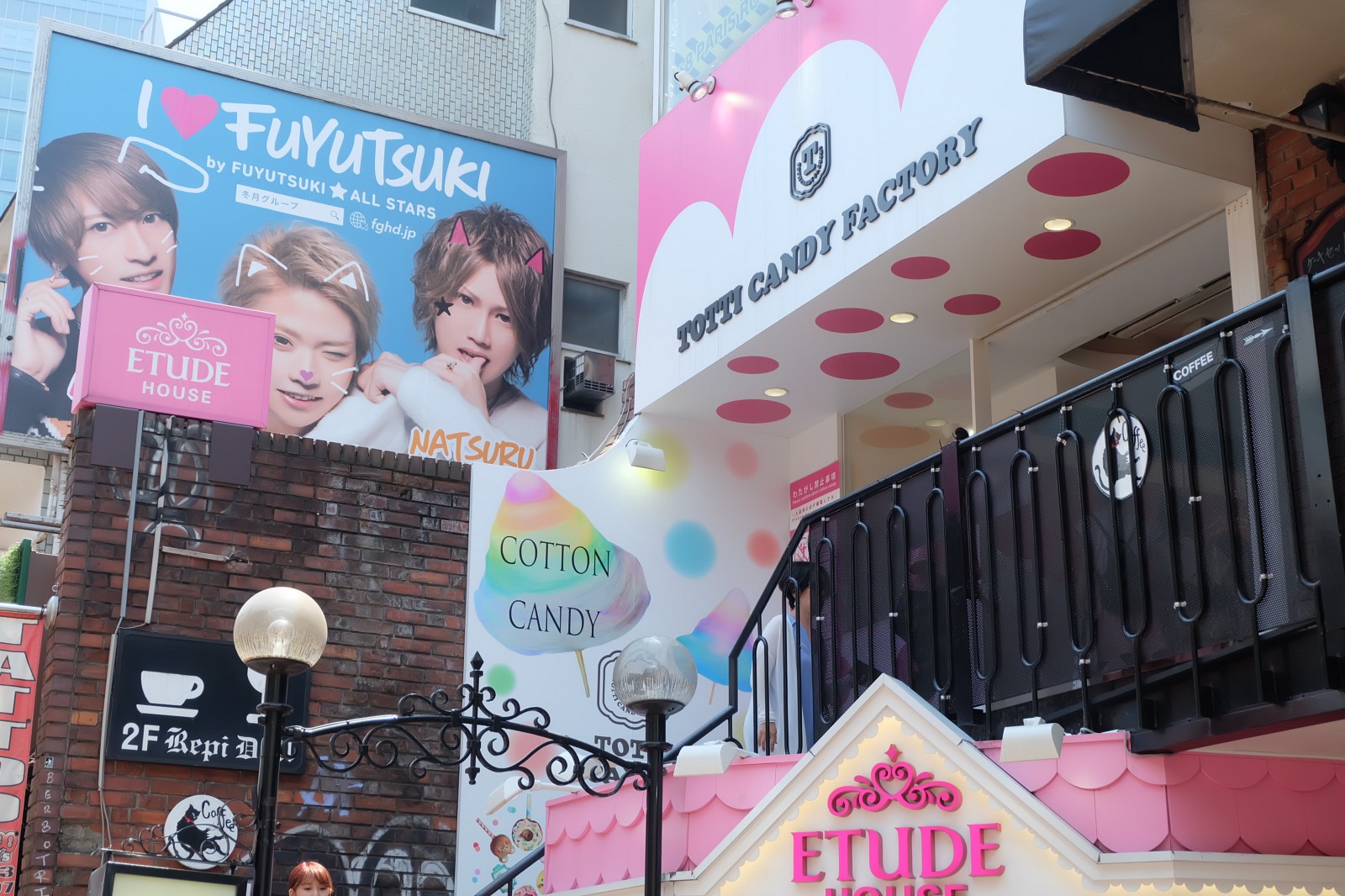 -Purikura
Purikura is a popular activity among teenagers in Japan, which is a photo booth machine where you can take photos with friends, decorate them and print photo stickers. Purikura Land NOA at Takeshita Street is a popular Purikura spot often called "the Mecca of Purikura". The shop has over 20 latest Purikura machines which is the biggest in Japan. Free cosplay materials and use of a powder room are available.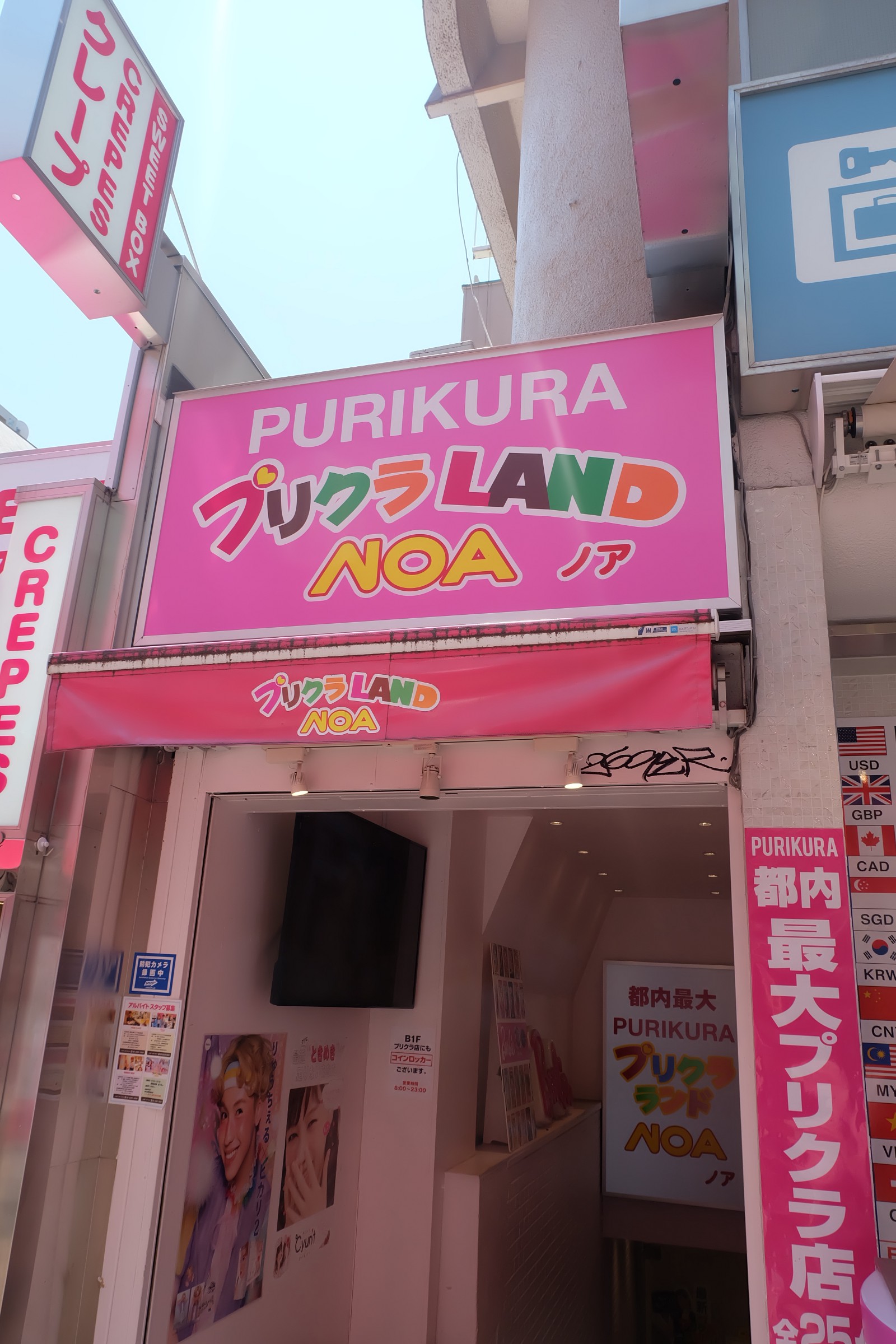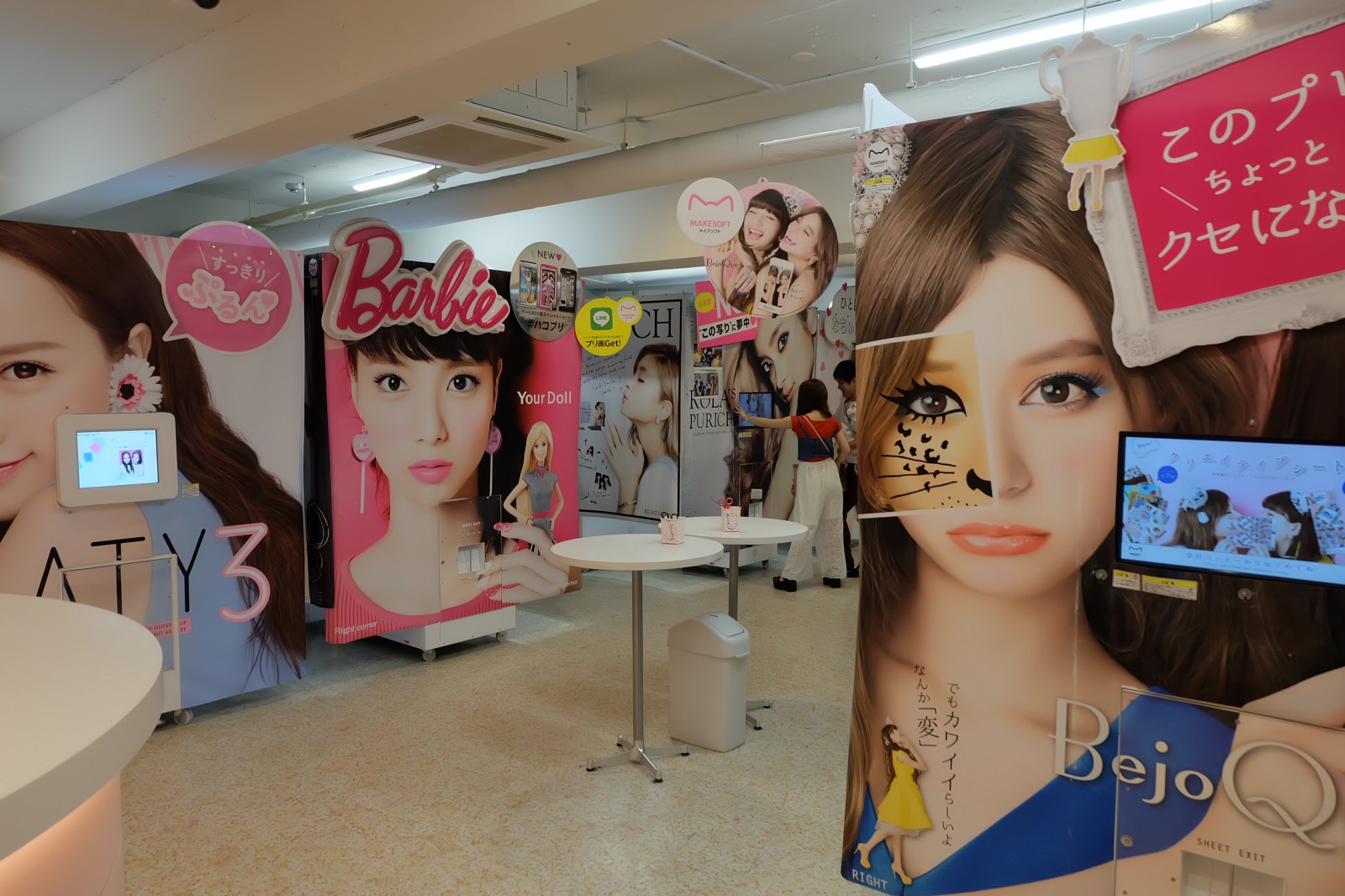 -Harajuku Fashion & pop Culture Tour
If you wanna explore the deep fashion culture of Harajuku in one day, I'd highly recommend you to join a popular local guide tour "Harajuku Fashion & Pop-culture Tour" by Magical Trip! See the top highlights of Harajuku in a half-day and have the best Kawaii experience 🙂 Check the link below for more details and book the tour with a discount!
↓↓↓ Check More articles about Japan!! ↓↓↓
▽Related Articles▽
▼Editor's Picks▼
---