5 Best Places to See Autumn Leaves in Tokyo at Night
Best Autumn Leaves Light-up in Tokyo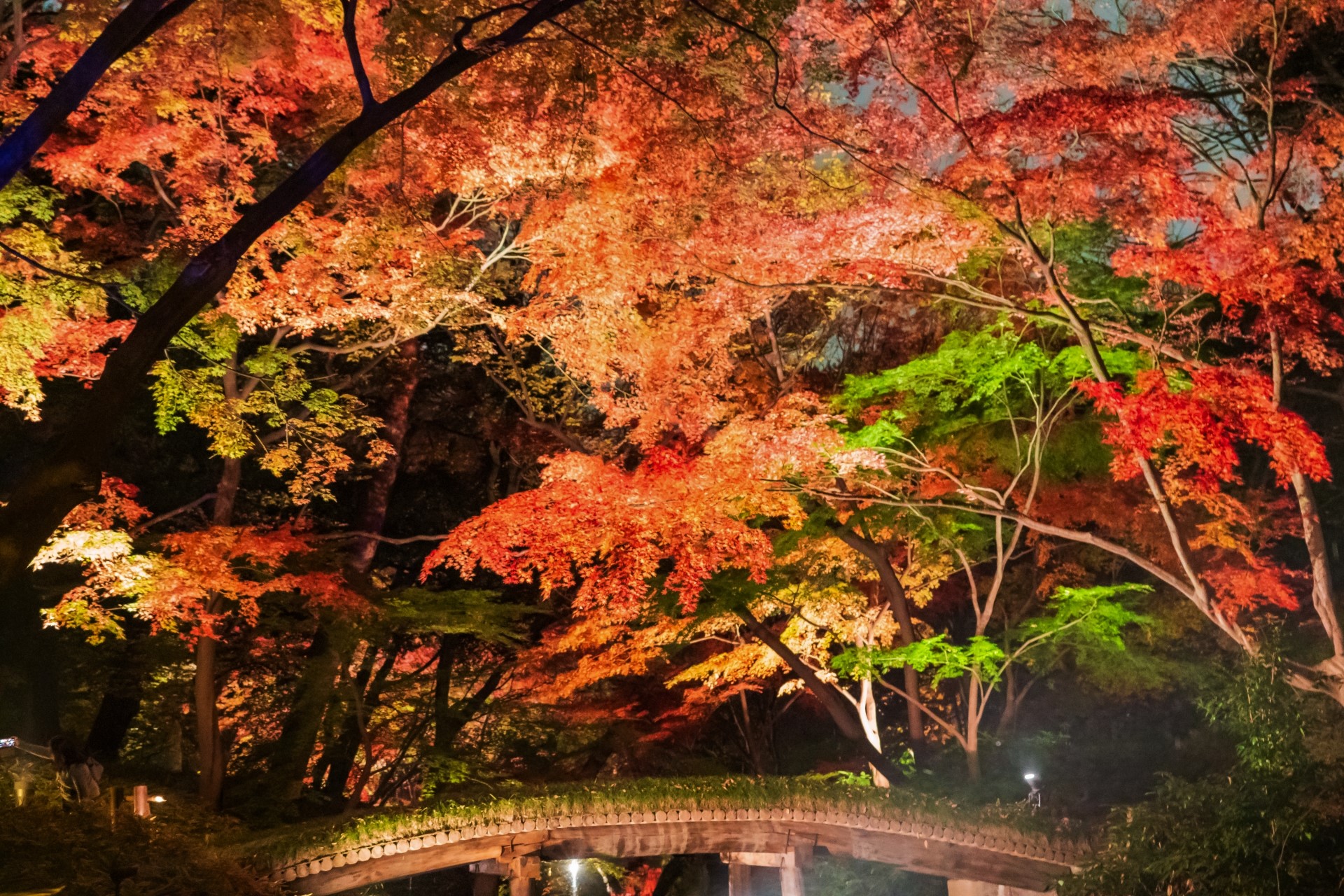 Planning to enjoy gorgeous autumn leaves in Tokyo this year?? Tokyo has numbers of great spots for autumn leaves viewing such as traditional Japanese garden and parks, and some of them hold special light-up events at night. If you are going to see autumn leaves in Tokyo, you should definitely enjoy them at night, too as they display completely different scenery after dark! In this article, I'm sharing some of the best places/special events to enjoy lit-up autumn leaves in Tokyo at night!
1. Rikugien Garden
Rikugien Garden (六義園) is one of the most beautiful and popular Japanese traditional gardens in Tokyo. The garden consists of a small pond, hills, historic monuments and trees, and displays colourfully decorated seasonal scenery. Rikugien is highly popular during autumn leaves season, and the special light-up for trees is held at night from late November to mid December annually.
More info:
2. Mejiro Garden
Mejiro Garden (目白庭園) is a small Japanese landscape garden located near Mejiro Station (near Ikebukuro). Comparing to Rikugien Garden, Mejiro Garden is much smaller, but it's also less busy and it's a great hidden spot. The "Autumn Garden Light-Up" is a seasonal event held at the garden annually, and the colourful lights illuminate the tinted autumn leaves mystically.
More info:
3. Happo-en
Happo-en (八芳園) is a banquet venue in Shirogane, Tokyo, especially popular for wedding. Behind the main building, there is a massive (3 ha) Japanese landscape garden consists of pond, historic buildings, Bonsai trees, plants, etc which are composed with an impeccable balance. "TOKYO RED GARDEN AUTUMN FESTIVAL" is an autumn event held at Happo-en, featuring special menu at restaurants and bars, live music and light-up for autumn leaves at the garden. Over 100 maple trees and the Japanese garden will be illuminated by red lights and lanterns.
-TOKYO RED GARDEN AUTUMN FESTIVAL
Date: TBA
Light-up Time: TBA
Entrance Fee: Free
Official Website: https://happo-en.com/event/autumn_festival2022/
4. Otaguro Park
Otaguro Park (大田黒公園) is a landscape park consists of traditional Japanese "strolling style" garden. Otaguro Park is one of Tokyo's best kept secret as it's located in a quiet residential area of Suginami, Tokyo, and tourists hardly know. Gorgeous autumn leaves including Gingko trees lined at the avenue and maple trees around the pond are displayed at the park, and lit-up by special light-up from late November to early December every season.
Map: http://bit.ly/33SxB4m
Light -up Date: late November to early December
Light-up Hours: 17:00 to 21:00
Entrance Fee: 300 yen
Official Website: https://hakone-ueki.com/sub/
5. Hotel Chinzanso Tokyo
Hotel Chinzanso Tokyo (ホテル椿山荘東京) is one of Tokyo's most prestigious hotels which is located in Bunkyo ward. Hotel guests can freely access to the spacious Japanese landscape garden and appreciate the rich nature and historic buildings. The garden is especially popular during the autumn leaves season when over 100 kinds of trees display gorgeous foliage. The special light-up event is held through autumn to winter (November to March), and the lit-up autumn leaves can be enjoyed usually from late November to early December.
<< Book Hotel Chinzanso with the best price!! >>
Map: http://bit.ly/2pbZfdU
Light-up Date: October~ (best time for autumn leaves is late Nov to early Dec)
Light-up Time: after sunset till 23:00
Official Website: https://hotel-chinzanso-tokyo.jp/
Thanks for reading! I hope you have enjoyed my list of the best autumn leaves light-up in Tokyo! For more information about beautiful autumn leaves spots in and around Tokyo, please check out below articles, too!
▽Related Articles▽
▼Editor's Picks▼
---