10 Best Autumn Leaves Spots in Tokyo
Best Places to See Autumn Leaves in Tokyo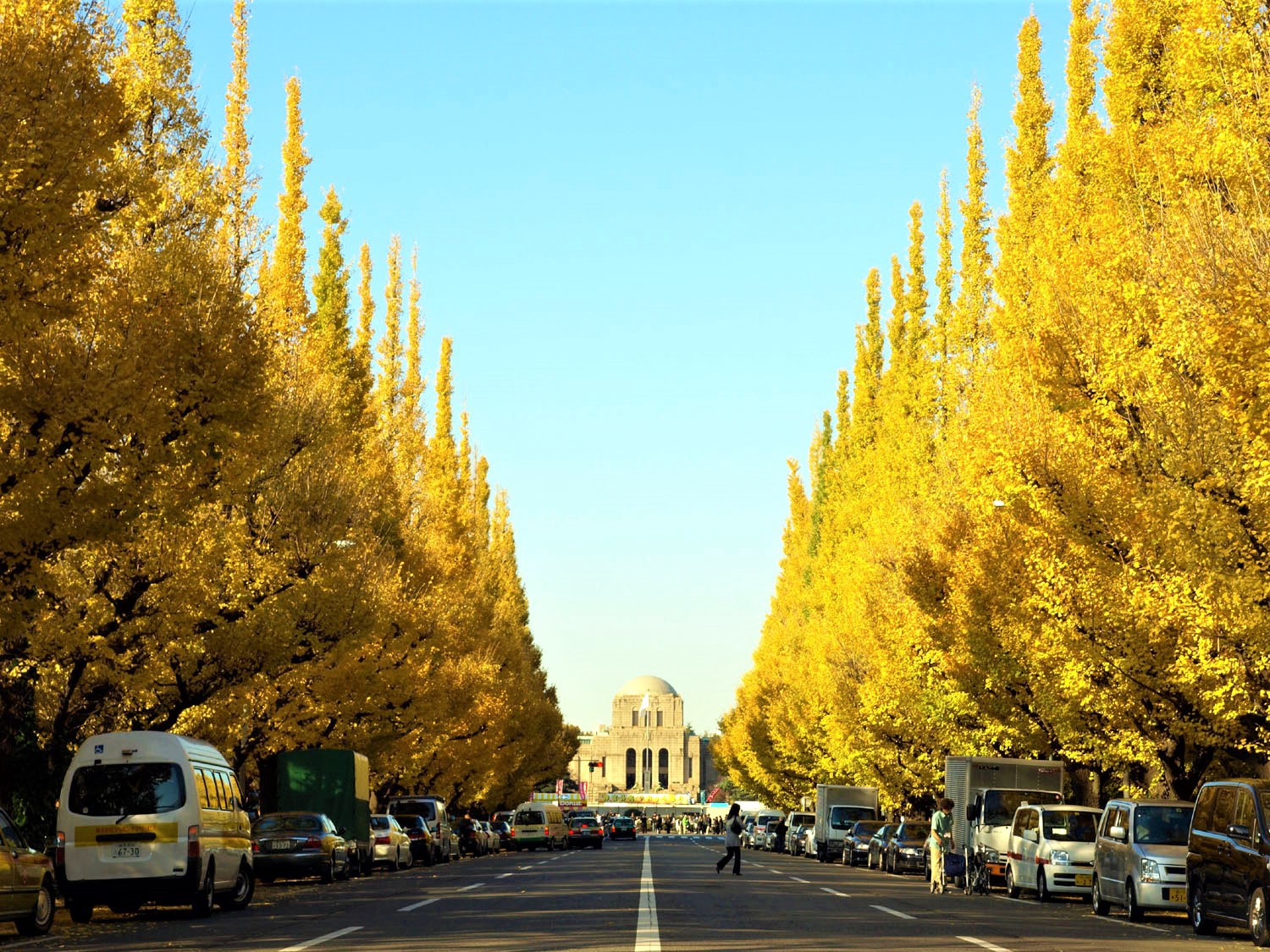 Autumn is an amazing season to visit Japan as the gorgeous autumn leaves spread across the country. Even in the concrete jungle Tokyo has great spots to enjoy autumn colours including parks, traditional Japanese gardens and avenues. Some sites also hold events during the season, featuring food vendors and night-time light up.
In this article, I would like to introduce the best autumn leaves spots in Tokyo. Let's get ready for autumn leaves hunting!
1. Koishikawa Korakuen Garden
Koishikawa Korakuen Garden (小石川後楽園) is located in Korakuen, Bunkyo Ward, Tokyo. This one of the most gorgeous gardens from Edo Period is approx 70,000 m2 large and consists of 67 scenic objects and scenery including ponds, stones, trees and bridges.
From late November to early December, amazing landscape of traditional Japanese garden and red maple trees can be seen. Enjoy a pleasant moment in a peaceful Japanese garden while you are in a center of Tokyo!
Access: 2 mins walk from Idabashi Station OR 8 mins walk from Korakuen Station
Hours: 9:00 -17:00
Fee: 300 yen
More info: Enjoy 4 Seasons at Koishikawa Korakuen Garden, Tokyo
2. Hamarikyu Gardens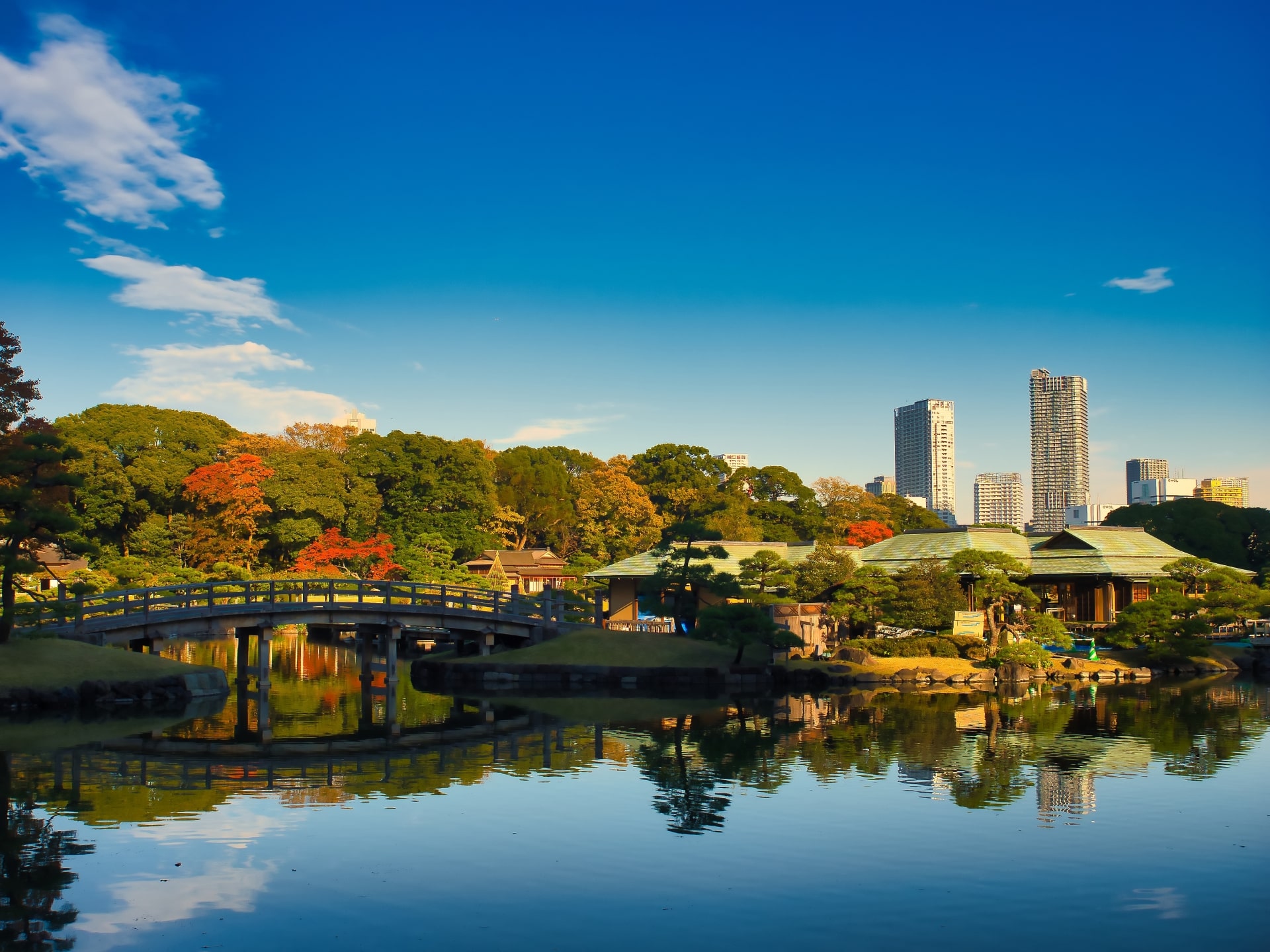 Hamarikyu Gardens (浜離宮恩賜庭園) is a beautiful traditional Japanese gardens in Tokyo. The spacious garden consists of pleasant nature, paths, pond and historic monument, and it was remodeled as the site of a family villa of the Shogun Tokugawa clan from the 17th century. The garden is surrounded by modern skyscrapers which creates the cool and unique view with the mix of traditional and futuristic sides of Tokyo.
You can enjoy the picturesque traditional Japanese gardens and colourful autumn leaves at Hamarikyu Gardens from mid November to early December. It's located very near Tsukiji Fish Market and Ginza area.
Access: 5 mins walk from Shiodome Station or 10 mins walk from Shimbashi Station
Hours: 9:00–17:00
Fee: 300 yen
More info: Hamarikyu Garden: Scenic Japanese Garden near Tsukiji Fish Market
3. Shinjuku Gyoen
Shinjuku Gyoen (新宿御苑) is one of the most popular parks in Tokyo, which is located near Shinjuku Station. Although it's located in the most bustling area of the city, this spacious park offers the peaceful and relaxing atmosphere with rich nature which displays beautiful scenery in each season. Shinjuku Gyoen is especially popular for cherry blossom viewing in spring and autumn leaves viewing in autumn.
Various kinds of autumn trees and leaves can be enjoyed at the park from mid November to mid December.
Access: short walk from Shinjuku Gyoenmae Station or 5 mins walk from Shinjuku Station
Hours: 9:00~16:00
Fee: 200 yen
More info: Shinjuku Gyoen: the National Garden and Park in Tokyo
4. Meiji Jingu Gaien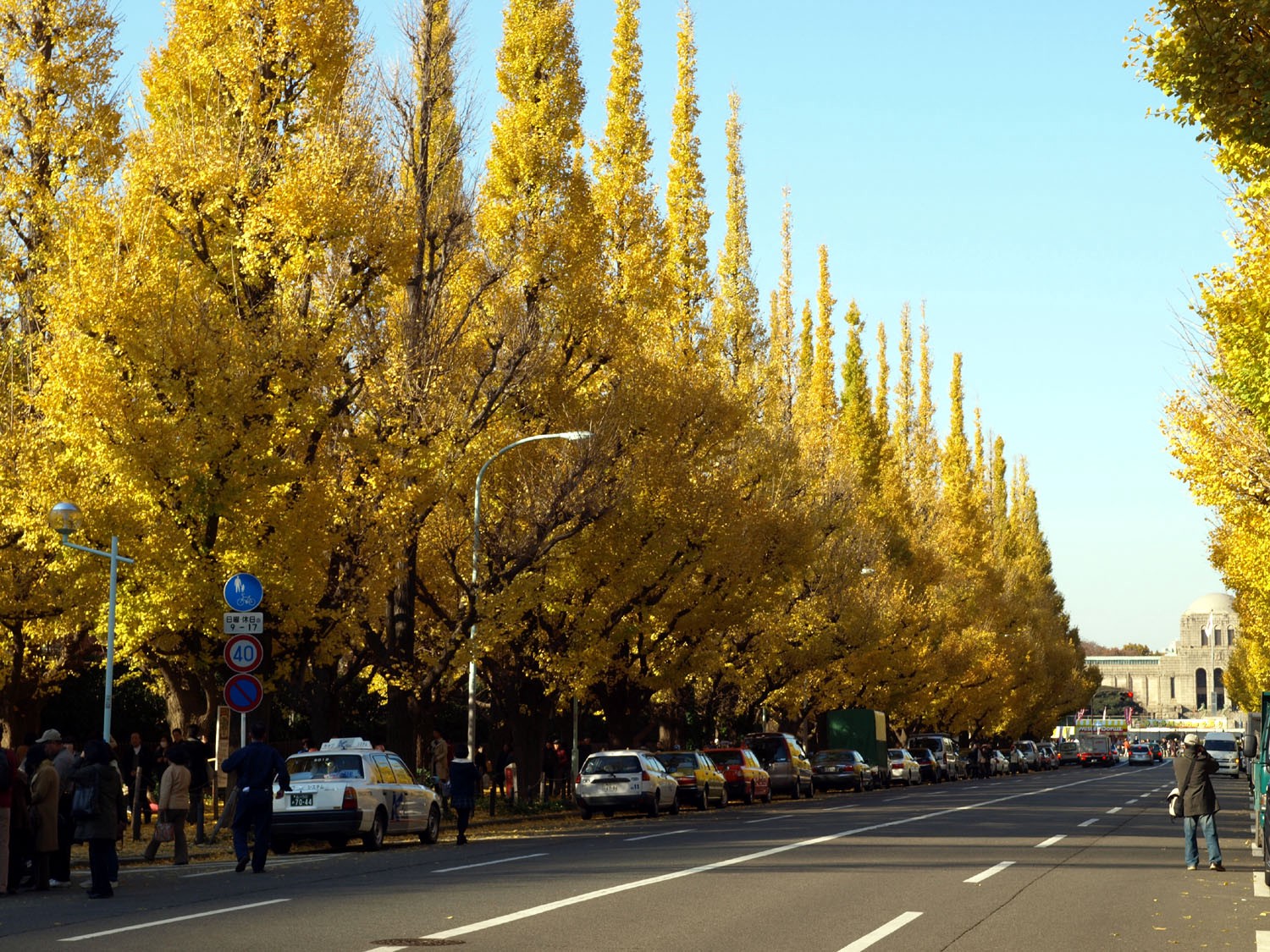 Meiji Jingu Gaien (明治神宮外苑) is a famous site for the baseball stadium of Yakult Swallows, which is located near Aoyama area, Tokyo. It's best known for its magnificent "Icho Namiki" the ginkgo lined avenue, which over 100 ginkgo trees are planted along the 300 m street.
Also after full blooming, falling leaves cover the street, forming a natural golden carpet (from late November to early December). Jingu Gaien Ginkgo Festival is held around the venue during the season with numbers of food and drink stalls.
Access: 3 minutes walk from Gaienmae station/Exit: 4a exit (Tokyo Metro Ginza line)
Related article: Meiji Jingu Gaien Ginkgo Festival
5. Omotesando Street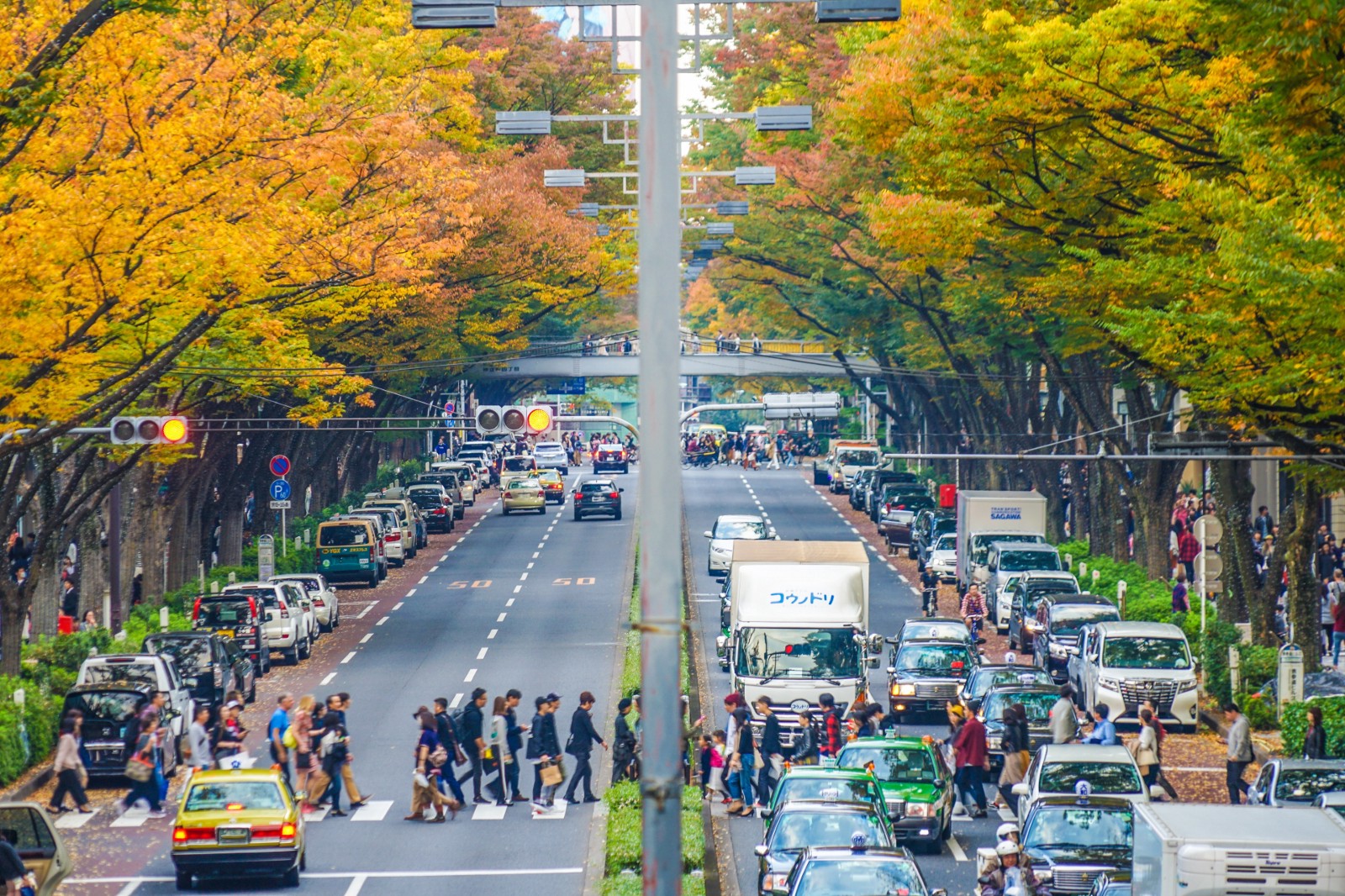 One of the most popular shopping high streets in Tokyo, Omotesando Street (表参道) is often called the Champs-Elysees of Tokyo. It stretches between Aoyama area and the famous Meiji Jingu Shrine. Numbers of trendy shops, high brand boutiques, stylish cafes and restaurants are located along Omotesando Street.
The 1.1 km street is lined with Zelkova trees which leaves turn into vivid yellow during autumn. It's a perfect autumn viewing spot to enjoy while shopping or along your visit to popular areas in Tokyo such as Harajuku and Shibuya.
Access: short walk from Omotesando Station
More info: Omotesando: Best Things to Do
6. Yoyogi Park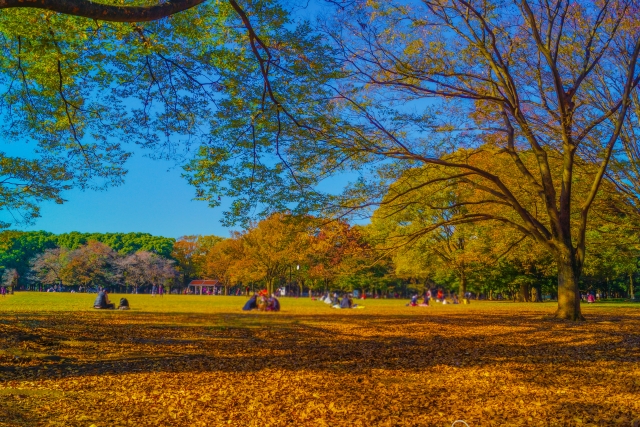 Yoyogi Park (代々木公園) is a large city park located in the heart of Tokyo, and very accessible from popular districts of Tokyo such as Shibuya, Harajuku and Shinjuku. Numbers of special events and festivals are held at Yoyogi Park through the year, and it's one of the most visited parks in Japan. The vast park has various kinds of trees such as Ginkgo, Maple and Zelkova which display colourful autumn leaves during the season.
The best viewing time for autumn leaves at Yoyogi Park is from late November to early December. Check the event schedule at the park before visiting!
Access: 5 mins walk from Harajuku Station or Yoyogi Koen Station
More info: Yoyogi Park: Enjoy the Beautiful Nature in Tokyo
7. Rikugien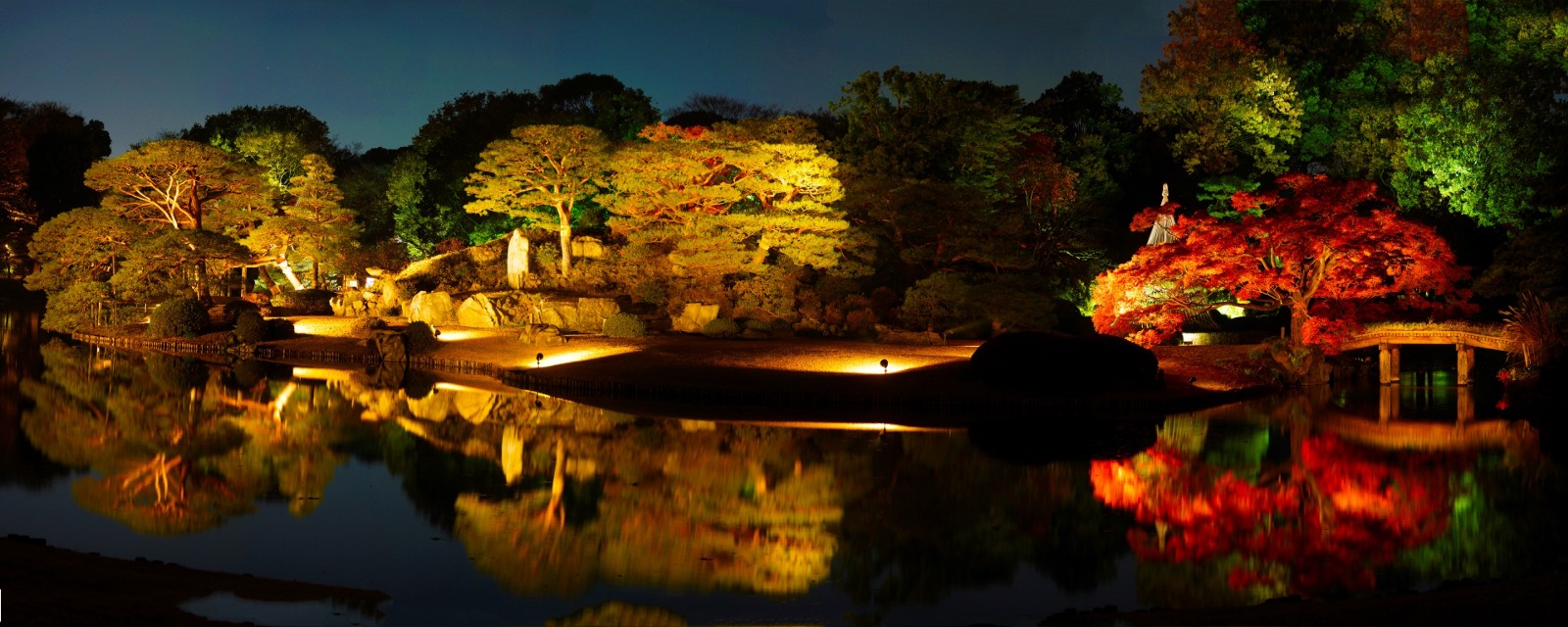 Rikugien (六義園) is another stunning Japanese traditional garden in Tokyo, which was built around 1700 by Tokugawa Clan.
This spacious garden consists of numbers of beautiful view spots such as ponds, traditional tea houses and hills, which are all surrounded by warm coloured trees in autumn. Moreover, the garden is known as the best autumn leaves viewing spots at night. During the peak season, illumination will lighten up the autumn leaves and create the most magical autumn scenery.
Access: 7 minutes walk from Komagome Station/Exit: South exit (JR Yamanote line)
Hours: 9:00–17:00
Fee: 300 yen
More info: Rikugien Garden: Tokyo's Best Japanese Garden with Autumn Leaves
8. Showa Memorial Park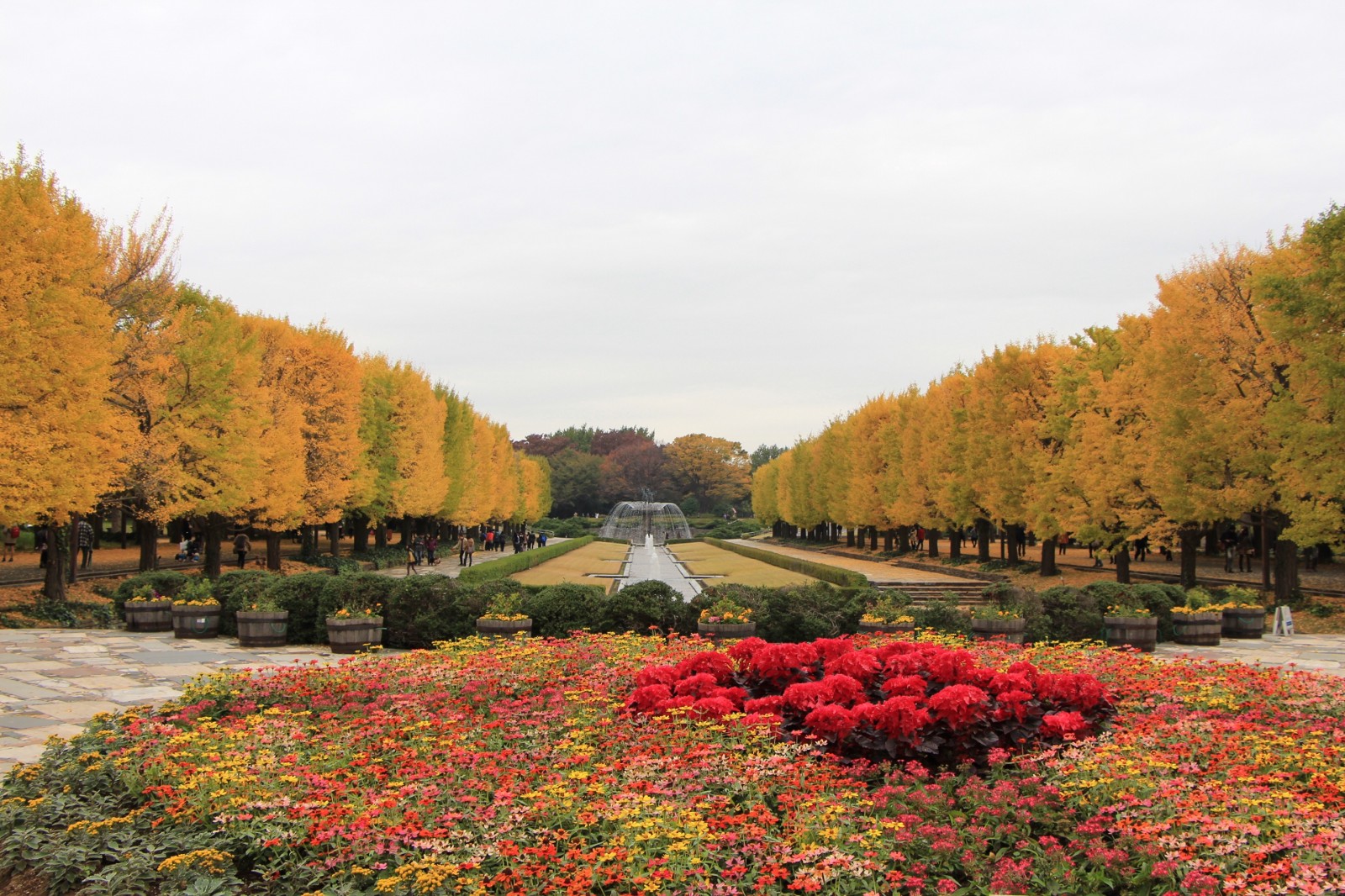 Showa Memorial Park or Showa Kinen Park (昭和記念公園) is a large park located in Tachikawa City, approx 30 mins away from the central Tokyo. The park was established in 1983 to commemorate the 50th anniversary of the Emperor Showa's reign. The vast park (163.0 hectares) consists of Japanese gardens, large recreation areas and Ginkgo avenue beside a big fountain.
During mid to late Nov, green of growing leaves turns into warm autumn colours which covers the whole park. The gorgeous line of ginkgo trees and the maple trees at the Japanese garden is two best viewing spots.
Access: 10 minutes walk from Tachikawa station/Exit: Akebonoguchi (JR Chuo line)
Hours: 9:30 to 16:30 (Nov-Feb)
Fee: 410 yen
More info: Showa Memorial Park : Best Flower Park in Tokyo
9. Mt. Takao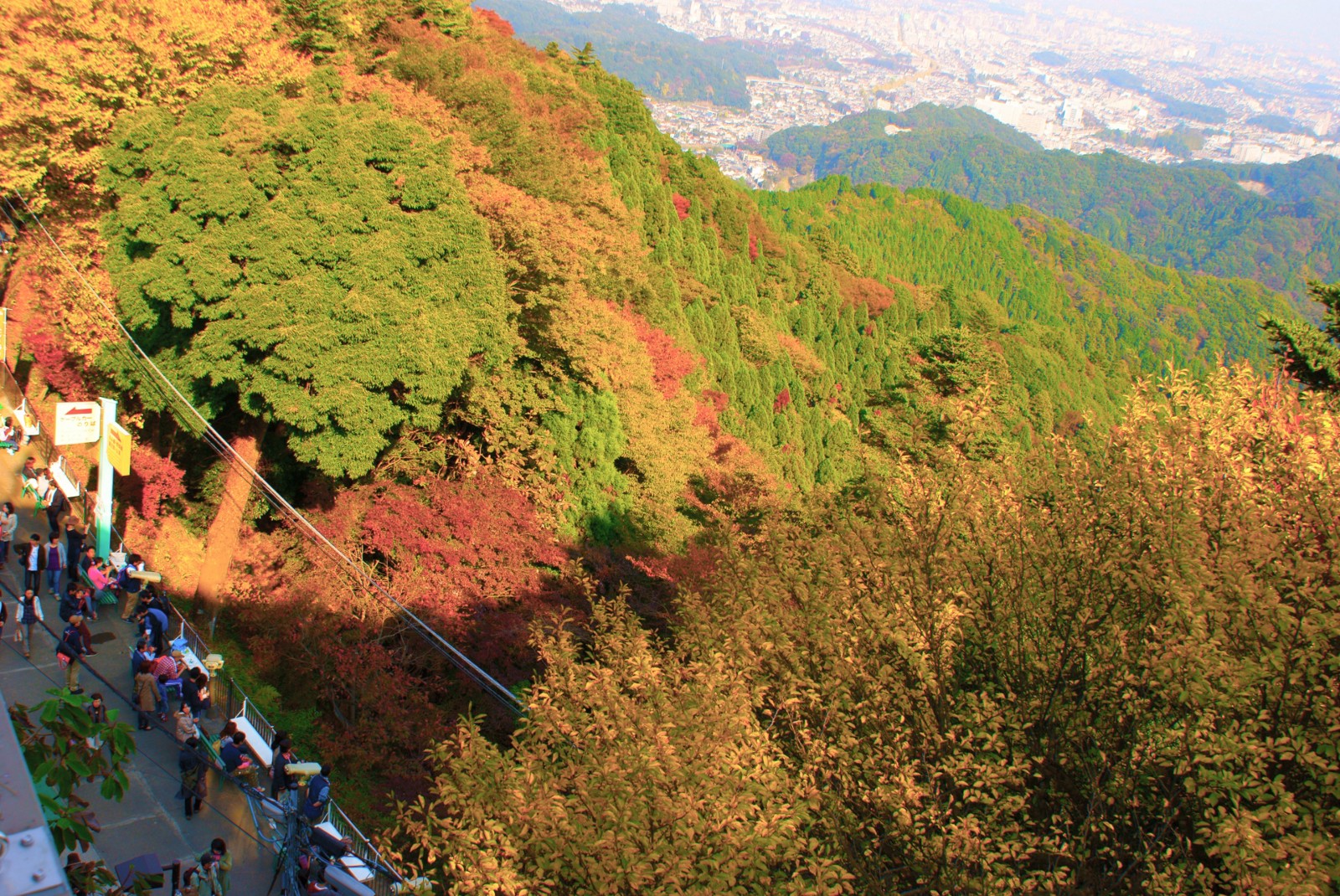 Mt. Takao (高尾山) is located within Meiji no Mori Takao Quasi-National Park in Hachioji City, the western Tokyo. The mountain can be accessed within 1 hour from the central Tokyo. (From Shinjuku station to the nearest station "Takaosanguchi" is only 47 mins by Keio line) The 599 m high mountain is a very popular hiking spot and attracts over 2.5 million visitors every year, especially in autumn leaves season.
The best season to visit the mountain is in November, the season of colourful autumn leaves, and Momiji Matsuri (maple festival) is held through the month.
Access: 5 minutes walk from Takaosanguchi station (Keio line)
More info: Mt Takao: the Best Hiking Spot in Tokyo
10. Okutama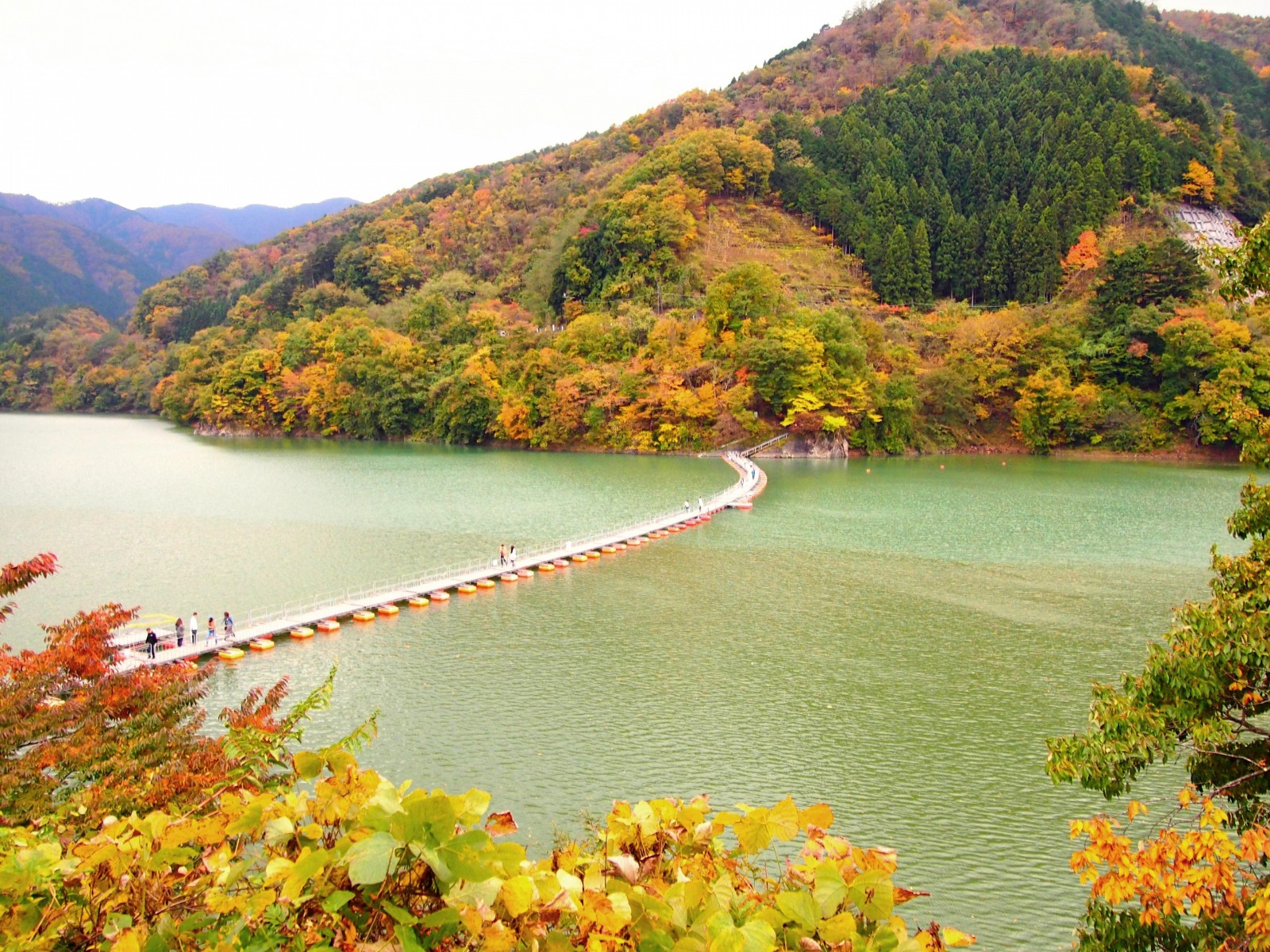 Okutama is an outskirt area in the western part of Tokyo, which offers majestic nature such as mountains, forests, river, valleys and lakes. It's one of the most popular day trip destinations for outdoor activities such as hiking, nature tour, kayaking, canyoning and more. It's almost hard to believe that the metropolitan city, Tokyo owns such a wild and serene nature site.
The rich nature of Okutama area offers the stunning view of autumn leaves from mid October to mid November every year. There are several hiking trails at Okutama where you can enjoy the gorgeous autumn colours while walking through the nature. It's the best autumn leaves viewing destination for nature lovers!
Access: direct access is available from Shinjuku Station to Oku Tama Station via JR Chuo Line
If you are lucky enough to visit Tokyo during autumn leaves season, these 5 spots all must be added to your bucket list! If you are looking for more autumn leaves information, check these articles below 😉
▽ Related Articles▽
▼Editor's Picks▼
---