Best Food Events in Tokyo 2023
Must-Visit Food Events in Tokyo: Ramen, Seafood, Dessert Buffets and more!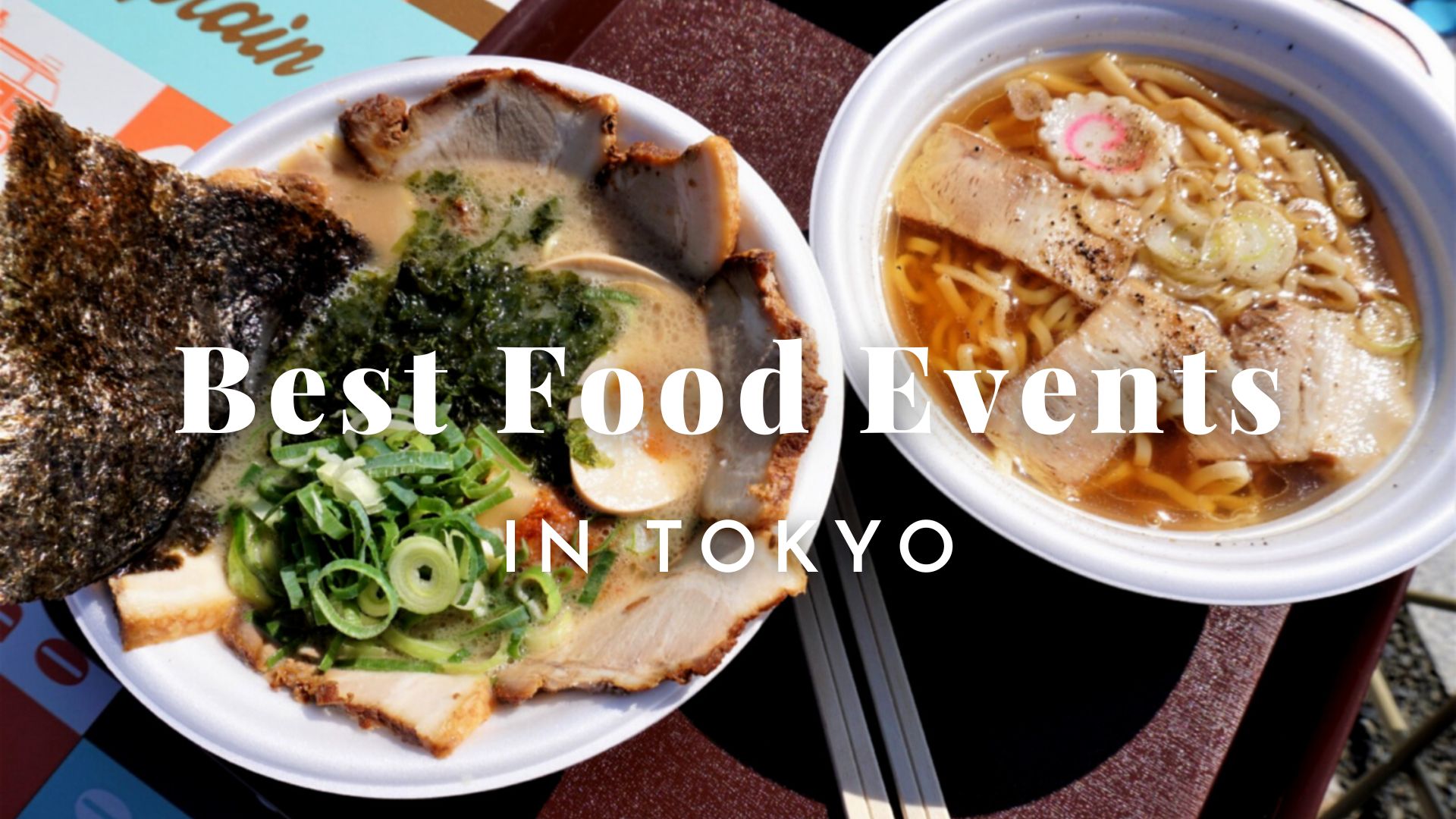 Numbers of seasonal events and festivals are held in Tokyo through the year with a variety of themes. Especially, food events are highly popular as they offer a great opportunity to taste seasonal dishes or local delicacies from all over Japan in one place. If you are an eager foodie who wish to explore Japanese food culture, you should definitely join delicious food events while travelling Tokyo 🙂
Many of food events are held in autumn as the season is known for harvest and there is even a phrase "Autumn Appetite" describing autumn as the best season for eating in Japan. In this article, I'm sharing the best food events in Tokyo for 2023 autumn including dessert buffets, ramen, Hokkaido food, craft beer and more!
-Autumn Dessert Buffets
All-you-can-eat dessert buffet has been a huge food trend in Tokyo lately, and it's held at numbers of Tokyo's high-end hotels. Strawberry, matcha, cherry blossoms, etc, high-quality and photo-worthy desserts can be enjoyed with various seasonal themes and ingredients through the year. During autumn, autumn/Halloween dessert buffets take place at many venues in Tokyo, offering delightful desserts with Halloween theme and flavours of autumn such as pumpkin, sweet potato, chestnut, persimmon and more. Check out the link below for the best autumn/Halloween dessert buffets in Tokyo this year!
Venue: several hotels in Tokyo
Date: September to November
More info:
-Shine Muscat Afternoon Teas
Besides autumn/Halloween theme dessert buffets, sweets that are made with shine muscat are hugely popular in Japan during autumn. Shine muscat is a type of grape in Japan which is very sweet, plump and juicy and considerably an expensive fruit. In Tokyo, there are several venues serving high quality and delicious shine muscat desserts with a fancy afternoon tea or dessert buffet. Check out the attached link below to find out where you can taste the best shine muscat desserts this autumn!
More info:
-Minion Theme Cafe
The world's first Minion theme cafe, focusing on Bob and Tim is opening in two locations in Japan this autumn, Shibuya Parco Tokyo and Nagoya Parco in Aichi. With the concept of Bob and Tim who are always together, the cafe offers an original menu with a variety of dishes and drinks featuring the adorable duo.
More info:
-Winnie the Pooh Theme Cafe
The limited time theme cafe of Walt Disney's Winnie the Pooh "Winnie the Pooh FUNNY & HUNNY Cafe" will open in Tokyo and Osaka this autumn. The cafe offers colourful, cute and photo-worthy food, drinks and dessert as well as a range of merchandise with the original design design. If you are a fan of Winnie the Pooh, don't miss a chance to immerse into the world of Winnie the Pooh and his friends with delicious and cute food!
More info:
-Hokkaido Food Festival
One of the biggest outdoor food event in Tokyo, Hokkaido Food Festival in Yoyogi (北海道フェアin代々木) attracts over 400,000 visitors every year. The 4-day event features a large number of food vendors offering delicious Hokkaido's specialties including crab, fresh seafood, ramen, beef, melon, ice cream and many more. There are also events and performances which visitors can enjoy and get to know about the culture of Hokkaido.
Venue: Yoyogi Park
Date: 28 September to 1 October 2023
More info:
-Umakara Fes
Umakara Fes (刺激と旨辛フェス) is a food event that is held for 39 days from late August to early October. Umakara means "tasty" and "spicy" and the event features 65 food vendors in total, offering delicious dishes that stimulate the five senses. The shops will change weekly so you can enjoy food from different vendors even if you visit there more than once!
Venue: Okubo Park, Shinjuku
Date: 25 August to 2 October 2023
Hours: 11:00~21:00
Website: https://www.umakarafes.com/
-Oktoberfest Shiba Park
The traditional beer festival from Germany, Oktoberfest can be enjoyed in Japan, too! Oktoberfest is celebrating its 20th anniversary in Japan this year and the event has been held at several locations since spring. In autumn, Oktoberfest will take place in Shiba Park, a public park situated next to Tokyo Tower for 10 days from 15 to 24 October. At the event, a variety of German beer will be served along with traditional German food. There will be also a stage performance by many artists including traditional German music.
Venue: Shiba Park
Date: 15 to 24 September 2023
Website: https://www.oktober-fest.jp/shiba/index.html
-Oedo Beer Festival
After taking place in Machida during summer, Oedo Beer Festival will be back in autumn in Shinagawa this time. The event is divided in 2 terms (4 days each) with different sellers and many types of beer can be tasted from German beer to local craft beer.
Venue: Shinagawa Intercity
Date: 20 to 24 September/28 September to 1 October 2023
Website: https://oedo-beer-festival.jp/
-Kyushu Festival
Kyushu Festival (九州観光・物産フェア) is a 4-day event featuring the food and culture of Kyushu Region. The event features vendors offering delicious specialties from each prefecture of Kyushu such as tonkotsu ramen, beef, seafood, desserts and other local delicacies. The event also offers a large selection of regional alcohol beverages including sake, shochu and craft beer as Kyushu is well known for alcohol products. Food in Kyushu is quite unique and distinguished from other parts of Japan, so visitors can enjoy the different food culture of Japan through the event.
Venue: Yoyogi Park
Date: 6 to 9 October 2023
Hours: 10:00~18:00
Website: http://kyushu-yoyogipark.com/
‐Setagaya Bread Festival
Setagaya Bread Festival (世田谷パン祭り) is the biggest bread event in Japan that has been held since 2011. Approx 140 bakeries and vendors are gathering for the event and will be selling bread, food, drinks and bread-related products such as jam, spread, etc. There will be a variety of contents at the event such as hands-on activity, workshop and music performance.
Venue: Setagaya Park
Date: 28 and 29 October 2023
Hours: 11:00~16:00
Website: https://setagaya-panmatsuri.com/
-Tokyo Ramen Festa
The biggest ramen event in Japan, Tokyo Ramen Festa (東京ラーメンフェスタ), formerly known as Tokyo Ramen Show, is held annually at Komazawa Park in autumn. The event features a variety of Gotochi Ramen (regional ramen) by ramen stores from Hokkaido to Kyushu all over Japan. The 11-day event is divided into 2 rounds and each round will have 14 ramen booths (so 28 ramen booths in total!). Don't miss a chance to taste the best bowls of ramen in the heart of Tokyo!
Venue: Komazawa Olympic Park
Date: 26 October to 5 November 2023
Website: https://ra-fes.com/index.html
-Dai Tsukemen Haku
Dai Tsukemen Haku (大つけ麺博) is a food event specialized in ramen, mainly tsukemen. Tsukemen is a type of Ramen which noodles and soup are served separately and is enjoyed by dipping noodles into the soup. The event will be held from mid October to late November, featuring over 100 food vendors in total from across Japan. Some of shops offers limited dishes which can be only tasted during the event.
Venue: Okubo Park, Shinjuku
Date: 11 October to 26 November 2023
Website: https://dai-tsukemen-haku.com/
-Sakana & Japan Festival
Sakana & Japan Festival (魚ジャパンフェス) is one of the biggest seafood events in Japan. The event is held with an aim of revitalizing the nutritious fish diet, which is an important part of Japanese food culture. The 4-day event features a large collection of seafood such as tuna, salmon, sea urchin, crab, oyster, etc. A variety of seafood dishes are sold at the event including kaisendon (fresh seafood on rice bowl), regional specialties, seafood paella and seafood ramen. If you love seafood, this event is the one that can't be missed!
Venue: Odaiba
Date: 23 to 26 November 2023
Website: https://37sakana.jp/sjfesodaiba/index.html
Thanks for reading! It looks like a lot of food events will be held in Tokyo this autumn! As autumn is known as the season for appetite in Japan so you will have many chances to taste delicious autumn food during the season!
For more exciting events and the latest travel information for autumn in Japan, here are recommended articles for you!
▽Related Articles▽
▼Editor's Picks▼
---