7 Days Itinerary in Tokyo in Autumn
A Prefect 1-Week Autumn Itinerary in Tokyo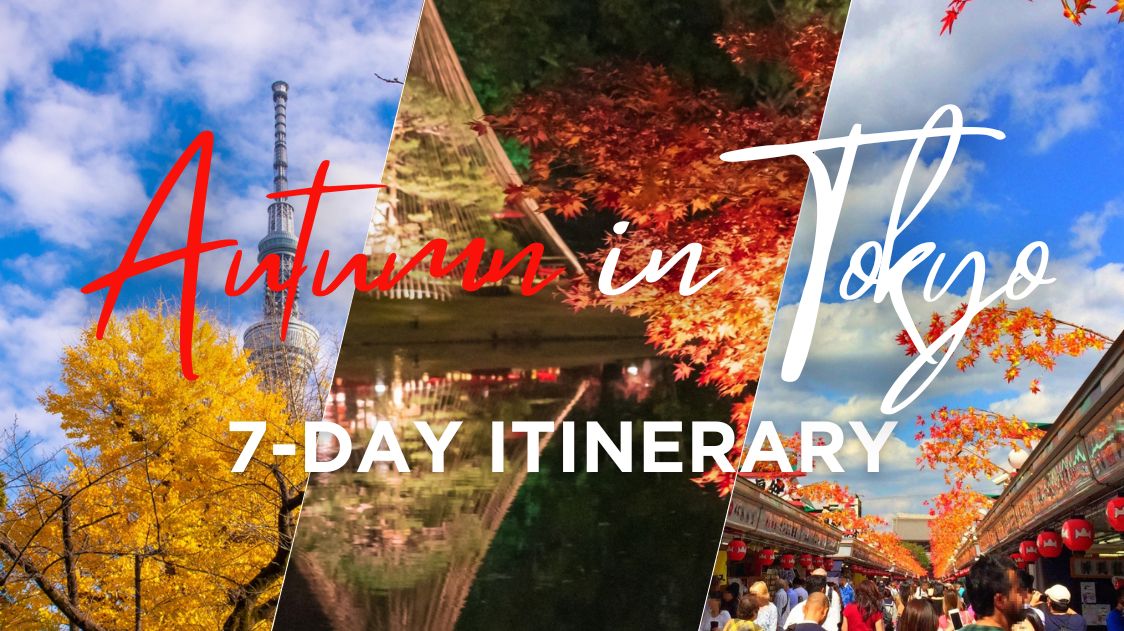 Get ready to dive into Tokyo's autumnal wonderland, where the city's neverending energy meets the serene beauty of fall foliage. Not as famous as the spring season sprinkled with sakura, the warm golden hues of Autumn mark an excellent opportunity to see another side of the world's largest metropolis. If you have a full week to spare for this city, we have packed a nice adventure with a little bit of everything, including day trips to iconic spots so you can round up your experience with a little escapade closer to nature.
So grab your camera and your most comfortable walking shoes; this seven-day itinerary in Tokyo in Autumn is about to take you on a Tokyo journey you won't forget.
▶ Book your Tokyo Wide Pass here!
▽Don't miss our guides for transportation passes!▽
*Please note that this article contains affiliate links.
---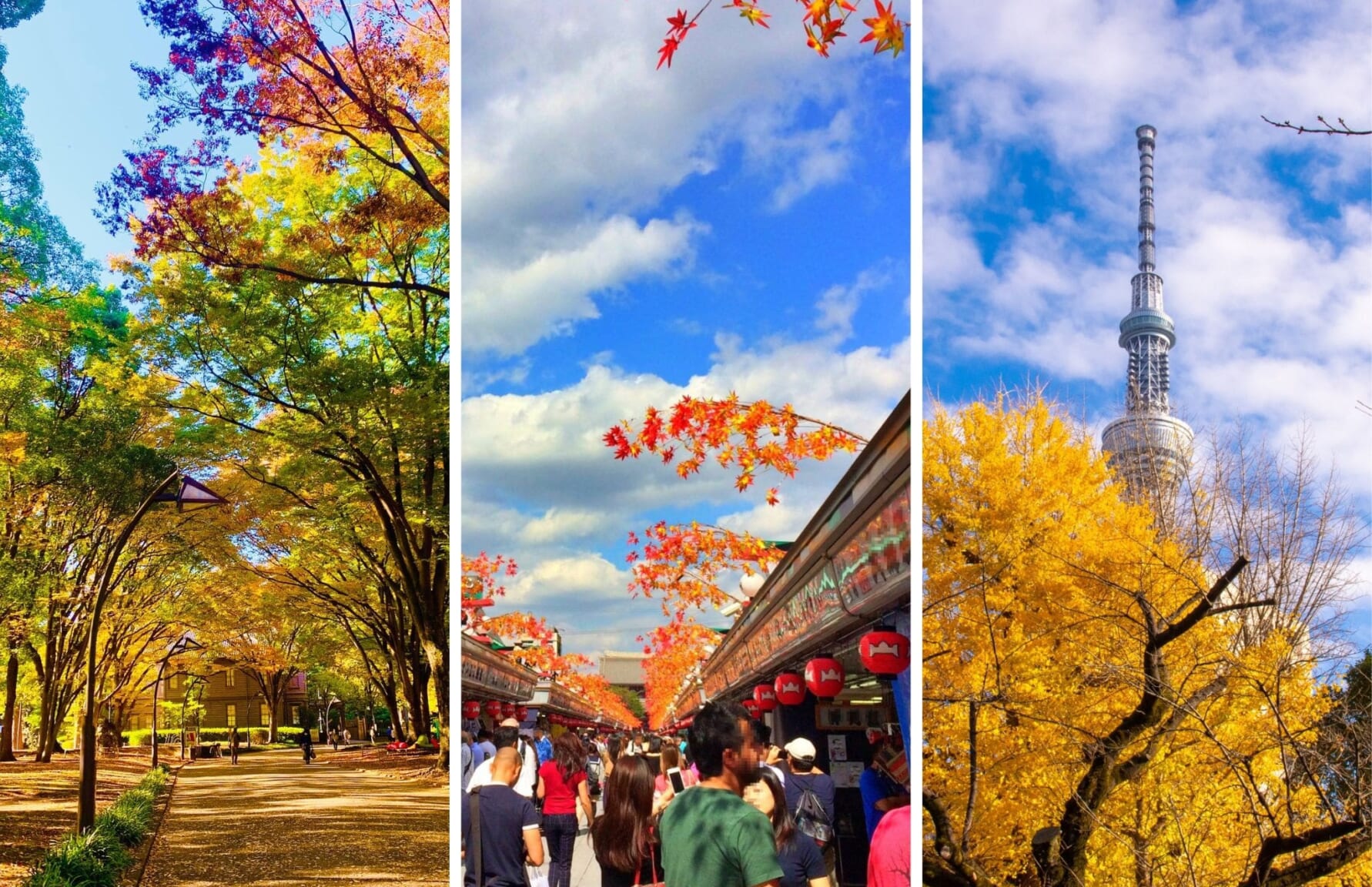 After leaving your belongings at your accommodation, head directly to Ueno Park (上野公園). The air is crisp and trees are ablaze with autumn colors. Walk around Shinobazu Pond, where photographers are already angling for the perfect shot of lotus leaves against a backdrop of fiery foliage. Don't miss the temples and historical buildings in the area. Next, make your way to Nezu Shrine (根津神社). The red torii gates of this shinto shrine are Instagram-worthy, and the surrounding trees are dressed in their autumn best. The garden offers a quiet moment of zen before you dive back into the more bustling areas of the city.
Your next stop is Asakusa. Sensoji Temple (浅草寺) is a Tokyo classic, and Nakamise Street is your go-to for street food and all kinds of souvenirs. One of the popular local specialties is the Ningyo-yaki, small doll-shaped sponge cakes filled with sweet red bean paste. As the sun sets, head to Tokyo Skytree (東京スカイツリー). The elevator whisks you up to panoramic views of the city. If you're lucky, you'll catch the autumn leaves from a bird's-eye view. The Skytree also offers dining options, making it a good spot for dinner.
▽More information about Ueno and Asakusa▽
▶20 Best Things to Do in Asakusa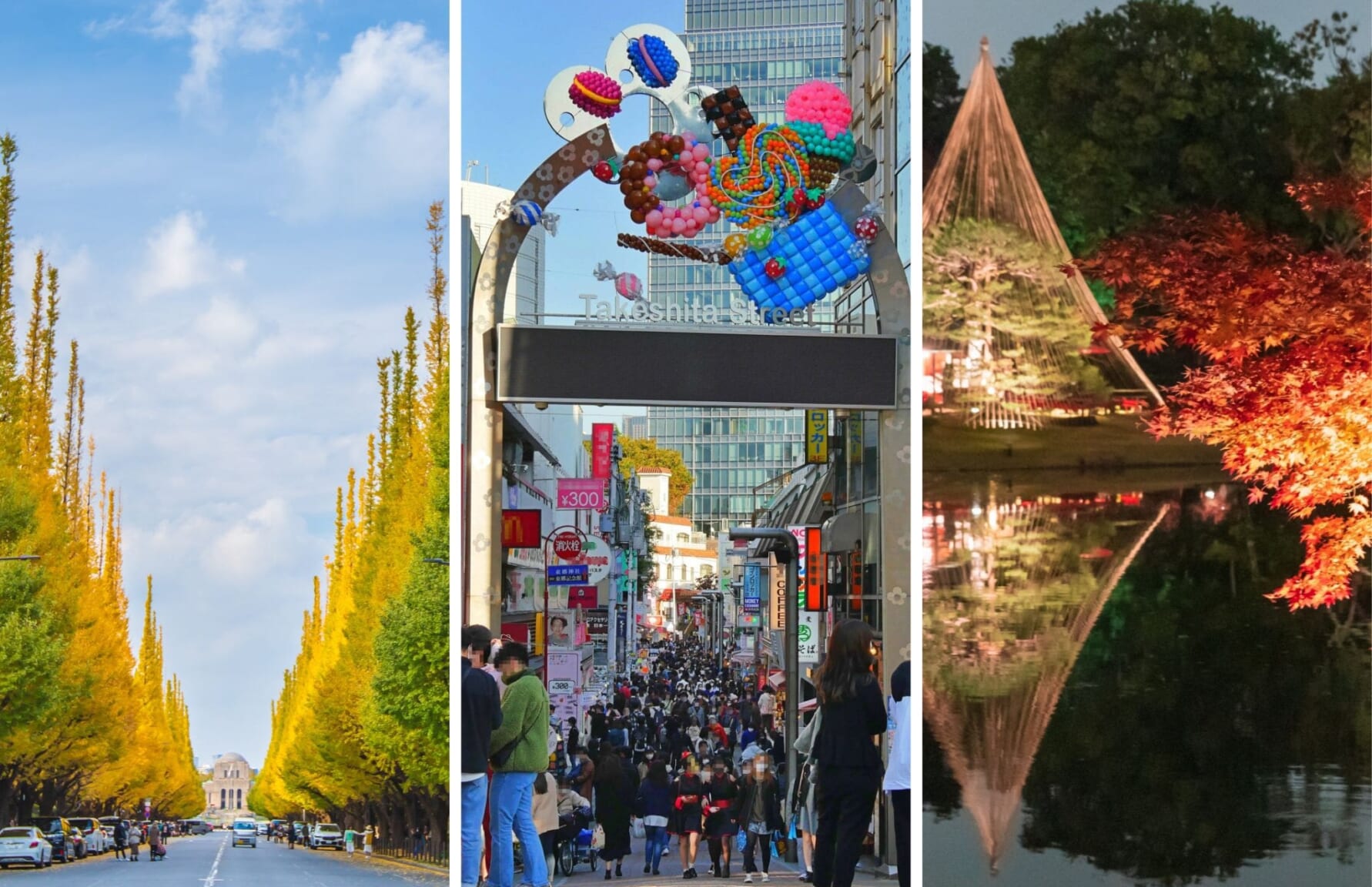 Start your day at Shibuya Crossing (渋谷スクランブル交差点), the world's busiest pedestrian crossing and an iconic Tokyo landmark. The energy is palpable as you join the throngs of people crossing from all directions. Take a moment to people-watch from the second-floor window of the Starbucks overlooking the crossing. If you manage to grab a seat, that is. Shibuya is a large entertainment and commercial area, so if you're interested in doing some shopping, it's a good opportunity
For a change of pace from Shibuya's energy, transition to the tranquility of Meiji Jingu Gaien (明治神宮外苑), where Tokyo's golden ginkgo trees steal the show. The avenue lined with these trees is a sight to behold, especially when the leaves have turned a brilliant gold. Bring your camera; this is a photo op you won't want to pass up. And then take a stroll around Meiji Shrine (明治神宮), the most important Shinto shrine in the city. Shrouded in dense foliage, you will feel like taking a peaceful walk in the woods. On your way there you could stop by Harajuku's Takeshita Street (竹下通り), a bustling alley filled with trendy boutiques, cafes, and street food stalls. Don't miss out on trying a Harajuku crepe, a sweet or savory stuffed crepe that's as delicious as it is photogenic.
As evening falls, make your way to Rikugien Garden (六義園), famous for its nighttime illuminations of autumn leaves. The trees are lit up in a way that enhances their natural colors, creating an almost ethereal atmosphere.
▽More information about Shibuya and Harajuku▽
▶22 Best Things to Do in Shibuya
▶20 Best Things to Do in Harajuku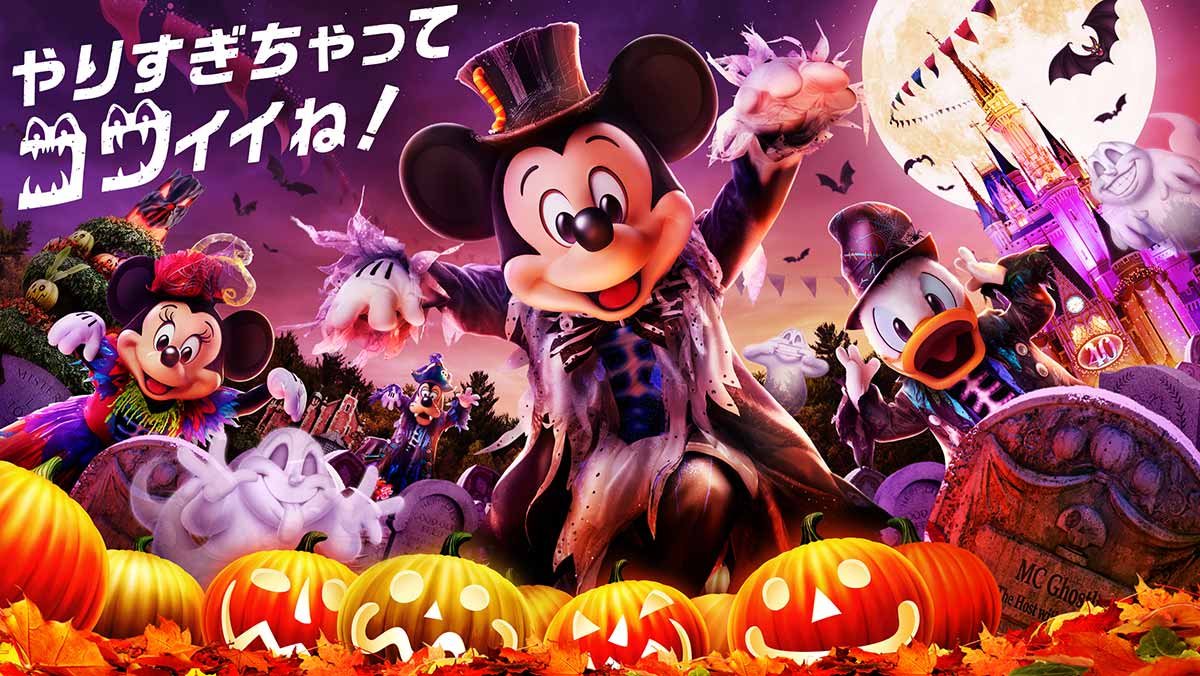 Today is all about embracing your inner child at Tokyo Disney Resort. The moment you step through the gates, you're greeted by the Halloween spirit. Pumpkins, cobwebs, and Disney characters in Halloween costumes set the stage for a day of magical spooks.
First up, head to Cinderella's Castle. It's not just a photo spot; during Halloween, it becomes the backdrop for special events and parades. Mickey, Minnie, and the gang are dressed in their Halloween best, and you should be too. Don't forget to grab a pair of Halloween-themed Mickey ears!
Lunch is an adventure in itself. Seasonal Halloween menus offer treats that are both delicious and Instagrammable. Besides the usual rides, the parades are the highlight. Characters floats, and dancers fill the streets of the park, all set to catchy tunes that you'll be humming for days. Each parade has a Halloween twist, making them extra special. As night falls, the park transforms. Spooky lighting effects and Halloween-themed shows take over, culminating in a fireworks display that lights up the sky.
Book Tokyo Disney Resort tickets online▶︎ https://bit.ly/3HqsJcO
▽More information about Tokyo Disney Resort during Halloween▽
▶Disney Halloween at Tokyo Disney Resort
▶Tokyo Disneyland Guide: Best Things to Do
▶Tokyo DisneySea Guide: Best Things to Do
▶How to Get to Tokyo Disneyland and DisneySea by Bus or Train
▶Where to Stay near Tokyo Disneyland and DisneySea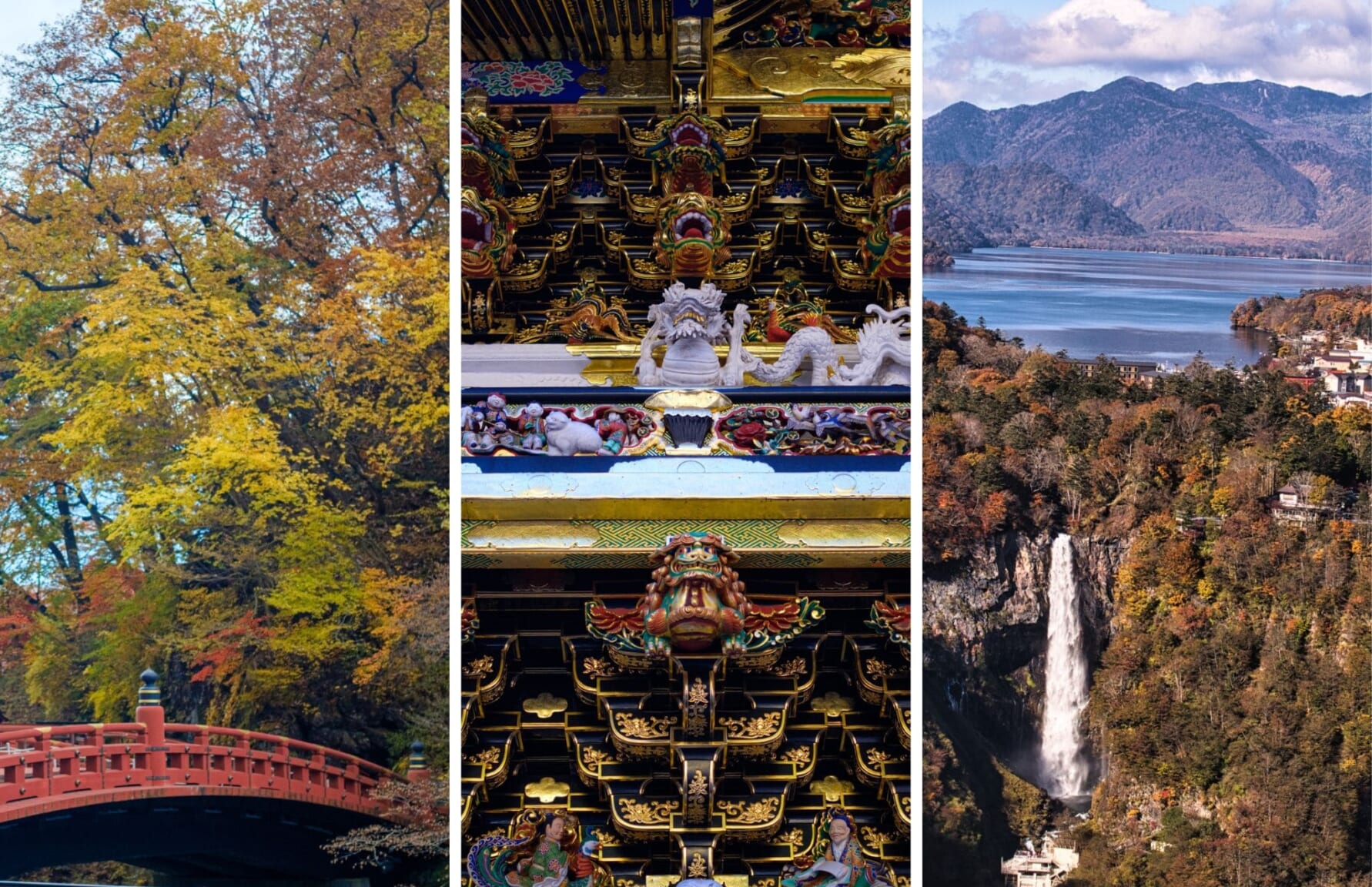 Hopefully, you had a good night's sleep, because today you're taking a day trip outside of the great metropolis! The train ride to Nikko (日光) is your first taste of what's to come—a scenic journey that takes you away from Tokyo's skyscrapers and into the heart of nature. Once you arrive, your first stop is Toshogu Shrine (日光東照宮), a UNESCO World Heritage Site. The shrine is a marvel of intricate carvings and gold leaf, but what really catches your eye is the vivid autumn foliage that surrounds it. The red and orange leaves create a striking contrast with the shrine's ornate details, making it a photographer's dream.
After exploring the shrine, it's time to venture to Lake Chuzenji (中禅寺湖). The lake is encircled by mountains covered in autumn leaves, offering a colorful panorama that's a feast for the eyes. A boat ride on the lake gets you up close with the scenery, and it's a peaceful way to spend an hour or two. The crisp air, the gentle sway of the boat, and the rustling leaves create an atmosphere of tranquil beauty.
But the natural wonders don't stop there. If time allows it, make your way to Kegon Falls (華厳の滝), one of Japan's highest waterfalls. The waterfall is especially stunning when framed by the autumn leaves, and the roar of the water adds a sense of grandeur to the whole experience.
Hungry? The area's main local specialty is Yuba (tofu skin). Whether it's in a hot pot or served cold, it's a delicious must-try. As the day winds down, the setting sun casts a golden glow on the temples and the surrounding foliage, making for a serene and picturesque end to your day.
▽Check below for all the details you need for your Nikko trip!▽
▶How to Get to Nikko from Tokyo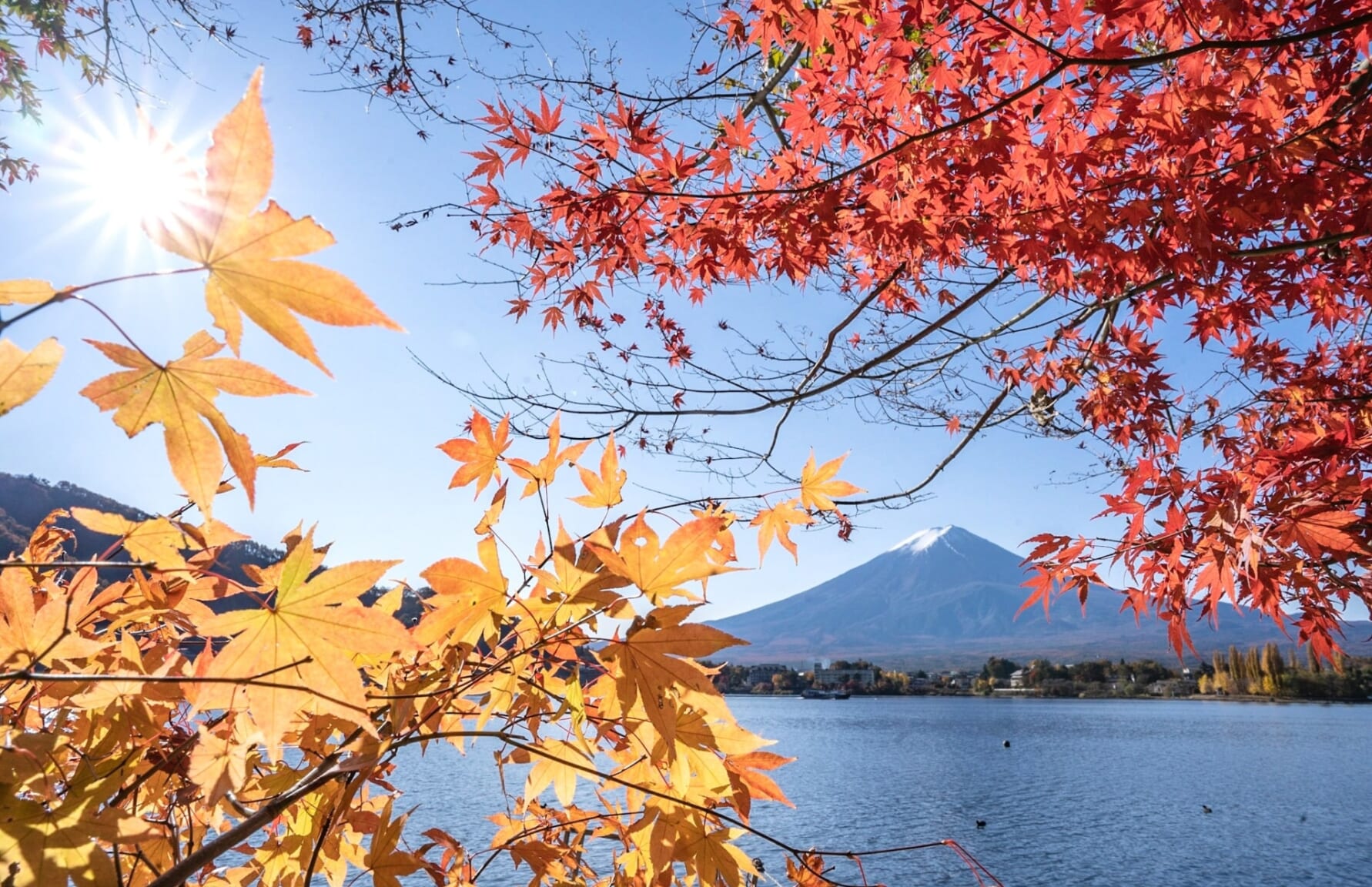 Today's journey takes you to the iconic Mt. Fuji (富士山), a symbol of Japan that has inspired artists and poets for centuries. Board the bus in Tokyo, and as you make your way toward the mountain, the urban landscape gives way to scenic countryside. The anticipation builds until finally, the majestic peak comes into view. If your timing is good, you will be able to enjoy the Fuji Kawaguchiko Autumn Leaves Festival. The area around Lake Kawaguchi (河口湖) transforms into a vibrant display of autumn colors. The leaves, in shades of red, orange, and yellow, frame the view of Mt. Fuji in a way that seems almost surreal. Take a leisurely walk along the lakeside, where every turn offers a new, breathtaking vista.
Feeling adventurous? Hop on the Mt. Fuji Panoramic Ropeway (富士山パノラマロープウェイ) to marvel at the panoramic views unfolding before you as you ascend. From the observation deck, you can see Mt. Fuji in all its glory, along with the surrounding lakes and forests.
Lunchtime at Lake Kawaguchi offers a range of options from traditional Japanese meals to something quick and easy, in any case, the local eateries provide a cozy atmosphere to refuel before proceeding with the day.
As the afternoon progresses, a good option is renting a bike to explore the area further. The cycling paths around Lake Kawaguchi are well-maintained and offer yet another perspective on the stunning autumn landscape. As sunset approaches, Illuminations light up the autumn leaves, creating a magical setting. The reflection of the lights on the lake adds an extra layer of beauty to the scene. Don't forget to confirm the return bus schedules!
▽Check below for all the details you need for your Mt. Fuji trip!▽
▶How to Get to Mt.Fuji from Tokyo
▶20 Best Things to Do in Mt Fuji Area: Mt Fuji Bucket List
Day 6: Odaiba and Sumida River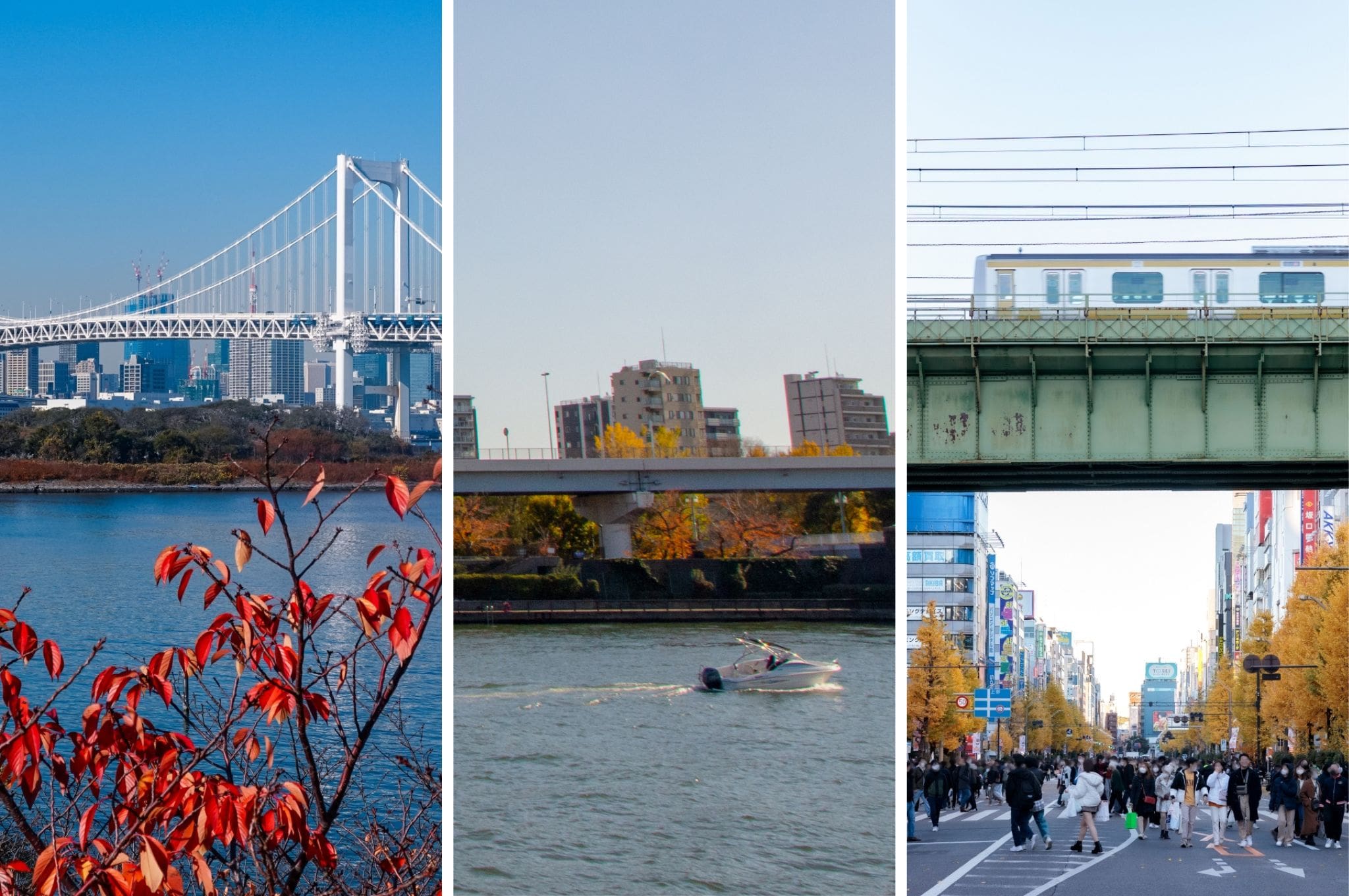 Kick off your day with a visit to TeamLab near Odaiba (お台場), an immersive digital art museum that defies the conventional museum experience. Here, art isn't confined to frames; it's all around you. Wander through rooms where flowers bloom under your feet and waves of light crash against the walls. Each room offers a unique experience, making you feel as if you've stepped into another world.
After the visual feast at TeamLab, it's time for a different kind of journey—a cruise on the Sumida River (隅田川). Board the boat at Odaiba and let the cityscape glide by. The cruise takes you past some of Tokyo's most iconic landmarks, all the while offering glimpses of autumn leaves along the riverbanks. It's a relaxing way to travel and a chance to see Tokyo from a fresh perspective.
The cruise ends at Asakusa, but your day is far from over. Hop on the train to Akihabara (秋葉原), the mecca for electronics and anime culture. The streets are a riot of color and sound, with billboards advertising the latest tech gadgets and anime merchandise. If you're a fan of either, you're in paradise. Even if you're not, the energy of Akihabara is infectious.
As the sun sets, the neon lights of Akihabara come to life, casting a glow on the busy streets. It's a fitting end to a day that's been all about diverse experiences—from the digital art of TeamLab to the natural beauty of the Sumida River and the pop culture extravaganza of Akihabara.
▽More information about Odaiba and Akihabara▽
▶12 Best Things to Do in Odaiba
▶15 Best Things to Do in Akihabara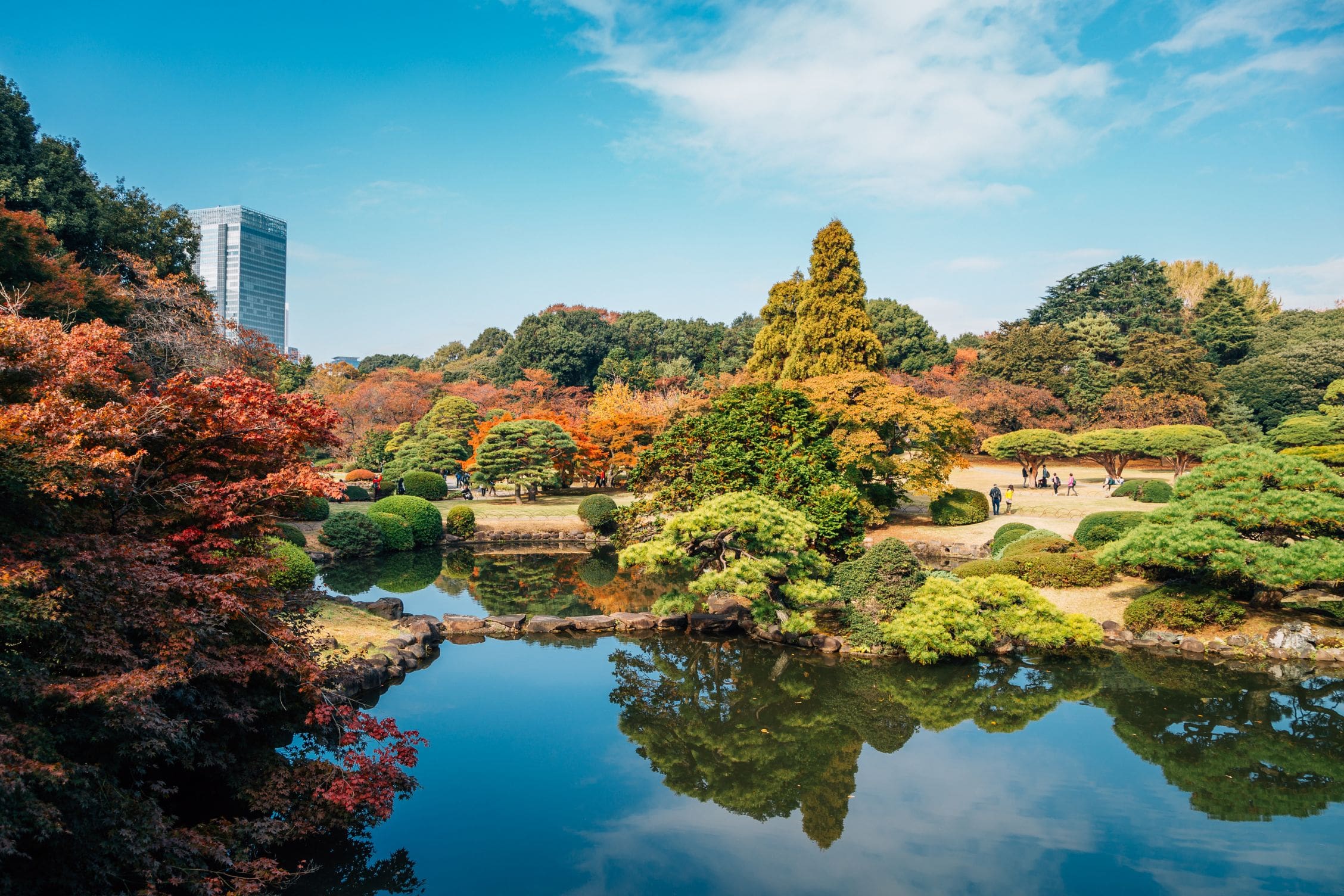 On your last day, if your departure time allows it, make your way to Shinjuku, a district that's a world unto itself. The area is a shopping haven, with massive department stores and tiny boutiques offering everything from high fashion to quirky souvenirs. But there's a peaceful haven called Shinjuku Gyoen (新宿御苑), one of Tokyo's largest and most popular parks. The autumn colors here are spectacular, offering yet another chance to revel in the beauty of the season for the last time before leaving the city.
▽More information about Shinjuku▽
▶20 Best Things to Do in Shinjuku
▶20 Best Restaurants in Shinjuku Area
---
▶ Book your Tokyo Wide Pass here!
▽Don't miss our guides for transportation passes!▽
▶Tokyo Subway UNLIMITED Pass: How to Get and How Much You Can Save
---
In just one week, you'll have experienced a range of activities that will leave you both exhilarated and wonderfully exhausted, with options suitable both for nature lovers and city slickers. To get a complete overview of the season, this itinerary offers a perfect blend of Tokyo's diverse attractions.
▽Subscribe to our free news magazine!▽

For more information about traveling and seasonal events in Japan, check these articles below, too!
▽Related Articles▽
▼Editor's Picks▼
---