How to Get to Mt.Fuji from Tokyo
Find the cheaper and faster transportation to Mount Fuji!!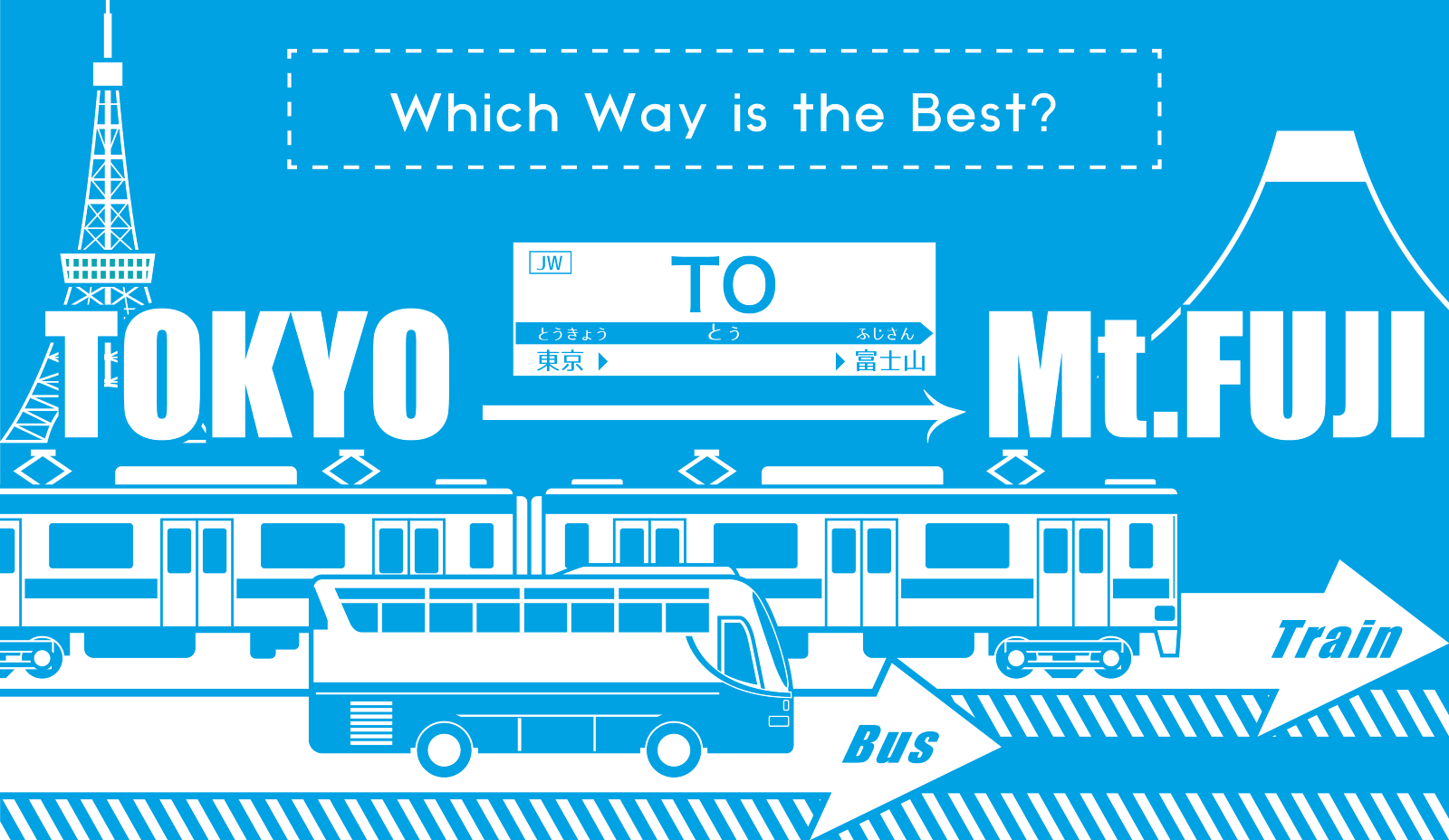 Nobody doubts that Mt. Fuji is the most famous and popular sightseeing destination in Japan. From climbing the mountain to taking breathtaking pictures or even enjoying an amusement park, they are lots of things to do. However, there are too many transportation options to get to Mt. Fuji from Tokyo, and it's difficult to choose the best way for foreign travelers especially first time visitors. Which is the cheaper, faster and easier way? Find here the best transportation to Mt.Fuji from Tokyo!!
But to begin with, a clarification. Although it's often said "Go to Mt.Fuji" (there is even a train station named after it), it's not that you go to the foot of Mt.Fuji, but to a nearby area where you can see Mt.Fuji (weather permitting). There are two popular spots to see Mt.Fuji. One is Hakone, which will be discussed in another article, and the other is the Kawaguchiko Lake area, which is the one we are going to explain today. Usually you only really go at the foot of Mt. Fuji when you go to climb it.
That said, let me get straight to the point: bus is the most recommended way for you to get from Tokyo to Kawaguchiko/ Fuji-Q Highland area. But is not the only way, and depending on your preferences and circumstances, perhaps there is another transportation way that fits better for you.
In this article I would introduction how to get to main destinations of Mt.Fuji area from Tokyo major stations and airports. Let's compare bus and train and check out how to get from Tokyo to Mt.Fuji!!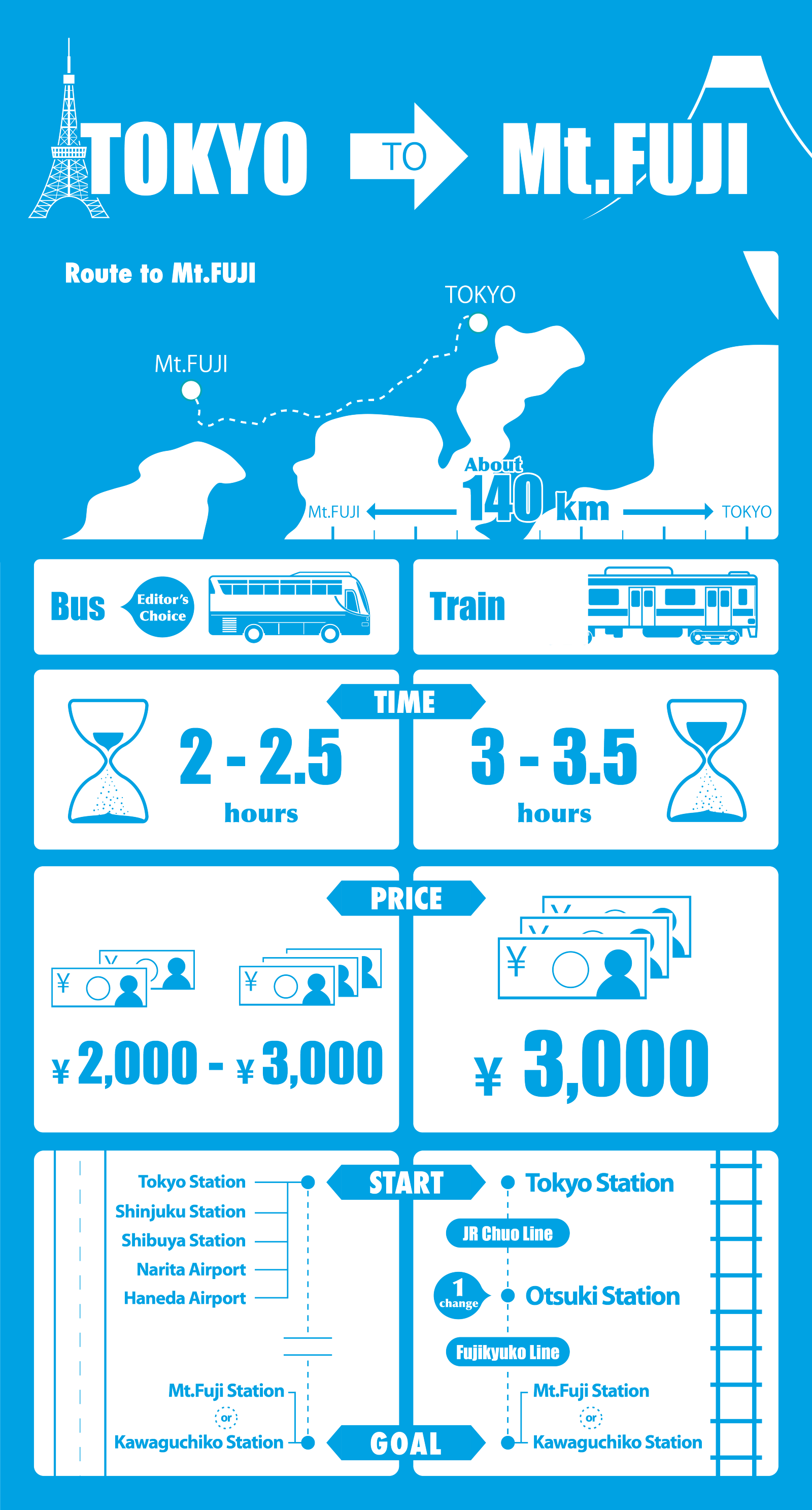 Bus: Best Value for Money
Although Japan is the country of high-speed trains, and this is usually the best method of transport especially in big cities like Tokyo and Osaka, when it comes to going to Kawaguchiko or near Mt. Fuji, the bus becomes the best option (to the surprise of many).
The fare is usually around 2,000 yen and it takes about 2 hours or 2 hours and half. The seats are relatively large and comfortable, and the bus makes several stops, making for a pleasant journey. The downside is that it's possible, as it happened to me, that you will run into a traffic jam and the journey will take longer (in my case, almost an hour and a half longer). So my recommendation is take the very first bus in the morning.
▶︎Get shuttle bus tickets from Tokyo to Lake Kawaguchi
If you decide to go by bus, generally buses depart from Tokyo Station or Shinjuku Station. There are different bus companies offering this service, so it will depend on each company, but my favorite is Willerexpress. They have different types of buses available but even the most economical ones have large and comfortable seats.
Tickets can be purchased in person at the office of each bus terminal, but we recommend buying them in advance because depending on which dates they may sell out.

Train: Avoid Problems
We highly recommend to get to Mt.Fuji by bus, but there are a few reasons why the train might be a better option. As mentioned before, the bus may run into a traffic jam. Although there are sometimes delays on train lines, this is less frequent so trains usually arrive at the scheduled time. Also, if you have bought the JRPass and want to save some money, the train is the best option for you.
In that case, take the Chuo Line (中央線) at Shinjuku or Tokyo Station and change trains to Fujikyuko Line (富士急行線) at Otsuki Station. And then get off at Mt. Fuji Station, Fuji-Q Highland or Kawaguchiko Station. In doing so, the journey takes about 3–3.5 hours and costs around 2,700 yen. Please note that the JR Pass only covers the JR lines, but not the part from Otsuki to Mt. Fuji Station since is operate for a different company.
The above is the most commonly used option when travelling by train. But there is a faster way, which is to take the Express Fuji Excursion from Shinjuku Station. This train takes an hour and a half and costs 4,130 yen, but is covered by the JR Pass. The downside is that there are only a few trains a day, so if you miss the train you have to wait a long time for the next one.
Don't know what the Japan Rail Pass is?
If you are a tourist in Japan there is a way to save a lot of money and travel comfortably by bullet trains. I'm talking about the top selling Japan Rail Pass (JR Pass), a must-pass for all travelers in Japan that want to visit more than only one city, that allows unlimited travel for 7,14 or 21 days on any JR transport, including bullet trains.
For those with the JR Pass, you can just go to the platform and get on any of the JR trains. However, for the Express Fuji Excursion I recommend reserve a seat if you have the time. You can do it at the JR ticket office (called "Midori-no-madoguchi").
▶︎Get Japan Rail Pass online here!!
Private Transfer: Luxury and Comfort
If budget is not an issue for you and you prefer something private and comfortable, there is the option of booking a private transfer. You can simply book a transfer from your hotel to Kawaguchiko Station if you are staying overnight, but if you are taking a private transfer it's best to book the car for the whole day. This way you can move from one place to another without any problem. The driver will drop you off at your chosen location, and wait for you to return. This way you can also go for example to the biggest and most famous outlet in Japan, the Gotemba Outlet, overlooking Mt.Fuji.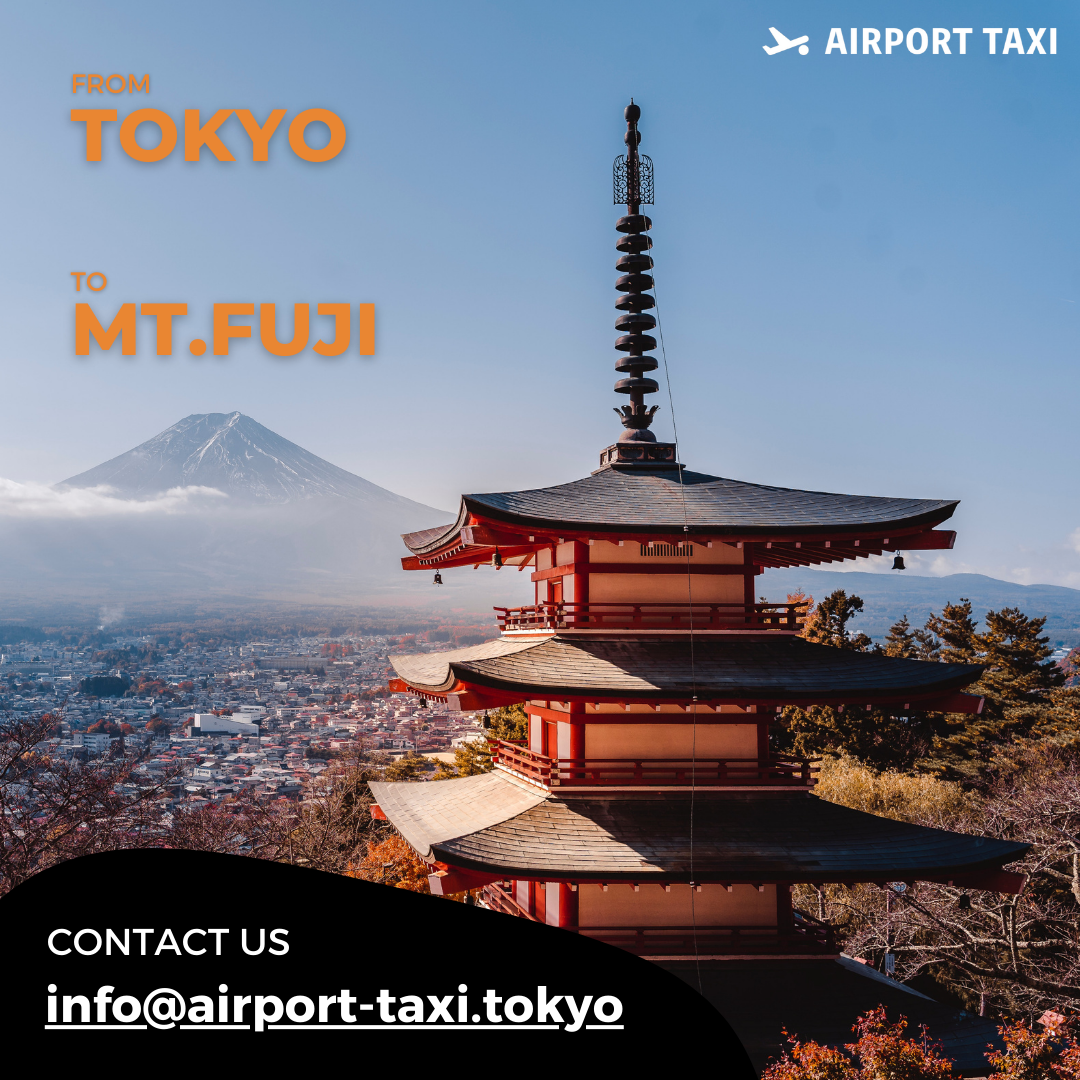 Our affiliate provider Airport Taxi is one of the best services for private transfer in Japan. The customer service center is open every day from 8:00 to 23:00 and they can speak English, so feel free to contact them for availability and rates. A unique transfer from Tokyo Kawaguchiko Station costs around 45,500 yen, but the option of booking the car for the day is also available just for a bit extra money, so it pays off more.
Book your private transfer here!
▶Check the official website: https://www.airport-taxi.tokyo/en
Don't want to go alone? Join a
day-trip bus tour!
If you are worried about going alone, or want an option where you are taken to all the famous sightseeing but don't have to pay for a private transfer, another option is to join a one day bus tour.
On this Japan Wonder Travel tour you will see all the interesting sites of Mt. Fuji in only one day, accompanied by a guide who will explain everything to you, and you will also get to taste the local speciality of the area!
Overall
As said the bus is the most used and generally speaking the best option. In addition, if your goal is visit Fuji-Q Highland some bus companies sell a pack including bus going and back and park tickets! However, for JR Pass holders that want to save money, the train is more convenient. If you prefer to travel comfortable and carefree, then the private charter.
▽Transportation Guide for Other Popular Destinations▽
▶︎How to Get to Osaka from Tokyo
▶︎How to Get to Kyoto from Tokyo
▶︎How to Get to Hiroshima from Tokyo
▶︎The Ultimate Guide for Transportation in Tokyo
▶︎How to Travel Between Narita Airport and Tokyo
▶︎How to Travel Between Haneda Airport and Tokyo
What Should You Do around Mt.Fuji??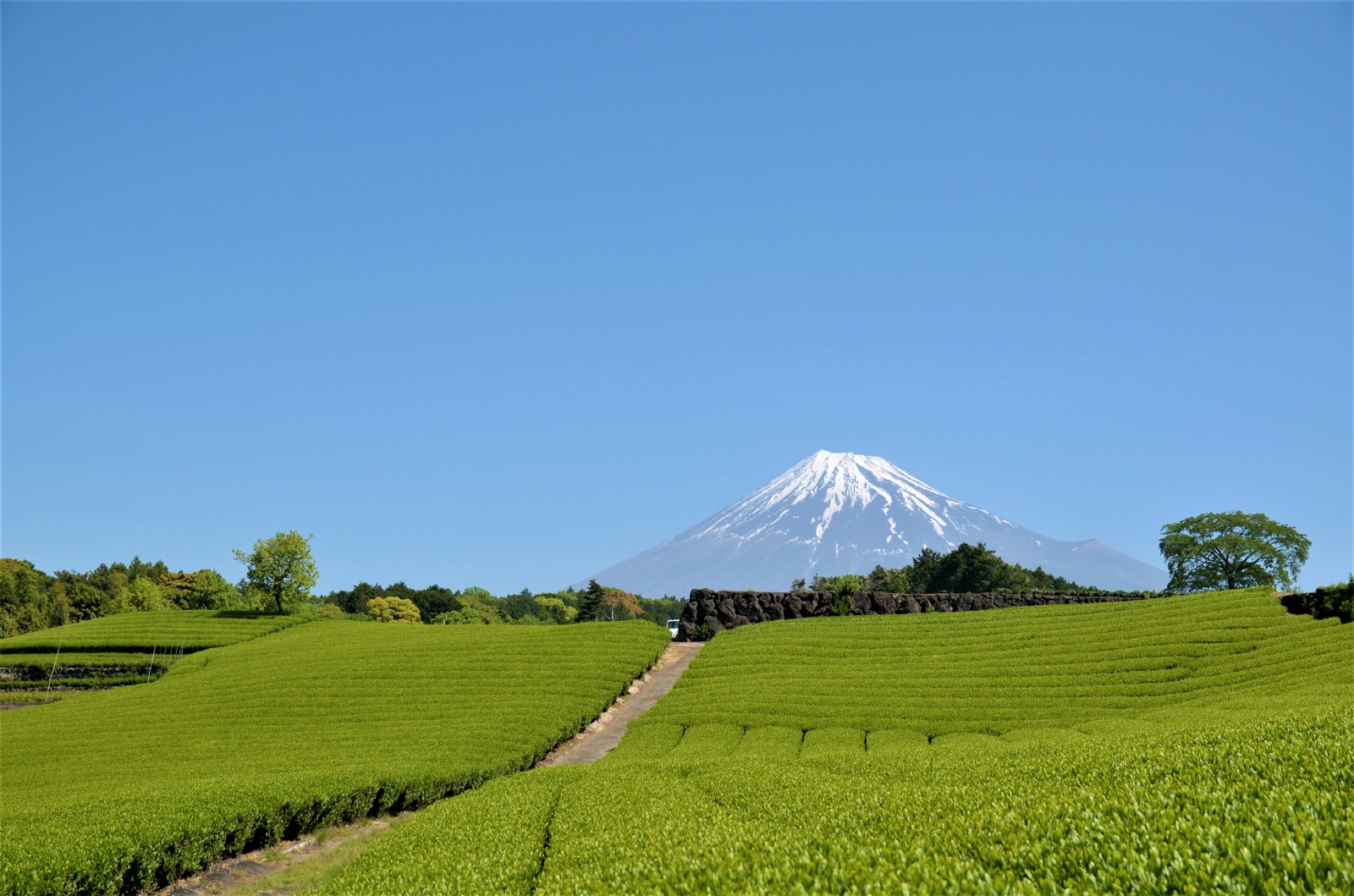 Walking around Fuji Five Lakes and taking pictures at the foot of the mountain and relaxing at the hot springs should be top priority! During the summer season you can enjoy climbing from 1st July to 31st August. The view of sunrise there will be much more radiant. Out of season, it's allowed to get halfway up Mt.Fuji to 5th Station. Green tea fields are also a good option.
Another top and most popular recent activities to do near Mt. Fuji is glamping! A different and fun experience for nature lovers.
Book Online: Glamping Eco Tour with Mount Fuji Views
▼There are many things at Mt.Fuji, so check this article before going!!▼
▽Hot springs are one of the most popular activities!▽
These articles below might also help you!
▽ Related Articles▽
▼ Editor's Picks▼
---