How to Get to Osaka from Tokyo
Find the cheaper and faster transportation to Osaka from Tokyo!!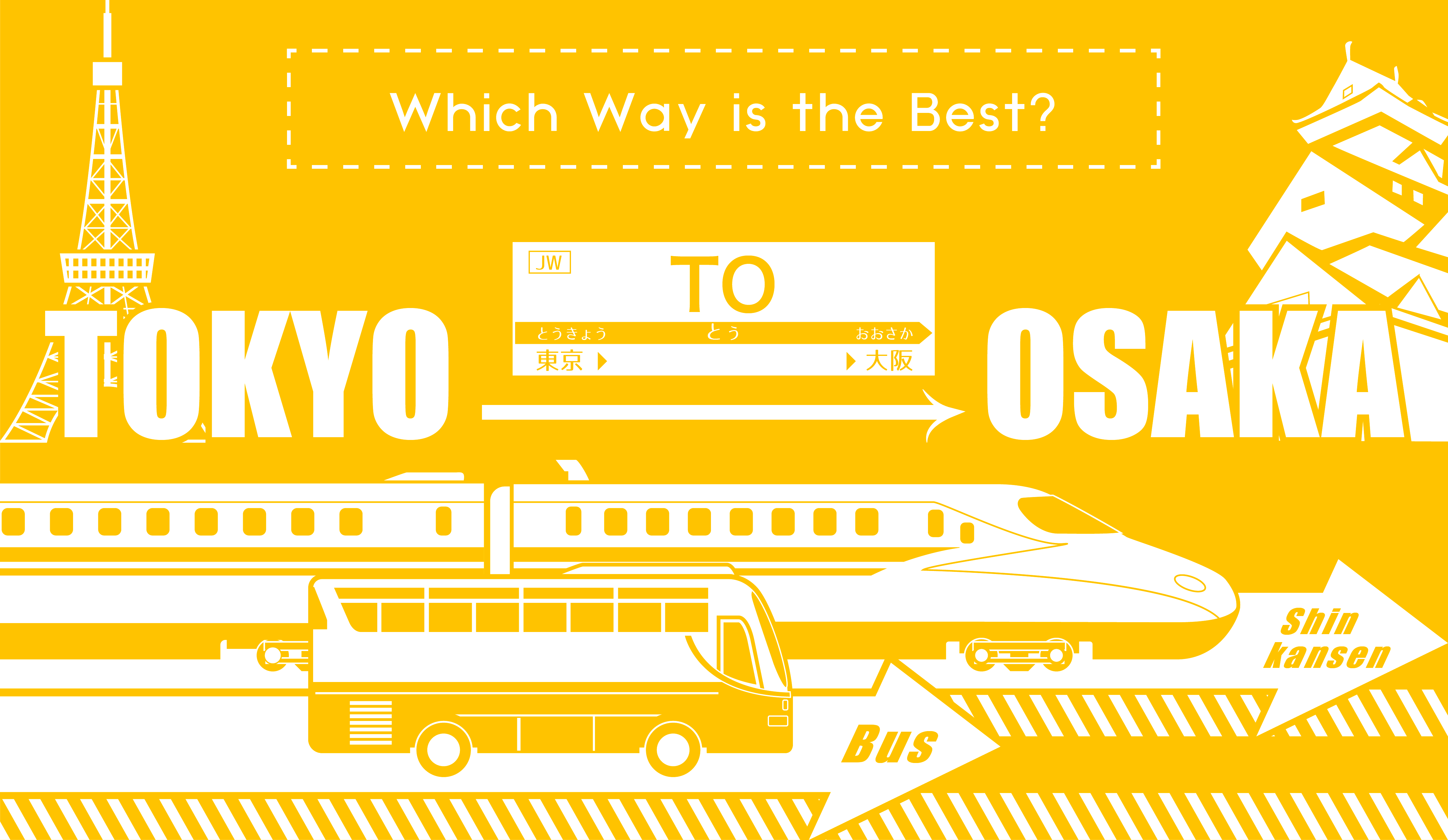 Osaka, the kitchen of Japan, is one of the three most touristic cities in the country along with Tokyo and Kyoto. Tokyo to Osaka is the most popular route for travelers and is known as Japan's Golden Route (Tokyo-Osaka-Kyoto).
From bullet train to bus or even airplane, they are several ways to get to Osaka from Tokyo and it's difficult to choose the best way for foreign travelers especially first time visitors. Which transportation option is the best? Which is cheaper or faster? These are some of the most frequently asked questions.
Let me jump to the conclusion. Shinkansen or bus is the best way for you to get from Tokyo to Osaka. Which of these two is better will depend on your priorities. Shinkansen is the fastest way and bus is the cheapest one, and both are easier for first time visitors to Japan to move.
Both Tokyo and Osaka have two airports each. Tokyo has Narita Airport and Haneda Airport while Osaka has Kansai Airport (KIX) and Itami Airport, but take a flight usually is not the best option, since airports are far from the center of the city and it takes extra money and time to reach there.
So let's compare Shinkansen and bus and how to get from Tokyo to Osaka!!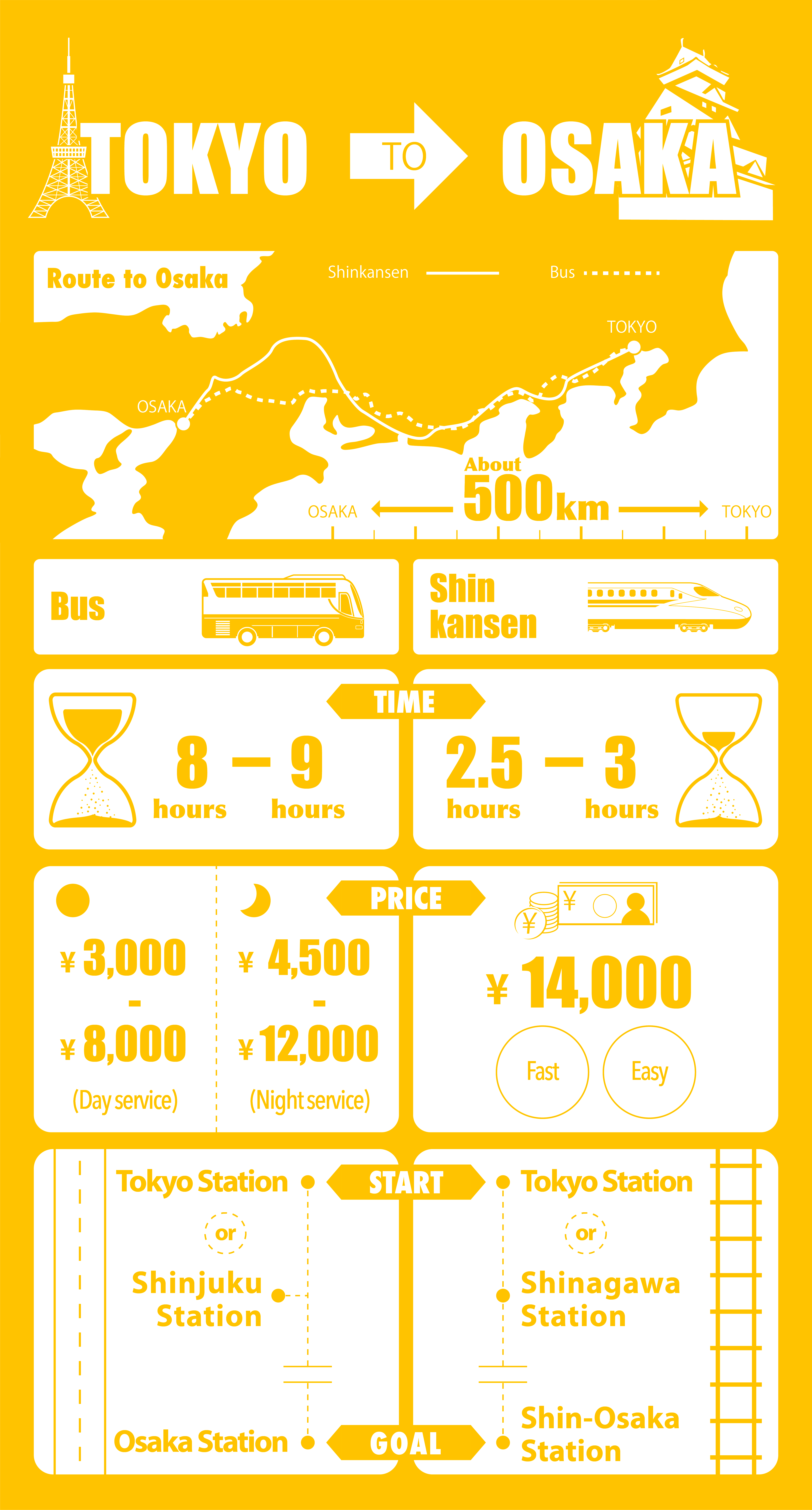 Shinkansen: The Fastest Option
The fastest and most comfortable way to travel from Tokyo to Osaka is the bullet train. It takes 2 hours and half with the Nozomi, the fastest bullet train, and about 3 hours with other models. The seats are spacious, comfortable and have plugs to charge your electronic products, as well as toilets in different cars. Food and drinks are also available during the trip.
The plane option may seem faster, as it only takes a little over an hour, but you have to go from the center of the city to the airport, be there beforehand to check in, go through security check, etc. With the shinkasen you just have to get to the tracks 5 minutes before the train arrives and jump on the car! And you will get straight to the city center Shin-Osaka Station.
So Shinkansen is the best way to travel between Tokyo and Osaka, except for the price: 14,720 JPY each way with a reserved seat in the Nozomi or around 13,500 JPY with the other trains. So is not the most budget friendly option.
▶︎You can book your Shinkansen ticket from Tokyo to Osaka online!!
You should choose Shinkansen with Japan Rail Pass
If you are a tourist in Japan you can save a lot of money and travel comfortably by shinkansen purchasing the top selling Japan Rail Pass (JR Pass), a must-pass for all travelers in Japan that want to visit more than only one city. The JR Pass allows unlimited travel for 7,14 or 21 days on any JR transport, including bullet trains!
If you decide to go by shinkansen, you can take the train from Tokyo Station or Shinagawa Station. There are 3 major shinkansens whose names are Nozomi, Hikari and Kodama to Kyoto Station. The fare of Nozomi with a reserved seat is 13,910 JPY and a non-reserved seat is 13,080 JPY.
For the tickets, a vending machine and a ticket office (called "Midori-no-madoguchi") are available. Some vending machines have English menu. They are located next to ticket gates. For those with the JR Pass, you can just go to the platform and get on any of the trains in the non-reserved cars (usually 1-4). If you prefer to reserve a seat to be sure, you can do it in the same places where they are sold (vending machine or ticket office).
▶︎Get Japan Rail Pass online here!!
From Tokyo Station
First train: 6:00
Last train: 22:47
Location of ticket gates: blue areas on this map
Platform: platform No.14–19
From Shinagawa Station
First train: 6:00
Last train: 22:54
Location of ticket gates: blue areas at the bottom of this map
Platform: platform No.23&24

Bus: The Cheapest Option
On the other hand we have the bus, which is the cheaper option. Tickets start at around 4,400 JPY and can go up to 10,000 JPY depending on the type of seat, departure time, conditions, etc. The counterpart is time, since it will take 8-10 hours at the best.
Usually if you choose the bus, the most frequent options is the night bus. It allows you to sleep on the bus and be able to spend more time in Osaka instead of wasting a day on the trip. In addition, at night there is less risk of traffic jams, etc. Many buses also stop directly at the famous Universal Studios Japan theme park, so you can go directly to the park first thing in the morning and be among the first to get in!
▶︎Get discounted night bus tickets from Tokyo to Osaka here!!
If you decide to go by bus, generally buses depart from Tokyo Station or Shinjuku Station. There are different bus companies offering this service, so it will depend on each company. One of the most recommended is Willerexpress. They have different types of buses available but even the most economical ones have large and comfortable seats.
Tickets can be purchased in person at the office of each bus terminal, but we recommend buying them in advance because depending on which dates they may sell out.
From Tokyo Station
Tokyo station bus terminal is located in Yaesu Exit (八重洲口.) Long distance bus tickets can be purchased at JR Expressway Bus at the bus terminal in Tokyo Station Yaesu Exit or online via bus company.
*Please get off at Osaka Station JR Expressway Bus Terminal.
Day service: 6:40–14:10
Night service: 21:00–23:50
Location of bus terminal: Yaesu South Exit (upper right on this map)
From Shinjuku Station
JR Shinjuku Station is connected to BUSTA, the biggest bus terminal in Tokyo. Ticket counters and ticket vending machines are located on the 4th floor, which is the departure floor. The fare from Shinjuku BUSTA is the same that from Tokyo Station.
*Please get off at Osaka Station JR Expressway Bus Terminal.
Day service: 7:20–13:50
Night service: 21:40–23:50
Location of bus terminal: buses to Osaka generally depart from the D Area on the 4th floor
Overall
As you can see, Shinkansen is much faster but buses are the better option for budget. The price may vary depending on the class of seats. An overnight bus may be the better choice for those who wish to save accommodation expenses. To sleep comfortably, a superior seat is recommended. Another advantage of buses is the time of the last bus: about 1 hour later than the train's one.
So, it depends on which you value, time or money during the trip.
▽Transportation Guide for Other Popular Destinations▽
▶︎How to Get to Kyoto from Tokyo
▶︎How to Get to Mt.Fuji from Tokyo
▶︎How to Get to Hiroshima from Tokyo
▶︎The Ultimate Guide for Transportation in Tokyo
▶︎How to Travel Between Narita Airport and Tokyo
▶︎How to Travel Between Haneda Airport and Tokyo
What Should You Do in Osaka??
Osaka is the most popular gourmet city. Enjoy dining in Dotonbori is the top priority!! In Shinsaibashi, you may be a shopaholic with countless stores and you can discover about the legendary Japanese samurais at Osaka Castle. But if there's one place you can't miss in Osaka, it's Universal Studio Japan!
<< Book your Universal Studios Japan Osaka e-tickets here! >>
▼Make your perfect itinerary in Osaka with this article▼
▽First time in Japan??? Check out this 1 week itinerary for first timers!▽
▼Cheapest Way to Travel in Japan!▼
▽Related Articles▽
▼Editor's Picks▼
---