Kyoto is one of the best tourist destinations in Japan, and from Tokyo to Kyoto is a part of Japan's Golden Route.
However, there are too many transportation options to get to Kyoto from Tokyo, and it's difficult to choose the best way for foreign travelers especially first time visitors.
So, which way is the best: airplane, bullet train, normal train and bus.
Let me get straight to the point, Shinkansen or bus is the best way for you to get from Tokyo to Kyoto. Shinkansen is the fastest and bus is the cheapest way, and both are much easier.
Tokyo has two airport Narita Airport and Haneda Airport, but they may not be the best way for you since it costs a little money and time only to reach the airports from the center of Tokyo like Tokyo Station. Not a simple option.
Let's compare Shinkansen with bus and check out how to get from Tokyo to Kyoto!!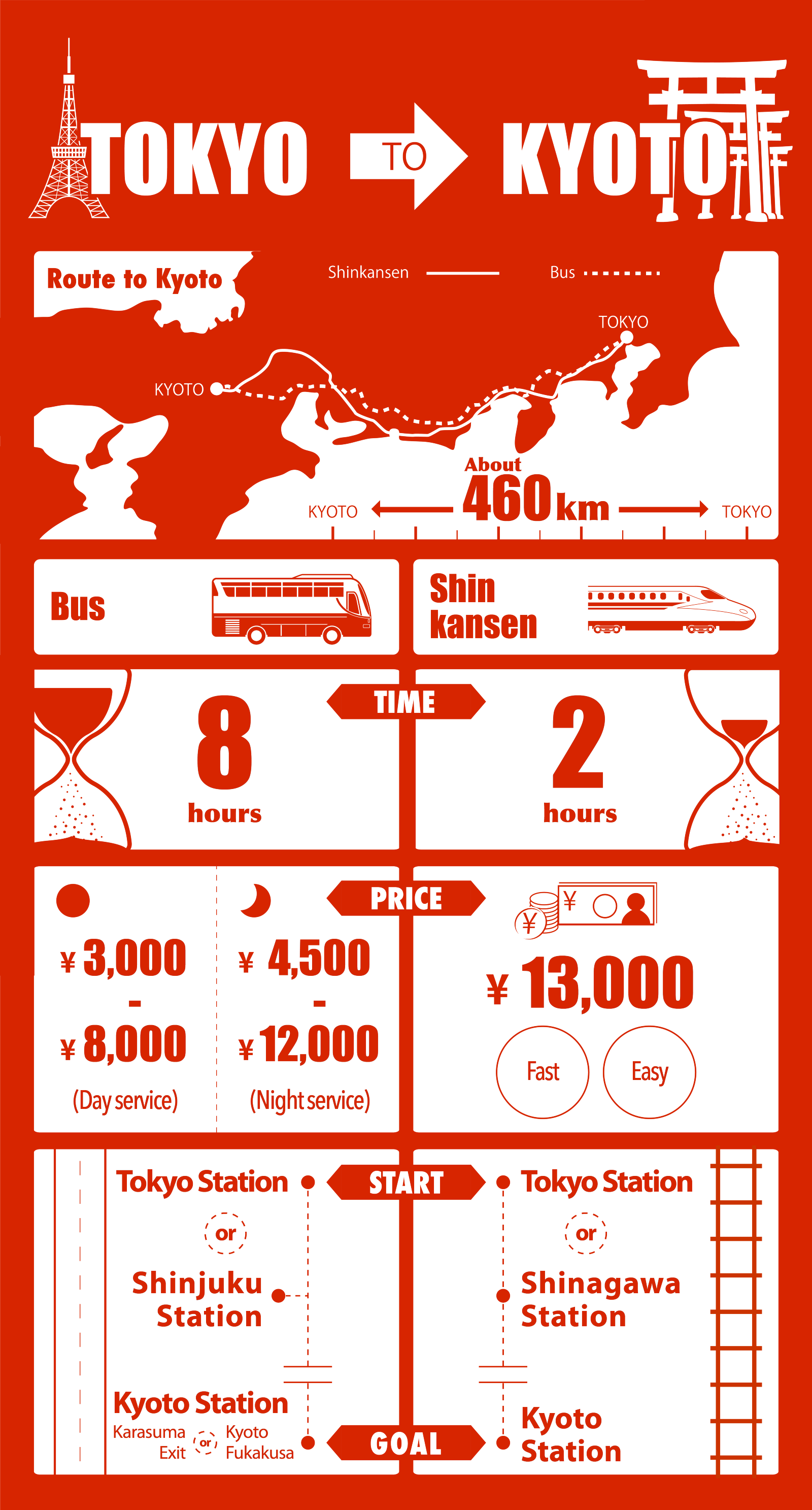 Shinkansen or Bus?
Shinkansen (bullet train)
Time: 2 hours
Fare: about 13,000JPY
<<You can book your Shinkansen ticket from Tokyo to Kyoto online!!>>
Bus
Time: 8 hours
Fare: 3,000–8,000JPY (Day service)/4,500–12,000JPY (Night service)
As you can see, Shinkansen is much faster but buses are the better option for budget. The price may vary depending on the class of seats. An overnight bus may be the better choice for those who wish to save accommodation expenses. To sleep comfortably, a superior seat is recommended. Another advantage of buses is the time of the last bus: about 1 hour later than the train's one.
So, it depends on which you value, time or money during the trip.
You should choose Shinkansen with Japan Rail Pass
If you have Japan Rail Pass (JR Pass), Shinkansen must be the first choice. In the case you take a shinkansen to Kyoto with Japan Rail Pass, HIKARI and KODAMA are available without any extra fee, but NOZOMI requires an extra fee.
<<Check out how to get and use Japan Rail Pass!!>>
***
From Tokyo Station to Kyoto Station
Shinkansen
There are 3 major shinkansens whose names are Nozomi, Hikari and Kodama to Kyoto Station. The fare of Nozomi with a reserved seat is JPY13,910 and a non-reserved seat is JPY13,080. It will take about 2 hours to get to Kyoto.
For the tickets, a vending machine and a ticket office (called "Midori-no-madoguchi") are available. Some vending machines have English menu. They are located next to ticket gates.
▽You can book and pick up Shinkansen tickets at your hotel!!▽
First train: 6:00
Last train: 22:47
Location of ticket gates: blue areas on this map
Platform: platform №14–19
***
Bus
It will take much longer (8 hours) but cheaper (JPY3,900–12,000.) But please note that the day service (cheaper than the night service) ends at 14:10 and they restart at 21:50 as the night service.
Tokyo station bus terminal is located in Yaesu Exit (八重洲口.) Long distance bus tickets can be purchased at JR Expressway Bus at the bus terminal in Tokyo Station Yaesu Exit or online via bus company.
*Please note that the buses stop at either Kyoto Station Karasumaguchi Exit or Kyoto Fukakusa. To get to central Kyoto, get off at either bus stop. I recommend to choose the buses which get to Kyoto Station Karasumaguchi Exit.
Day service: 6:40–14:10
Night service: 21:50–23:50
Location of bus terminal: Yaesu South Exit (upper right on this map)
***
From Shinagawa Station to Kyoto Station
Shinkansen
Shinagawa Station is the other Shinkansen station in Tokyo and is the next stop to Tokyo Station of Nozomi, Hikari and Kodama shinkansens. The fare of Nozomi from Shinagawa Station to Kyoto station is the same as that from Tokyo Station.
First train: 6:00
Last train: 22:54
Location of ticket gates: blue areas at the bottom of this map
Platform: platform №23&24