How to Ride a Night Bus in Japan
Learn how to travel around Japan by night bus: where to buy the tickets and where to ride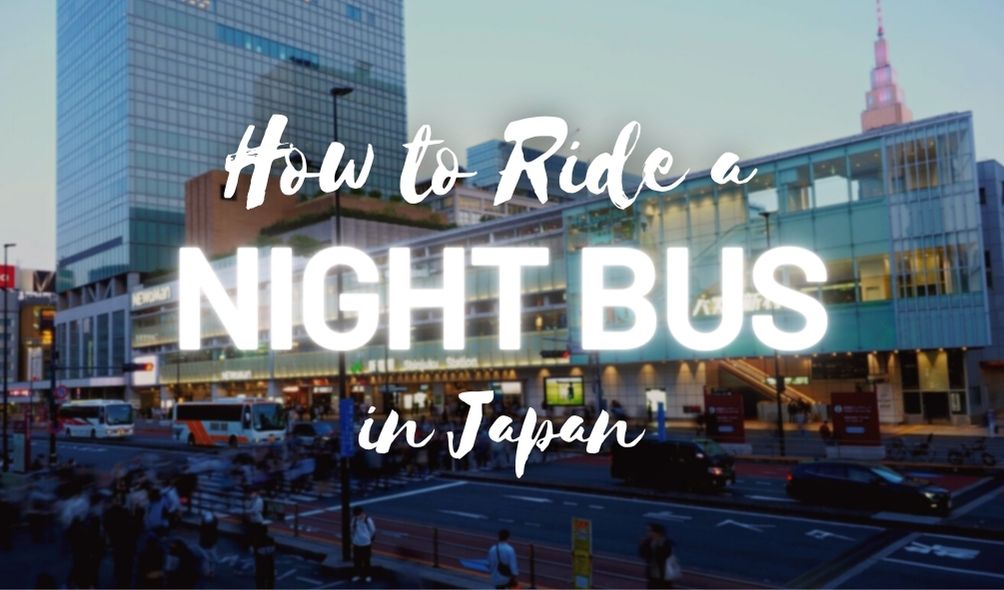 Most tourist travel around Japan using the famous Shinkansen bullet train, with the popular Japan Rail Pass, a train pass that allow visitors to save a lot of money. However from October Japan Railways has announced a significant increase in the price (almost doubling) of both the Japan Rail Pass and single tickets, so those who want to save some money and travel on a budget may be considering using the bus.
One of the best options for travel long distance in Japan are night buses. Specially if you are traveling Japan only for a few days, you don't want to lose almos one day or half day moving from one city to another. For example from Tokyo to Osaka, one of the most popular trips, takes around 8-9 hours. If you use a night bus, you are traveling during the night hours, and arrive at your destination first thing in the morning, giving you the whole day to explore the city. Overnight buses in Japan are usually large, comfortable and safe, so it's easy to sleep on them – and you save a night in a hotel! It's all advantages 😉
If you are planning a trip to Japan and would like to use long-distance night buses, in this article I'm going to explain how to ride a night bus in Japan.
To know more about highway buses companies in Japan: Best Highway Buses in Japan
*Please note that this article contains affiliate links.
Where to Buy Nigh Bus Tickets in Japan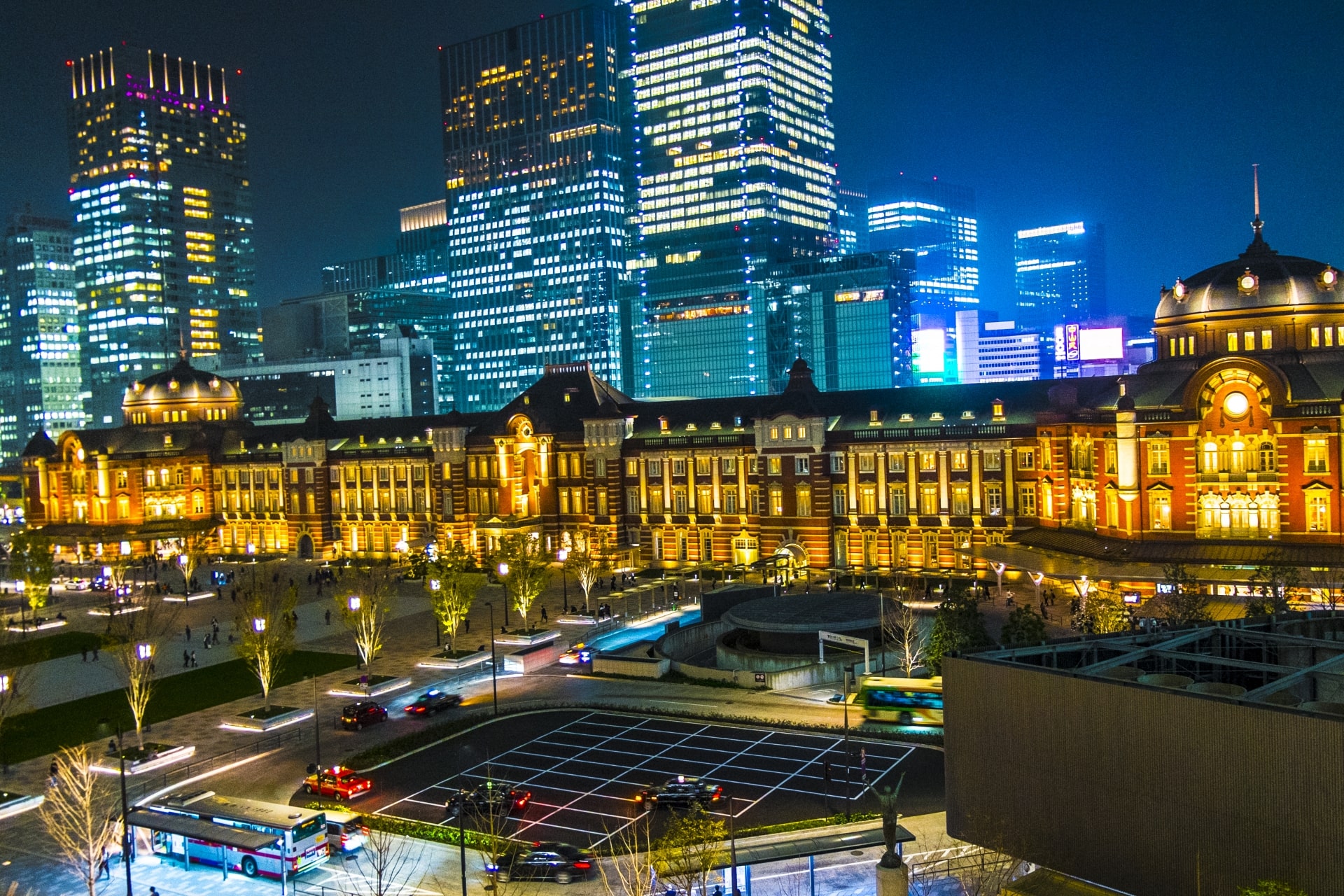 Basically, there are 2 ways to buy night bus tickets for Japan. The first would be to go directly to the ticket counter at the major stations where there is a ticket booth. However, if they are popular routes or on special dates such as Golden Week or Obon, it is quite likely that tickets are sold out months in advance.
The fastest and easiest way to buy night bus tickets in Japan today is through the internet. For different destinations, Willer Express and JR have their own English website where you can buy tickets in advance. On the Willer Express website it's even possible to buy bus tickets from other bus companies.
Willer Express: https://willerexpress.com/en/
JR: https://www.kousokubus.net/JpnBus/en/
Buying tickets online is very convenient not only because you can do it from the comfort of your own home, but also because the tickets are delivered to your email, so they are available to you at any time. There is no risk of forgetting them somewhere. Just make sure you have an internet connection at all times.
More information: How to Book Bus Tickets in Japan
Where to Get into the Night Bus in Japan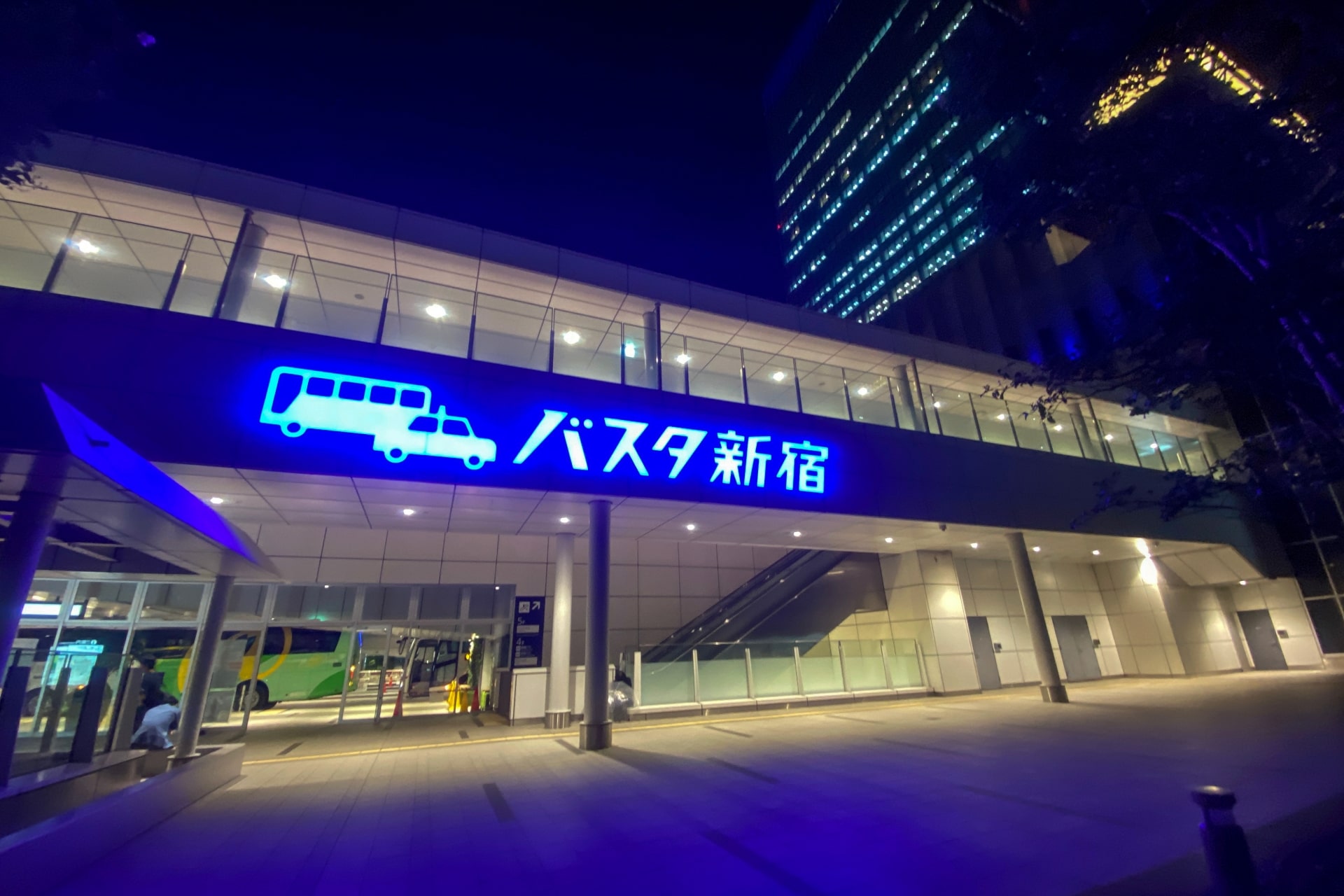 Depending on the route and company you choose, there are different stops. You can check the stops on the website when purchasing tickets. For buses departing from Tokyo, most depart from either the BUSTA Shinjuku bus terminal or the Tokyo Station bus terminal, but some of them also depart from Ikebukuro or even Tokyo Disneyland.
-Busta Shinjuku (バスタ新宿)

Access: JR Shinjuku Station South Exit
Official Website: http://shinjuku-busterminal.co.jp/en/
What is a Night Bus in Japan like
As I said at the beginning, night buses in Japan are generally of good quality and service. The seats are slightly wide (at least for someone like me who is 1.60 meters tall) and comfortable. They are equipped with toilets, which are usually quite clean, but they also make several stops at different service areas along the way, so you can also go to the bathroom there. In addition in most of them are equipped with USB ports/outlets so you can also charge your mobile phone while traveling with.
I myself have traveled by night bus some years ago, in my student days I used Willer Express on several occasions. I chose because of the price but also because in the models they call Relax or Prime, the seats are equipped with a hood/canopy that allows you to keep your privacy (and dim the light) while sleeping so thanks to that I could sleep better. They are also equipped with height-adjustable partition, blanket, cushion, a smartphone holder inside the canopy and leg rest and foot rest.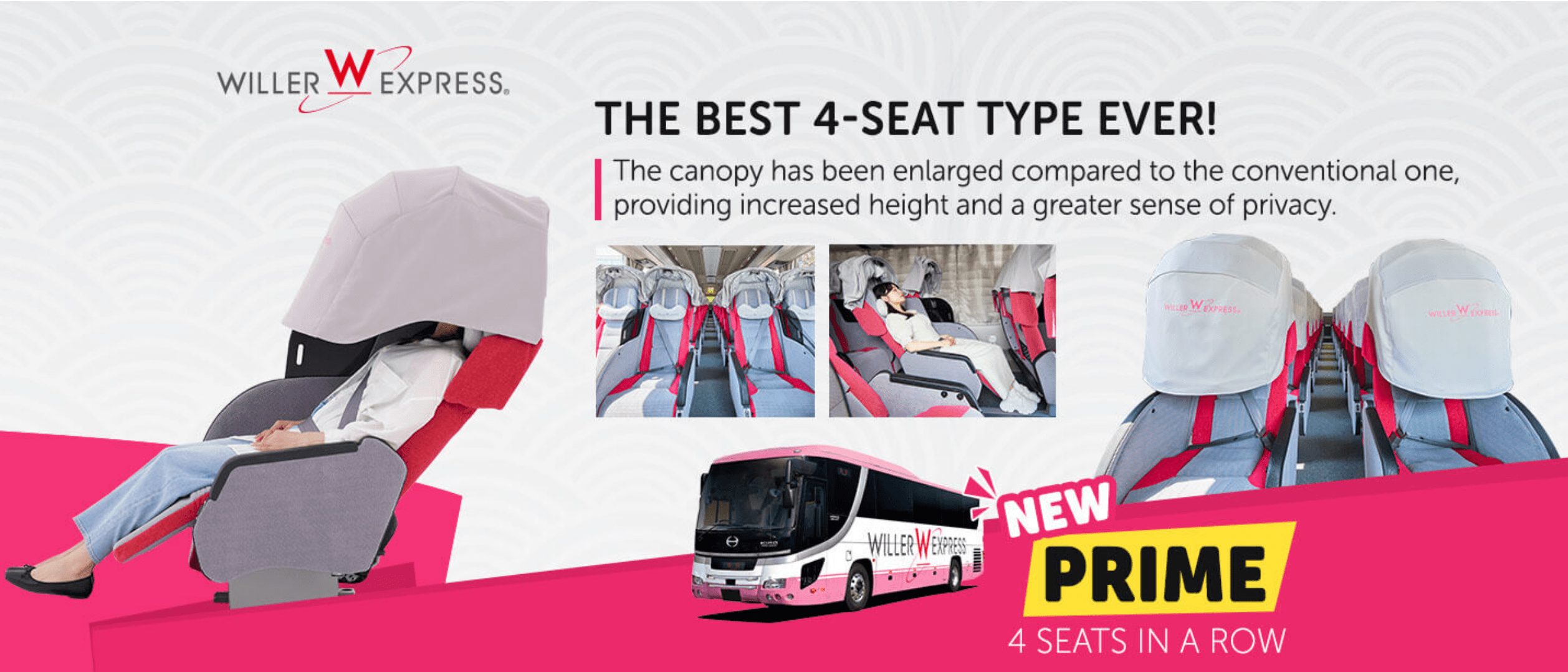 The first time I took a night bus that left Shinjuku at night (around 11-12pm) and had a stop at Universal Japan around 8-8.30 in the morning. It was great because the seats were very roomy and comfortable. I slept pretty much from our departure until our arrival. By arriving early I was able to be among the first in line to buy tickets for that day and enjoy a full day at Universal Japan! Since I slept I was rested and with energy.
Another time I did it in the opposite direction. I went from Hiroshima to Tokyo by night bus. I must admit that this time it was a bit harder. It was many more hours and I didn't get as good a sleep. But it was still much cheaper than the bullet train and it allowed me to make better use of the time.
More about Willer Express: Willerexpress: Traveling Cheap in Japan by Bus
Rates
Unlike bullet train tickets, which have a fixed price, bus tickets are like airline tickets: they vary depending on the day and the season (if it's high season, etc). It also depends on how far in advance you buy it (although sometimes there are last minute offers if there are seats available). Some companies also have different bus models according to comfort and luxury. The more high-end the bus is, the higher the price of the bus will be.
But to give you an idea, a night bus trip from Tokyo to Osaka or Kyoto, one of the most popular routes, can cost 3,000 yen if you find it on a sale day, but it's usually around 4,000 yen.
Bus Passes
Unlike with trains, which have a variety of different passes, there aren't many bus passes in Japan. Only the long-distance bus company Willer offers a Japan Bus Pass for 3, 5 or 7 days. The pass can be used on alternate days for two months, including night buses, and is quite cost effective if you are going to make several trips.
Popular Destination from Tokyo
Don't know where to go? We have you covered! Although Tokyo has a lot to offer and is a great city, there are many other destinations in Japan that are worth visiting. Here you have some of the most popular destinations from Tokyo by night bus.
Osaka – Universal Studios Japan
Known as "the kitchen of Japan, Osaka is one of the most popular trips from Tokyo. Many locals and residents take the night bus option, as it is a bit long for a day trip (about 8-9 hours, without traffic). If you are a foodie, and you like nightlife, Osaka is your city without a doubt. Near Osaka is Universal Studios Japan, one of the most popular spots in Japan right now. There are night buses that drop you off from Tokyo to the park gate.
▶︎Get discounted night bus tickets from Tokyo to Osaka here!!
Tokyo-Osaka
Night Bus: starting from 3,000 – 4,500 JPY
Bullet train: up to 12,000 JPY
Kyoto
The ancient capital of Japan, Kyoto is one of the top three most visited cities along with Tokyo and Osaka. As Osaka, from Tokyo to Kyoto takes around 7-8 hours by bus/car. Kyoto is known for its ancient buildings, such as beautiful temples and shrines, and even a castle. It's also known for its geishas and maikos.
▶︎Get discounted night bus tickets from Tokyo to Kyoto here!!
Tokyo-Kyoto
Night Bus: starting from 3,900 – 4,500 JPY
Bullet train: up to 12,000 JPY
Hiroshima
Although sadly known for the nuclear bomb attack, Hiroshima is a city full of life and interesting things to visit. As the Hiroshima Castle and Itsukushima Shrine, the shrine on the sea in Miyajima Island is the one and only view in Japan with its impressive red tori submerged in the sea. Although it may not be a happy activity, knowing the history is important, so we visit the Hiroshima Peace Memorial is also recommended. Hiroshima is also known for its delicious food: fresh oysters, okonomiyaki with noodles in a different style from Osaka and momiji manju (sweet cake filled out with red beans paste).
▶︎Get your night bus tickets from Tokyo to Hiroshima here
Tokyo-Hiroshima
Night Bus: starting from 9,000 – 13,000 JPY
Bullet train: up to 18,000 JPY
Nara
If you have already been to Kyoto and Osaka and are looking for a new place to visit, between Kyoto and Osaka is Nara, popular for the Nara Park and its lovely deer.
Night Bus: up to 6,600
Bullet train: Go to Osaka/Kyoto by bullet train, then change to a local train.
For more destinations to go from Tokyo: 10 Best Destinations to Go from Tokyo by Bus
From Tokyo to Popular Destinations
If you are wondering how to get from Tokyo to some of the most popular cities, and which option is best (train, bus, plane, private transport, etc), here is a complete guide to the most popular destinations.
▶︎From Tokyo to Kyoto
▶︎From Tokyo to Osaka
▶︎From Tokyo to Mt Fuji
▶︎From Tokyo to DisneyLand and Disney Sea
▶︎From Tokyo to Hiroshima
▶︎From Tokyo to Nikko
Also how to get to Tokyo from the two main airports, Narita Airport and Haneda Airport.
▶︎How to Get from Nartita Airport to Tokyo
▶︎How to Get from Haneda Airport to Tokyo
---
Hope this article have been helpful! For more information about transportation in Japan and best things to do, don't miss these articles either!
▽Related Articles▽
▼Editor's Picks▼
---