How to Get to Hiroshima from Tokyo
Find the cheaper and faster transportation to Hiroshima from Tokyo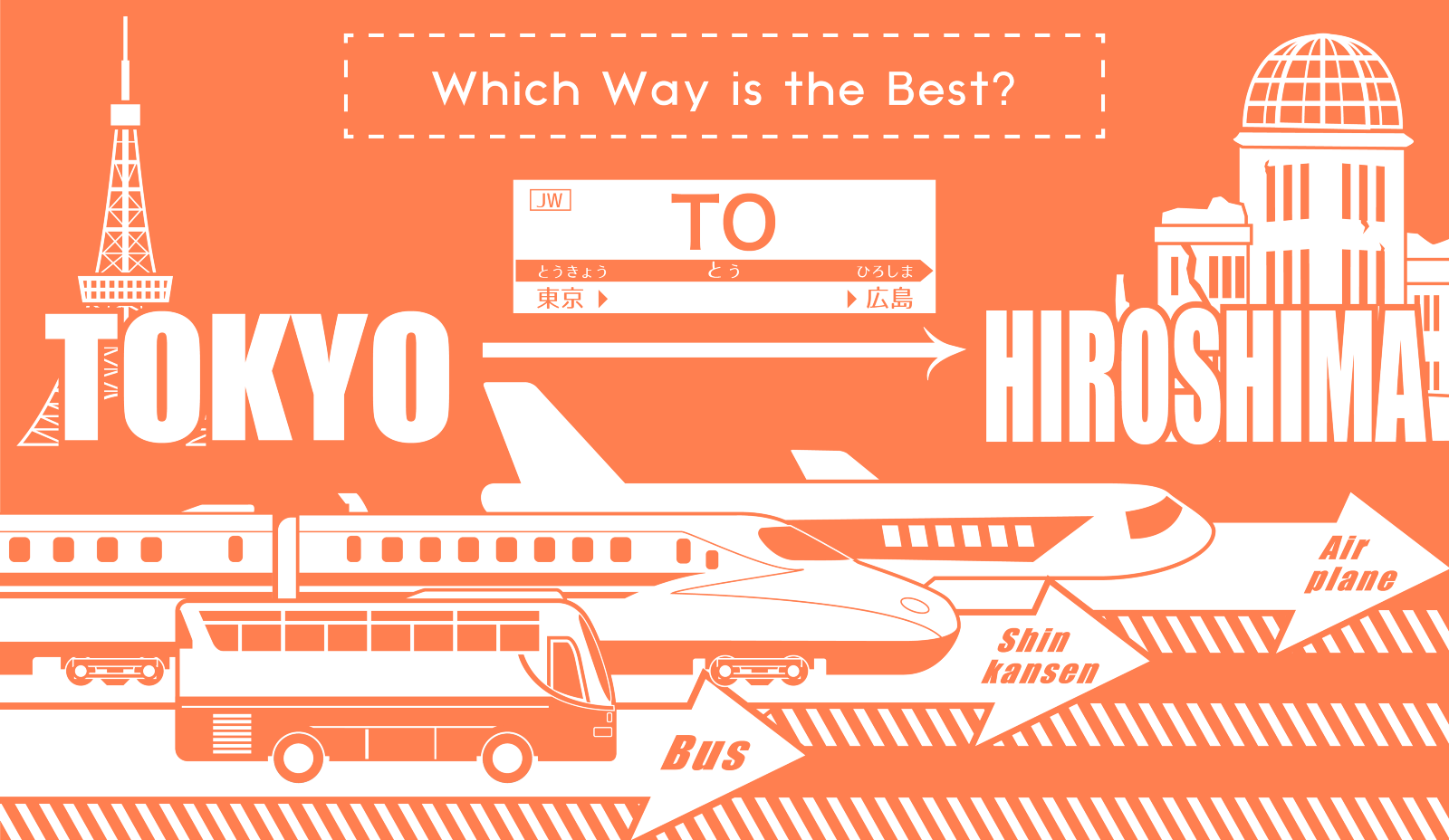 Although not as popular as Tokyo, Kyoto or Osaka, Hiroshima is one of top tourist destinations in Japan, attracting numbers of visitors with historical landmarks including Itsukushima Shrine in Miyajima Island and Hiroshima Peace Memorial. Tokyo-Osaka-Kyoto-Hiroshima is one of the most popular route, specially for first timers in Japan. Most people go to Hiroshima from Kyoto or Osaka, as it is halfway and closer than from Tokyo. However, if you cannot make this route but are planning to visit Hiroshima directly from Tokyo, it's also possible.
From bullet train to bus or airplane, they are several ways to get to Hiroshima from Tokyo and especially if it's your first time in Japan it may be difficult to you choose the best option. Some of the most frequently asked question include which is the best way to travel to Hiroshima from Tokyo? Which option is cheaper or faster?
For those who are looking for a quick and easy answer, Shinkansen (bullet train) or flight is the best way to get from Tokyo to Hiroshima. But it will depend on your priorities. Flight is the fastest way, and sometimes you can find a good deal. Shinkansen takes a bit longer than the plane and can be pricy, while bus is the cheapest option but takes a super long time.
So in this article I'm going to compare Shinkansen, bus and airplane and how to get from Tokyo to Hiroshima.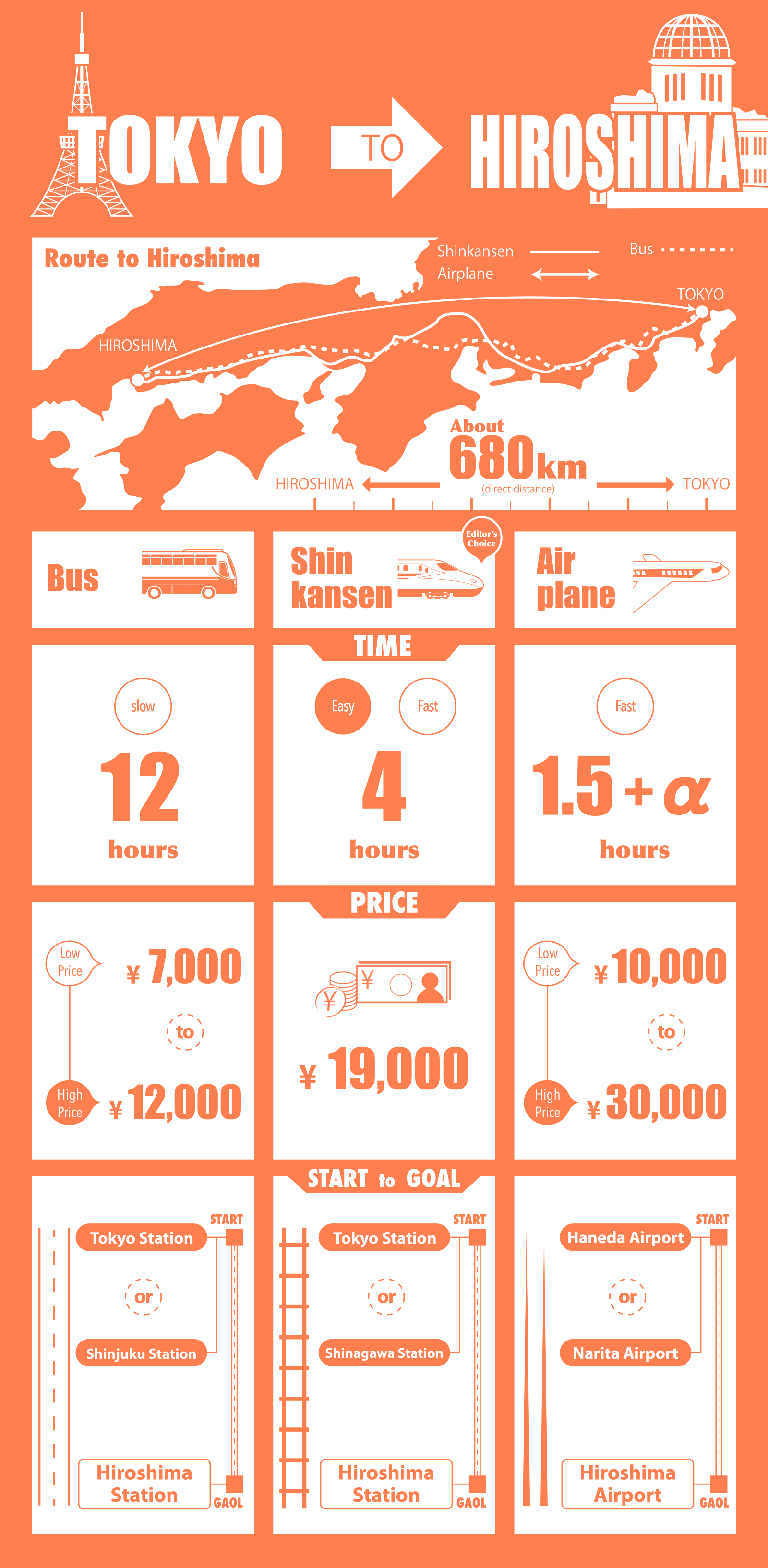 Flight: The Fastest Option
Technically, the plane is the fastest way to get from Tokyo to Hiroshima. Depending on the date and the airline, you can find flights for around 6,000-7,000 yen and it takes about an hour and a half to get there.
However, Tokyo has two airports, Narita and Haneda. If you fly out of Haneda airport it's relatively close to the centre of Tokyo, but Narita is at least an hour away from Tokyo, so you also have to count that time (and extra money, as getting to Narita is not cheap). Also, at airports you have to arrive in good time to check in, go through security, go to your boarding gate, etc.
With this in mind, perhaps the time difference between the flight and the bullet train isn't so great.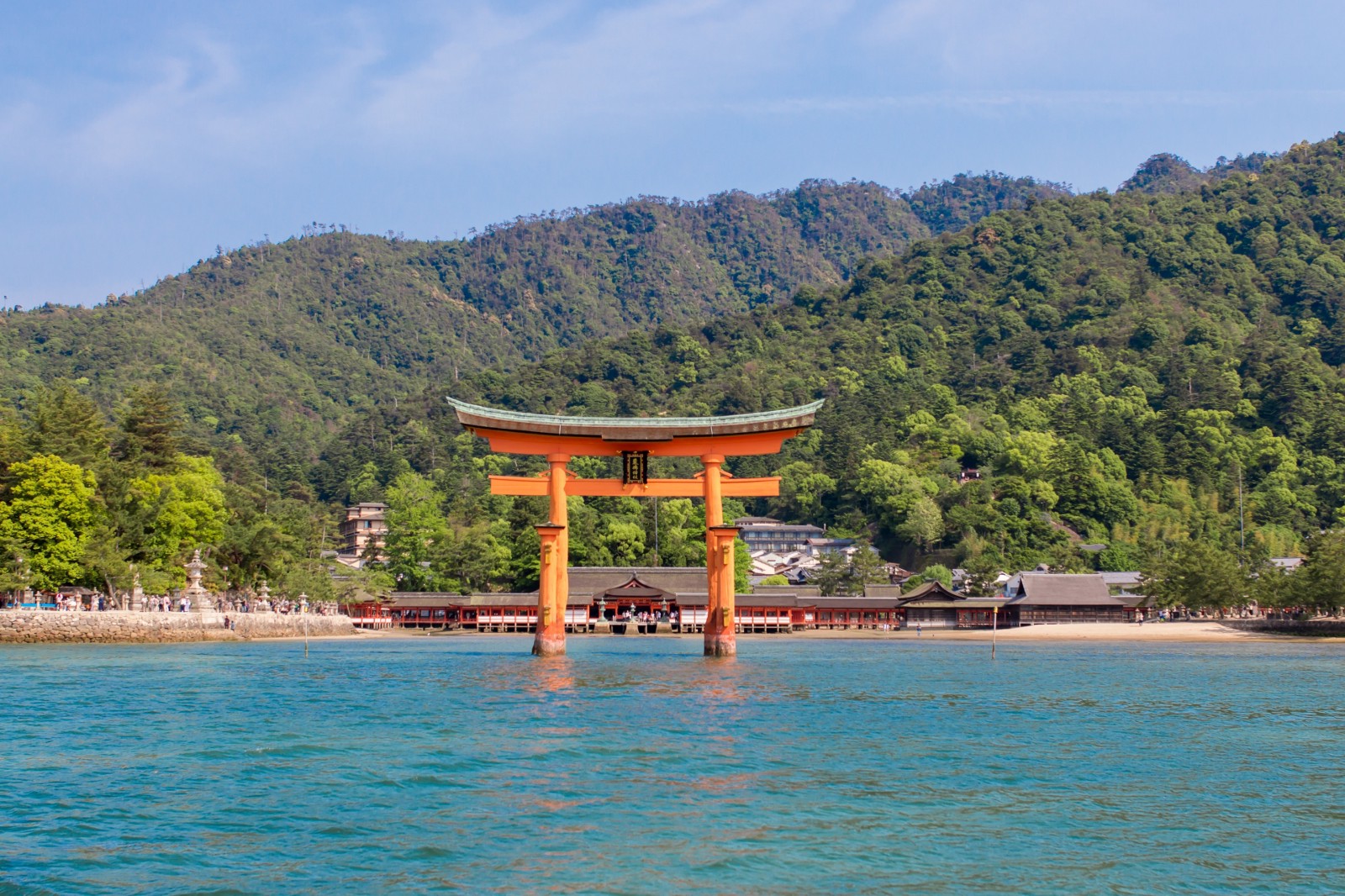 Shinkansen: Best Value for Money
Bullet train is the most comfortable way to travel from Tokyo to Hiroshima. It takes less than 4 hours with the Nozomi, the fastest bullet train, and a bit more with other models. The seats are spacious, comfortable and have plugs to charge your electronic products, as well as toilets in different cars. In addition, food and drinks are also available during the trip.
Compare with the plane, with the shinkasen you just have to get to the tracks 5 minutes before the train arrives and jump on the car. You can take it from Tokyo Station or Shinagawa Station, both of which are centrally located and easily accessible and drops you off in the centre of Hiroshima.
So you might consider Shinkansen as the best way to travel between Tokyo and Hiroshima, but there is one small drawback and it's the price. The shinkansen ticket from Tokyo to Hiroshima cost around 18,380 JPY each way with a reserved seat. So isn't the most budget friendly option.
▶︎You can book here the Shinkansen ticket from Tokyo to Hiroshima
However, there is one way in which you can save a lot of money and easily travel around Japan using its bullet train network.
Buy the Japan Rail Pass
The Japan Rail Pass (JR Pass) is a must-pass if you are going to visit Japan and are planning to visit more than only one city. The JR Pass allows unlimited travel for 7,14 or 21 days on any JR transport, including shinkansen bullet trains! Just by using it for one day from Tokyo to Kyoto, Osaka or Hiroshima and back, it's worth buying the 7-day pass as it's more cost-effective than buying the tickets separately.
For more detailed information about the Japan Rail Pass and how to works, you can check this article:
If you decide to go by shinkansen, you can take the train from Tokyo Station or Shinagawa Station.
For the tickets, a vending machine and a ticket office (called "Midori-no-madoguchi") are available. Some vending machines have English menu. They are located next to ticket gates. For those with the JR Pass, you can just go to the platform and get on any of the trains in the non-reserved cars (usually 1-4). If you prefer to reserve a seat to be sure, you can do it in the same places where they are sold (vending machine or ticket office).
▶︎Get Japan Rail Pass online here!!
From Tokyo Station
First train: 6:00
Last train: 19:50
Location of ticket gates: blue areas on this map
Platform: platform №14–19
From Shinagawa Station
First train: 6:00
Last train: 19:57
Location of ticket gates: blue areas at the bottom of this map
Platform: platform №23&24
Platform: platform No.23&24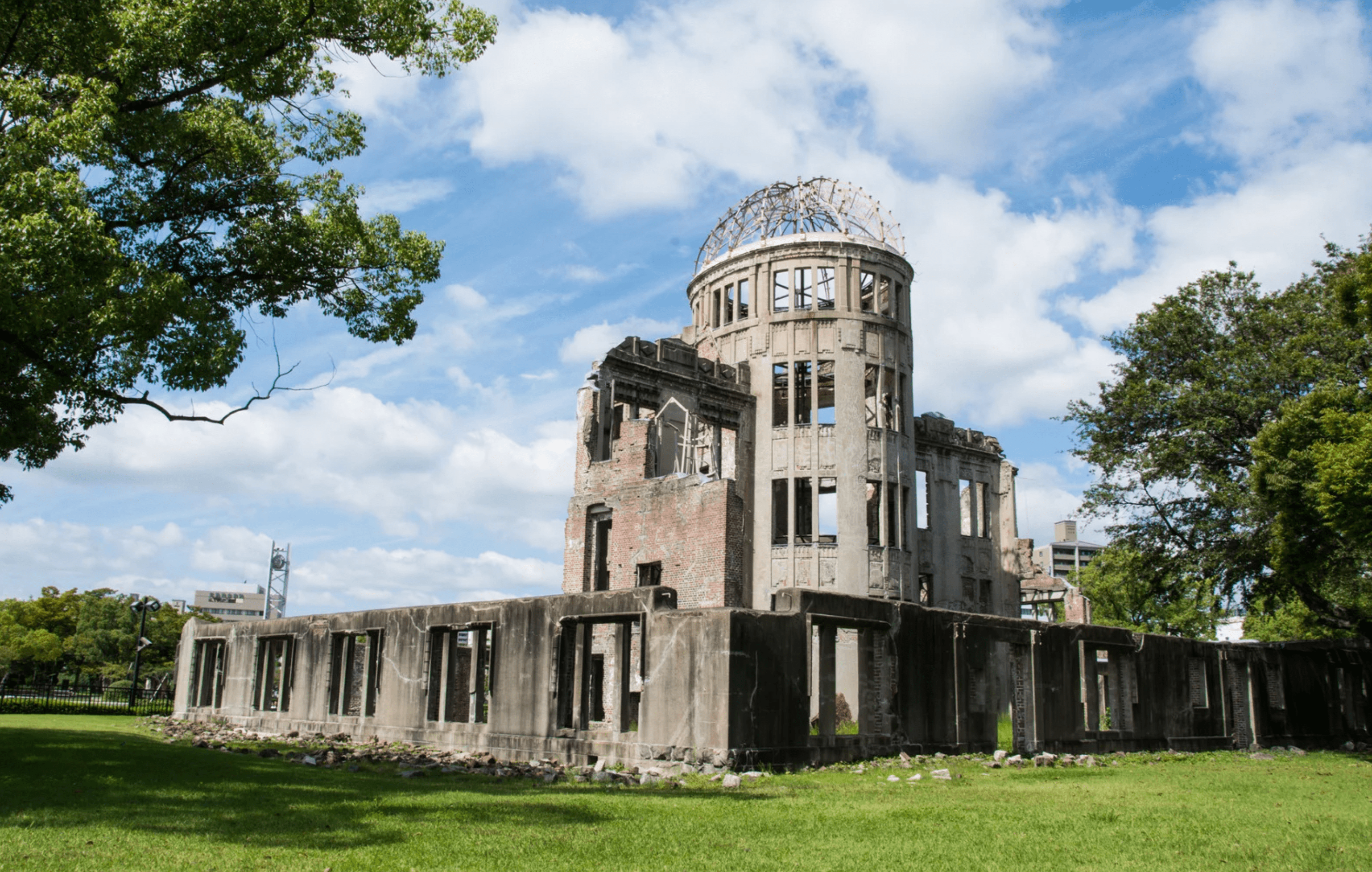 Bus: The Cheapest Option
The last option, but the least recommended unless you are really on a tight budget and want to travel as cheaply as possible, is the bus.
I say it is the least recommended option because the bus takes at least 11-12 hours to get there. I myself made the Hiroshima-Tokyo trip by night bus, after having travelled to other cities by this method and thinking it would be fine, but to be honest, although the seats were comfortable, it is still a very long trip. You leave around 19:00-20:00 and don't arrive at your destination until around 07:00 the next day.
Bus ticket prices range from 8,800 to 13,500 JPY, and considering that you can find flight tickets for 6,500-10,000, the savings are minimal and the time difference is quite considerable.
▶︎Get your night bus tickets from Tokyo to Hiroshima here
If you decide to go by bus, generally buses depart from Tokyo Station or Shinjuku Station. There are different bus companies offering this service, so it will depend on each company. One of the most recommended is Willerexpress. They have different types of buses available but even the most economical ones have large and comfortable seats.
Buses depart only at night as a night service. And a few buses a day. The bus fare depends on a class of seats and when you make a reservation.
From Tokyo Station
Tokyo station bus terminal is located in Yaesu Exit (八重洲口.) Long distance bus tickets can be purchased at JR Expressway Bus at the bus terminal in Tokyo Station Yaesu Exit or online via bus company.
Depart: 20:00 (Will arrive at around 7:35AM)/20:30 (Will arrive at around 9:10AM)
From Shinjuku Station
JR Shinjuku Station is connected to BUSTA, the biggest bus terminal in Tokyo. Ticket counters and ticket vending machines are located on the 4th floor, which is the departure floor.
Depart: 20:45 (Will arrive at around 7:35AM)
Overall
As we said at the beginning, plane or bullet train are the best options in relation price/time to go to Hiroshima from Tokyo. The plane is faster, but has more disadvantages, while the bullet train is much more comfortable and easier to use.
The bus is only an option if you really want to travel as cheaply as possible and there are no economic flights available at the moment.
What Should You Do in Hiroshima??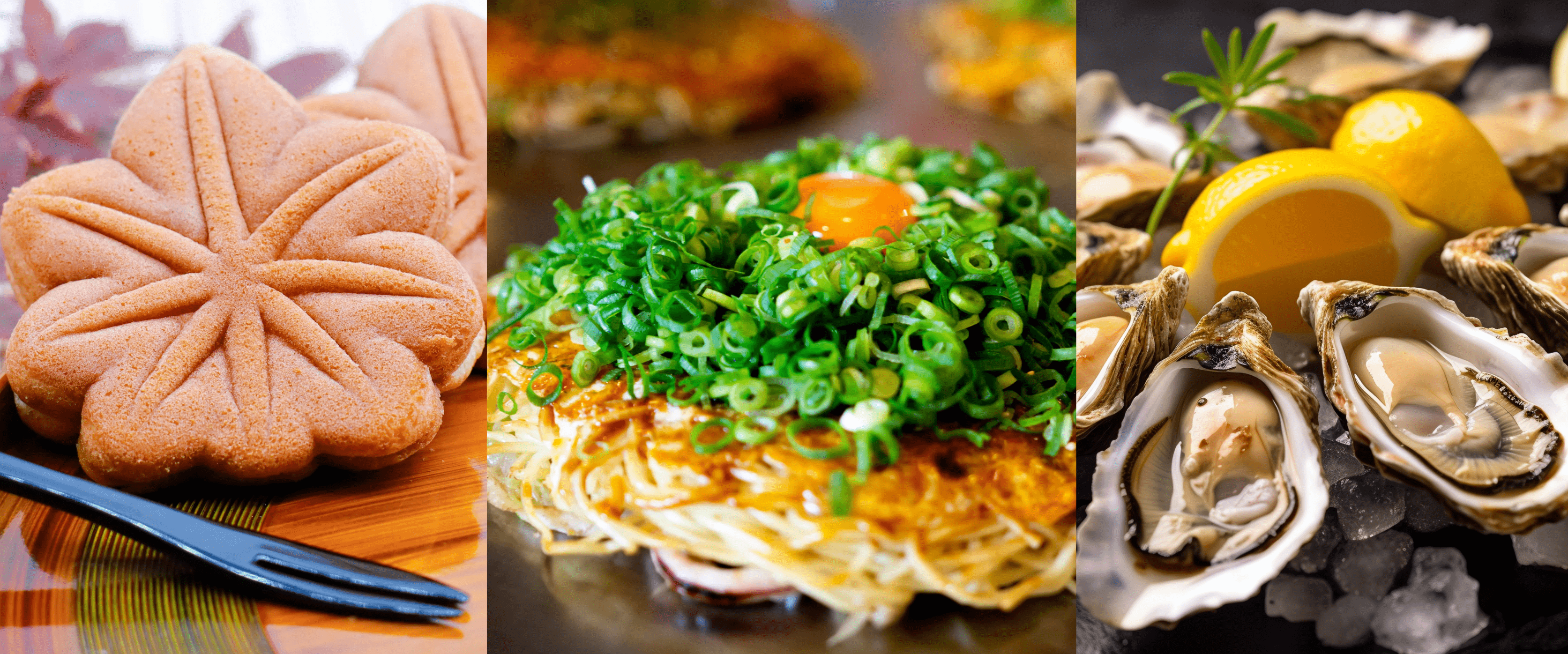 Most visitors to Hiroshima explore the history of Japan in Miyajima Island and Hiroshima Peace Memorial. Itsukushima Shrine, the shrine on the sea in Miyajima Island is the one and only view in Japan with its impressive red tori submerged in the sea.
Hiroshima is known for its delicious food: fresh oysters, okonomiyaki with noodles in a different style from Osaka and momiji manju (sweet cake filled out with red beans paste) are three of the local specialities not to be missed.
Enjoy your historical trip to Hiroshima smoothly checking this article with the best things to do and go in Hiroshima.
▽From Tokyo to other destinations▽
▽First time in Japan??? Check out this 1 week itinerary for first timers!▽
▼Cheapest Way to Travel in Japan!▼
▽Related Articles▽
▼Editor's Picks▼
---