How to Travel Between Haneda Airport and Tokyo
Train, private transfer or bus: check here the best way to go from Haneda Airport to Tokyo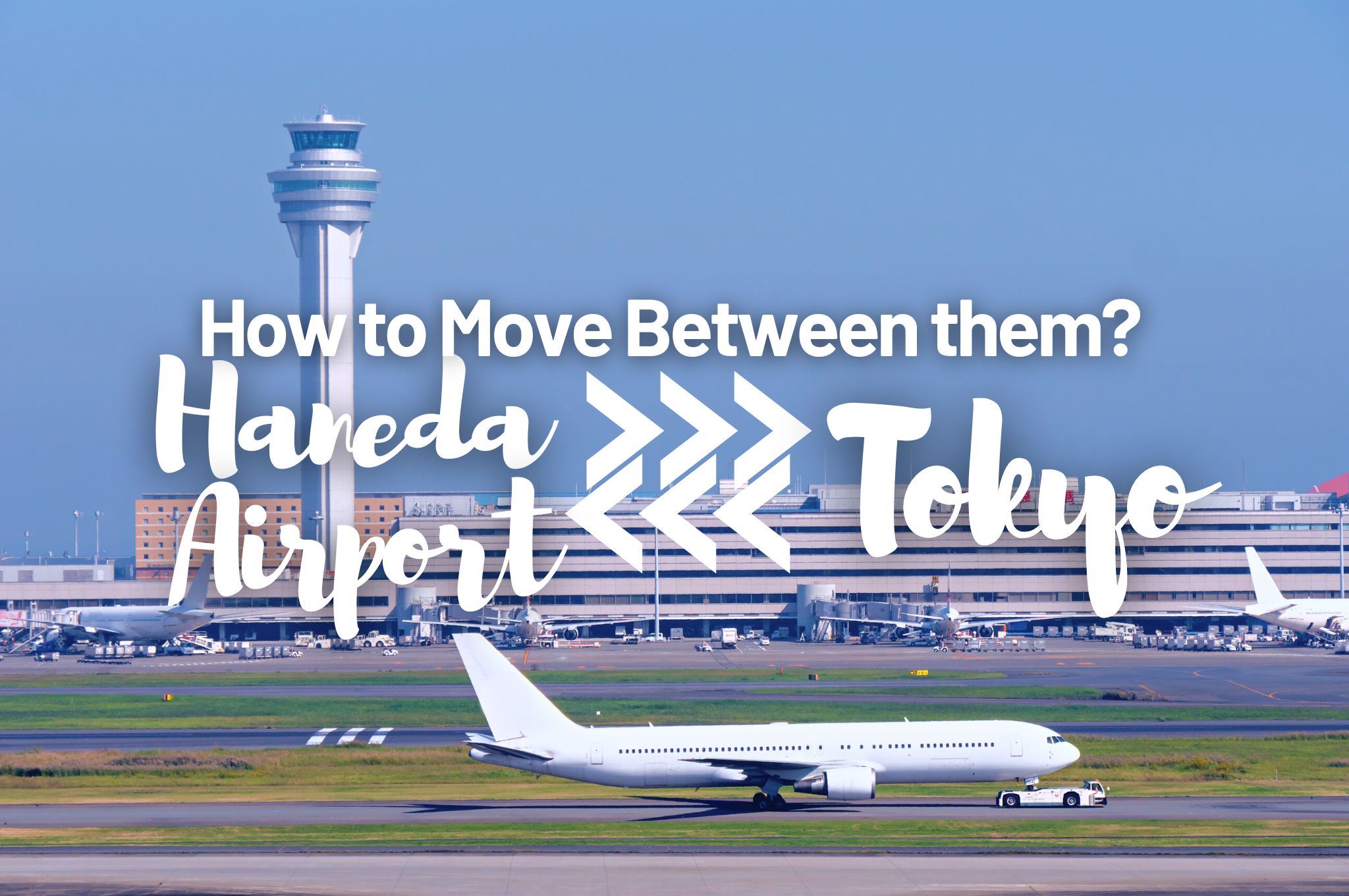 Haneda International Airport is the closest airport to Tokyo (in fact, it's in Tokyo) and the most convenient. Although most international flights arrive at Narita airport, more and more airlines are using Haneda airport. If your flight arrives or departs from Haneda Airport, this article is of interest to you.
Even if Haneda Airport it's in Tokyo, Tokyo city doesn't have what we could call a "center" like other tourist cities. The city is huge, with other neighborhoods or cities inside. When we talk about the center of Tokyo we usually refer to the area near Tokyo Station, but many tourists stay in the Shinjuku, Shibuya, Ueno or Asakusa areas, for example.
So there are different ways to connect the airport with different parts of the city. Depending on your destination (in which area is your hotel or residence, etc.), your needs and your budget, one option or another will be more convenient for you. In this article I will explain the different ways to get from Haneda airport to Tokyo, explaining the pros and cons and comparing the prices.
Arriving to Narita?? Check this article!
Getting from Haneda to Tokyo comparison
Before going into the details of each service, let's have a quick comparison to give you an idea. Basically there are three ways to get from Haneda Airport: train, taxi and bus. Within these categories, there are different options and prices.
The following chart shows three of the most important points that people usually look for when deciding that are how much it cost, how many time it takes, and how many people (for example sometimes sharing a taxi can be better than going on express train, etc).
Approx fare: This is the lowest cost possible for this service. In some services prices might change depending on where your destination is or the time of day you're using this service.
Time: This is the lowest time possible for this service and using as a reference centrical places as Tokyo Station (or Minato area). Time might change in some services depending on where your destination is or the conditions (heavy rain, traffic jam, etc).
| | | | | | | |
| --- | --- | --- | --- | --- | --- | --- |
| | Monorail | Train | Airport Taxi | Regular Taxi | Limousine Bus | Shuttle Bus |
| Approx fare | 500 yen | 300 yen | ~14,700 yen | ~ 7,000 yen | 3,100 yen | 1,500 yen |
| Passengers | 1 pax | 1 pax | Up to 6 | Up to 4 | 1 pax | 1 pax |
| Time | 30 min' | 30 min' | 30 min' | 30 min' | 30-60 min' | 90 min' |
| Booking | Buy there | Buy there | Book here | Grab a taxi there | Book here | Book here |
---
Trains from/to Haneda Airport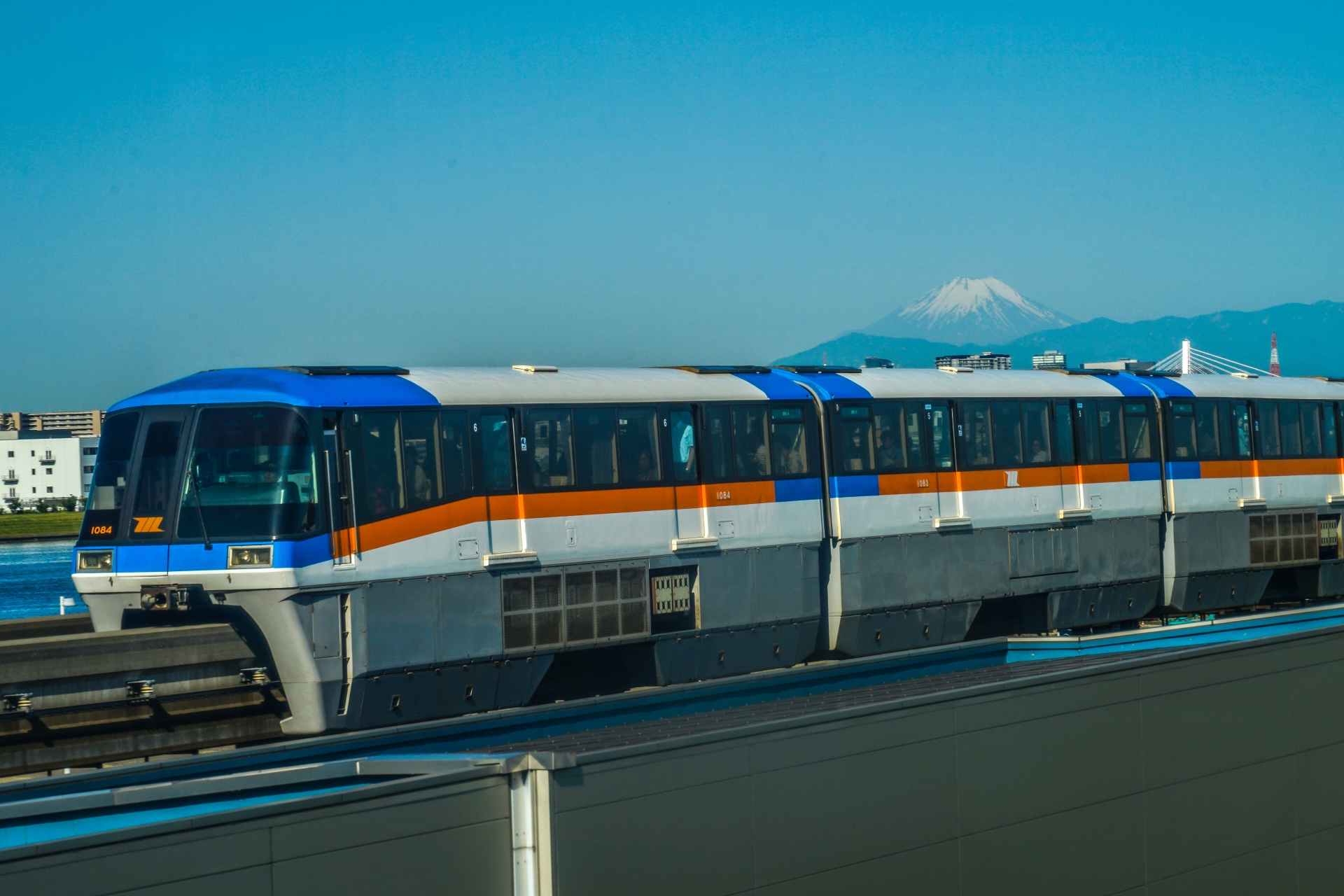 Being the country of the famous bullet trains, it shouldn't be a surprise that one of the most common ways to travel from the city center to the airport is by express train. These trains are not only fast, but also very comfortable and designed for travelers. There are mainly two options.
Tokyo Monorail
Tokyo Monorail is one of the most convenient and practical ways to get from Haneda to Tokyo or vice versa. The monorail departs from JR Hamamatsucho Station, and the express connects to Haneda Airport in 13-15 minutes (about 20 minutes if you take the local train). It costs 500 yen for adults and 250 yen for children.
At JR Hamamatsucho station you can smoothly transfer to the Yamanote or Keihin Tohoku line. In my opinion this is one of the best parts, as the transfer at Hamamatsucho is very easy and simple, compared to Shinagawa, which is a huge station with many lines and it gets a bit confusing. Although everyone's favorite part is that since it's a Monorail, there are some nice views along part of the route!
Another good point of the Monorail is that there is a specific space in each carriage where you can leave your suitcases. So you can relax in the comfortable seats and enjoy the views without worrying about your suitcase moving or disturbing other passengers.
Keikyu Line
The other way to reach Haneda Airport by train is by the Keikyu Line, which connects the airport to Shinagawa Station, one of the largest stations in Tokyo. The price is 300 yen, slightly cheaper than Tokyo Monorail.
However, if you are going to use this option especially to go from Tokyo to Haneda, be careful and arrive with enough time at Shinagawa station. As I said, this station is very big. Also, different trains depart from the same track, some of them going to Narita airport or local trains that take longer to get from Shinagawa to Haneda airport. Before boarding a train, make sure it's the right train.
Taxi or Private Transfer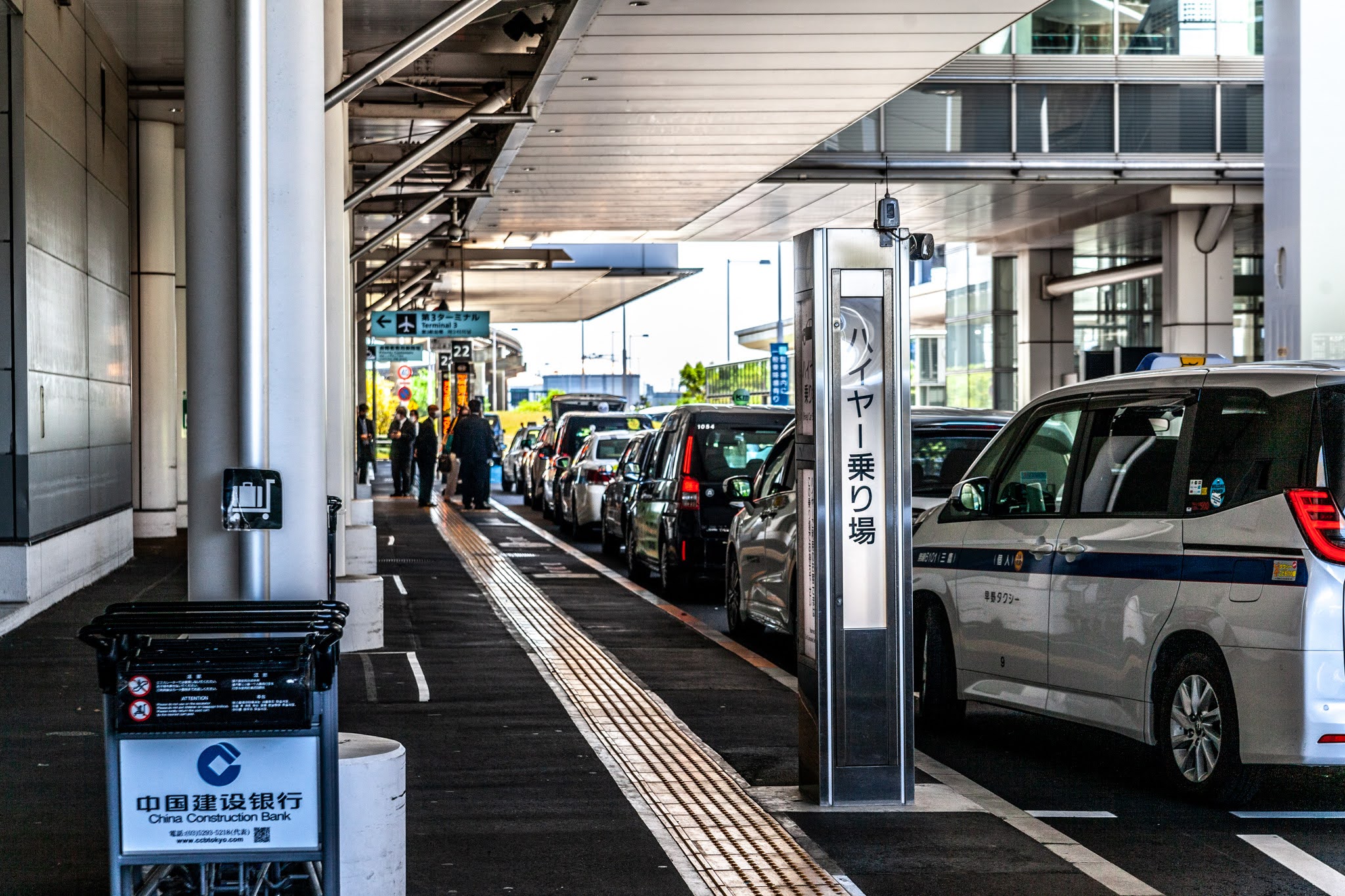 Taxi or private transfer is the second most used option in most part of the countries to get from the airport to the hotel. It's the most comfortable and simple way, perfect if you come tired from a long flight and want to get a shower as fast as possible.
But it's also usually the most expensive option. In Japan as a general rule, taxi services are more expensive than in other countries, even for relatively short trips. The price of regular taxis can vary between 7,000-8,000 yen, or even more if there is traffic or an accident and the ride takes a long time (since the meter counts by kilometers but also by hours). In addition, to this price you need to add the cost of tolls.
Unlike Narita Airport, Haneda Airport is really close to Tokyo and trains are cheap and fast, so using a taxi maybe isn't the best option if you are on a budget. But just because it's closer than Narita, a cab from Tokyo to Haneda Airport it's more affordable and it's a considerable option when traveling with a lot of people and luggage, especially if you have kids; or when your flight leaves very early in the morning or arrives very late at night and there aren't any other transports available.
Our affiliate provider Airport Taxi is one of the best services for transfer to and from Narita and Haneda Airport. They have a very competitive fixed price, and the customer service center is open every day from 8:00 to 23:00 with English-speaking staff. In addition, they use Toyota Alphard and Vellfire, which are comfortable 7-seater vehicles with more capacity than a regular taxi.
Since the price is fixed, you don't have to worry about traffic or heavy rain, because you will pay the same no matter how long it takes to get to your destination. And now only for Japan Web Magazine readers, all orders with Airport Taxi have a 1,000 JPY discount using this coupon code!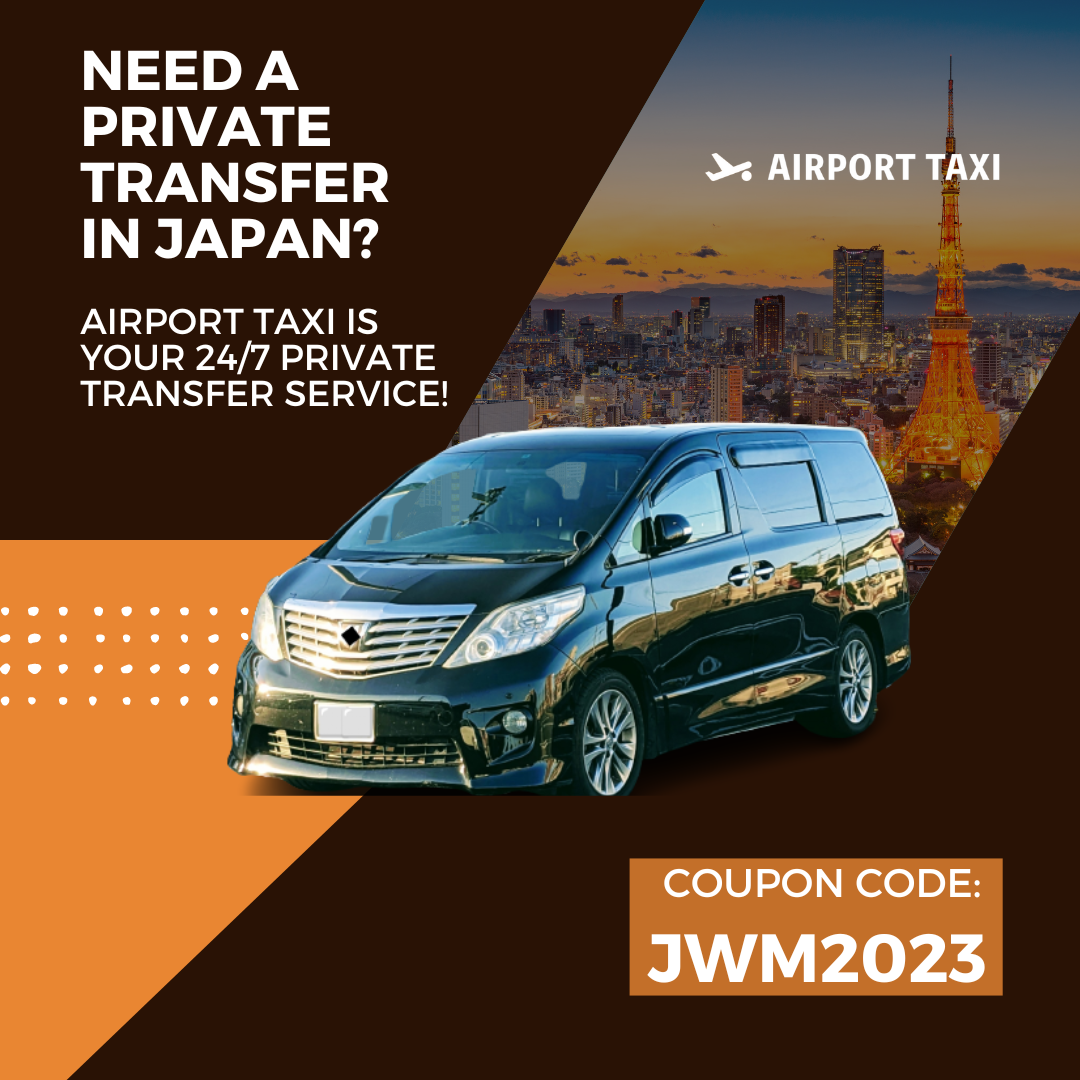 Coupon Code: JWM2023
Get the best deal right now here!
▶Check the official website: https://www.airport-taxi.tokyo/en
Buses from Haneda Airport to Tokyo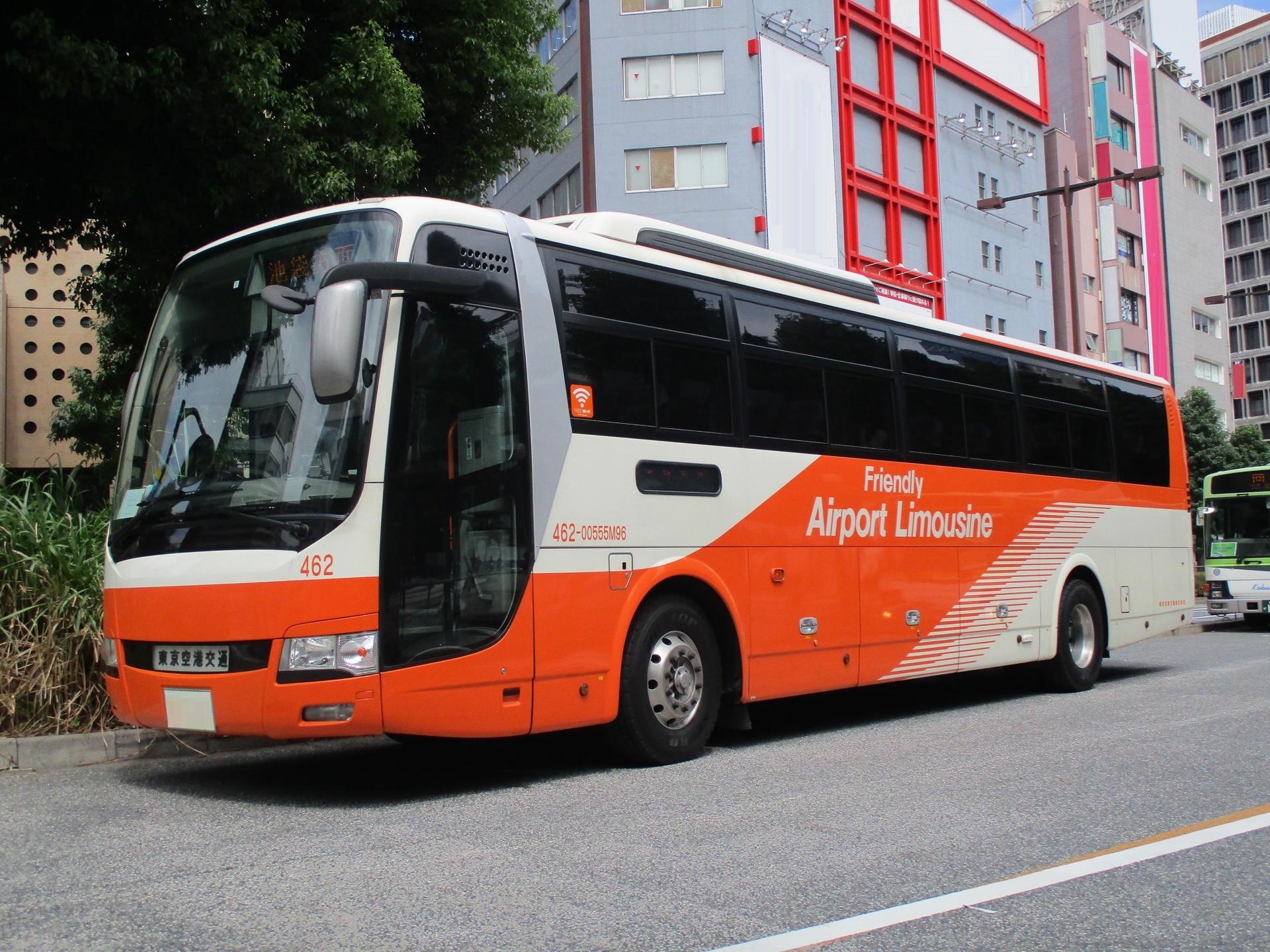 The Airport Limousine Bus have a cost of 1,300 yen for adults and 650 yen for children (6-11), so it's more expensive than the train, but still cheaper than a taxi or private transfer and offers some conveniences. This bus stops at many of Tokyo's most popular hotels, saving you from changing trains while carrying luggage, look for the exit, walk until the place, etc. Takes more time than a private transfer, and you need to share it with more people, but you can just leave your luggage in the luggage compartment and they take you to the door of your hotel.
So it's a perfect middle point between train and taxi, and a popular choice among many tourists. The disadvantage of the train is that you may be delayed if there is traffic, and more than an hour depending on the destination.
Buy NOW Airport Limousine Discounted Tickets online
Keikyu Limousine Bus
Last but not least, Keikyu Limousine Bus is the other option for those who want to travel by bus. Prices are slightly cheaper than the Airport Limousine Bus, costing 1,000-1,100 yen for adults and 500-550 yen for children depending on the line you choose. But it has fewer stop options, so depending on your hotel, you may be better off paying the 200 yen difference.
Overall
So, the big question of most of you know probably is, which is the best way to move between Haneda Airport and central Tokyo? Well, as I said at the beginning, it will depend on your priorities.
Train

Private Transfer
Bus

Budget Friendly

★★★

★

☆

☆

★★☆

Time

★★★

★★★

★

☆

☆

Comfortable

★★☆

★★★

★★☆

Convenient

★

☆

☆

★★★

★★☆

Private Groups

☆

☆

☆

★★★

☆

☆

☆
From the above, the fastest option is train or taxi. But if you prefer to prioritize economy over speed, then the cheapest option is no doubt the train followed by shuttle bus. For those searching for a private transportation or for large groups, then Airport Taxi is the one.
Need to spent one night at Haneda Airport?
If your flight leaves very early in the morning, or you arrive very late at night and prefer to spend a night at the airport, Haneda Airport has recently opened a new complex called Haneda Airport Garden. In this complex you will not only find stores and restaurants, but also a hotel with incredible views and even hot springs! The perfect place to relax after a long trip.
You can learn more about it here:
Searching for a hotel in Tokyo?? Check the best deals at Klook!
---
I hope you found it useful! If you want to know the best places to visit and things to do in Tokyo, or other trips about transportation in Japan, these articles may interest you too!
▽Related Articles▽
▼Editor's Picks▼
---