A Comprehensive Guide to Trains in Japan: Including Shinkansen and Japan Rail Pass
How to get around Japan by train: from how to buy a ticket to types of trains and more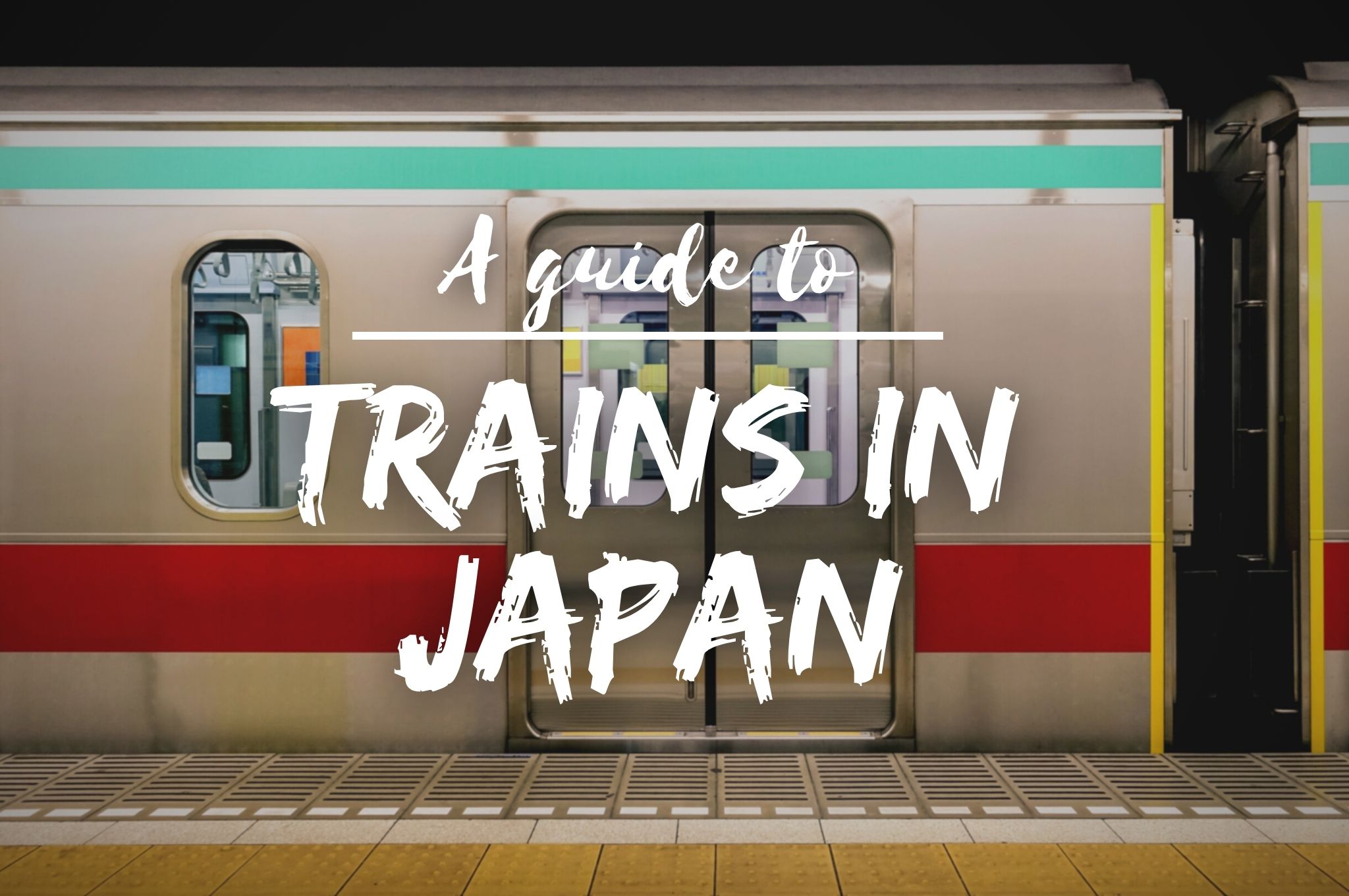 When it comes to getting around Japan, its extensive and efficient train system is the best option. But it can also be difficult and chaotic, especially for first-time travelers to Japan. So it is highly recommended to have internet connection during your trip to Japan to be able to use applications such as Google Maps, which can help you in real time to know which lines and routes to take to get to the destination you want.
The first thing to know is that the train and subway network in Japan can be a bit confusing, as there are several private companies involved. In general, Japan Railways Group is in control of the vast majority of the territory, although it' s divided by zones: JR Kansai, JR Kanto, JR Hokkaido, JR Central Japan, JR Shikoku and JR Kyushu.
In some cities, especially the big ones, there are other public and private companies. Tokyo is undoubtedly the one with the most options, including the subway service, which is public. With so many options, it's also the most difficult to move around. Even locals, after years of living in Tokyo, can easily get lost in some of the larger stations if they don't usually go there.
In this complete guide about trains in Japan I will introduce you to the types of trains in Japan, including the bullet train a.k.a shinkasen and limited express train, prices, how to buy train tickets in Japan, how to ride a train and all the necessary information so that you can master the Japanese train system.
*Please note that this article contains affiliate links.
Types of Trains in Japan
Shinkansen: The Japanese Bullet Train
The shinkansen or bullet train is Japan's star train. There are different models, and some reach more speed than others, but in general it allows to connect the main cities in a short space of time. It's operated by Japan Railways Group.
For example, the Tokyo-Osaka or Tokyo-Nagoya route, one of the most used for business, takes about 2 hours to Osaka, and 1 hour to Nagoya. Tokyo-Osaka by car or local train would be more than 8 hours. So the time savings is very considerable.
Ordinary Car: They have so-called regular seats. However, on Japan's bullet trains even the regular seats are spacious and comfortable.
Green Class: Special cars with larger and more luxurious seats.
Gran Class: Only a few trains have this option, but is even more luxurious and comfortable than Green Class
Japan Rail Pass
The Japan Rail Pass, also known as JR Pass, is a Japan Railways pass for foreign tourists in Japan that allows unlimited travel on all Japan Railways trains, including bullet trains, for 7, 14 or 21 days.
It's one of the best seller products by tourist in Japan as it allows you to save a lot of money on bullet trains. In October 2023 the prices have gone up, but it's still a good value for money if you want to go to several cities.
Price of Ordinary Pass (Couch Class)
| | | |
| --- | --- | --- |
| | Adult | Child (Age6-11) |
| 7 Days | 50,000 yen | 25,000 yen |
| 14 Days | 80,000 yen | 40,000 yen |
| 21 Days | 100,000 yen | 50,000 yen |
Price of Green Pass (Upgraded Class)
| | | |
| --- | --- | --- |
| | Adult | Child (Age6-11) |
| 7 Days | 70,000 yen | 35,000 yen |
| 14 Days | 110,000 yen | 55,000 yen |
| 21 Days | 140,000 yen | 70,000 yen |
▶︎Buy your Japan Rail Pass now!!
With the new prices, the JR Pass allow access to Nozomi and Mizuho trains, the fastest trains that were previously excluded from the pass. Japan Railways has also announced that the new Japan Rail Pass will include discounts at various attractions in Japan.
For more information: A Guide to Japan Rail Pass
From local to limited express: all the train options besides Shinkasen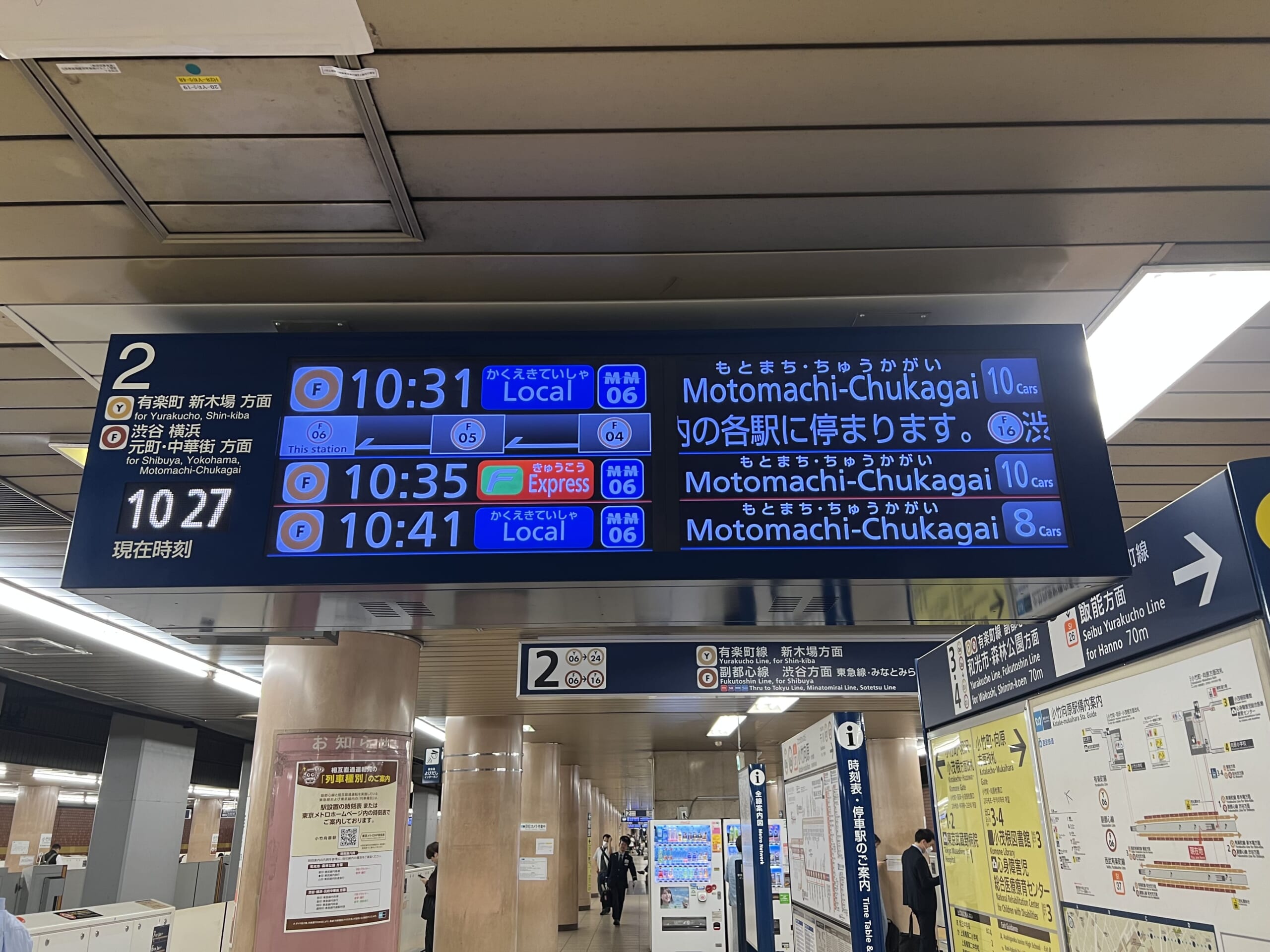 Local: The most frequent type, local trains that stop at all stations.
Rapid (快速): Trains that skip some minor stops, arriving at destination a bit faster than local trains.
Express (急行): Stops only at major and some important minor stations.
Limited Express(特急): Is the fastest type of train (after the Shinkansen). Stops only at the major stations, and usually has an extra supplement fee.
Some of the Express and Limited Express trains from Japan Railways have also available Green Class car, for which an extra fee is required.
Train Prices in Japan
In most cities where I have traveled, the price of the train or subway is counted by zones. All the stops that are in zone A, have a price, those in zone B, another one, and so on. This is done because there is usually a central zone from which the counting starts, and the farther away from that zone, the higher the price.
In Japan, however, it works a little differently, since there is no such thing as a center. The price of the tickets depends on the distance. For example, if your destination is 2-3 stops away, it will have a price, if it's 8-10 stops away, another one, and so on.
An example to make it easier to understand. The Yamanote Line is the most used line for sightseeing, as it stops at almost all major stations. Fares range from 140 to 270 yen.
From Shibuya to Ikebukuro on Yamanote Line you have to go through Shinjuku. The fare from Shibuya to Shinjuku is 170 yen, and from Shibuya to Ikebukuro is 180 yen. From Shinjuku to Ikebukuro is also 170 yen. But from Tokyo Station to Shibuya, it's 210 yen.
In short, the price always changes depending on your departure station and destination station. This would not be particularly problematic, except that to buy a train ticket you have to know in advance how much money you have to pay. You cannot buy a single "zone 1" ticket, for example.
How to Buy a Train Ticket in Japan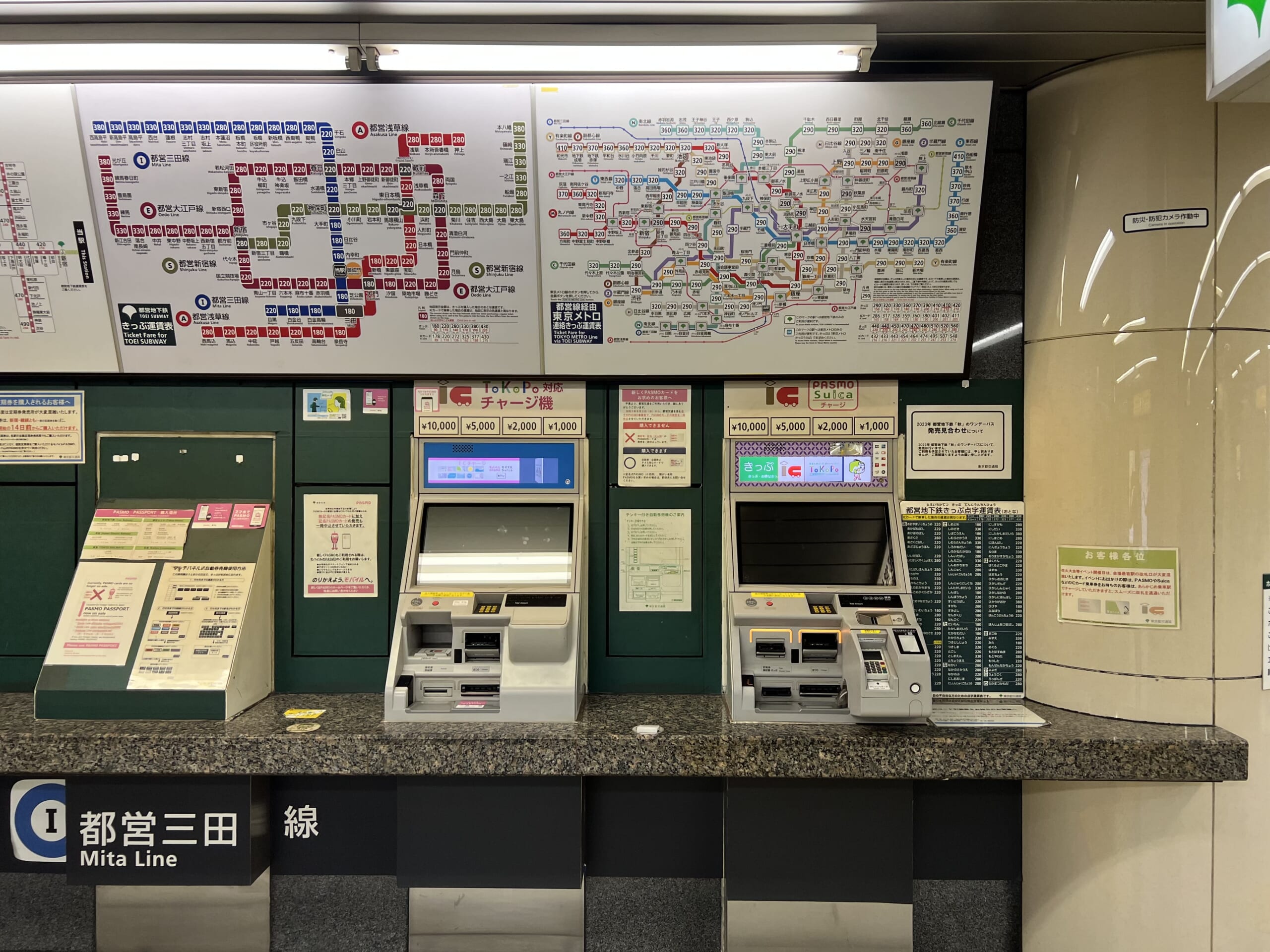 One of the most frequently asked questions is, how to buy a train ticket in Japan? This process should not be much different than in other countries, except for the difference explained above. The ticket vending machines at the main stations are in several languages, or at least in English. You will see that they give you the option to buy an individual ticket, and different prices.
If you do not know the price of the journey you want to make, there is also the option to search by station and they will automatically tell you the price of the ticket. However, there are stations where if the machine is very old it may not have an English option, so it's advisable to know in advance the price to pay because it's easier and faster.
I remember that during my first trip to Japan this was a headache for me and my friends, since at that time absolutely all the information and maps were only in Japanese, and there were no smartphones. We knew where we wanted to go, but we didn't know how much to buy a ticket for.
Prepaid IC Cards: Suica/Pasmo and more
What saved us was buying a Suica card. The Suica is an IC card, a card on which you can reload money and use it to pay later. Suica is one of the most famous in Kanto, along with the Pasmo card, but in other regions there are other similar cards.
It's used by almost all Japanese and foreign residents for train travel, as it's very convenient. You simply swipe the card at the entry turnstiles and again at the exit turnstiles and the amount to be paid is automatically deducted. Also, with IC cards the price is usually slightly cheaper than buying individual tickets.
Click HERE to book IC Suica Card online
If you need to recharge money, there is an option to recharge IC cards at the ticket vending machines. If when leaving the train there is not enough money on the card, there is no problem because near the exit turnstiles there is always a machine where you can recharge.
As an added bonus, they can also be used to pay in convenience stores, some beverage vending machines and supermarkets, etc.
How to Ride a Train in Japan
Once we have our tickets or our card, the next step is to get on the train and start our journey! Boarding a train in Japan should not be much different than in any other country, but there are some unwritten rules that are best to learn.
Ticket gates
The turnstiles have two options. One is a slot on the front to insert tickets (those who have JR Pass, can insert it here as well in the JR lines). At the top there is a kind of mini screen where you can place your Suica/Pasmo card or the IC card you use on top. If you have the Suica in your cell phone, you simply have to bring the cell phone close to that screen.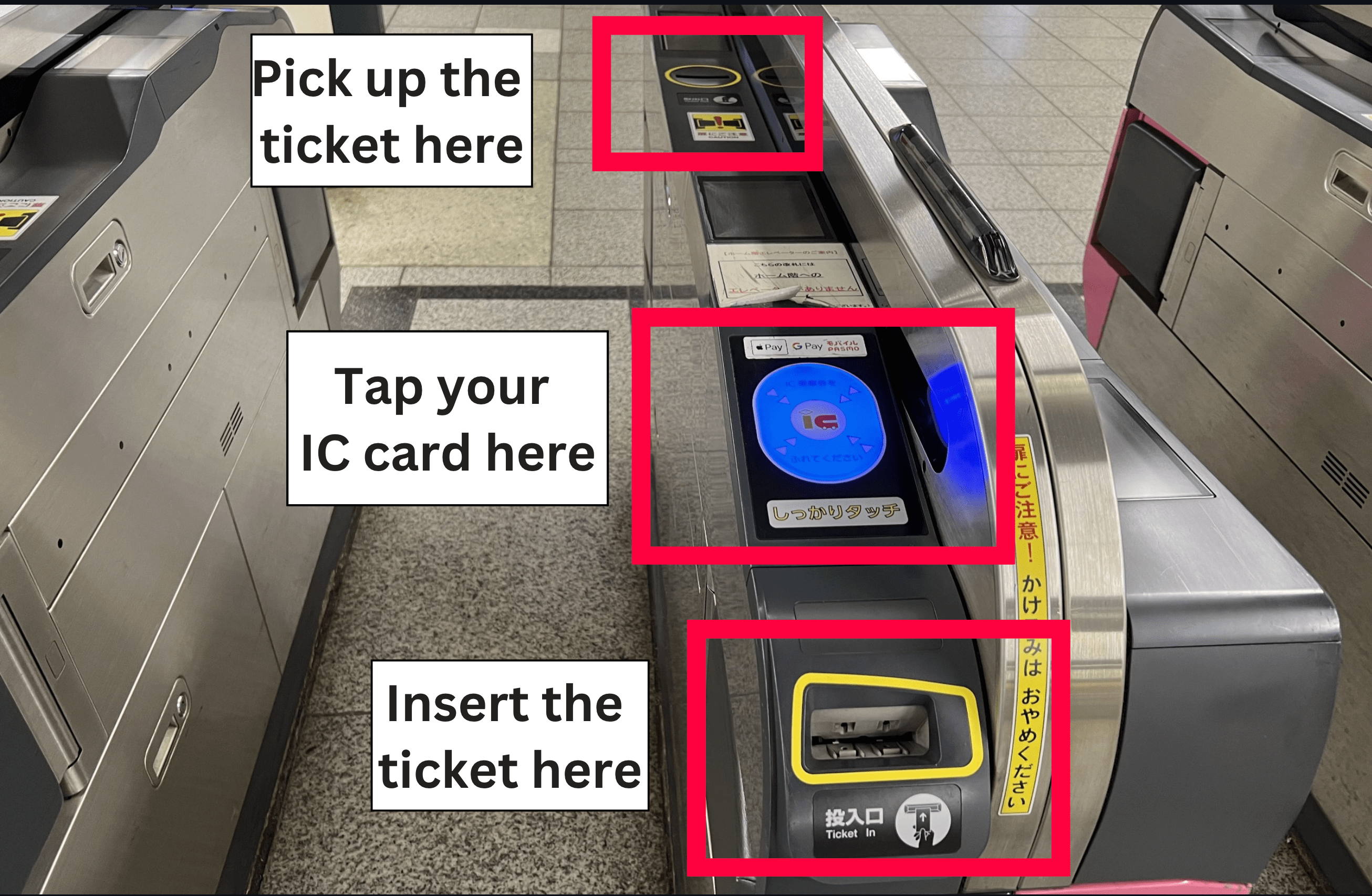 In the case of both the card and the mobile, you don't have to touch the screen directly. As long as it's close, the machine detects it. In fact, many people have the IC card in their wallet or in their mobile phone case.
At the Platform
Before entering the train, you will see people waiting in lines to enter in order. You must get in line and wait your turn. If there is no one and you are the first, let people out before getting on the train.
If you arrive when the train is about to leave, please don't run or rush in, as it's dangerous. Wait for the next train.
Inside the Train
The main two rules on Japanese trains are that talking on the phone inside the carriage and smoking is forbidden. However, there is the unspoken rule not to make noise on the train, and many times you travel in complete silence. But especially at night, weekends etc. when traveling in couples/groups, it's also normal to see people talking. Try not to make too much noise (loud talking, loud music, etc). Eating on the train is also frowned upon.
Another common unspoken rule is to place the suitcases in a way that they are as unobtrusive as possible. Put it between your feet, or on the top of the seats designated for it (don't forget to grab it before leaving!). If you don't have space, put the backpack forward and not on your back. Trains in Japan tend to be very congested during rush hour. So try to make as much space as possible and don't disturb others.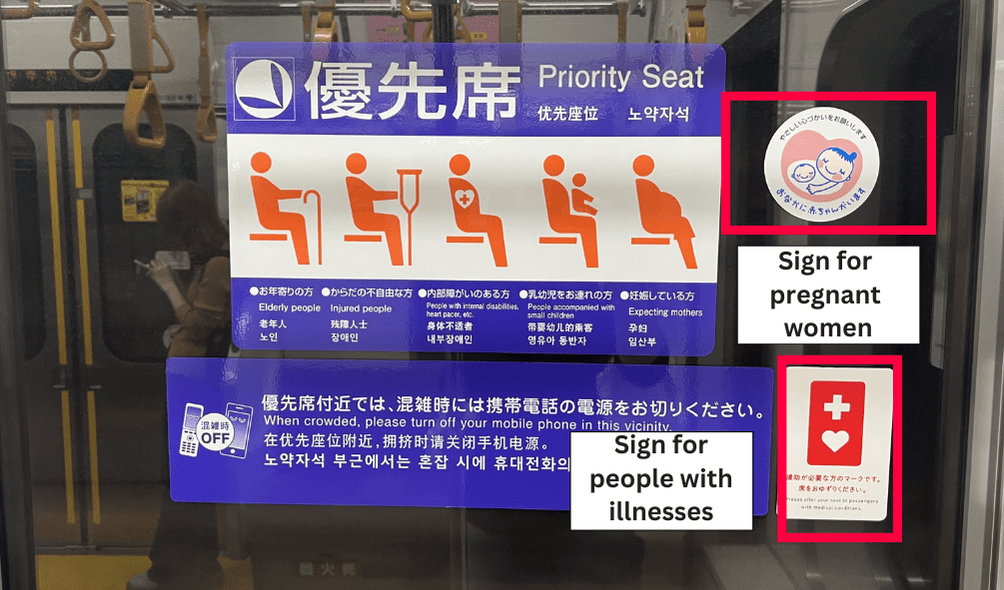 Inside the train, you will see that there are reserved seats (this is true in most countries). Please give up those seats if in front of you there is a person in need (elderly, pregnant, people with serious illnesses, etc).
During rush hour some cars may be reserved for women only. Don't board these cars at designated times if you are a man (although regardless of your gender, I recommend avoiding getting on a train in Japan during rush hour as much as possible).
At departure
When exiting, simply find the exit that is most appropriate to the point you want to go to. At the exit ticket gates, repeat the same process as when entering. For those who have purchased an individual ticket, the machine will keep the ticket. For those using special passes, such as the JR Pass or city passes, the machine will return the ticket for further use. For those with IC cards, you can simply continue on your way once payment is confirmed.
Tokyo Train and Subway System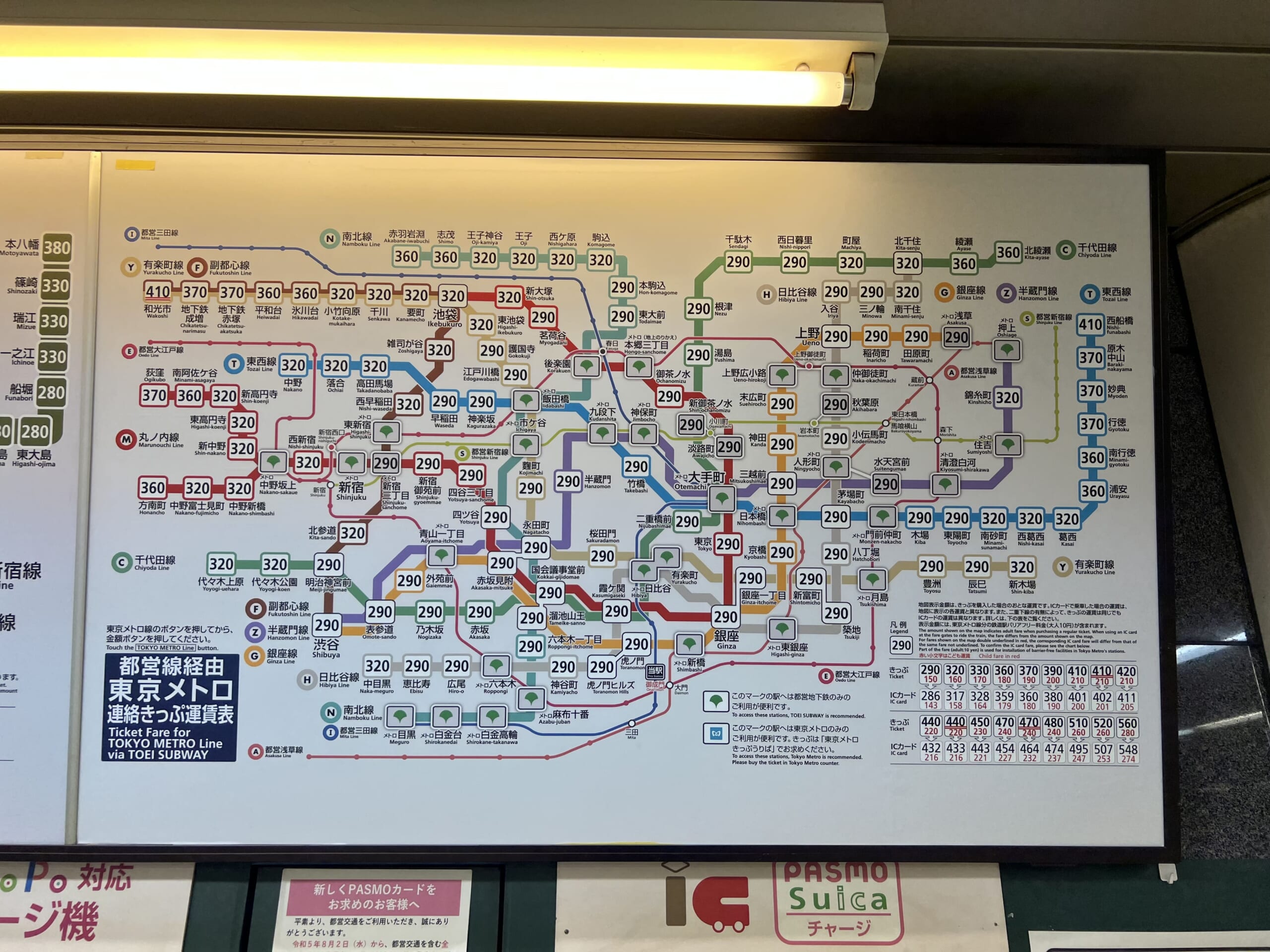 Tokyo is undoubtedly the city with the largest transportation system in Japan. There are different private train companies, offering different routes. A real labyrinth of train tracks.
But when it comes to visiting the city as a tourist, you will mainly use two companies: JR Kanto and Tokyo Metro. Which one to use will depend on your preferences and circumstances.
JR has the popular Yamanote line, a circular line that stops at almost every tourist attraction such as Shibuya, Harajuku, Shinjuku, Ueno, etc. It's very easy and comfortable to use, and for those who have the JR Pass can use this line without having to pay for it as it's included in the pass.
The Tokyo subway on the other hand reaches areas like Asakusa or Ginza, which are not on the Yamanote (although for Ginza you can get off at Yurakucho Station and walk there). It can be a bit more complicated to use because to go to some places you may need to take two lines and transfer, but it's also cheaper as it's a public transport system. In addition, they sell special tickets for foreign tourists for unlimited travel for 24, 48 or 72 hours which is very cost effective and easy to use.
▶︎Buy your Tokyo Subway Pass now!!
If you want to know more information about the Tokyo Subway Unlimited Pass, how to use, etc you can check these article: Tokyo Subway UNLIMITED Pass
From Narita Airport and Haneda Airport to Tokyo
Most foreign tourists enter Japan from Tokyo's two main airports, Narita Airport and Haneda Airport. While Haneda is closer to the city, Narita is more than an hour away. In both cases, there are several ways to get from the airport to the city center. In the following guides you can see all the available options and see which one suits you best.
▶︎How to Get from Nartita Airport to Tokyo
▶︎How to Get from Haneda Airport to Tokyo
From Tokyo to Popular Destinations
If you are not sure if bus is the best option to get from Tokyo to some of the most popular cities, and want to compare with other options such as train, plane or private transport, here you have a few complete guides for the most touristic destinations.
▶︎How to Get to Hakone from Tokyo
▶︎How to Get to Nikko from Tokyo
▶︎How to Get to Mt.Fuji from Tokyo
▶︎How to Get to Osaka from Tokyo
▶︎How to Get to Kyoto from Tokyo
▶︎How to Get to Hiroshima from Tokyo
▶︎How to Get DisneyLand and Disney Sea from Tokyo
Also how to get to Tokyo from the two main airports, Narita Airport and Haneda Airport.
▶︎How to Get from Nartita Airport to Tokyo
▶︎How to Get from Haneda Airport to Tokyo
What To Do in Japan??
Japan certainly has a lot to offer. Cities like Tokyo, Osaka and Kyoto cannot be missing on the list of anyone visiting the country for the first time. Food is also one of the best reasons to travel to Japan: sushi, ramen, teppanyaki, tempura….there are dozens of delicious dishes!
Even if it's not your first time, there are new attractions opening every year so there is always something to see! The new Harry Potter Studio Tour in Tokyo joins teamLab Planets, Tokyo Disneyland and DisneySea as top attractions in the city.
---
If is your first time in Japan and don't know where to go, this article may help! ▶︎Japan Bucket List: Top 30 Things to Do in Japan
▽Transportation Guide for Traveling in Japan ▽
▶︎The Ultimate Guide for Transportation in Tokyo
▶︎Tokyo Subway UNLIMITED Pass: How to Get and How Much You Can Save
Thanks for reading this far! I hope it has been helpful 🙂 For more tips and information about traveling in Japan, you have these articles too. And even more information in Japan Web Magazine!
▽Related Articles▽
▼Editor's Picks▼
---