Fuji-Q Highland Guide: Best Things to Do
Best Fuji-Q Highland Rides, Food, and Souvenirs!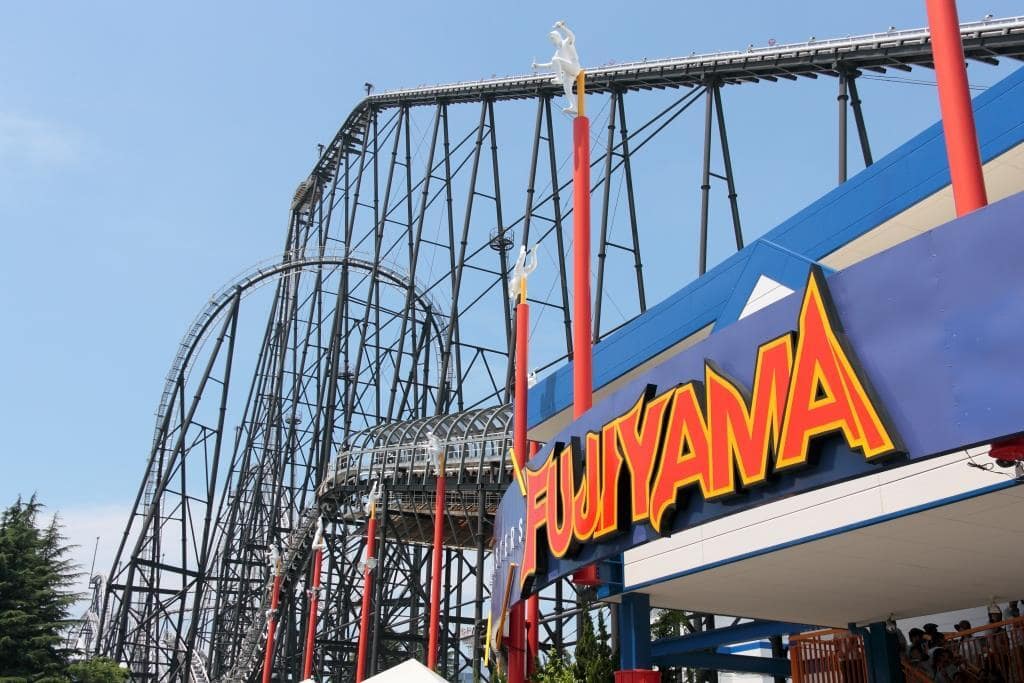 Japan has various top-rated amusement parks across the country, but have you ever wondered which one has the most adrenaline-pumping rides? Well, since you have already clicked on this article, you already know the answer is Fuji-Q Highland.
Fuji-Q Highland, located in Yamanashi prefecture, is a renowned amusement park that offers thrilling experiences while also having breathtaking views of Mount Fuji. With a history spanning over three decades, it has gained popularity for its record-breaking roller coasters. Visitors can enjoy various attractions, from adrenaline-pumping rides to family-friendly entertainment.
Besides the park, the area offers stunning natural beauty, such as the Fuji Five Lakes and scenic hiking trails. Access to Fuji-Q Highland is convenient, with direct train and bus connections from Tokyo. It's a must-visit destination for adventure seekers and nature lovers alike.
In this article, we are sharing with you the best things to do as well as tips to spend your limited time at Fuji-Q Highland wisely. We highly recommend you consider visiting this place if you love intense rollercoasters and/or if you are visiting Mt Fuji.
---
1. Attractions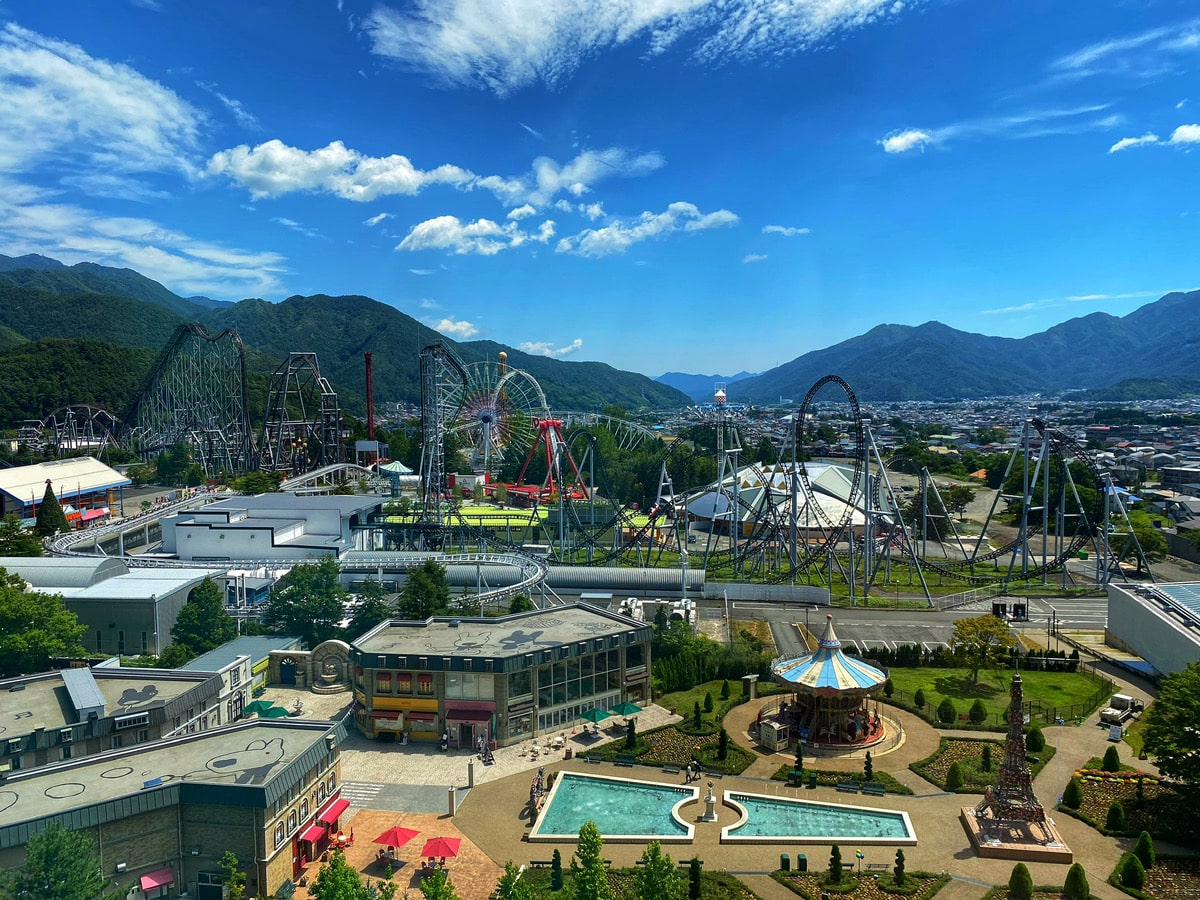 Surely what makes Fuji-Q Highland stand out amongst the other large amusement parks in Japan is its roller coasters. The park has over 40 attractions including over 10 high-intensity rides. However, there are also more "calm and fun" attractions for those who are not looking specifically for that adrenaline rush in the rides.
The amusement park can be divided into four parts: "Fuji-Q Highland (main area)", "Thomas Land", "La ville de Gaspard et Lisa", and "Naruto × Boruto FUJI Hidden Leaf Village". Each of these areas has its own vibe, with various attractions as well as shops and restaurants.
Even though it doesn't get as crowded compared to other large amusement parks in Japan, it is still pretty impossible to get on every single ride. However, there are some tricks for you to move around the park in a more efficient way.
One thing you can do is download the Fuji-Q Highland app. This app will not only provide you with a detailed map of the park but also indicate how long are the queues at every attraction.
Another thing you can do is to get a "Priority Pass" that the park provides to make your park experience even more efficient. The Priority Pass will enable you to ride some of the high-intensity rides with relatively little to no waiting time (depending on how congested the park is on that day).
*Note: You should know that some attractions will require an extra fee to enter such as the "Super Scary Labyrinth of Fear" that we will introduce later on.
*Note 2: Another thing you should check beforehand is the requirements for riding the coasters. Some of these are really intense, and have height and age restrictions.
Ok, so now here are 7 of the best Attractions in Fuji-Q Highland! As I just mentioned, there are many great attractions, but let us introduce our top picks!
Zokkon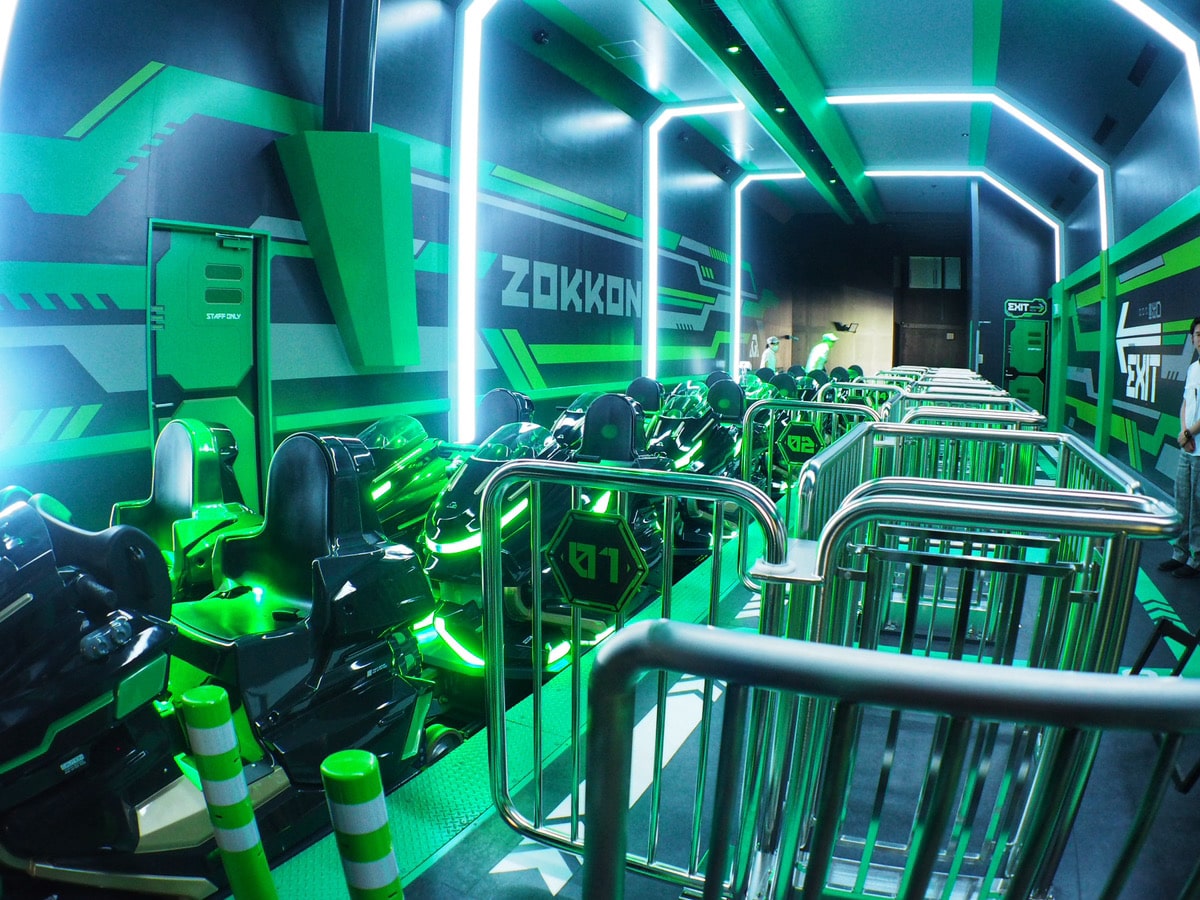 The first ride on this list is Zokkon, which is the latest addition to the already varied rollercoaster lineup at Fuji-Q Highland, having opened in July 2023. This "bike-type ride coaster" offers a completely unique experience where you position yourself as if you are riding a motorcycle in a futuristic setting.
As you are in line waiting for your turn, you will see the ride passing right next to you, which will elevate the emotions before even getting to the ride.
The ride starts with a sudden acceleration and will take you through sharp twists and turns at exhilarating speeds. You will feel the air passing as if you're actually riding a motorbike. There's even a part where the ride will take you backward which is something you won't experience in any other rides at the park!
Since it is a brand-new ride, you can expect high-quality lighting and sounds that enhance the experience even more.
FUJIYAMA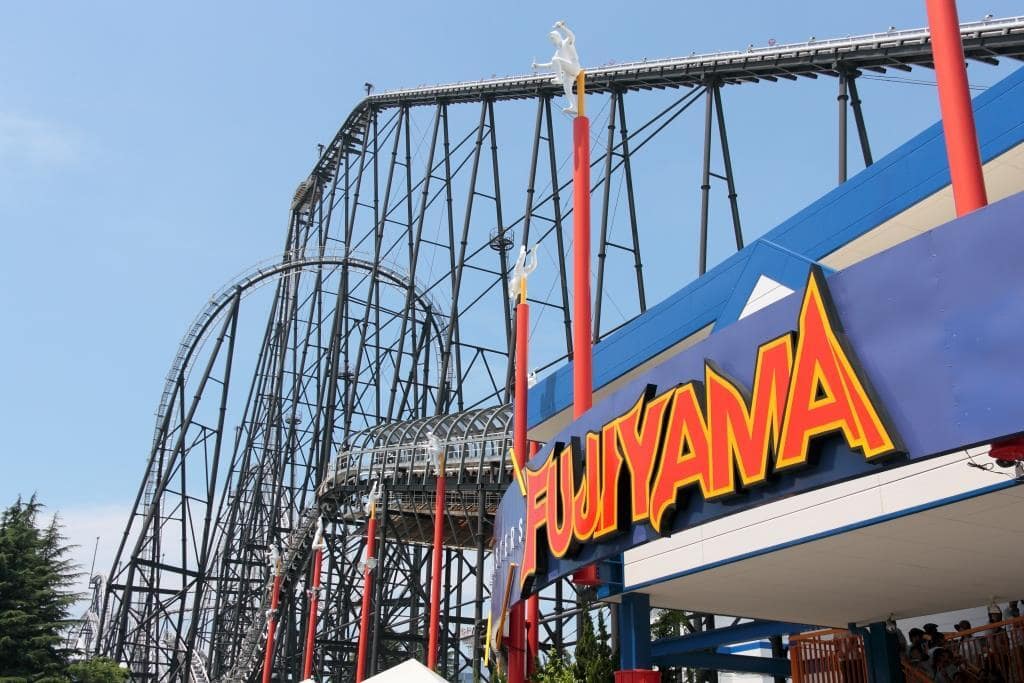 Fujiyama, the crown jewel of Fuji-Q Highland, is an iconic roller coaster that has earned the title of the "King of Coasters." This towering ride stands at a staggering height of 79 meters and reaches speeds of up to 130 kilometers per hour.
Its name derives from Mount Fuji's nickname, emphasizing its grandeur and dominance. Fujiyama offers an exhilarating experience with its heart-pounding drops, sharp turns, and incredible views of the surrounding landscape, including glimpses of Mount Fuji on clear days.
It has captivated thrill-seekers worldwide and remains a must-ride attraction for roller coaster enthusiasts.
Also, there's an observatory tower in the middle of the coaster where people can take pictures of themselves while the coaster passes nearby. It also has a great uninterrupted view of Mt Fuji.
Eejanaika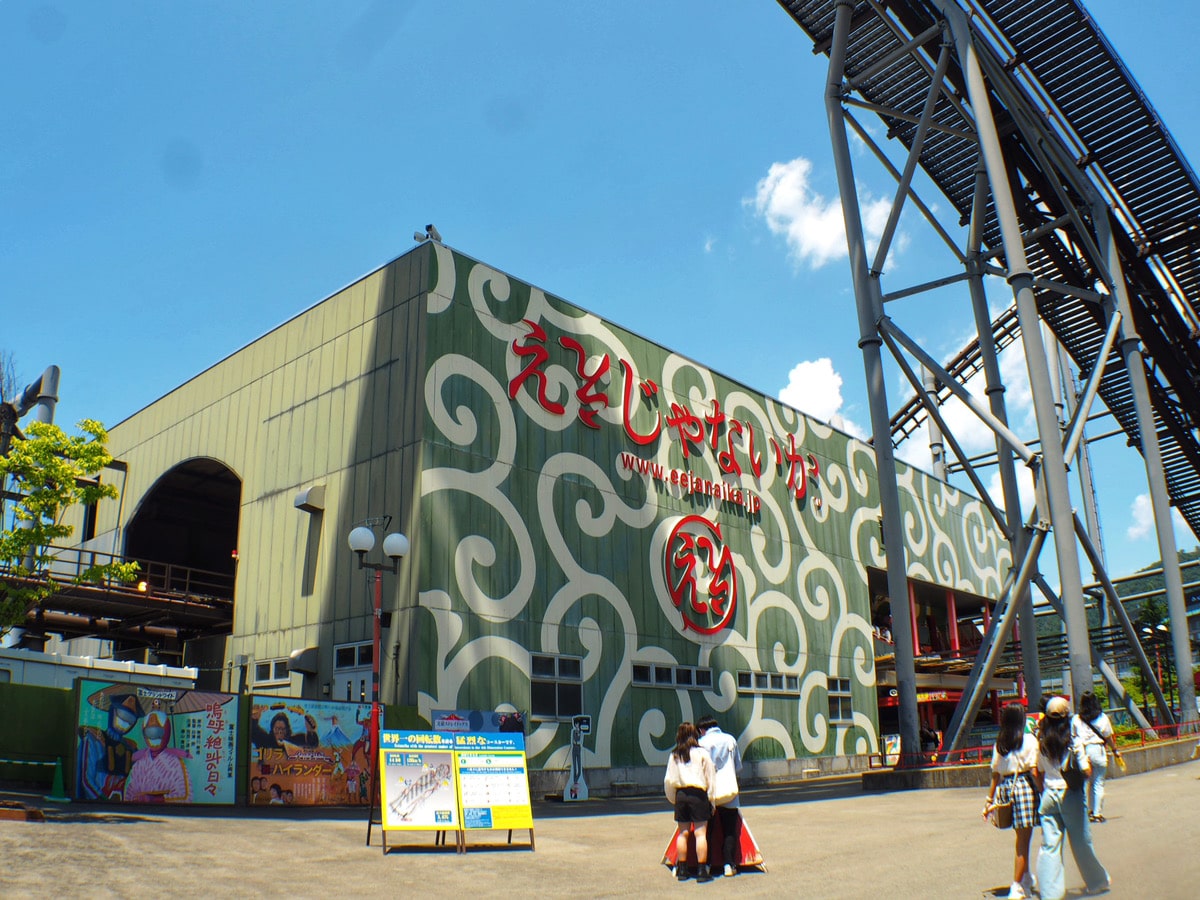 Eejanaika (ええじゃないか) is arguably the most intense roller coaster in the park. It is like no other, renowned for its unique and exhilarating ride experience.
What sets Eejanaika apart from the other coasters is its innovative 4th dimension design, featuring rotating seats that allow riders to flip and spin independently while navigating the track's twists and turns. With a mind-boggling total of 14 inversions (the highest total number of revolutions in the world), including a thrilling "heartline roll," Eejanaika provides an adrenaline-pumping adventure that pushes the boundaries of coaster technology.
Its combination of intense thrills, innovative design, and sheer excitement has made it a wildly popular attraction, attracting thrill-seekers from around the world.
Takabisha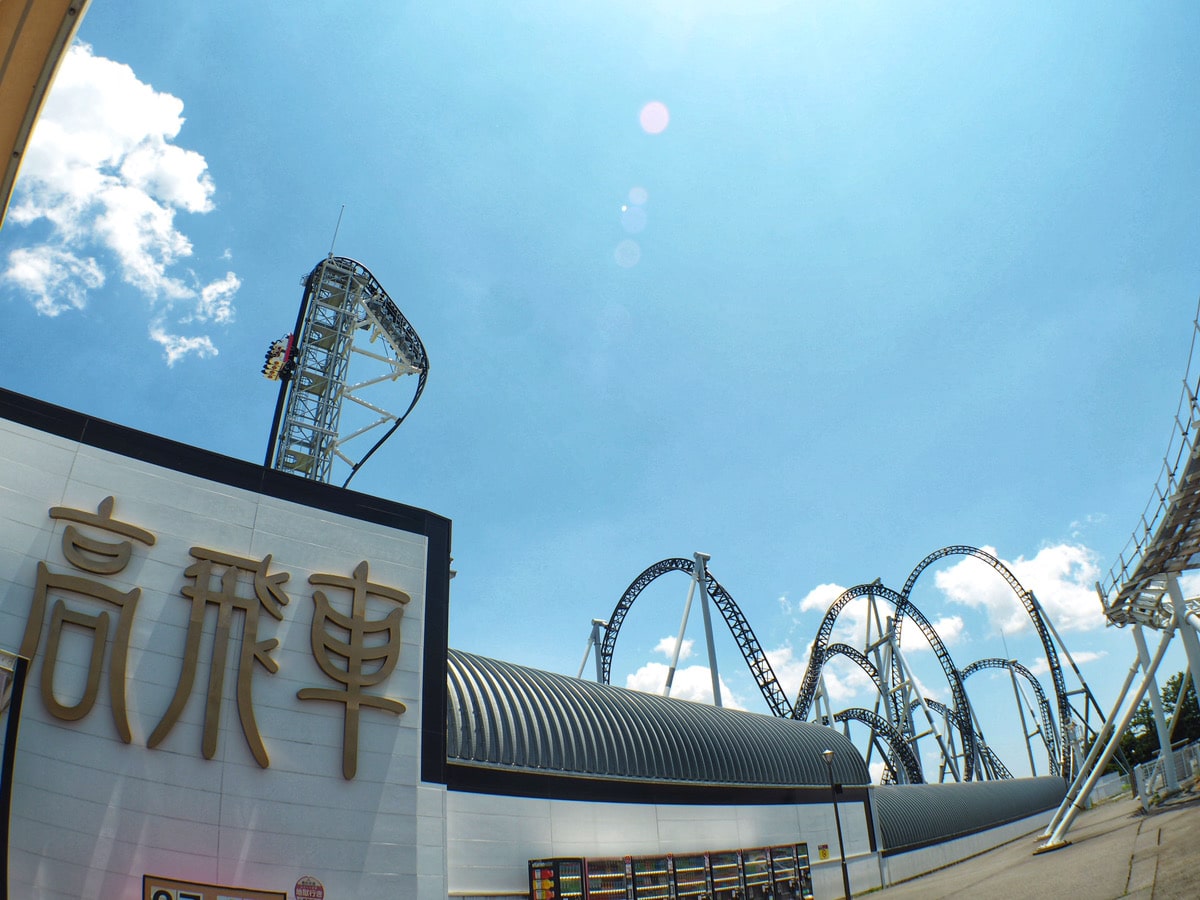 Takabisha (高飛車) is yet another roller coaster that packs a punch with its exhilarating features and unique elements. What makes Takabisha truly special is its record-breaking steep drop angle of 121 degrees, which has the steepest drop you'll see on a roller coaster.
This heart-pounding plunge is complemented by sharp twists, inversions, and high-speed sections, creating a thrilling experience from start to finish.
The combination of its extreme elements, stunning views of Mount Fuji, and the sheer adrenaline rush it delivers have contributed to its popularity among coaster enthusiasts seeking an unforgettable and intense ride.
Super Scary Labyrinth of Fear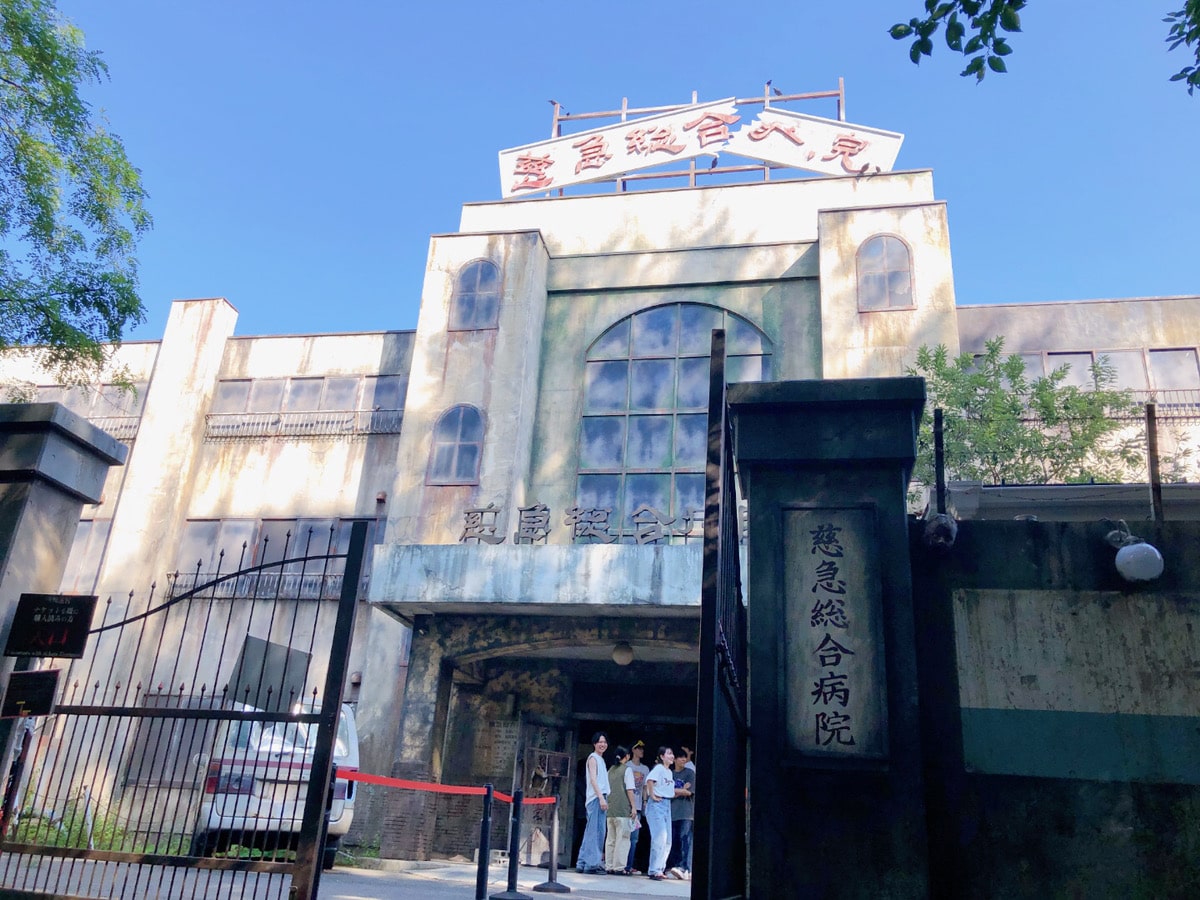 Super Scary Labyrinth of Fear (戦慄迷宮), also known as the "Jikyu General Hospital", is a unique type of haunted house in Fuji-Q Highland. It offers a spine-chilling and immersive horror experience that sets it apart from traditional haunted houses.
What makes Chow Shock Labyrinth unique among regular haunted houses is its interactive nature, where visitors must navigate through a maze while being pursued by terrifying actors and encountering frightful surprises at every turn. The attention to detail, realistic sets, and skilled performers create an atmosphere of genuine fear, making it a thrilling and unforgettable adventure.
This 2-stories, 900 m-long maze will take about 50 minutes to complete. You can imagine how many people actually retire before even completing it.
Its popularity stems from the adrenaline rush and intense emotions it evokes, appealing to those seeking an immersive horror experience that pushes the boundaries of fear.
Naruto X Boruto 3D Shooting Ride Scientific Ninja Tool dojo Hall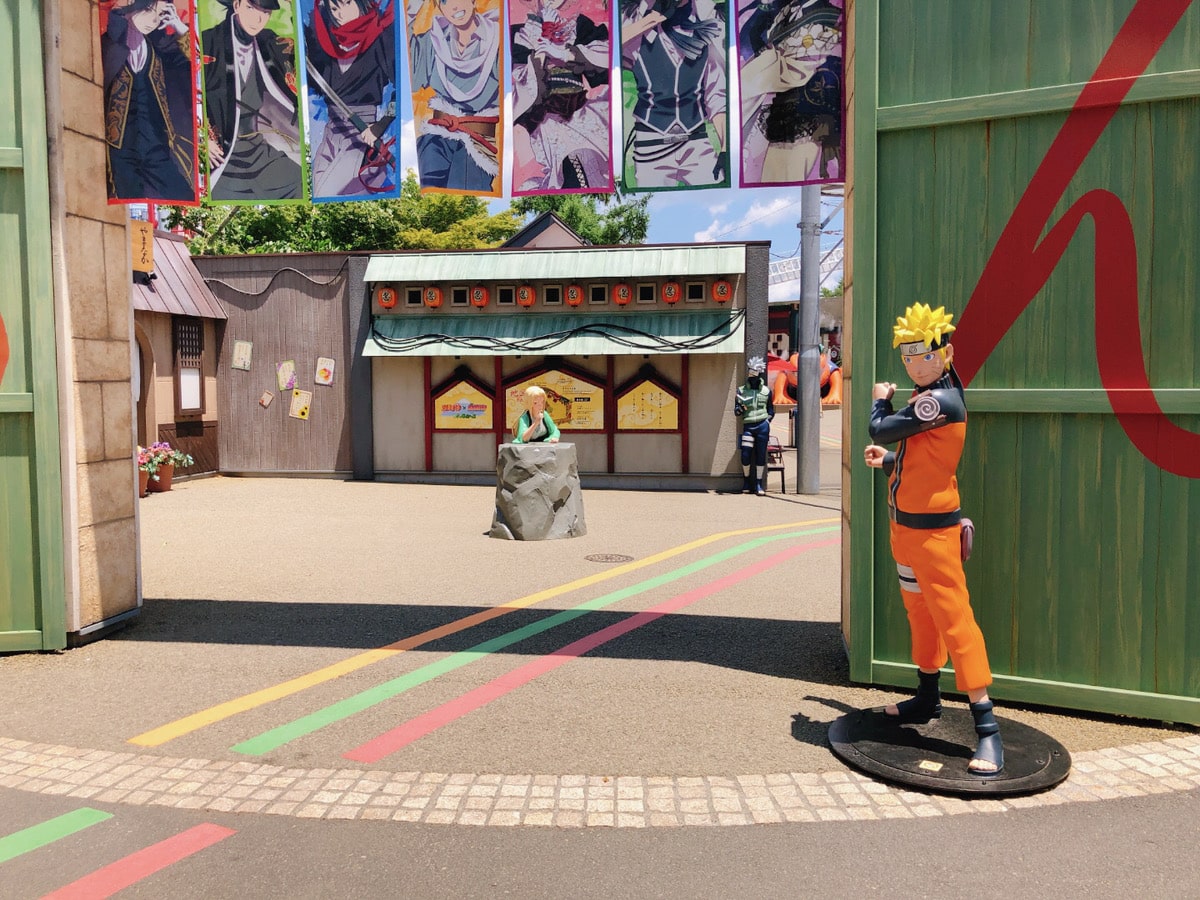 The Naruto X Boruto 3D Shooting Ride Scientific Ninja Tool dojo Hall (科学忍具道場) is an exciting attraction that immerses visitors into the action-packed world of the popular Naruto and Boruto anime series. It is located inside the aforementioned "Naruto × Boruto FUJI Hidden Leaf Village".
It is unique in the sense that it is a combination of a thrilling 3D shooting ride with interactive gameplay elements. Participants hop aboard a moving vehicle and use handheld devices to shoot at virtual targets, engaging in battles alongside beloved characters. The seamless integration of immersive visuals, dynamic movements, and interactive gameplay creates an unforgettable experience for fans and non-fans alike.
The ride is for two people, so if you go with a friend, you can compete to see who gets the higher score! At the end of the ride, you can compare your score to the historic high scores. You can also see a picture taken of you shooting at the targets.
Thomas Land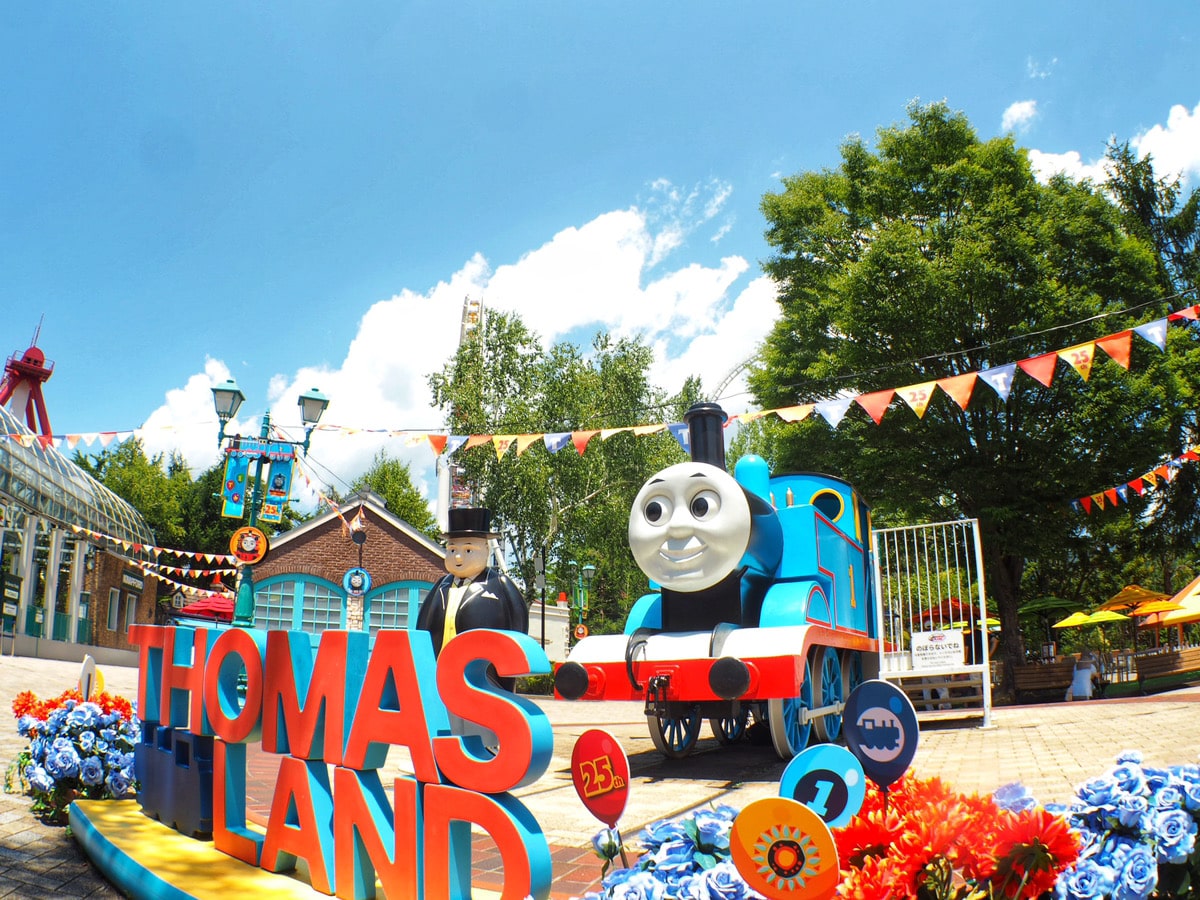 Lastly, on our list, we have a special area for those who are visiting with small children or are just fans of the show. Thomas Land (トーマスランド) is a magical area dedicated to the beloved children's character, Thomas & Friends.
What makes it special is its immersive and enchanting atmosphere, filled with themed rides, interactive experiences, and charming replicas of Thomas and his friends. It is by no means a small area, having 12 types of attractions as well as restaurants and shops.
Families and young visitors can embark on train rides, explore play areas, and enjoy live shows, all inspired by the world of Thomas and his adventures. The popularity of Thomas Land lies in its ability to bring beloved characters to life, creating a joyous and nostalgic experience for fans of all ages, making it a must-visit area within the amusement park.
2. Food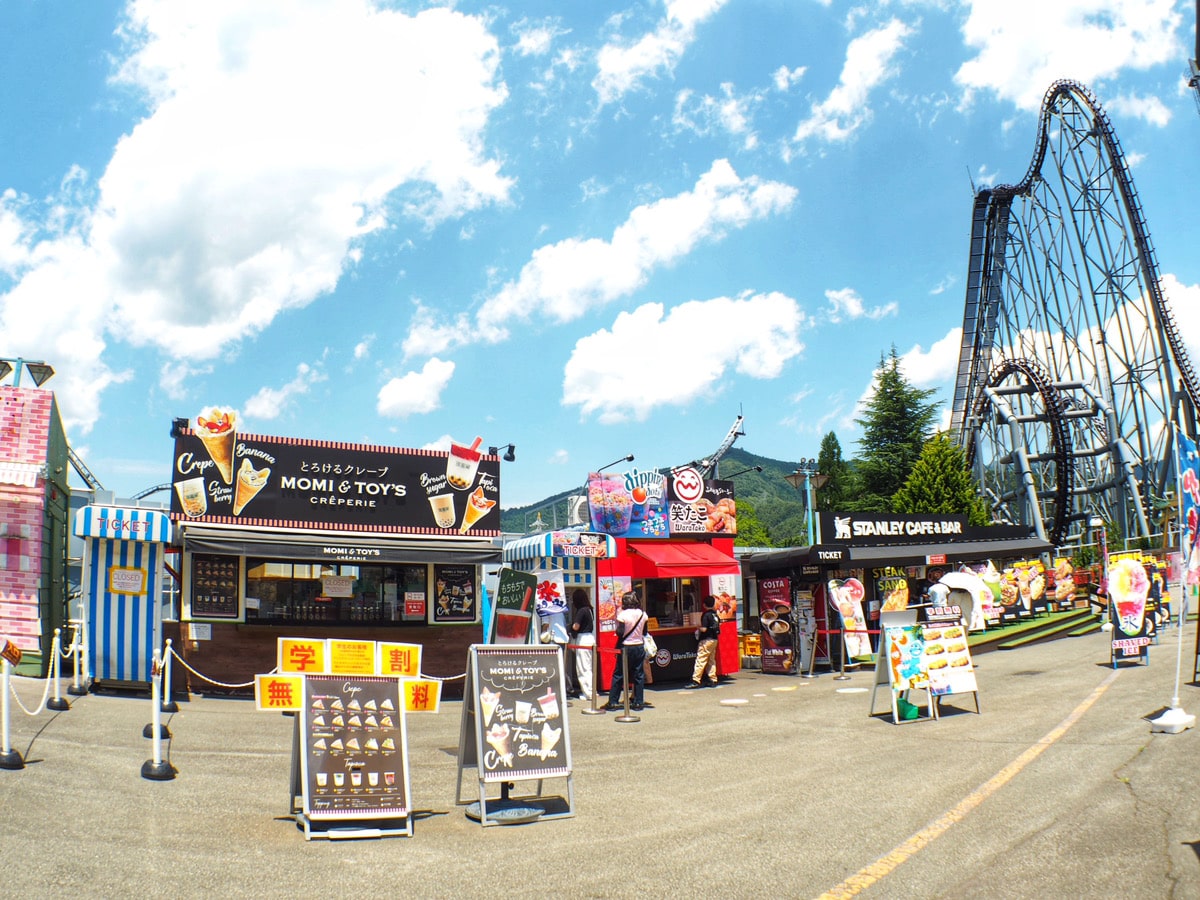 Fuji-Q Highland offers a diverse selection of food options to cater to various tastes. The park boasts several restaurants, food stands as well as a food court where visitors can indulge in both Japanese and international cuisine.
The two largest eating areas are the "Food Stadium" near Takabisha and "Garden Kitchen@BASE" near the park's second entrance. Both of these offer a large number of seats as well as food options. The Food Stadium offers a more Japanese menu such as Ramen and Curry with rice. On the other hand, Garden Kitchen offers a more western menu such as hamburgers, pizza, and a wide variety of gelato.
Then there are the individual restaurants or food stands (there are over 20 of these). From traditional Japanese dishes like ramen and udon to popular Western favorites such as burgers, pizza, and fried chicken, there is something for everyone. You can also find snack stalls serving cotton candy, popcorn, ice cream, and other treats. The park's restaurants range from casual dining to fast food-style eateries, ensuring you'll have plenty of choices to satisfy your hunger and enjoy a delicious meal during your visit. You will even find a Starbucks!
Many of these are gathered near the new Zokkon attraction and Central Park, but there are also many of these restaurants and stands scattered across the amusement park.
*Note: You should know some restaurants or vending shops require you to use a vending machine just like the one in the image above. The vending machines have English indications, so no need to worry about that.
3. Souvenirs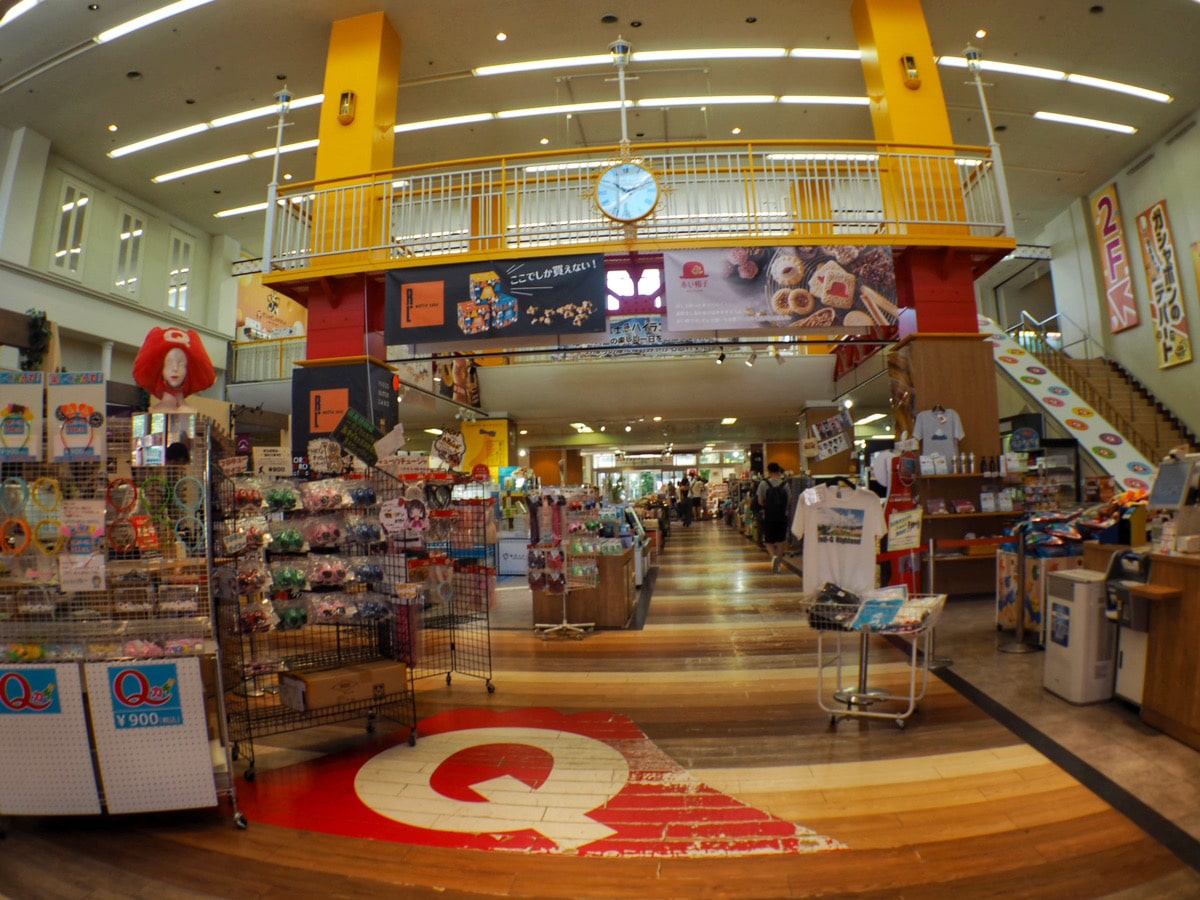 At Fuji-Q Highland, there are over 10 souvenir shops where you can find a wide range of memorable keepsakes. The park boasts multiple stores, each offering its unique selection of merchandise. Popular souvenirs include original character-themed items featuring beloved anime icons, such as Naruto, Thomas & Friends, and more.
Visitors can find plush toys, keychains, T-shirts, stationery, and collectible items showcasing the park's attractions. Additionally, Mount Fuji-themed souvenirs, including postcards, magnets, and traditional Japanese crafts, are also available.
The largest shop is located right before the main entrance. You will find another shop at the second entrance. In these shops is where you can find Fuji-Q merch as well as Yamanashi or Mt Fuji-related souvenirs. You will also find some shops at the end of some of the attractions where you can find original merch specifically about that ride.
With numerous shops scattered throughout the park, you'll have plenty of opportunities to find the perfect souvenir to cherish your Fuji-Q Highland experience.
Also, just for your information, there is also the online store where you can also get original Fuji-Q Highland merch. This is a good option if you want to get a T-shirt or hat beforehand so you can wear it when you go visit the park.
*Note: Online purchases can be shipped only to addresses within Japan.
4. Tickets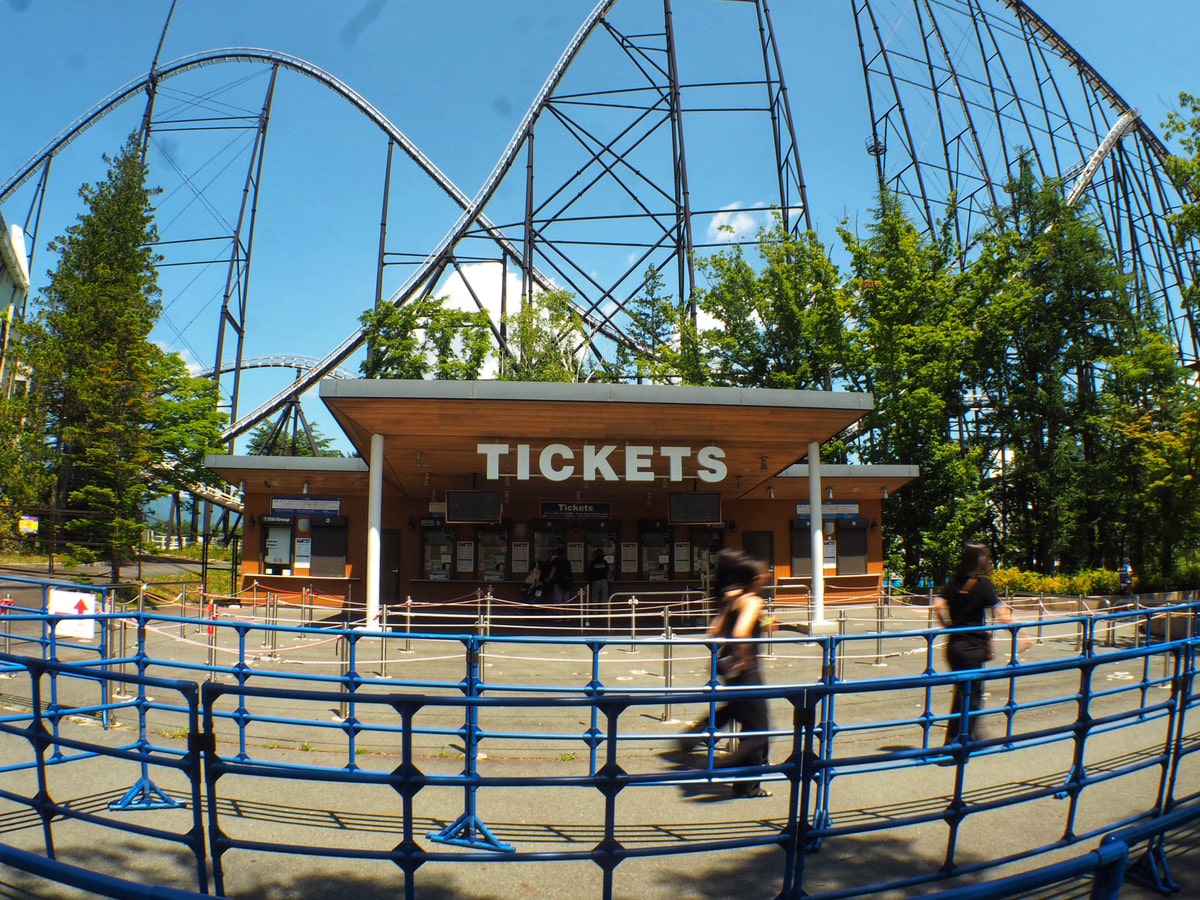 To get entrance tickets to Fuji-Q Highland, you have two options: purchasing them online in advance or buying them on-site when you visit the amusement park. Online ticket purchase is recommended to save time and secure your entry. On the official Fuji-Q Highland website or the Fuji-Q Highland Official App, you can easily select and purchase tickets according to your preferences (you need to register and become a member first).
*Note: Credit cards from countries other than Japan cannot be used.
You can also purchase your tickets from other websites such as Rakuten Travel Experiences.
▶︎Get NOW your tickets for Fuji-Q Highland!
They offer various ticket types, including general admission and unlimited ride passes. Choosing the right ticket depends on your ride preferences and the number of attractions you wish to experience.
However, rest assured that you can also buy tickets directly at the park if you prefer to decide on the spot. Also, just as I previously mentioned, some attractions will have additional costs depending on the ticket you purchase.
5. Access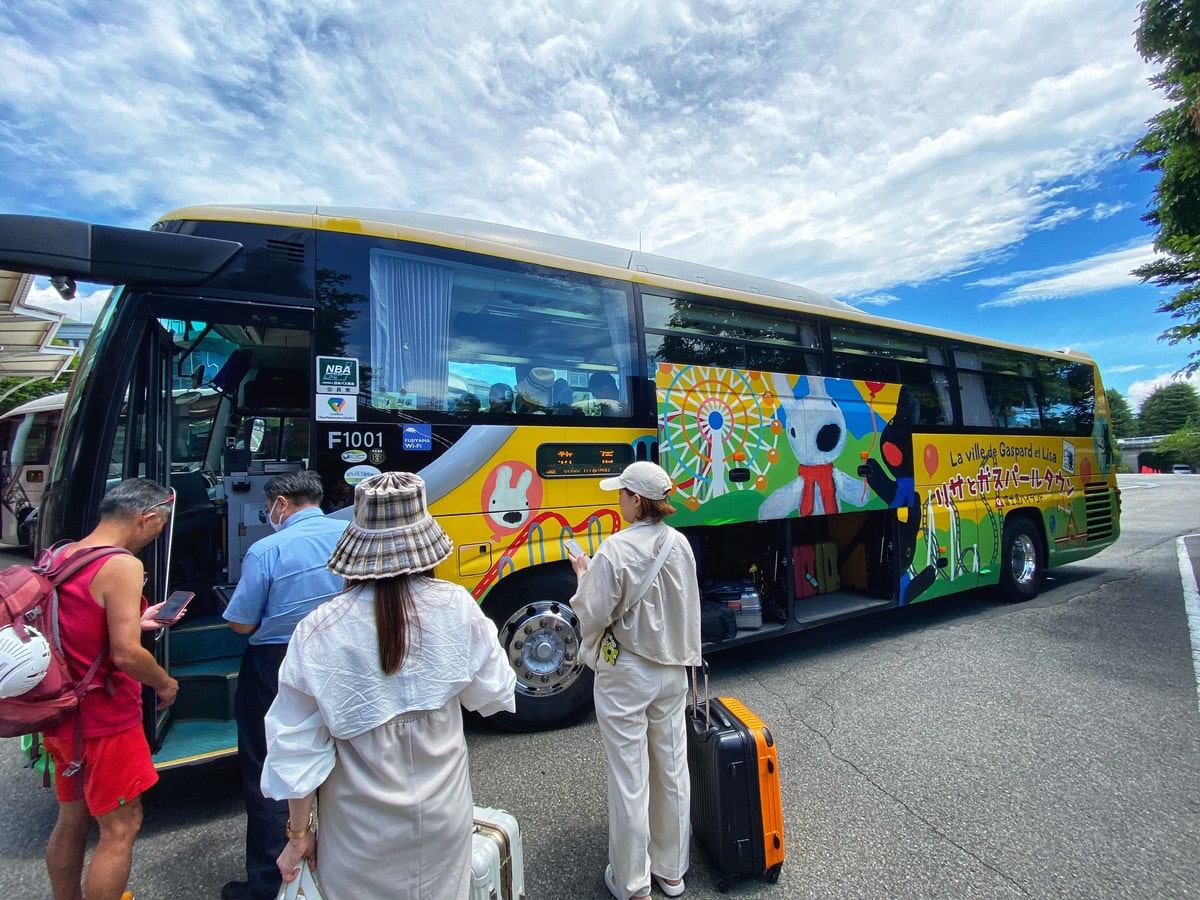 To access Fuji-Q Highland from central Tokyo, you have convenient options by both train and bus.
By Train
By train, the nearest station from Fuji-Q Highland is Fujikyu Highland Station (富士急ハイランド駅) of the Fujikyuko Line (富士急行線). From central Tokyo, you will need to first go to Otsuki Station (大月駅) of the JR Chuo Line (JR中央線). It will take you about 110 minutes from Shinjuku Station or 120 minutes from Tokyo Station.
From Fuji-Q Highland Station, the entrance to the park is right across the street.
By Bus
Alternatively, you can take the highway express bus from various spots within Tokyo directly to Fuji-Q Highland. For example, from Shinjuku Station's South Exit Bus Terminal, it takes about an hour and 40 minutes (depending on traffic conditions). There are also buses you can take from Tokyo Station, Ikebukuro, Akihabara, and Shibuya, among other locations. There are also buses available from other large cities such as Osaka, Kyoto, and Nagoya.
The bus will take you right near the main entrance.
6. Hotel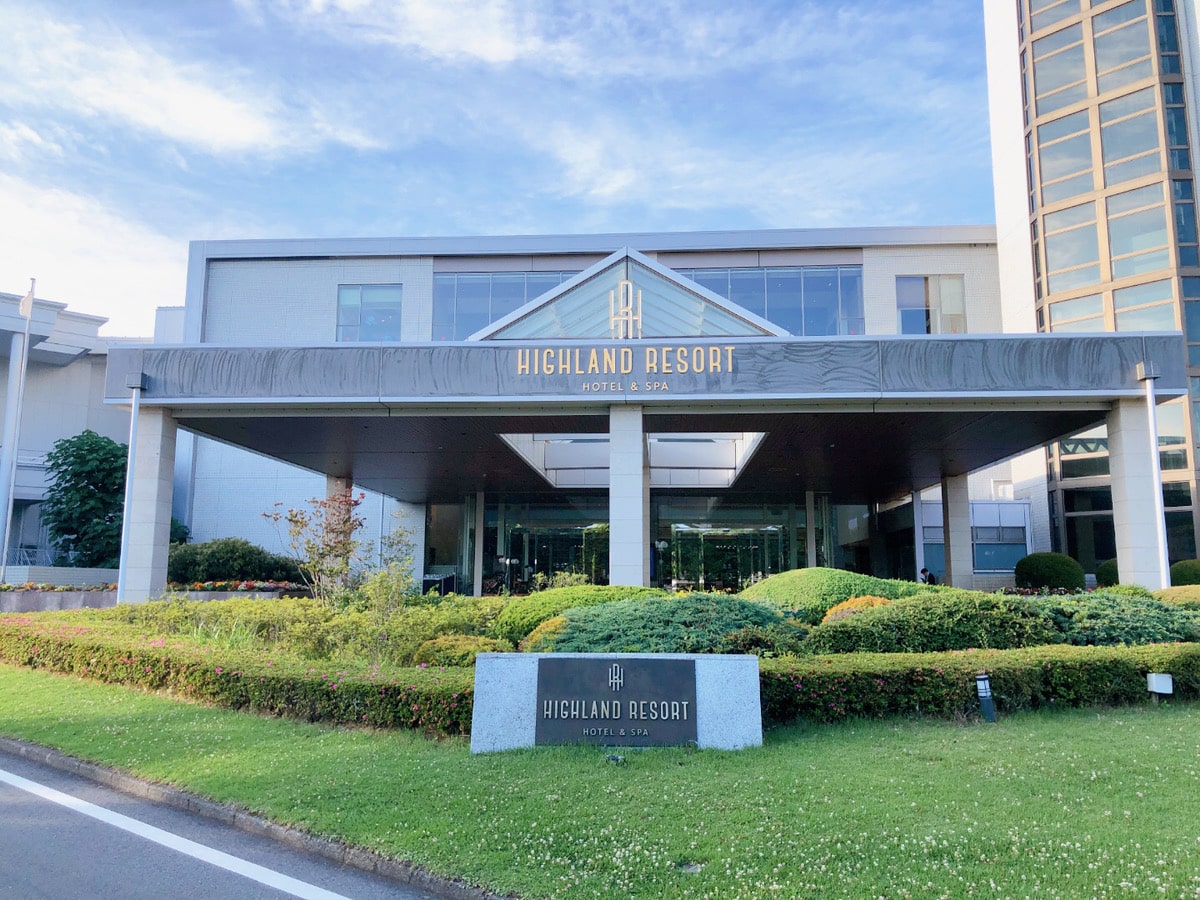 After spending a whole day at Fuji-Q Highland, there is a good chance you will be too tired to head all the way back to Tokyo or whatever next destination in your plans. Also, as I previously mentioned, there are many things you can do in the area such as camping/glamping near Mt Fuji; actually climbing Mt Fuji; visiting nearby Shrines and Temples, etc.
So what many people like to do is to stay at a hotel and enjoy the nearby areas on the foot of Mt Fuji.
Highland Resort Hotel and Spa
Highland Resort Hotel and Spa is simply the closest hotel to Fuji-Q Highland; it will take you just a couple of minutes to get to the main entrance from the hotel (in fact, if you stay in this hotel, you can enter the park earlier than the general guests). It also has easy access to other tourist areas. However, that is not the only reason we would recommend this hotel for you to stay.
The hotel is highly rated across booking sites because of its exceptional services. The rooms are spacious and have a view of either Mt Fuji or Fuji-Q Highland. The breakfast restaurant also has an astounding view of Mt Fuji.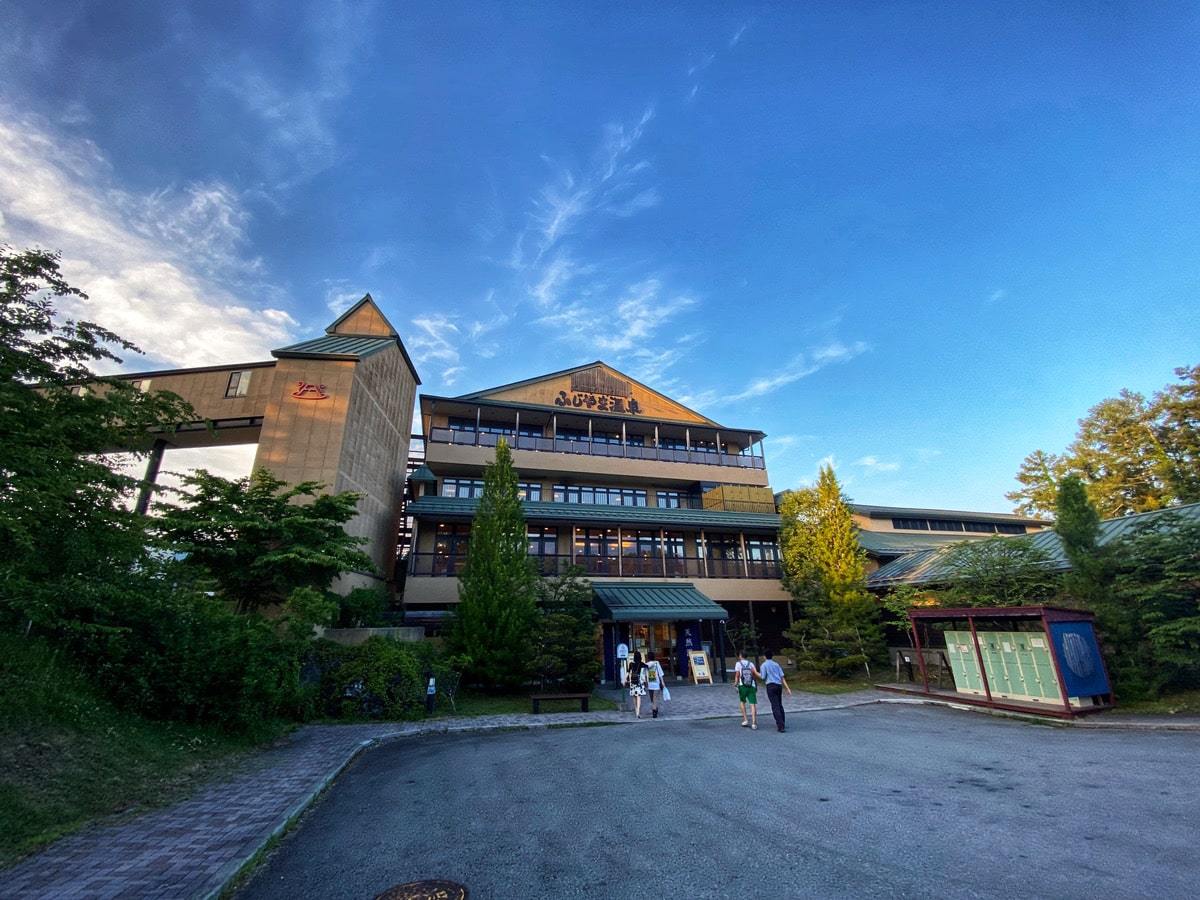 Right at the side of the hotel, you will also find a large Hot spring bath establishment that hotel guests can use for free. This is really refreshing, especially after spending a day riding high-intensity roller coasters.
You can also enjoy top-class meals at the restaurants; there are Japanese, Italian, and buffet-style restaurants. The images above are from the Japanese restaurant "Kokorogi".
The hotel also offers Spa services, as mentioned in the name of the hotel.
<<Book "Highland Resort Hotel and Spa" at the best price!!>>
---
I hope this article serves as a good guide for those who are thinking of visiting Fuji-Q Highland. As I previously mentioned, this is a great amusement park to spend a day if you love high-intensity attractions or if you're visiting the area. Many record-holding rollercoasters, a wide variety of tasty foods and sweets, and a highly-rated hotel right next to the amusement park are just some of the attractive points that make Fuji-Q Highland a great option to check out during your visit to Japan!
▽Subscribe to our free news magazine!▽

For more info about other things to do in the Yamanashi area or other theme parks in Japan, check these articles below!
▽Related Articles▽
▼Editor's Picks▼
---