Sanrio Puroland (サンリオピューロランド) is a popular themed park in Tokyo dedicated to Sanrio Characters including Hello Kitty, Pompompurin, Cinnamoroll and My Melody and more. Sanrio Puroland features Sanrio character themed attractions, shows, restaurants and special merchandise collections that Sanrio fans can not miss!
<< 48% OFF!! Book Sanrio Puroland E-Tickets with discount!! >>
Sanrio Puroland
If you love Sanrio characters or you are simply into Japanese Kawaii culture, Sanrio Puroland is definitely one of the best places to visit in Tokyo.
Sanrio Puroland is a theme park located in Tama area, Tokyo, which is about 30 mins away by train from Shinjuku Station. The park originally opened in 1990, and now attracts over 1.5 million visitors every year. Since Sanrio characters such as Hello Kitty, Gudetama, Cinnamoroll and My Melody have become popular worldwide, Sanrio Puroland attracts many visitors from overseas.
Sanrio Puroland is an indoor theme park that can be fully enjoyed on a rainy day. The whole park is themed with a colourful and fantasy Sanrio world, and it's suitable for both adult and kids.
The best highlights of the park are character greeting, character themed fun rides, shows and parades that are held several times a day, character restaurants and cafes, and limited Sanrio merchandise at souvenir shops.
There are 9 attractions in total at Sanrio Puroland including The Lady Kitty House, Sanrio Character Boat Ride, My Melody & Kuromi Mymeroad Drive, Kiki & Lala Twinking Tour, The Gudetama Land, Hello Kitty Bell of Happiness, etc. Besides attractions, Sanrio character shows and parades are hugely popular at the park. Various kinds of shows and parades are held at the park through the year including some of seasonal events such as fireworks at summer, Halloween, Christmas and more. You can see your favourite Sanrio characters singing and dancing with cute costumes on the stage.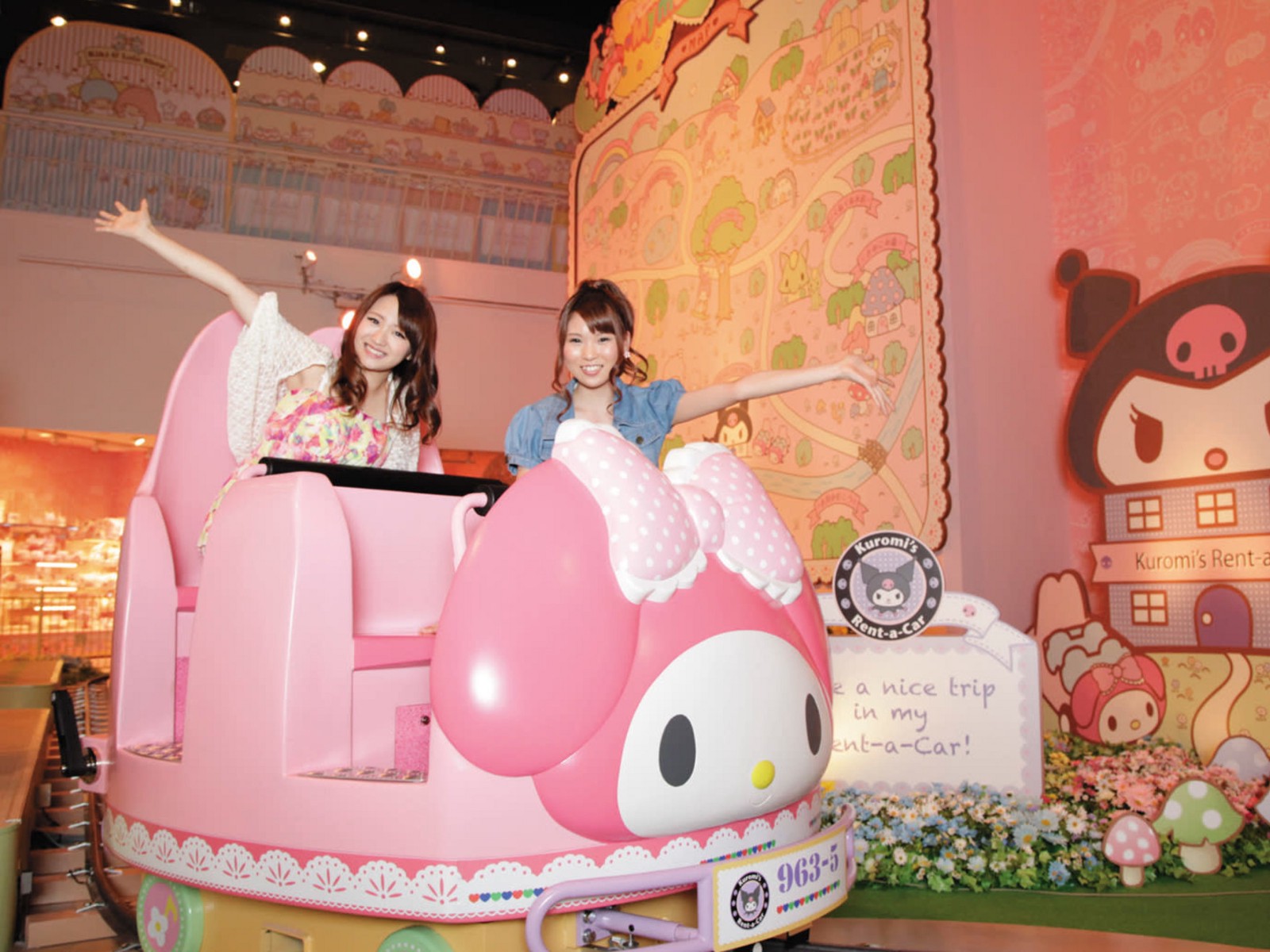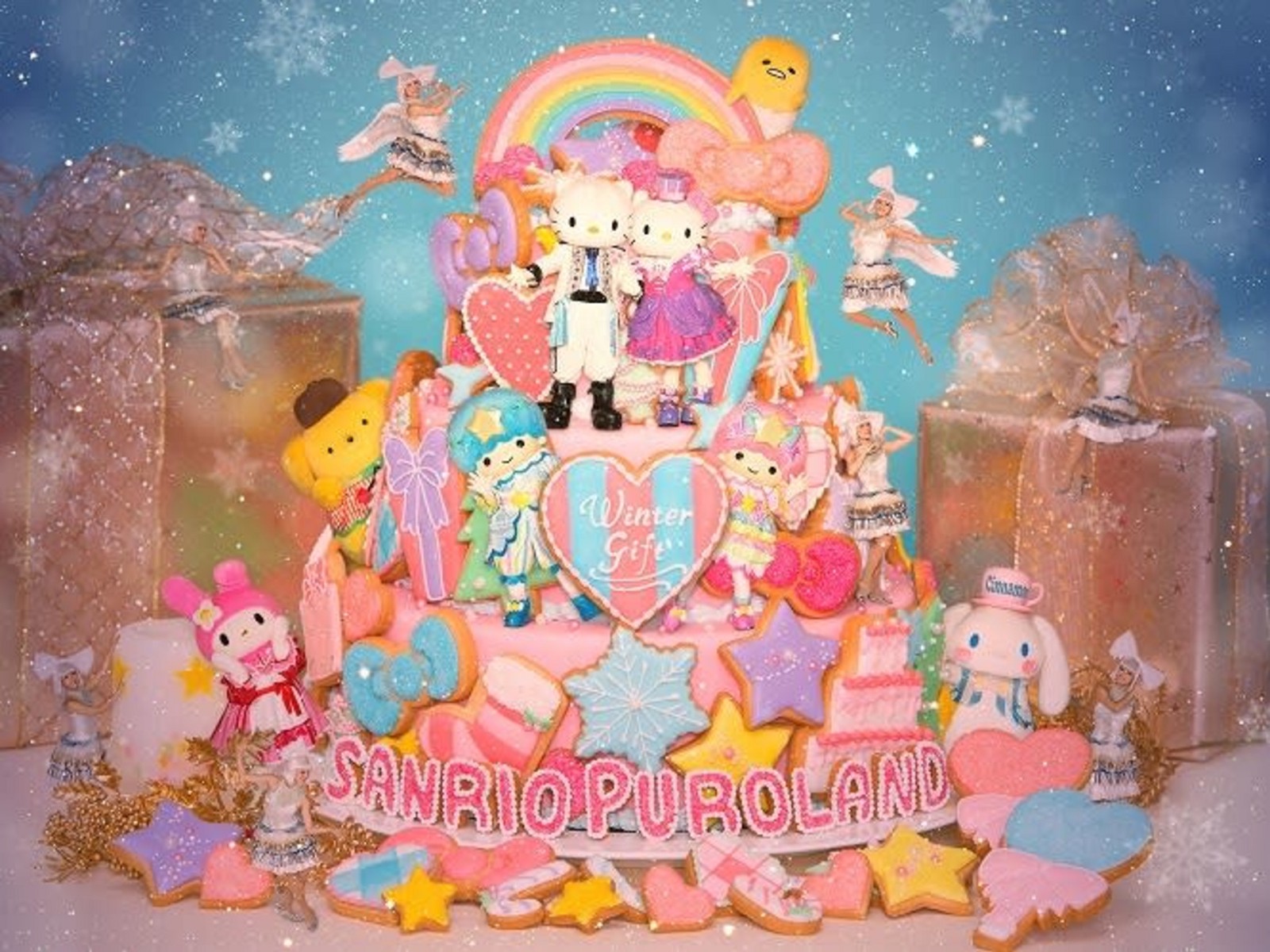 While having fun with adorable Sanrio character themed attractions, make sure to stop by for delicious food at cafes and restaurants. Super cute character themed food, desserts and drinks are available only at Sanrio Puroland! Besides regular menu, seasonal menu is also available for limited time only. The character dishes are literally too cute to eat! Make sure to take a lot of photos before eating 😉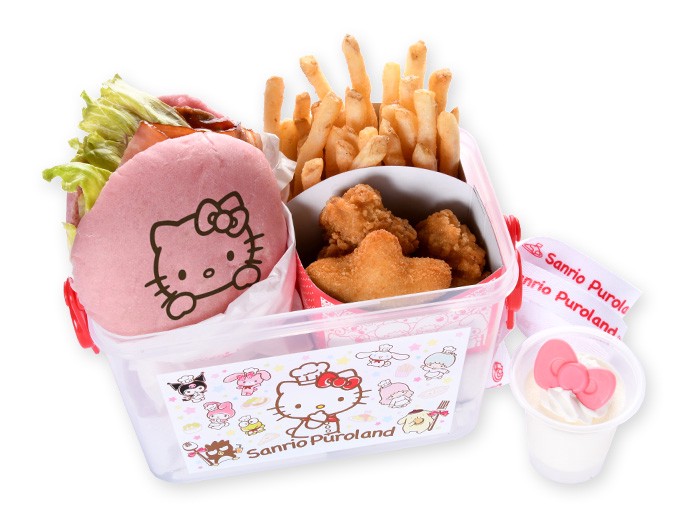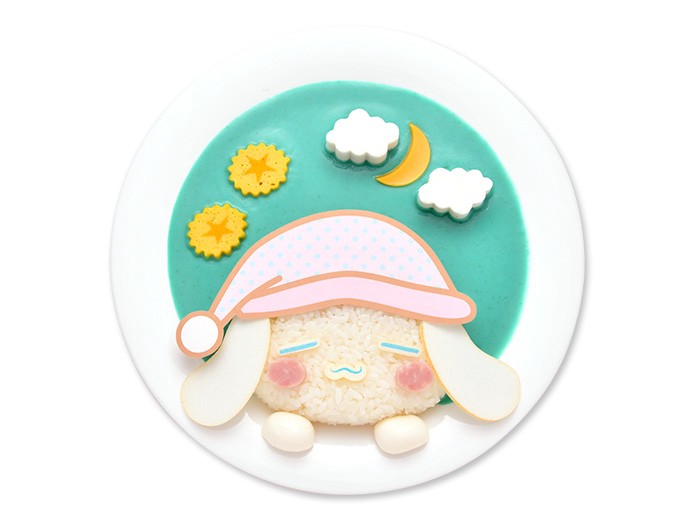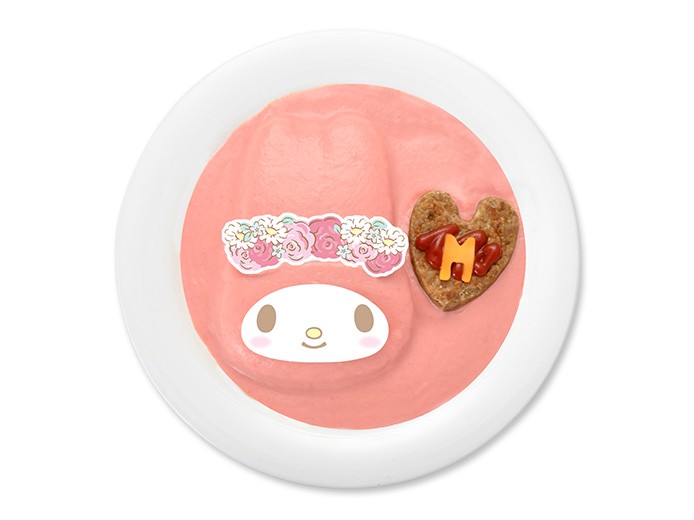 Before leaving the park, don't forget to pop by at souvenir shops at the park. If you are a Sanrio character fan, this could be the best part of your Sanrio Puroland experience. There are 8 souvenir shops at the park in total and some of them are dedicated to popular Sanrio characters such as Hello Kitty, Gudetama, My Melody and Little Twin Stars. A wide variety of Sanrio products are available including many "Sanrio Puroland Only" items. Credit card payment is accepted as well as ATM and currency exchanges. A tax-free counter for oversea visitors is also available.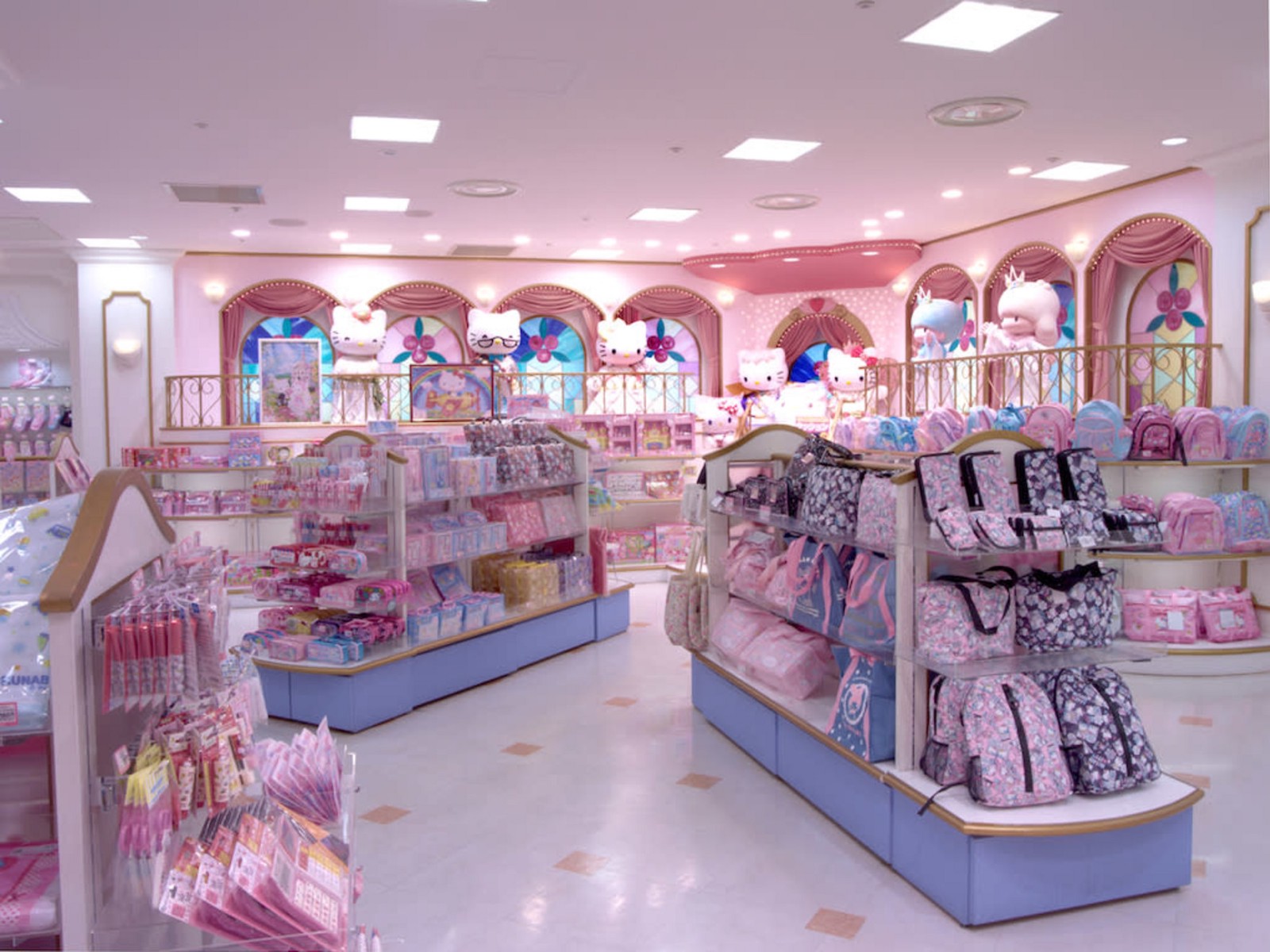 Ticket
The official tickets (passports) of Sanrio Puroland can be purchased at the park, and prices are 3,300 yen for adult (over 18 yo) and 2,500 yen for children (3–17 yo) on weekdays, and 3,800 yen for adult and 2,700 yen for children on weekends and holidays. Entrance is free for children under 2 yo.
But if you are planning your visit to Sanrio Puroland, you should definitely book the tickets online at Voyagin to get special discount! Open-day tickets are available with a massive 48% discount!! You can book now and visit the park any date you like before 31 May 2019.
▶ 48% OFF!! Book Sanrio Puroland E-Tickets with discount!!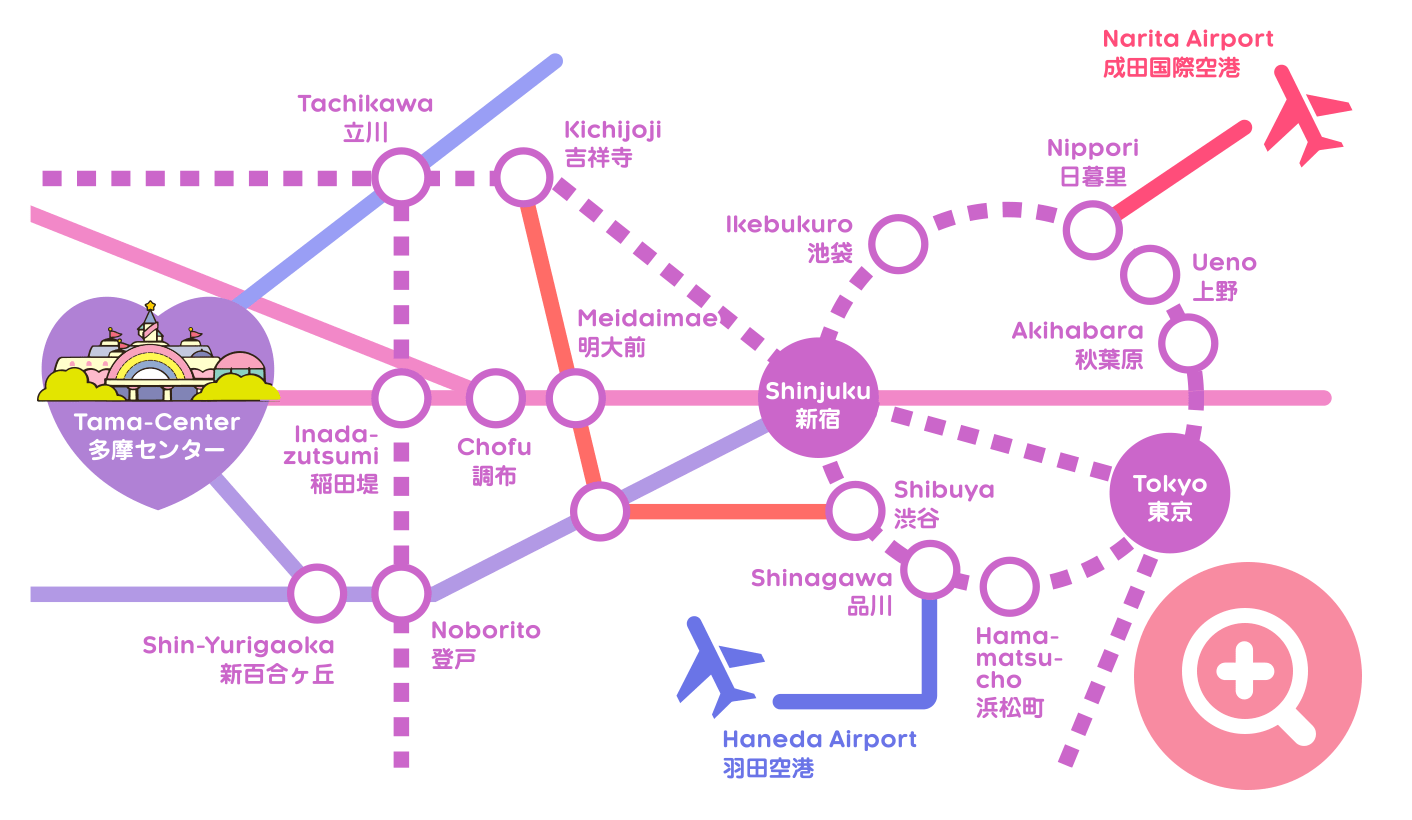 Sanrio Puroland is located near Tama Center which can be reached by three different train lines: Keio Sagamihara Line, Odakyu Line and Tama Monorail
Keio Sagamihara Line/Keio Tama-Center Station
-About 30 minutes from Shinjuku on the Keio Semi Special Express for Hashimoto
-About 60 minutes from Yokohama on the JR Yokohama Line, and from Hashimoto on the Keio Line
Odakyu Line/Odakyu Tama-Center Station
-About 12 minutes from Shin-Yurigaoka Station on the Odakyu Line
Tama Monorail/Tama-Center Station
-About 23 minutes from Tachikawa to Tama-Center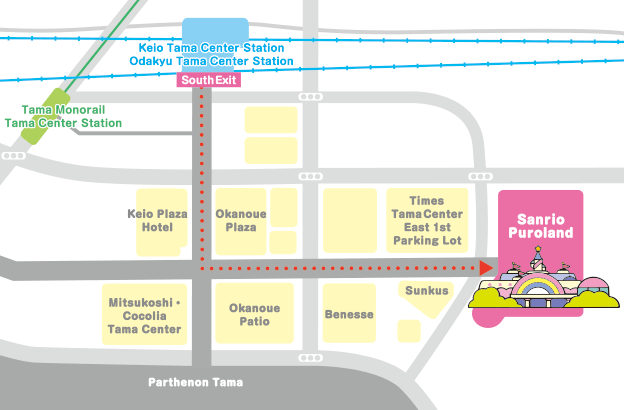 -Direction from Tama Center Station to Sanrio Puroland
Take the South Exit of Keio Tama Center ・Odakyu Tama Center Station and walk straight toward Parthenon Tama.
Turn left at the Okanoue Plaza cross.
You will see Sanrio Puroland in front of you. Please proceed to the entrance.