Sanrio Puroland: Hello Kitty Theme Park in Tokyo!
Guide to Sanrio Puroland Tokyo and Book Tickets with the Best Price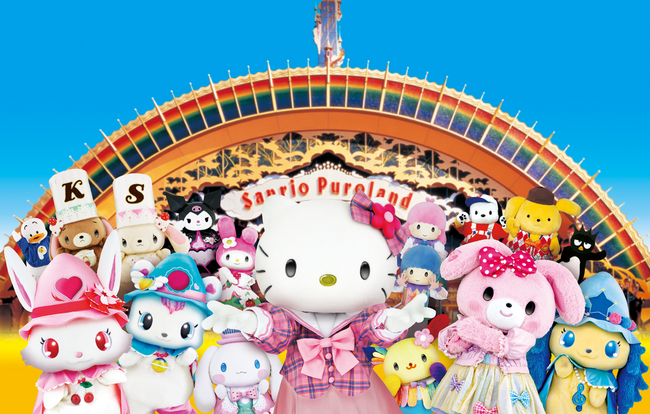 Sanrio Puroland (サンリオピューロランド) is a popular themed park in Tokyo dedicated to Sanrio Characters including Hello Kitty, Pompompurin, Cinnamoroll and My Melody and more. Sanrio Puroland features Sanrio character themed attractions, shows, restaurants and special merchandise collections that Sanrio fans can not miss!
<< Book Tokyo Hello Kitty Theme Park E-Tickets with discount!! >>
Sanrio Puroland
If you love Sanrio characters or you are simply into Japanese Kawaii culture, Sanrio Puroland is definitely one of the best places to visit in Tokyo.
Sanrio Puroland, often called the Hello Kitty Theme Park, is a theme park located in Tama area, Tokyo, which is about 30 mins away by train from Shinjuku Station. The park originally opened in 1990, and now attracts over 1.5 million visitors every year. Since Sanrio characters such as Hello Kitty, Gudetama, Cinnamoroll and My Melody have become popular worldwide, Sanrio Puroland attracts many visitors from overseas.
Sanrio Puroland is an indoor theme park that can be fully enjoyed on a rainy day. The whole park is themed with a colourful and fantasy Sanrio world, and it's suitable for both adult and kids.
The best highlights of the park are character greeting, character themed fun rides, shows and parades that are held several times a day, character restaurants and cafes, and limited Sanrio merchandise at souvenir shops.
▽Review: 1 Day Itinerary at Sanrio Puroland!!▽
-Attractions
There are 9 attractions in total at Sanrio Puroland including Lady Kitty House, Sanrio Character Boat Ride, My Melody & Kuromi Mymeroad Drive, Kiki & Lala Twinkling Tour, The Gudetama Land, Hello Kitty Bell of Happiness, etc. Here are some introductions about the most popular Sanrio Puroland attractions in details:
Lady Kitty House-The fancy house of Hello Kitty where you can take a lot of photos in a dreamy space. At the end of the attraction, you also get a chance to take a photo with Hello Kitty herself. In 2019, Hello Kitty is celebrating her 45th anniversary, and limited designed decorations and outfits are available.
Sanrio Character Boat Ride-The most popular attraction at the park which offers a 10 mins boat ride through the Sanrio world meeting a lot of adorable characters. There is a photo shoot service at the end of the ride so make sure to smile at the camera!
*Note* Sanrio Character Boat Ride will be closed for renovation from September 2019 to summer 2020.
My Melody & KUROMI Mymeroad Drive- The ride attraction on adorable My Melody shaped 'Eco MyMelody Car' through Mariland. There are six photo spots during the ride, and after the ride, you can pick three photos and decorate them with fancy stickers and effects.
-Parade/Shows
Besides attractions, Sanrio character shows and parades are hugely popular at the park. Various kinds of shows and parades are held at the park through the year including some of seasonal events such as fireworks at summer, Halloween, Christmas and more. You can see your favourite Sanrio characters singing and dancing with cute costumes on the stage. Check out the brief introductions about two most popular shows at the park currently:
KAWAII KABUKI-Momotarō by the Hello Kitty Troupe: A musical show with the collaboration between the KAWAII culture of Sanrio characters and the traditional Japanese KABUKI. The show started last year, and becomes a popular attraction at the park today. The 40 mins show offers a dramatic story with adorable Sanrio characters and dynamic dance performance as well as special effects of projection and lighting with the latest technology. If you download a helpful app named OMOTENASHI GUIDE, you can get an English subtitle for the show.
Miracle Gift Parade- The biggest show at the park with the theme of miracle and a heart-warming story. The show features numbers of Sanrio characters on colourful floats moving through the park and in front of audience. The guests can participate the show by using penlights and create the miracle world together.
▶ Sanrio Puroland E-Tickets for Hello Kitty Theme Park!!
Besides regular tickets, it's highly recommended to purchase PUROPASS, the special ticket that allows you to skip long waiting line for attractions and reserve good seats for shows! The passes are sold at the purchase locations at the park.
-Food
While having fun with adorable Sanrio character themed attractions, make sure to stop by for delicious food at cafes and restaurants. Super cute character themed food, desserts and drinks are available only at Sanrio Puroland! Besides regular menu, seasonal menu is also available for limited time only. The character dishes are literally too cute to eat! Make sure to take a lot of photos before eating 😉
There are three main eateries at Sanrio Puroland:
Character Food Court-Cute and photo-worthy Sanrio character themed food, desserts and drinks are available here. The most popular dish is curry served with eye-popping colourful sauce and adorable characters' faces.
Sanrio Rainbow World Restaurant- The rainbow themed restaurant where you can find a variety of colourful and adorable character food and drinks including pasta, omu rice, rainbow crepes and bubble tea.
Restaurant Yakata-Newly renewalled buffet restaurant where Sanrio characters greet customers. Enjoy gourmet dishes with warm hospitality from the adorable characters including Hello Kitty, My Melody and Pompompurin.
-Shopping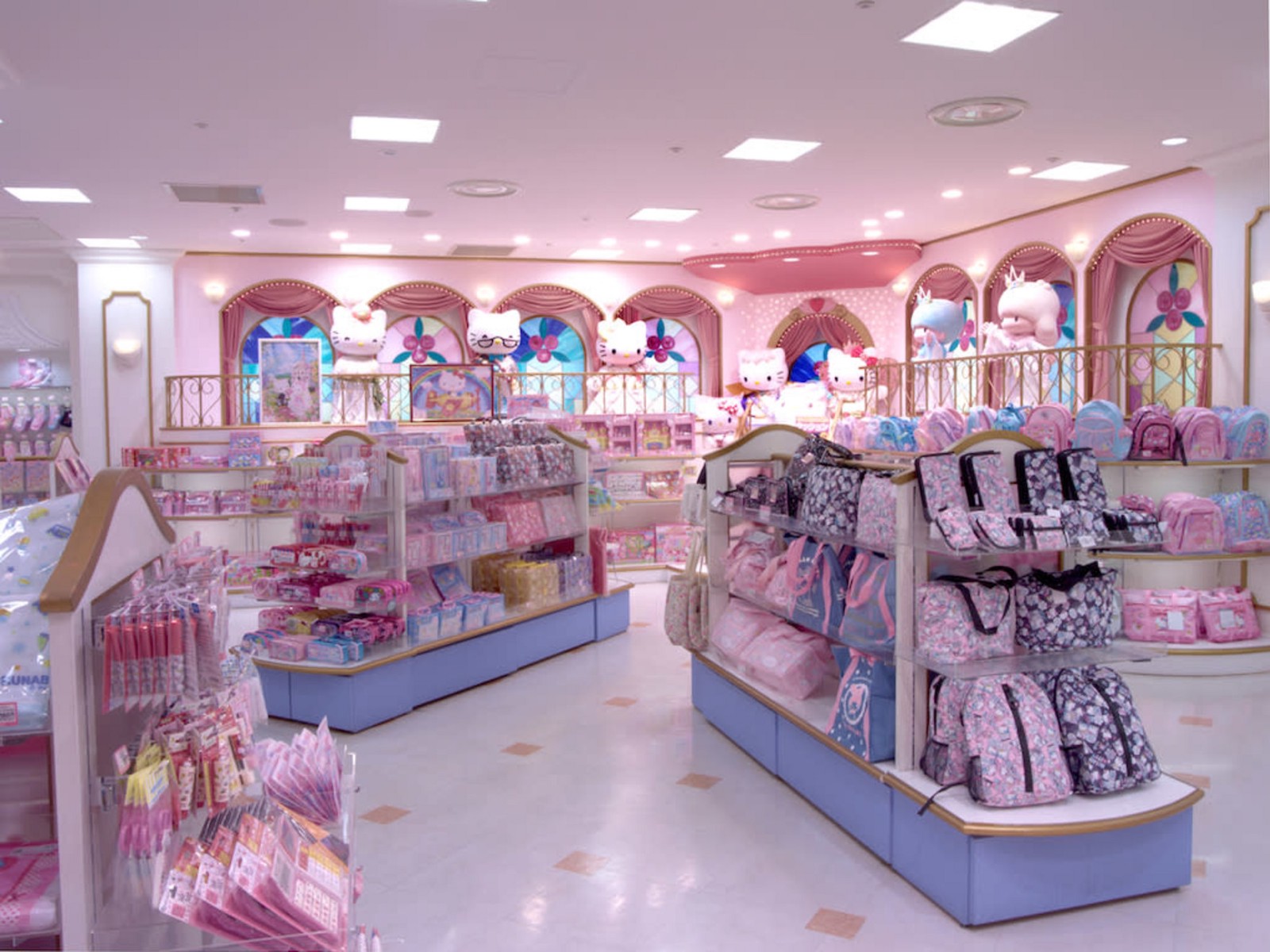 Before leaving the park, don't forget to pop by at souvenir shops at the park. If you are a Sanrio character fan, this could be the best part of your Sanrio Puroland experience. There are 8 souvenir shops at the park in total: Entrance Shop (the largest), Village Shop, Entertainment Hall Shop and 5 shops dedicated to popular individual characters including Hello Kitty, Gudetama, My Melody, Little Twin Stars, Cinnamoroll.
A wide variety of Sanrio products are available at the shops including toys, stationery, sweets, clothes, and numbers of "Sanrio Puroland Limited" items. Character headbands are highly popular as you can enjoy wearing it while playing at the park! Credit card payment is accepted as well as ATM and currency exchanges. A tax-free counter for oversea visitors is also available.
-Ticket
The official tickets (passports) of Sanrio Puroland can be purchased at the park, and prices are 3,300 yen for adult (18–59 yo) and 2,500 yen for children (3–17 yo) on weekdays, and 3,900 yen for adult and 2,800 yen for children on weekends and holidays. The tickets for senior (over 60 yo) are available for 2,200 yen everyday, and entrance is free for children under 2 yo.
But if you are planning your visit to Sanrio Puroland, you should definitely book the tickets online at Voyagin to get special discount! Open-day tickets are available with a massive 50% discount!! You can book now and visit the park any date you like before 31 December 2019.
▶ Book Sanrio Puroland E-Tickets for Hello Kitty Theme Park!
-Access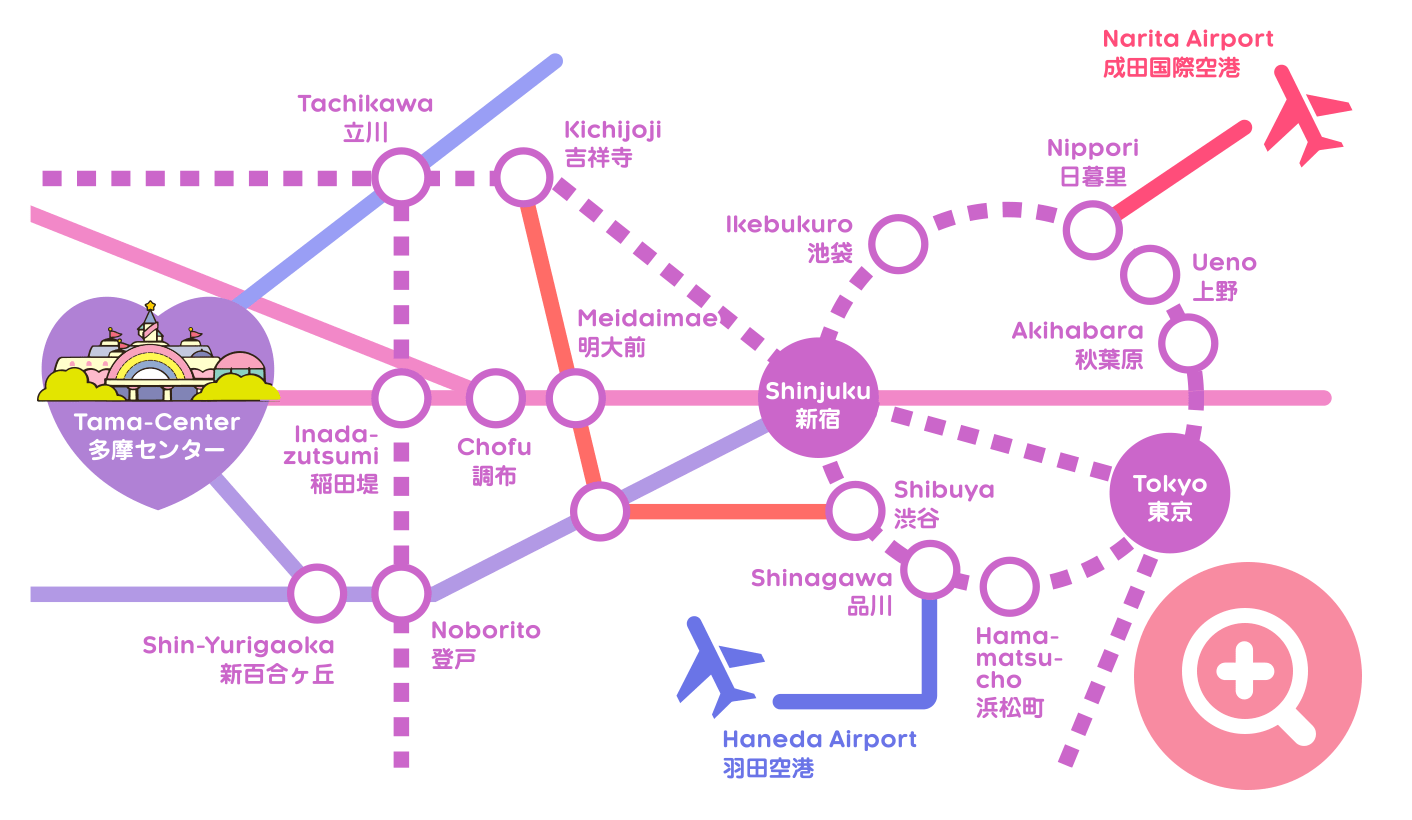 Sanrio Puroland is located near Tama Center which can be reached by three different train lines: Keio Sagamihara Line, Odakyu Line and Tama Monorail
Keio Sagamihara Line/Keio Tama-Center Station
-About 30 minutes from Shinjuku on the Keio Semi Special Express for Hashimoto
-About 60 minutes from Yokohama on the JR Yokohama Line, and from Hashimoto on the Keio Line
Odakyu Line/Odakyu Tama-Center Station
-About 12 minutes from Shin-Yurigaoka Station on the Odakyu Line
Tama Monorail/Tama-Center Station
-About 23 minutes from Tachikawa to Tama-Center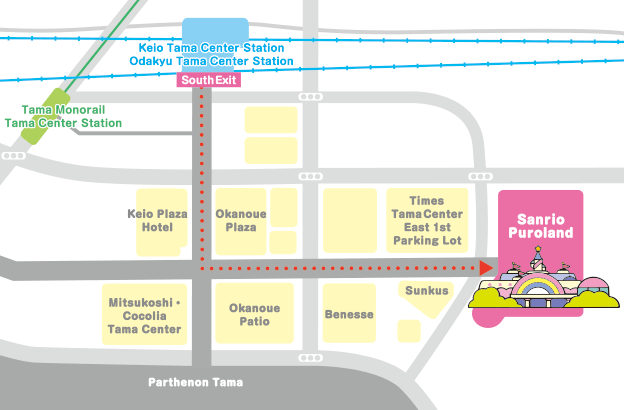 -Direction from Tama Center Station to Sanrio Puroland
Take the South Exit of Keio Tama Center ・Odakyu Tama Center Station and walk straight toward Parthenon Tama.
Turn left at the Okanoue Plaza cross.
You will see Sanrio Puroland in front of you. Please proceed to the entrance.
Tickets ▶Sanrio Puroland E-Tickets for Hello Kitty Theme Park!!
Official Website ▶ https://en.puroland.jp/
If you love Japanese Kawaii culture, you may enjoy reading these articles, too!
▽Related Articles ▽
▼Editor's Picks▼
---