10 Best Things to Do in Kawaguchiko
Kawaguchiko Travel Guide: What to Do in Lake Kawaguchiko Now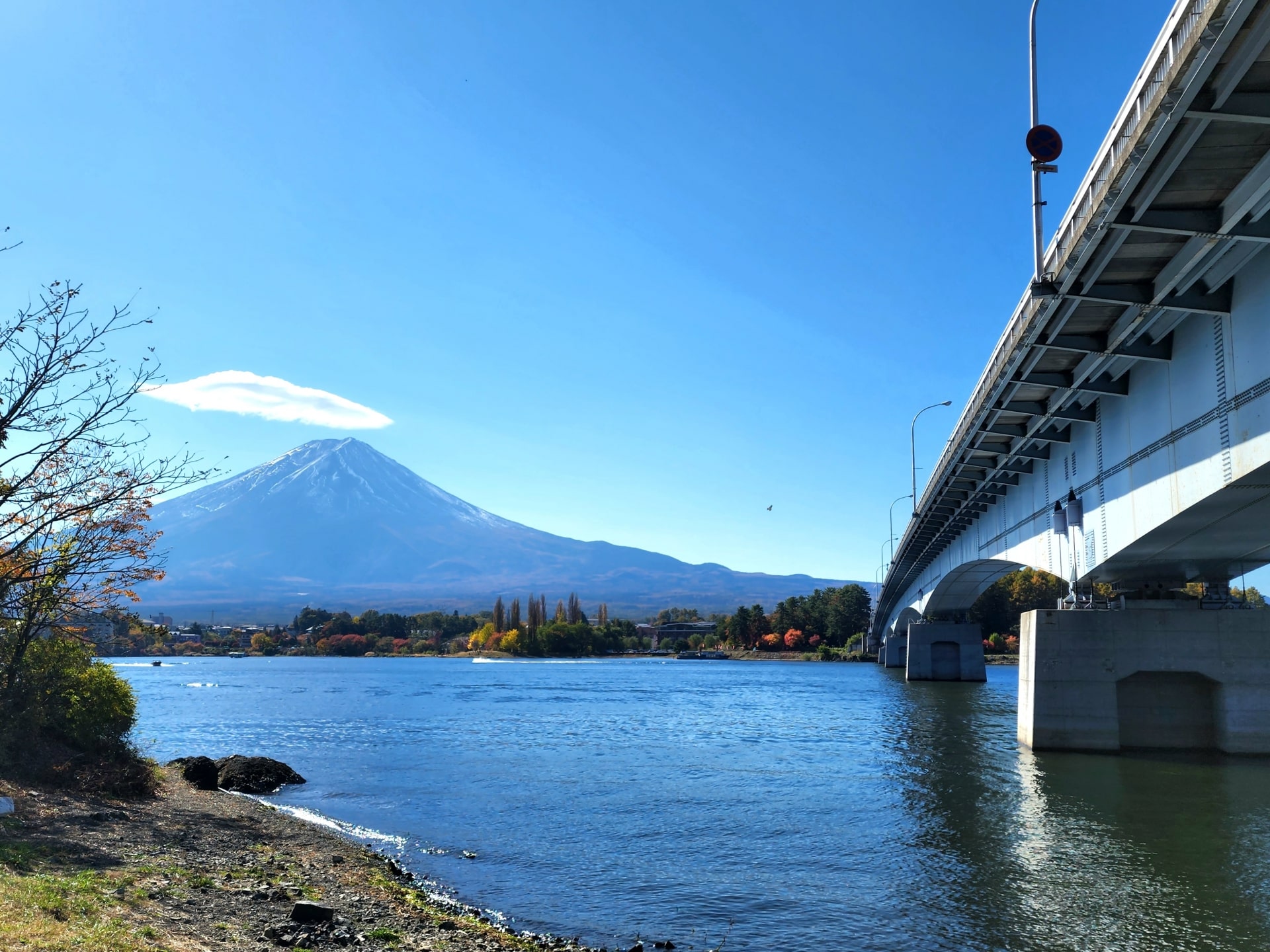 Mt. Fuji is the most famous and characteristic mountain in Japan. From Japanese notes and artworks to proverbs, Mt. Fuji can be seen and heard in various situations in Japan. Not only local people but also many domestic and international tourists visit to climb Mt. Fuji at least once in their lives.
Around Mt. Fuji, there are 5 lakes, Kawaguchiko, Motosuko, Shojiko, Saiko, and Yamanakako, which are called the "5 Fuji Lakes" (Fuji Goko in Japanese). These lakes were created by the eruption of Mt. Fuji. All of them are designated as World Cultural Heritages.
Kawaguchiko (Lake Kawaguchi) is the 2nd largest lake and is located on the north side among the 5 lakes. Kawaguchiko was also developed as the first tourist spot among the 5 lakes. Many places and attractions were established for travelers such as hot springs, hotels, and tour boats. In this article, I'm going to introduce the 10 best things to do in Kawaguchiko. There are many attractive spots to enjoy the beauty of nature. Let's have a look!!
---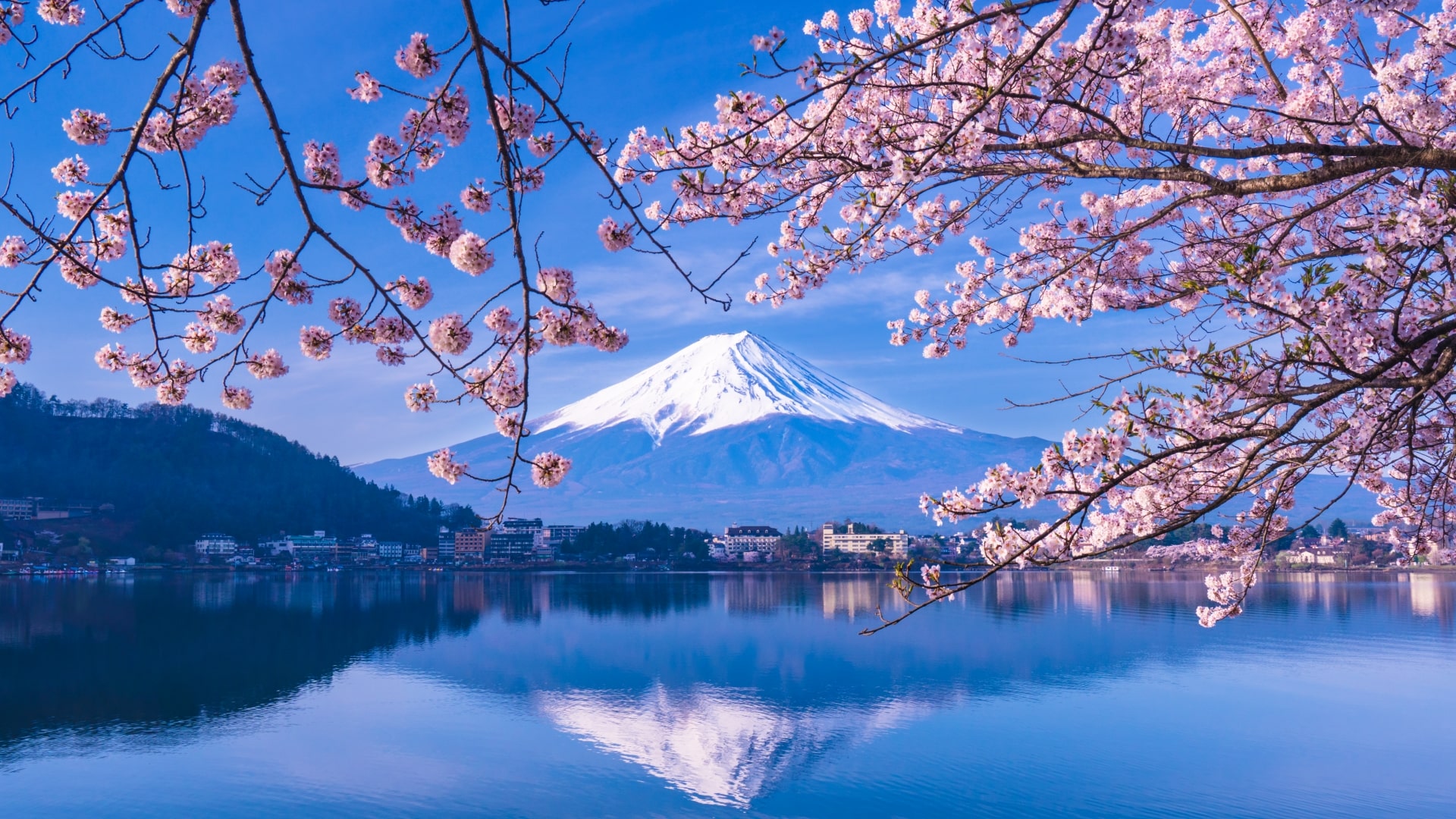 Once you get to Kawaguchiko, you will be surprised at the dynamics of Mt. Fuji. You should take many photos of Mt. Fuji from various angles.
Kawaguchiko is known as a place you can see Opposite Mt. Fuji reflecting on Lake Kawaguchi's surface (Sakasa Fuji). The most famous spot is Ubugayasaki (産屋ヶ崎). The view of Mt Fuji and the Kawaguchi bridge from Ubugaysasaki is used as a cover of a guidebook around Mt.Fuji. On the cape of Ubugayasaki, there is Ubugayasaki Shrine (産屋ヶ崎神社). The annual festival called Magomi festival is held on the 24th of April every year.
The Mt. Fuji deck was built only for looking at Mt. Fuji in 2018. There is beautiful scenery of the whole of Mt. Fuji and a beautiful garden. The garden has many flowers and plants and shows different faces seasonally. At the center of the deck, there is a cafe you can have coffee and cakes viewing an amazing Mt.Fuji.
▽More recommended spots around Mt.Fuji here▽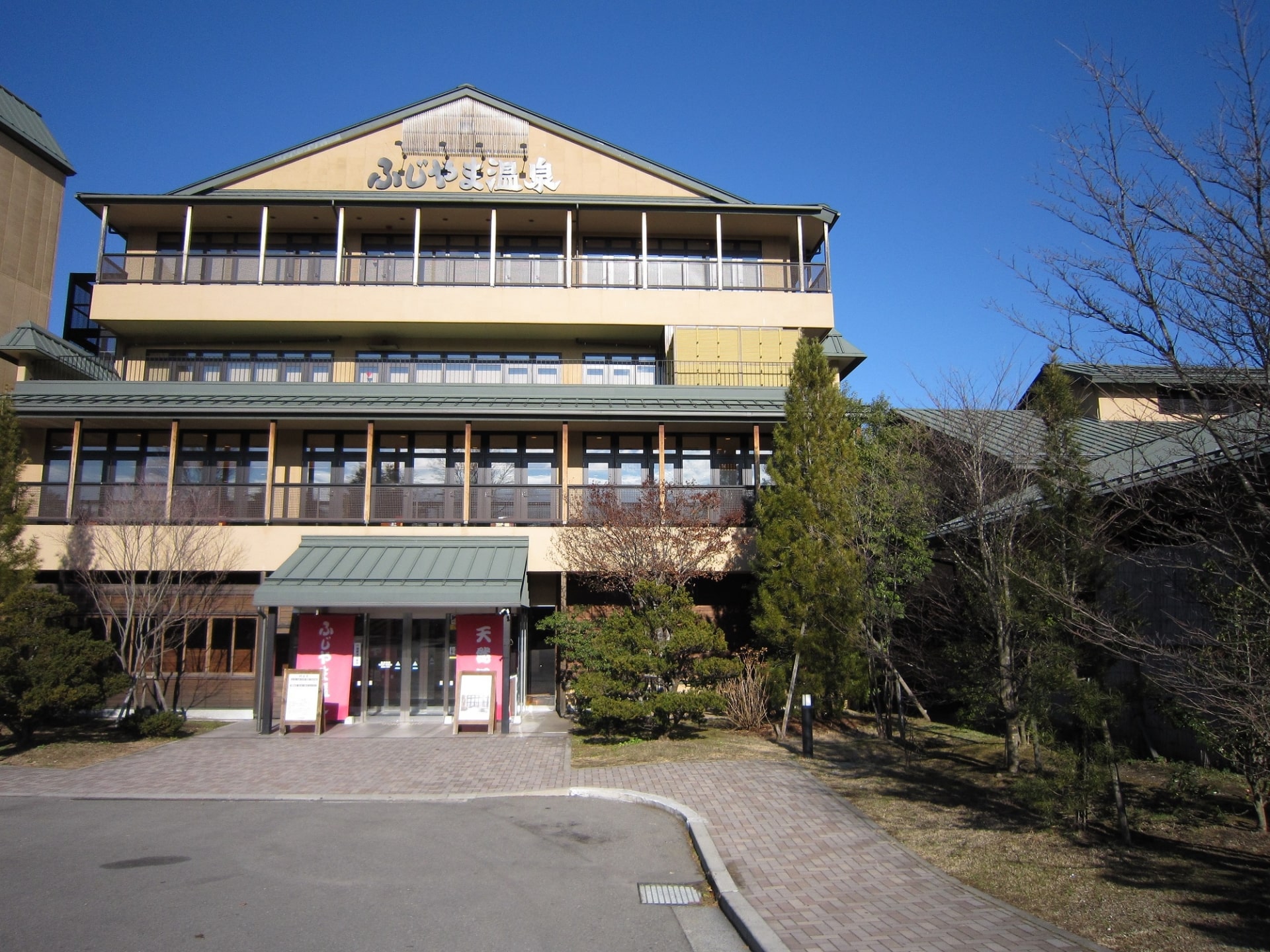 Onsen (hot spring) is one of the particular Japanese cultures. Kawaguchiko is also popular as an Onsen spot.
Fujiyama Onsen has the biggest scale of pure wood-built bathrooms in Japan. The building was built without using any screws, based on traditional Japanese architecture called Machiya-zukuri (町家造り). As the source of water has blended various hot spring qualities, Fujiyama Onsen is called the Onsen for beautiful skin.
Yurari is one of the various onsen locations near Kawaguchi and has many kinds of hot springs. Especially, Reiho open-air bath and Panorama bath are very popular because the view of Mt. Fuji from these bathes is awesome.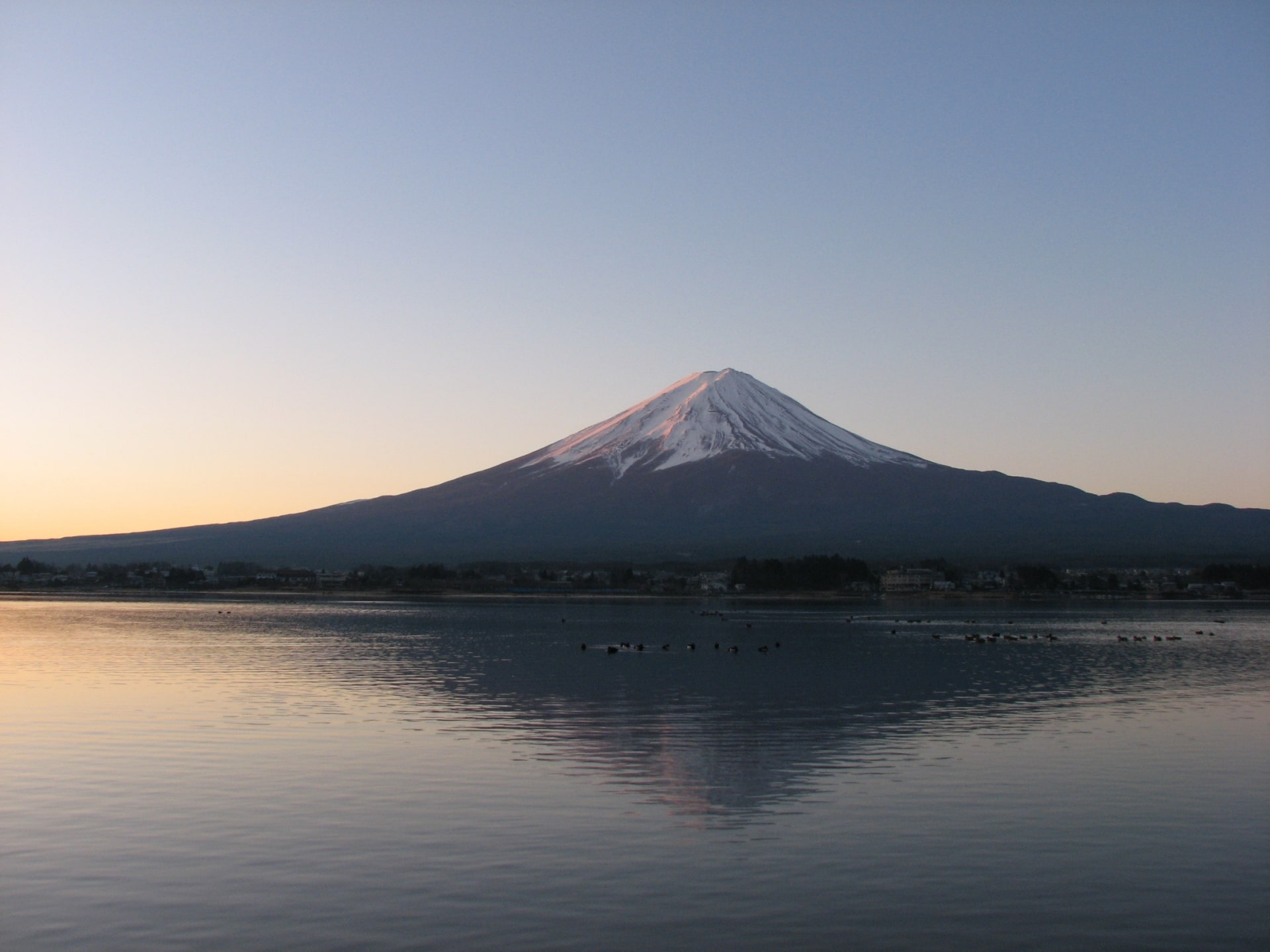 Mt. Fuji is the biggest active volcano in Japan and is known as a Japanese symbol. Many artists have drawn Mt.Fuji in their artworks and a lot of scientists have researched the layers of Mt. Fuji. It was registered as World Cultural Property in 2013.
Mt. Fuji is open for climbing from the beginning of July to the middle of September every year. During this period, more than 200,000 people come to climb Mt. Fuji from around Japan and abroad.
The climbing route from Lake Kawaguchi is for beginner climbers because you can go to the middle point of Mt. Fuji by car or bus. From that point, it takes 6 hours to climb and 3 hours to descend the mountain on average. Even if you have no experience climbing a mountain, you could enjoy the view from the highest mountain in Japan.
4. Mt.Fuji Panoramic Ropeway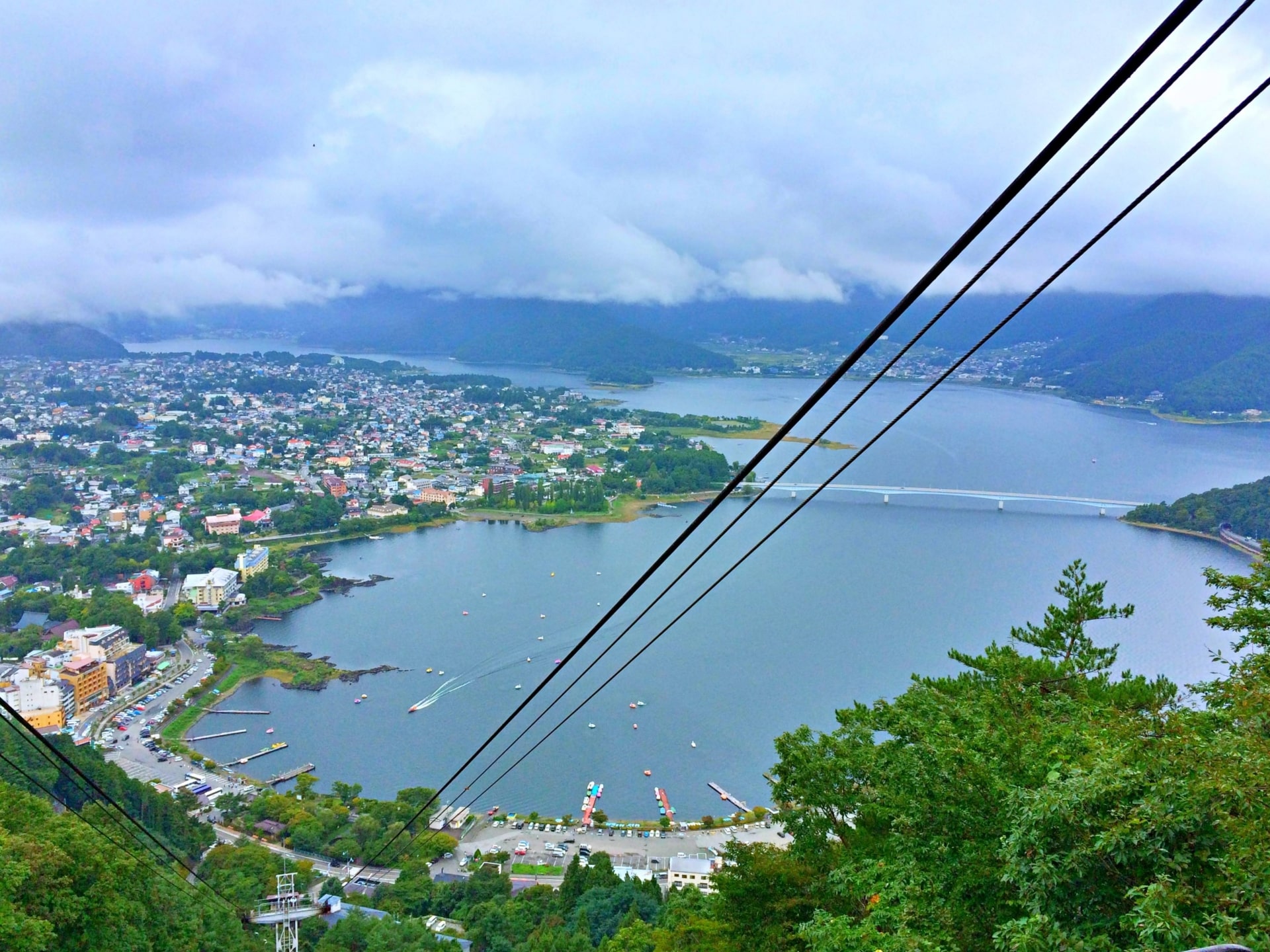 Mt. Fuji Panoramic Ropeway runs through Mt. Tenjo from Kawaguchikohan Station (河口湖畔駅) to Fujimidai Station (富士見台駅). Mt. Tenjo is considered that it was the stage of the Japanese old tale, "Kachikachi Yama". At the top height of 1,075, there is an outlook deck. The panoramic view of Lake Kawaguchi and Mt. Fuji from the deck is breathtaking. Especially in autumn, the ropeway is surrounded by colorful leaves.
One of the amazing attractions there is the trapeze on the top of the deck. Pedaling the 3.5 m trapeze facing Mt. Fuji is an exhilarating experience. The bell of Tenjo is popular as a photo spot with Mt. Fuji in the background.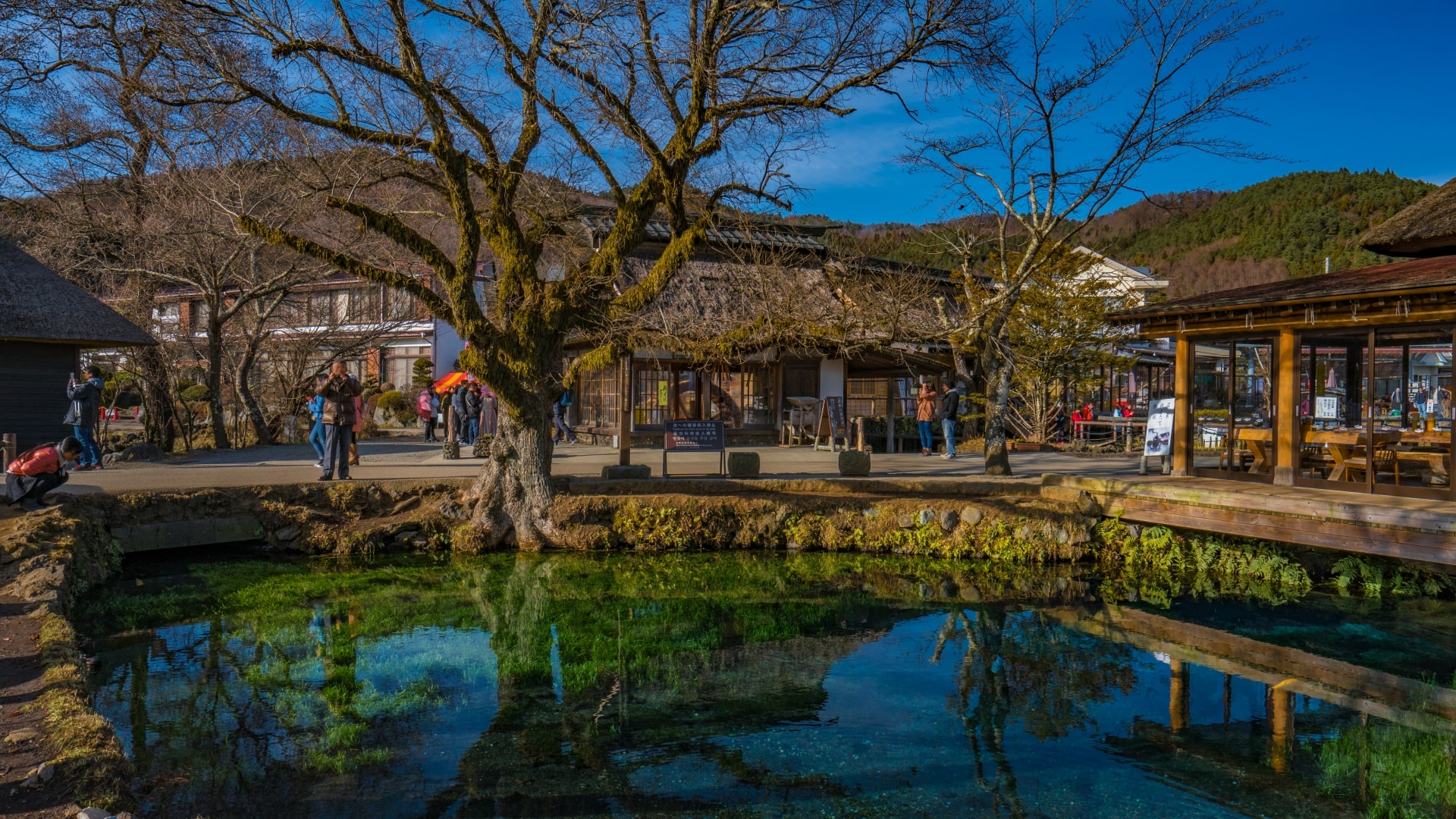 Oshino Hakkai (忍野八海) is a spring-fed pond whose source is subterranean water from Mt. Fuji. Oshino Hakkai is registered as a Natural Monument and one of the 100 best water for its quality, shape, amount, protection, and appearance. The water of all ponds is very clear and each pond has various fish.
Oshino Hakkai is composed of 8 water ponds, Deguchi-ike, Okama-ike, Sokonashi-ike, Choshi-ike, Waku-ike, Nigori-ike, Kagami-ike, and Shobu-ike. It's believed that people get good power if they go around them following this order.
Oshinohakkai Ikemoto sells not only souvenirs but also foods for walking to eat. Maruten is a popular restaurant for Hoto noodles. Hoto noodle is a featured dish of the Kosyu area. Don't miss the things which are available only here!
6. Narusawa Ice Cave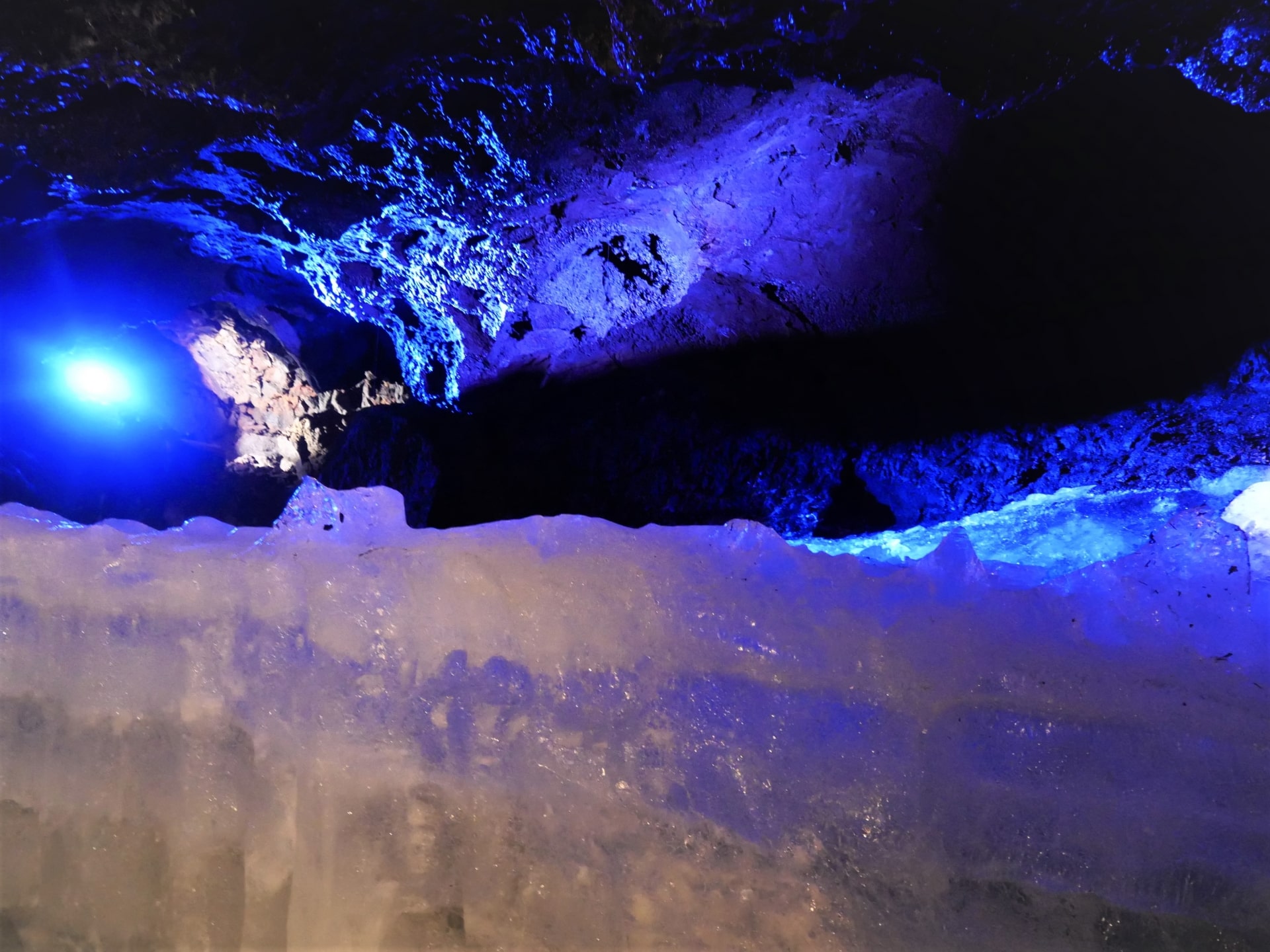 Narusawa Ice Cave (鳴沢氷穴) is a lava tube made by the volcanic activity of Mt. Fuji in the year 864. It was registered as a Natural Monument of Japan in 1929.
It is 153 m long and it takes 15 mins to walk around the cave. There are many natural blocks of ice and ice poles. Because the average temperature inside Narusawa Ice Cave is about 3 degrees Celsius, the cave had been used as a refrigerator in the past. As the walking road is up and down and not flat, you should wear sneakers or activity shoes.
Next to Narusawa Ice Cave, there is another cave, Fugaku Wind Cave (富岳風穴). Fugaku Wind Cave is the biggest cave among the caves around Mt. Fuji. Compared to Narusawa Ice Cave, the walking path is easier to walk.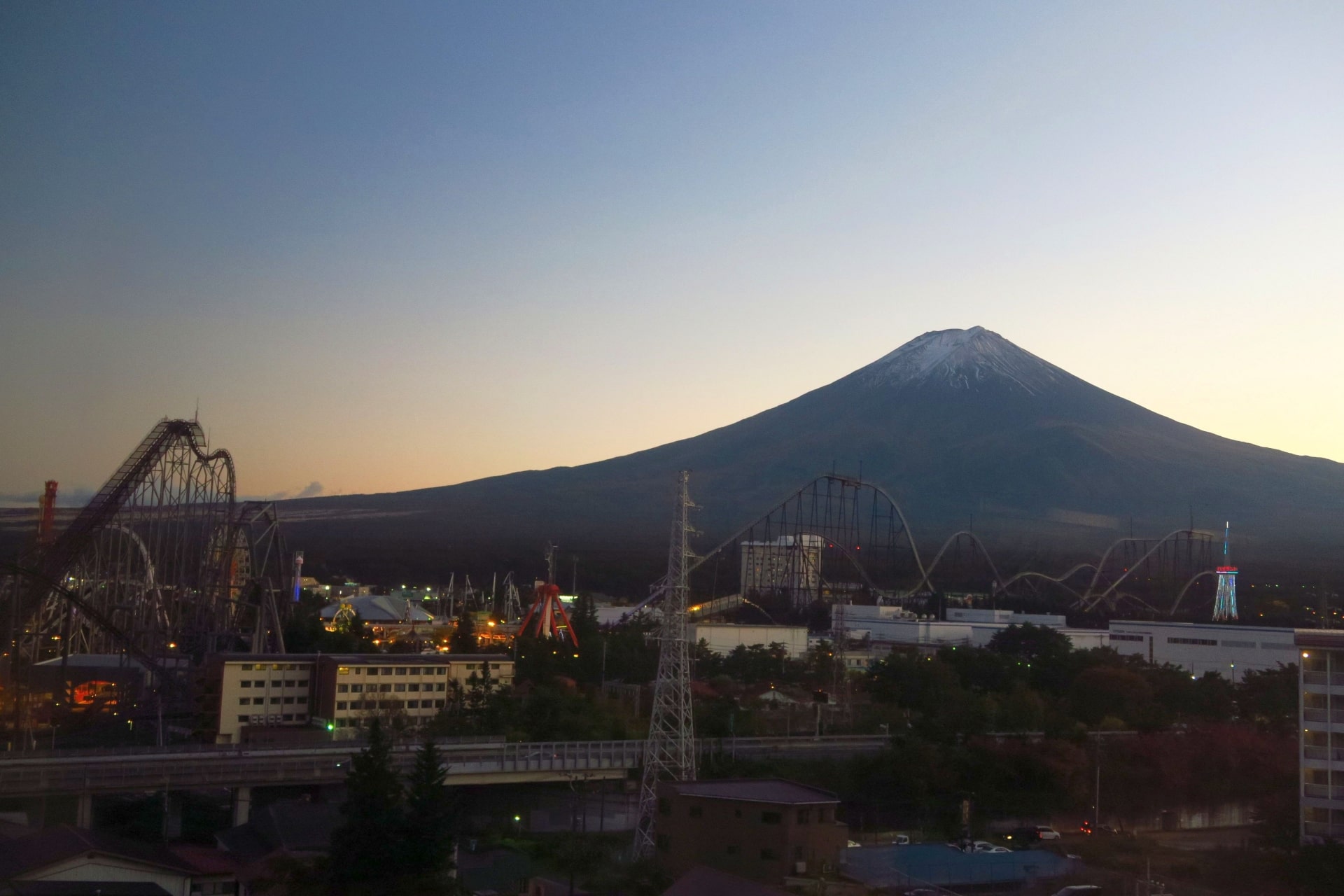 Fuji-Q Highland (富士急ハイランド) is one of the most popular amusement parks in Japan. Many roller coasters were recorded as a Guinness World Record.
"Fujiyama" is one of its representative roller coasters. It's 2,045 m long and 79 m at the highest point. Fujiyama goes rapidly up, down, and round and suddenly stops. At the top of the coaster, as soon as you enjoy the amazing view of Mt. Fuji, the coaster will drop almost straight.
Next to Fujiyama, there is Fujiyama Sky Deck. Not only will you have a panoramic view of Mt. Fuji but also you can watch and feel the Fujiyama roller coaster up close.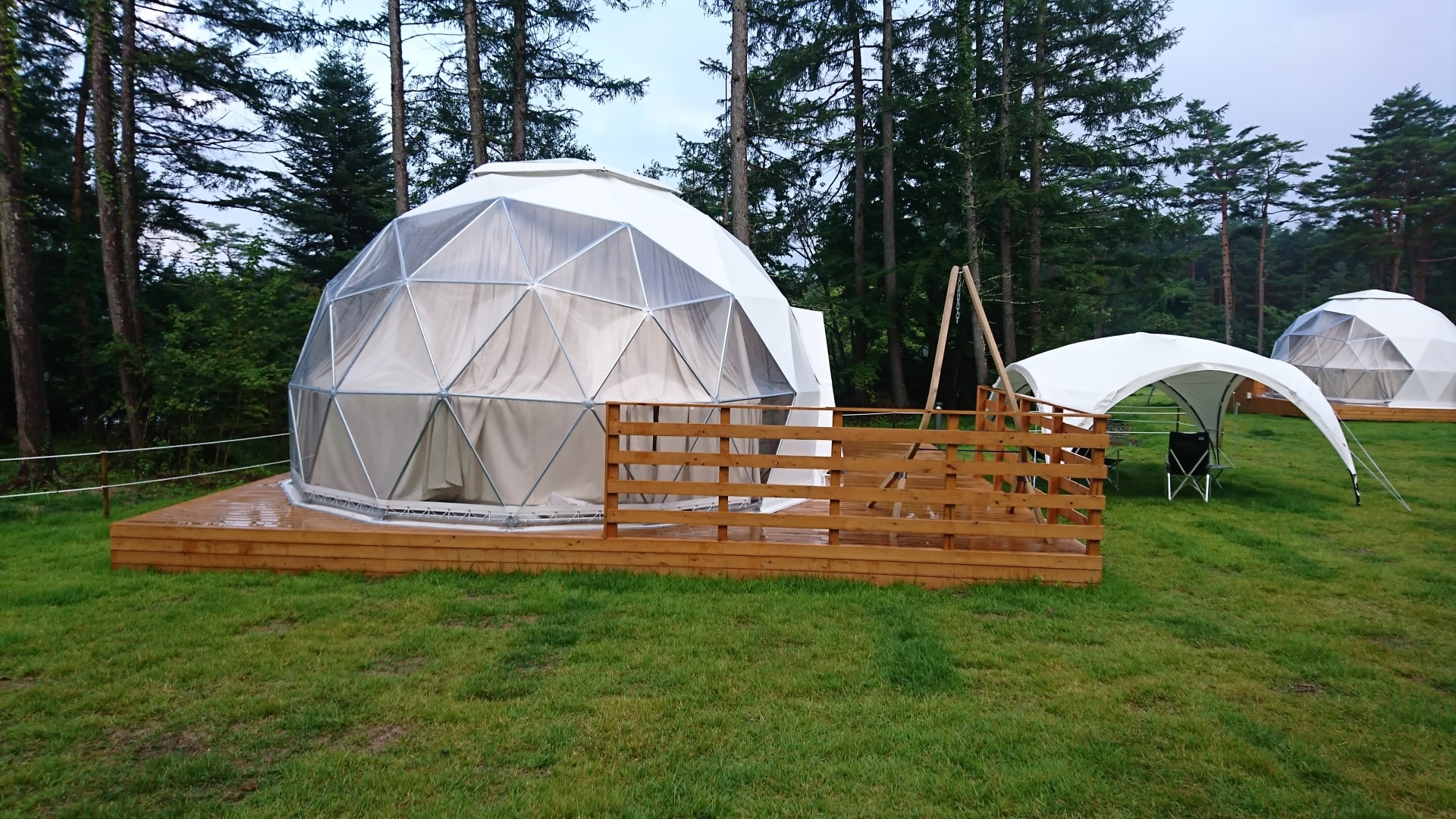 Glamping is a glamorous camp and is getting more and more popular in Japan. Glamping facilities have all of the necessities for camping such as tents and BBQ tools. So if you are a beginner at camping, you don't need to prepare for everything.
Pica Fujiyama opened in 2018 and is one of the most famous glamping places in the Kawaguchiko area. The most popular facility is the amazing dome tents. From the transparent dome, there is a natural green scenery all around you. Particularly, the starry sky at night is breathtaking.
Kawaguchiko Country Cottage Ban is a European interior facility. There are many entertainments for both adults and children to enjoy such as hammocks and swings. Outside baths under the beautiful starry sky would heal your daily stress.
9. Seasonal flowers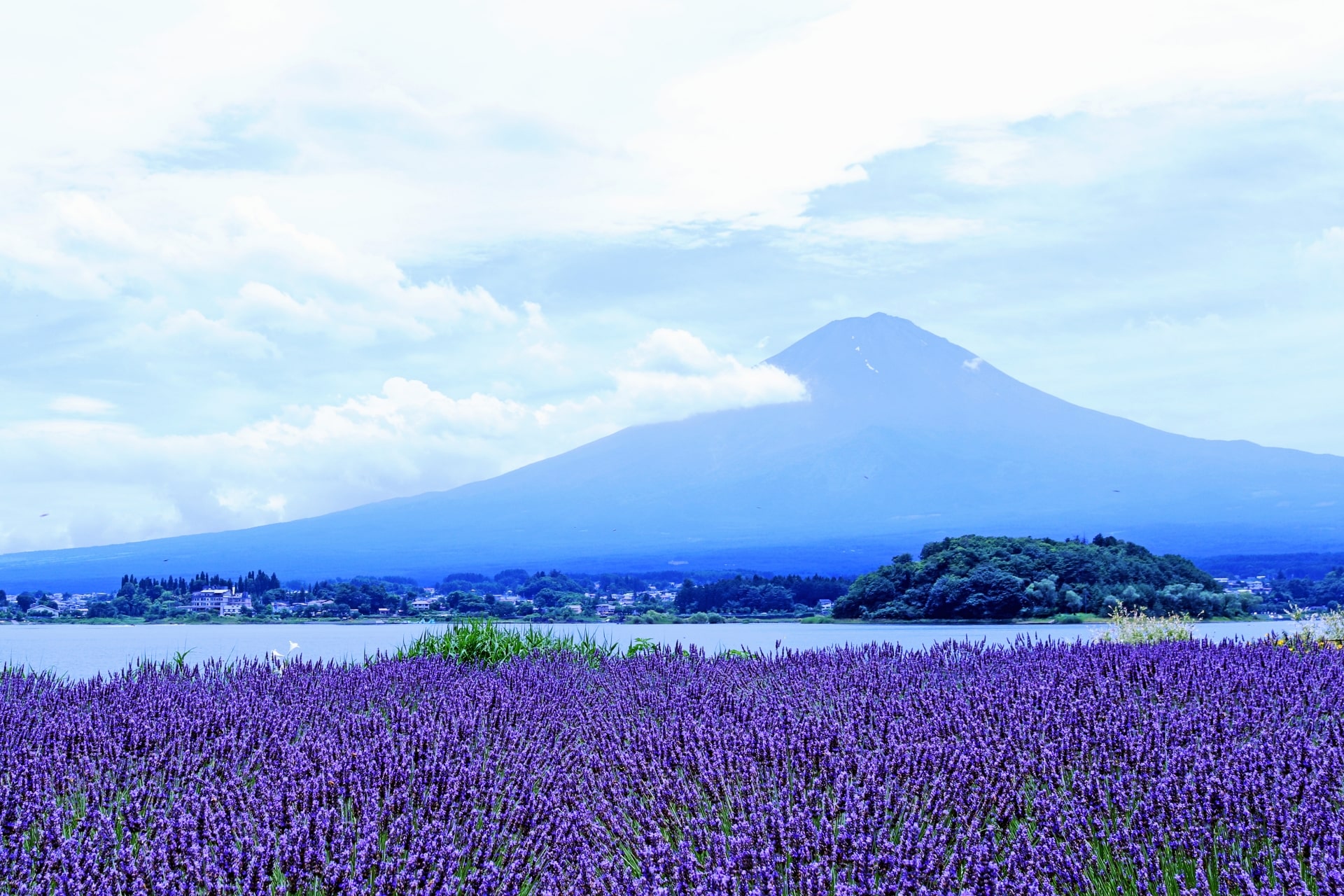 Watching seasonal flowers is one of the best things to do in Lake Kawaguchi.
Oshino village is famous as the best spot for viewing cherry blossoms. 100 cherry blossom bloom on both sides of the Shinnasho River. Omiya bridge over the river is the most popular photo spot in the village. The best season is between the middle and the end of April. Don't miss the night lit up as well.
From June to July, Kawaguchiko Herb Festival is held in Oishi Park. There are about 8,000 lavenders with Mt. Fuji and Lake Kawaguchi. In addition to lavenders, there is a flower road of begonias. At "Kimono Kibun" on the opposite side of Oishi Park, people can rent kimonos for at longest 7.5 hours.
Fuji Kawaguchiko Autumn Leaves Festival is held in November. On maple tree street composed of 60 maple trees, many food stalls are very busy in the daytime and people come to see beautiful night lit up at night time.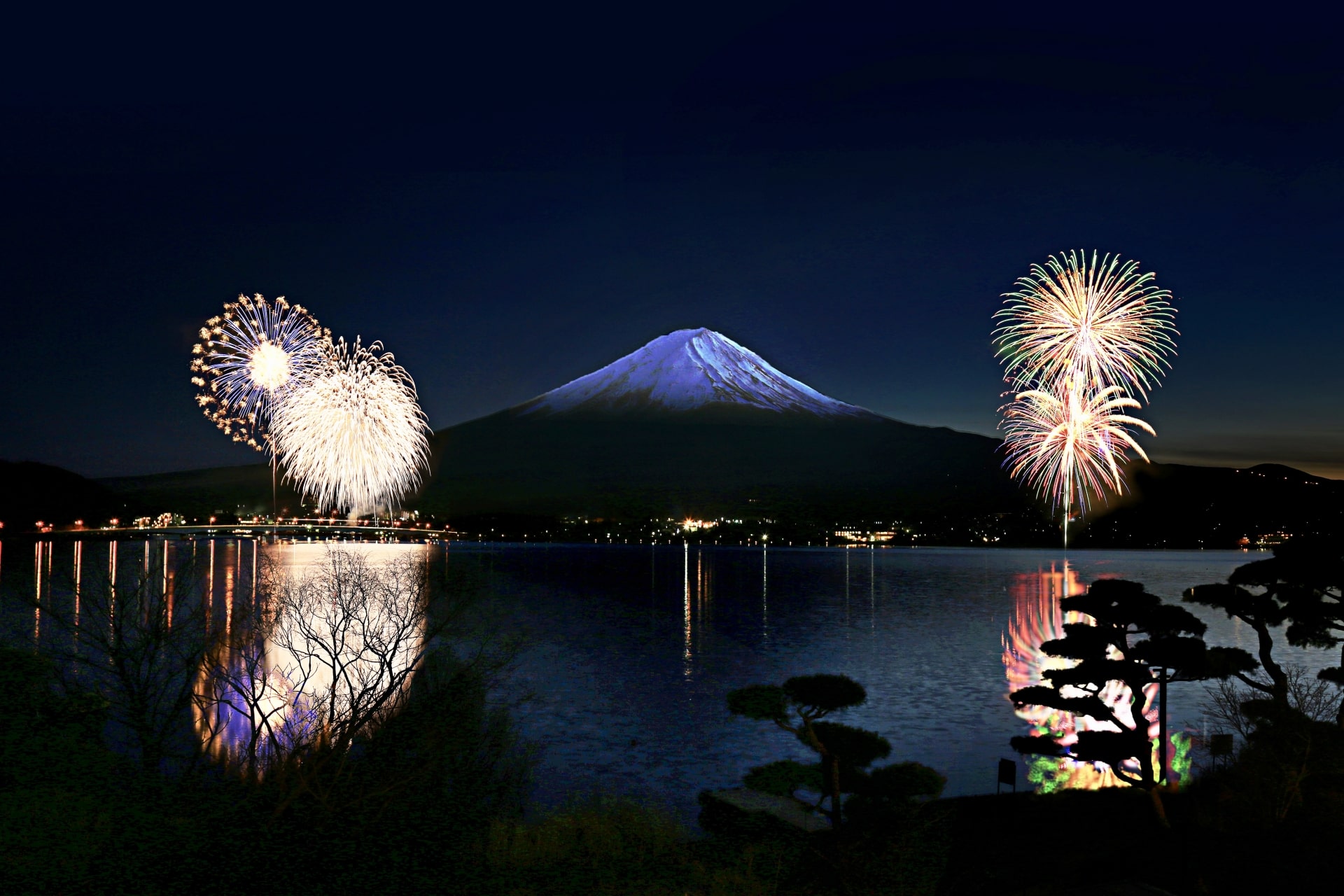 Lake Kawaguchiko Fireworks Festival is held in summer and winter. Dynamic fireworks with Mt. Fuji are worth watching at least once in your life!!
The summer one is held on the 5th of August every year. At the beginning of August, there are some festivals around the Fuji Goko area. Lake Kawaguchiko Fireworks Festival is the last and the biggest scale festival among them.
The day before the firework festival, the Yosakoi Festival is held. Yosakoi is one of the traditional Japanese dances. People dance using traditional dance tools and wear a kind of Kimono. Some fireworks are also launched as a prior celebration for the main fireworks festival.
Winter fireworks would sound unfamiliar, but as the sky is clearer than in summer, you can enjoy more vivid fireworks. Ubugayasaki, which I previously wrote about, is one of the best spots to watch it.
---
Did you find your favorite activity?
Kawaguchiko is really a good place to keep away from daily life and busy cities and take a deep breath surrounded by huge nature. Moreover, watching the biggest mountain in Japan, Mt. Fuji would make you calm down and feel the silence. If you're exhausted from busy days, let's go on a journey to the natural world.
However, don't forget to check the temperature and prepare for it. Especially in winter when it is very cold around Lake Kawaguchi. You must bring some jackets and blankets!!
▽Subscribe to our free news magazine!▽

I hope this article helps you have a good experience around Kawaguchiko!! For more information about traveling in Japan, check these articles below, too!
▽Related Articles▽
▼Editor's Picks▼
---