10 Best Glamping in Japan
A guide to the most popular Glamping sites across Japan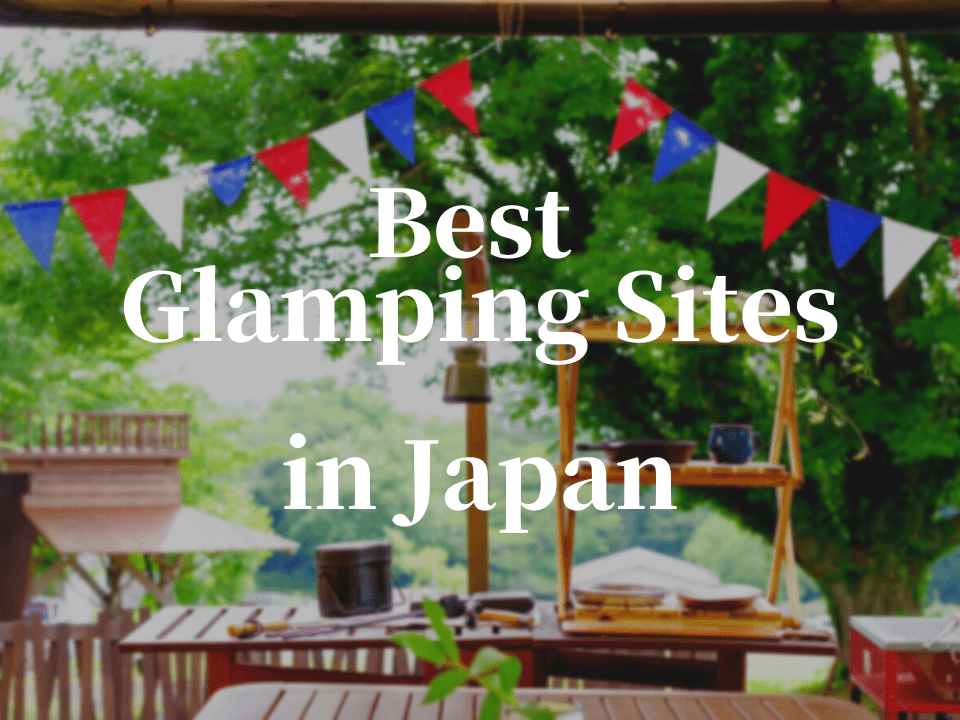 Have you ever heard of Glamping? Glamping is a relatively new word that has the meaning of the words "Glamorous" and "Camping", and it is increasingly becoming popular around the world. And Japan is no exception to this trend.
Although camping or spending some quality time immersed in nature might not be at the top of your Japan bucket list, it is definitely something you should at least consider if you are either visiting Japan for a prolonged period of time or if you actually live in Japan.
In this article, I will first explain what exactly Glamping is as well as introduce to you the 10 best glamping sites in Japan. Glamping is something that is popular all across Japan, so no matter where you are, it is most probably you can find a good glamping site. Hopefully, you'll find a glamping site that captures your attention.
---
What is Glamping?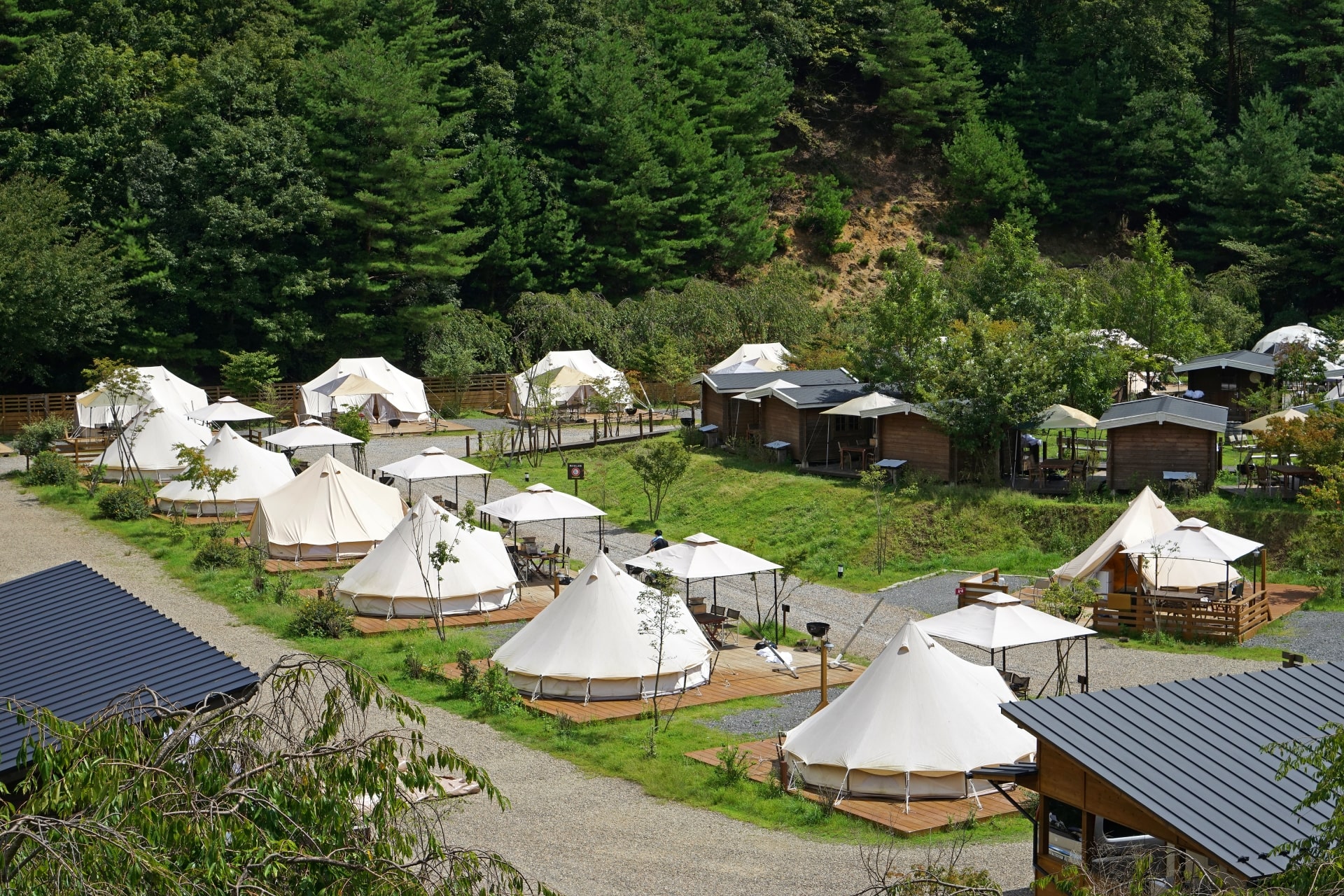 Before going to our list, let me explain what Glamping actually is. As I mentioned in the introduction of this article, the word "glamping" is quite new. It was first used in the UK in the year 2005 and it referred to a style of camping that is done in a luxurious way.
In this case, "luxurious" can mean various different things such as having resort-quality services, staying in a highly comfortably prepared tent that includes air conditioning and having all the amenities that a luxury hotel has, or having a course meal included in the BBQ dinner. Although the word Glamping is new, the concept itself has always been around. But now that there is a popular word that describes this, it has become a trendy thing to do, especially for people who are interested in camping but are not very comfortable with all the hurdles that camping comes with.
In the case of Japan, many of these sites will not only offer a comfortable and luxurious experience but you will also get to eat BBQ that uses fresh seasonal ingredients while enjoying the unique and beautiful views that the place's nature provides. This means, depending on the season you visit, the experience that you will have will vary.
So now that we have an idea of what Glamping is, here are our picks of some of the best glamping spots across Japan. The order of this list starts from the northmost site going south.
1. Grace Niseko Glamping (Hokkaido)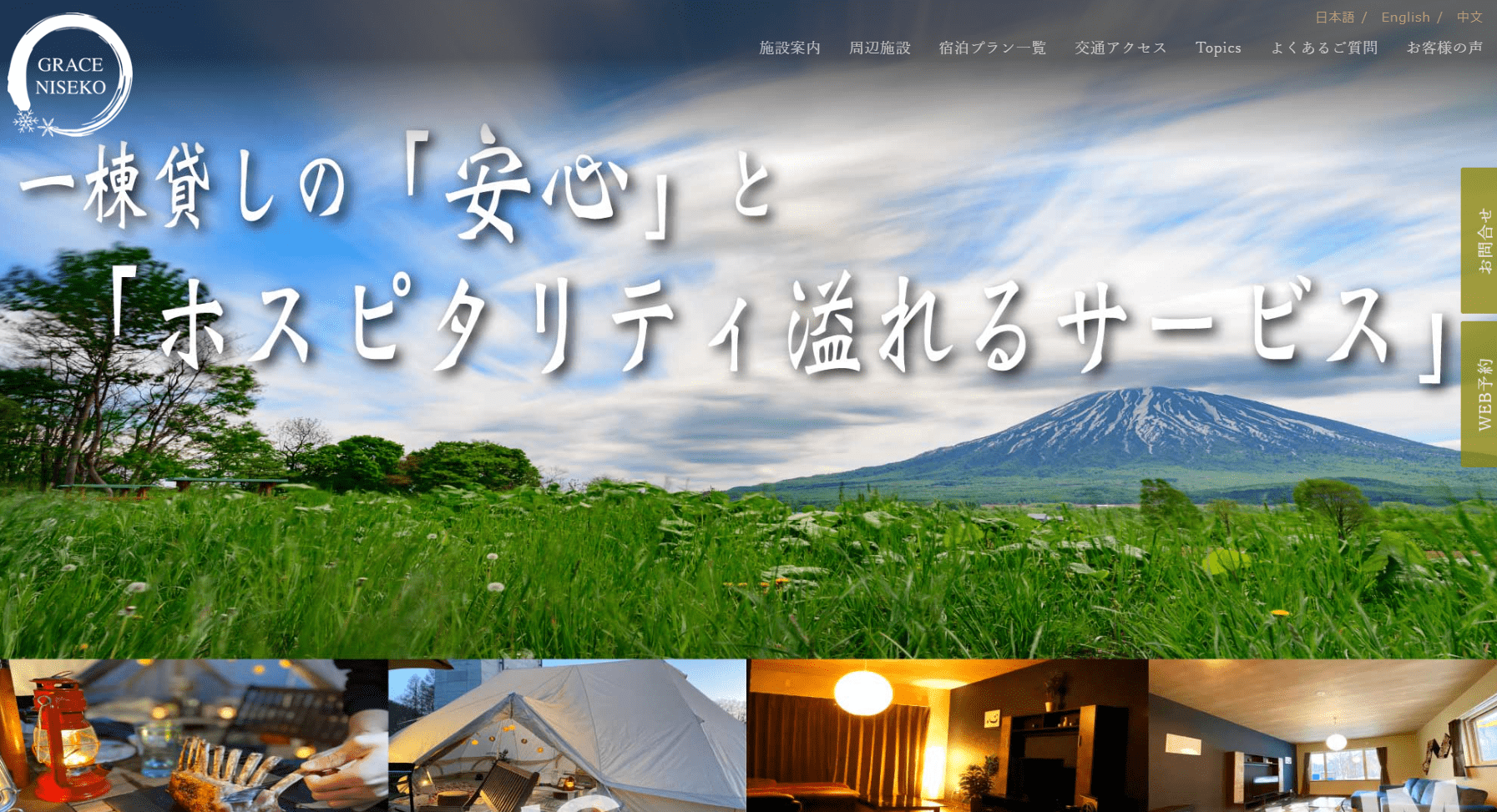 The first Glamping site on our list is Grace Niseko Glamping (グレースニセコグランピング). Located in the grand lands of Niseko in Hokkaido, this camping sight offers a great view of Mt Yotei. The location is centric, making it possible to go to most of Niseko's tourist destinations within 10 minutes by car.
Other than offering luxurious tents for spending the night, they also offer condominium-style rooms. And when it comes to the meals, Grace Niseko's chef can prepare for you a bento box that will be delivered to your tent or room directly. Or you can also go to the lounge where you can chill listening to calm music.
▶Official Website: https://grace-niseko.com/en/
2. APPI Woods Glamping (Iwate)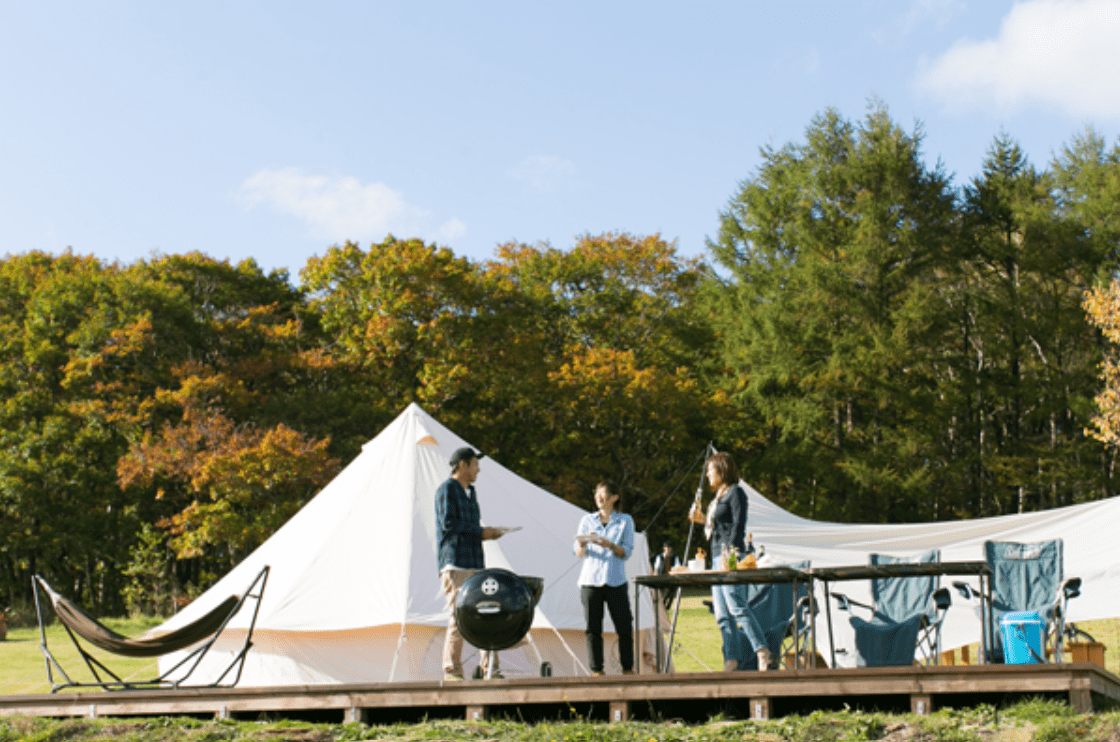 APPI Woods Glamping (安比の森 グランピング) is a glamping site located at the foot of the mountains of Hachimantai in Iwate prefecture. This is a popular ski resort in the winter. however, during summertime, it is open for glamping.
The tents that you will stay in at this site are made so that you can experience the greatness of nature with all five of your senses. Taste the exquisite BBQ under the starry night sky. You can also enjoy the Onsen (natural hot springs) at Appi.
And for those people with pets; you can bring your furry friends here!
▶Official Website: https://www.appi.co.jp/gourmet/appi_woods_glamping/
3. Glamprook Iizuna Kogen (Nagano)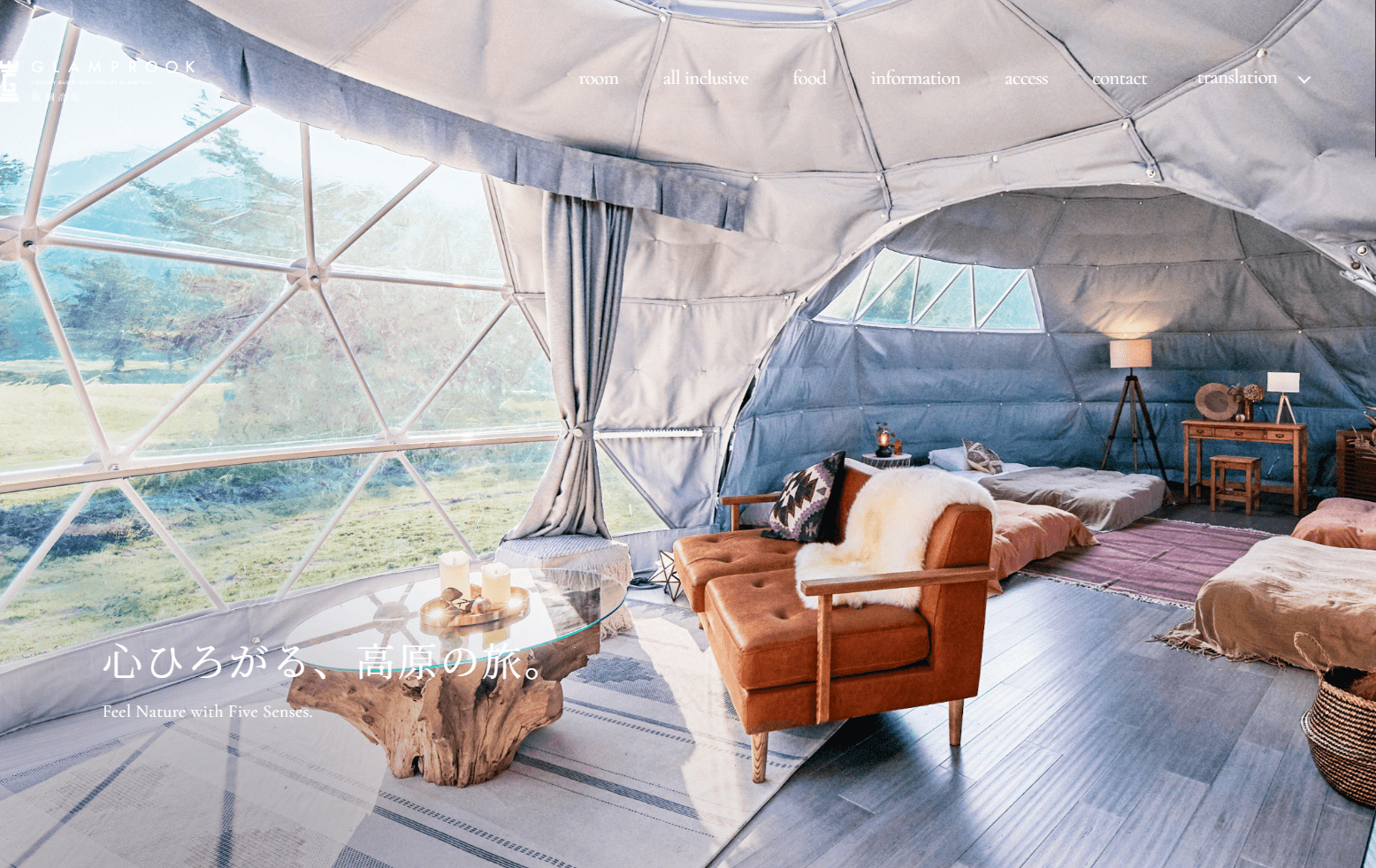 Located right near lake Reisenjiko in Nagano prefecture, Glamprook Iizuna Kogen (GLAMPROOK 飯綱高原) is a glamping site where you can enjoy the large plain fields, the lake nearby, and the tall mountains at the distances. The 42㎡ twin-dome tents you can stay in here come with air conditioning, making this experience as comfortable as it can get.
Both dinner and breakfast are taken at the dining area. For dinner, you can enjoy a full-course meal while in the morning you can enjoy the buffet.
In the vicinity, there is also a golf course, tennis courts, spa, onsen, and much more.
▶Official Website: https://glamprook.jp/iizuna/
4. Mother Farm Glamping (Chiba)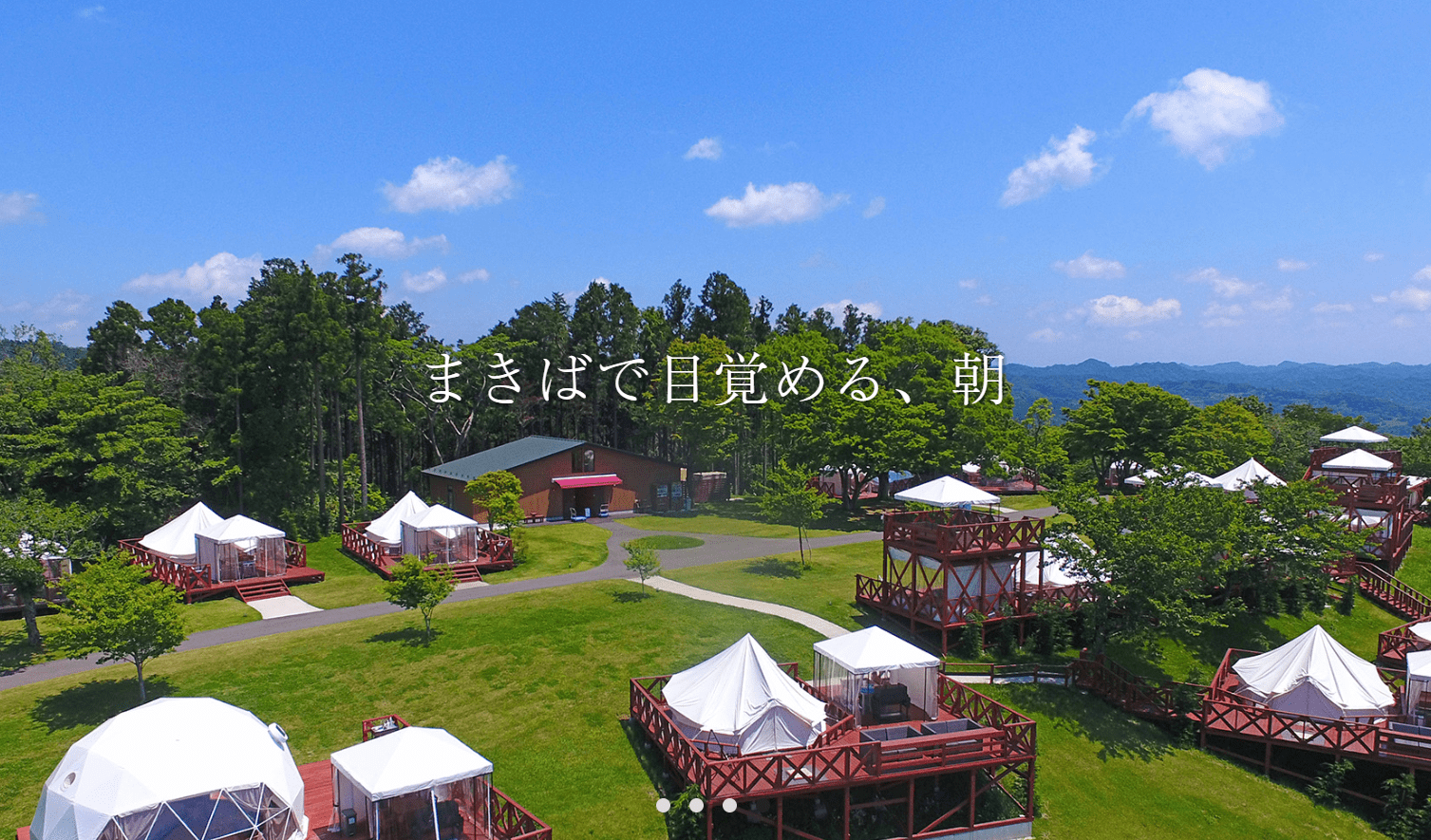 The following site is one that is popular for being accessible from Tokyo. I'm talking about Mother Farm Glamping (マザー牧場 Glamping) which is a glamping site within the vicinity of Mother Farm.
Mother Farm is a large theme park in Chiba prefecture that has many rides, attractions, restaurants, shops, fields of flowers and animals that you can interact with. This theme park itself is a fun place to visit, but this is just a portion of what you can enjoy if you come to stay at the glamping site.
If you're in Tokyo and wish to be in touch with nature in a luxurious way, this is definitely something you should take into consideration.
▶Official Website: https://www.motherfarm.co.jp/glamping/
5. Glamping Villa Hanz Kawaguchiko (Yamanashi)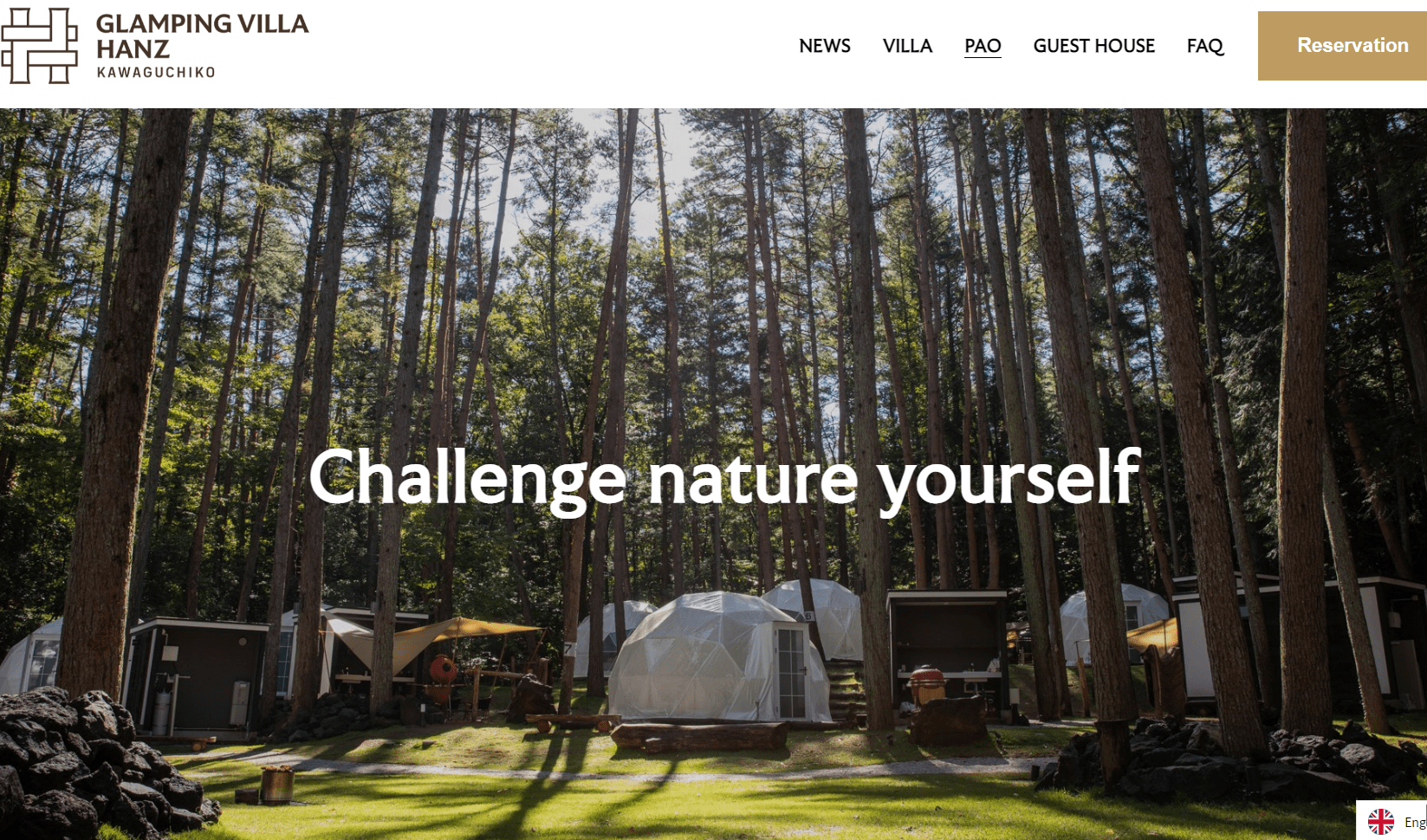 Glamping Villa Hanz Kawaguchiko (グランピングヴィラハンズ 河口湖) is just one of the many glamping sites that you will find in Yamanashi prefecture. What makes this site special in comparison to other sites is the fact that you will have a front-row view of Mt Fuji. This in itself makes this site a popular place for both glamping and camping.
For those planning on staying on this site, you can choose between three types of accommodations which are the villa, the PAO, and the guest house.
There are many activities to get in touch with nature because there is the beautiful Lake Kawaguchiko and there are many forests that you can explore.
▶Official Website: https://en.gv-hanz.jp/
6. Ufufu Village (Shizuoka)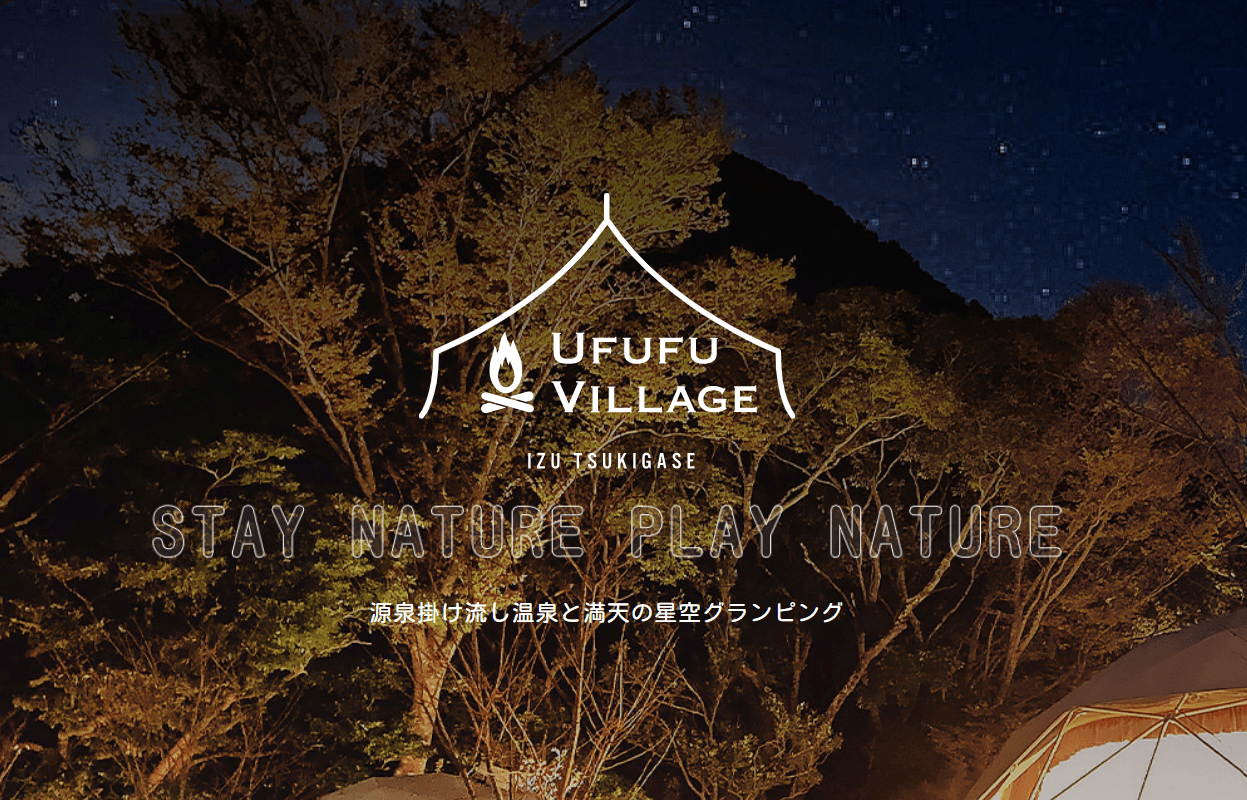 Another popular area for glamping is Shizuoka prefecture. And one of the more popular sites in Shizuoka is Ufufu Village. The site is located in the Izu area right next to the Kano river. You can enjoy a luxurious experience while surrounded by the mountainous terrains and having the soothing ambiance sound of the Kano river.
You can choose to spend the night in either a tent-tye room, a trailer-type room, a dome-type room, or a room where you can stay with your pet. Not only are there rooms where you can stay with your pet, but they also have spacious dog runs and other services catered for those who come and visit with their pets.
▶Official Website: https://ufufu-village.jp/
7. Grand Chariot Hokutoshichisei 135° (Hyogo)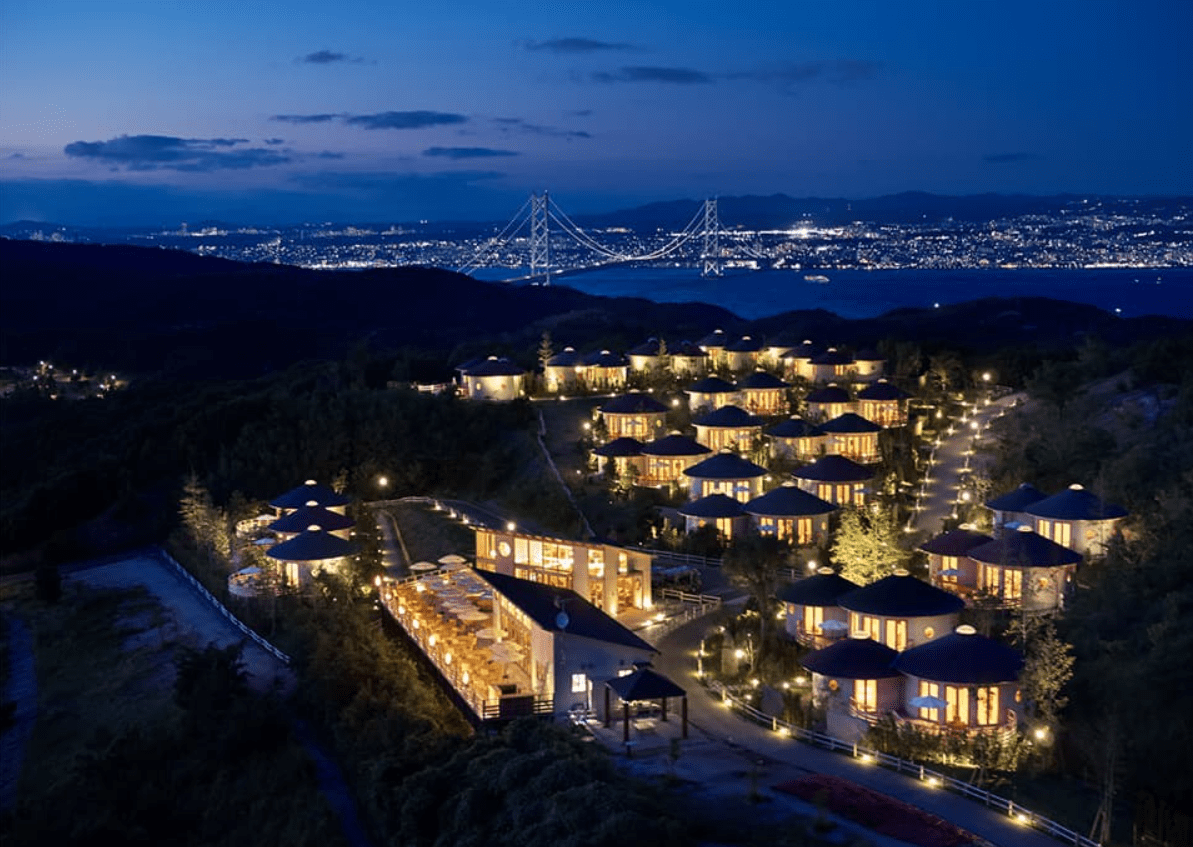 From here, we will be seeing the glamping sites located on the west side of Japan. First, we have Grand Chariot Hokutoshichisei 135° (グランシャリオ北斗七星135°). This glamping site is located on top of a hill in the northern area of Awaji island, Hyogo prefecture, having a clear view of Osaka bay and the port city of Kobe. The night view is especially beautiful since you can enjoy both the night lights of Kobe as well as the starry sky.
There are various types of rooms from which you can choose. some are for up to 2 people, others are for up to 4 people. There are also rooms you can stay with your pet. There are also rooms decorated with specific themes such as Naruto and Hello Kitty.
▶Official Website: https://awaji-grandchariot.com/
8. Glamprook Shimanami (Ehime)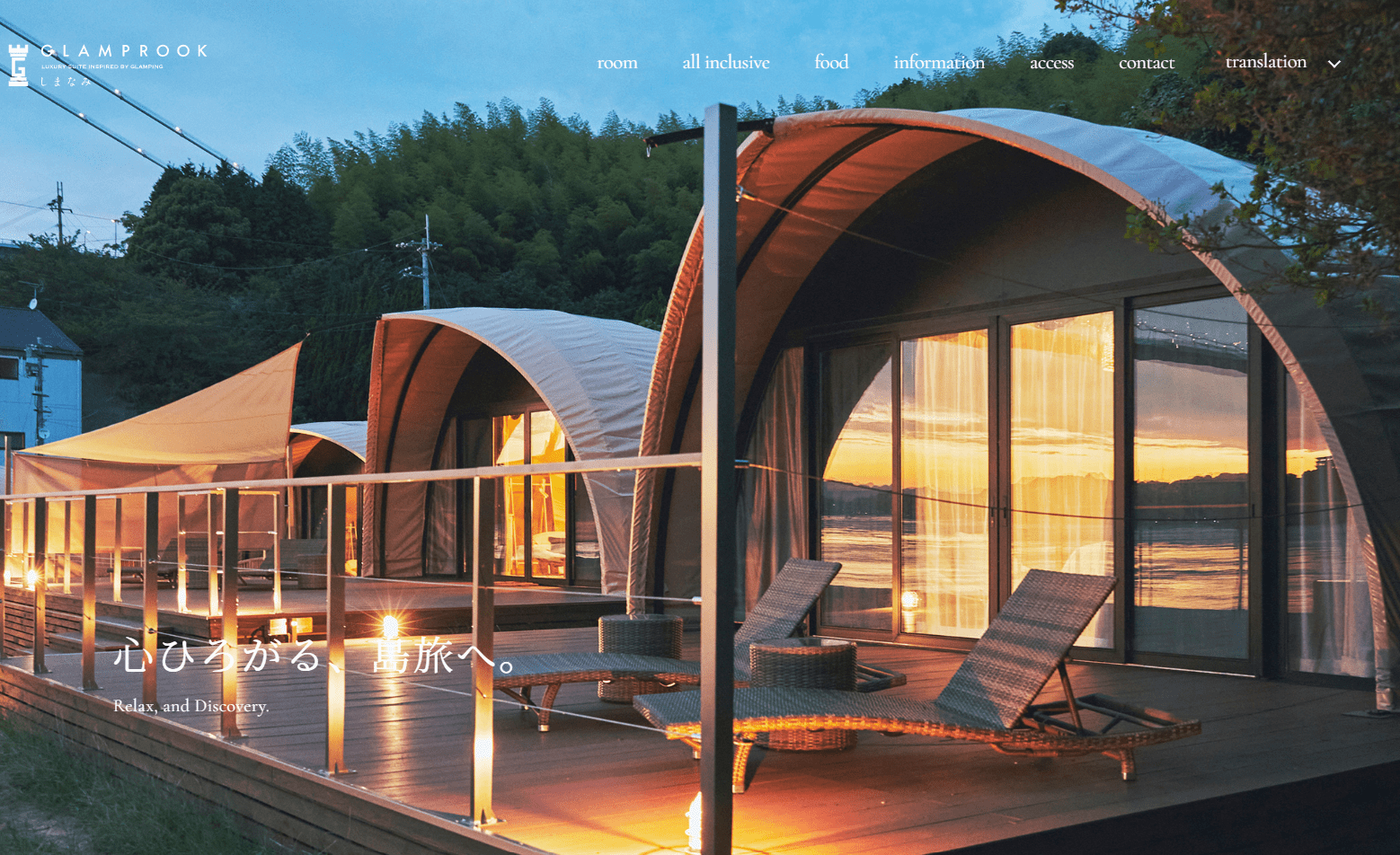 Next, we head to another site that has an amazing ocean view. Glamprook Shimanami (GLAMPROOKしまなみ) is a glamping site located on Umashima island in Ehime prefecture. This is a small island with a population of fewer than 10 people and requires a special permit for you to even enter by car.
Regarding the rooms, you can choose between the tent type or the hotel type. All rooms are facing the ocean, just so you know. Another attractive point is that the cost of staying here is "all-inclusive", meaning that once you have paid, you can enjoy all the services that this site offers such as the restaurant, the spa, the boat rides, etc.
▶Official Website: https://glamprook.jp/umashima/
9. Glamping Fukuoka Budo No Ki (Fukuoka)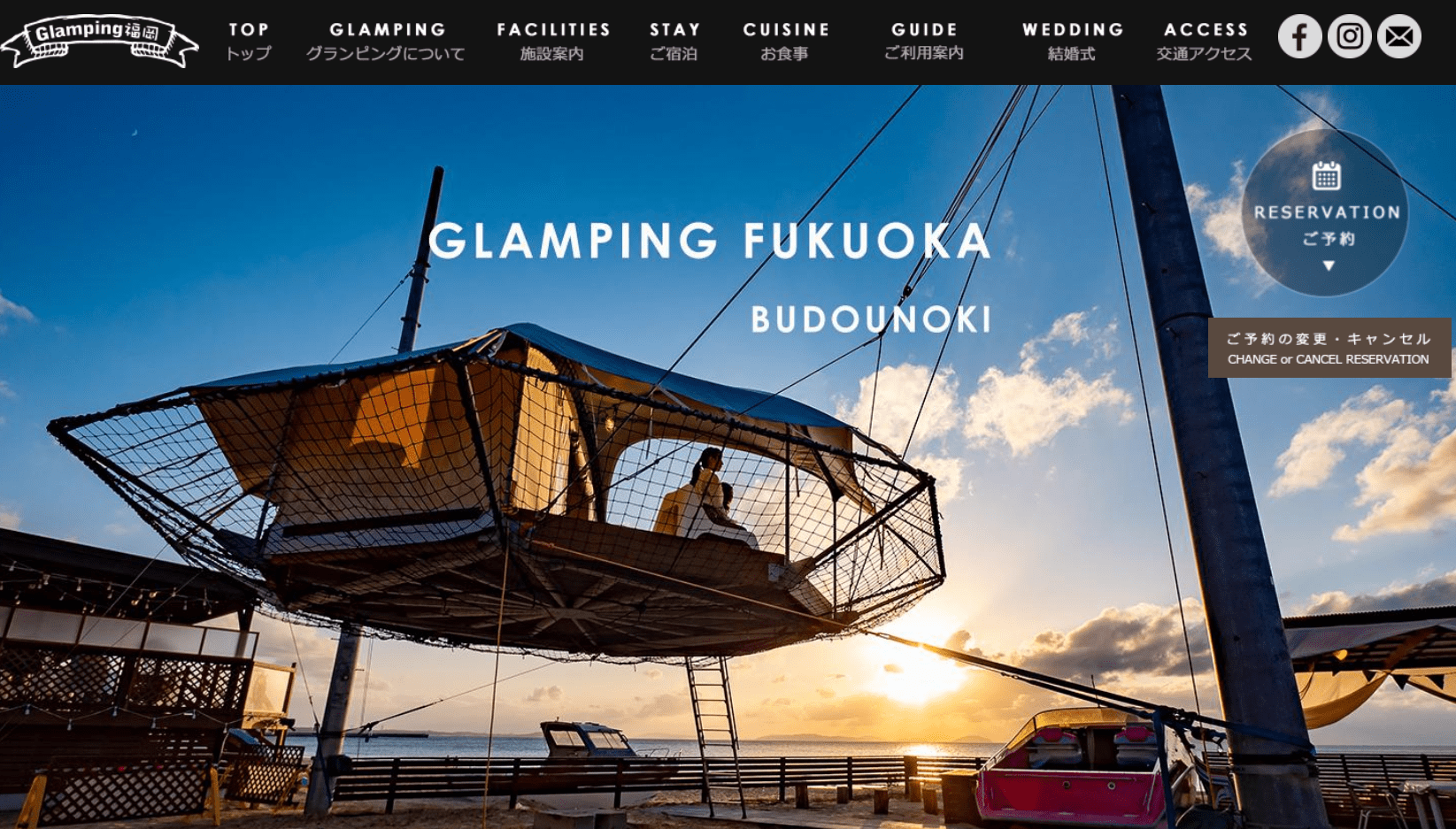 The next location is in the northern area of Kyushu. Glamping Fukuoka Budo No Ki (ぶどうの樹 海岸通り グランピング福岡) is a glamping site located in Fukutsu city, Fukuoka prefecture. The place is right next to Fukuma beach which is a highly popular beach, especially among young adults, where you will find many fancy cafes and restaurants. There are also many places that offer services for marine activities.
The glamping site has three types of rooms from which you can choose to stay; each has different characteristics that will cater to different wants. There are also several restaurants from which you can choose to have your dinner. There is a sushi restaurant that has a counter with an ocean view. That's definitely not something you can experience in many places.
▶Official Website: http://fukutsu-glamping.jp/
10. RuGu Glamping Resort (Okinawa)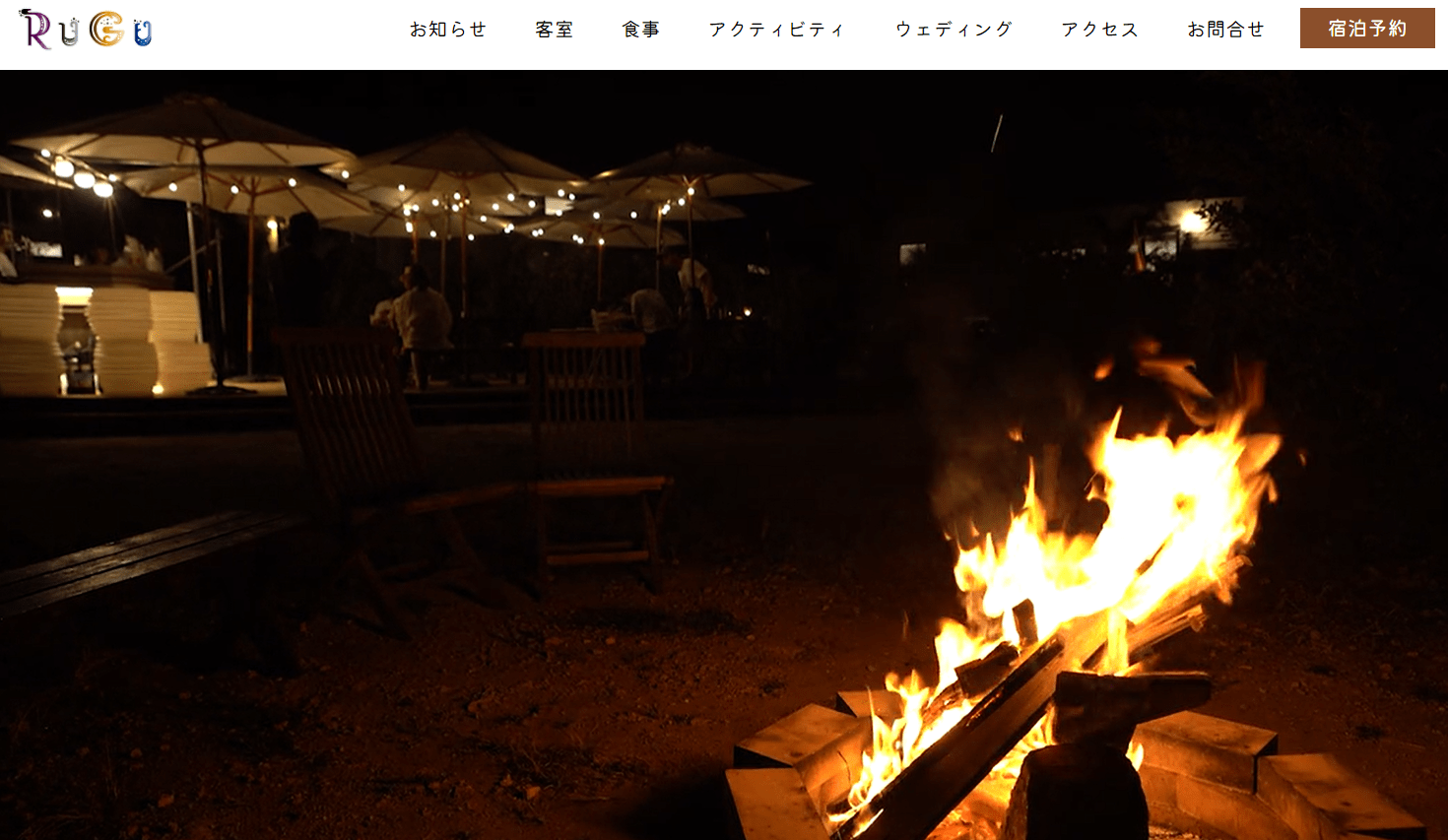 And lastly, on our list, we have RuGu Glamping Resort (ルーグーグランピングリゾート) in Okinawa prefecture. To be more specific, this glamping site is located on Miyako island which is located even more south of the main island of Okinawa. If you're looking for a glamping site removed from the city, this is quite literally the most removed site there is.
Here, you can experience the beautiful nature unique to the islands of Okinawa such as the crystal-clear ocean, the year-long nice weather, and the BBQ made with delicious local ingredients.
▶Official Website: https://www.rugu.co.jp/
---
▽Subscribe to our free news magazine!▽

I hope this article has sparked your interest and made you consider looking at some of these glamping sites in Japan. If you enjoyed this article and want more information about Japanese nature locations, be sure to check the following articles as well!
▽Related Articles ▽
▼Editor's Picks▼
---