17 Best Places to Visit in Osaka
Best Osaka Tourist Attractions including New Spots and Classic Locations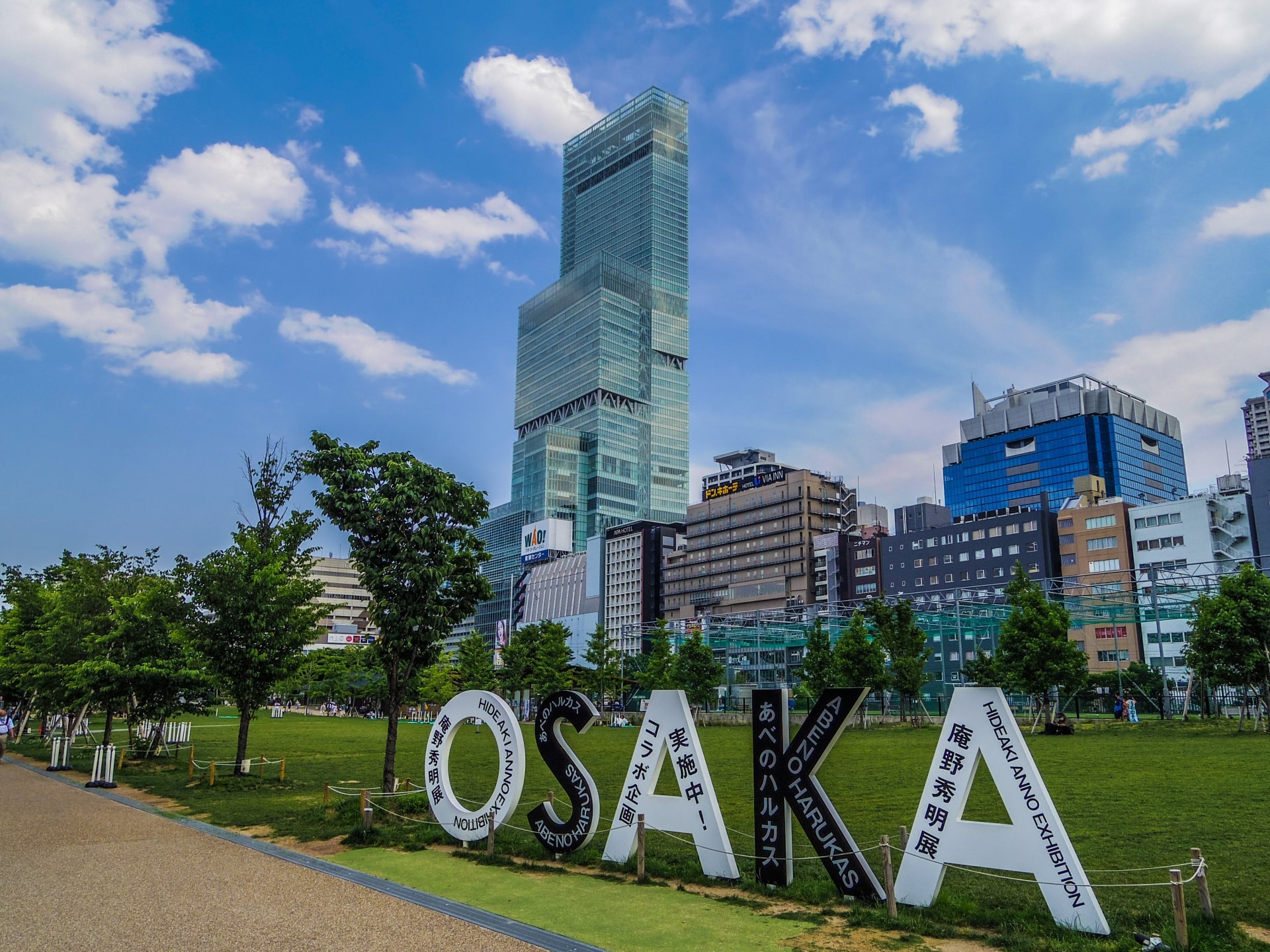 What pops into your mind when thinking about Osaka? Many people will think about Dotonbori and its delicious food. Others will think about Universal Studios Japan. There will undoubtedly be some people who think about more historical sites such as Osaka castle and Sumiyoshi Taisha.
Osaka is currently the third most populated city in Japan and the second most densely populated city. There are two main downtown areas which are called Kita (north area) and Minami (south area). This is something that started all the way back in the Edo period and it is still prevalent to this day. Kita refers to the more refined and elegant area where you will find many fancy stores and restaurants such as Umeda. On the other hand, Minami refers to the more casual area where you will see more subcultures and young people gather such as Namba and Shinsaibashi.
In this article, I will introduce to you these places as well as other spots (some very well-known and some lesser-known) that you should definitely consider going to when visiting Osaka. Here is our countdown list of the 17 best places to visit in Osaka. I hope this article becomes a good reference for those planning on spending a few days in this amazing city.
---
17. Nakanoshima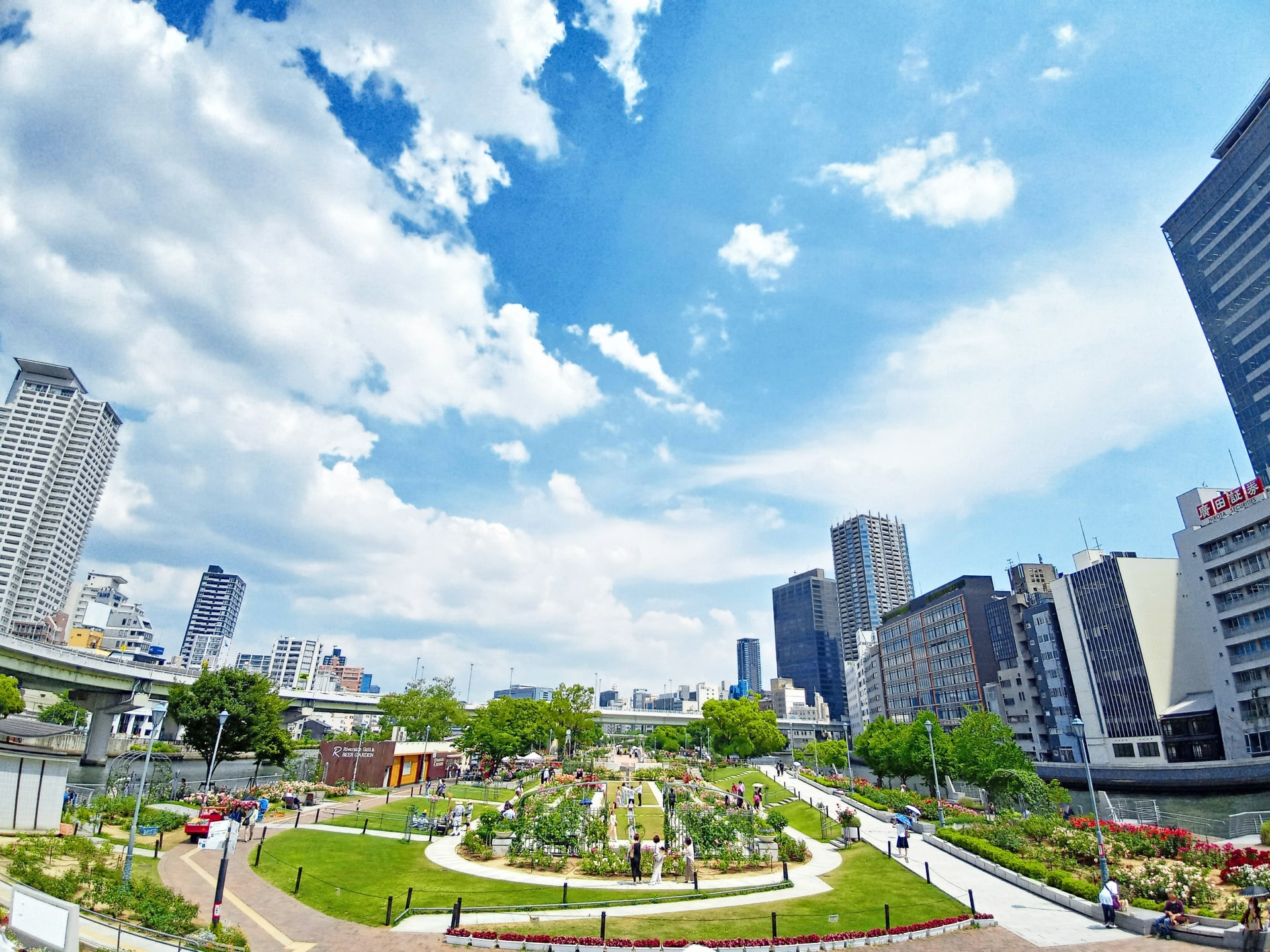 First on this countdown list is Nakanoshima (中之島). Nakanoshima refers to the piece of land located right between The Umeda area and the Chuo ward. Although it is a small piece of land, it is packed with fascinating places that you can spend some time with when you visit Osaka.
Some of the places to go in Nakanoshima include the Nakanoshima Park, Osaka Tenmangu, The Osaka Science Museum, the National Museum of Art in Osaka, and the Nakanoshima Festival Tower.
16. Umeda Sky Building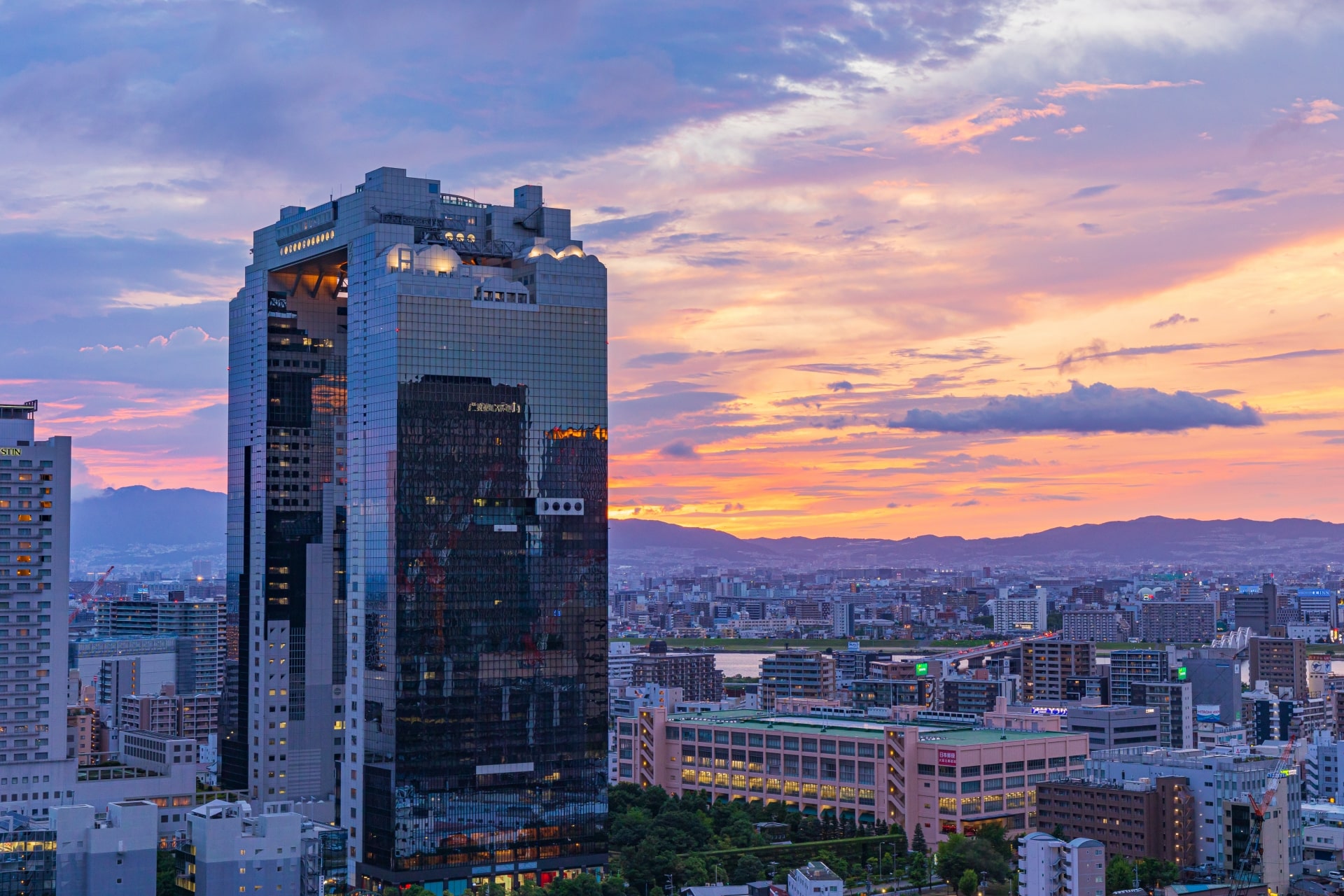 Umeda Sky Building (梅田スカイビル) is a peculiarly shaped, multi-purpose skyscraper in Umeda. Within the building, you can find many shops, restaurants, museums, and even a movie theater.
But the most attractive thing about the Umeda Sky Building is the observatory deck on the 40th floor called Kuchu Teien. This observatory deck is situated 173 m high and a 360° panoramic view of the city can be enjoyed on an open-air deck.
It is one of the landmarks of Umeda and it is located just 10 minutes walk from Osaka station or Umeda station.
▶ Umeda Sky Building official website: https://www.skybldg.co.jp/en/
15. @cosme Osaka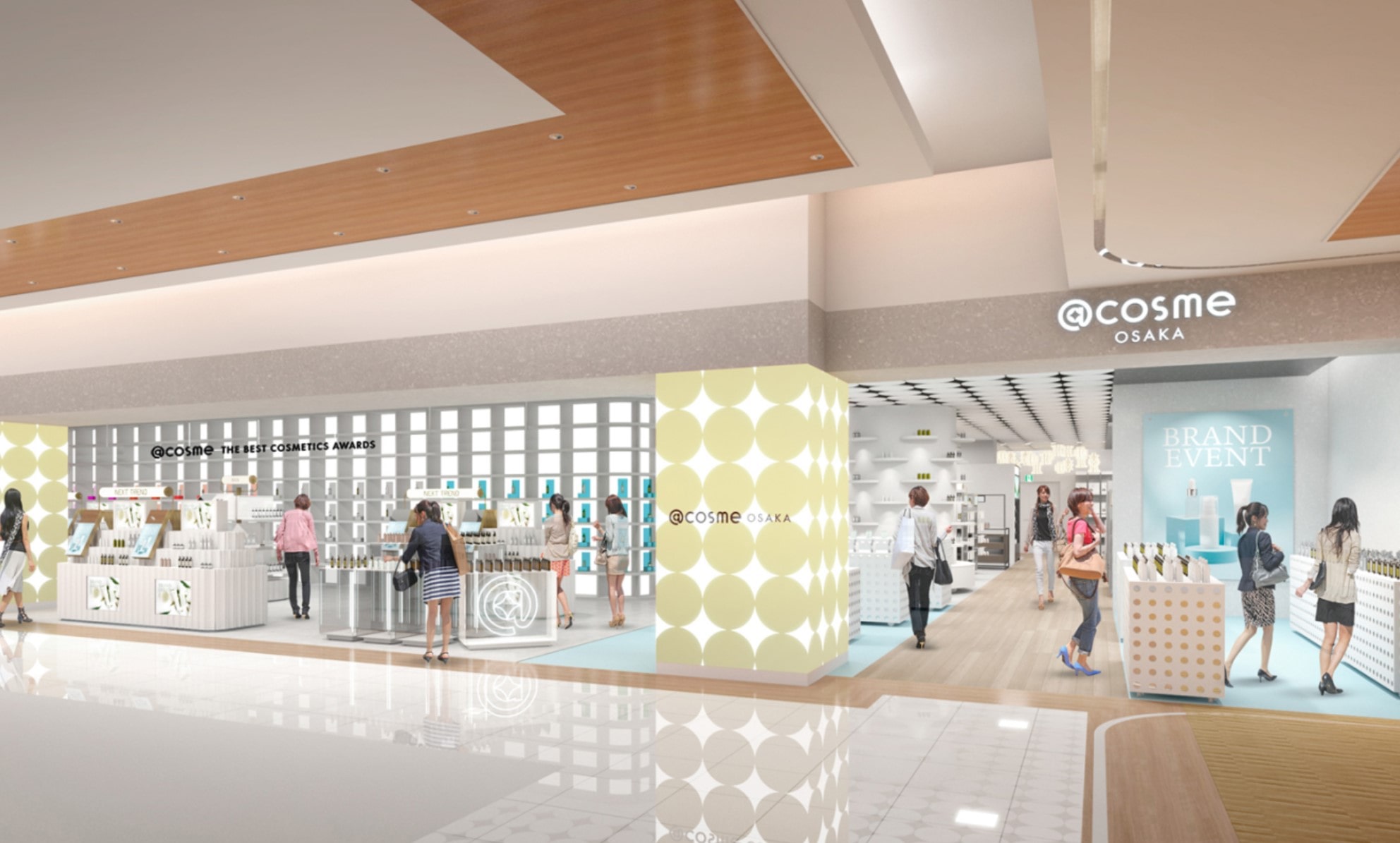 Next, on this list, we have @cosme Osaka. @coste Osaka opened on September 1, 2023, at Lucua Ile, Osaka. As @cosme's premier Kansai outlet, it spans a substantial 893 sqm, offering a variety rivaled only by "@coste Tokyo".
The store introduces high-end brands like CHANEL and SUQQU, with the latter adopting a novel semi-self-service approach. Alongside a diverse cosmetic range from luxury to affordable selections, the store features innovative attractions like the "@coste Osaka Sales Ranking Tower" showcasing top-sellers and an award wall highlighting past and present winners.
In essence, @coste Osaka blends vast product offerings with interactive and innovative store experiences.
▶ @cosme Osaka official website: https://www.cosme.net/store/flagship/osaka/
14. Osaka Station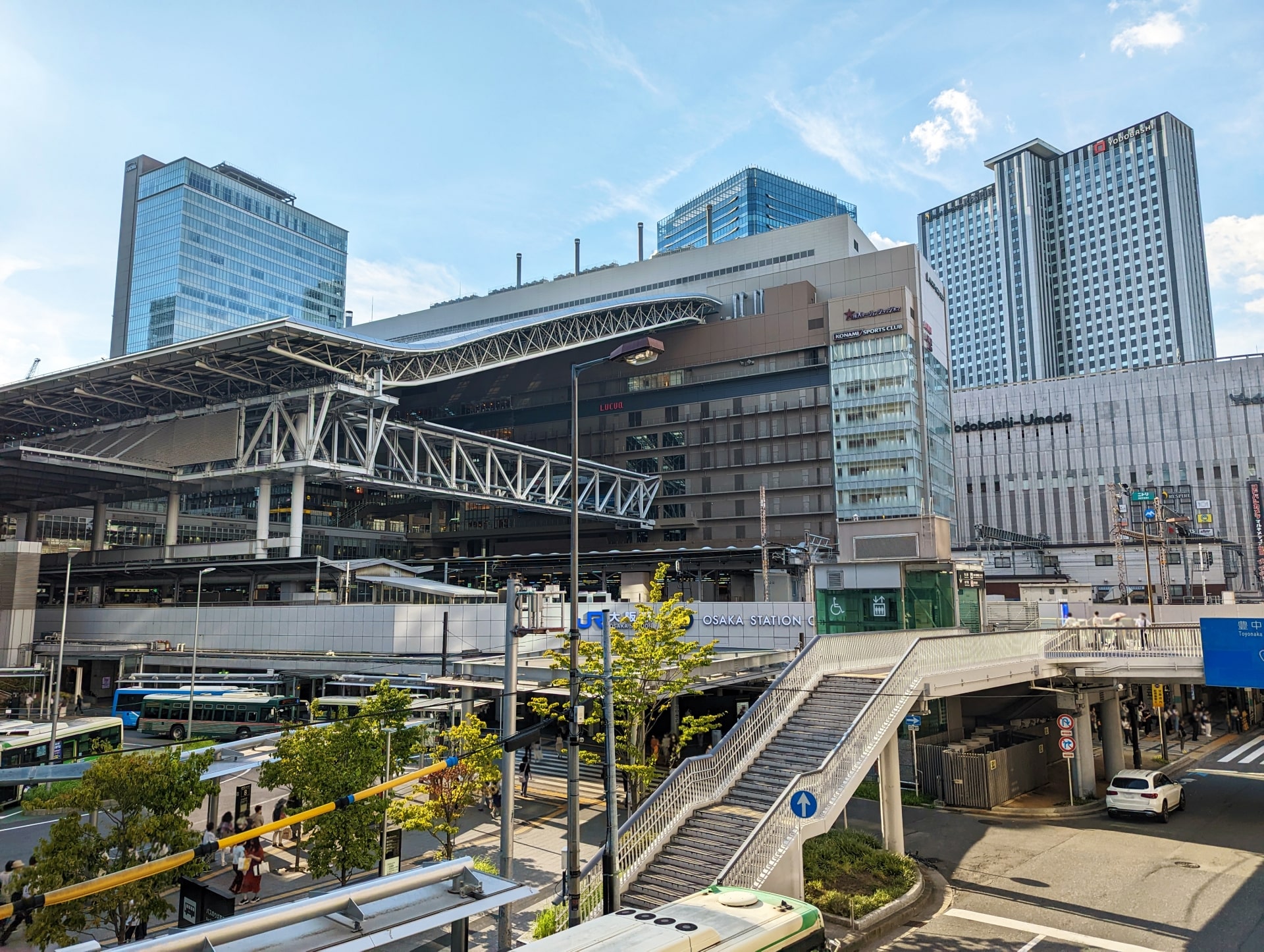 Osaka Station (大阪駅) is actually another place where you can do many kinds of things. You may notice once you get to Osaka, that this station is huge. The station's main building is also known as Osaka Station City, and it includes many offices, a hotel, shops, restaurants, a sports gym, a clinic, and even a wedding hall.
The best thing about this place is that you literally are already there once you arrive in Osaka by train. So, if you're not sure where to go in Osaka, this is a good place to start.
▶ Osaka Station City official website: https://new.osakastationcity.com/en/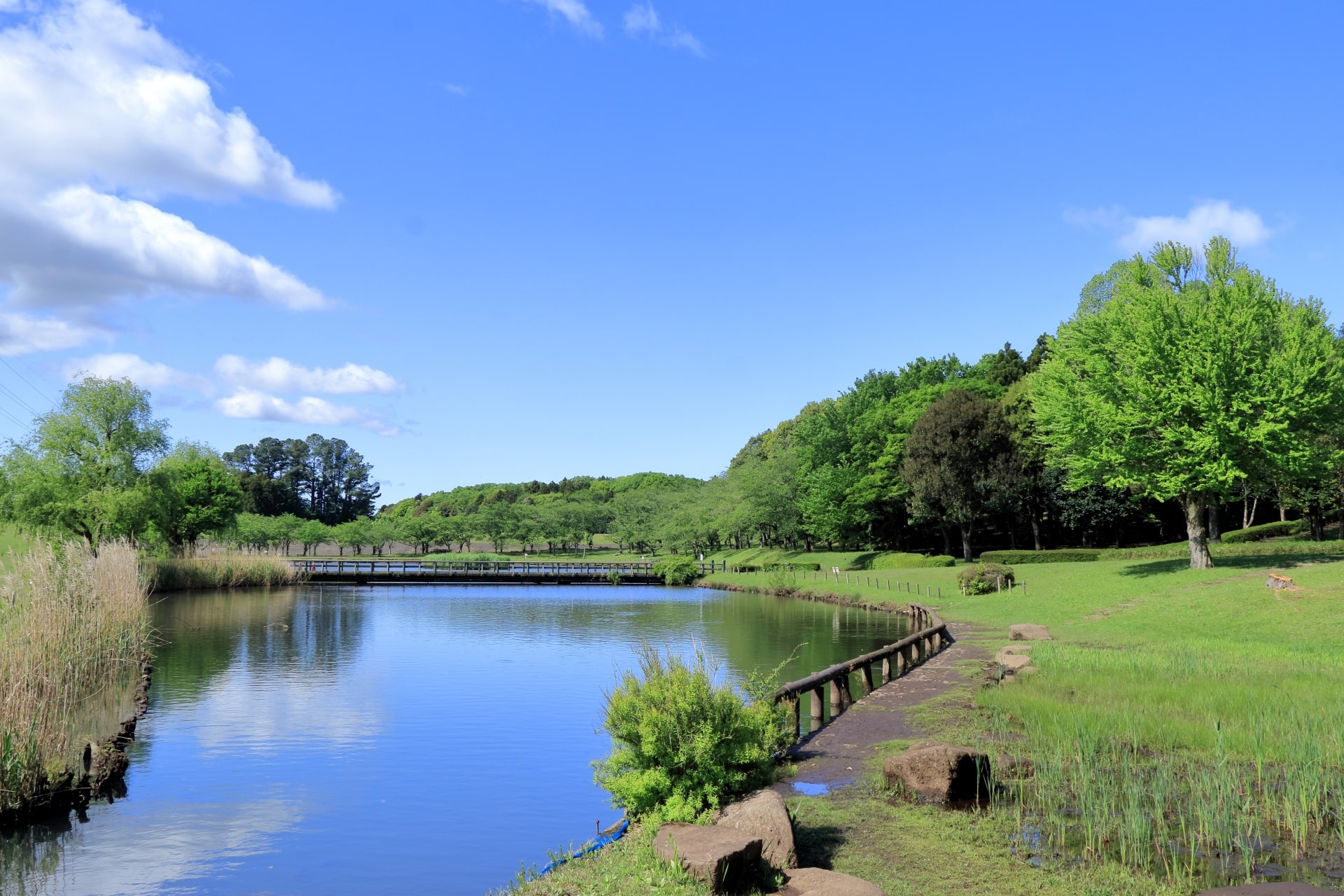 Osaka Expo Park (万博記念公園) is a large public park located about 20km north of central Osaka. This 2.6㎢ park was the site used to host the Japan World Exposition of 1970 which millions of visitors from around the world came to see.
In the park, you can still see some of the reminiscing structures from the Expo such as the symbolic "Tower of the sun" (太陽の塔). Also within the vicinity, you will find many things to do. There's a Japanese garden, a few museums, and a shopping mall with a Ferris wheel and even an aquarium.
Check out more about Osaka Expo Park from the following article!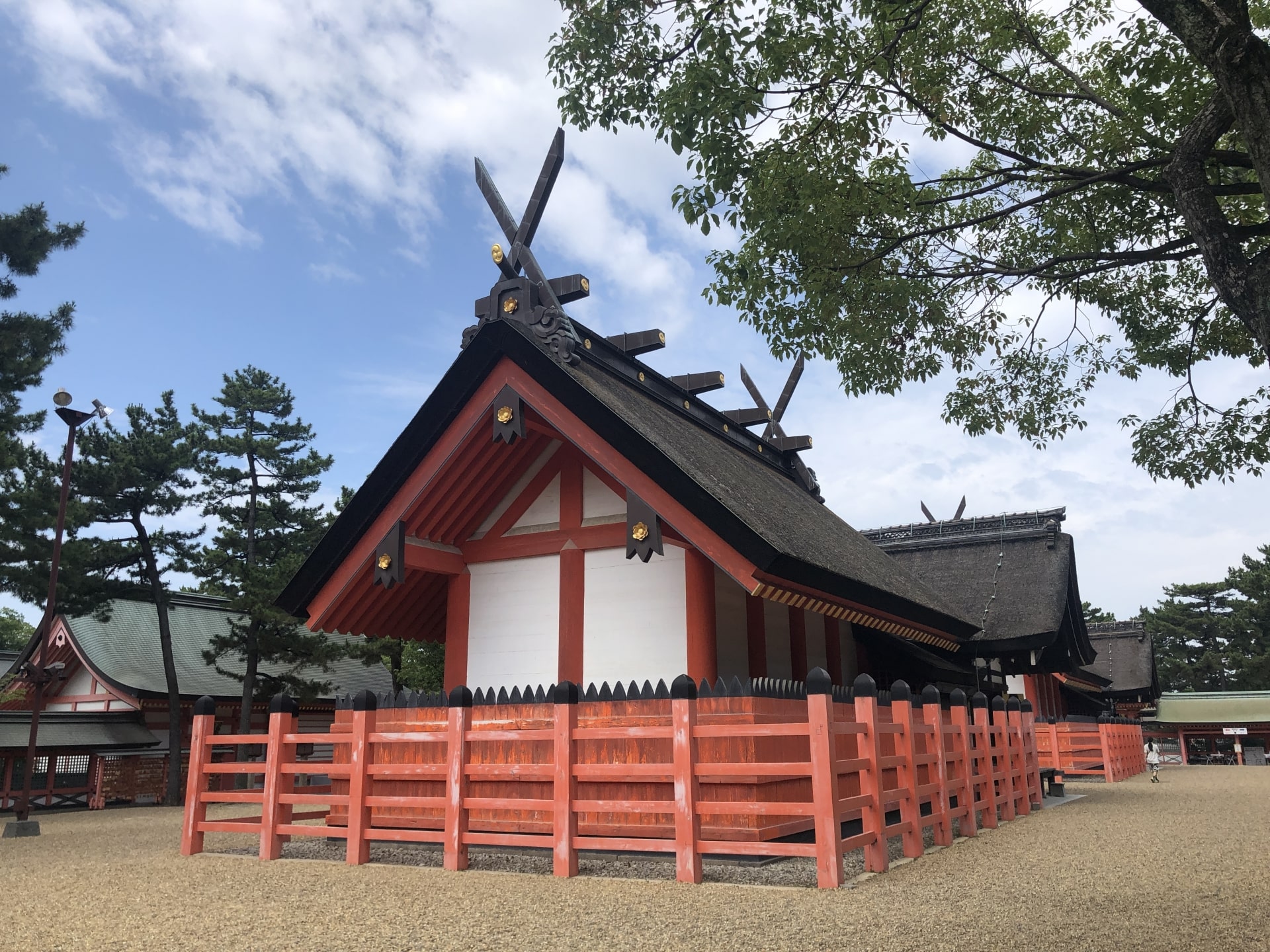 Sumiyoshi Taisha (住𠮷大社), also known as the "Sumiyoshi Grand Shrine", is one of Japan's oldest Shinto Shrines located just south of central Osaka. It is the most important shrine of the approximately 600 Sumiyoshi Shrines located all across the country,
Another thing that makes this Shrine famous is the fact that it was built in a unique architectural style known as "Sumiyoshi-zukuri". If you are a fan of Japanese architecture, then this is a place you don't want to miss.
Check out more about Sumiyoshi Taisha in the following article!
11. Abeno Harukas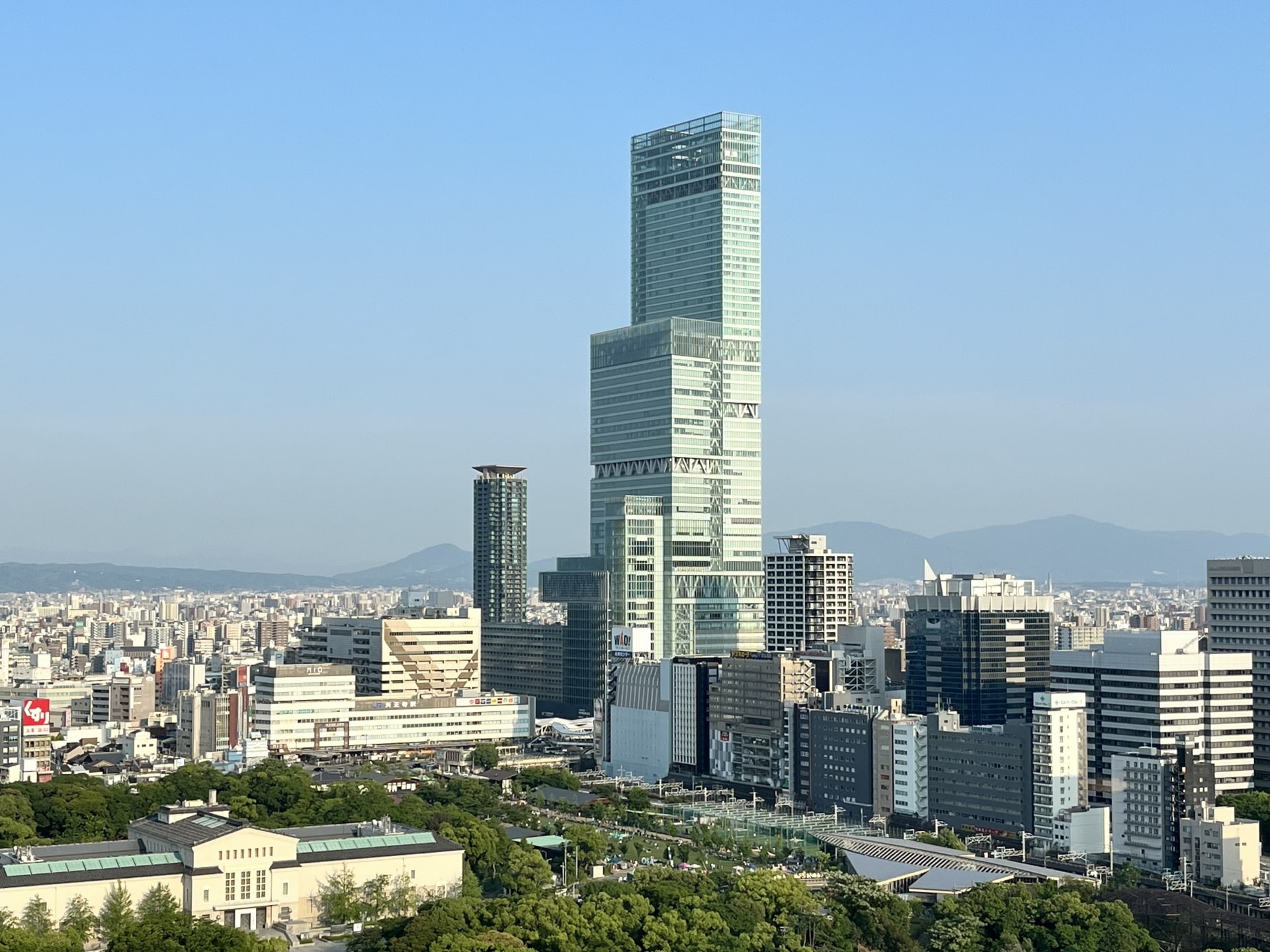 Abeno Harukas (あべのハルカス) is a multi-purpose commercial building that consists of shops, restaurants, a museum, a hotel, offices, and much more. It was completed in the year 2014, and ever since, it has become one of the most popular places to visit in Osaka.
One of the main reasons people come to visit this building is because of its observatory deck located between the 58th and 60th floors. You can enjoy the panoramic view from the tallest building in Japan.
▶ Abeno Harukas official website: https://www.abenoharukas-300.jp/en/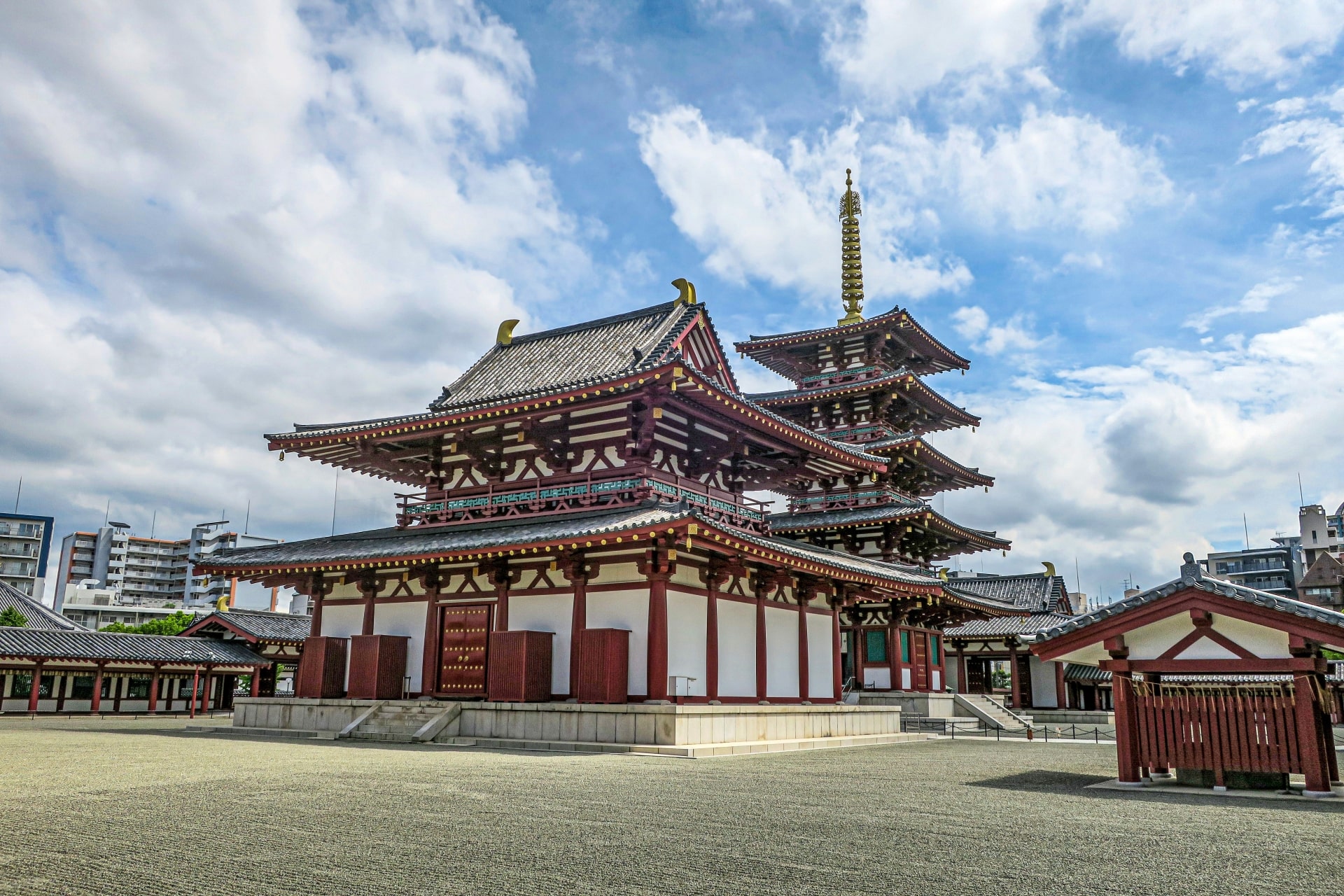 Shitennoji Temple (四天王寺) is one of the first Buddhist Temples built in Japan that still exists to this day. It is a "must visit" place when you come to Osaka because of its historical value. It is believed to have been built around 1,400 years ago. Originally, the temple was created to teach and spread Buddhism when Buddhism wasn't a thing in Japan yet.
You will also find many other Buddhist Temples around this one, so if you like temples, whether for their history or for their architectural appearances, I strongly recommend this place.
Check out more about Shitennoji Temple in the following article!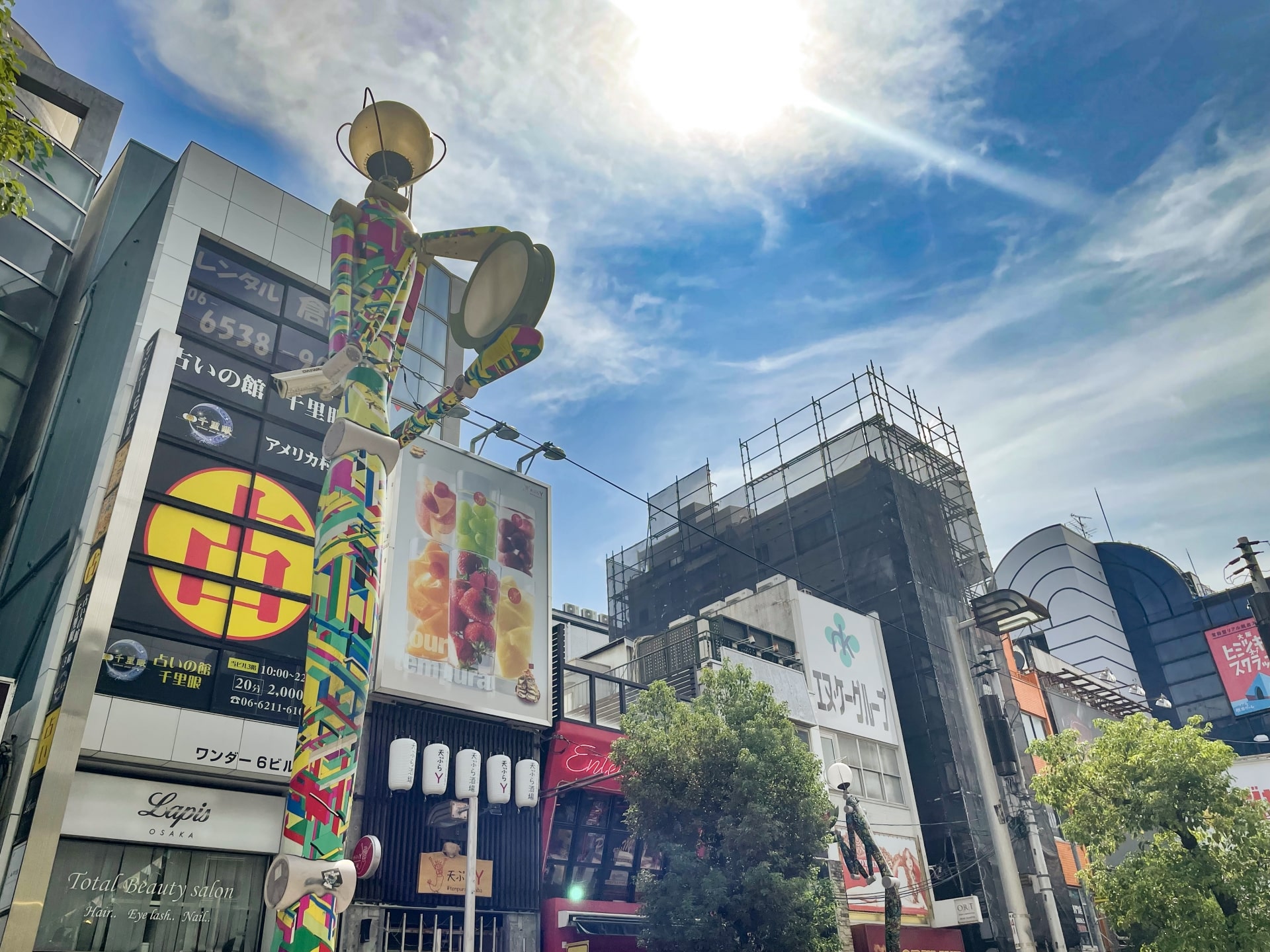 America Mura (アメリカ村), or "Ame-Mura", is an area located just west of the Shinsaibashi shopping district. It is widely known as the epicenter of Kansai's young fashion and culture. It is said that when it comes to young culture, this place surpasses even Harajuku. To prove that, several shops that come from overseas have decided to open their first Japanese store in this area.
America Mura is composed of over 2,500 shops, restaurants, cafes, bars, live music clubs, and much more.
Check out more about America Mura in the following article!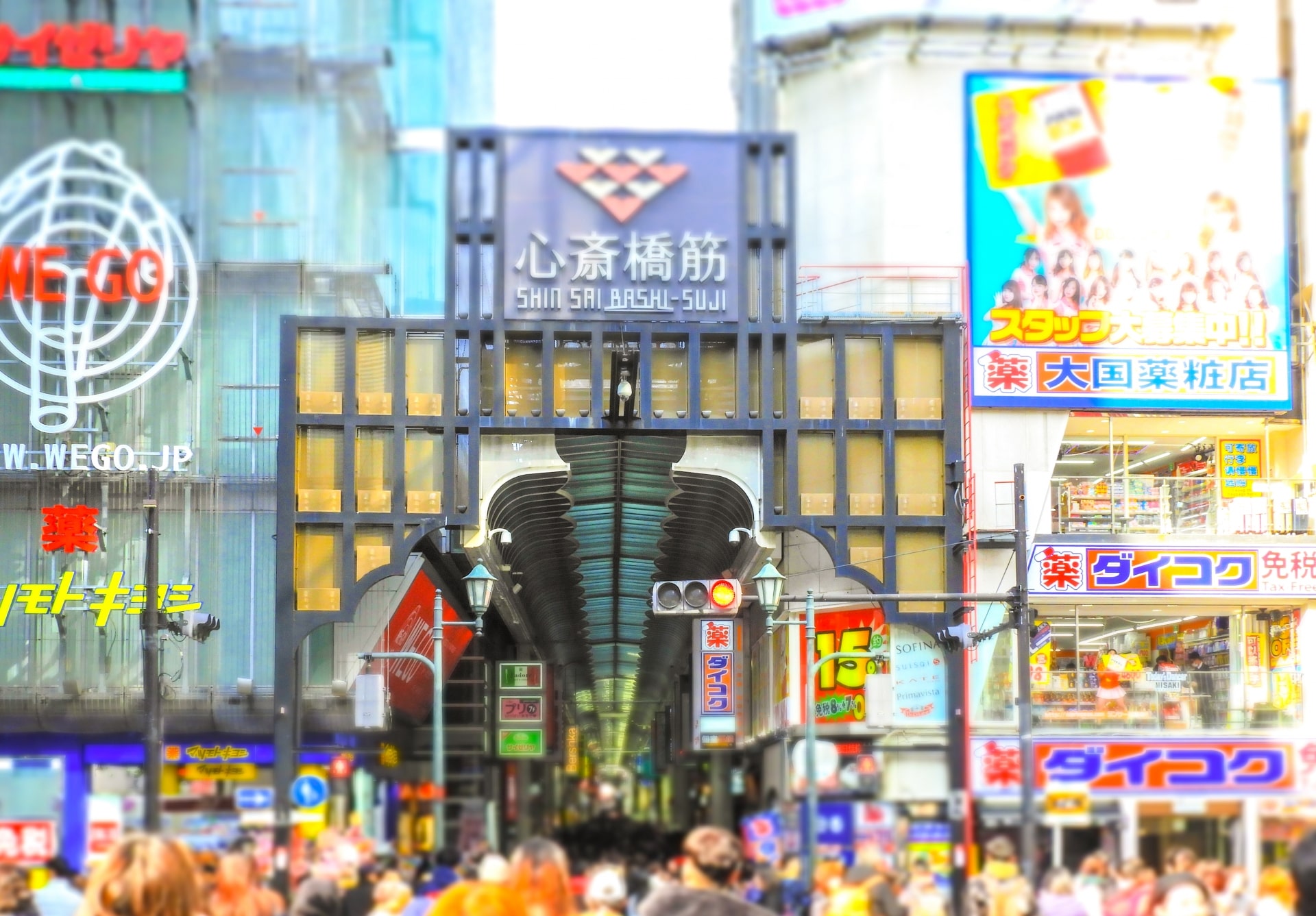 Shinsaibashi-Suji Shopping Street (心斎橋筋商店街) is a 580m-long shopping street that stretches from north to south connecting Nagahori and Dotonbori. It is one of the best representations of the Minami side of Osaka.
It has 2 major shopping points which are "Shinsaibashi-suji Shopping Arcade" and "CRYSTA Underground Mall". When it comes to fashion, you can find pretty much anything around this area. Shinsaibashi is also known as the "Western Ginza".
Check out more about Shinsaibashi-Suji Shopping Street in the following articles!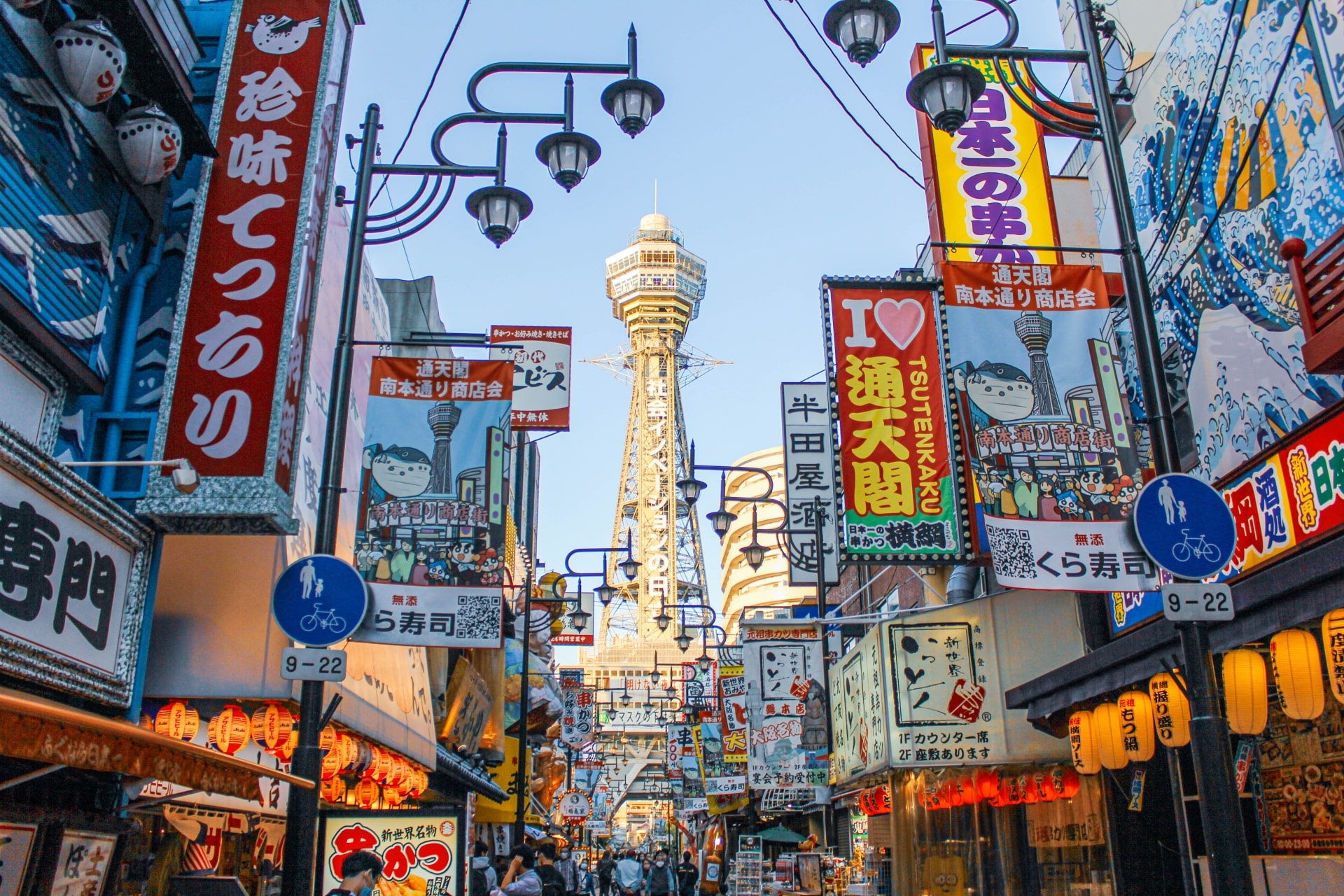 Another "must-go" location in Osaka is Shinsekai (新世界). It is an old downtown district in the Minami side of Osaka and it is a good place to experience the nostalgic "Showa vibe" that you can't experience in many other places. The landmark of this area is the Tsutenkaku (通天閣) which is one of the most famous towers in all of Japan.
This district has many izakayas, bars, and restaurants where you can enjoy authentic Osaka-style common people's food. You can enjoy the delicious food while contemplating the Tsutenkaku tower illuminated in various colors during the nighttime.
Check out more about Shinsekai in the following article!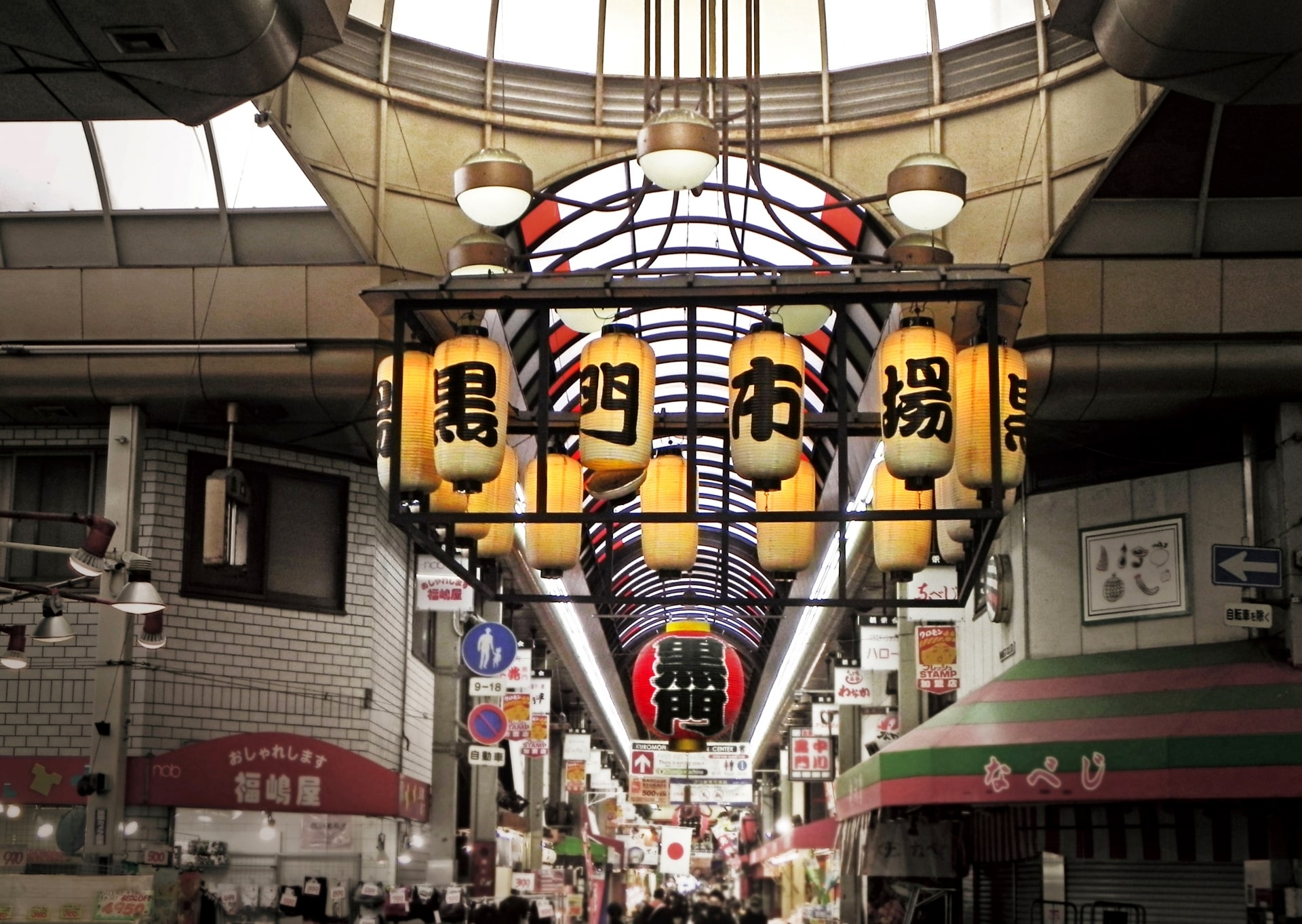 Kuromon Market (黒門市場) is a 580m-long market street located in Osaka's Chuo ward. Also known as Naniwa no Daidokoro (浪速の台所), which means "Osaka's Kitchen", this market has a history of over 190 years and has survived large fires and war attacks.
This market has many different types of shops and restaurants. About a quarter of the shops in the market are Fish markets, but you can also find shops for fresh vegetables and fruits as well as various kinds of sweets.
Check out more about Kuromon Market in the following article!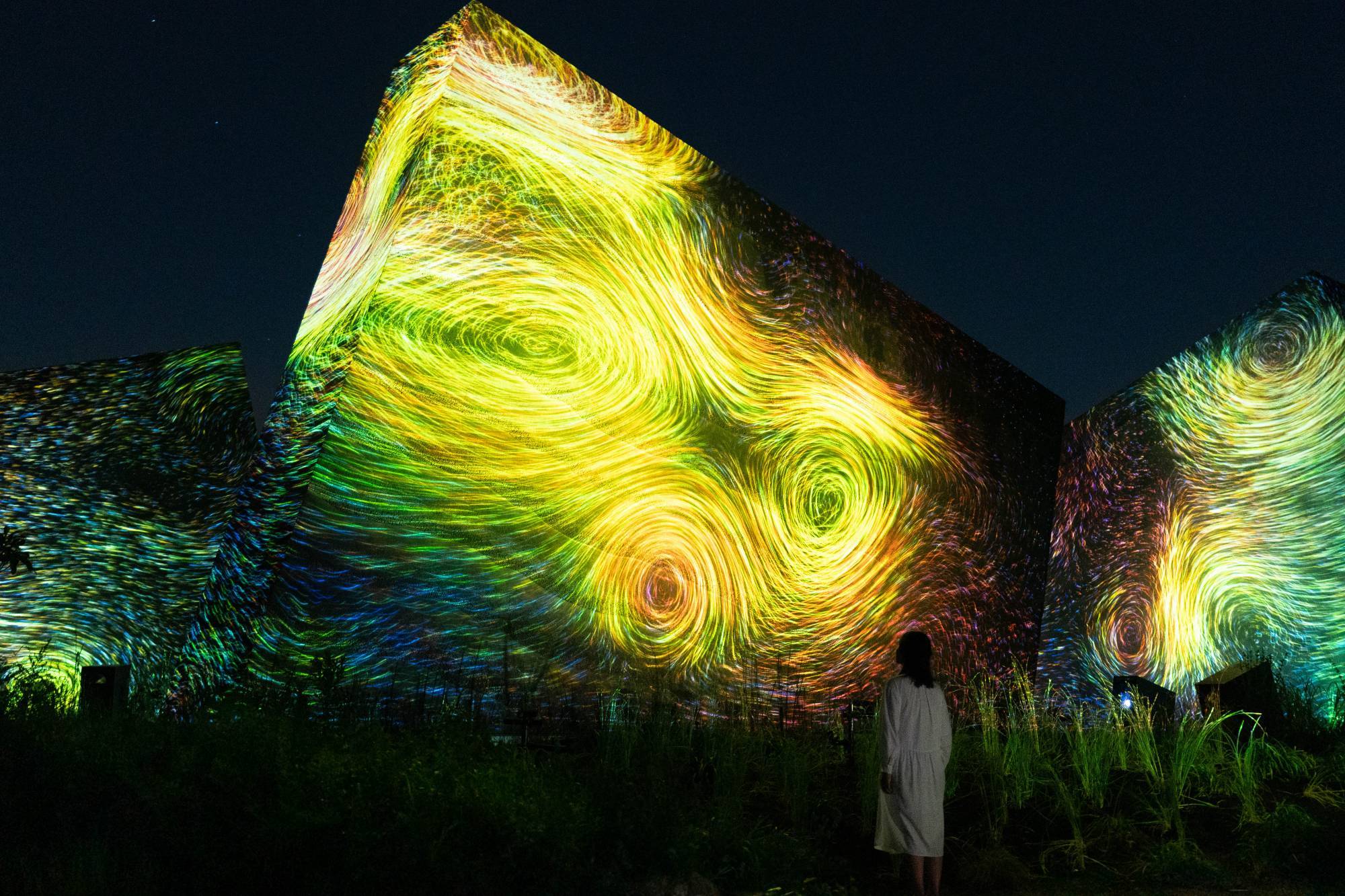 Next, we have the latest venture by TeamLab, TeamLab Botanical Garden Osaka which is distinctively set in Nagai Park, one of Osaka's vast urban spaces spanning 240,000 sqm.
Unlike TeamLab's enclosed venues in Tokyo, this is an open-air digital museum built within the park's botanical garden. This initiative emerged from the 2022 renovation of Nagai Park. The exhibit draws from TeamLab's "Digitized Nature" art project, showcasing nature as art without damage. Unique in being permanent and tailored for nighttime displays, the garden morphs from a daytime botanical attraction to an evening art spectacle. Concluding a day in Osaka at teamLab offers visitors a mesmerizing blend of nature and innovation.
Check out more about TeamLab Botanical Garden in Osaka in the following article!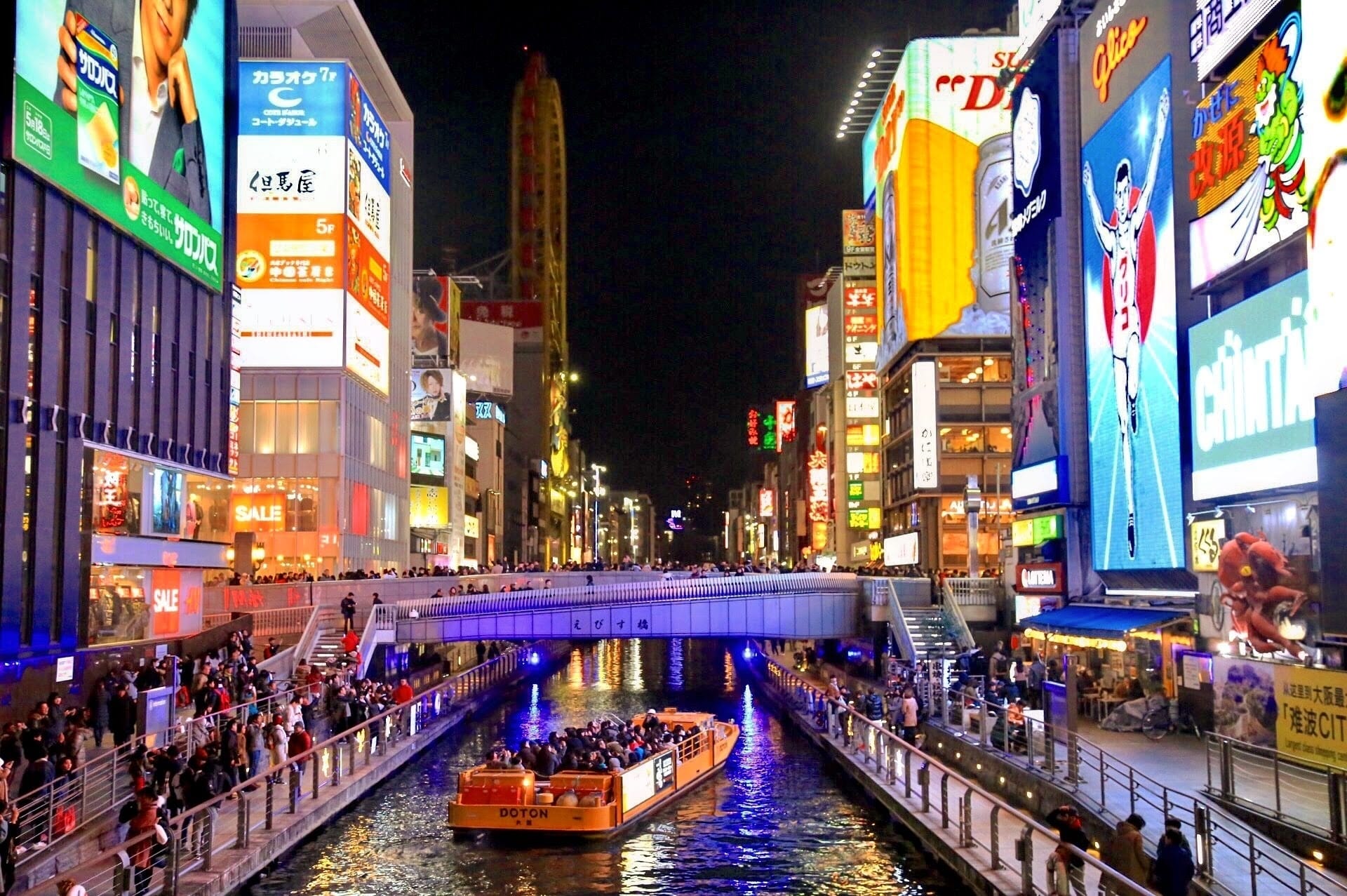 Dotonbori (道頓堀) is one of the most popular and visited places in all of Osaka. You may recognize the huge neon sign of the running man. Here in this area is where you will find the best Osaka food. In other words, this is yet another "must-visit" place.
Takoyaki, Okonomiyaki, Kushikatsu, and so much more. You can also find many fancy restaurants, cafes, and izakayas. It is located right next to Shinsaibashi, so you can eat here after have done shopping at Shinsaibashi.
Check out more about Dotonbori in the following article!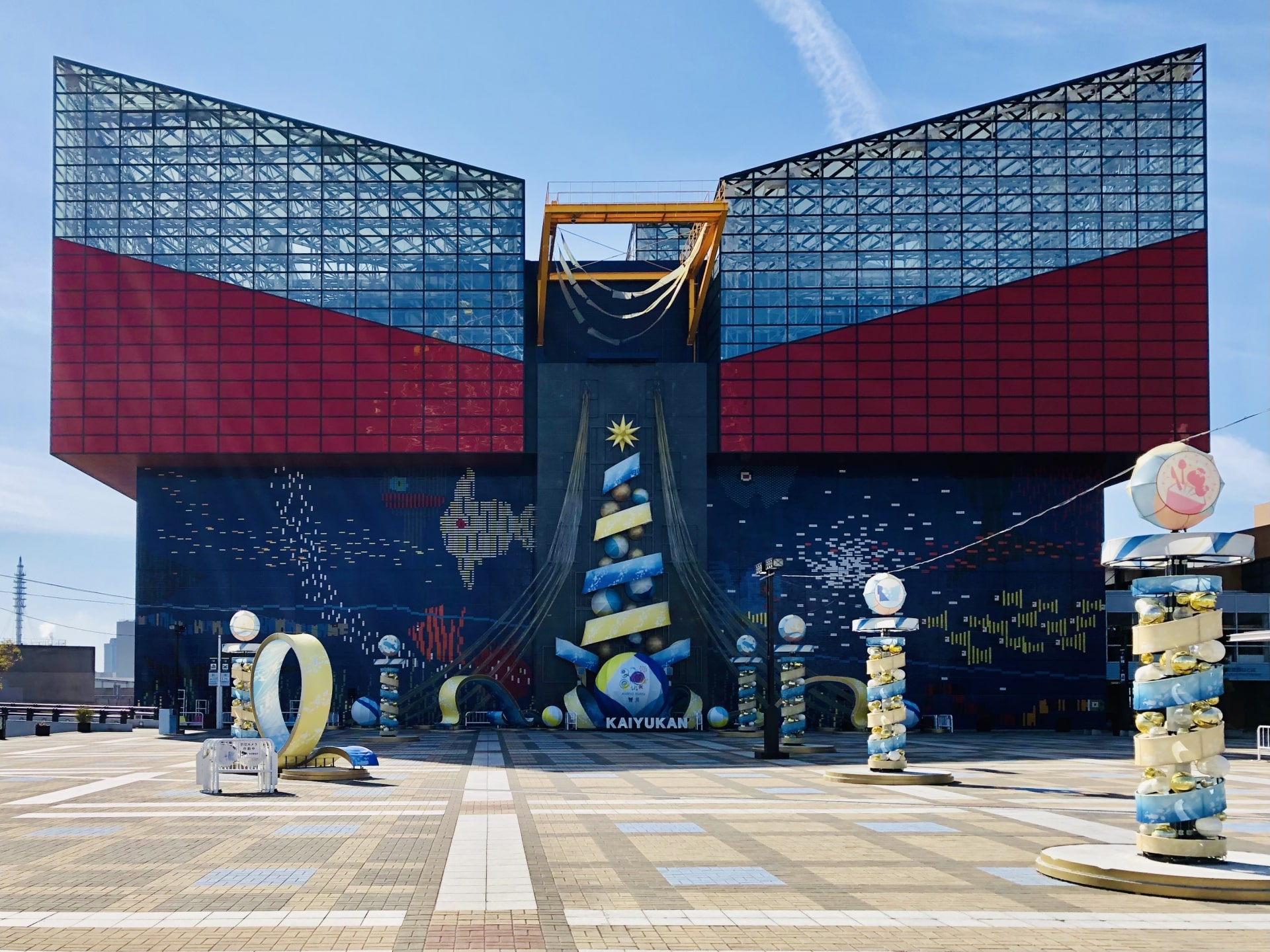 Osaka Aquarium Kaiyukan (海遊館) is a large aquarium located in the Tempozan Harbor Village of Osaka's bay area which is south-west of central Osaka. It opened in 1990 and is one of the largest public aquariums in the world.
This aquarium displays over 500 kinds of different marine life such as dolphins, penguins, whale sharks, and more. Currently, it is the 3rd largest aquarium in Japan and it is also in the top 5 largest in-land aquariums in the world.
Check out more about Osaka Aquarium Kaiyukan in the following article!
Quite probably the most recognizable landmark in Osaka is the Osaka Castle (大阪城). Located in the middle of the 1.055 km² Osaka Castle Park and surrounded by its stone wall consisting of over 40,000 rocks, this is an impressive site you need to see with your own eyes.
The current castle was built in 1629, and it has been preserved wonderfully. If there's only one place you can go visit in Osaka, I would recommend this place, for sure.
Check out more about Osaka Castle in the following article!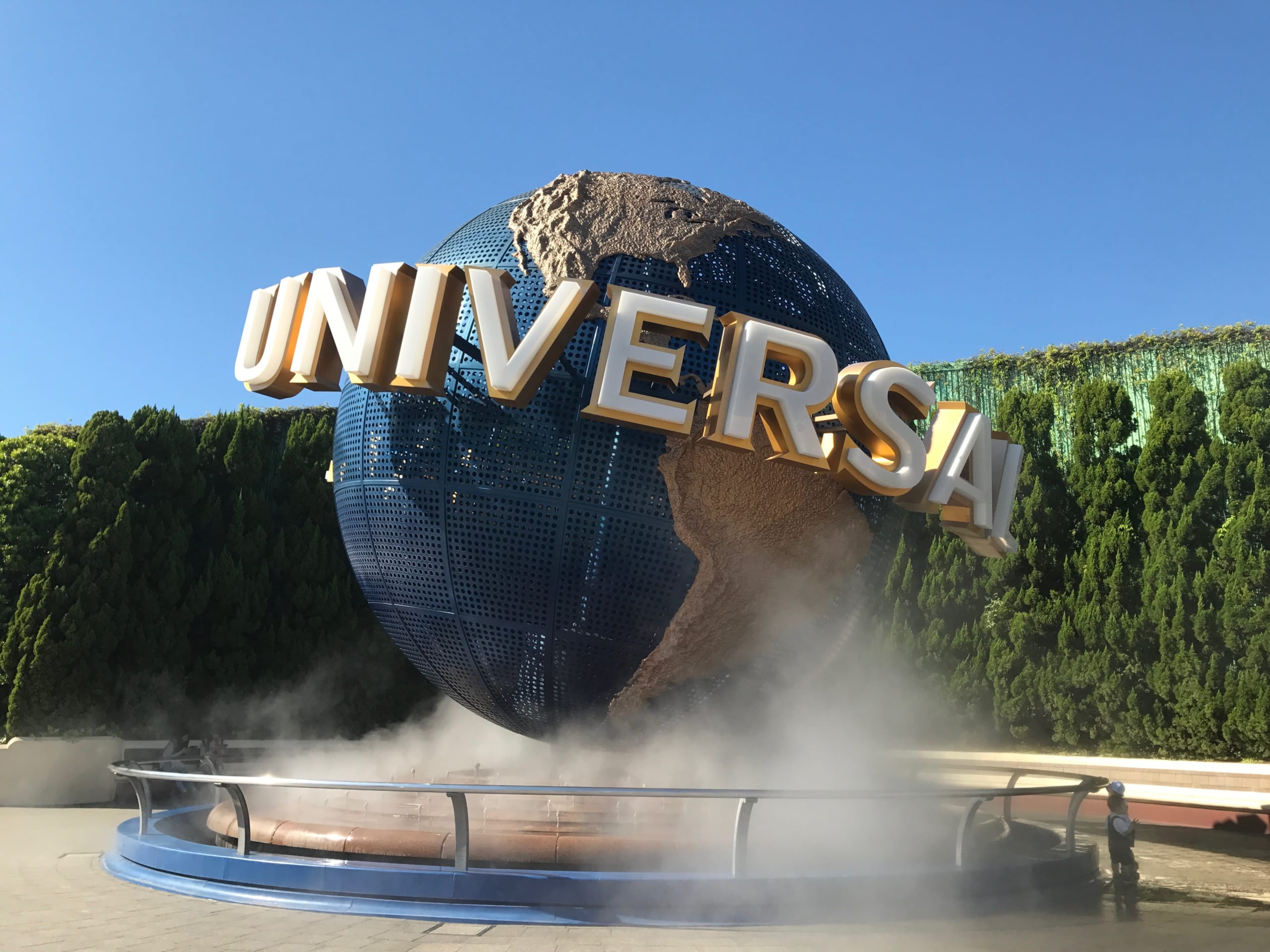 And lastly, on our countdown list, we have Universal Studios Japan (ユニバーサル・スタジオ・ジャパン). Compared to the other places on this list, USJ is located a little removed, but it is still one of the most visited places in Japan. This Hollywood-themed amusement park opened in 2001, and it is one of the six Universal Studios in the world.
Apart from the many famous attractions such as Jaws, Spiderman, Jurassic Park, and Harry Potter, there is also the SUPER NINTENDO WORLD area where you can immerse yourself in the Nintendo world.
You can also enjoy the wide variety of shops, restaurants, and cafes across the park.
Check out more about Universal Studios Japan in the following articles!
---
▽Check out the best places to visit in other popular areas in Japan!▽
▽Subscribe to our free news magazine!▽

So, what did you think about this article? I hope it helped to give you some new ideas for places to visit when you get to go to Osaka. If you enjoyed this article and want to read more about Osaka, check out our other articles from the links below.
▽Related Articles ▽
▼Editors' Picks▼
---