10 Best Things to Do in Tokyo in Summer
Tokyo Summer Travel Guide: What to Do in Tokyo in Summer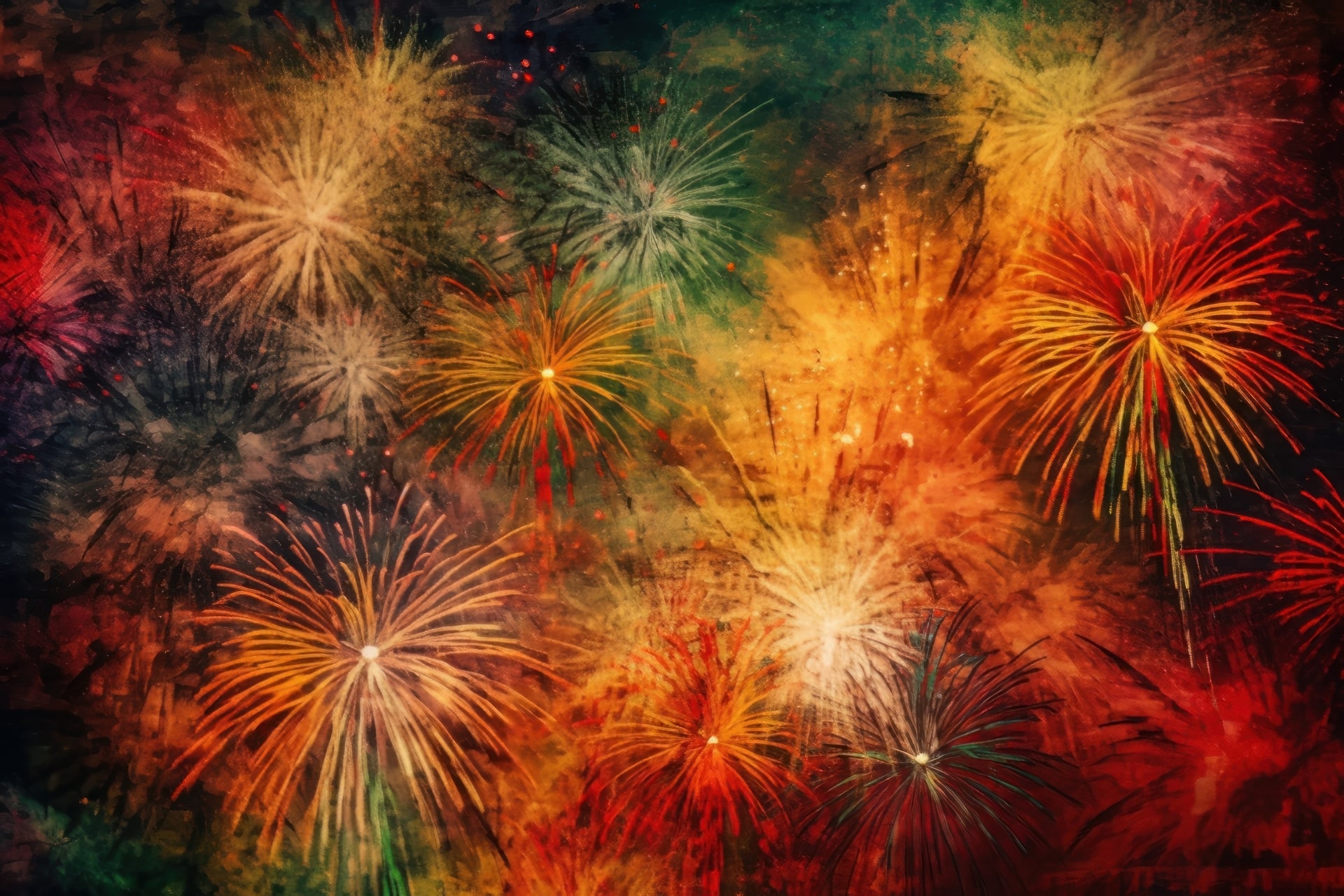 Are you ready for summer? Are you keen on summer activities?
Japanese summer is supposed to be from June to August. It's very hot and humid in summer in Japan. The rainy season, which is known as Tsuyu in Japan, lasts from the beginning of June to the middle of July in Tokyo. This hotness is good for summer activities such as swimming, going to the beach, and outdoor activities. However, it's also tough to stay outside for a long time and uncomfortable to stay sweaty.
Don't worry, there are a lot of good things to do not only outside but inside to enjoy Japanese summer in Tokyo!! Traditional summer festivals and fireworks festivals are held often at night between June to August. You can stay cool and comfortable inside air-conditioned amusement parks and museums. Or, if you really want to enjoy the heat in Tokyo, there are a lot of music festivals and beer gardens under the sun!!
Let's have a look at the 10 best things to do in Tokyo in summer!
1. Joining a traditional summer festivals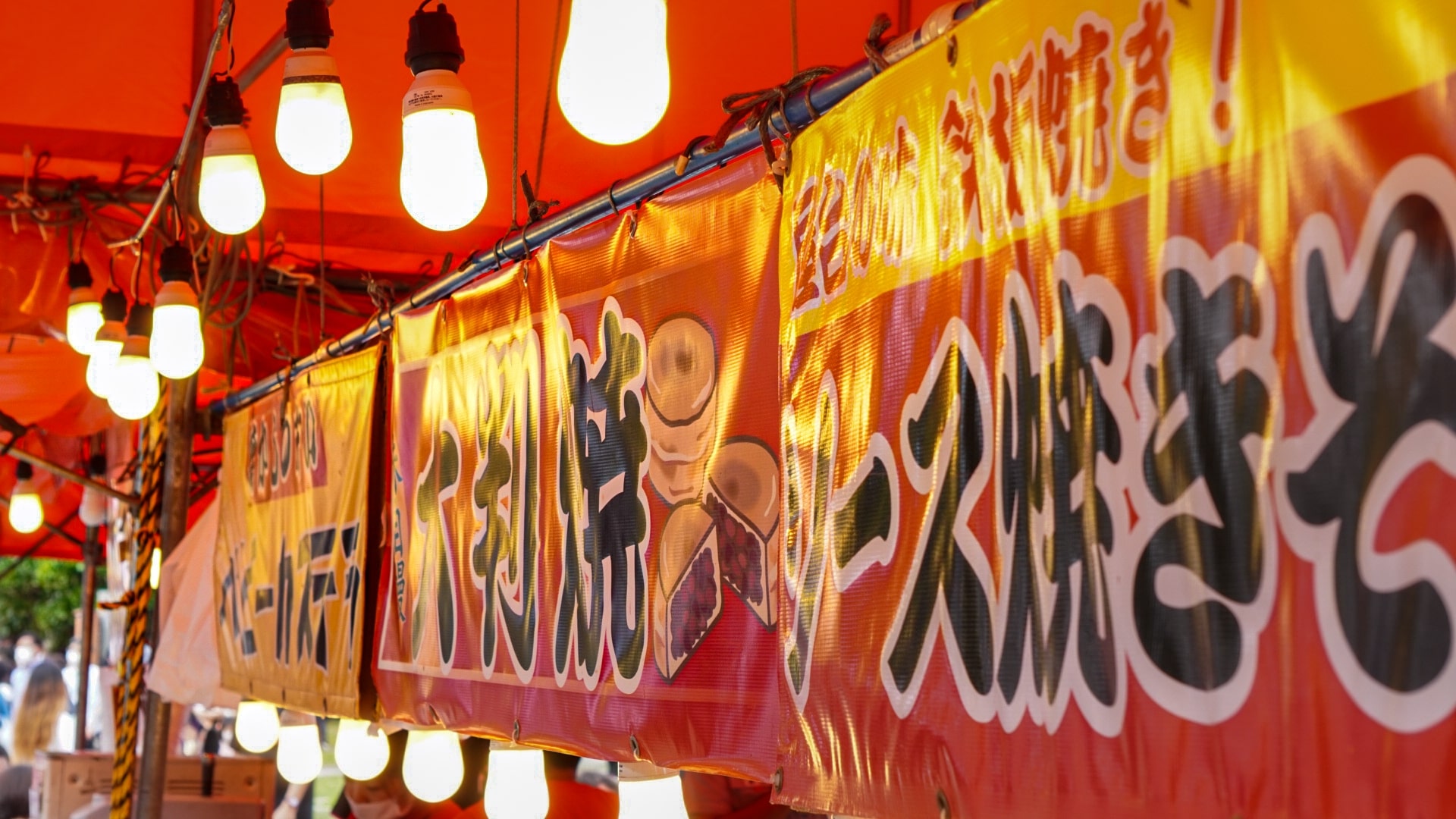 If you stay in Tokyo during the summer season, you shouldn't miss going to one of the best summer festivals! There are a lot of traditional summer festivals in Tokyo, especially between June and August. Some of them are organized by local communities to cheer up the local shopping street and to build stronger relationships between local people. Others are held in temples or shrines to pray for a good harvest and good human health as an annual festival.
Azabu Juban Noryo Festival is one of Tokyo's most popular summer festivals, held in the Azabu Juban area in Minato Ward. The festival is held in the middle of August every year to cheer up the local community and to transmit attractive points of Azabu Juban. More than 300,000 people for 2 days visit this festival to enjoy the local well-established stores and entertainment.
Harajuku Omotesando Geniki Festival Super Yosakoi has been held as Meiji Shrine Dedication Festival since 2001. Yosakoi dance is a kind of traditional Japanese dance developed in Kochi Prefecture. People dance to Kochi folk songs using clappers, called Naruko. About 100 teams of Yosakoi dancers parade along Omotesando Street and the Harajuku area.
If you go to the summer festivals, it's recommended to wear Yukata kimono!!
2. Viewing awesome fireworks festivals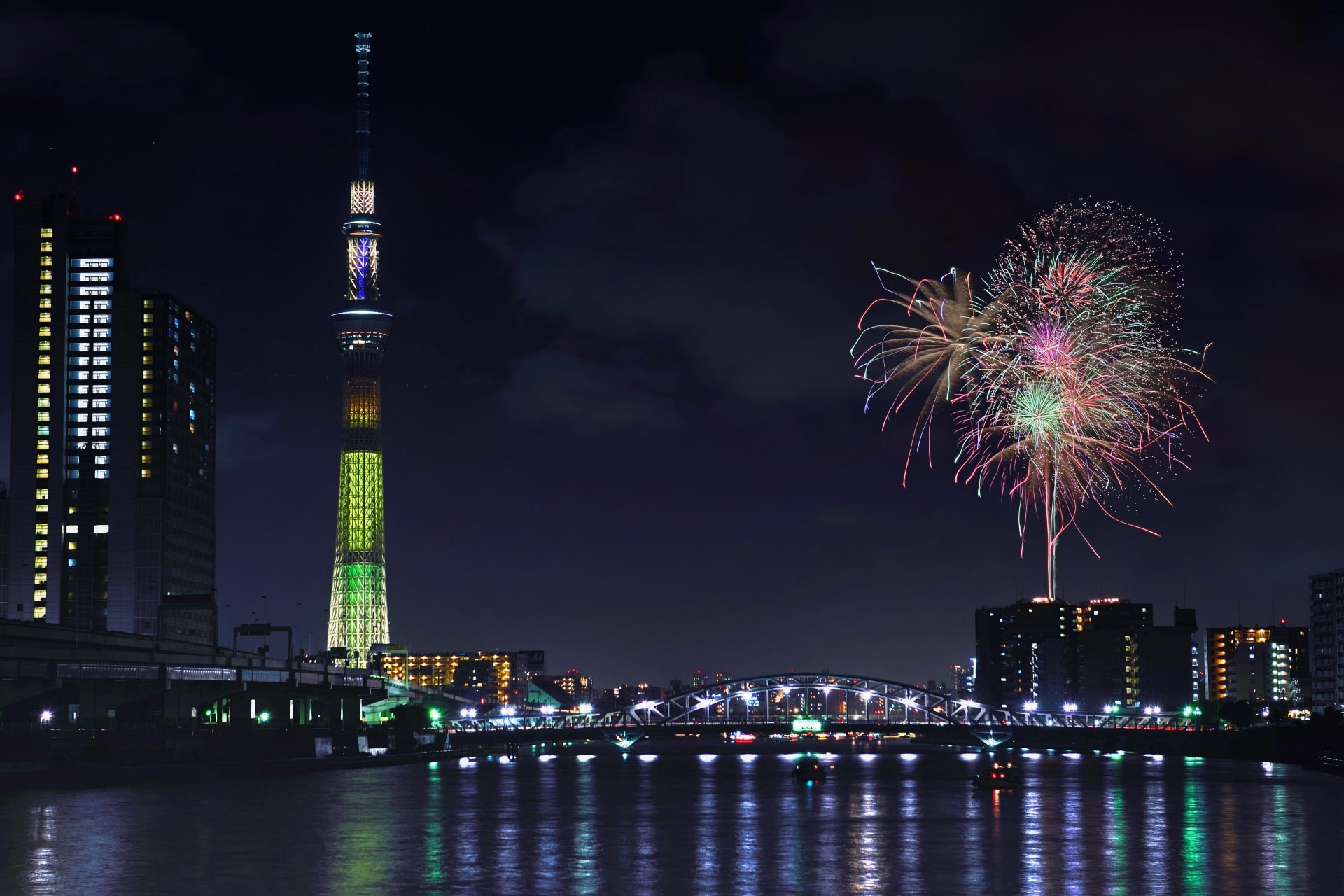 Speaking of summer tradition, fireworks festivals shouldn't be missed!
Sumida River Fireworks Festival is the oldest fireworks festival in Japan and has been very popular since 1733. It's held at the end of July every year. Sumida River Fireworks Festival is one of the biggest fireworks festivals in Tokyo and more than 20,000 fireworks are enjoyable. There are 2 venues to set off fireworks. At the first venue, there is a competition about the beauty and skill of fireworks among the 10 best fireworks companies. At the second venue, you can enjoy a variety of creative fireworks consecutively.
Itabashi Fireworks Festival is held along the Arakawa River in Itabashi Ward. The number of fireworks would be more than 12,000 in total. The biggest size of fireworks is normally 4 inches to 8 inches, but more than 100 of the 10-inch size of fireworks are launched at Itabashi Fireworks Festival. Moreover, you can enjoy the biggest fireworks in Tokyo whose size is 15 inches. A 700 m curtain of fireworks is a symbol of the Itabashi Fireworks Festival, called "Big Niagara Falls". You'll be impressed by the amazing night sky made by 10 of the best pyrotechnicians in Japan.
3. Taking a day trip to Mount Takao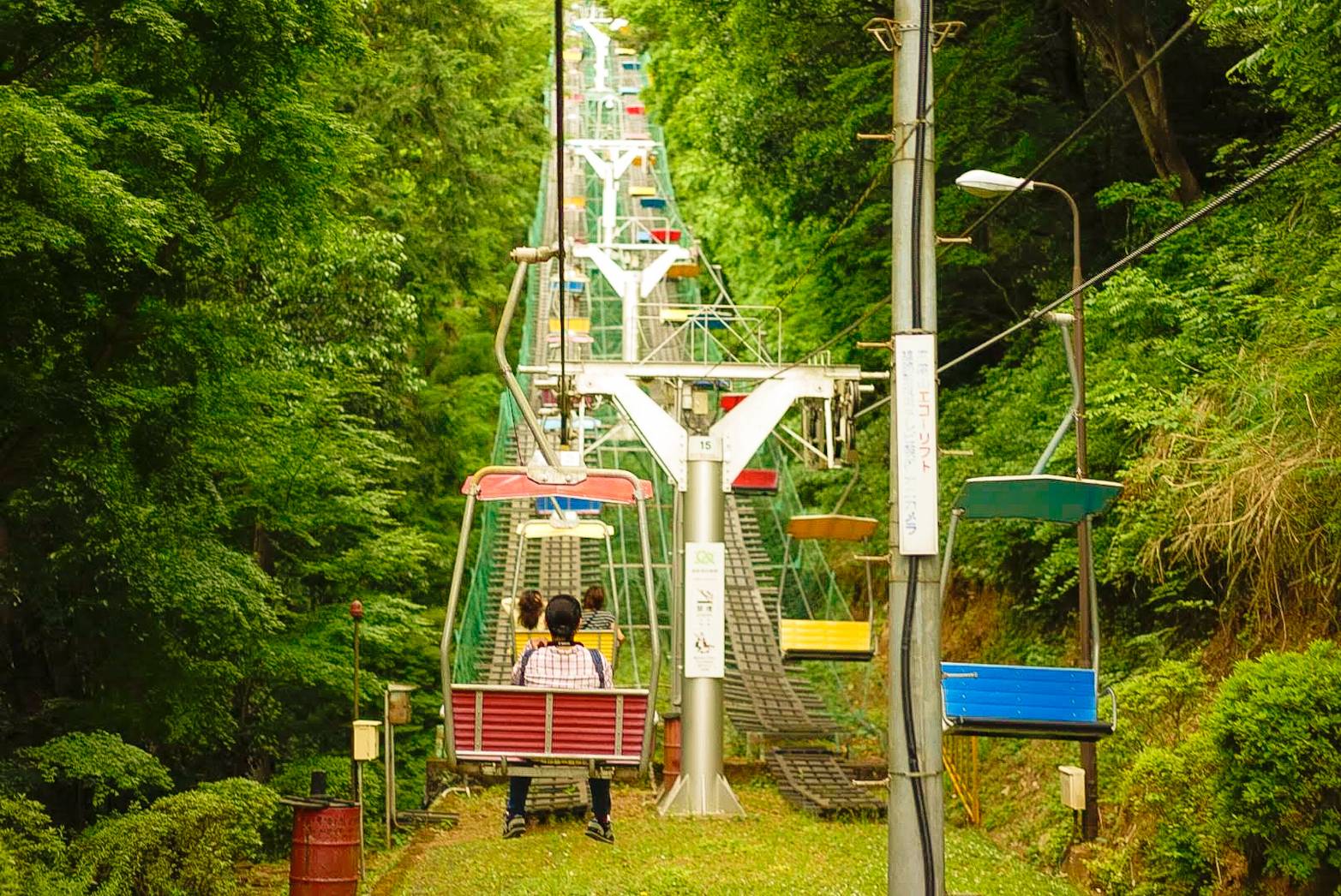 If you like outdoor activities, you might like hiking. Mount Takao is one of the best mountains to climb and enjoy as a day trip even if you don't have any experience climbing.
Mount Takao is located in Hachioji City in Tokyo, almost 1 hour away from Shinjuku Station by train. Mount Takao has the largest number of climbers per year in the world. There are a lot of hiking courses for both beginners and advanced people so everyone can enjoy the awesome view from the top of the mountain. You can also take a funicular railway and lift that connect the bottom to the top of the mountain. Taking a lift on a sunny day and viewing the nature of Mount Takao and feeling the wind would be great.
In the middle of Mount Takao, there is a resting place. Juicchome-Chaya is a popular restaurant where you can try local grated yam soba noodles and Mitarashi Mochi Dango(a kind of rice dumpling with sweet soy sauce). A beautiful panoramic view can be seen from the terrace seat.
After you enjoy hiking and an amazing view from the top of Mount Takao, there are still a lot of attractive places such as Takao Monkey Park, Mount Takao Yakuoin Temple, Trick Art Museum, and hot spring.
4. Feeling summer at beer gardens
Let's drink beer under the beautiful sky on a sunny day!!
Jingu Gaien Forest Beer Garden is one of the most popular beer gardens in Tokyo. It has been loved by local people and tourists since 1984. There are various kinds of beer and other alcohols including whiskies and sours. In addition, since the beer and garden has a special fridge, people can enjoy very cold beer even if it's very hot and humid outside.
Hotel Grand Hyatt Tokyo holds a beer garden at one of its restaurants, Stake House Oak Door, which is located on the 6th floor of the building. Its authentic BBQ course is served on its charismatic outdoor terrace. The highlight of the course is a BBQ flatter with 5 different types of meat, seafood BBQ grills, and a range of the Oak Door's signature sides. The course must match your cold beer or chef's special cocktails.
Let's forget daily stress and enjoy your drink!!
▽Check out more beer gardens in Tokyo!▽
5. Refreshing daily stress at music festivals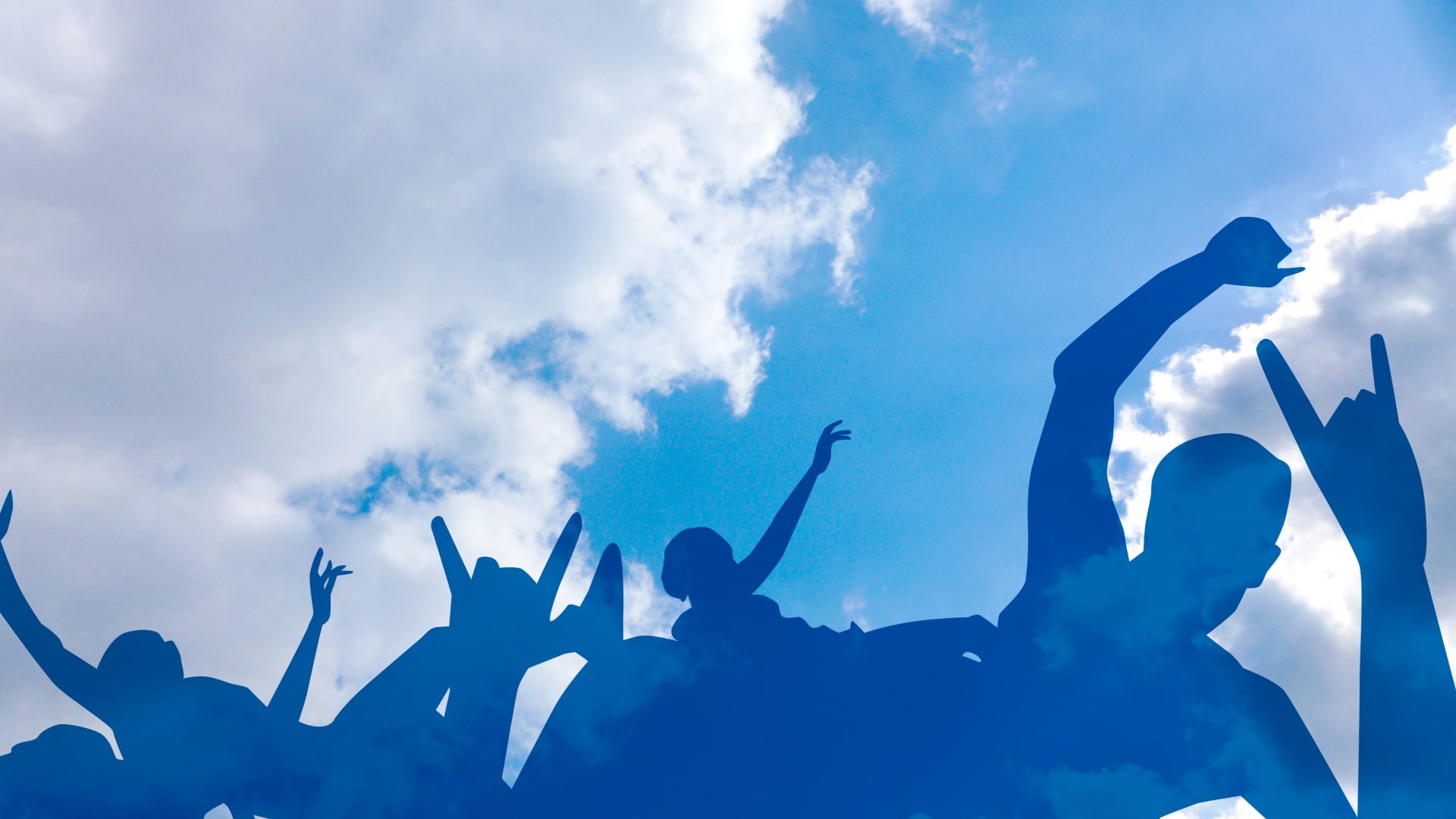 Don't miss summer music festivals!! There are lots of music festivals in Tokyo!!
Rock In Japan Festival is one of the most popular J-Rock Festivals in Japan, started in 2000. It's held for 5 days at the beginning of August. More than 200 artists perform on each different stage (4-7 stages depending on the year) and over 300,000 audiences come to enjoy their favorite music and make an unforgettable memory.
Summer Sonic is another trending summer music festival in Tokyo, held for 2 days in the middle of August. Compared with Rock In Japan Festival, Summer Sonic used to be organized with only foreign artists when it started in 2000. However, now various Japanese artists join the festival including rock bands and idol groups after the late 2000s. It features some of the famous foreign artists as headliners, like Linkin Park(2006), Red Hot Chili Peppers (2011), and THE 1975 (2022). It's a rare opportunity to enjoy the live music of world-widely popular artists in Japan.
6. Cool off at an indoor amusement park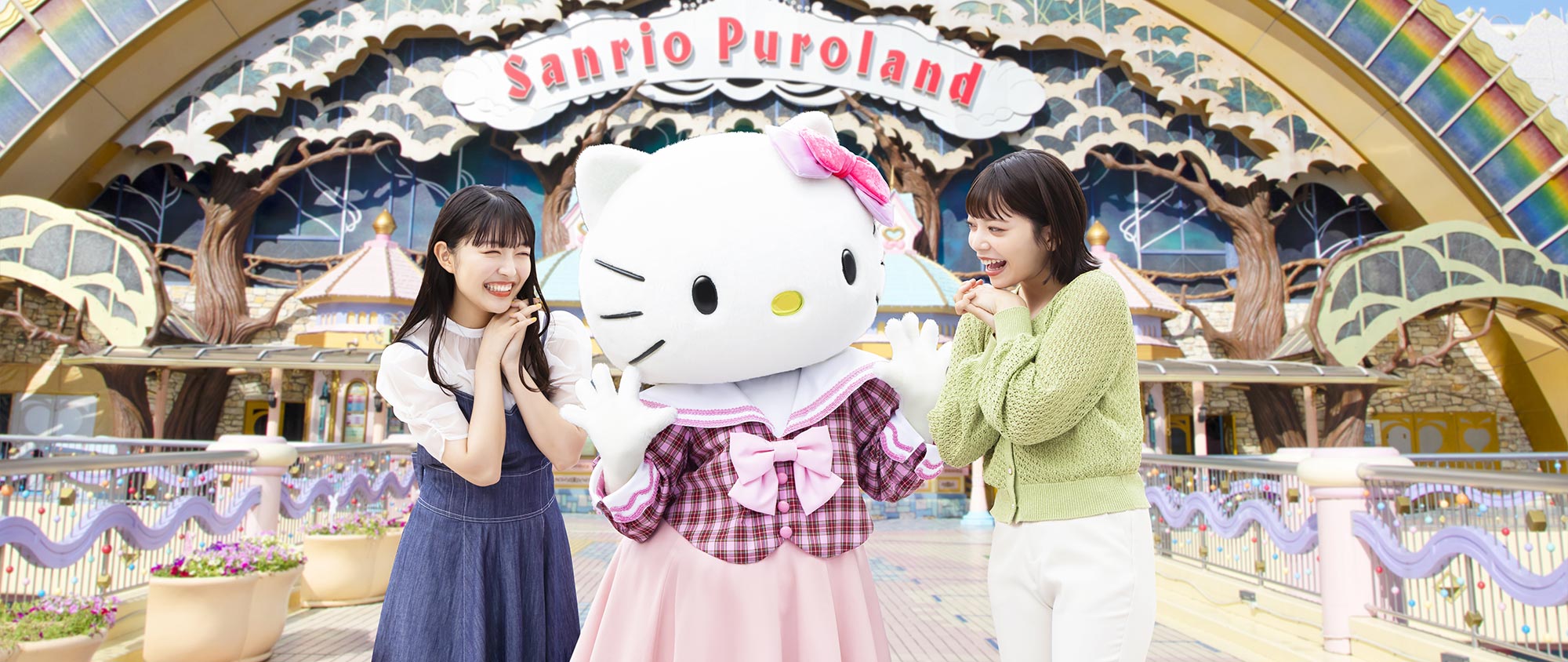 If it rains or it's too hot to go out, let's go to an indoor amusement park.
Tokyo Joypolis is located on the 3rd-5th floor of Decks Tokyo Beach in the Odaiba area. Based on the concept of DigitaReal; a fusion of digital and real, Tokyo Joypolis keeps trying to create and serve novel and innovative entertainment. There are more than 20 kinds of attractions such as roller coasters and VR experiences using the latest film technology. Half Pipe Tokyo is the most popular attraction that is a roller coaster using digital technology. Go-on Live Coaster is the first type of roller coaster in the world that installs a music game operated by customers themselves.
▶︎Get a Tokyo Joypolis Passport E-Ticket up to 800 JPY OFF
Sanrio Puroland is one of the most popular indoor amusement parks in Tokyo, featuring the Sanrio characters such as Hello Kitty and My Melody. Since 1990 when it opened in Tama City, Sanrio Puroland has been loved by many people,especially little girls, as a place to meet adorable characters. There are also a lot of attractions and shows so families and couples can enjoy together, too. Its character shows are always popular and change seasonally. Don't miss the chance to watch a limited show!!
▶︎Get a Sanrio Puroland Special Advance E-Ticket
7. Taking a dip at a water park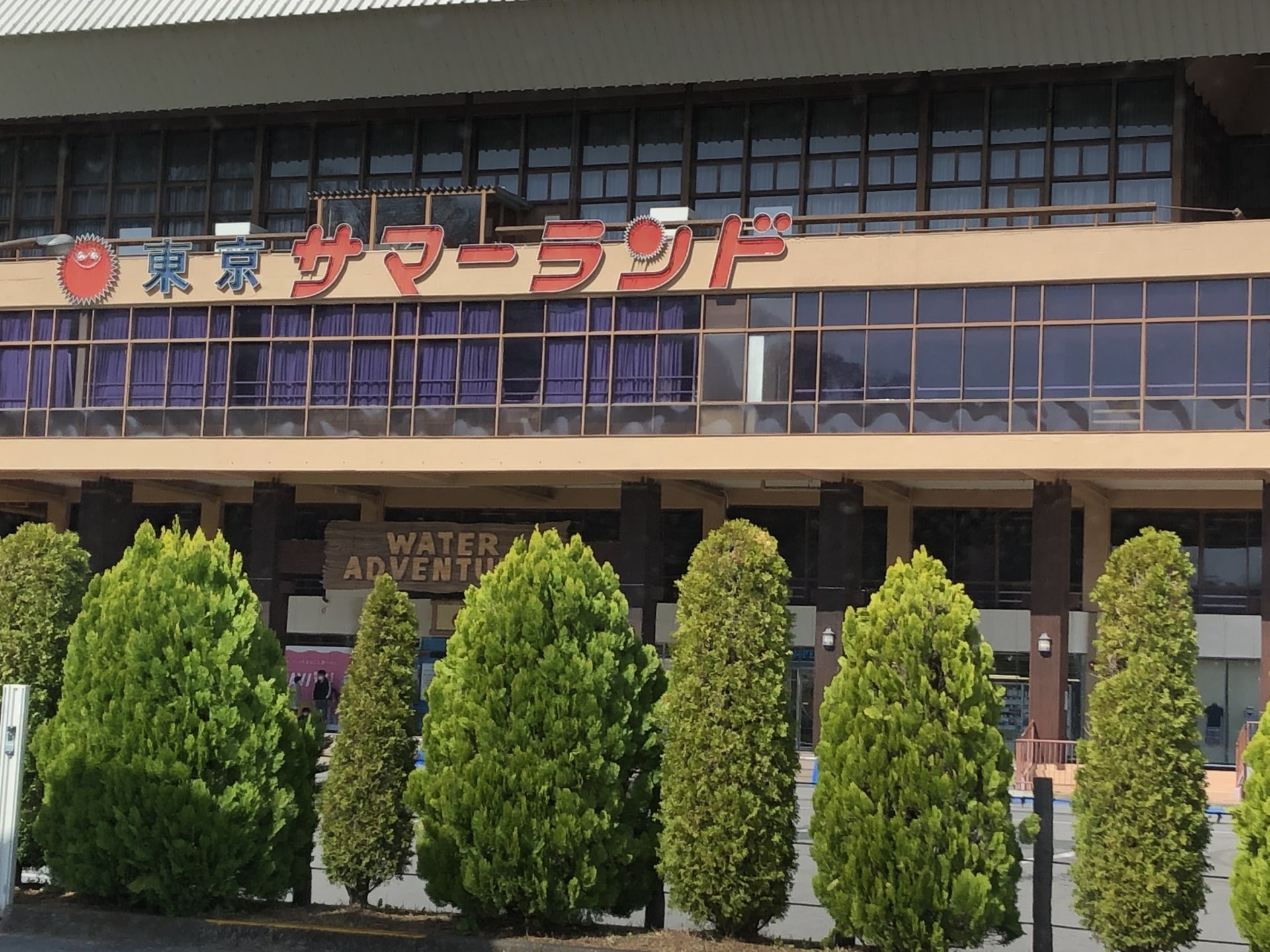 It's time to enjoy water activities!!
Tokyo Summerland is one of the biggest water parks in Tokyo. Led by one of the largest flowing pools in Japan, there are various attractions including water slides, a water jungle as well as ground attractions like a Ferris wheel. Dekasla is the biggest water slider in Tokyo Summerland. You can slide on the huge course riding on a boat with 4-6 people. If you go there with some friends or family you should try it. Cobalt Beach is a huge indoor pool so you can enjoy it even on a rainy day.
Not only water parks but also a night pool is also a popular trend among young people. Some famous hotels and bars open night pools in summer where you can enjoy dinner and drink. Hotel New Otani Tokyo started the night pool business as a pool where you don't get sunburned in 1999. People can enjoy a relaxing time in a pool with chill music, LED lights, and food and drinks. Since then, the night pool "GARDEN POOL" has been popular for the young generation as a trending spot during summer. Moreover, a midnight pool for those over 18 is available for a few days from 21:30 to 23:30. Let's have a party in a night pool!
▽Check the best swimming pools in Tokyo!▽
8. Dining at a rooftop restaurant with an amazing view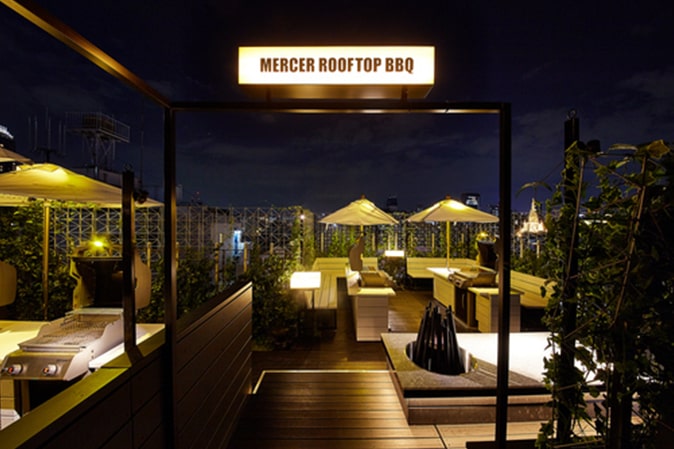 A lot of rooftop restaurants and bars are ready to make your lunch or dinner time something special.
MERCER BRUNCH TERRACE HOUSE TOKYO is one of the most popular rooftop restaurants in Tokyo. It's located in the Omotesando area and is famous for its French toast for brunch and steake for dinner. The city view can be seen anytime at the restaurant, and the night view from its rooftop restaurant is more majestic. You can enjoy authentic BBQ at the center of Tokyo without bringing anything, surrounded by a beautiful night view of Tokyo.
PIGNETO is located on the rooftop of Four Seasons Hotel Tokyo Otemachi. It serves authentic Italian cuisine using fresh seasonal ingredients. There is a show kitchen where you can watch a chef cooking in front of you. On the rooftop terrace, there is a contrast between a dynamic view of Tokyo and the green forest of the Imperial Palace. You can spend a lovely time under the orange sky during sunset, which is the best time to start a date. At night time, Tokyo's shiny night view engenders a romantic atmosphere and makes your dinner time memorable.
9. Going to digital art museums to avoid heat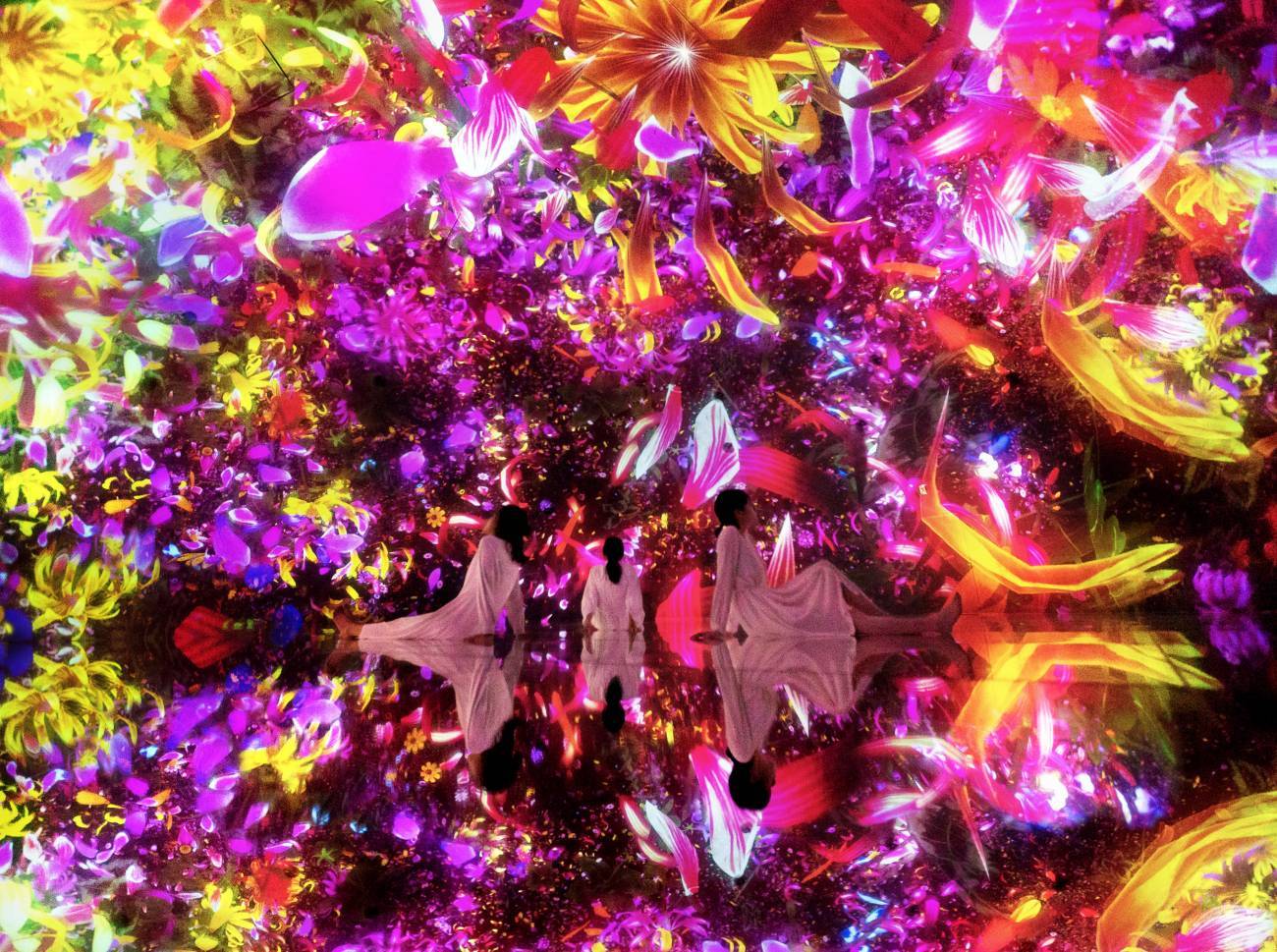 As it is very hot and humid in summer in Tokyo, you'll be exhausted to go out or spend a whole day outside. Why don't you go to a digital art museum on such a day?
TeamLab is one of the greatest digital art museum companies in Japan. It keeps producing something new and unique based on experiments and innovation to commit to the current information society where technology and creativity are flooding. It's very popular as a photogenic place for posting on Instagram.
TeamLab Planets Tokyo is teamLab's head museum in Japan. It is composed of 2 gardens: a museum to get in the water and a garden to unite with flowers. The concept is to recognize the world of artworks through the 5 senses by devoting yourself to the huge art space. In the water area, a lot of Koi fish are projected to swim under the screen and the image keeps changing responding to human behavior. The flower area surrounds you with images of millions of flowers. These exhibitions enable spectators to feel the universe and the lives of creatures.
TeamLab Borderless is focused more on digital technology based on the theme of "a museum without a map". It used to be located in the Odaiba area but will relocate to the Roppongi area and reopen as MORI Building DIGITAL ART MUSEUM in 2023. There are about 60 exhibitions including seasonal limited ones. The most popular one is "a forest of Lamps". The lamps change color in concert with people. The mirrored room makes a fantastic atmosphere as if the work of lamps exists thoroughly.
10. Don't forget indoor activities
In addition to those museums, there are a lot of indoor activities for a rainy day or a super hot day.
Sushi making is one of the most popular activities in Japan, and the appeal of experiencing it in Tokyo is particularly enhanced by the presence of both the old and new major fish markets, Tsukiji and Toyosu. Not only can you cook using fresh ingredients from these markets, but there are also many activities that include tours of Tsukiji and Toyosu.
Here are some recommended sushi-making experience tours:
▶︎Tokyo Sushi Making Experience and Tsukiji Fish Market Explore Tour
▶︎Toyosu Wholesale Market Explore and Sushi Making Workshop
If you have kids, LEGOLAND Discovery Center Tokyo is highly recommended. It's an indoor amusement park which is composed of a lot of attractions using LEGO. The Miniland duplicates Tokyo's city view in a miniature size using more than 1,600,000 pieces of LEGO. After you see the procedure of making LEGOs at the LEGOLAND factory, you can join a workshop to create a great artwork of LEGO!!
▶︎Get a LEGOLAND Discovery Center Tokyo Admission Ticket
+1. Heading to the beach for a day trip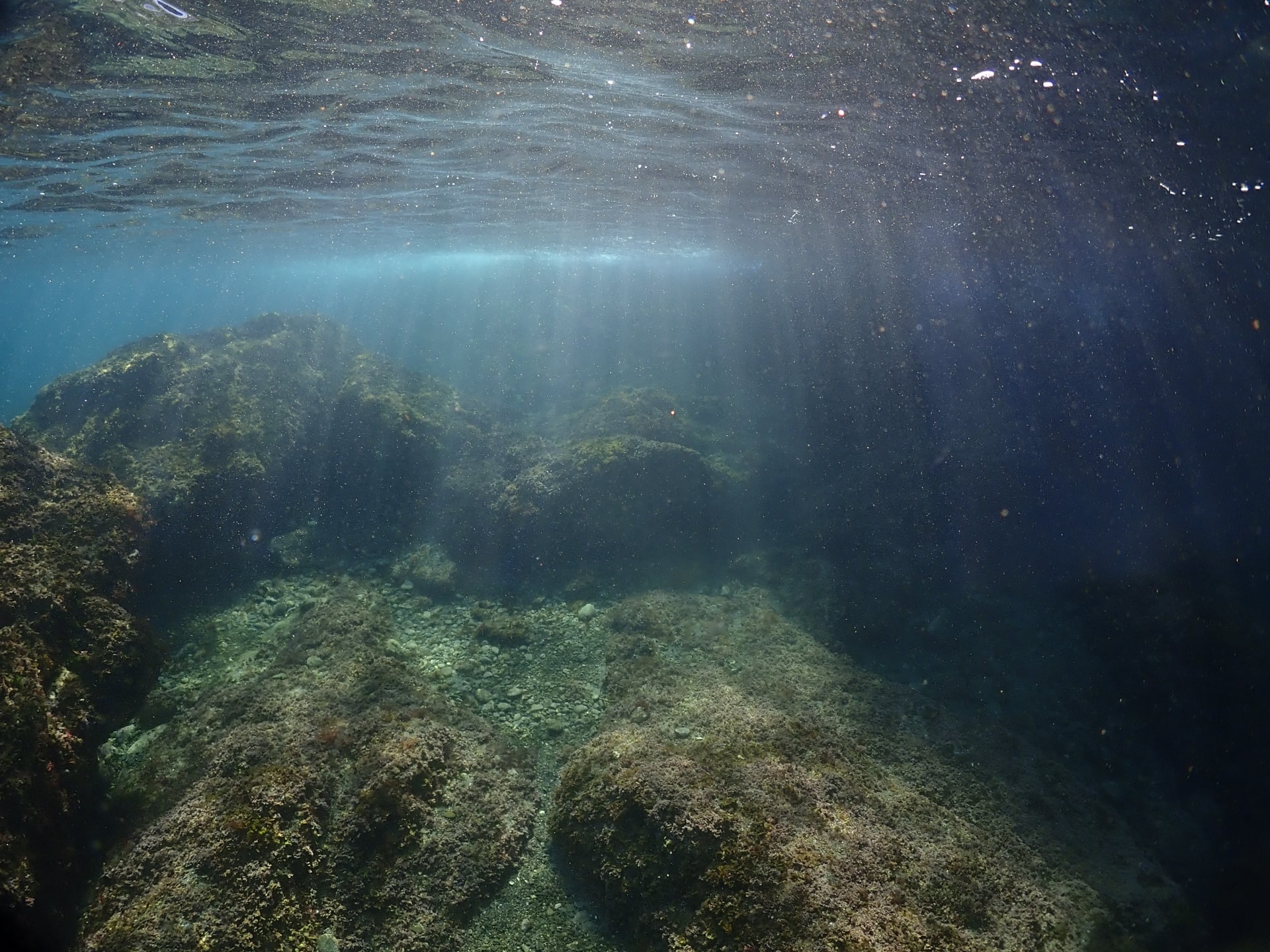 Don't miss going to the beach near Tokyo!! Going to the beach such as Shonan Beach and Izu Beach is one of the best day trips from Tokyo during summer.
Shonan Beach is located in Kanagawa Prefecture, next to Tokyo. It takes only 1 hour to get to Shonan Beach from Tokyo by train or car. Shonan Beach includes some famous beaches such as Enoshima and Zushi. It's always popular for couples, friends, families, and surfers. Enoshima is a popular date spot. There are a lot of local seafood restaurants as well. Zushi Beach is a bit on the southern side of Enoshima. The Zushi area is quieter and the water is much clearer than those in Enoshima.
Izu is located in Shizuoka Prefecture. It takes about 2 hours to get there from Tokyo by car or train. In the Izu area, there are many beautiful beaches such as Kujuppama, Nabetahama, and Rakkyo. Kujuppama and Nabetahama are located in Shimoda City. Both of them are quite small beaches but it feels like a private beach. In addition, the color of the water is covert blue and you can see the ground through the water. Rakkyo is located in the South Izu area. Though it takes about 3-4 hours to get there from Tokyo by train or car, Rakkyo is worth that. You will be amazed by the very clear and translucent water. It's like a small old fishing village so if you want to spend a relaxing time, here is the best place to chill.
Thank you for reading till the end! There are a lot of fun summer activities so it might be hard to pick up what you would do!!
Hope this article helps you enjoy the summer in Tokyo!!
▽Explore Tokyo in these other seasonal articles!
▶︎10 Best Things to Do in Tokyo in Spring
▶︎10 Best Things to Do in Tokyo in Autumn
▶︎10 Best Things to Do in Tokyo in Winter
▽Subscribe our free newsletter!▽
If you need further information about traveling around Japan, let's check out the links below!
▽Related Articles▽
▼Editor's Picks▼
---