10 Best Things to Do in Kyoto in Summer
Kyoto Summer Travel Guide: What to Do in Kyoto in Summer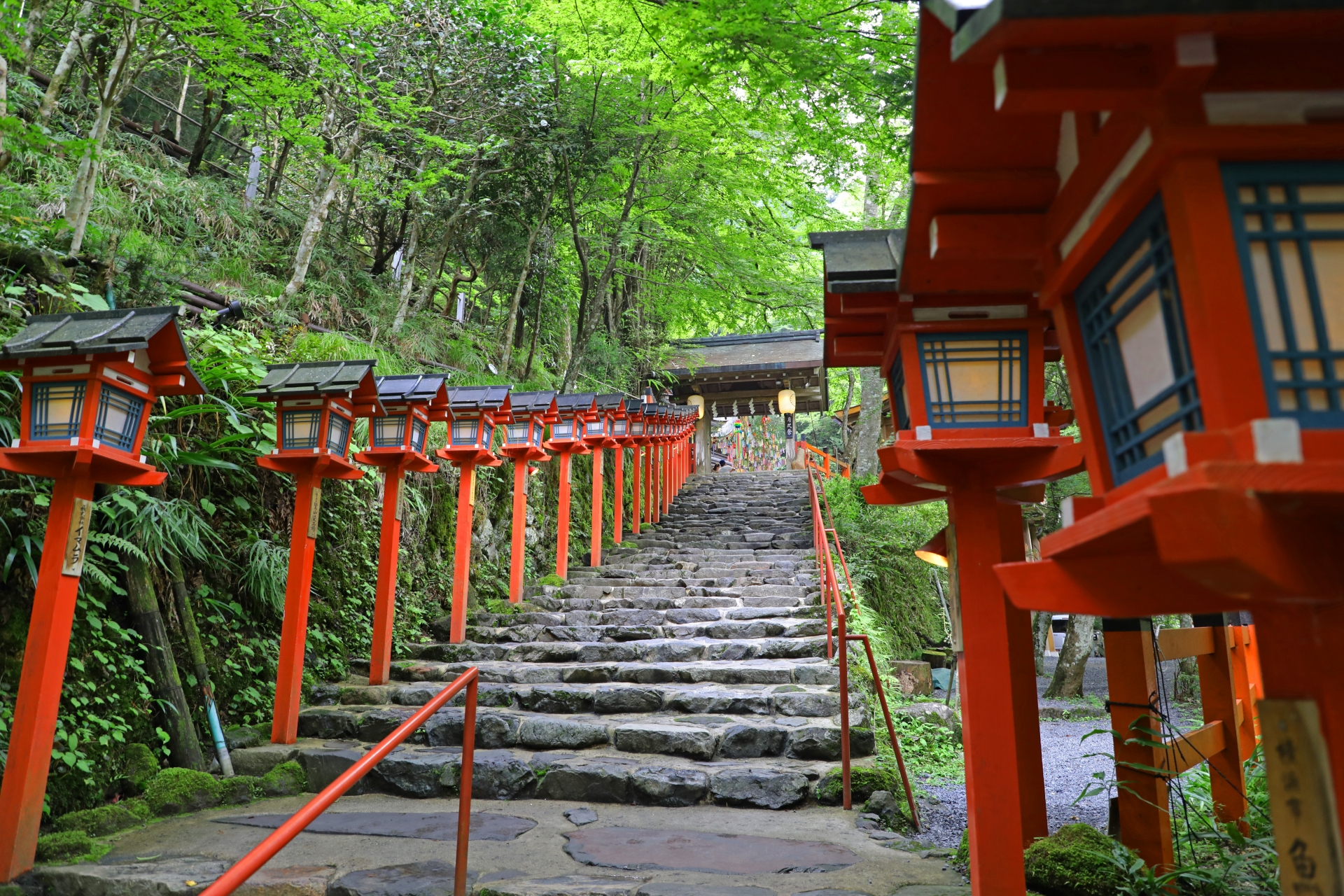 Are you planning to go to Kyoto this summer? Kyoto is famous for its hotness in summer due to its location. Kyoto is surrounded by mountains, which often causes the Foehn phenomenon and raises the temperature. The average highest temperature between June to August is around 30℃ (86℉). Sometimes the highest temperature could be 38 – 39℃ (100℉). Moreover, as the humidity is also very high, you would feel hotter than the actual temperature. So you need to prepare for the heat, by frequently drinking water and wearing lightweight, breathable clothes.
However, Kyoto is still popular as a tourist area even in summer with the heat. A nature attraction is good for feeling nature and cooling down such as bushwalk and river cruising. Joining traditional festivals and fireworks festivals would be an unforgettable memory of summer. In addition, just walking around a town wearing a yukata makes you feel a good summer vibe in Kyoto.
Let's have a look at the 10 best things to do in Kyoto in summer.
1. Participating in the historic Gion Festival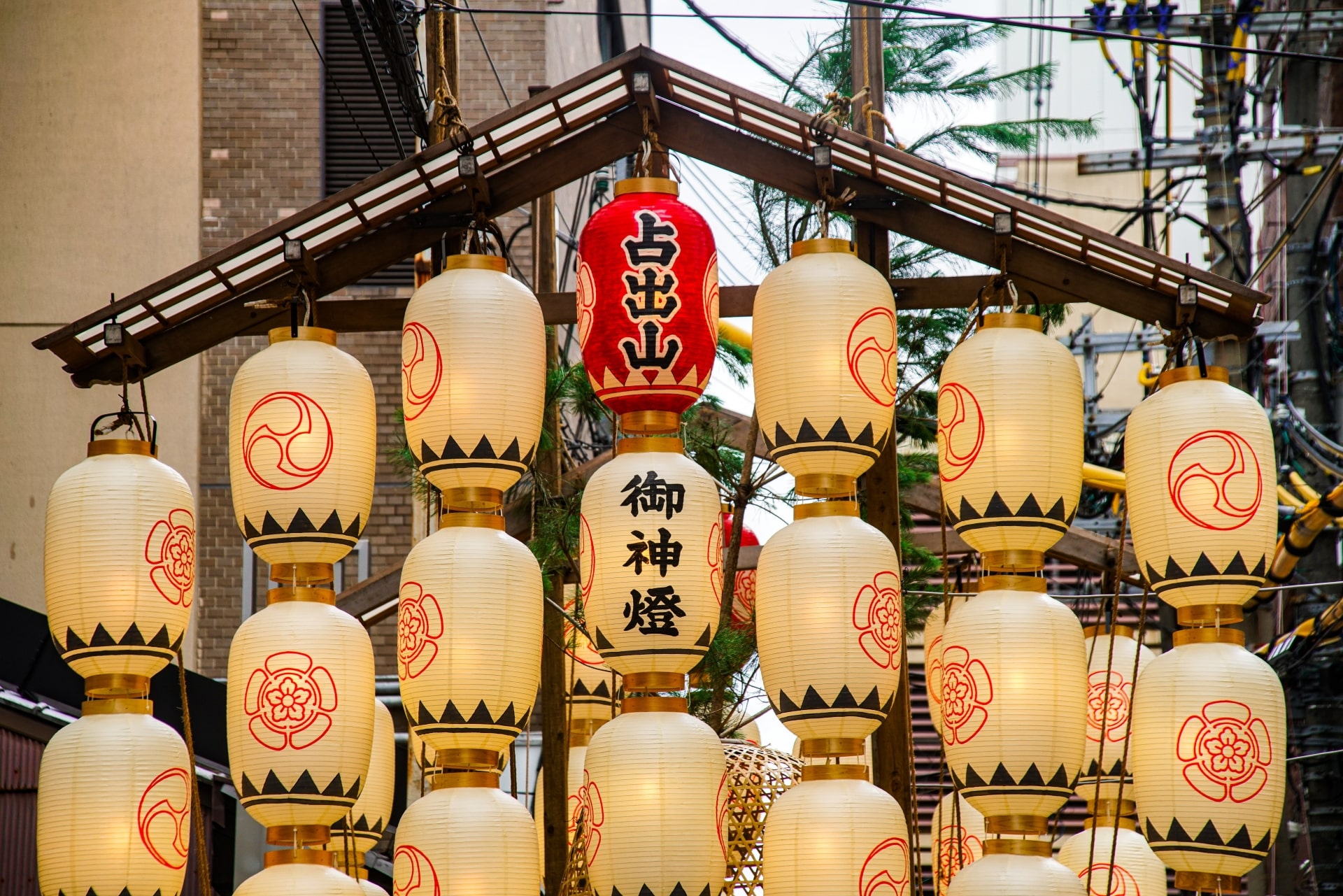 Gion Festival is one of the biggest festivals in Japan. It has been loved as a traditional Shinto ritual of the Yasaka Shrine since more than 1,000 years ago. It's held for one month in July every year. During the festival, the whole town of Kyoto is decorated gorgeous with Japanese lanterns and Shinto stuff, and comes alive.
The main event is called Yamaboko Parade. Yamaboko is a festival float decorated with beautiful embroidery and textiles luxury. The impact of the parade with 33 Yamabokos walking through Kyoto is beyond description. Due to the glamour, it's called "a moving art museum". You can see the parade on the 17th and 24th of July.
Yoiyama is held for 6 days in total, 3 days each before the Yamaboko Parade. The entire Kyoto town is lit up with traditional lanterns, dolls, and accessories so that you can observe Yama and Hoko floats. Yoiyama lasts the festival vitality till night, making it more special with a night atmosphere.
2. Dining at the Kawayuka riverside terraces of the Kamogawa River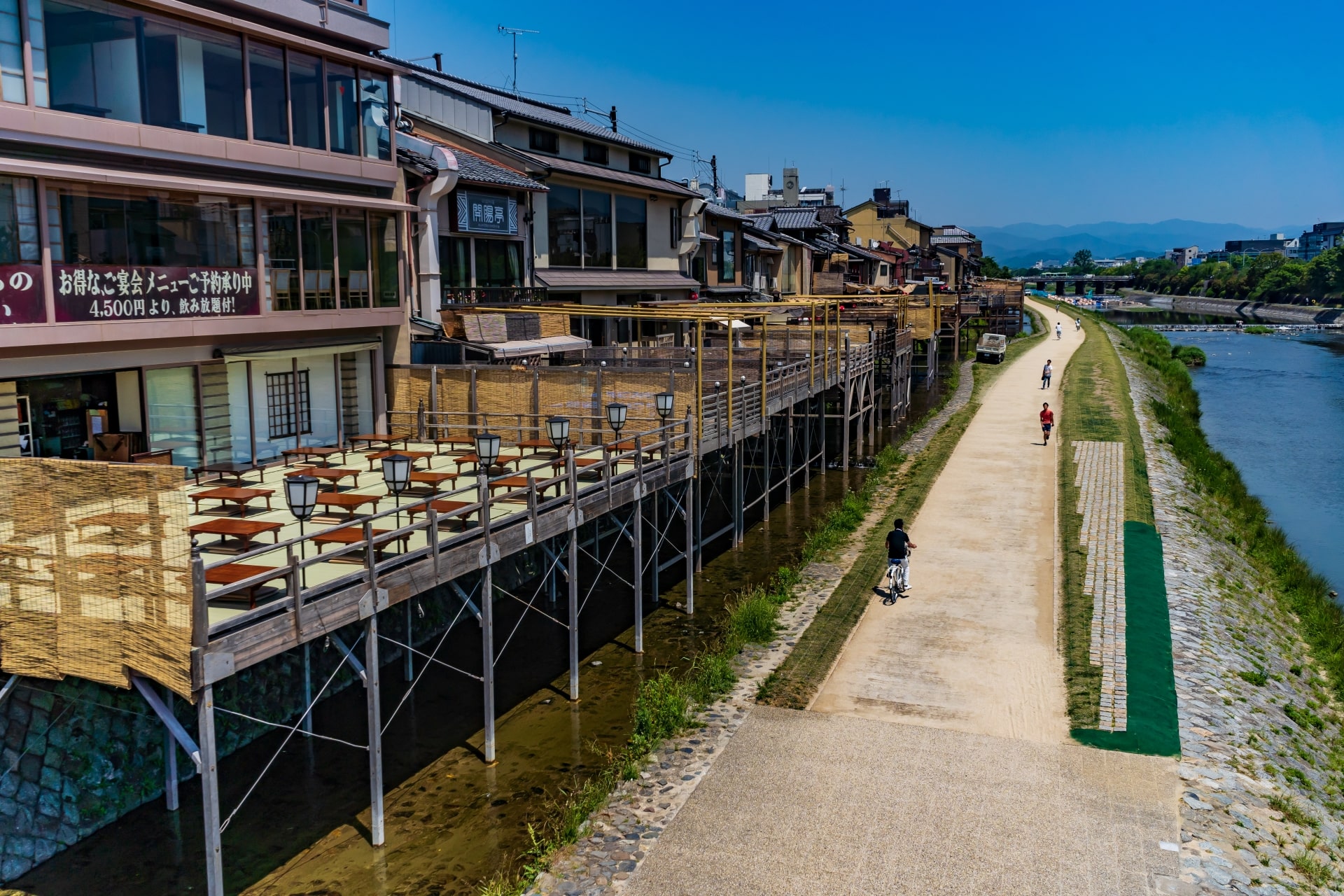 In summer, many restaurants along the Kamogawa River have a signature riverside terrace, called "Kawayuka" or "Kawadoko". Kawayuka was created as a dining space where people can cool down and enjoy food in the hot summer of Kyoto.
The Kamogawa River goes through Kyoto City lasting about 23 km as a symbol of Kyoto. Along the Kamogawa River, there are about 90 restaurants, ranging from traditional Japanese cuisine to authentic French, Italian, and Chinese restaurants. In addition to fancy expensive restaurants, a lot of casual dinings such as Izakaya and cafes are also popular. Some of them even don't have a charge for the table itself. Visitors can choose the best shop for them depending on the number of people and the budget. Moreover, it is close to the city so people can get there easily from the main tourist spots. Because of the convenient location and the variety of restaurants, Kawayuka along the Kamogawa River is the best for the beginners of dining at Kawayuka Terrace.
3. Marveling at the summer green maple leaves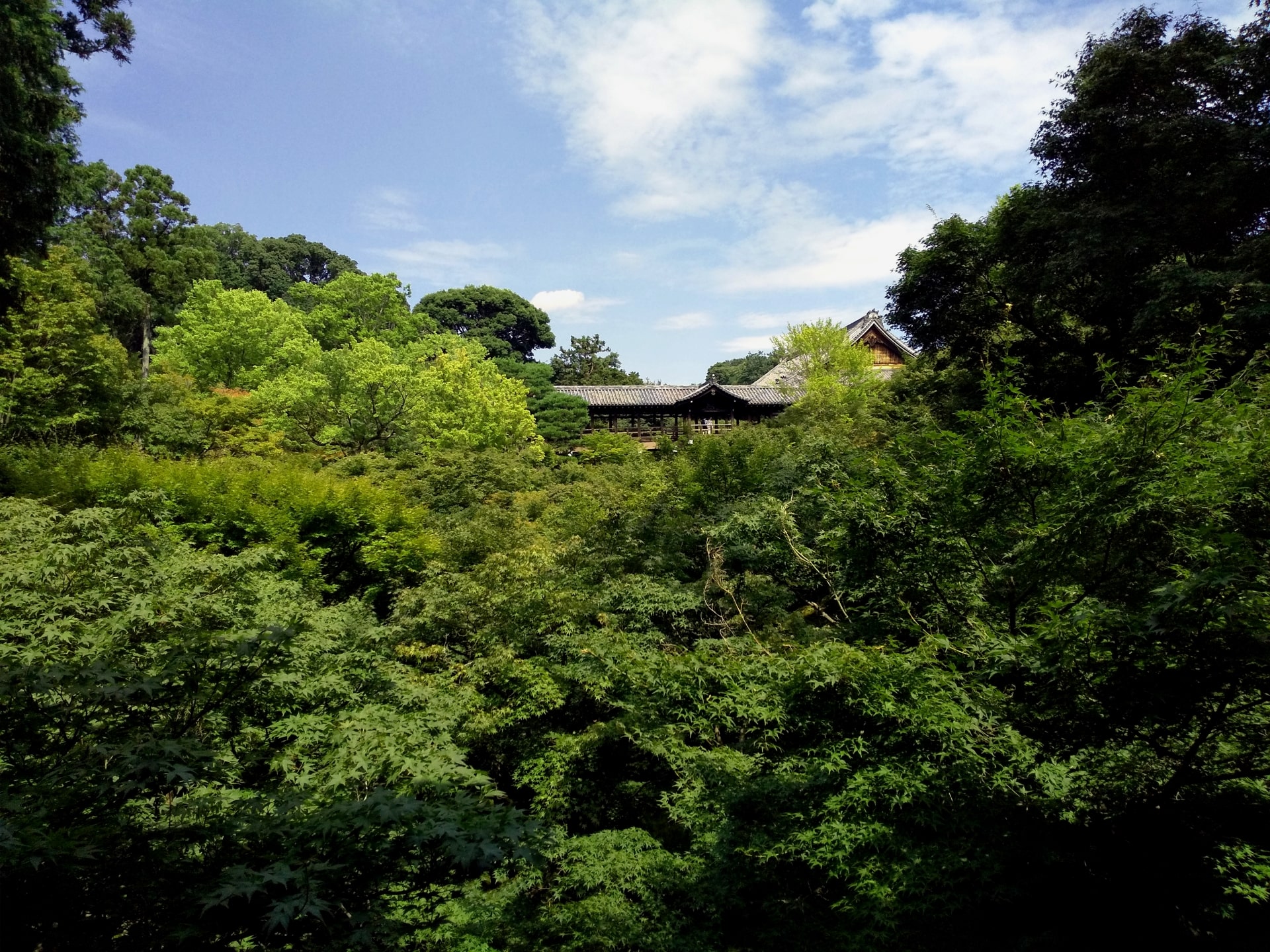 Have you heard of green maple leaves? Speaking of maple leaves, watching colorful leaves like red and yellow is a popular event in autumn. However, green maple leaves in summer have another beautiful face.
Tofukuji Temple is known as a good spot to see green maple leaves. The view from the Gaun Bridge is full of green maple leaves. In Komyoin Temple, which is known as a rainbow moss temple, there is a Japanese garden called "Hashintei Garden", which was established by a great gardener, Mirei Shigemori. The contrast of dynamic rocks and refreshing green maple leaves would make you calm down.
Although Jojakkoji Temple is famous for its autumn leaves, its green maple leaves are also attractive. There are 200 maple trees in the palace of Jojakkoji Temple. Those green maple leaves are at their peak during the rainy season, in June. Moreover, the place has a lot of moss on a stone road. The collaboration of the fresh green maple leaves and wet moss makes an elegant atmosphere in a quiet space.
4. Admiring the lotus and water lilies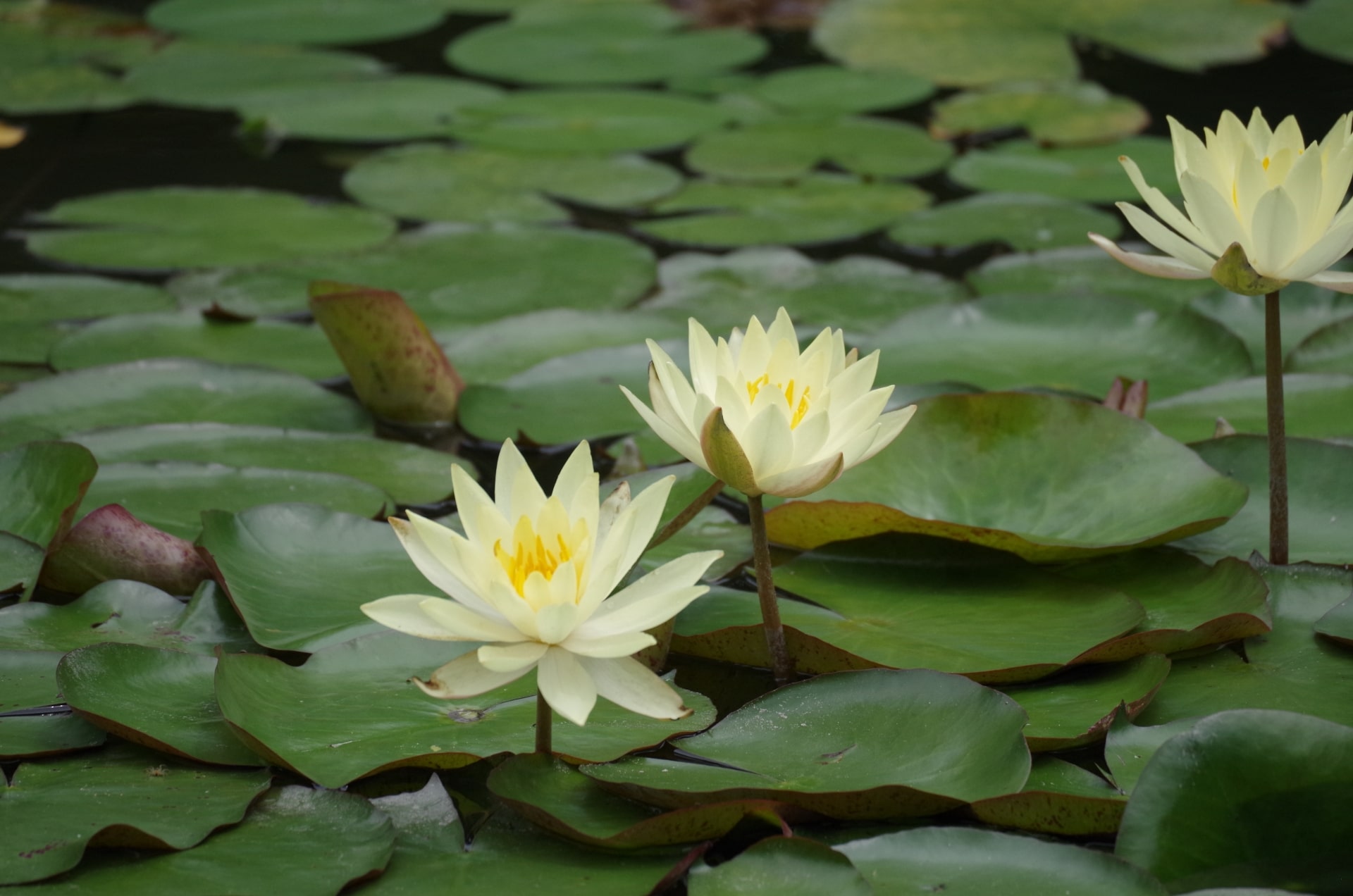 The lotus and water lilies bloom dramatically during the summer. They look similar and put their leaves on the water's surface. Lotus flowers bloom at heights much taller than the surface, on the other hand, water lily flowers bloom on the water's surface. Lotus leaves have a water-repellent function, though water lilies' leaves don't have it. Both flowers bloom dramatically between July and August.
Kajuji Temple is known as one of the best places to enjoy seasonal flowers in Kyoto. Its huge garden called Kajuji Garden was designated as a scenic spot of Kyoto City in 1988. The Himuro Pond in the garden was used as a praying place for the good harvest. On the surface of the Himuro Pond, water lilies bloom amazingly white and pink from June to August, and about 1 month later lotus bloom at its peak. The best time to see the collaboration of lotus and water lilies would be from the middle of July to August.
Heian Shrine has an iconic red huge Shinto shrine archway. It was established in 1895 as the 100th year anniversary of the relocation of the capital city. There is a huge Japanese garden called "Shinen". Shinen is divided into 4 gardens, East, Naka, West, and South Shinen, where you can enjoy seasonal flowers. The Soryu Pond is located at the center of Naka Shinen. In summer, the Soryu Pond is surrounded by water lilies. The view from the Garyu Bridge is amazing.
5. Dressed up in a traditional Yukata and walking through a town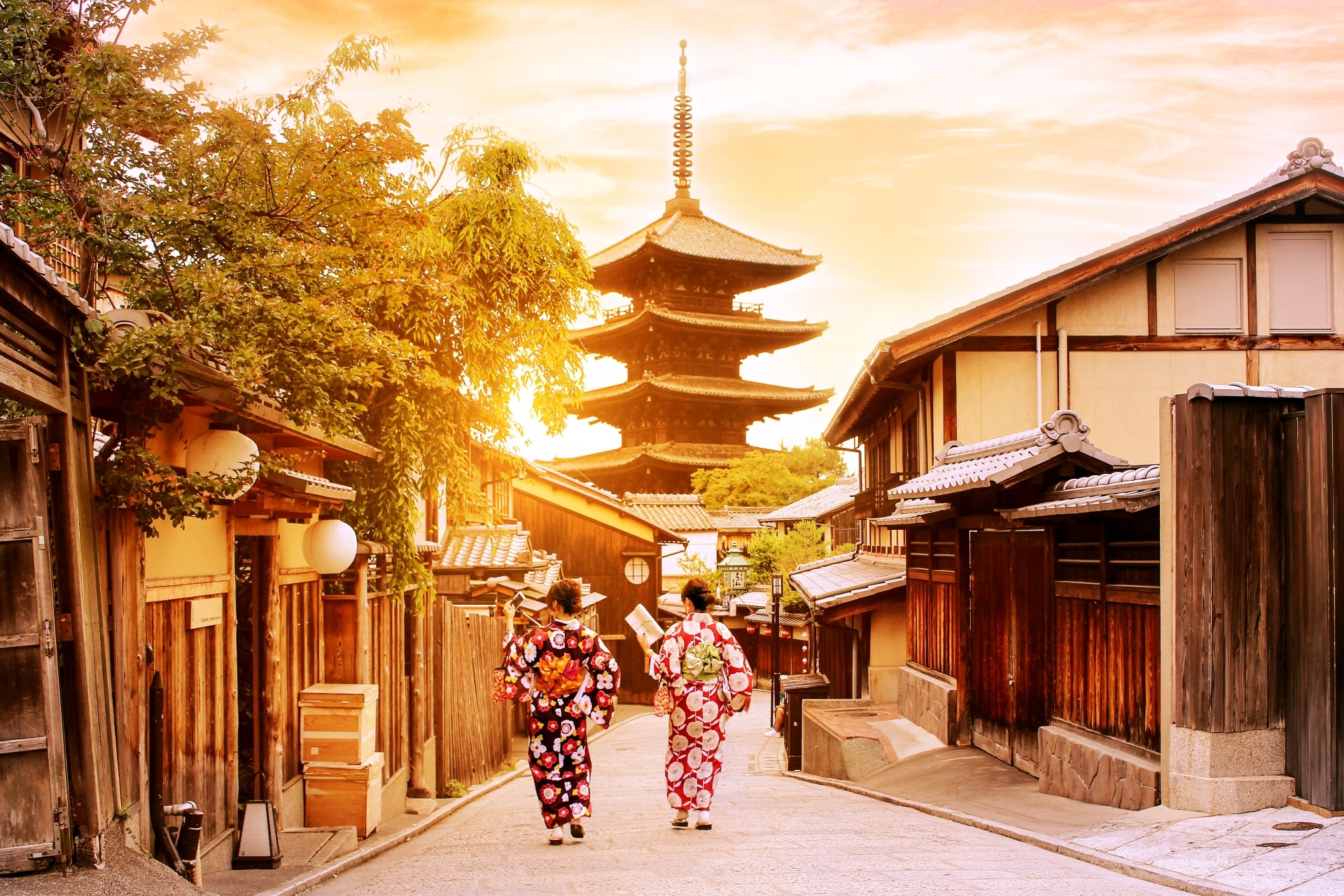 Have you tried on Yukata? Yukata is a summer version of kimono. Yukata is thinner and easier to wear than kimono. Yukata lets the wind blow through so it has been loved as a summer traditional style, especially for summer festivals and fireworks festivals.
As the streets of Kyoto town are old-fashioned, kimono and yukata suit its atmosphere very well. You can feel as if you went back in time. There are a lot of yukata rental shops in Kyoto. They have various rental plans from single items to including hair sets and accessories. You don't need to bring anything but just need to book it. Don't miss the opportunity to enjoy traditional Japanese clothing.
6. Watching a spectacular fireworks display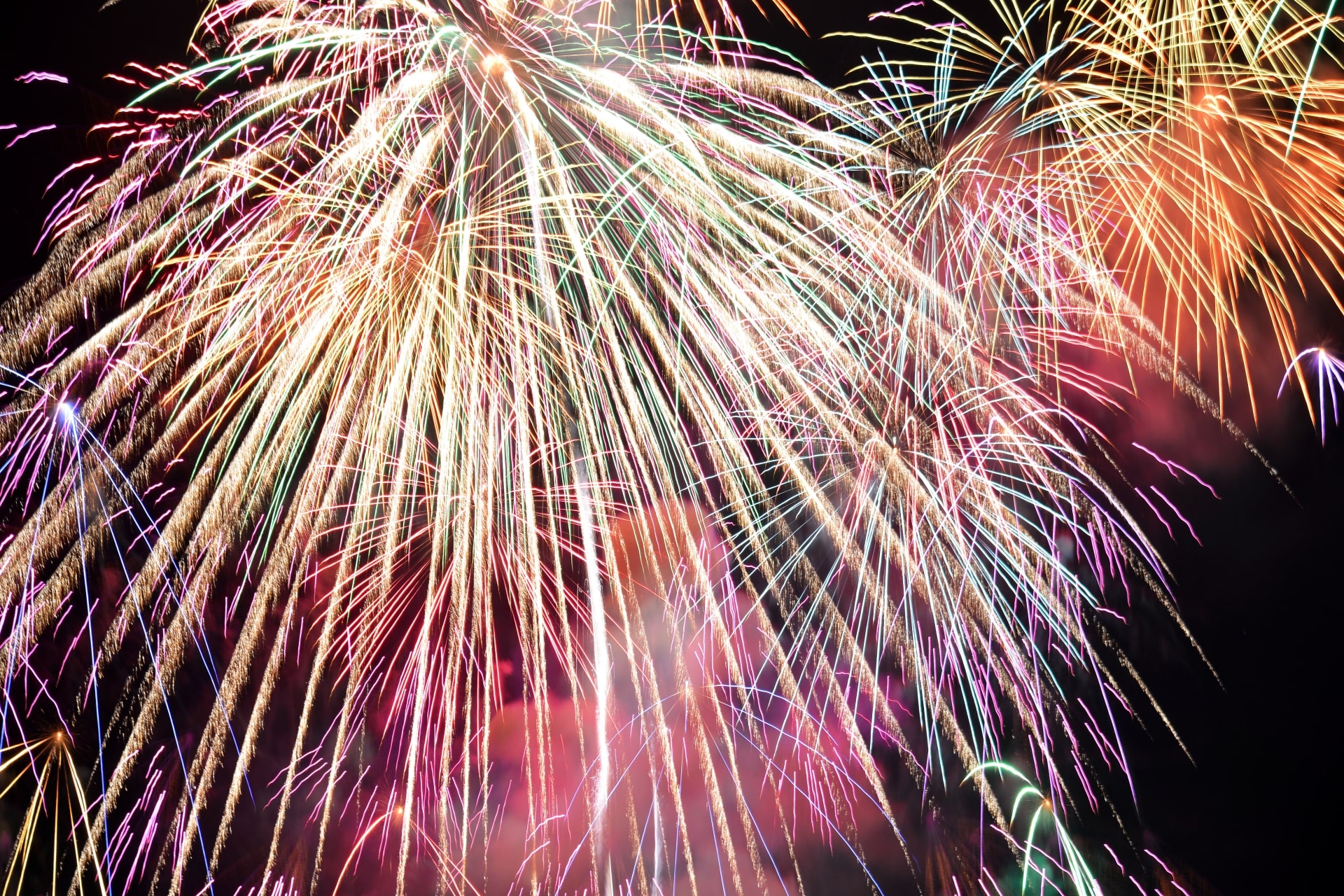 Speaking of summer, you should go to watch fantastic fireworks festivals!!
Tango Yasaka Festival is held as a part of developing the city community. It's held in the middle of July, starting from day time and lasting until the night. During the daytime, a lot of performances by the local community go on, such as some clubs' performances of the local students, dance performances, and a bingo competition. In addition, there is an experience area of police, Self-Defence Force, and fire station, which is very popular for children. The most popular event is musical fireworks. About 3,500 fireworks are launched with music.
Kameoka Hozugawa Fireworks Festival is held in the middle of August every year. It's held as a declaration of the peaceful hometown of Kameoka. About 10,000 shots of fireworks are launched to the music, which is one of the biggest scales in Japan. The dynamic view would be breathtaking. Kameoka City is also known as an environmentally advanced city such as using reused dishes. Using the characteristics of the city, the fireworks festival is also held environmentally friendly.
View Information
Hide
Information
| | |
| --- | --- |
| Access | 20 mins walk from JR Kameoka Station |
| Address | Tatsushinden Hozucho Kameoka City Kyoto |
7. Cooling off in Kibune, a famous summer retreat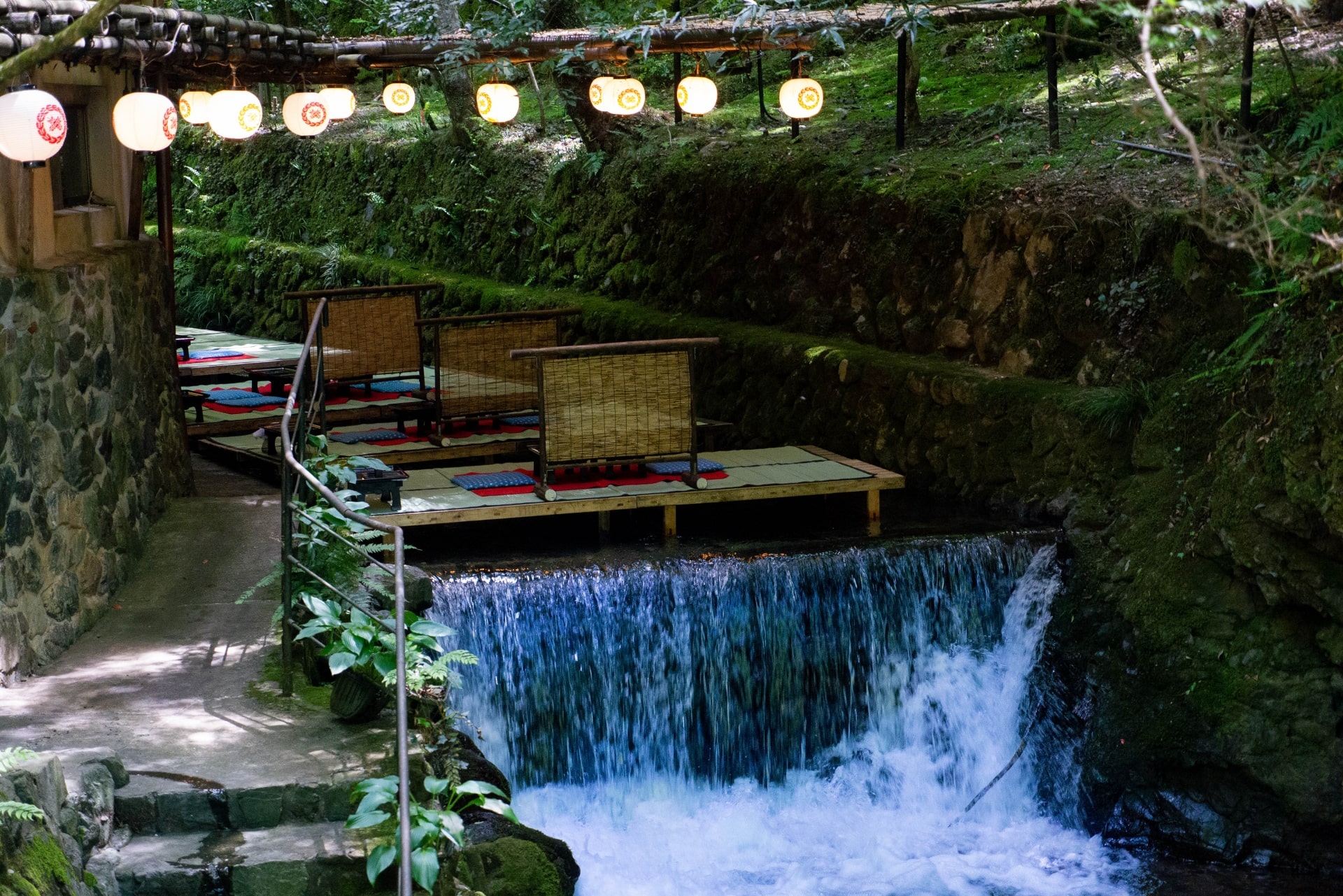 Kibune is located in the north part of Kyoto and is popular for Okuzashiki of Kyoto. A lot of restaurants and ryokans are lined up in a valley between Mount Kibune and Mount Kurama. In summer, the riverside terrace, which is the same as what I mentioned above but is called Kawadoko, is built along the Kibune River. Many people visit there to avoid the heat and cool down.
The most popular spot is Kifune Shrine. Visiting Kifune Shrine involves visiting three shrines (Sansha-mairi) comprising the main shrine, the rear shrine, and the Yui no Yashiro shrine at the foot of Mount Kibune. Kifune Shrine is surrounded by water and forest, where the vivid green leaves grow thickly on the road approaching the Shrine. The contrast between the thick green and the vivid red of the archways is photogenic. From the 1st of July to the 15th of August, the lit-up event is going on in the precincts.
Many tourists enjoy dining at Kawadoko after visiting Kifune Shrine. Kawadoko is very close to the surface of the water so you can touch the water on your toes. Surrounded by forests and water apart from the city, having traditional Kyoto cuisine would be an amazing experience.
8. Walking through the bamboo grove path in Arashiyama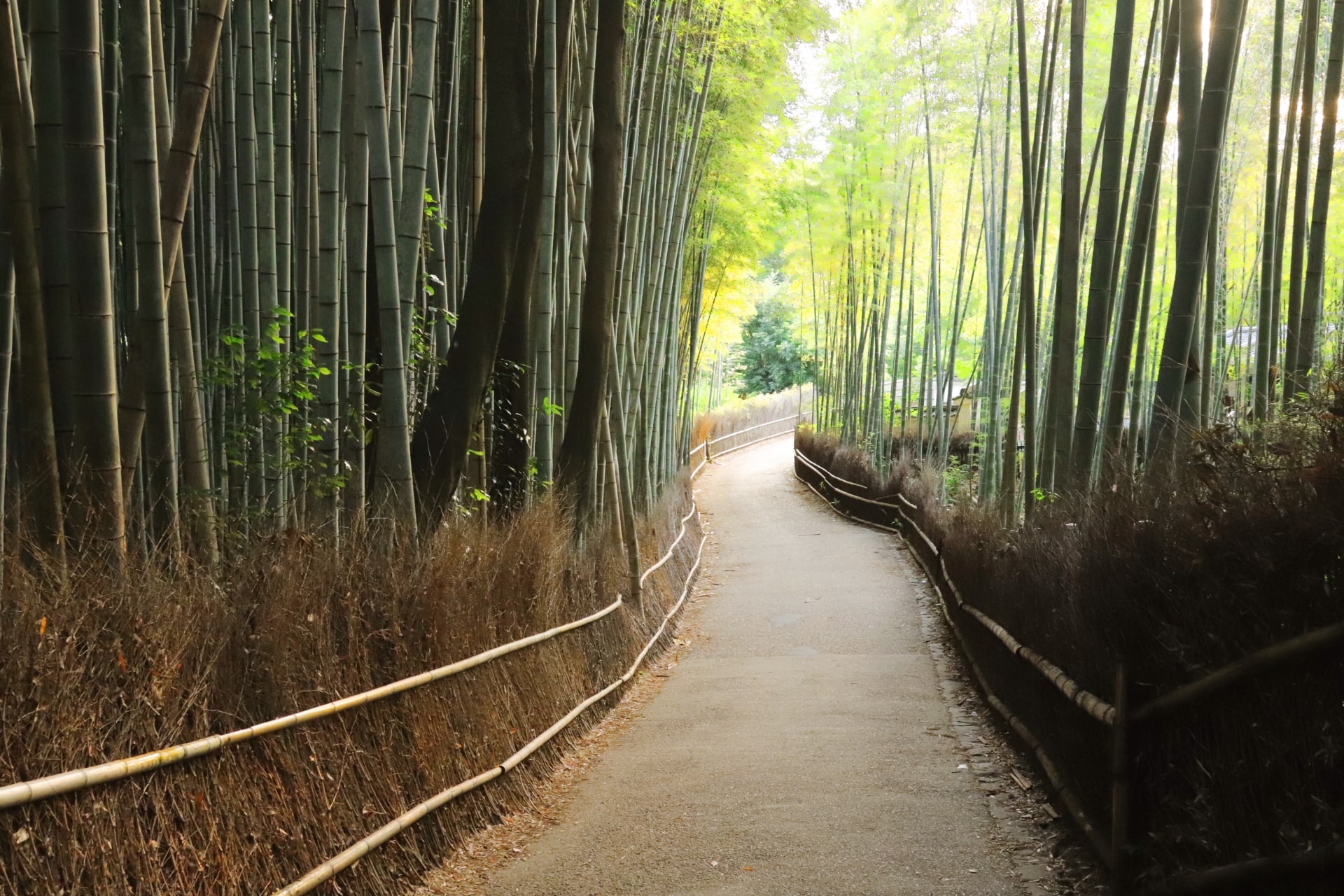 Arashiyama is another attractive spot that you should visit in Kyoto in summer. Arashiyama is located in the western part of Kyoto. It used to thrive as a resort place for royalties in ancient days. There is a dynamic view of the Togetsukyo Bridge over the Katsura River, putting the huge forest on the back.
Speaking of Arashiyama, the Bamboo Grove Path is another symbolic tourist spot. There is a grove of more than 10,000 bamboo trees in the Sagano area on the north side of the Togetsukyo Bridge. Through the grove, a path of 400 m in length is running through the north gate of Tenryuji Temple from Nomiya Shrine to Okochisanso Garden. The sound of bamboo rustling in the wind evokes a feeling of coolness in summer. Walking the path wearing a yukata or kimono is popular. Riding a rickshaw could be a unique experience for Japan.
9. Enjoying the scenic Hozugawa River boat ride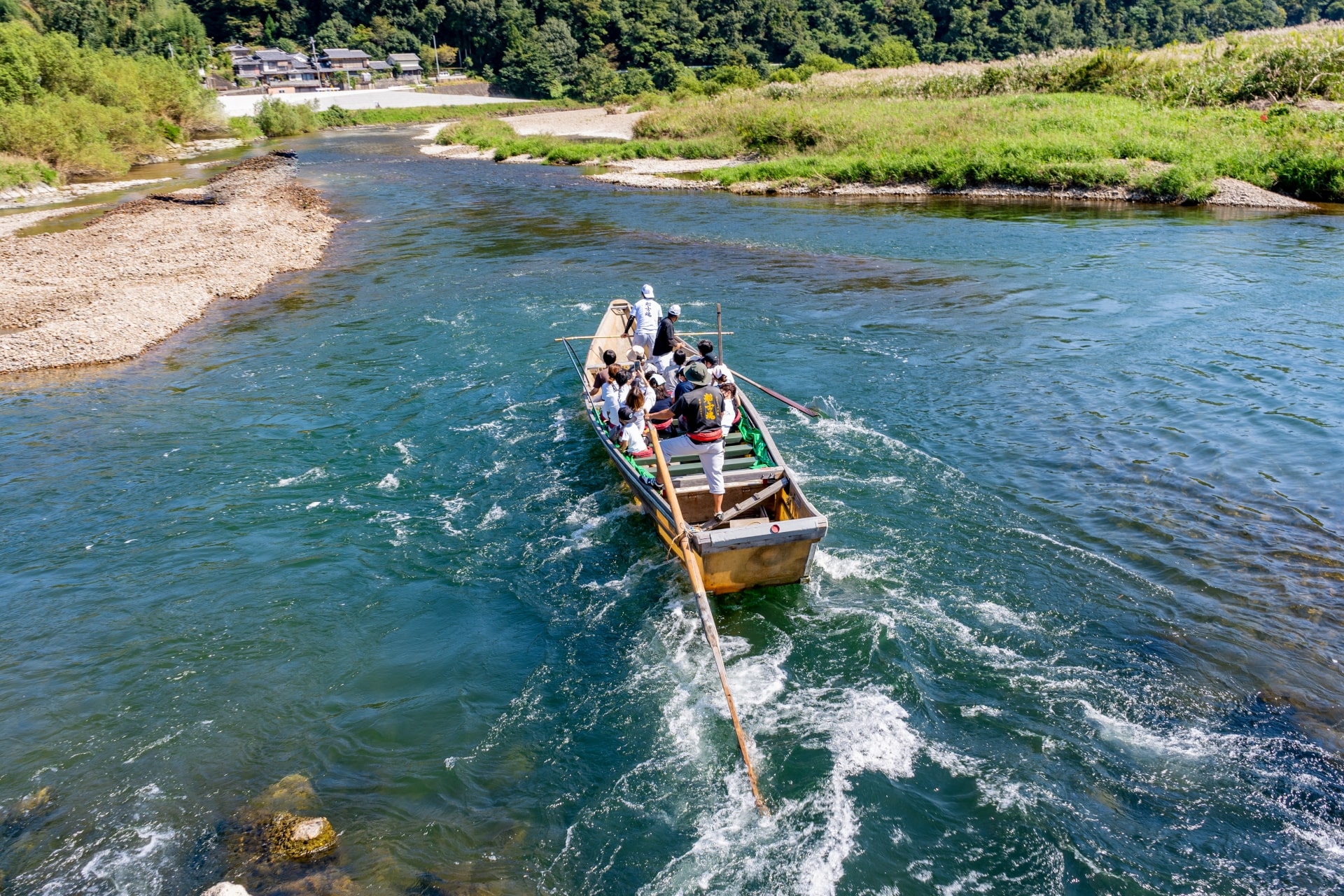 Would you like to try a thrilling activity?
Hozugawa River boat ride is a thrilling nature attraction that is the most suitable to avoid the heat of summer!! It has been loved as a summer attraction since 400 years ago. The Hozugawa River runs through Kameoka, which is located next to Kyoto City, to Kyoto for 16 km in length. The Hozugawa River Cruise offers an adventure where you descend 16 km of rapids, riding in a rowing boat skillfully operated by a boatman. During the cruise, there is a valley between mountains where no one enters so you can see the living nature such as vivid green leaves and craggy rocks.
The boat is operated by professional boatmen who are trained well. The amazing ship handling skills, inherited from 400 years ago, were designated as an intangible folk cultural asset of Kameoka in 2017. Due to a boatman's awesome skill, many visitors can enjoy the Hozugawa River boat ride as a thrilling and scenic activity. More than 600,000 visitors come to try this unique summer activity from all over the world annually.
10. Visiting the Miyama thatched-roof village (Kayabuki no Sato)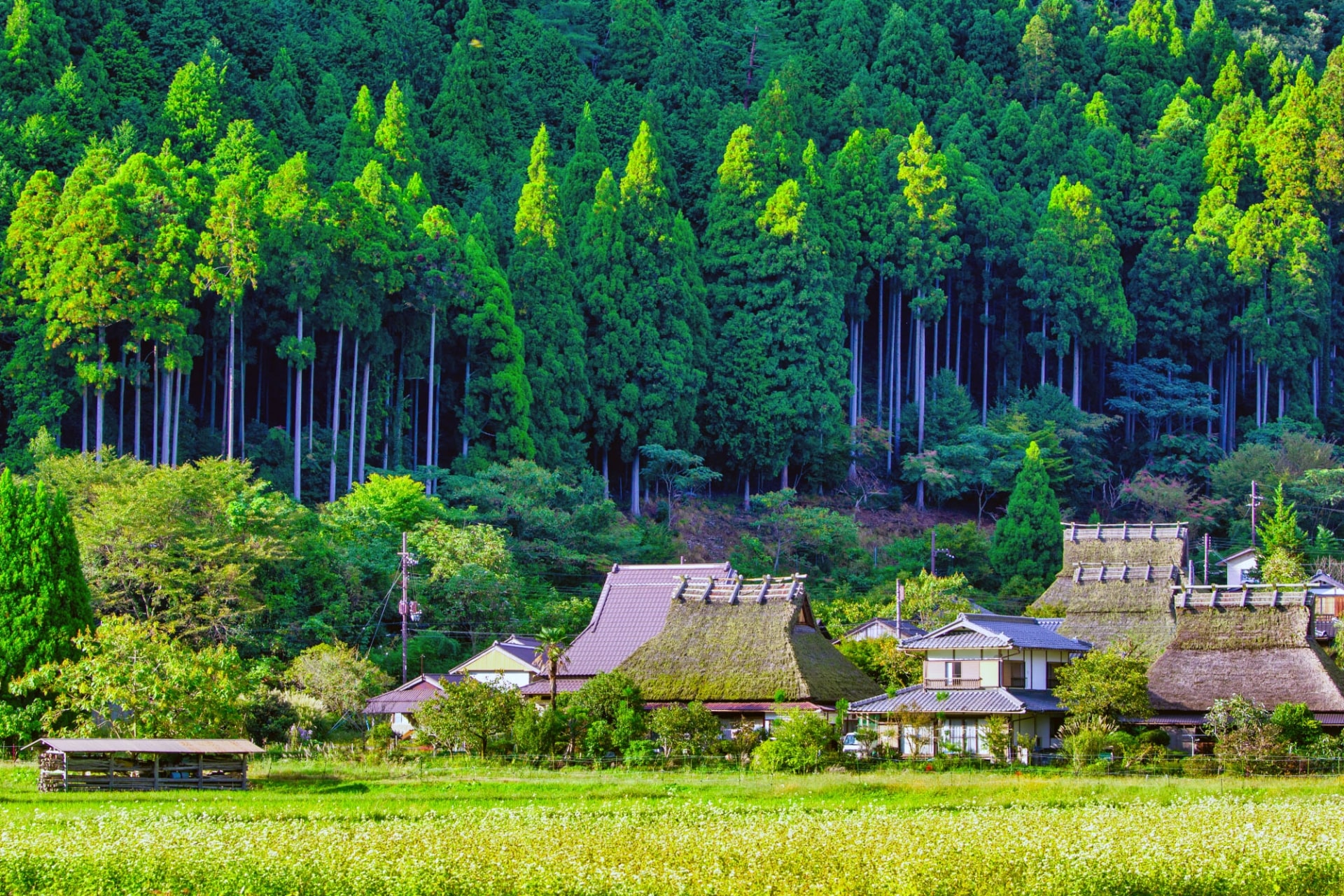 The Miyama area, located in the middle part of Kyoto, is known as a town with a lot of traditional Japanese private houses. In particular, a village located in the northern part of the area is called "Kayabuki no Sato". 38 out of 50 private houses in the village have the thatched-roof, which is a traditional Japanese architecture. Due to the high quality of the preservation, Kayabuki no Sato was designated as a national important preservation district for groups of traditional buildings in 1993. Some people still live there surprisingly.
Thatched-roof, called Kayabuki roof in Japanese, is superior for sound absorption, thermal insulation, heat retention, and air permeability. You can stay in a guest house if you want to experience the functions of the roof. A guided tour of the village is also available. In summer, green mountains match the view of traditional Japanese houses and the view makes you feel kind of nostalgic.
---
Are there any interesting attractions you want to try?
As it's very humid and hot in summer in Kyoto, I highly recommend joining a nature activity like a river cruise and a night event like a fireworks festival. If you walk around a town during day time, don't forget to drink water often, otherwise, you could get heatstroke.
Also, check out things to do in Kyoto in other seasons!
▶10 Best Things to Do in Kyoto in Spring
▶10 Best Things to Do in Kyoto in Autumn
▽Subscribe our free newsletter!▽
For more information about traveling and living in Japan, check these articles below, too!
▽Related Articles▽
▼Editor's Picks▼
---